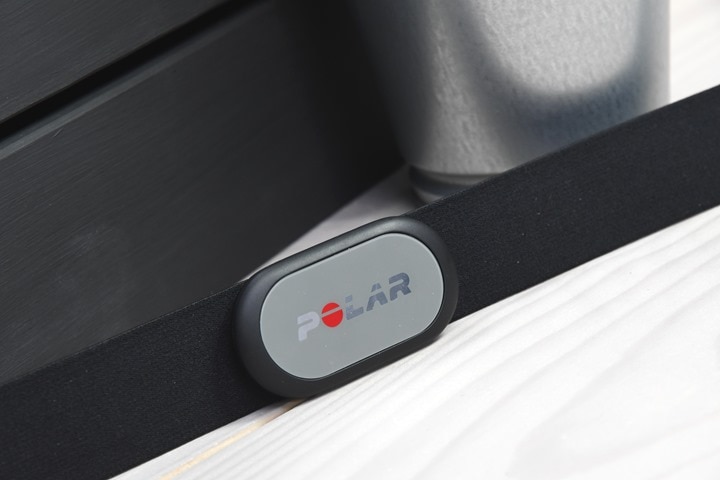 Polar has announced today a new heart rate chest strap, undercutting slightly their higher-end H10 strap with a less expensive offering that ditches the onboard storage, while still maintaining the trio of connectivity choices (ANT+/Bluetooth Smart/5kHz). Essentially, it's Polar's perfectly priced strap to counter the Wahoo TICKR and Garmin HRM-DUAL chest straps.
I've been using the strap for the past few days to see how it performs. Though, like most chest straps these days, it pretty much does exactly what you'd expect it to do, and accurately too. Since it doesn't have any 'fancy' features like internal storage or running efficiency metrics, it's relatively straightforward to use and test, and give you my initial thoughts.
Now one twist on this strap is that like the H10, it actually does retain Polar's newish SDK functionality. This means that it's ideal for some of Polar's B2B partners to leverage for various applications beyond just simple heart rate such as ECG and HRV data. Also, with the 5kHz connectivity, it'll work with all those gym treadmills and machines that still somehow don't have Bluetooth or ANT+ connectivity in them.
Finally, I'll attempt to keep this post efficient. After all, from a consumer standpoint (non-developer) it's just a strap that transmits your heart rate on multiple frequencies. Sure, it has compatibility with apps like Polar Beat and Polar Flow…but that's not really any different than any other Bluetooth HR strap.
The Basics:
The Polar H9 strap comes with two components: The chest strap itself and the modular pod that pops into it.  The strap itself is their SoftStrap branded lineup, which most folks find pretty darn comfy (myself included). It's adjustable in size from really small to pretty darn big. It's also easily replaceable in case you're one of those people that go through chest strap bands like I go through cookies.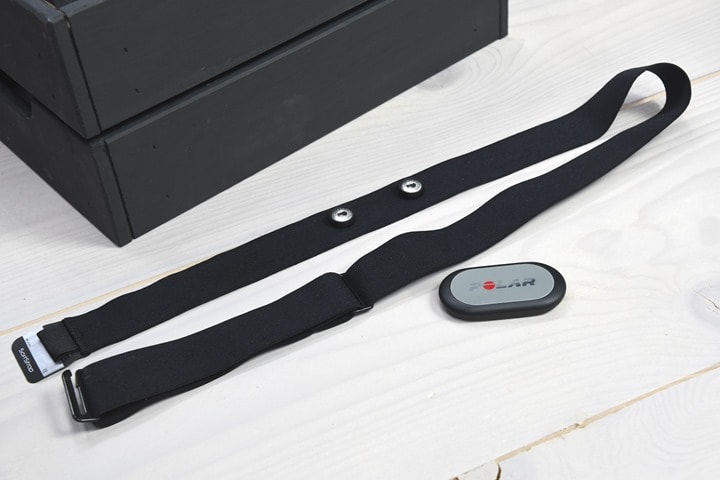 Note the strap does have some differences to the H10. For example, the H10 includes these grippy dots, whereas the H9 doesn't. Also, the H10 includes a clip on/off clasp, whereas the H9 you just slide it through a little loop.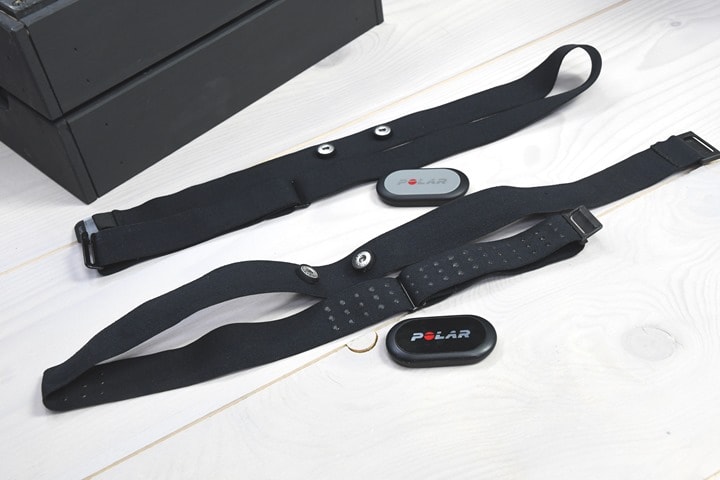 Meanwhile, the pod is a starkly different grey color – something I haven't seen from Polar's historically black pods. Either way, the color matches the DCR Cave's photo/unboxing table well.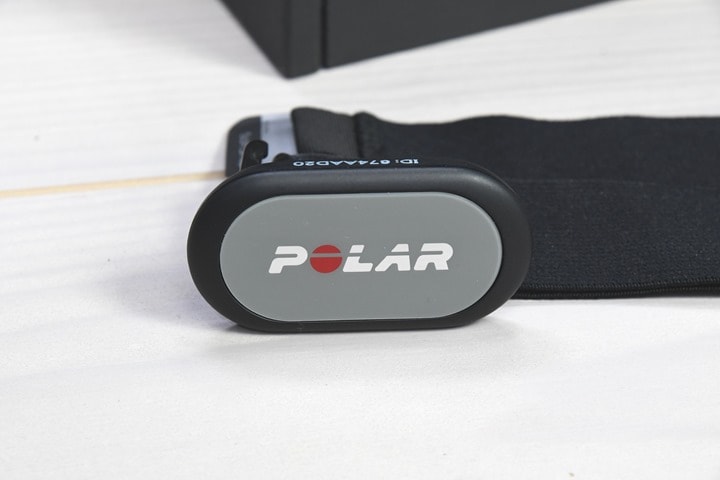 On the back of the pod you'll find the small door for opening up the CR2025 battery compartment. This coin cell battery should last you about a year with 1-hour's worth of daily usage.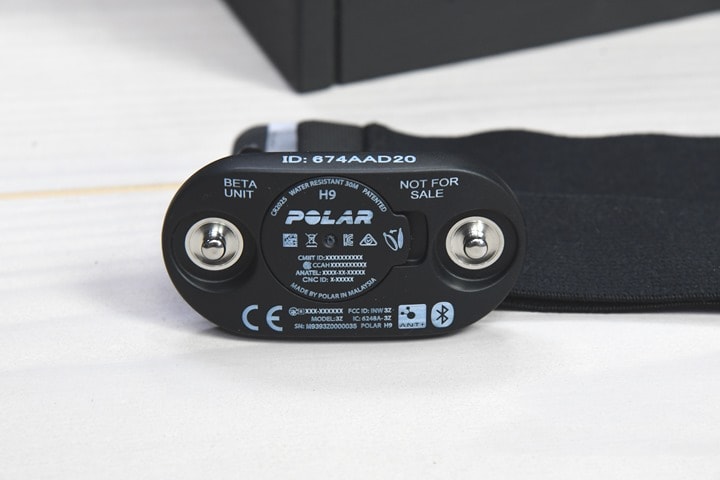 After which you pop open the door and pop in a new coin cell battery. Simple as that: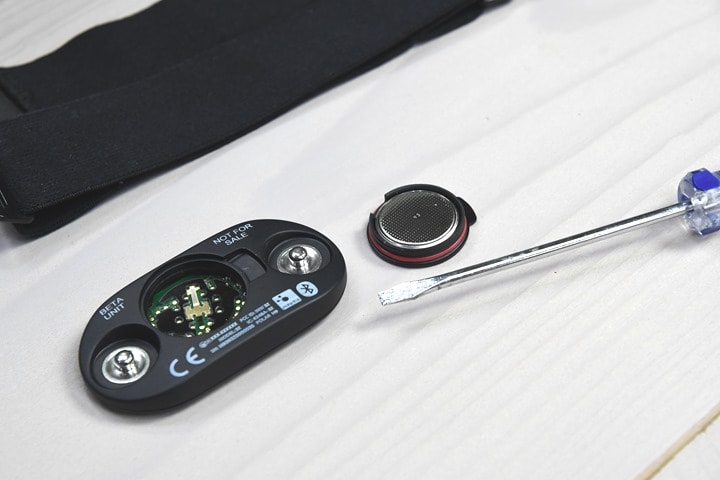 The strap will automatically activate once it detects heart rate signal between the two electrodes. This occurs when you snap the pod into the strap and then put it on your chest. Alternately, you can give the two sensing pads a small massage with your fingers and it'll wake up the strap. When it doesn't detect a human, it'll go back to sleep automatically.
There's no visible lights or such on the strap itself once powered on. Instead, it'll just start broadcasting concurrently across the three formats:
– ANT+ heart rate (unlimited connections)
– Bluetooth Smart heart rate (one concurrent connection)
– 5kHz analog heart rate (unlimited connections)
The only thing that's notable here on the Bluetooth Smart side is that the Polar H10 allows for dual Bluetooth Smart connections versus just the singular concurrent connection on the H9. My bet here is this is more of a differentiating limitation by Polar than a hardware one, as I suspect it's the same chipset. The main use case for concurrent (dual) Bluetooth Smart connections is where you want to concurrently connect your chest strap to something like a Polar watch (which only does Bluetooth Smart for current models) as well as an app like Zwift on iOS/Apple TV (also only Bluetooth Smart). You can use unlimited ANT+ connections with a single Bluetooth Smart connection at the same time.
For most people this is more than enough, but if you're a big enough geek like me – it's a limitation I occasionally hit up against.
In any case, to demonstrate the three connectivity options – first, here's a Garmin Edge series device connected via ANT+. You can see it in the pairing menu, as well as the connectivity type (and, the ANT+ Manufacturer ID Polar is assigned of 123, each company gets their own ANT+ ID).
Then, we'll layer in a connect to Zwift on an iPhone via Bluetooth Smart: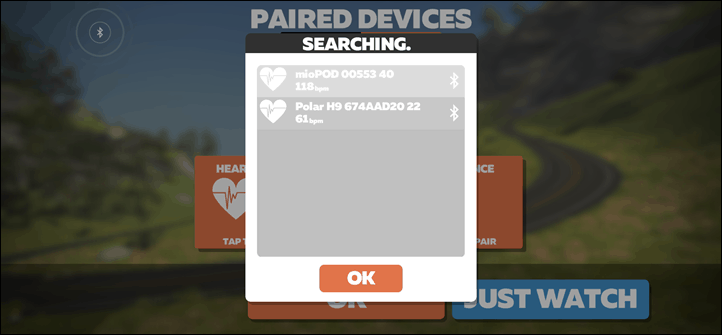 And finally, for the pièce de résistance, I'll connect to it with my treadmill via analog 5kHz connectivity (showing pulse at 74). My treadmill doesn't support any of the newfangled ANT+ or Bluetooth Smart stuff.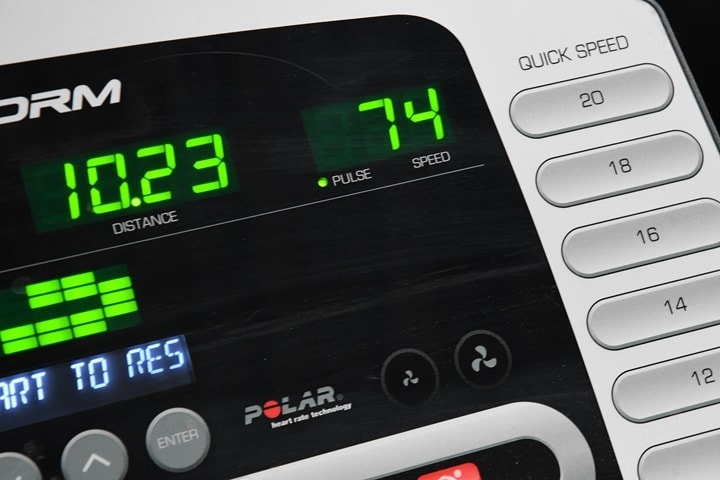 Cool, huh?
Now, at this point that's basically all you need to know about the strap. It's now broadcasting your heart rate and doing the things you need it to do. However, you can use it with Polar's apps. Again, it doesn't have any storage or accelerometers in it, so it's purely broadcasting heart rate. But Polar's apps each have different purposes. Typically Polar Flow is for adding your device in for firmware updates and sync (on other products), whereas Polar Beat is for doing workouts.
If we pair it up to the Polar Beat app, then they've got a variety of heart-rate training programs as well as the ability to record your trainings and then sync them with various 3rd party apps. At present it shows up as an H7 strap, but I'm sure by the end of the day it'll quietly show as an H9. You'll notice there's the option to enable/disable ANT+, broadcasting at all, and GymLink (the analog bits). Kinda cool.
Ok, with that – I think we've covered all there is to know about it connectivity-wise and basic use. After usage, like any other chest strap, I recommend simply washing it off with water. I often just do this in the first minute or so of taking a shower after a workout. Then simply hang it up to let it dry. The entire strap and pod is waterproof to 30-meters.
Initial Accuracy Data:
Here's data from an initial workout. This was an indoor workout because the weather is miserable here right now and was basically hailing blueberries like an angry tornado yesterday.
First up is the data from the indoor bike. In this case I had a boatload of other sensors onboard, all carefully positioned so that they don't interfere with each other. In total, I had all the following:
A) Polar H9 Strap (Upper chest)
B) Garmin HRM-DUAL Strap (lower chest)
C) Polar OH1 Plus optical HR sensor (upper left arm)
D) MioPod optical HR sensor (upper right arm)
E) Garmin Vivoactive 4 watch (left wrist)
Phew. Data file extravaganza!
Here's what that looks like:

As you can see, that's pretty boring. The Vivoactive 4 accuracy mostly sucked like a drunk pedestrian, but everything else was almost identical. Some minor variances between the two optical HR sensors, but by and large pretty darn similar across all of them. This included a few sprint efforts, and a variety of changes in intensity. The H9 is in teal connected to the FR945 as an ANT+ chest strap, while the HRM-DUAL is in orange connected to the Peloton bike. The other colors are shown to the right.

You can see the entire set of data, inclusive of zooming in and out as you see fit here. Ultimately, it's pretty boring. There's virtually no difference between them.
Now, I had plans to have an indoor treadmill interval workout for you this morning as well. Except, I've spent the last hour troubleshooting Zwift and Bluetooth Smart sensor connectivity. So, no run now. Maybe later once I finish placing the entire setup underneath a high-speed bus out front of the studio.
(Note: All of the charts in these accuracy sections were created using the DCR Analyzer tool.  It allows you to compare power meters/trainers, heart rate, cadence, speed/pace, GPS tracks and plenty more. You can use it as well for your own gadget comparisons, more details here.)
Product Comparison: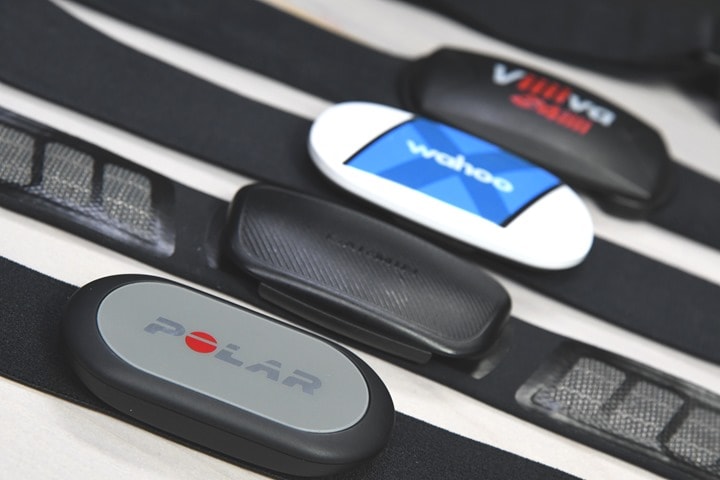 I've added the Polar H9 strap into the product comparison database, within the heart rate sensor section. That's got boatloads of heart rate straps in there, though for the purposes of comparison below I've slated it against the Wahoo TICKR series, Garmin HRM-DUAL, 4iiii Viiiiva, and Polar H10 – all being chest straps. If you want to compare it against optical sensors like the Polar OH1+, Wahoo TICKR FIT, or Scosche 24, you can do that in the product comparison database too.
Still, to make your life easier, I'll distill this entire table down to basically three lines:
Polar H9 vs H10: The H10 has storage for workouts sans-device (meaning, it'll sync them from strap to phone). It also has accelerometer data that you probably won't ever use, it does dual Bluetooth Smart connections.
Polar H9 vs Garmin HRM-DUAL: The Garmin strap has dual Bluetooth Smart connections like the Polar H10, but lacks the 5kHz analog signal for gym treadmills/equipment. Both are priced the same. Essentially the main difference here is deciding which use case fits you best.
Polar H9 vs Wahoo TICKR or TICKR X: Assuming the base TICKR (not the TICKR X), they're the same for ANT+/Bluetooth Smart connectivity, but the Polar H9 has the analog 5kHz that the TICKR doesn't. The TICKR is cheaper. If looking at the TICKR X, it has offline storage like the Polar H10 and a bunch of running focused metrics you might use 2 or 3 times (only with their app).
Polar vs 4iiii Viiiiva: As usual, the 4iiii Viiiiva gets basically no respect. It's got more software features than everyone above for about the same price. I personally don't find the strap all that comfortable though. It doesn't have dual-Bluetooth Smart or 5kHz, but does have bridging of ANT+ accessories to Bluetooth Smart (including footpods/power meters/etc…). Plus offline storage. I think it also farts Canadian rainbows too.
Make sense? Good. Here's the table of them all:
And again, remember you can make your own comparison chart with all the heart rate straps/sensors I've reviewed (optical and chest straps) in the product comparison database here.
Summary: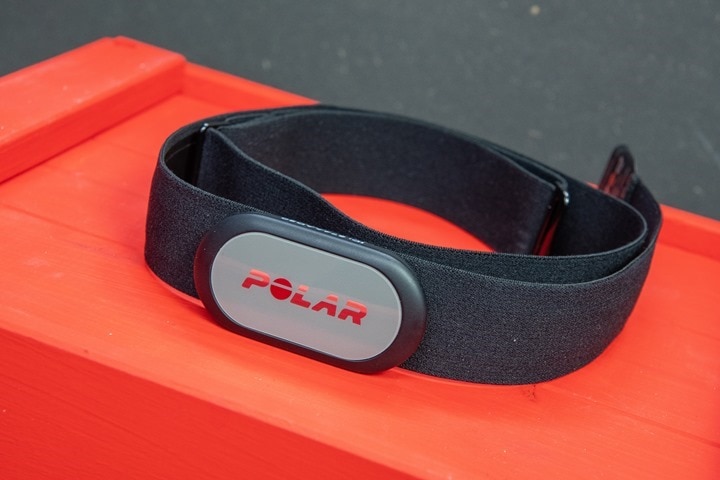 The Polar H9 fits a gap in Polar's lineup for offering a tri-band chest strap at an affordable price, undercutting the price of their own product (the H10) to put something on the market that should actually do well competitively since it really does stack up well against the Garmin HRM-DUAL and Wahoo straps. Each strap has their own minor differences that you'll have to ultimately decide which strap, if any, makes the most sense for your specific needs. But ultimately, I'd be more than happy to use any of them on a daily basis.
I've really got no complaints about the H9. Sure, I'd love to have seen two Bluetooth Smart connections like the H10 – but that's product differentiation for ya. And sure, I'd love to have seen storage of workouts like the H10 – but I'm not actually a fan of how Polar's H10 workout storage functionality works logistically. So that's not a big loss (I find it cumbersome compared to how others work). I'd note the Polar OH1 Plus's offline functionality is awesome – and one of my daily testing sensors out there because of that simplicity.
As for accuracy, things look pretty good at this point for what I've tested. More to come there. While my treadmill workout as planned crapped out, I did actually start the workout before I ran out of time – and within that realm things were matched up 1:1 against the HRM-DUAL. Again, hopefully this afternoon I'll be able to win the battle against electronic devices and get that workout knocked out for real, with more juicy running interval data.
Until then – as I said up above – this seems like a nicely landed product by Polar. Good price, good functionality, and based on their longstanding success of existing chest straps that the vast majority of people seem to really like (myself included).

Found This Post Useful? Support The Site!
Hopefully you found this review useful. At the end of the day, I'm an athlete just like you looking for the most detail possible on a new purchase – so my review is written from the standpoint of how I used the device. The reviews generally take a lot of hours to put together, so it's a fair bit of work (and labor of love). As you probably noticed by looking below, I also take time to answer all the questions posted in the comments – and there's quite a bit of detail in there as well.
If you're shopping for the Polar H9 or any other accessory items, please consider using the affiliate links below! As an Amazon Associate I earn from qualifying purchases. It doesn't cost you anything extra, but your purchases help support this website a lot. Even more, if you shop with TPC (The Pro's Closet), you'll save $40 on purchases over $200 with coupon code DCRAIN40! The Pro's Closet has been a long-time partner of the site here - including sponsoring videos like my cargo bike race, as well as just being an awesome Colorado-based company full of good humans. Check them out with the links below and the DCRAIN40 coupon!
Here's a few other variants or sibling products that are worth considering:
I've also put together a quick list of some of my favorite or most compatible accessories for this unit:
And of course – you can always sign-up to be a DCR Supporter! That gets you an ad-free DCR, access to the DCR Quarantine Corner video series packed with behind the scenes tidbits...and it also makes you awesome. And being awesome is what it's all about!
Thanks for reading! And as always, feel free to post comments or questions in the comments section below, I'll be happy to try and answer them as quickly as possible. And lastly, if you felt this review was useful – I always appreciate feedback in the comments below. Thanks!