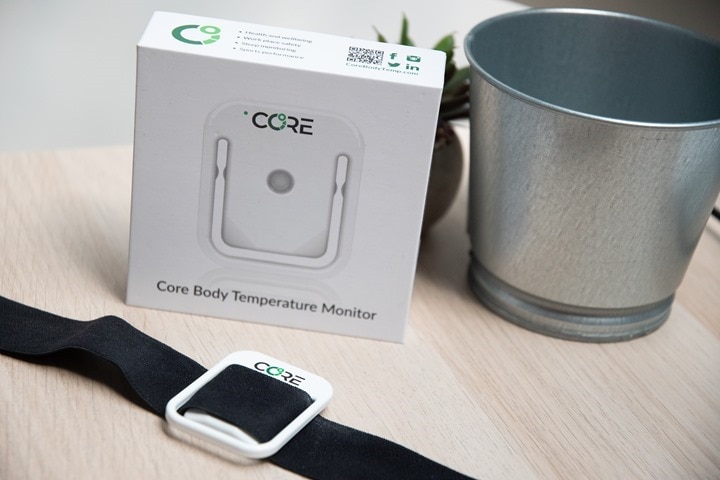 It's rare for there to be meaningful heat in the Netherlands, often only a handful of times each summer. However, as luck would have it – one of those times is right now. And, for the last couple weeks I've been using and wearing the new CORE continuous body temperature sensor during all my workouts. This small sensor, about the size of 1.5 dominos, can be mounted numerous ways. In my case, I simply wore it attached to a heart rate strap. However, it can also attach via stickers or arm bands.
Ultimately, it broadcasts your body's skin and core temperature (two different data points) out over ANT+ & Bluetooth Smart. Thus, I was able to track my core temperature within 0.1°C on my Garmin Fenix 6 watch just the same as my Wahoo ROAM bike computer, and my smartphone as well.
Why though?
Certainly while the weather here (topping out at 91°F/32.7°C) isn't likely to get me into too much trouble given the duration of most of my workouts, hotter temperatures and longer durations could – and a UCI WorldTour team this season is using it to keep tabs on their riders. The sensor can also monitor in a 24×7 mode as well, useful for longer term tracking – or even tracking how long it takes to get the body cooled back down after a horrifically hot workout.
And beyond sport there are far greater potential applications, primarily in so-called 'workforce monitoring', which can include hot factories, military deployments in the desert, and more (even COVID-19 related implementations). In these situations the CORE can even connect to NPE WASP systems for Skynet style data monitoring.
However, that's all besides the point. I was mostly curious about the sports tech side, and whether or not it's worth the 249EUR for the sensor. They just launched the product for sale today, though, it's definitely still beta-quality. As such, I did encounter numerous beta bugs that sound like they're already in the pipeline to get resolved before units start shipping to everyone else. I'll cover these down below though. As usual, once I'm done with this thing I'll send the loaner unit back to them.
Speaking of which, 'them', is technically a company called greenTEG AG, which was a spin-off of the Swiss Federal Institute of Technology (ETH) in 2009. They've been making other sensors since then.
Setup & Connectivity: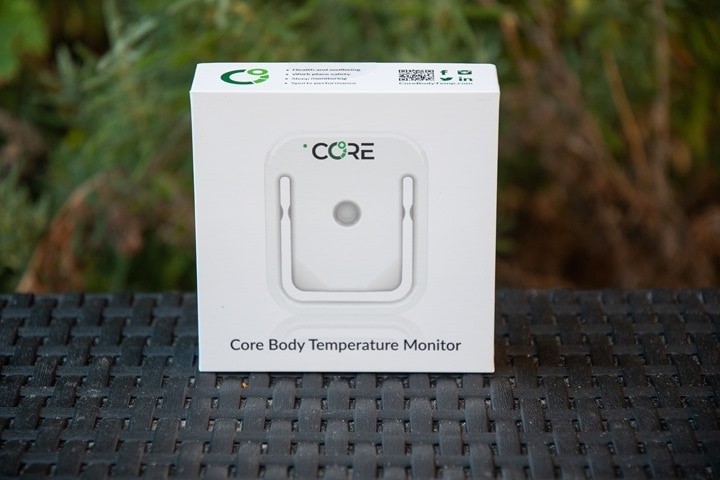 So first up is the unboxing. In the box you'll find the CORE temp sensor, as well as a pile of sticky pads.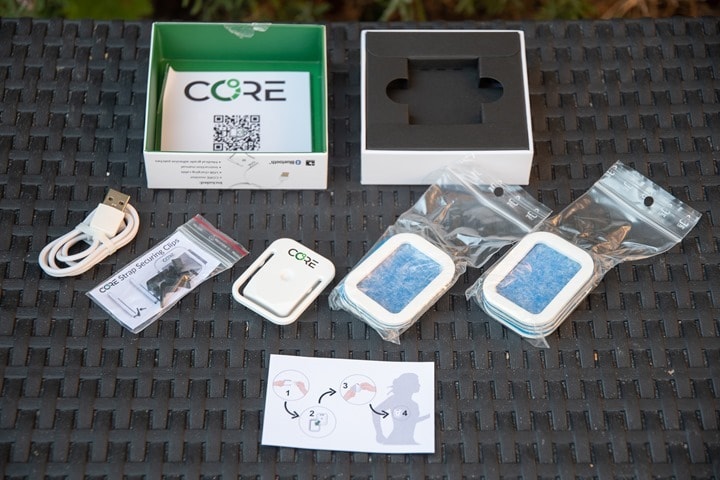 These allow you to mount it to your body without needing a strap. CORE says official spec for each sticker is 1 day, but in practice it's around 3 days. Though I haven't quite tried them yet. It's on the to-do list.
You'll also find a small USB charging cable, which uses magnets to attach to the CORE pod and charge it up. CORE claims a battery life of 6 days of monitoring, though I haven't quite been able to verify that thus far due to some beta bugs around charging indicators. I did however discover that it doesn't charge well on USB battery packs, since the power draw is so low that most USB battery packs simply think it stopped requesting a charge. So you'll want to charge it with a wall port, computer, or something else that isn't a smart charger.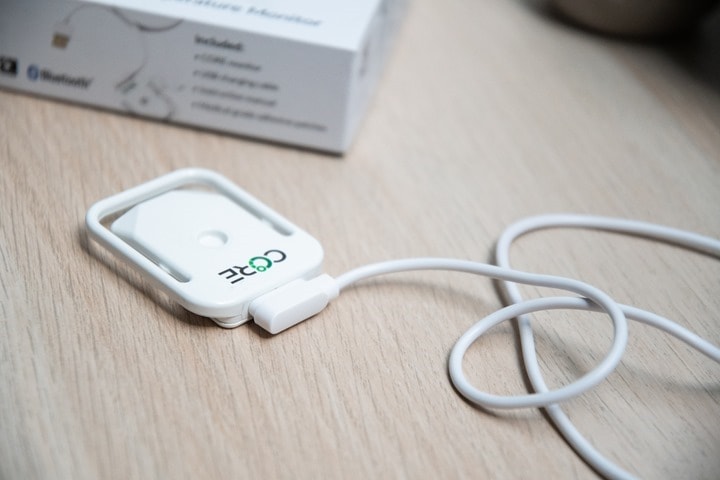 Here's a closer look at the back of the pod, and a size comparison to a standard SD card: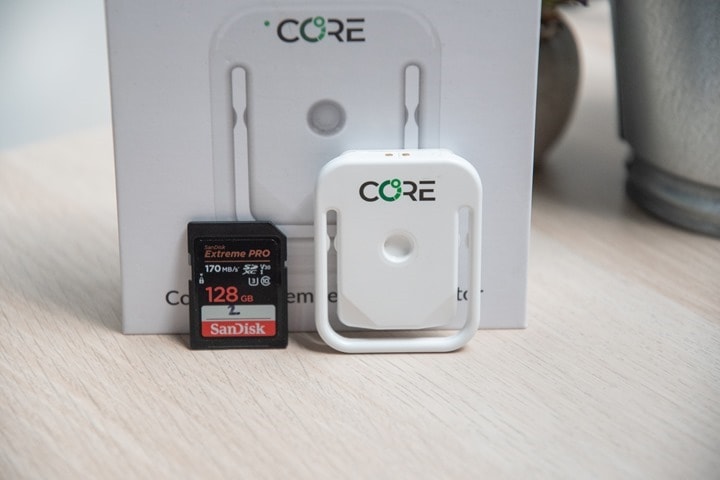 This is the skin side of the pod, and the unit works via heat transfer from your body to it, and then measuring said heat. The company says it'll even work underwater swimming to accurately measure your temperature.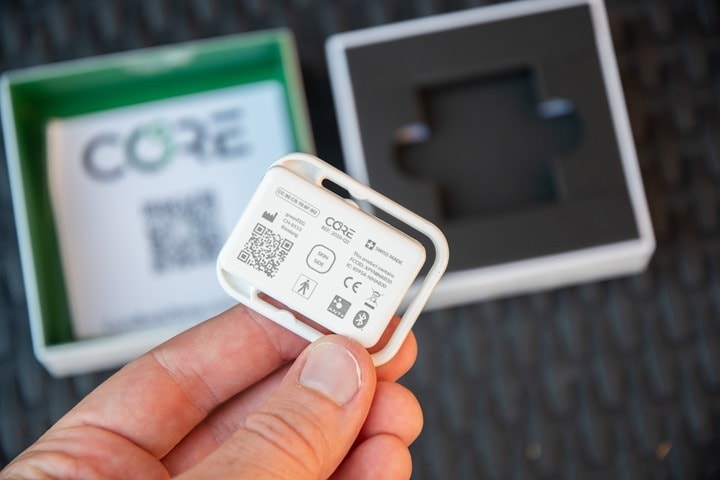 As noted earlier there's numerous ways you can mount it. On their site they've got armbands and such, but probably the most common for most athletes will just be to a standard chest heart rate strap. Sure, you may be using an optical HR sensor on your watch these days, but if not – this is an easy method. The pod simply slides into the strap.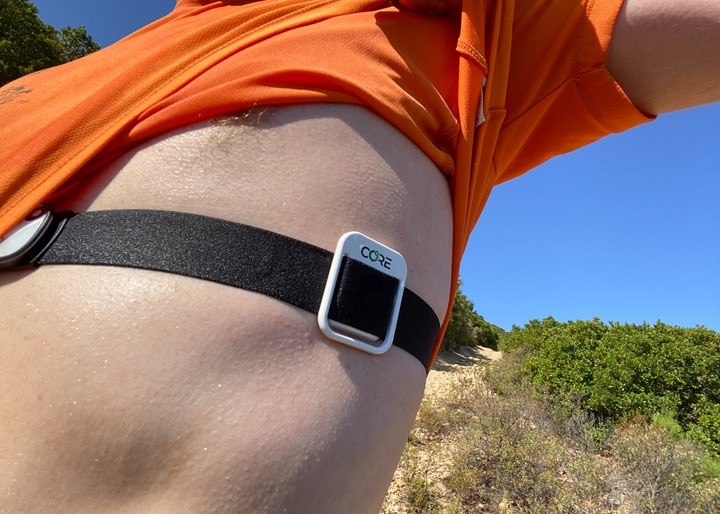 The smartphone app pairs with the CORE and allows you to configure a handful of settings on the pod/app, but for the most part it's slim pickins today:
Notably however, it does allow you to pair to a heart rate strap, which in turn shows that data in the app (and at present, helps to trigger enablement of sport mode versus 24×7 mode).
Meanwhile, I got to installing the Connect IQ apps. These will be available for most recent Garmin devices. In my case I installed it on a Garmin Fenix 6 and Edge 830 (and 530). While it's not published in the Garmin Connect IQ app store yet, they sent the beta files over to install manually. Then I just configured the data field on my watch/bike computers like any other data field.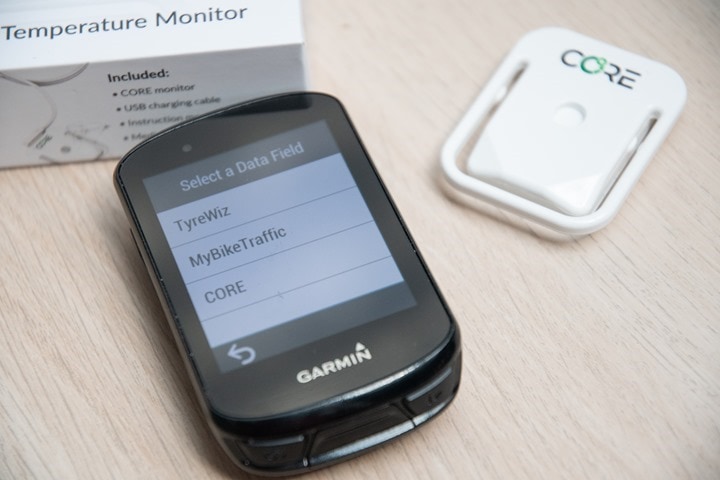 Meanwhile, on the Wahoo ROAM, I paired it up as a muscle oxygen sensor, such as what Moxy uses. Of course, this is very different data, but for now CORE is simply utilizing that data field for their purposes. And, it works just fine for now. Longer term they say they're working with Wahoo to get proper data support there.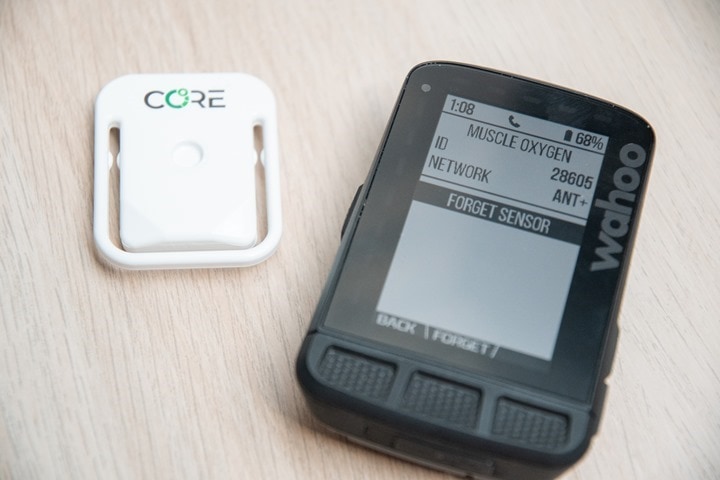 With that, I'm ready to roll!
Usage & Data:
My testing started last week in hot desert-like conditions. I first did a test ride to validate the basics of it, paired up with an Edge 830 (Connect IQ app), a Fenix 6 Pro (Connect IQ app), and the Wahoo ROAM (hijacking the built-in SMO2 muscle oxygen field). Here it is on the Edge 830: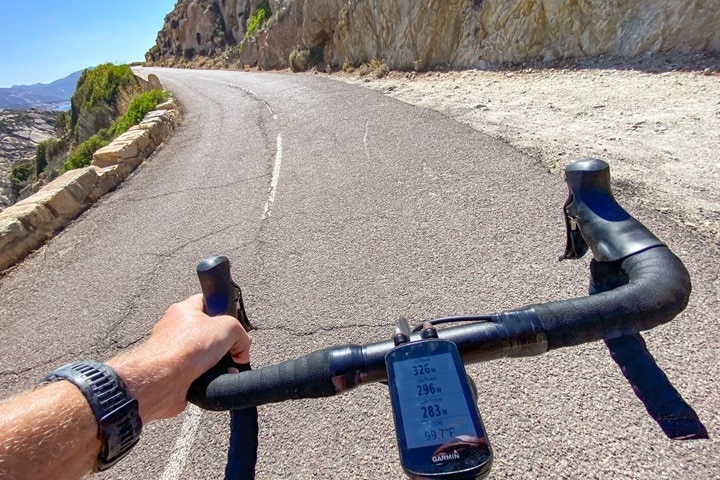 Then on the Wahoo ROAM. In the case of the ROAM, it's using the muscle oxygen field so the unit label is showing THB instead of Celsius, and then it actually alternates the data back and forth every second showing diag information. It's a little weird, but a stop-gap till they can sort out proper integration with Wahoo. On the bright side, this data is available to 3rd party apps like Today's Plan.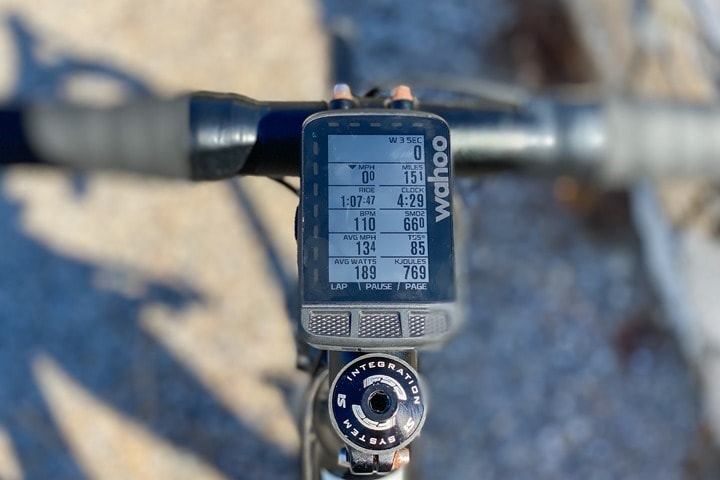 Interestingly, the company says they're working with ANT+ to slightly update the 'Environmental Temperature' ANT+ profile to be better suited for body temperature versus outside temperature.
On the ride, it ended up being slightly cooler than I expected. Despite being desert-like and hot-out, I ended up going for a bit of an easier ride, and the cooling effect of the rolling terrain meant I didn't overheat much.
So, aiming to double-down on things I headed out the next morning for a trail-run up the side of a mountain/hill thing. About 1,000ft/330m of elevation gain in 5K, all with virtually no shade on a bright sunny day.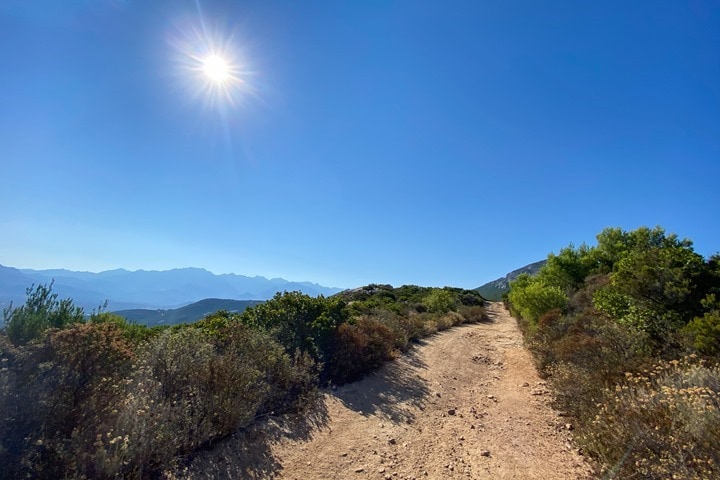 In this case, I had it paired to both the Fenix 6 Pro and iPhone app concurrently, so I could monitor the temperature. During the run my core temperature very slightly rose from 100.5°F/38.0°C, as I climbed. Here's a photo I took at 99.5°F along the way.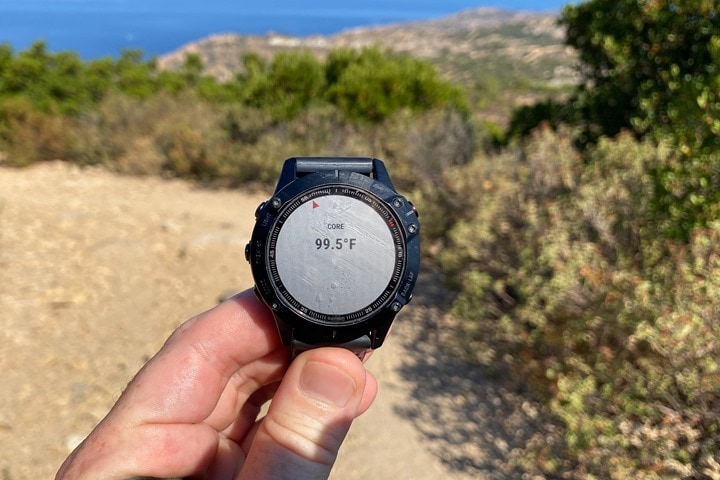 In fact, you see this quite easily on the app, whereby my core temp was climbing as I kept running upwards. However, once I reached my turnaround point and started descending, you can start to see my core temp taper back out again and decline. Only to rise slightly as I ran along the flats back to my starting point. The times are all wonky on this one, but the data is correct.
Kinda cool, huh?
Normally, you'd also be able to see this data afterwards in Garmin Connect, just like any other plotted Connect IQ app data chart. But because the app isn't published yet in the CIQ app store, it won't enumerate there. However, fear not – it still enumerates within the DCR Analyzer, because it's cool like that. Or, hot I guess. Since the CORE system simply plots the data into the standard .FIT file developer fields, we can enumerate it, and above you can see one of my trainer rides from earlier this week (on The Sufferfest).

In particular, note the rise in body temperature in the last half. Also note – there's no functional A/C in that part of the DCR Cave.
(I'd have more cool data to show from my rides/runs, but alas the beta Connect IQ app isn't super stable, and often would either not record properly or not connect properly. CORE says they're getting close to having those issues resolved in the next app/unit update.)
Now – none of my rides were 4-5 hour long slog fests in searing heat. In those scenarios the unit would become far more viable. So much so that one unnamed UCI WorldTour team is using it this year for training, and plans to also use it at the Tour de France later this month. At present that team doesn't wish itself to be disclosed. However, there are some snippets of data from them below. And if you're into cycling heat data, there's a study from the UCI World Championships where they used e-pills to track rider data too.
In any case, this is a 4hr+ long ride, and you can see the tracking in comparison to an e-pill. Unfortunately I don't have any context on this ride in terms of external temperature, or ride intensity.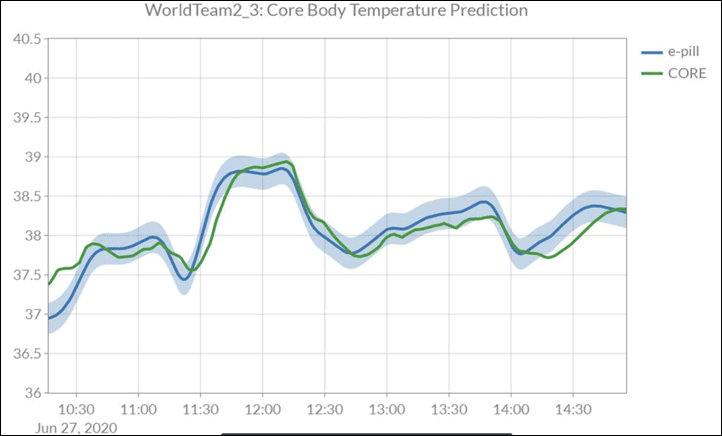 Whereas on this one you see a bit more lag between the e-pill and CORE, seemingly about 10 mins, as well as it undercutting slightly by half a degree when the temperature drops.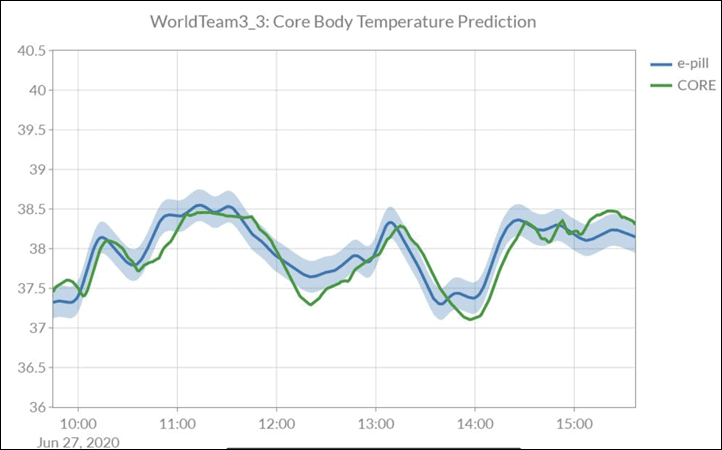 They also have some data (non-WorldTour team), showing multiple days being tracked. In this case you can see the comparison there as well. In discussing it with them, they noted that the product accuracy has improved slightly since this April data set.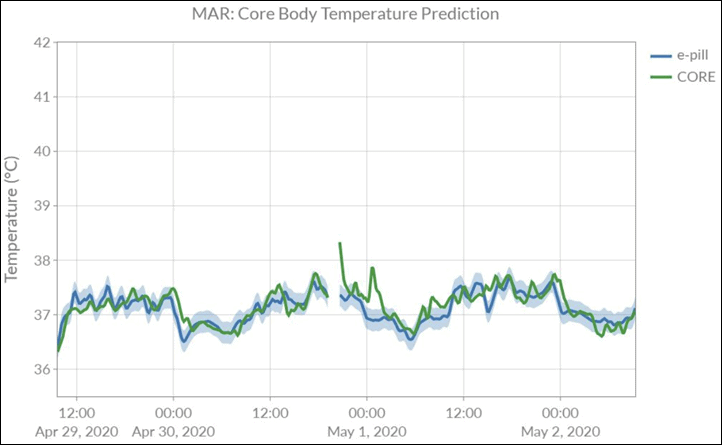 Side note: While looking at the pricing on their website, I noticed they even sell this nifty 6-unit charging station. Which obviously is built exactly for the team scenario: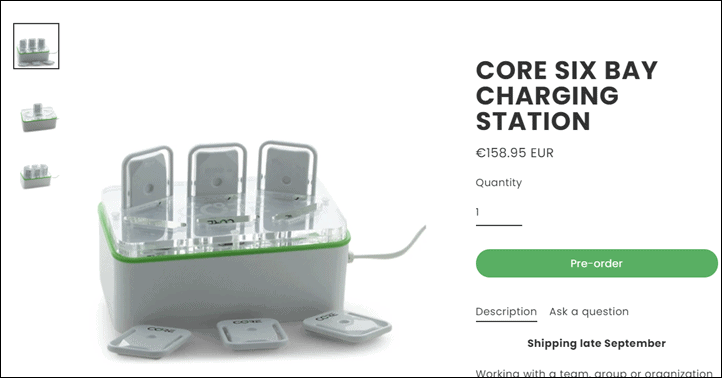 They say that the stickers on the CORE are officially spec'd at one-day, but realistically they get about three days of life from them. Stickers come in an 8 pack for 7EUR. For parents, one tidbit you'll find interesting is that some of the CORE product team will simply stick a CORE on one of their kids when they get a fever, as an easy and non-intrusive way to monitor them. Though note that it's not a medical device and not certified as such.
Finally, what about accuracy? Well, that's a bit tougher for me to validate at this point. For two reasons. First, is that while there are some simple and widely available ways to measure temperature (such as when your kid is sick), these methods don't tend to be super accurate. And more importantly – they don't tend to work well mid-workout. These include ear and contactless thermometers.
The next chunk of devices that could be used to validate accuracy aren't either readily available or more invasive – such as an e-pill. Or, even if readily available, aren't as ideal (again), sporting wise out and about on the trails or roadways (such as rectal probes, or bladder catheters, among others…). I'm not entirely sure what my riding buddies would think of me doing a rectal thermometer test mid-ride.
So for the moment, I'm going to defer to their own accuracy testing on this (seen above). They've put together some charts around this with comparisons against an e-pill measuring core temperature. Obviously, it's work done by them, so…take that with whatever grain of salt you want. It is clear though from my testing that my body temperature goes up and down at the exact moments I expect it to. And at present, all of it felt pretty normal. I didn't try and go out and run a marathon or half-marathon in 90°F/32°C heat. Mostly, because I've already done that, thank you very much. And the last time I did that I nearly ended up in the medic tent (and, The Girl actually did spend time in said tent).
Going Forward: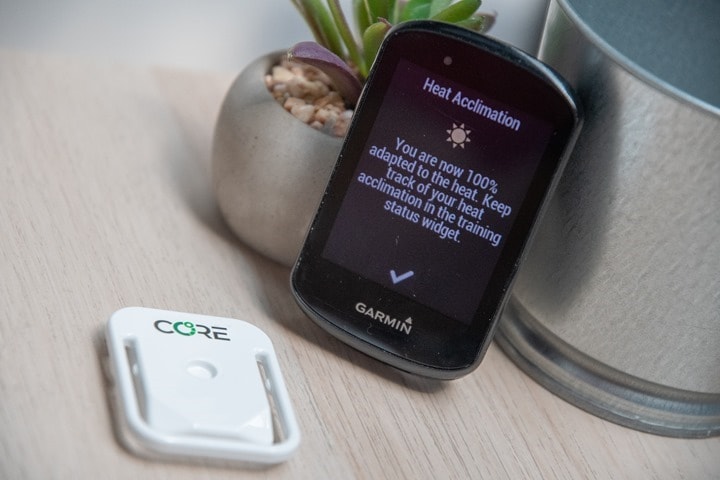 So should you go out and buy one? Frankly, it's gonna depend on where you live/train/race, and whether or not that place is hot. If you're living somewhere like the Netherlands (me), there's little reason to get one. It's just not hot enough, often enough, for heat-related issues to matter much from a sports standpoint.
However, if you're training in hot environments for hours on end – then it makes more sense. There's plenty of studies out there for different sports on the impact of heat and athletic performance, and that's before you even approach safety/danger aspects of training in extreme temperatures. There's also studies on the impact of acclimation as well for sport performance. The number most studies seem to focus on is about 40°C for the core temperature before it starts to impact performance (for some, more than others).
We know that pro cyclists spend significant amounts of time and money trying to cool their bodies prior to hot stages. I showed that at the Tour Down Under two years ago with Team BMC and their chilling vests. Head of Performance, Dr. Daniel Green for BMC then, is now Head of Performance Innovation with NTT Pro Cycling. Perhaps it's them using the CORE this year, it wouldn't surprise me given all his past work.
I'm sure someone with enough sleuthing looking at photos from the Tour of Poland or other recent races could find the tell-tale sign of the CORE pod attached to a chest HR strap beneath the usually skin-tight jerseys of pro riders. It'd be super interesting to understand what and how they're using that data today, especially with the multi-rider data capture available via an NPE WASP.
Until it sneaks out who's using it, the unit remains on pre-sale, for shipping in September.
With that – thanks for reading!