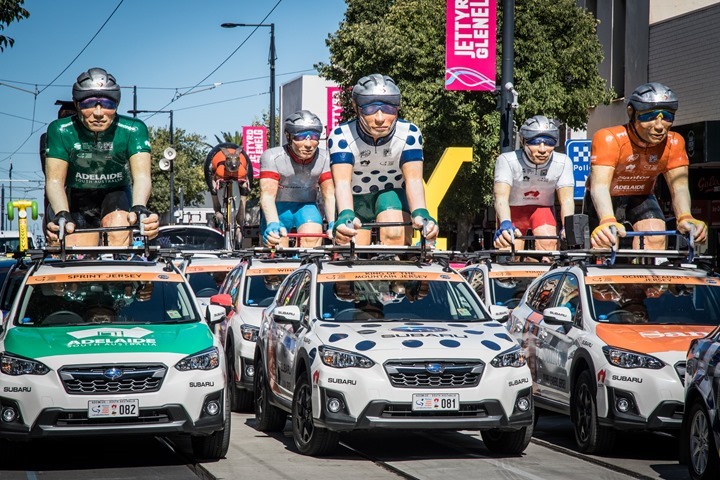 Each day I'm here down in Adelaide at the Tour Down Under I'm roughly spending half my day at or getting to/from the race site, and then half my day writing posts and editing videos. Mixed in there is also general testing of devices totally unrelated to the Tour Down Under, as well as attempting to clear out a few more CES related posts about things you mostly haven't seen much detail on.  Plus, of course, helping out with the little ones, adjusting to a massive time zone change, and deciding which fruit smoothie to get. Occasionally I even ride or run.
In general, that entire rotating system is chugging along.  Not perfect, but, life isn't perfect.  In that same vein, it'd be perfect if the entirety of y'all that read the blog also were on YouTube to see the content there, and likewise on Twitter.  But over time it's become more and more clear to me that those are interestingly separate audiences.  Many people who follow on YouTube aren't aware of the site here, and many people here aren't aware of my YouTube's.
Most time of course, my content is here on the site in written form.  But things like the WorldTour races sometimes lend themselves better to quick YouTube snippets, especially when it's more about the atmosphere than a given piece of tech.  Inversely, for my detailed 2018 WorldTour tech post, I did that here versus on YouTube.
Thus, I wanted to call attention to three specific videos I uploaded to YouTube, as well as provide a bit more detail on one of the tech things.
BMC Chilling Vests: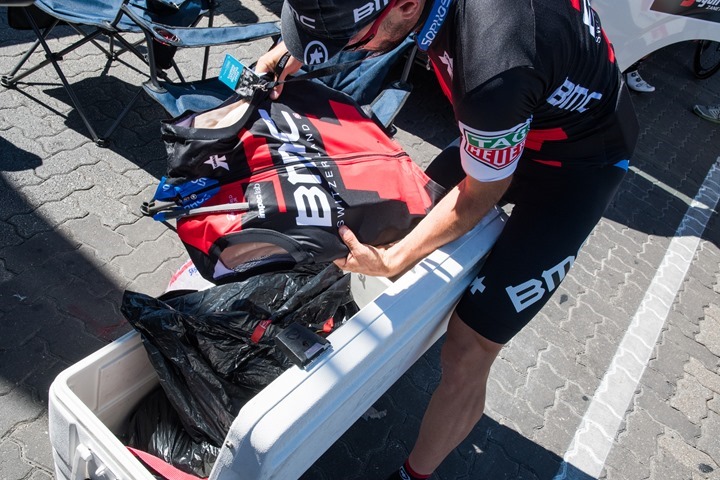 Yesterday at Stage 2 I happened to take a quick two phone photos of BMC managing some chilled hydration vests, along with a rider wearing it.  It was just a 5-second thing that I quickly posted to Twitter along with a handful of other photos from the race start.  Sometimes I do boatloads of Twitter race start storms (like this past summer at the Tour de France), but the setup is a bit more low key at the TDU.
BMC is using chilled hydration vests under their jerseys to try and mitigate some of the heat today. Note the drinking straw coming out of the jersey. pic.twitter.com/0L2UyxV79U

— Ray Maker (@dcrainmakerblog) January 17, 2018
In any event, as part of that it turned out their Head of Performance Analysis is actually a DCR follower, and in turn tweeted back earlier today to swing by for a bit more detail on what they were doing (ironically, as I was waiting in line for a chilly smoothie).  I showed up a few minutes later and here's the low-down in under three minutes:
What's interesting here is really the trial nature of it. Hydration/chilling vests aren't exactly new, nor are the concept behind it.  However, these vests are clearly a step up from being generic without branding.  After all, they're designed to look identical to a BMC jersey from a quick glance.  The only obvious tell at first is the drinking straw sticking out.
As I noted above in the video, the plan is to use them pre-race at the Tour Down Under, since the temperatures today hit 41°C/106°F, with plans to go even higher tomorrow (42-43°C, 107-109°F).  So hot that the race shortened the stage already for tomorrow (like today), and then adjusted the time earlier too.  They also cancelled the planned community ride event (like a Fondo of sorts).  But again – that's pre-race, not during the race.  Down the road, if the system proves out, they want to start using the vests during-race conditions.
Funny enough, part of the challenge here was getting them cold/frozen enough at the team hotel.  But, that's what makes this sort of trial ideal – figuring out the kinks in usage before a longer stage race, like one of the Grand Tours.
In any case, BMC appeared to be the only one I saw using such a system within the start area (or elsewhere), at the Tour Down Under.  The remainder of the teams were just like the rest of us: Finding ice cold rags and dumping chilled water atop our heads.  See, we all have something in common with pro cyclists after all.
Race Convoy Walkthrough: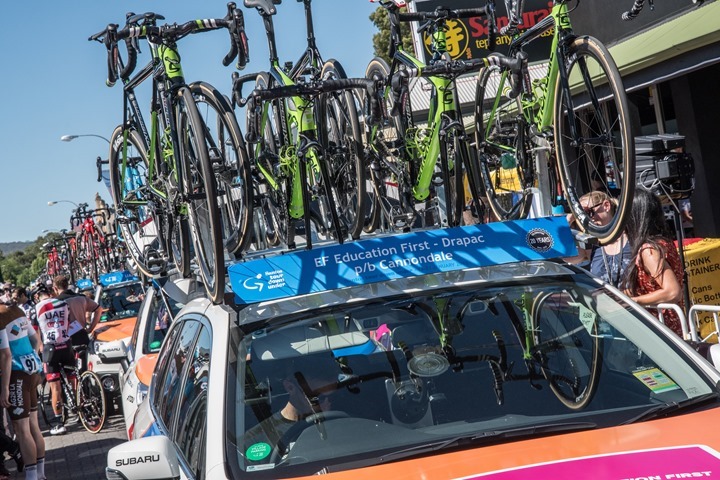 Next up we've got a race day convoy walk-through.  While many people see the riders on TV, and occasionally some team cars, what you don't see is the mass number of vehicles ahead and behind those two groups.  Or heck, even the quantities of team cars that are actually there.
So for this video I start at the crapper – literally – and work my way to the very front leader police motorcycle.  I stop along the way to poke into some team vehicles and see what riders are up to.
And for those that didn't catch it – it was so hot that my phone overheated and went into that funky safety mode three times during the video trying to shoot it. Yikes!  At least the video files didn't get corrupted.
Media Swag Bag:
Finally, I figured I'd show you all the goodness inside the Tour Down Under media bag.  There aren't media bags to my knowledge for either the Tour de France or Giro, so this is kinda a unique thing here at the Tour Down Under (you can find the bag from last year here).
About the only thing that could be considered for next year would be an automatic ice machine.  Perhaps one of those slushy machines too.  Either one would be both appropriate, and appreciated.  Or heck, just toss in an extra BMC cooling vest. Again, just a friendly suggestion.
In any case, I've got more tech posts coming up in the following days, especially as I dive into details with some of the companies exhibiting in the village, as well as floating around the greater Adelaide area.
Thanks for reading (or watching)!