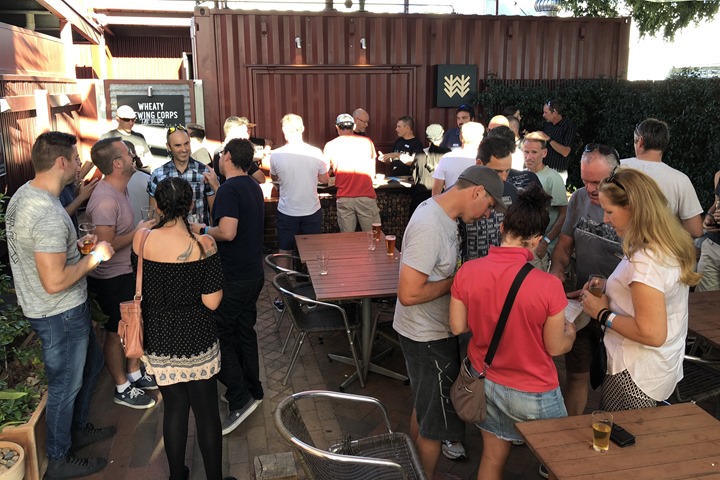 On the eve of the start of Stage 1 at the Tour Down Under we held a grand event: One solely focused on bike tech and beer.  And by grand…I mean in the back outside section of a pub under the flight path of the international airport.  But what we lacked in aeronautical silence, we made up for in sports tech chat.
The event was initially conceived by Murray from Wahoo Fitness.  He had individually met with myself and a few others last year at the Tour Down Under, and realized that the hit-list of people to chat with this year was slowly growing.  So why not burst it open to everyone?  Thus began the first (annual?) Bikes, Beers & Tech night.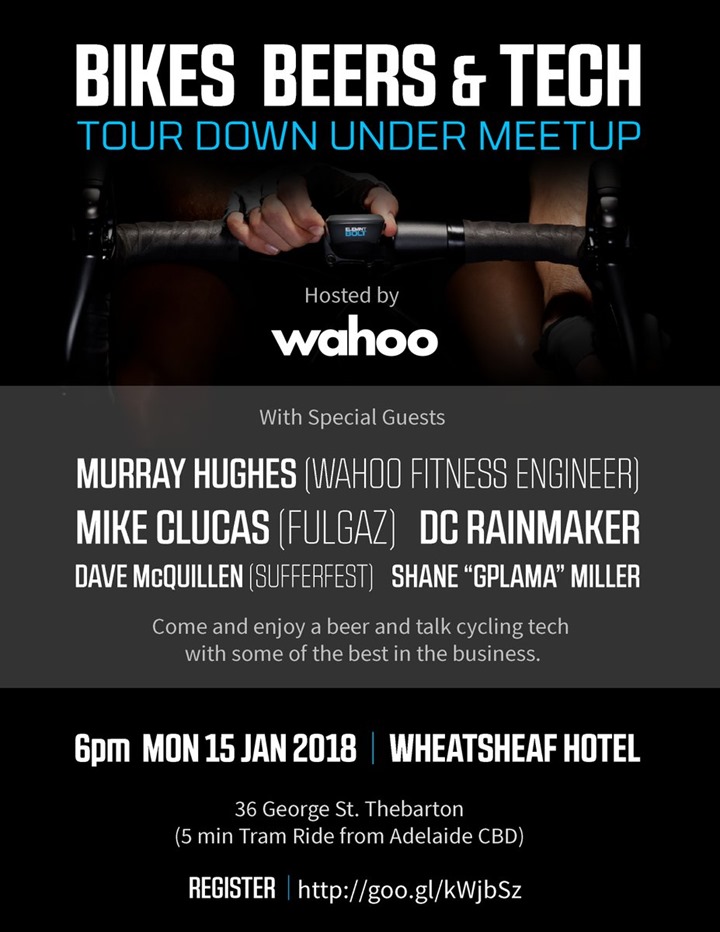 The 'featured roster would include Shane (GPLama), Murray from Wahoo Fitness, Mike from FulGaz, David from The SufferFest, and even folks from 4iiii and a few others showed up as well.  Oh, and I guess me.
But more importantly than all us were the boatloads of you that showed up.  Perhaps it was the draw of sports tech chatter, or perhaps more likely just free beer.  Either way, you came out!

It was awesome catching up with folks, and cool to hear all the different ways people were getting out and seeing the Tour Down Under.  From riding hundreds of kilometers to get here, or riding 120KM to/from a stage start to see the riders go off for that day.  Plus of course, all the discussions about the latest gadgets.
The 'program' wasn't really too formal.  Mostly, it was about beer and just an opportunity to chat.  But Murray did kick things off with intros and we each told a few little stories.  Like the backstory of Shane's YouTube handle (GP Lama), or how Murray managed to get himself a job at Wahoo Fitness (when he basically told the CEO his software sucked).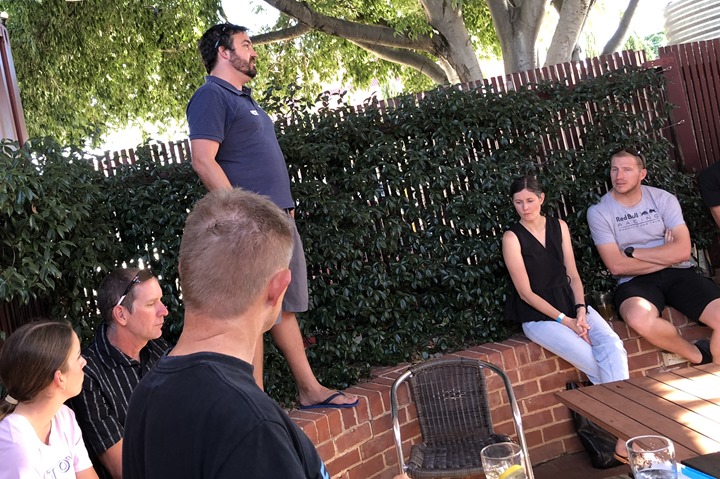 We then had a bit of Q&A time for some questions from those attending.
Beyond that, everyone caught up on all the latest sports tech.  Nobody from any of the companies had any of their products on hand, as the goal wasn't some marketing push.  Here's a small gallery of pics:
Sorry, I only had my cell phone with me – so just some quick snaps. Plus, I didn't think to take closer up photos till later in the evening – my bad! If you've got photos from the event, definitely post them in the comments below!
Oh, and one tech tidbit for folks that couldn't make it that I thought was cool was a rig that Mike from Fulgaz is prototyping to film some of their videos.  At first it may look like just another GoPro/bike computer mount:
But there's some interesting logic there.  First is that the camera mount is actually off slightly. Why, you ask? So that once the GoPro is installed, the lens itself is then re-centered onto the stem.  This, in turn, helps to keep one side of the brakes or handlebars out of the frame.
In addition, they're looking at adding an integrated battery pack in it, thus allowing them upwards of 6 hours of recording time.  He noted that they've switched to using the GoPro Hero 6 for recording their videos (from the Hero 5, and previously the Sony Action Cams), because they've found the quality so much better on the Hero 6 for this use case (which is what I've seen as well).  Note, this isn't something for sale by them at this point, merely just a geek's curiosity.
Oh – and lest I forget this funny tidbit: The cheeseboards that came out? They had chevrons on them, identical to the Wahoo KICKR. How hilariously ironic! No, this wasn't something coordinated.  Just pure randomness.
Thanks again for those that came out – it was great catching up with everyone! Oh, and again, if you've got photos from the night, feel free to post them below in the comments!
And hope to see more folks out and about over the next few days at the Tour Down Under.