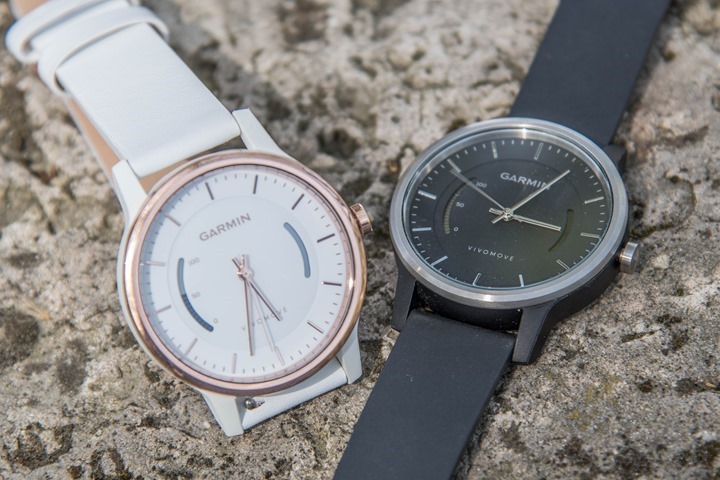 The Garmin Vivo empire is expanding.  This time though, in a way unlike any other Garmin product.  It actually looks pretty.  Swanky perhaps.
Sure, there are other Vivo wrist bands you can buy that look great on women (The Girl often wears a metal band for her Vivofit).  But those all cost extra.  And yes, there are some Fenix3 variants that look more stylish too.  But none look stylish in a 'classical timepiece' kind of way.  And that's the aim of the Vivomove.
The Vivomove follows in the footsteps of a path first charted by Withings, with their Withings Activité almost two years ago.  That watch was merely an activity tracker that connected via Bluetooth Smart to your phone.  It had no digital display, nor other fancy smartphone integration.  It didn't have smartphone notifications, nor the ability to see Snaps. Neither does the Vivomove.  It simply sits there and quietly tracks your steps and sleep.  All while looking sleek.
Basic Overview:
If you want to skip the rest of the text, here's a quick intro/overview video I put together about what the whole thing is:
The Vivomove has precisely three things it can display: Time, progress towards your daily step goal, and an inactivity bar.  That's it.
You'll (obviously) see the time using the watch hands.  In fact, like a classical timepiece you actually use the small crown on the right side to set the time.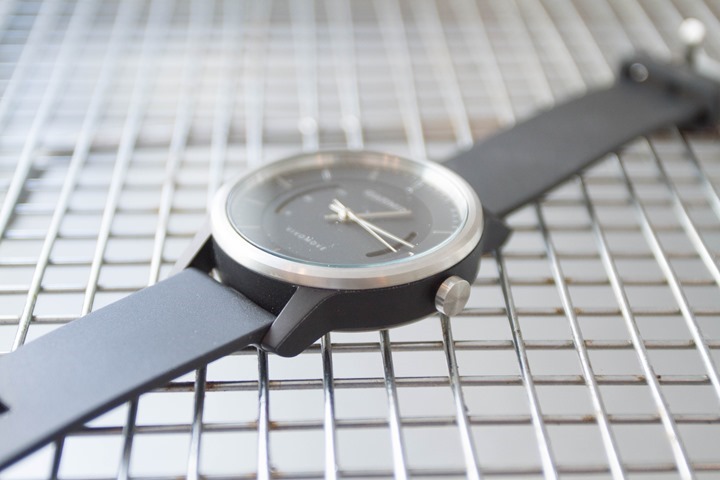 Then on the left side of the watch's face is the progress bar towards your daily step goal.  This is based on the dynamically changing step goal specified within the Garmin Connect Mobile app.  Like other Garmin wearables, that step goal will slowly rise and fall based on how active you are.  You hit your goal and it edges up a bit.  You fall short, and the next day it drops a bit.  You can also just set it for a static value too.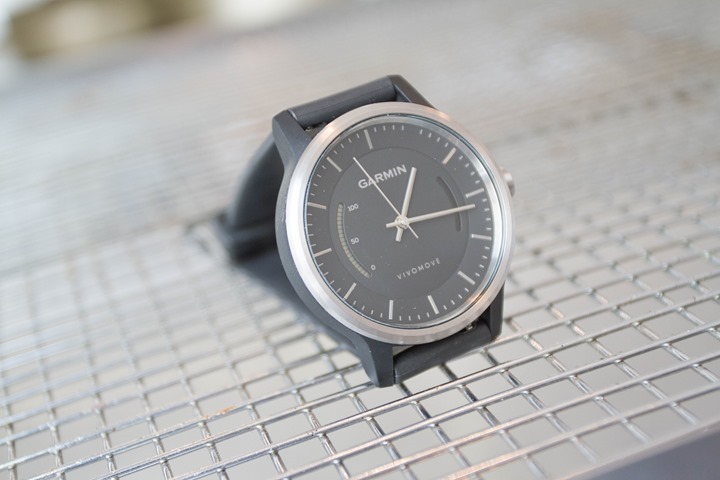 Then on the right side is the inactivity bar.  This is the 'what have you done for me lately' bar.  Basically if you don't go out and take steps, it'll fill up in red. It takes about an hour to completely fill the move bar in red, which it does in chunks.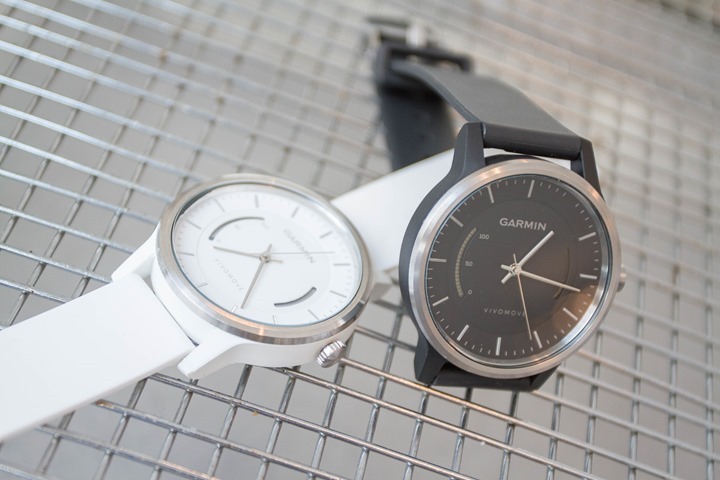 To 'clear' the move bar, you'll need to go for a short walk.  On average about 100-200m does the trick.
Beyond that, everything else is going to look just like any other Garmin wearable. So you'd get steps and sleep transferred to the Garmin Connect Mobile app using Bluetooth Smart.  Below is pretty much what you'd see.  Note that you do NOT get stairs though on the Vivomove.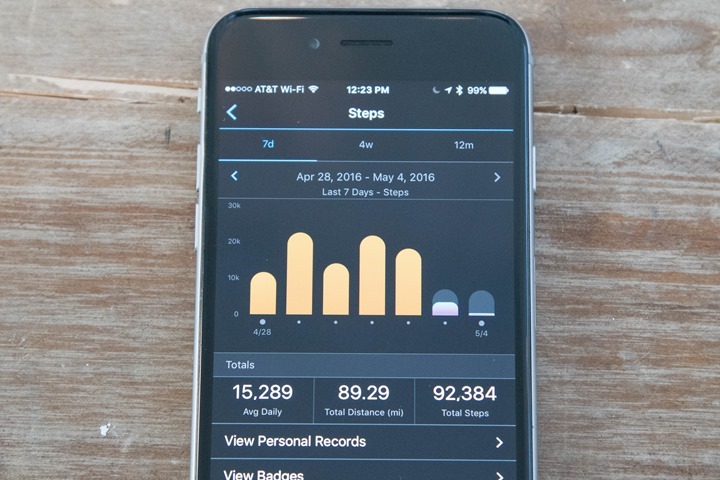 If you compare the Vivomove to the Withings Activité, there are a lot of similarities, but also some notable differences aside from size and style: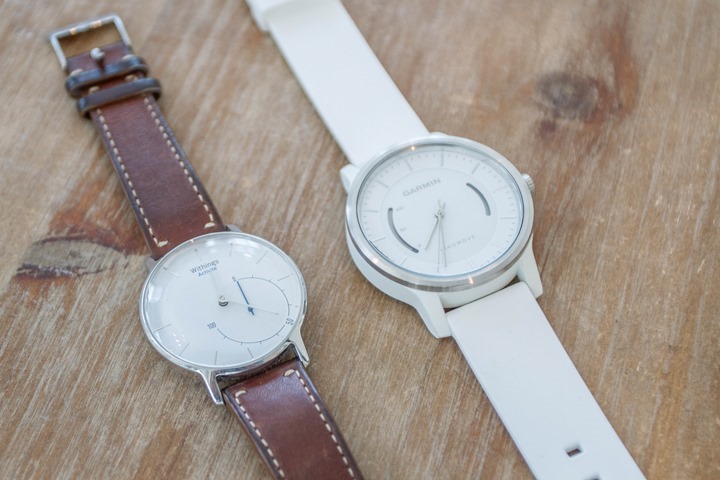 You'll see that the Activité is much smaller than the Garmin unit.  For guys, that'll likely be great news.  While I love my Activité, it feels a bit small on my wrist (as a taller guy).  Whereas the Vivomove seems a bit better placed.  On the flipside, for gals that like smaller watches, the Activité is probably better suited.  The Vivomove isn't overly large though, as seen on The Girl's wrist here (she is 5'2"/1.57m tall, with a wrist size of 14cm/5.5″).  Also more shots of her in the video above.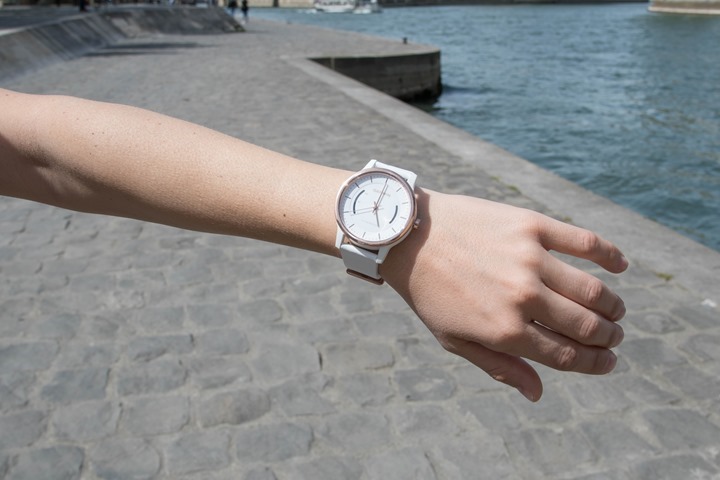 And me here (and again, more shots of me in the video wearing it).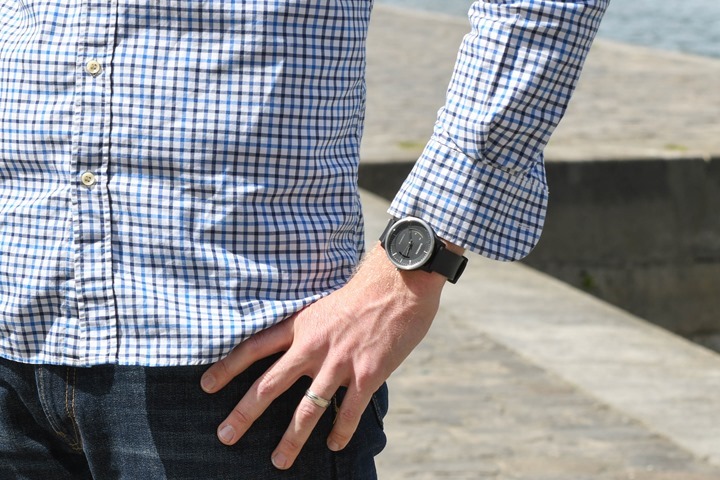 As you can see, it works pretty well on my wrist from an overall size standpoint.  Not too big, and easily goes with a dress shirt.
The Technical Details:
On a technical/functional level, all three levels of the Vivomove have the same features inside.  It's just the exterior case and bands that differ.  But how does that compare to something like the Withings Activité?  Here's a simple line by line comparison between the two units :
– Withings has sport mode recognition for running, riding, swimming (though, the level of swimming functionality is super-minimal, it's just time).  Garmin does not have MoveIQ in this unit.
– Garmin has the inactivity bar on the right side, Withings does not.
– Withings syncs the clock time from the Withings app using Bluetooth Smart.  On Garmin, you use the crown (dial) to set manually.
– Garmin claims a 1-year battery life.  Whereas with Withings it's closer to 6-8 months.
– Withings has a silent vibration alarm you can set. Garmin has neither alarms or vibration capabilities.
– Garmin can pair to a PC/Mac (plus your smartphone). Withings cannot connect to your computer, only smartphones.
But as I noted before, they're also fairly similar.  Here's how both units have many of the same features:
– Both units are fully waterproofed and can sustain swimming
– Both units use universal watch bands, so you can swap for whatever you want (Withings is 18mm, Garmin's are 20mm).
– Both units track steps and distance walked
– Both units also track sleep metrics
– Both units use coin cell batteries, which you'll want to take to a jeweler to get replaced
– Both units use Bluetooth Smart to sync metrics throughout the day to your phone
– Both companies have multiple versions/variants of the watch (different price points)
Got all that?  Good.
Vivomove Variants: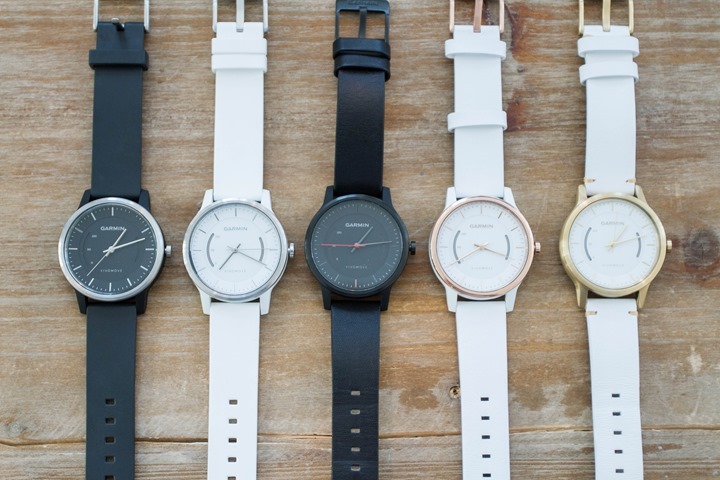 Now there are technically three 'levels' of the Vivomove.  They are as follows:
Sport – $149: All black, and all white (two left units above)
Classic – $199: Black with leather band, and rose gold with leather band (middle two units above)
Premium – $299: Stainless steel with leather band, and gold with leather band (right unit above, plus unit below in dark brown strap)
And here's some pretty imagery I shot of all the units.
And here's a gallery of all the weights:
Note that you can buy the individual bands from Garmin, which range from $29 for the sport bands, to $59 for the various leather bands.  Or, you can simply buy any standard 20mm watch band you find on planet Earth.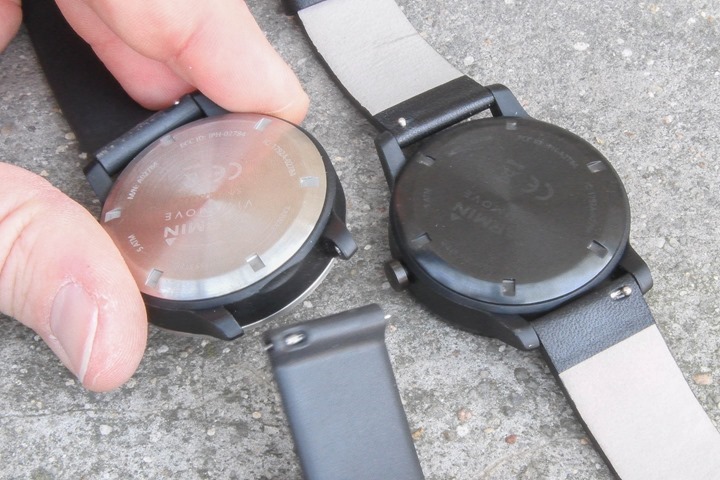 Now, there is one caveat here to the Vivomove, and it's that Garmin still lacks an integrated multi-device story.  So that means that if you go out and buy their $299 Vivomove, because you want to compliment your already existing $599 Garmin Fenix3 HR that you use for sport – those two don't play well together. Sure, they both upload data to Garmin Connect.  But Garmin Connect can't consolidate step data from multiple devices.  You have to specify which device is your current activity tracker.  So you'd logically specify the Vivomove since you use that 22-23 hours of the day.  But that means that the 10-mile run you just did on the Fenix3 doesn't count towards your steps, calories, or distance walked for the day.  It means bupkis.
Garmin says they're aiming to resolve that by the end of the year, but it's still a huge gap for the company.  And more importantly, a huge gap for Garmin's best (or most supportive) consumers.
That said, personally this watch does appeal to me.  When I'm not testing a GPS watch, I actually prefer something more minimal, so this fits into that quite well.  As does the lack of charging.
Finally, the Vivomove is expected to ship near immediately.  Of course, probably like other popular items such as the Apple Watch, various models may have slightly different availability and timelines.  But you should start seeing this in the coming days/weeks.
With that – thanks for reading!
—
Note: You can pre-order the Vivomove through Clever Training, which helps support the site!  The Sport models are here, Classic models here, and Premium here.  It also helps to pay the wages of the female wrist model I must employ.  The Girl is not cheap!  Also note that as of today, Clever Training no longer charges your card upon order, only upon ship. Enjoy!