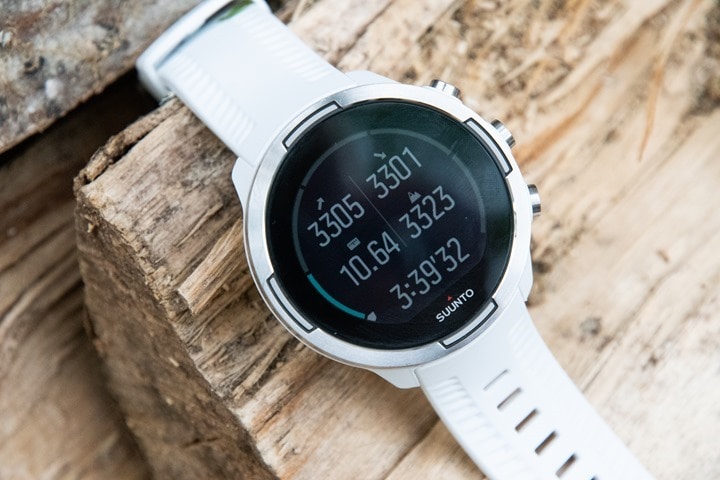 Let's get something out of the way right up front: The Suunto 9 is the Suunto Spartan V2. Or next-gen Spartan Ultra, or whatever you want to call it. Except Suunto changed the naming system this go around – and now it's called Suunto 9. Thus, if you're looking for Suunto's top-dog watch, this is the one you're looking for.
Despite the significant shift in naming though (for the better), think of the Suunto 9 as more an evolutionary update to the Suunto Spartan series, rather than a major revolutionary change.  Aside from the addition of the optical heart rate sensor (which Suunto had placed in other units anyway), the only three other major changes at present are related to battery life, new super-cool GPS tracking modes, and a new GPS chipset provider (Sony). Actually, four if you count the new universal band straps – allowing you to use any strap you find on the interwebs with it.
But that doesn't mean Suunto isn't doing more behind the scenes on their mobile app and website – as they certainly are. It's just that those changes don't fit well on the back of the box, nor into this intro section.  Instead, they require a bunch of text to try and explain. Thus how you end up with a 9,774 word review.
Don't worry though, you can watch this much shorter video instead – which summarizes all the new features and then some!
Suunto sent over (actually, I flew to them and picked it up myself) a final production Suunto 9 unit as a loaner.  I've been using it since May on a wide variety of workouts.  After I'm done with it here I'll go ahead and put it back in a box and ship it back to them (I probably won't fly it back over since that cost me a small pile of money last time).  That's just the way I roll.  If you find this review useful, you can hit up the links at the bottom to help support the site. Let's get cookin'.
What's in the box: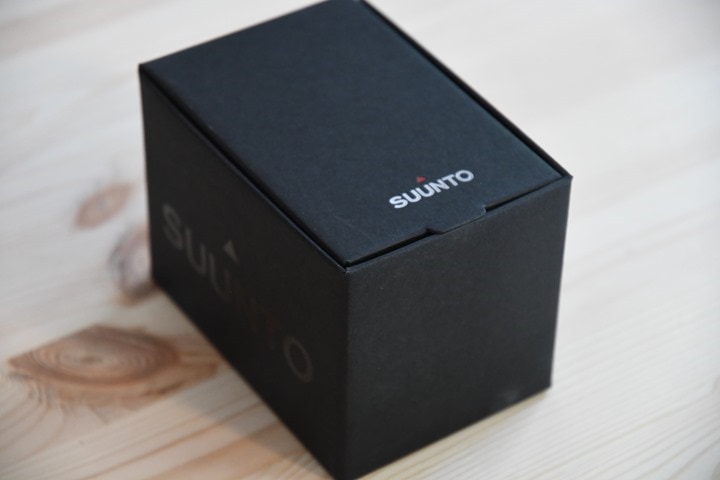 If you've seen a Suunto Ambit/Spartan box in the past, then nothing has changed.  Apparently the company bought enough boxes to last until next century (only the sleeves change for each product). So by gosh, they're going to use them.  Except, I didn't get the final sleeve with mine back in May, so here's the box topless: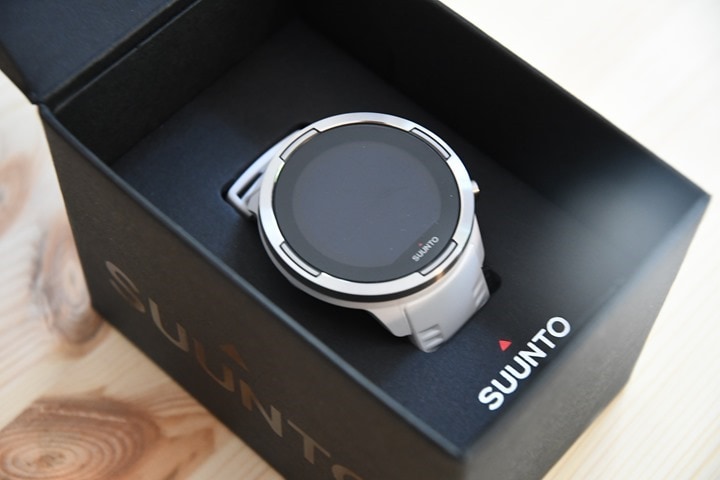 Inside you'll find the watch, the Suunto 9 charging cable (same as the Suunto Spartan series), a sticker, and a manual in a dozen languages.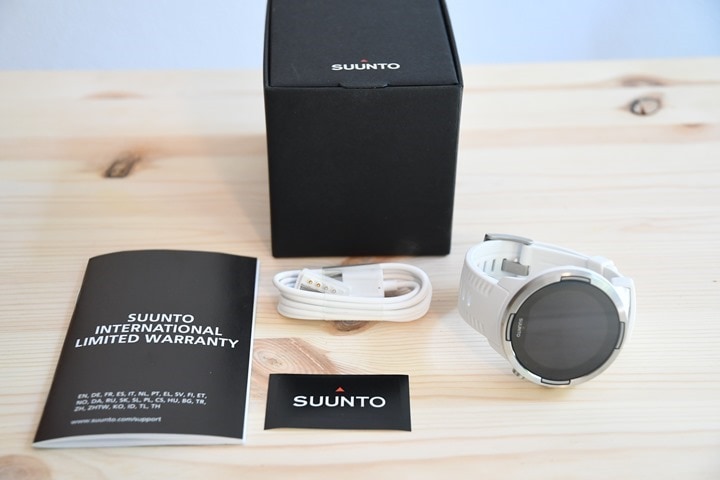 Like most watch boxes these days, they continue to get more minimalist with what's inside it – and this is no different. That's fine, I don't think anyone really needs another USB wall charger anyway.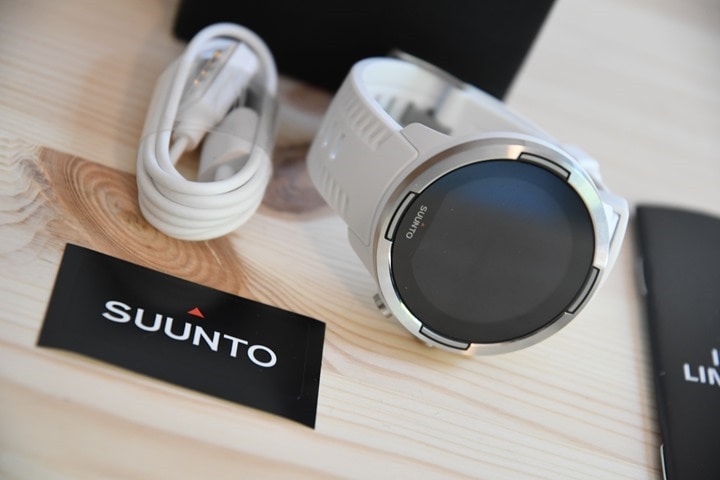 Here's a look at how things size up compared to the existing Suunto Spartan Ultra.  Suunto 9 is on the left on all photos.
And from a weight standpoint, I've got that too:
So as you can see, it's just a tiny bit heavier than before, but not too much.
Finally, as a quick refresher of what's new in the Suunto 9 compared to the Suunto Spartan series, it comes down to the following:
– Added FusedTrack: Ability to get GPS tracks without GPS data (seriously, and seriously cool)
– Switched GPS chipset providers from SIRF to Sony
– Addition of new battery performance options
– Ability to dynamically change battery options mid-workout to get to finish
– Ability to go into super-low power chrono mode to finish workout
– Added 'intelligent' low battery warnings day before your long workouts
– Swappable bands using industry standard 24mm straps
– Slightly bigger buttons (depth), different bezel styling too
– Added optical heart rate sensor from Valencell (latest generation 1.2 sensor set)
– Added 24×7 continuous HR tracking
– Now compatible with new 'Suunto' mobile app, and Sports Tracker based web platform
– Price is 599EUR/$649USD, and for 50EUR/$50 you can add chest HR strap
Again, I'll cover all these in plenty of detail throughout this review, but just in case you're scrolling through, the above list is probably what you're looking for.
The Basics: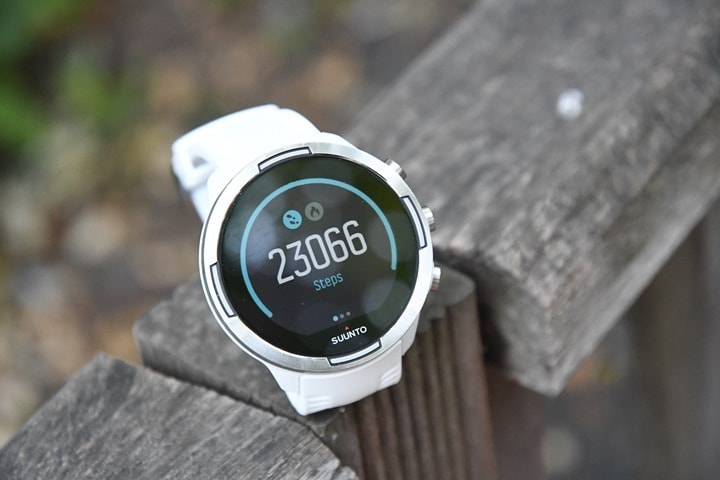 Normally I start this section with the watch face, but I'm going to get all crazy and mix it up this time. We're gonna start with the watch band instead. You know…cause I'm gettin' wild.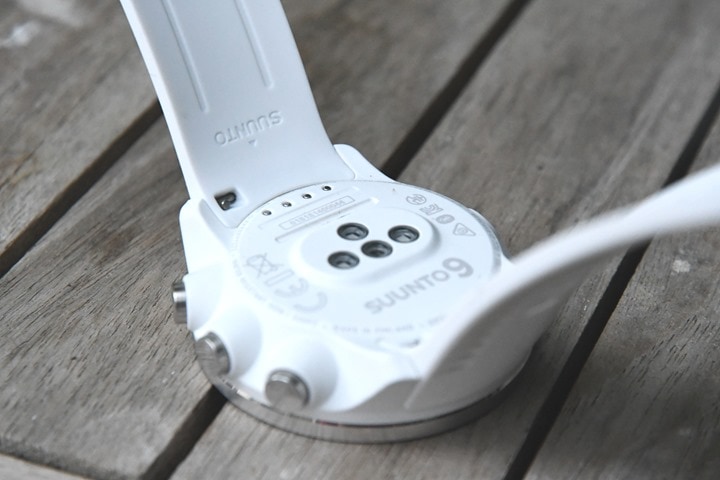 What's unique or notable about this watch band? Well, it's actually changeable…finally. See, previously on the Suunto Spartan and Ambit series watches you couldn't swap out the band for bands you wanted (except the Spartan Baro).  Now you can. Suunto has adopted the industry standard 24mm watch bands, so you can go onto Amazon and order whatever the heck you want.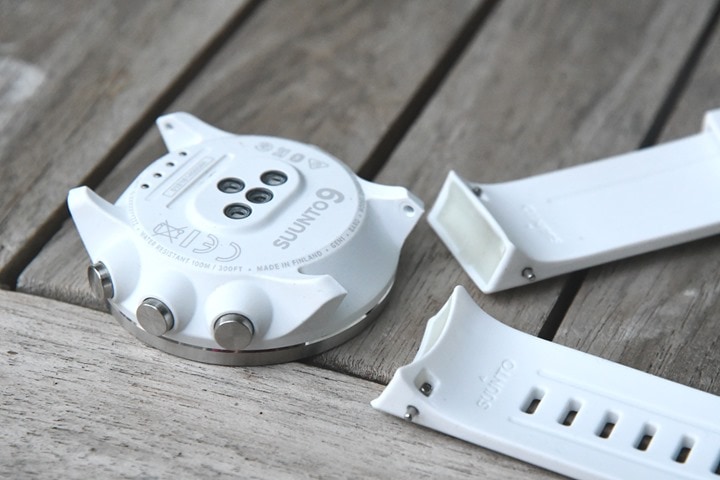 No, really, there's some crazy stuff you can order that should fit: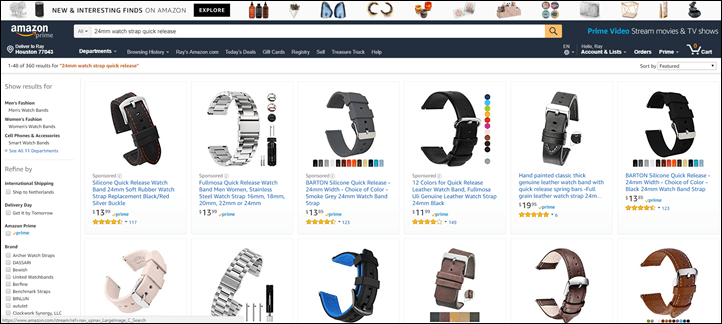 I say 'should fit' because while it almost always does, there's always a small element of hope when it comes to watch straps/bands and them actually fitting.  But again, should work. [Update: Commentor Renton below noted that the key to finding ones that work is to ensure the spring bar heads is 1.4mm and not the more common 0.8mm – the bar itself is 2.0mm, else there will be too much play.]
While we've got the unit turned over, you'll notice that optical heart rate (HR) sensor on there. That's provided by Valencell, just like all of Suunto's other watches.  This unit contains Valencell's latest sensor, version 1.2 That means that Suunto actually has a bunch more that they can do in terms of biometrics down the road if they wanted to via firmware updates.  Again, it's in there – but that does require software be written around it and then software on apps and websites to support it as well.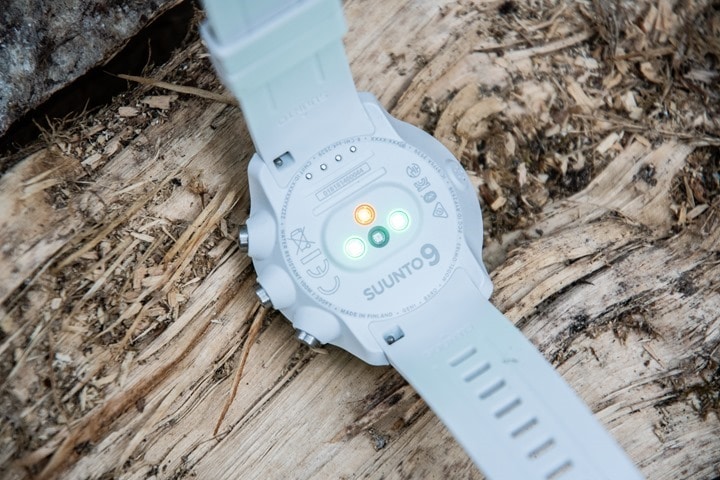 For now though the sensor simply tracks your heart rate. It does it in one of two ways.  The first is during workouts, it'll power on and track you second by second.  The second is during 24×7 (continuous) mode.  In this mode it's not technically continuous at every 1-second. Instead, it turns on every 10-minutes and tracks then.  Sometimes a bit more frequently it seems as well.  It'll stay on till it gets a HR reading locked, which is a slight change from the past where if it didn't get a HR reading to lock it just gave up (and thus you got gaps in your charts).  This resolves that.
You can see your HR readings via the heart rate widget on the watch by simply swiping down from the watch-face.  You can then swipe to the right to see your heart rate over the last 12 hours:
Note that this 24×7 HR data isn't saved anywhere beyond the watch. Meaning, it rather disappointingly doesn't get transferred to either of the two Suunto platforms, or either of the two Suunto apps. It just goes into thin air.  Only workout HR data is transferred, but I'll talk about that later.
Now that we're on the watch though, let's back up a little bit to that watch face I mentioned earlier before I got all wild and crazy.  Suunto allows you to pick from a handful of watch faces that they've built.  Unlike most other watches these days you can't customize them or make your own, so they are what they are.
With the Suunto 9 though you do get a new watch face, as seen below: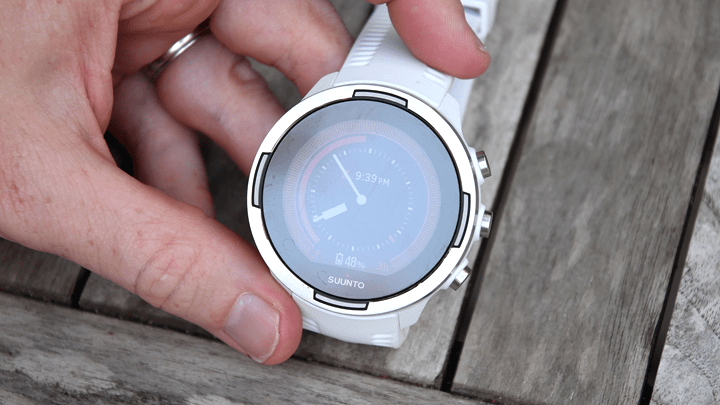 This watch face shows you total workout time towards your weekly workout goal along the other edge, and then battery life inside of that. It also shows battery life at the bottom too, for some duplicitous reason. It doesn't show daily steps or current HR either though, like many other watch faces on other watches do these days.
Speaking of steps, those are accessed in the same way as HR – just by swiping down on the screen, or using the down button to get to it.  From there you can also view your total steps per week as well.  Calories can be accessed from the exact same menu by simply taping the screen:
If you continue swiping down you'll get training status, which gives you total training time that week as well as recovery time.  The training time is shown against your weekly exercise goal, while recovery time is shown as remaining hours until you're fresh and ready to get frisky.
A bit further down you'll also get the altimeter and temperature data, alongside the barometer reading, as well as 12-hours variants of the altimeter and barometer data:
The altimeter can be manually adjusted through the settings if need be.
Lastly within the main dashboard pages in terms of data, you've got sleep data.  The unit will track sleep (assuming you wear it to bed).  It doesn't need to be manually started or stopped, it'll do it automatically for you.  You can also specify a secondary do-not-disturb time for notifications, beyond what your phone already does.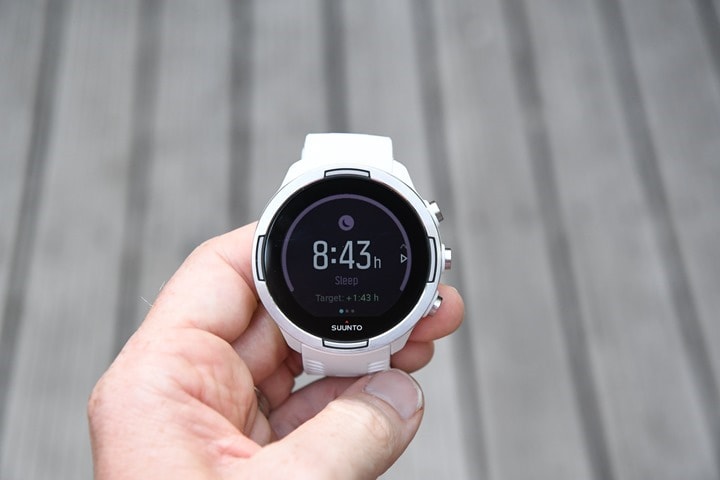 The unit will provide some basic details of sleep within the watch itself, as well as via the newer Suunto app (but not the older Movescount one).  Note that it doesn't track your sleep HR data on the app/platform, only on the watch itself.
Finally, we'll head up into the settings area briefly before getting more sport specific. It's here you can change overall settings like the language or tones, as well as the backlight settings.  You can also change which time zones are shown as well.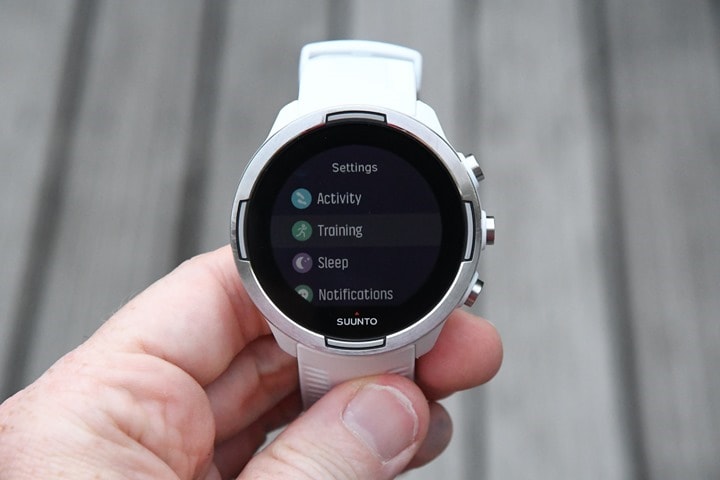 Probably the biggest annoyance I have with using the Suunto 9 while travelling is simply that it won't update to the correct time zone automatically.  Virtually every other watch on the market today will automatically change the time zone based on either the omnipresent Bluetooth Smartphone connection or GPS signal acquisition. But in the case of the Suunto units, you have to manually change to the city that you're in.
It's also in these settings that you can set the daily step goal (default is 10,000 steps), as well as configure whether sleep tracking and training targets are turned on.  And finally, it's also where you pair sensors and your phone.  But again, I'll dive into all things sport in the next section.  So with that, let's get started.
Sport Usage: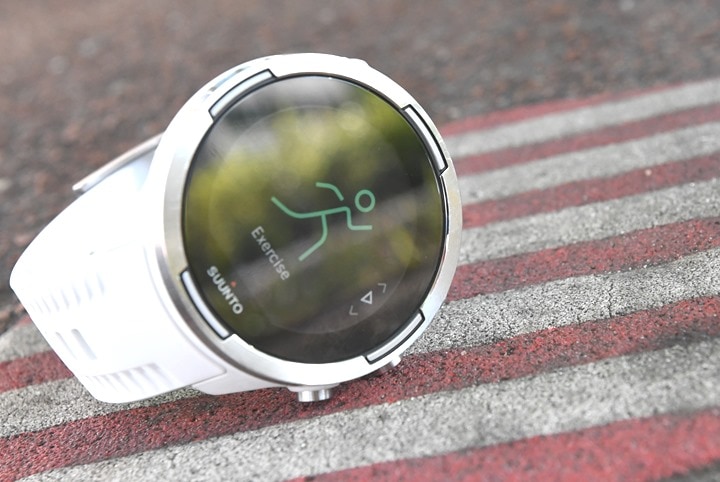 For the vast majority of purchasers of the Suunto 9, you're going to be using the watch to track a workout or a race.  The rest, will likely be using it for navigation. Heck, perhaps you're doing both at once. Either way, this section is all about sports, and the next navigation.
To start a workout (either race or training), you'll press the up button once to get to the exercise menu, and then from there you'll select the sport you want to do:
These sports are customizable on Movescount, but not from the Sports Tracker site.  So in order to tweak things like data fields and such, you'll likely want to hit up the Movescount site to customize these and other watch settings.

You can see above how you can customize various sport settings, including data fields/pages, as well as sport-specific settings like GPS update rates and sensors paired. All this is exactly as before with other Suunto watches, excluding the new battery modes that I note in the dedicated section after navigation.
With all your customization done, and your sport selected, you can go ahead and tweak any last minute items before pressing start.  This allows you to add in interval training for example, or other targets.  It also allows you to specify a route (navigation) as well as change the battery status.  All of these (with the exception of battery options) are accessed by pressing the down button to a list: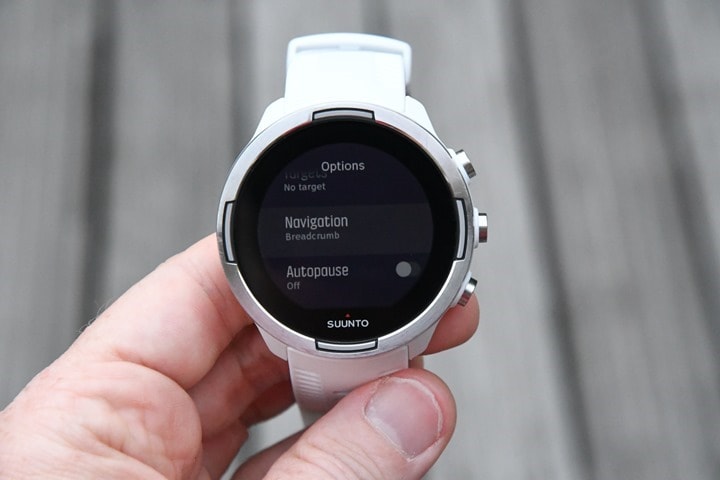 When it comes to interval workouts, you can define a specific work and recovery duration/distance, as well as have a free-form warm-up/cool-down time period.  It's essentially a basic on-watch interval option that doesn't allow a ton of flexibility for various other targets (i.e. setting unique power targets).  Suunto also doesn't support any downloadable custom structured workouts onto the Suunto 9 (such as Garmin/Polar/Wahoo do on their units).
But, that doesn't mean Suunto isn't doing unique power things.  In fact, when it comes to training zones, Suunto has a bit of a leg up over the competition.  Specifically in that they have zones for running power, which Garmin lacks.  This means you can specify your running and cycling power zones separately to show data pages on, as well as heart rate zones.  So if you have a Stryd running power meter, that's definitely good news.
Which platform (Garmin or Suunto) is the best for running power varies a bit on what you want out of it.  As I just noted, Suunto has running power zones natively, which Garmin lacks entirely.  On the flipside, Suunto doesn't record/display any of the running efficiency metrics that Garmin shows from Stryd. Flipping back over again, Garmin forces Stryd into using 3rd party fields for running power, while Suunto shows it natively.  This means that you don't see running power in native fields like 'average power', but instead in custom fields.
As I said, it's not quite black and white. I'd say that for pure runners that just want running power, the Suunto approach is a bit better. Whereas for those wanting the other data that Stryd delivers, Garmin may be the better bet.
Oh, and before we press start on this activity (I promise you, eventually we will), you can tweak the battery profile by tapping the upper right button, which iterates through the different battery profiles (and changes the border color on the screen to indicate as such, as well as the battery durations):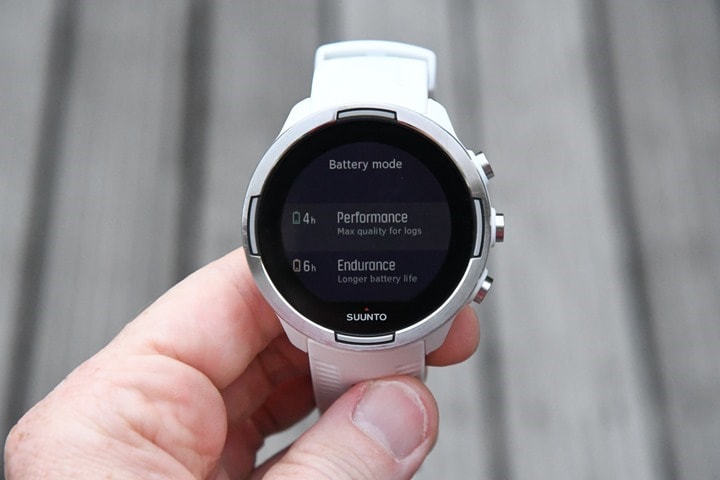 But I dive into that in much more detail in a dedicated section.  Thus, let's press the start button (by now we've long since acquired GPS and HR, as indicated by the two status screen icons) and get rolling: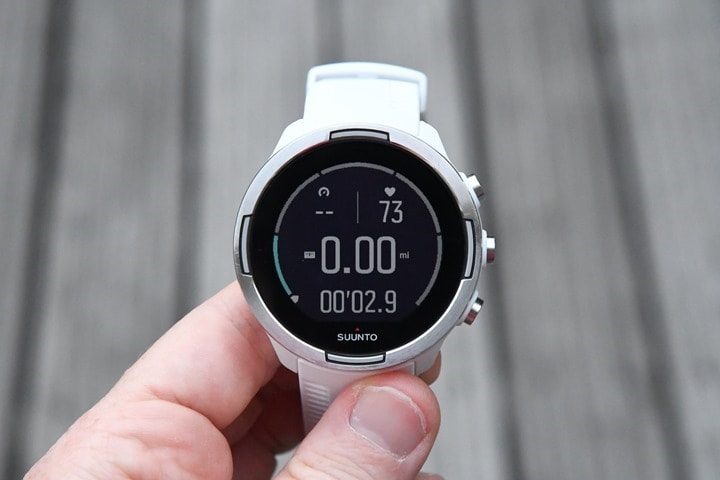 At this point, you're recording your GPS track, and your customized data pages are displaying on the screen.  You can iterate through data pages either via swipe on the touchscreen, or by using the buttons on the right side.  You can also disable the touchscreen for activity profiles if you want, which can be useful in activities like swimming or some winter conditions.
The data fields here are what you make of them and how you've customized them.  Note that the Suunto Spartan series, including the Suunto 9, doesn't support any 3rd party data fields like the older Ambit watches did.  I haven't heard of any path forward to adding in apps again on the Suunto lineup.
As I often note, my favorite data field/page from Suunto is the lap one, as it allows me to easily see the laps in my workout mid-activity and how they compare.  This same page is also available post-workout: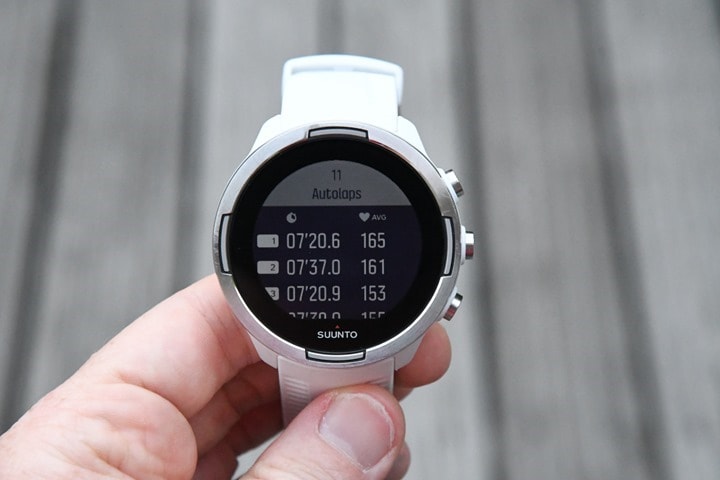 When it comes to things like GPS pace stability, I haven't had too much of an issue here. It seems reasonable enough for me while running, staying pretty stable (though, my running pace stability is pretty good – which might help).  Laps can be accomplished either automatically via autolap on a preset distance, or manually via pressing the button.
After you've completed a workout you'll whack the stop button and then get offered the smiley face of your choice to rank your workout.  This is then saved to Movescount for later reference.  After that you'll get workout summary information in a long page full of details:
All of this is also available on Suunto's web platforms, though the degree of data available varies on which platform you use.  Here's the same workout loaded to both Movescount and Suunto Sports Tracker.  Movescount is their legacy platform that has largely been used to date and is being phased out.  Sports Tracker is what they acquired a few years back and is the new platform for new Suunto devices going forward.
Here's the entirety of an activity on Sports Tracker: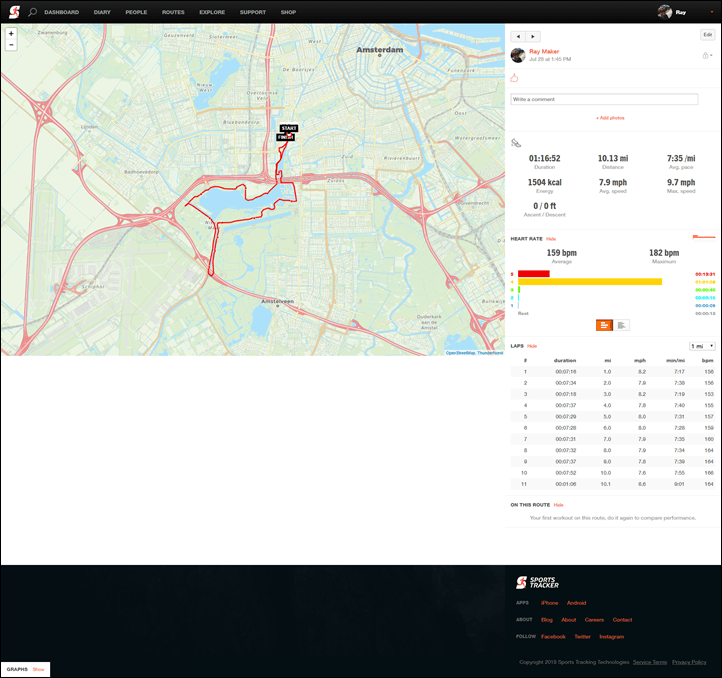 And here's that same activity on Movescount (and keep in mind, I can tweak those graphs a ton to show way more information).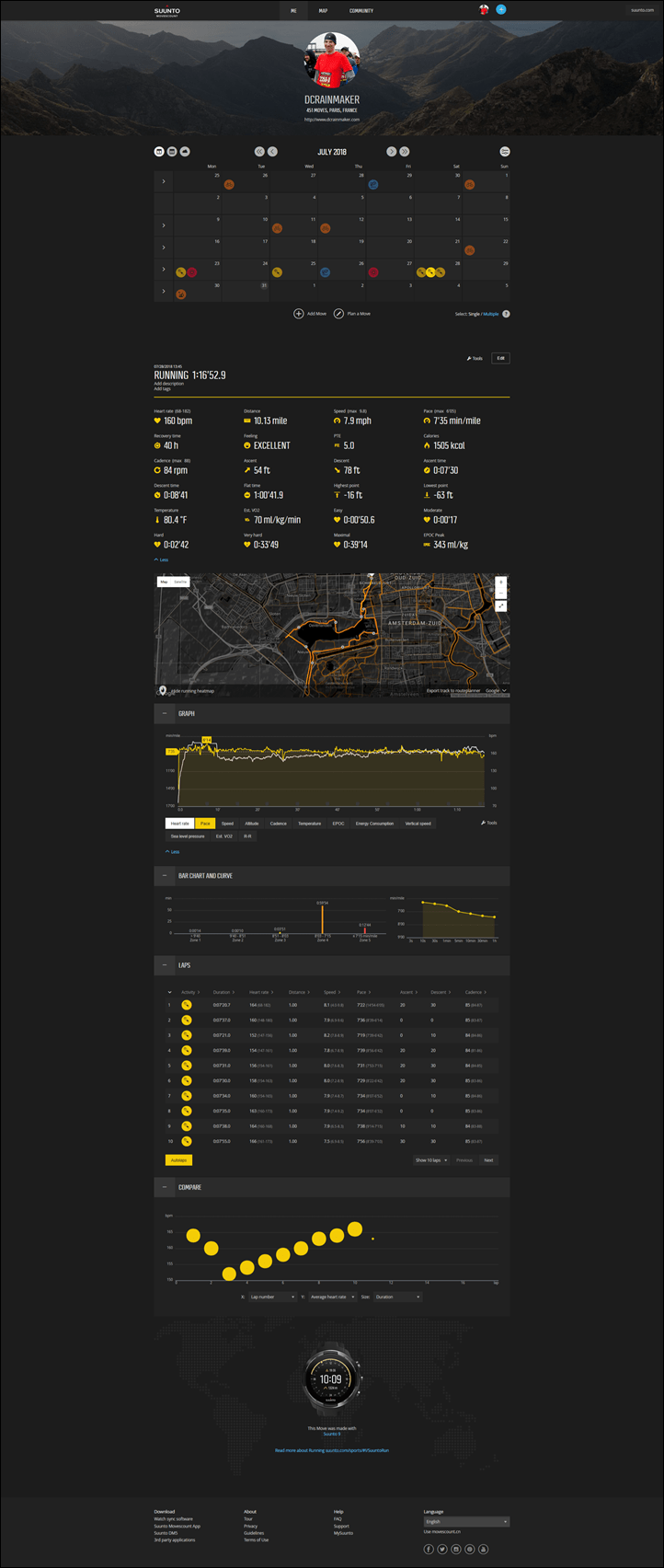 At present, Sports Tracker basically feels like a rehashed version of RunKeeper from half a decade ago.  It lacks most of the sport-focused analytics found in Movescount.  The good news here is that you can continue using Movescount, but the bad news is that most of the newer features you might want around 24×7 tracking (i.e. steps and sleep) aren't in Movescount, or aren't as detailed there.
Suunto says over time features will get ported over from Movescount to Sports Tracker, but I suspect we're realistically talking 12-18 months or so here.  After all, I've been watching this transition since last December, and I wouldn't exactly call the progress lightning fast.
Also, the Sport Tracker site can't push your workouts to 3rd party platforms such as Strava or TrainingPeaks, but again, you can use Movescount instead.  It's just that the whole thing ends up being cumbersome with you having to use multiple apps and sync multiple times.  If Garmin, Polar, or Apple did this, people would be at their door with pitchforks.
Again, on Movescount (as seen below), you can connect to Strava and TrainingPeaks, and even push workouts from Movescount to Sports Tracker.  But that doesn't solve the part you mostly care about using the newer Sports Tracker platform for, which is steps/sleep/etc data.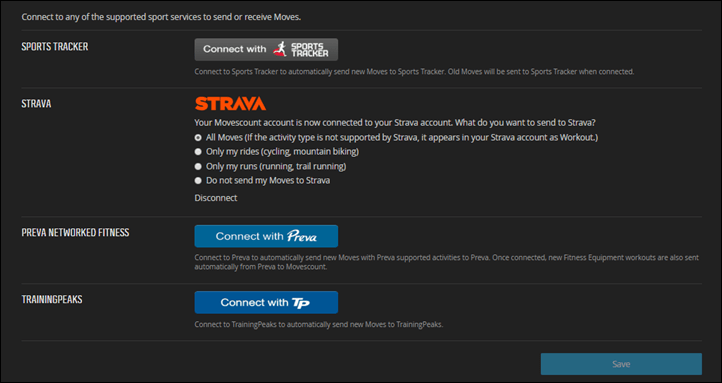 Ultimately, I simply just don't bother using Sports Tracker (the new platform).  I suspect most people reading this review will fall into that same camp.  Amer Sports (Suunto's publicly traded parent company), simply needs to give Suunto far more developer resources than it has.  Like, dozens of employees more.  And even then, it'd still be heavily behind on the app/web platform side compared to what competitors have.  Given Amer hasn't done that, they should instead at least focus on making the 3rd party partnerships to platforms like Strava and TrainingPeaks – since that'd largely cover the major bases for most users.
(Note: You can use both platforms concurrently, but not both mobile apps paired to the phone concurrently. The Suunto 9 can only be paired to one of the two Suunto apps, either Movescount or the new 'Suunto' app. In order to straddle both platforms, you basically need to connect your watch via desktop USB cable to Movescount, and then pair the phone to the Suunto 9. Though in that configuration, that means workouts won't go to Strava/TrainingPeaks till you get home to your computer.)
Navigation: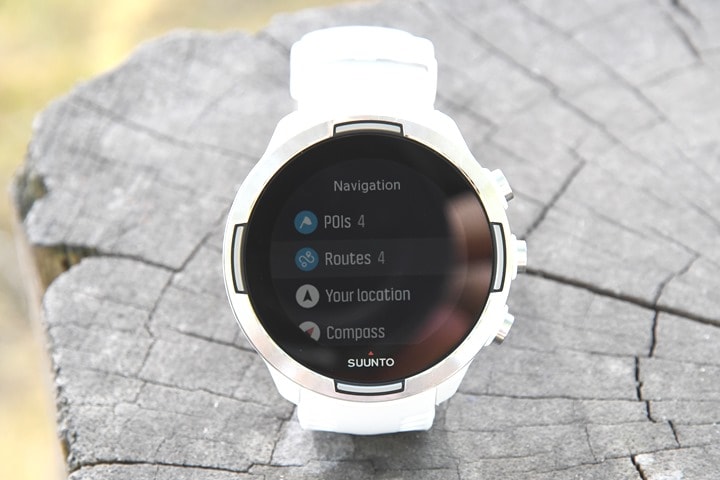 Next, we've got the ability to navigate.  Navigation can essentially occur in one of two ways: Either as part of a workout/activity, or in a standalone mode.  With the standalone mode, you aren't recording your activity/track for later analysis – it's like a fart in the wind, it just disappears once you're done navigating.
Whereas when done in conjunction with an 'Exercise', then it's recorded for later analysis.  Still, no matter which option you choose, things are basically the same in terms of what you can navigate to.  This includes POI's, which can be created online and then downloaded to your watch, or routes – which also can be created online.
For example, in Movescount I can create a route such as the below: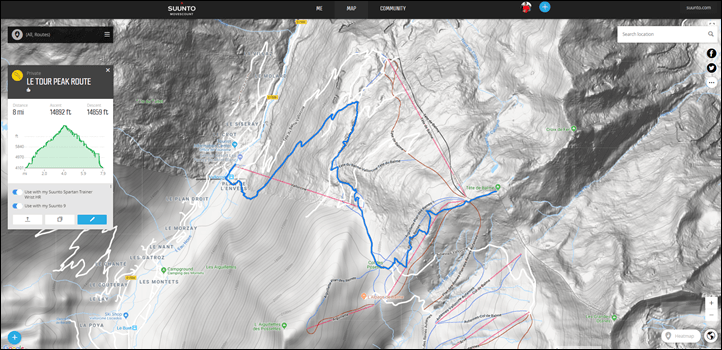 You'll notice on the side the ability to select which watch to sync it to.  In this case I've selected the Suunto 9.  The same is true of POI's.
In general, I really like the Suunto planner for routes, because it clearly displays heatmaps and other people's public moves, across more than just run and bike.  It allows you to find unique places to openwater swim for example, because you can filter on where people are openwater swimming, like below: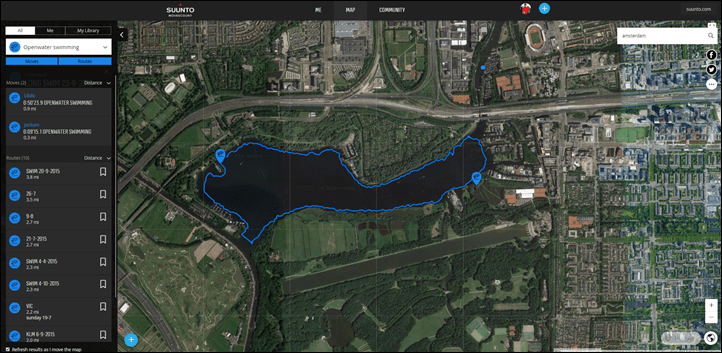 Once you've created your route (which you can also do by importing in GPS files or copying existing activities), then you'll add it to your watch and sync your watch.  At which point it's accessible from the navigate menu, regardless of whether or not you're in an activity.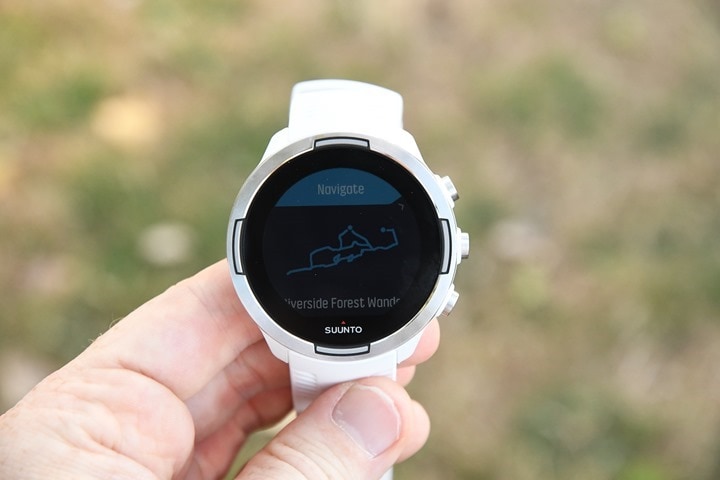 You can easily view the route profile including the elevation both prior to navigating as well as during the workout/navigation.  Note that to select a route/POI to navigate to in conjunction with a recorded activity, you'll simply scroll down after selecting the exercise type and select the 'Navigation' option:
Once you've started the workout or your navigation, you'll see the planned route as a solid line, with the dashed line being where I've been.  My current direction using the magnetic compass is the arrow in the middle.  Simply rotating your wrist will also rotate the map.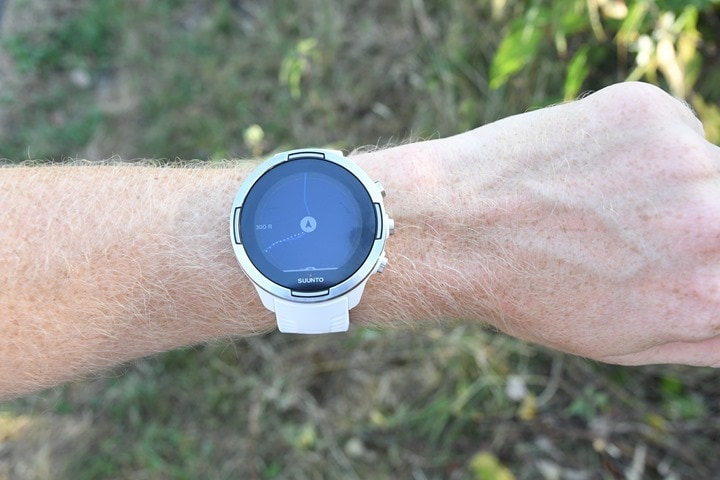 To be clear – this is a breadcrumb trail map only, and not overlaid with any actual mapping data such as the Fenix 5X or Fenix 5+ series have.  That would require a boatload more storage on the device, which it simply doesn't have.
You can zoom in/out on the map by briefly holding the middle button, which lets you then control the scale of the map: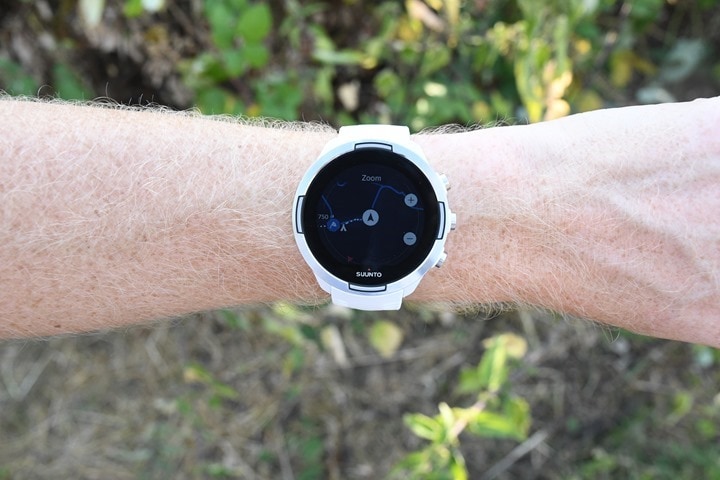 You can swipe-up from the bottom of the screen at any time on the trail/breadcrumb page to get into a navigation-specific menu.  This is where you can change your navigation goal (i.e. go to 'Find back', switch to a POI, etc), as well as save your location for future reference.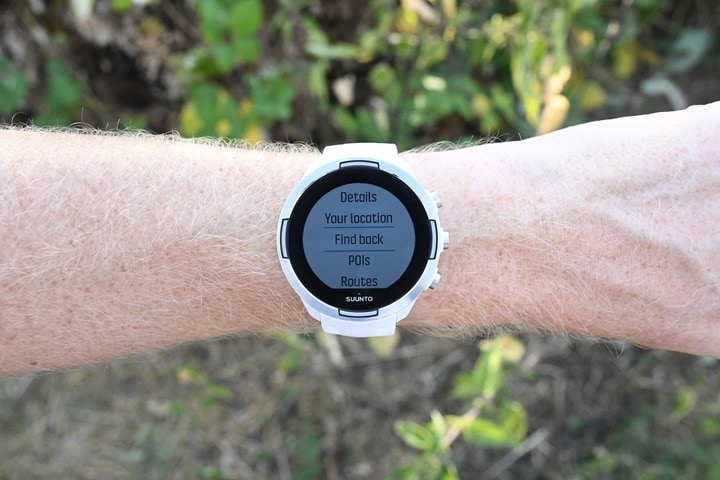 One downside I've seen with mapping though is that it's pretty slow to respond to going off-course.  For example in this scenario here (a looped route), I went the wrong way and it took nearly 100m until the unit notified me I had gone the wrong way.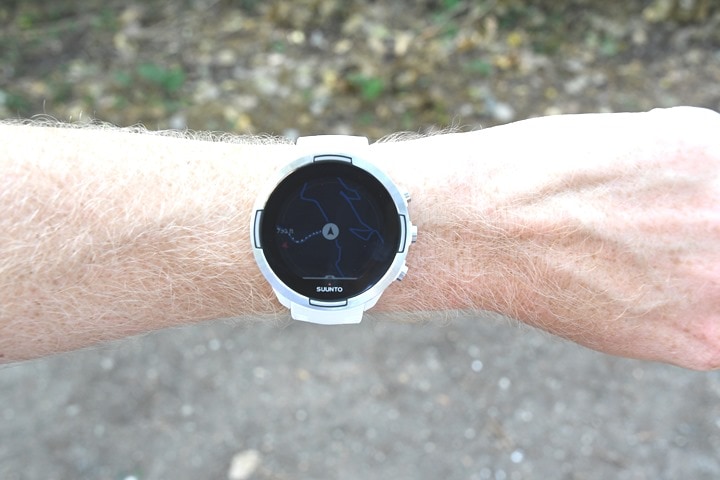 Atop that, when it does notify you, you've only got about 2-3 seconds to notice it – because that screen then goes away leaving you with just your dot in the middle of nowhere.  Once on-route again, you will get notified briefly as well.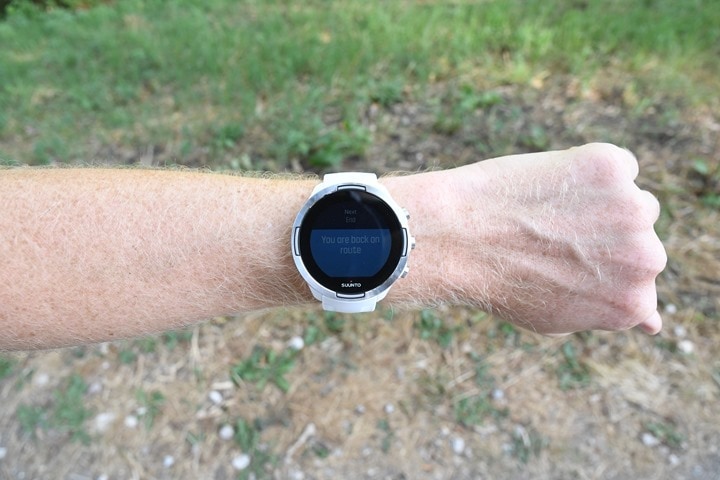 The overall navigation experience works fine (I used it in the Alps as well), but it's tough going back from having maps on other watches to not having maps.  Following a breadcrumb trail is generally great.  But where it's problematic is at multi-trail junctions where you may have 2-4 options, especially if some of those are close together in angle or direction.  To be able to quickly reference a map has been more valuable than I'd have originally expected.
I know certainly people have been getting along just fine using breadcrumb trail navigation for more than a decade – but the same was true of landline telephones too.  Once you've got good maps (including topo data), it's amazing how useful they can be in sorting out off-trail situations or workarounds.
Still, as I said, the navigation here on the Suunto 9 is functional, but by 2018 standards it's looking a bit dated.
New Battery & FusedTrack Modes: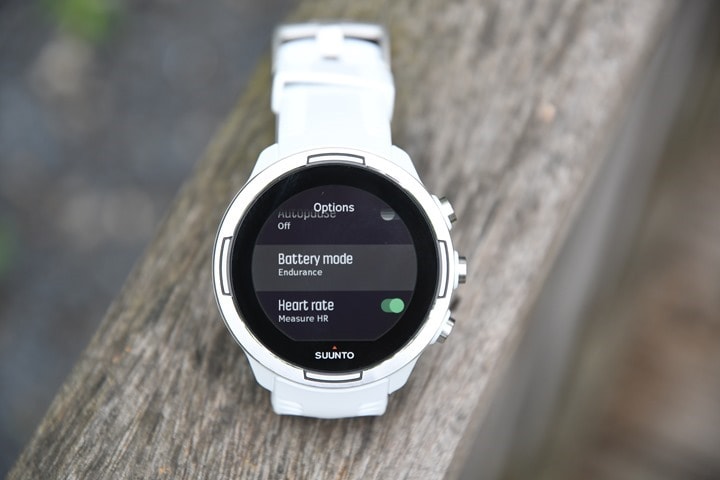 Suunto says one of the biggest challenges they've had from a support standpoint is how to give guidance to ultra-distance athletes on how to get the best battery life from their devices.  The product team would come up with all these recommendations, which were essentially just a series of settings to enable/disable.
But that meant the settings were tied to a specific sport profile, rather than a more general concept.  Meaning that you specifically had to pre-configure these all into a specific sport mode, and couldn't easily just use a different sport mode with your special battery setups.  So Suunto aimed to separate battery modes from sport modes via what they dubbed their 'Intelligent Battery Modes'.  These are three and a half battery modes which simplify how battery drain occurs, regardless of sport mode selected.
The way it works is that when you go to start a workout/exercise, you'll see a battery mode option prominently displayed in the upper edge.  Pressing the upper right button toggles through the different battery modes:
This battery mode then corresponds with a slew of settings attached to it, but it also corresponds to the hours remaining.  Even more importantly, it does real-time math on how much battery juice you have left to let you figure out if your planned activity will go over the duration required.  For example, you can see below how many hours are left for the different modes on my watch when I took this photo: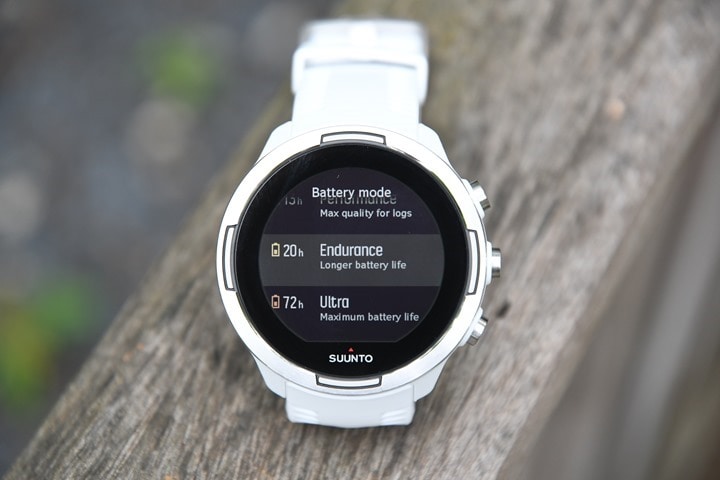 The three modes are 'Performance', 'Endurance', and 'Ultra'.  There's also a 'Custom' mode that allows you to find some middle-ground between these modes if you need it.  The different GPS accuracy modes roughly correspond to the number of seconds between refresh rates.  'Best' accuracy is every second, while 'Good' accuracy is every 60 seconds on the Spartan.  And 'OK' accuracy is every 120 seconds.  Also note that in both Endurance and Ultra modes, they use FusedTrack for Running and Trail Running modes (more on that in the next section).
The claimed battery life for a totally full charge on the watch is the same as the top of the screenshots below – 25 hours for Performance, 50 hours for Endurance, and 120 hours for Ultra.  Here's the full chart of what each mode does: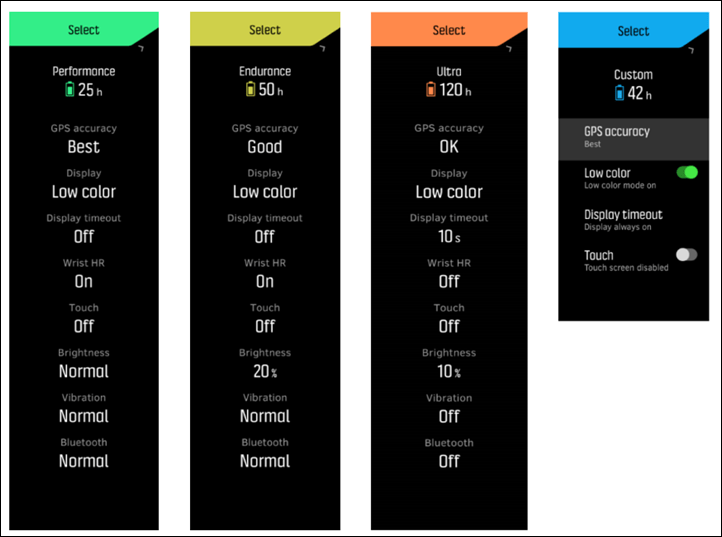 As you can see, there's actually a fair bit of tweaking going on here to get to these battery levels, especially in the case of the Ultra one.  It's turning off the touchscreen and Bluetooth communications. It's reducing the brightness down to 10%, and killing off optical HR (wrist HR), as well as reducing the number of colors the display uses.  All of these tweaks add up.
But, things actually get even more interesting than this. Suunto has added two layers of mid-activity battery switching. The first layer triggers when you reach 10% battery remaining, and will ask you if you want to switch to a lower battery mode – for example, setting down to 'Endurance' from 'Performance'.  It'll also give you how much battery life you'd get out of that.  So you can make the call as to whether that battery life switch is overkill, or not enough.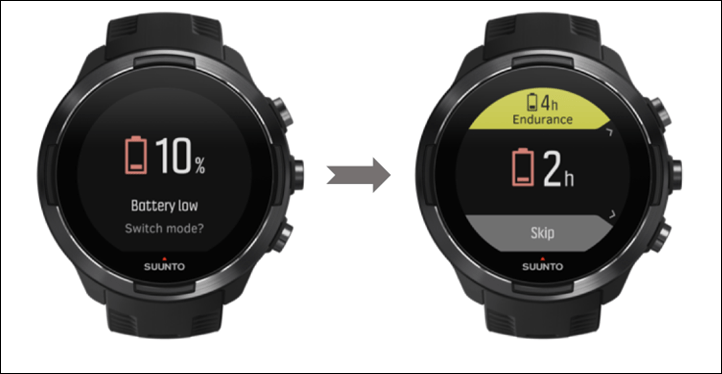 Here's what it looks like in real-life, ironically just a few hours ago: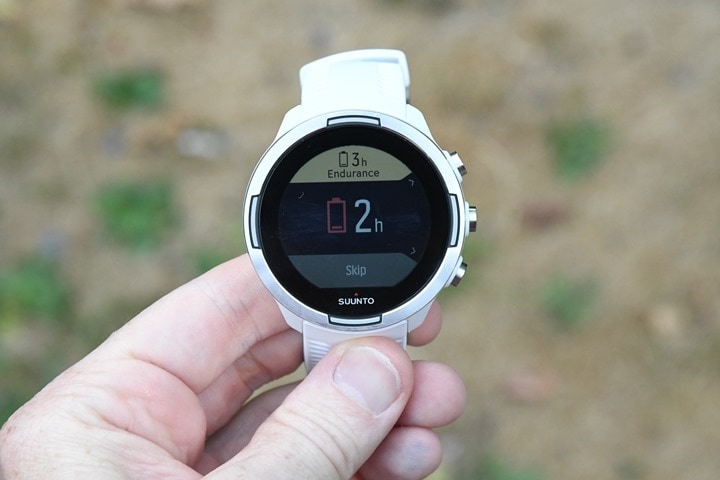 But it even goes a step further than that.  Rather than the watch dying entirely, when the battery gets to an even lower level the unit will toggle into a 'Chrono mode', which shuts off everything except a simple timer.  It turns off the accelerometer and all other functions to simply give you the total finish time for your activity.  This means that if all else fails, the total time that's shown on Movescount and in the logbook of your watch will be correct, no matter what.  Obviously you hope to never get to that point, but at least it's there.
This concept is roughly akin to what Garmin does on some of their Edge cycling units in going into a low-battery profile mode turning lots of things off, but, a wee bit more drastic.
Now Suunto says they ideally don't want people to get into that pickle to begin with, so they've added one last battery related feature: Proactive battery recharge notifications. The Suunto 9 watch will actually learn which days of the week you tend to do your long runs/rides/hikes and proactively remind you the day prior if it doesn't think you'd have enough battery to complete that.  So if you tend to do an 8-hour workout each Sunday, and you only have 35% battery life on Saturday afternoon, it'll remind you to give your watch a charge.
In my 2.5 months of testing, I only managed to get that warning just as I was proofing this review (seriously, so, like 30 minutes ago) but it may be that my training schedule is kinda wonky and without a ton of consistency.  While I tend to ride longer most Sunday's, but I've also had some 5-hour rides mid-week too – so that's probably dorking things up a bit.
But all this segues directly into the next important feature which is the new FusedTrack; which is probably the most technologically innovative thing to come to the Suunto 9.  Suunto has long since used the 'Fused' branding for other areas, such as FusedSpeed and FusedAlti.  The concept behind both of these was simple: Start with a baseline of GPS data, and then fuse it together with other sensor data, such as wrist-based accelerometer data to get the best possible real-time pacing data – thus FusedSpeed.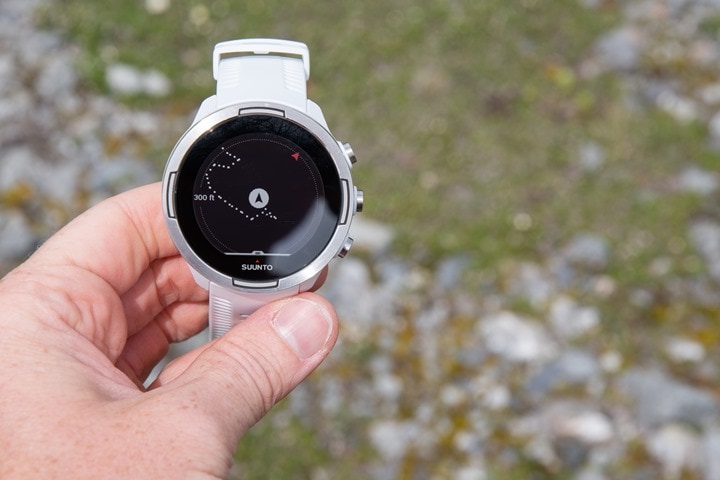 FusedTrack though takes that to an entirely different level.  The primary purpose here isn't technically to give more accurate GPS data.  No, it's to give GPS data where no GPS data exists.  See, when you need the Spartan to go upwards of 120 hours of 'GPS-on' time, that means it reduces the GPS update frequency.  In this case, down to once every 60 or 120 seconds (Endurance or Ultra modes).  That means if you were to plot GPS points, you'd get a less than awesome track in the woods while running.  Sure, it's mostly fine for hiking since you're moving slow enough – but not great for switchbacks and such while running.
So what FusedTrack does is take those GPS points every 60/120 seconds and uses the compass, gyro, and accelerometer to fill in the data.  All of which makes an astounding amount of logical sense.  If you think about it, if they have the GPS starting location, then they can roughly figure out everything else from that point forward.
Let's take a look at a 6KM track I did around some woods.  Note that aspects like cliffs can and will impact FusedTrack, though in looking at a few people's tracks that have tried it in mountains on longer trail races, not horribly so (sure, it's not perfect, but it's also not horrendous and is definitely better than reducing recording rate to every minute or so).  In any event, here's my forested comparison:

What you're looking at above is impressive.  I had planned three watches, but somehow on that backstretch I managed to stop the Suunto Trainer that I had going as well, and I didn't notice it for another three minutes.  So let's just stick with two tracks:
Purple – Suunto 9: This is within 'Ultra' mode sampling GPS once every 120 seconds, and using gyro/accelerometer/compass data in between
Teal – Fenix 5+: This is set to normal 1-second mode, GPS+Galileo
The point here isn't to show a 'perfect track' of the Fenix 5+ vs the Suunto 9. Instead, the point is to use the Fenix 5+ simply as a reference for where I actually went (and it does indeed match reality).  Of course, that's because it was sampling every single second, versus only sampling every 2 minutes on the Suunto 9.
The patterns are really clear.  You'll notice that in general the Suunto 9 does really well as long as I'm either moving forward, or making directional changes that are logical.  Where it got confused both times was when I did short out and back and ran into dead-ends.  In both cases it stumbled there, shorting my distance considerably (in total the run was 6.01KM on the Suunto 9, versus 6.71KM on the Fenix 5+).  Virtually all of that distance loss occurred during the out and back sections.
Whereas when I was running consistently, it was very very close – especially on the straightaways.  The upper straightaway surprised me though as it dipped a bit into the field on both sides (where I didn't highlight).

In this particular run I made a point of running in places that had virtually no man-made structures or electrical lines or anything else nearby. There were only a few shacks along the way.
One item that's important to note on the 120-second Ultra mode is that the display shuts off (thus is blank).  In order to see information you'll need to tap a button, which then turns the display back on again, albeit the data shown is delayed until the next refresh.  Meaning, it's not real-time distance on there at that point, but rather the distance at the last point the GPS 'checked-in'.
Also, the functionality is limited specifically to running and trail running, since they need higher quality (read: consistent) pacing data than a normal walk or hike would give.  And cycling, of course, doesn't give you enough accelerometer data to figure out the speed portion (and thus, distance).  Of course, there's also the reality that most people running more than 24 hours (the max battery life on GPS for a single charge) are likely doing more of a blend of walking than pure running – and as such, that can impact accuracy (it's only specified for running).
Also, Suunto warned that it's incredibly important you calibrate your compass with almost nothing nearby.  Like, go to a field and calibrate it.  If you calibrate it next to a building or under power lines or what-not, you'll get crap for results.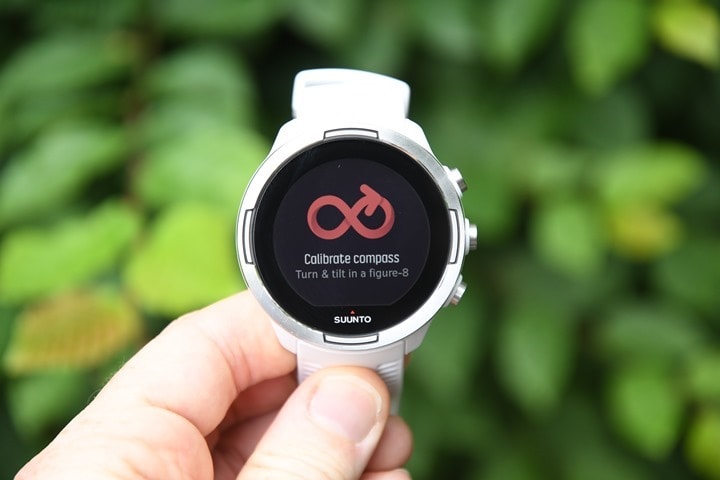 Now, Suunto says their visions are actually more grand here, specifically around swimming.  It was hoped to have FusedTrack implemented in swimming by the time it shipped, but that doesn't appear to be the case yet.  The goal being to do more of a merge of 1-second GPS tracking with compass data to get the ultimate openwater swim track.  Definitely looking forward to that being implemented once Suunto is able to.
GPS Accuracy: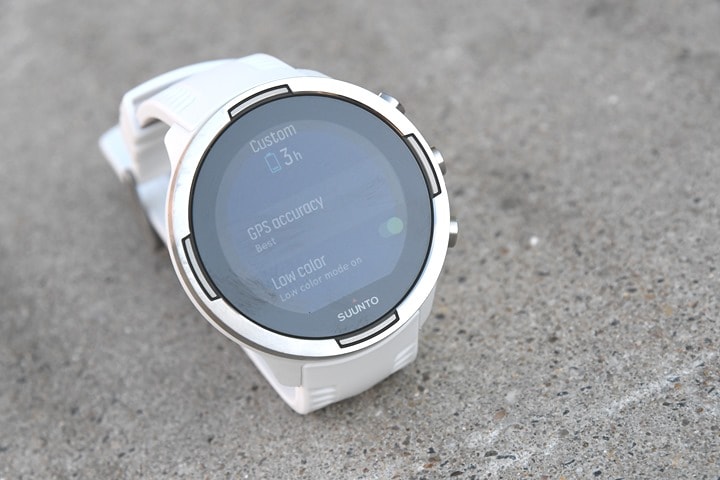 There's likely no topic that stirs as much discussion and passion as GPS accuracy.  A watch could fall apart and give you dire electrical shocks while doing so and be fine, but if it shows you on the wrong side of the road?  Oh hell no, bring on the fury of the internet!
GPS accuracy can be looked at in a number of different ways, but I prefer to look at it using a number of devices in real-world scenarios across a vast number of activities.  I use 2-6 other devices at once, trying to get a clear picture of how a given set of devices handles conditions on a certain day.  Conditions include everything from tree/building cover to weather.
Over the years I've continued to tweak my GPS testing methodology.  For example, I try to not place two units next to each other on my wrists, as that can impact signal. If I do so, I'll put a thin fabric spacer of about 1"/3cm between them (I didn't do that on any of my Suunto 9 workouts).  But often I'll simply carry other units by the straps, or attach them to the shoulder straps of my hydration backpack.  Plus, wearing multiple watches on the same wrist is well known to impact optical HR accuracy.
Next, as noted, I use just my daily training routes.  Using a single route over and over again isn't really indicative of real-world conditions, it's just indicative of one trail.  The workouts you see here are just my normal daily workouts.  I've had quite a bit of variety of terrain within the time period using the Suunto 9.  This has included runs in: Finland, Paris, Amsterdam, French Alps, Florida, US Virgin Islands, California, Germany, Austria, Italy, and plenty more.  Cities and countryside, water, mountains, trees, and open-air. It's been everywhere!
All that said, I'm mostly going to focus on tracks from this past month, since that's basically the time-period that the watch has been publicly released and on final firmware. Sound good? Good.
Let's start off with something GPS-wise kinda easy, my run from this past Saturday. It was a relatively straightforward loop leading out from Amsterdam towards a nearby lake, around it and back again. It was mostly in the forest or alongside the canal, with only small bits in the 'city' (though these were pretty low buildings).  Here's the overview, compared against a Fenix 5+ on the other wrist, and then a FR935 as well.  The Fenix5+ was in GPS+Galileo mode, the FR935 in GLONASS mode, and the Suunto 9 in Performance mode.  Here's the data:

As you can see, at a high level there's no enormously wrong chunks, all three units look pretty good at this level.  But let's zoom in a little bit, to this section approaching a bridge. Mind you, all units actually left the massive highway underpass correctly, but different units had difficulties on the approach.  On the left side, I'm going southbound (thus, down), whereas on the right side I'm going northbound.

You can see that coming into it the Suunto 9 is off in the tennis club a bit (no large buildings here, just tree cover over a path).  The two other units are fine.  Meanwhile, coming back through that area you'll notice the three units are all offset from the actual bike path.  The Fenix 5+ is on the water's edge, while the Suunto 9 and FR935 are on the inside edge. I was on the bike path itself, technically more close to the water's edge than not.  Sure, all of the units on this return section were within 2-3 meters, but none were spot-on perfect.  Whereas on the left side, the Suunto 9 unit is more incorrect than the others.
As I wander through the remainder of the track though, the units were by and large pretty darn close to each other. Occasionally one would wander a few meters offset one way or the other, but mostly they were very close.
The only other section of concern was on a tree-lined path that was within about 30-meters of some tall buildings.  In this area the Suunto 9 went a bit askew, perhaps 20-meters or so adjacent to the actual path:

Looking at the totals, the Suunto 9 and Fenix 5+ are very very close. I'm not entirely sure where the FR935 'lost' distance, as the tracks certainly don't show any cutting of corners of that length. But that's the 'official' distance it recorded in the .FIT file, so it is what it is.

As for ascent, Suunto watches don't properly adhere to the .FIT file spec for showing that metric, thus, we don't enumerate it in the analyzer.  However, on Movescount it does show as 16m for this run, which could be right. My run included a couple of bridges, so my guess is between 15 and 30 meters would be accurate.  Though, you can see from the overall elevation plot that the Suunto 9 did that an incoming storm clearly shifted the altimeter downwards:

However, the Fenix 5+ plot did the exact same, starting/ending in the same spots, but with a 30ft negative spread:

Note that while there are sections of the Netherlands that are below sea level, my specific section is not one of those.
Ok, moving onto something definitely not below sea level – the Italian Alps. Actually, technically it's a blend of Swiss and Italian Alps, as the ride goes through both.  The Stelvio pass ride is famed of course for its jagged road etched into the side of the mountain, pressuring both cyclists (and runners), as well as GPS devices.  It's also a fun test of altimeters as well.
At a high level, here's the loop I did. I definitely realize a chart zoomed at this level is almost useless, but we've gotta start somewhere.  Plus, you can go all interactive if you want by just using the Analyzer links that I've provided.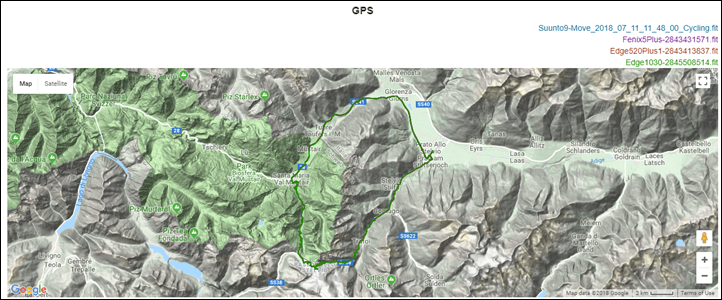 Let's zoom into the road a little more closely though.  The first point where all the units have trouble is a tunnel of sorts. More like a thingy over the roadway to protect it from slides and such.  As you can see, no GPS is a good match for a ceiling: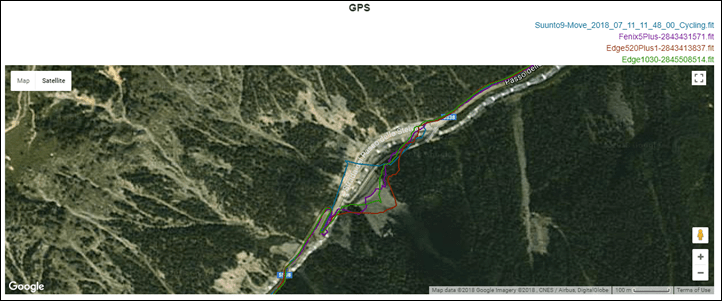 As the switchbacks start though, for the most part all the units are pretty darn close:

I don't really see any clear winner or loser amongst them. They all pretty much stick to the road, minus very occasional flirtings with the edge of the road by at most a meter or two:

And again, the same up higher as well:

Even in town, things are pretty tame.  You see some scrambles as I enter/exit one of the buildings, and doing some shooting of video/photos near the top, but that's all contained within a small area.  You can click to expand these.
It isn't until I get almost all the way back down to the valley floor, on the Swiss side, going through some final switchbacks on a quick descent that I start to see some separation:

But even to try and pick that apart would be tough. Each is very close to the road, with tall trees and occasional rock cliffs. And again, hardly a clear winner/loser there.  Overall, I'd say all units did very nicely here.
So what about elevation gain?  Here's that plot:

It's very close going up, with all the units very slowly spreading apart a bit as I climbed.  On the way down you can see the Fenix 5+ showing a bug introduced in recent firmware that overly smooths fast descent data.  That bug was supposedly fixed after my ride (in the last 10 days or so), but I haven't been in the mountains since then to confirm it.
As for which one got the summit elevation correct?  Well, the stated elevation of the pass at a sign-post alongside the road is 2760 meters.
The Suunto 9 at that same point?  2760.1 meters
Nobody likes overachievers, Suunto.
Very solid, nicely done.
Ok, let's get in the water.
Now you may remember my video from last month where the Suunto 9 and Fenix 5+ faced off in the water…and both face-planted in failure. Seriously, their collective levels of suck would impress even the largest of jet engines.
But I took them back out again onto the water a few days ago for a redux.  Same competitors, same course, heck, even the same topless lady near the starting area.  I'm all about consistency.  And this time, things were definitely different – at last for Suunto: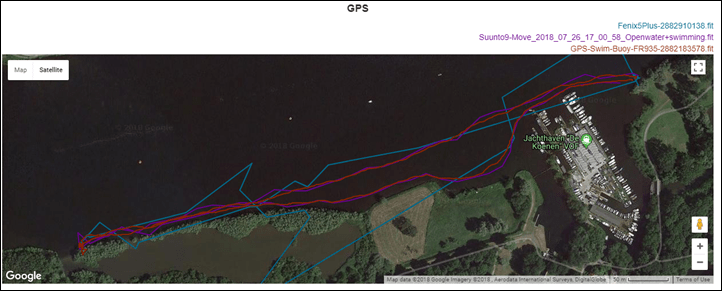 Like before I used a FR935 attached to my swim buoy as a reference GPS.  This provided a known good above the water for which to compare.  After all, with openwater swim modes the party trick is in having the GPS figure out where you went, despite being below the water half the time.  But as you can see above, this time the Suunto 9 did very very well.
Damn, it was solid.  It tracks almost precisely alongside the reference GPS track the entire time. At worst it was a few meters away, though, it did truncate very slightly the return for some reason – you can see it's a bit short.  This despite waiting 10-15 seconds above water afterwards just to be sure.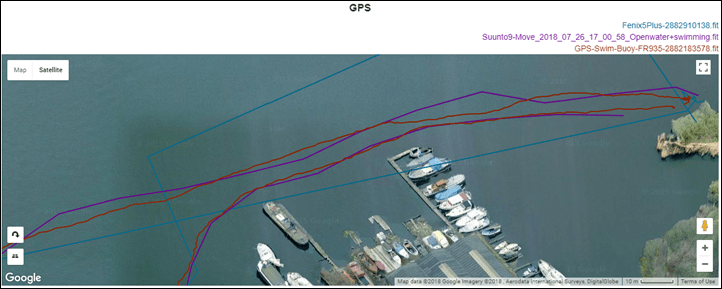 Again, throughout the swim, zero obvious issues – both in the recorded data, but also more importantly while I was swimming as well.  Compare that to the Garmin Fenix 5+ that stopped counting distance each time it reached 550y from the last time I stopped (which, ironically, was an improvement over the June swim where it just didn't count distance at all).

Of course, you may be wondering where the Fenix 5+ track is in the above – it's the Drunk Uncle blue line that's meandering across your screen like an errant line of mustard that missed the hot dog entirely.  Distance-wise, the Suunto 9 and Fenix 5+ ended up very close, as did the reference buoy.  In the case of the Fenix 5+, that's mostly just dumb luck of being wrong half the time and right half the time.

As for Garmin's swim-specific woes – I don't know what's up there. They made one pass at fixing it, but it's clearly not doing it. At least not in GPS+Galileo mode.  I suspect they'll figure this one out, merely because the pieces that were broken on the Fenix 5+ were also broken on the FR935 and Fenix 5 in recent firmware updates.  Thus collectively, Garmin just needs to round up a bunch of employees, stick watches on them, and have a swim day or something to get some data.
That aside, from what I'm seeing on my specific Suunto 9 with GPS tracks, things are mostly good. Perfect, no. But mostly good. I know some people are seeing 'wobbles' on their Suunto 9 GPS tracks, which is adding about 1-2% distance.  I haven't seen that on my runs, it seems to track cleanly and be wobble-free.  Also, as some folks know I had some rough GPS tracks back in June (both above and in the water) – but I haven't seen those here in July – so I think things might be settling out.
(Note: All of the charts in these accuracy portions were created using the DCR Analyzer tool.  It allows you to compare power meters/trainers, heart rate, cadence, speed/pace, GPS tracks and plenty more. You can use it as well for your own gadget comparisons, more details here.)
Heart Rate Accuracy: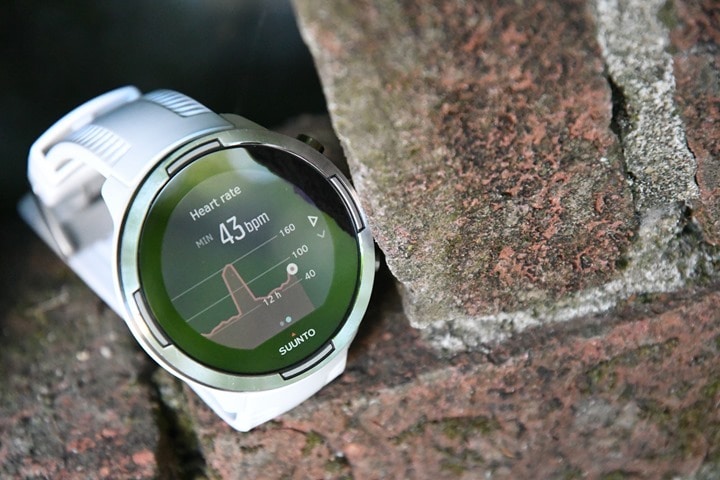 Before we move on to the test results, note that optical HR sensor accuracy is rather varied from individual to individual.  Aspects such as skin color, hair density, and position can impact accuracy.  Position, and how the band is worn, are *the most important* pieces.  A unit with an optical HR sensor should be snug.  It doesn't need to leave marks, but you shouldn't be able to slide a finger under the band (at least during workouts).  You can wear it a tiny bit looser the rest of the day.
Ok, so in my testing, I simply use the watch throughout my normal workouts.  Those workouts include a wide variety of intensities and conditions, making them great for accuracy testing.  I've got steady runs, interval workouts on both bike and running, as well as tempo runs and rides – and even running up and down a mountain.
For each test, I'm wearing additional devices, usually 3-4 in total, which capture data from other sensors.  Typically I'd wear a chest strap (usually the HRM-TRI or Wahoo TICKR X), as well as another optical HR sensor watch on the other wrist (including mostly the Scosche Rhythm 24). Note that the numbers you see in the upper right corner are *not* the averages, but rather just the exact point my mouse is sitting over.  Note all this data is analyzed using the DCR Analyzer, details here.
Like the GPS accuracy section, I'm largely going to focus on activities from this past month, rather than things in beta. First up is that same past Saturday run from above.  This was about as perfectly stable a run as humanly possible when it came to intensity.  I simply started off and let my HR slowly rise throughout it.  The HR track should be almost perfectly flat, just rising slowly.  Here's the data.

As you can see, the Suunto 9 had other ideas.  Specifically, it thought I was having a heart attack the first 10 minutes.  I have no idea why after that point it decided to join the rest of us, but it did, and then it was perfectly fine for a long while before starting to lose the plot again towards the last 20-30 minutes.  I'm not sure what else there is to say about that run from a HR standpoint.  It was pretty straightforward really – the accuracy sucked at the beginning, and then was perfectly fine for almost an hour, before going a bit wonky again.
But things don't always start out wonky.  For example, take this also relatively straightforward run I did a few days prior. I was time-limited, so it only ended up being about 30 minutes, but you'll see that by and large it tracks well enough:

The only caveat would be at the very peak of that short sprint, that it doesn't quite nail the maximum HR – it falls a bit short.  But otherwise, the three units track very cleanly throughout the run.  Note the reason why the HR looks sorta like Tetris blocks above is that the scale isn't too big and my variations in HR are pretty small, so it's like little blocks up/down.
Now we'll shift over to riding, and thankfully that Stelvio ride is a great proxy for showing lots of ride types in a single ride.  From steady-state riding to sprints, descending to stop and go.  It's perfect – even a café stop.  Here's that beast of a HR chart:

Now, around the 2hr 42min marker is where we reached the summit and then did a bunch of filming stuff and even went inside to warm-up and have a drink.  What's semi-interesting here is that at the 3hr marker I actually paused the Suunto unit in terms of recording, but it apparently still records the HR data in paused mode.  I had specifically paused it and the Garmin so they wouldn't do funky GPS stuff inside for an hour.  Anyway, thought that was interesting.
Looking at the climb first, here we go:

Here's a simple breakdown of the timeline above:
00:00:00-00:15:00: Heading through town easily, stopped briefly to get sunscreen at store
00:15:00-01:22:00: Dying.
01:22:00-01:28:00: Not dying, stopped at a viewpoint.
01:28:00-02:22:00: Dying again.
02:22:00-02:32:00: Not dying, stopped to fill water bottles and shoot some video.
02:32:00-03:00:00: Dying again.
Now, what's interesting here is you can see how close the HR was between all the devices while actually climbing at a steady-pace.

There's some slight blips here and there, which may be due to holding a camera or such while climbing and the optical HR sensor, but by and large, things are good…except that last section from 2hr32mins and upwards.  I've got no idea why everyone went all wonky for this final section, since it was no different than the rest.
And then there's the descent:

Obviously, that's a cluster-fudge. Clearly the Suunto is most wrong at 50-60bpm, but the Fenix 5+ isn't far behind on the wrong-train.  What about that yellow line I added?  Funny you ask.
That's where we stopped descending and had to do legit work for 20 minutes across the valley floor, so again, a nice steady-state effort.  As you can see, things are at least in the ballpark there.
Ultimately – these results match exactly what I've seen on probably dozens of rides with the Suunto 9 since receiving it: Its cycling HR accuracy is perfectly fine when you're doing a steady pace or other steady-state effort.  It's totally useless when doing anything else.  The good news is that they're in good company there, as the Fenix 5+ is in the same boat.
Next, let's look at a gym/circuit workout.  I'll say upfront this graph is tough to read, but once you at least read this paragraph, it'll make sense.  I had on one wrist the Suunto 9, and the other the Fenix 5+. All exercises/movements in this set were dual-handed, if involving hands, so equal strain on both. I also had a Wahoo TICKR-X HR strap as well, which was paired to a FR935.  Initially I put that on a stationary water bottle, as that seemed like a logical place for it (to not interfere with either wrist).  But then a couple of the stations took me out of range of the bottle, so you see it drop briefly.  On the 2nd and 3rd rounds I went ahead and just attached the FR935 to my waistband so I had good connectivity.
Here's what that data looks like:

So what you're seeing is relatively simple:
A) Purple drops when I walked out of range early on, just ignore those.
B) The Fenix 5+ did blah, not horrendous, but not great. Just sorta in the rough ballpark some of the time, and a bit outside others.
C) The Suunto 9 did worse than either, seemingly oscillating all over the place more often
Occasionally all three devices agreed, but hardly very often.  It was more likely the TICKR and Fenix 5+ would agree, but even that was rarely spot-on, it was again more in the general vicinity.
So where are things? Well, like I said – I tried to pick a sampling from a variety of sports, that I felt most reflected what I've seen over the last few months.  In summary, I'd say:
A) Running: Generally OK, but I see some issues at the start of runs sometimes, and a tiny bit of lag on some sprints.
B) Cycling: For steady-state riding, it's fine, but any sort of stop/go riding, or descending and it all falls apart
C) Gym workouts: Seems to be all over the map here
D) Swimming: While I didn't analyze it above, you can look at my linked swim HR data in the GPS sets.  It didn't seem terribly accurate.
Ultimately, I think the biggest challenge Suunto has with HR accuracy on the Suunto 9 is simply the design of the Suunto 9.  It's a very 'top-heavy' device, which any optical HR sensor company will tell you isn't ideal because it causes bounce, and bounce interferes with the measurement of HR readings optically.  It's why most other watches with optical HR sensors try to keep a low-profile on the wrist, and try to reduce weight.
In fact, Suunto themselves more than a year ago noted their concerns about adding an optical HR sensor to the Spartan Ultra for precisely these reasons – and ultimately, they were spot-on: It produces less accurate results than their less expensive watches with the exact same sensor (which I've had better luck at).
Of course, these results aren't all that different from Garmin's Fenix 5+ optical HR results either. Sure, Garmin has fared better in every HR test here, but for anything but running, I'd probably still defer to some other sort of HR sensor instead of the built-in ones if I was focused on wanting accurate HR for that activity.  But that's just me.
Product Comparison Charts:
I've added the Suunto 9 into the product comparison charts, which allows you to compare it against any other products I've reviewed or had hands-on time with.
For the purpose of this review I've compared it against the Fenix 5+, Fenix 5, and Suunto Spartan Ultra watches.  Those are realistically the units you'd be comparing against. As much as people might want to compare it against the Polar V800, I don't think there's anybody these days considering a new V800 vs a new Suunto 9.  But fear not, if you are, you can simply compare them via the full product comparison tool.
Function/Feature

Suunto 9 Baro
Suunto Spartan Ultra
Garmin Fenix 5 Plus (5/5S/5X)
Garmin Fenix 5 (5/5S/5X)
Copyright DC Rainmaker - Updated May 28th, 2022 @ 9:59 am New Window
Price
$599 (non-baro is $499)
$699
$699/699EUR
$599
Product Announcement Date
June 5th, 2018
June 7th, 2016
June 17th, 2018
Jan 4th, 2017
Actual Availability/Shipping Date
June 26th, 2018
August 2016
June 17th, 2018
March 2017
GPS Recording Functionality
Yes
Yes
Yes (with Galileo too)
Yes
Data Transfer
USB & Bluetooth Smart
USB & Bluetooth Smart
USB/Bluetooth Smart/WiFi
USB/Bluetooth Smart/WiFi (Sapphire only)
Waterproofing
Yes - 100m
Yes - 100m
Yes - 100m
Yes - 100m
Battery Life (GPS)
Up to 120 Hours
Up to 65 hours
Up to 32hrs in GPS-on, up to 85hrs in UltraTrac GPS (varies by model)
Up to 24hrs in GPS-on, up to 75hrs in UltraTrac GPS
Recording Interval
Variable
Variable
1S or Smart
1S or Smart
Alerts
Sound/Visual/Vibrate
Sound/Visual/Vibrate
Vibrate/Sound/Visual
Vibrate/Sound/Visual
Backlight Greatness
Great
Great
Great
Great
Ability to download custom apps to unit/device
No
No
YEs
YEs
Acts as daily activity monitor (steps, etc...)
Yes
Steps only (not distance/sleep)
Yes
Yes

Music

Suunto 9 Baro
Suunto Spartan Ultra
Garmin Fenix 5 Plus (5/5S/5X)
Garmin Fenix 5 (5/5S/5X)
Can control phone music
No
No
Yes
Yes
Has music storage and playback
No
No
Yes
No
Streaming Services
No
No
Spotify, Amazon Music, Deezer, iHeartRadio
No

Payments

Suunto 9 Baro
Suunto Spartan Ultra
Garmin Fenix 5 Plus (5/5S/5X)
Garmin Fenix 5 (5/5S/5X)
Contactless-NFC Payments
No
No
Yes
No

Connectivity

Suunto 9 Baro
Suunto Spartan Ultra
Garmin Fenix 5 Plus (5/5S/5X)
Garmin Fenix 5 (5/5S/5X)
Bluetooth Smart to Phone Uploading
Yes
Yes
Yes
Yes
Phone Notifications to unit (i.e. texts/calls/etc...)
Yes
Yes
Yes
Yes
Live Tracking (streaming location to website)
No
No
Yes
Yes
Group tracking
No
No
Yes
Yes
Emergency/SOS Message Notification (from watch to contacts)
No
No
No
No
Built-in cellular chip (no phone required)
No
No
No
No

Cycling

Suunto 9 Baro
Suunto Spartan Ultra
Garmin Fenix 5 Plus (5/5S/5X)
Garmin Fenix 5 (5/5S/5X)
Designed for cycling
Yes
Yes
Yes
Yes
Power Meter Capable
Yes
Yes
Yes
Yes
Power Meter Configuration/Calibration Options
Yes
Yes
Yes
Yes
Power Meter TSS/NP/IF
No
No
Yes
Yes
Speed/Cadence Sensor Capable
Yes
Yes
Yes
Yes
Strava segments live on device
No
No
Yes
Yes
Crash detection
No
No
No
No

Running

Suunto 9 Baro
Suunto Spartan Ultra
Garmin Fenix 5 Plus (5/5S/5X)
Garmin Fenix 5 (5/5S/5X)
Designed for running
Yes
Yes
Yes
Yes
Footpod Capable (For treadmills)
Yes
Yes
Yes
Yes
Running Dynamics (vertical oscillation, ground contact time, etc...)
No
No
WITH RD POD, HRM-TRI OR HRM-RUN (NOT VIA OPTICAL HR)
WITH RD POD, HRM-TRI OR HRM-RUN (NOT VIA OPTICAL HR)
Running Power
With extra sensor
With extra sensor
With extra sensor
VO2Max Estimation
Yes
Yes
YEs
YEs
Race Predictor
No
No
Yes
Yes
Recovery Advisor
Yes
Yes
Yes
Yes
Run/Walk Mode
No
No
Yes
Yes
Track Recognition Mode
No

Swimming

Suunto 9 Baro
Suunto Spartan Ultra
Garmin Fenix 5 Plus (5/5S/5X)
Garmin Fenix 5 (5/5S/5X)
Designed for swimming
Yes
Yes
Yes
Yes
Openwater swimming mode
Yes
Yes
YEs
YEs
Lap/Indoor Distance Tracking
Yes
Yes
Yes
Yes
Record HR underwater
Yes
Yes
WITH HRM-TRI/HRM-SWIM (Not with optical HR)
WITH HRM-TRI/HRM-SWIM (Not with optical HR)
Openwater Metrics (Stroke/etc.)
Yes
Yes
Yes
Yes
Indoor Metrics (Stroke/etc.)
Yes
Yes
YEs
YEs
Indoor Drill Mode
No
No
Yes
Yes
Indoor auto-pause feature
No
No
No (it'll show rest time afterwards though)
No (it'll show rest time afterwards though)
Change pool size
Yes
Yes
YEs
YEs
Indoor Min/Max Pool Lengths
15m/y to 1,200m/y
15m/y to 1,200m/y
14M/15Y TO 150Y/M
14M/15Y TO 150Y/M
Ability to customize data fields
yes
yes
Yes
Yes
Captures per length data - indoors
Yes
Yes
Yes
Yes
Indoor Alerts
No
No
Yes
Yes

Triathlon

Suunto 9 Baro
Suunto Spartan Ultra
Garmin Fenix 5 Plus (5/5S/5X)
Garmin Fenix 5 (5/5S/5X)
Designed for triathlon
Yes
Yes
Yes
Yes
Multisport mode
Yes
Yes
Yes
Yes

Workouts

Suunto 9 Baro
Suunto Spartan Ultra
Garmin Fenix 5 Plus (5/5S/5X)
Garmin Fenix 5 (5/5S/5X)
Create/Follow custom workouts
No
No
Yes
Yes
On-unit interval Feature
Yes
Yes (added Mar 31st, 2017)
YEs
YEs
Training Calendar Functionality
Yes
Yes
Yes
Yes

Functions

Suunto 9 Baro
Suunto Spartan Ultra
Garmin Fenix 5 Plus (5/5S/5X)
Garmin Fenix 5 (5/5S/5X)
Auto Start/Stop
No
No
Yes
Yes
Virtual Partner Feature
No
No
YEs
YEs
Virtual Racer Feature
No
No
Yes
Yes
Records PR's - Personal Records (diff than history)
No
No
Yes
Yes
Tidal Tables (Tide Information)
No
No
No
No
Weather Display (live data)
No
No
Yes
Yes

Navigate

Suunto 9 Baro
Suunto Spartan Ultra
Garmin Fenix 5 Plus (5/5S/5X)
Garmin Fenix 5 (5/5S/5X)
Follow GPS Track (Courses/Waypoints)
Yes
Yes
Yes
YEs
Markers/Waypoint Direction
Yes
Yes
Yes
Yes
Routable/Visual Maps (like car GPS)
No
No
Yes
Yes (5X Only)
Back to start
Yes
Yes
Yes
Yes
Impromptu Round Trip Route Creation
No
No
Yes
Yes (5X Only)
Download courses/routes from phone to unit
Yes
Yes
Yes
Yes

Sensors

Suunto 9 Baro
Suunto Spartan Ultra
Garmin Fenix 5 Plus (5/5S/5X)
Garmin Fenix 5 (5/5S/5X)
Altimeter Type
Barometric
Barometric
Barometric
Barometric
Compass Type
Magnetic
Magnetic
Magnetic
Magnetic
Optical Heart Rate Sensor internally
Yes
No
Yes
Yes
SpO2 (aka Pulse Oximetry)
No
No
Fenix 5X Plus only
No
Heart Rate Strap Compatible
Yes
Yes
Yes
Yes
ANT+ Heart Rate Strap Capable
No
No
Yes
Yes
ANT+ Speed/Cadence Capable
No
No
Yes
Yes
ANT+ Footpod Capable
No
No
Yes
Yes
ANT+ Power Meter Capable
No
No
Yes
Yes
ANT+ Lighting Control
No
No
Yes
Yes
ANT+ Bike Radar Integration
No
No
Yes
Yes
ANT+ Trainer Control (FE-C)
No
No
No
No
ANT+ Remote Control
No
No
No (can control VIRB though)
No (can control VIRB though)
ANT+ eBike Compatibility
No
No
No
No
ANT+ Gear Shifting (i.e. SRAM ETAP)
No
No
Yes
Yes
Shimano Di2 Shifting
No
No
Yes
Yes
Bluetooth Smart HR Strap Capable
Yes
Yes
Yes
Yes
Bluetooth Smart Speed/Cadence Capable
YEs
YEs
Yes
Yes
Bluetooth Smart Footpod Capable
Yes
Yes
Yes
Yes
Bluetooth Smart Power Meter Capable
Yes
Yes
YEs
YEs
Temp Recording (internal sensor)
Yes
Yes
Yes
Yes
Temp Recording (external sensor)
No
No
Yes
Yes

Software

Suunto 9 Baro
Suunto Spartan Ultra
Garmin Fenix 5 Plus (5/5S/5X)
Garmin Fenix 5 (5/5S/5X)
PC Application
PC/Mac
PC/Mac
Garmin Express
Garmin Express
Web Application
Suunto Movescount
Suunto Movescount
Garmin Connect
Garmin Connect
Phone App
iOS /Android
iOS /Android
iOS/Android/Windows Phone
iOS/Android/Windows Phone
Ability to Export Settings
No
No
No
No

Purchase

Suunto 9 Baro
Suunto Spartan Ultra
Garmin Fenix 5 Plus (5/5S/5X)
Garmin Fenix 5 (5/5S/5X)
Amazon
Link
Link
Link
Link
Backcountry.com
Link
Link
Link
Link
Chain Reaction Cycles
Link
Link
Link
Link
Competitive Cyclist
Link
Link
Link
Link
REI
Link
Link
Link
Link
Wiggle
Link
Link
Link
Link

DCRainmaker

Suunto 9 Baro
Suunto Spartan Ultra
Garmin Fenix 5 Plus (5/5S/5X)
Garmin Fenix 5 (5/5S/5X)
Review Link
Link
Link
Link
Link
And don't forget you can make your own comparison chart via the full product comparison tool.
Summary: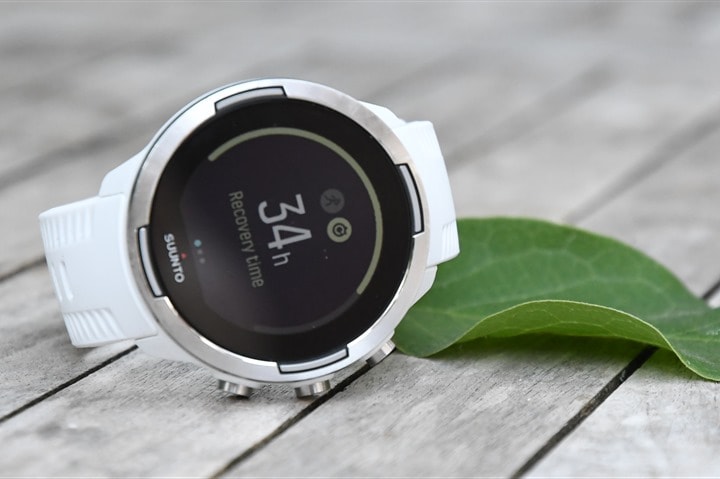 Suunto's in a tough spot in terms of competition these days, and they admit it themselves. When I met with them they were clear that they're no longer trying to compete on feature counts with Garmin. It's simply not going to win there, Suunto just doesn't have the resources (namely, developers) to do so.  Instead, Suunto is aiming to compete on making a device they believe is more durable and attuned to what endurance athletes want: Better battery life, better GPS and altimeter tracks, and solid reliability.
When it comes to achieving those goals, it may just be too soon.  In an effort to find those better GPS tracks, Suunto changed GPS chipset vendors as noted, which means they're going through a bit of a teething phase right now with the new Sony chipsets.  As I tweeted though, solving GPS accuracy issues is always a very long road – and sometimes that road doesn't have a happy ending.
What is clear though is that Suunto's work in long-battery conditions is incredibly cool, and definitely market leading.  If you're someone aiming to do a run (specifically, a run) more than 32 hours, then the Suunto 9 most definitely should be atop your list. The 32-hour marker is the max that Garmin can do at 1-second GPS recording, so once you're beyond that point it comes down to a low-battery bake-off between Garmin and Suunto, and Suunto's tracks win every time in that mode due to their new FusedTrack.  As I said, it's incredibly cool. Absolutely perfect? No. But still really damn cool and better than what Garmin offers.
If you're using the device for under 32 hours of GPS-battery life, then the Suunto 9 pitch is a tougher one.  Virtually all the features implemented into it were targeted at the Ultra runner.  The company eschewed adding in some of the lower priced Suunto 3 features around adaptive training plans into the Suunto 9 – thus minimizing appeal to those who might want those functions and aren't planning on running a 50K race anytime soon.
Finally, I hope that as we fast forward to the end of the year and beyond we'll see more features shifted from Movescount into the new Sports Tracker platform, enabling that to better compete with…well…Suunto's very own existing platform.  Doing so, in turn, makes the Suunto 9 more appealing, as it starts to consolidate the various data streams it's collecting into one cohesive place.

Found This Post Useful? Support The Site!
Hopefully you found this review useful. At the end of the day, I'm an athlete just like you looking for the most detail possible on a new purchase – so my review is written from the standpoint of how I used the device. The reviews generally take a lot of hours to put together, so it's a fair bit of work (and labor of love). As you probably noticed by looking below, I also take time to answer all the questions posted in the comments – and there's quite a bit of detail in there as well.
If you're shopping for the Suunto 9 Baro or any other accessory items, please consider using the affiliate links below! As an Amazon Associate I earn from qualifying purchases. It doesn't cost you anything extra, but your purchases help support this website a lot. Even more, if you use Backcountry.com or Competitive Cyclist with coupon code DCRAINMAKER, first time users save 15% on applicable products!
And finally, here's a handy list of accessories that work well with the Suunto watches. Given the unit pairs with standard Bluetooth Smart sensors, you can use just about anything though. I'd recommend the Garmin bike sensors over the Wahoo ones, merely because the Garmin have two concurrent Bluetooth channels versus one for the Wahoo RPM/SPEED sensors.
And of course – you can always sign-up to be a DCR Supporter! That gets you an ad-free DCR, access to the DCR Quarantine Corner video series packed with behind the scenes tidbits...and it also makes you awesome. And being awesome is what it's all about!
Thanks for reading! And as always, feel free to post comments or questions in the comments section below, I'll be happy to try and answer them as quickly as possible. And lastly, if you felt this review was useful – I always appreciate feedback in the comments below. Thanks!