Today Zwift released their long-awaited Apple TV edition, allowing you to get riding on the platform with a relatively small investment compared to a full desktop computer or expensive tablet.  The Apple TV variant has been under external testing since last spring sometime, but today it's now available for everyone.
I've been using it lately for my rides and overall it's pretty darn good – especially if you have lesser hardware – this will really clean things up for ya.  But like anything, there are a handful of tradeoffs, so I figured I'd run through those and the entire experience real quick.
If you don't have time for a full post, here's a super quick video I stashed together showing how it all works, including footage straight from Apple TV:
With that – enjoy!
The Hardware: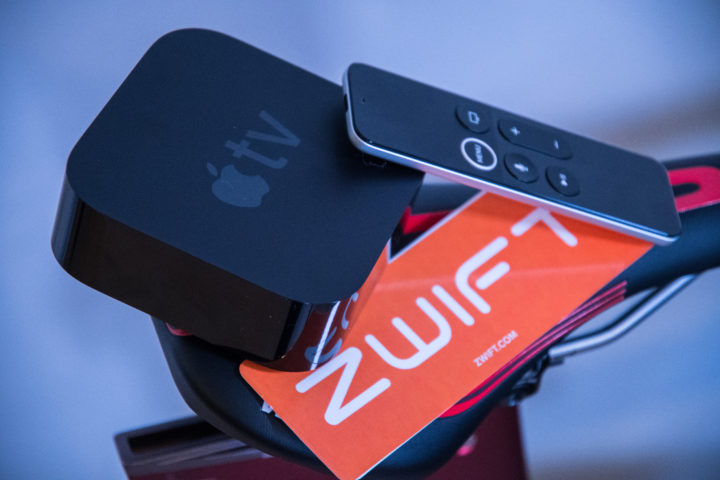 The first thing to know is that this won't work on all Apple TV's.  Meaning, you need one of the newer Apple TV's that supports apps.  If you've got an older Apple TV that doesn't support apps, Zwift won't work on it.  Not sure which one you have?  No problem, here's how you know:
Is your Apple TV remote control usable? Then you have an older unit, no good for Zwift.
Is your Apple TV remote control the most miserable piece of tech on earth? Then you've got a new Apple TV – good news, that'll work for Zwift!
Most notably though, this even works with the new Apple TV 4K edition, allowing you to get other 4K content for a mere $179 (Zwift still renders today in 1080p).  Else, the regular Apple TV edition is only $149.  Seriously, just think about that: You can get an entire spec'd out Zwift system for under $150, or 4K for under $180! Nuts!
What about sensors? You know, things like heart rate straps and trainers?  You can use almost anything you used before – as long as it's Bluetooth Smart.  See, since Apple and ANT+ go together like electricity and water, the Apple TV doesn't support any ANT+ devices.  You'll only be able to connect to Bluetooth Smart devices.
The good news is that almost every sensor made in the last couple years is dual ANT+ & Bluetooth Smart.  Got something that's still ANT+ only though? You could use the NPE CABLE accessory to translate it, alternatively, the 4iiii Viiiiva heart rate sensor that also re-broadcasts ANT+ to Bluetooth Smart. Both work well here (check out this more detailed video describing CABLE).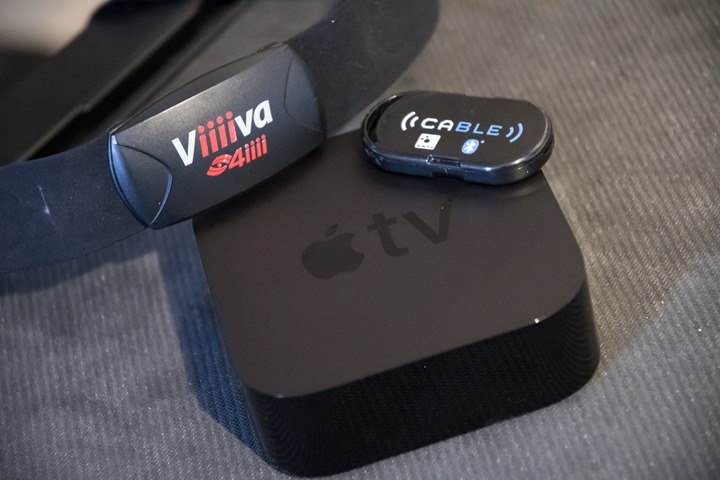 And of course, you'll need your bike, which is attached to that trainer.  As noted, as long as your electronic trainer supports Bluetooth Smart, it can control it as well.  I've tried it with both a Tacx Neo and the new Wattbike Atom without issue.  From a sensor standpoint I've also tried Garmin's Vector 3 power meter and Wahoo's TICKR X heart rate strap – all over Bluetooth Smart natively, no issues.
So, to quickly iterate/recap through some hardware questions:
1) Can I control my smart trainer with it? Yes, as long as that trainer supports Bluetooth Smart control (almost any electronic trainer made in the last 3 years does).
2) Can I connect to my sensors with it? Yes, as long as it's Bluetooth Smart enabled.  It'll support Bluetooth Smart power meters, speed sensors, cadence sensors, heart rate sensors, and trainers.
3) What about ANT+ sensors? No dice. You can however use translation systems like the 4iiii Viiiiva [Review here] and NPE CABLE to convert to Bluetooth Smart.
4) How do I connect my Apple TV to my TV? Using an HDMI cable, it doesn't come with one, but any cable will do.
5) Do I have to have a 4K TV? No, not at all! In fact, even though I bought the Apple TV 4K version, I don't have it connected to a 4K TV at the moment. I just figured I'll soon replace that TV with a 4K variant and the cost difference was minor to get the 4K version of Apple TV now.
6) Will a computer monitor work instead of a TV? Some might, if it had HDMI on it.  But most computer monitors don't have sound on them, so you'd lose that (which doesn't matter a ton in Zwift of course).
Got all that? Good.
Going for a ride:
Ok, enough background, let's go ride.  The first thing you'll need to do is download Zwift from the App Store.  You'll just search the App Store for it within Apple TV: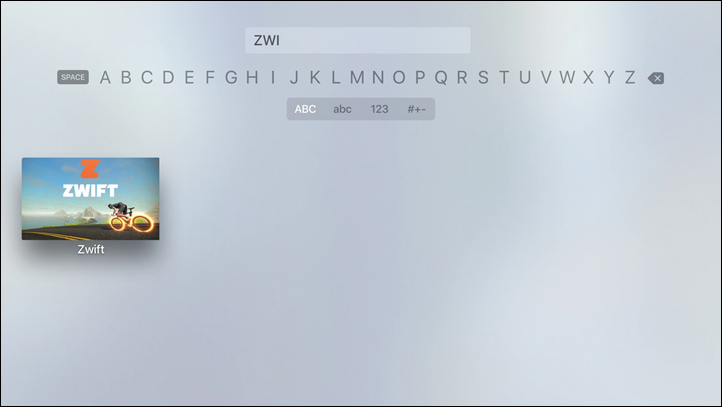 Once that's done you'll see it on your home screen, ready to select it: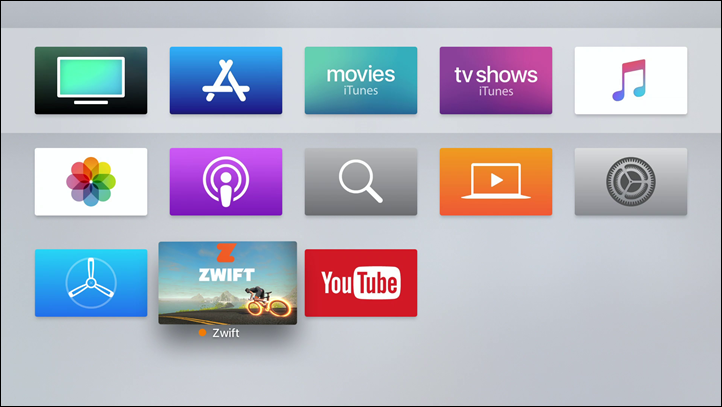 A few seconds later Zwift will launch, leaving you at the usual sign-in page.  Remember with Apple TV you can use your voice to spell out usernames and passwords.  Though, in the odd event your Cave is considered a public place, you might not want to spell the password aloud.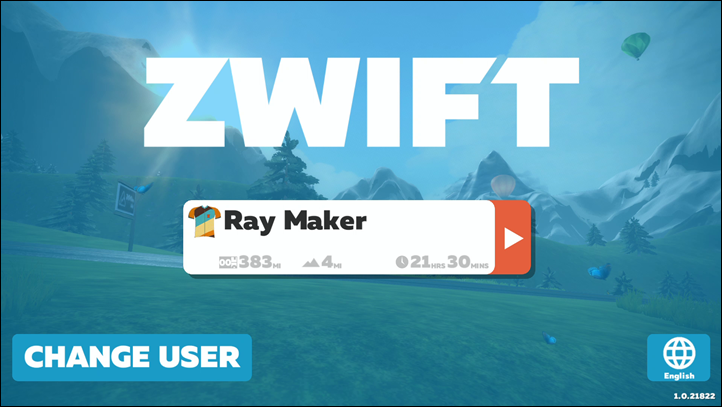 From there it's right into the initial sensor pairing page: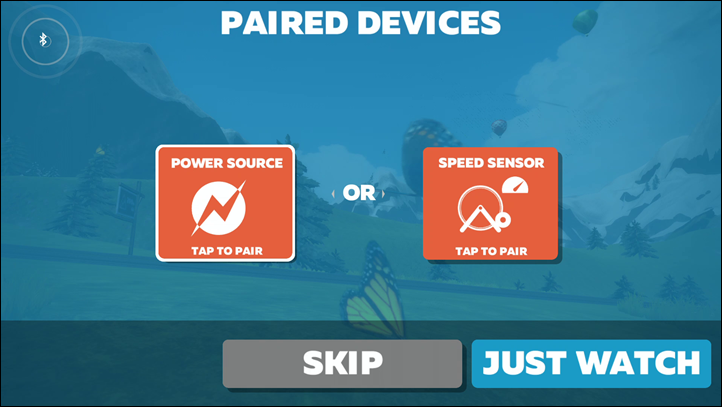 Now, the page is a wee bit confusing because it doesn't actually show you all your sensor options.  Just go with it.  First, pick out your power meter or smart trainer.  If you have a smart trainer, choose that here. Then, add your HR too if you've got that.
Next, after choosing those two sensors, you'll be able to select more sensor types on the next page: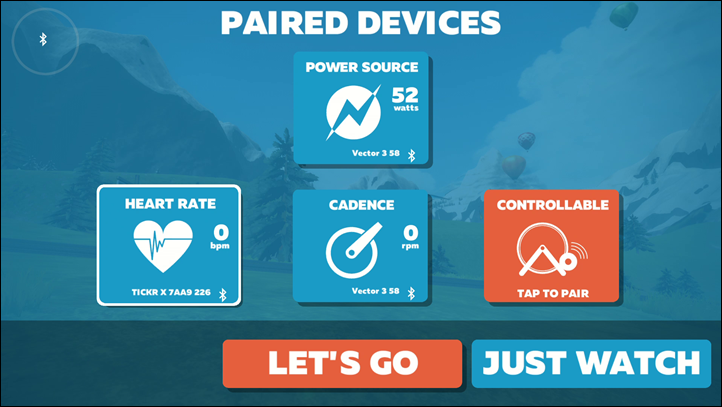 You'll see trainers as well on this screen too (they should also show up on the previous two-spot sensor pairing screen though):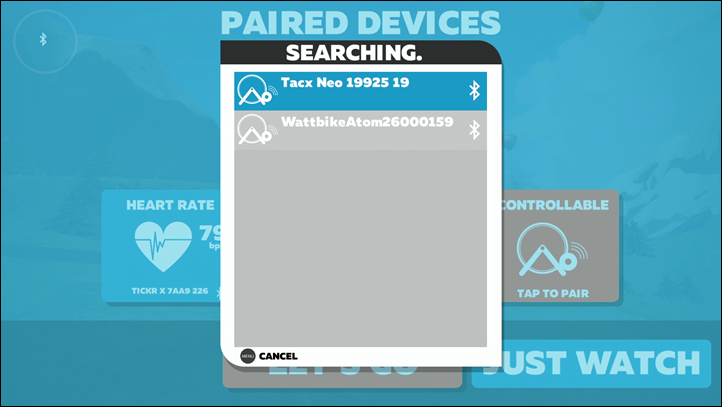 And here's where there's an important catch: Apple TV only supports two concurrent Bluetooth Smart sensors. To explain this in 1st grade math terms:
A) BT Smart Heart Rate Strap + BT Smart Power Meter = 2 Sensors = OK, good to go!
B) BT Smart Heart Rate Strap + BT Smart Cadence + BT Smart Speed = 3 Sensors = No good, too much!
So how do you solve this? The Zwift companion app on your mobile phone.  It can act as a secondary in point for sensors, allowing you to connect far more sensors.  This way if you have more than two sensors, you can still connect them.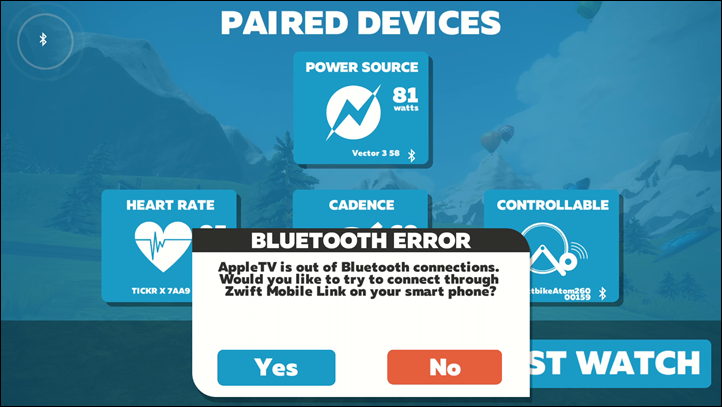 Do remember that most power meters transmit cadence, and more smart trainers transmit speed and some cadence too.  So depending on your trainer, you may not need to funnel more connections in via the app.
But here's the thing: You'll want the app anyway.
That's because doing anything with the new Apple TV app just sitting on your couch is miserable, let alone while sweaty and pushing hard on a trainer.  Of course, the phone isn't quite a keyboard – but I promise you it's a million times better than the remote control since it's obvious and easy to use.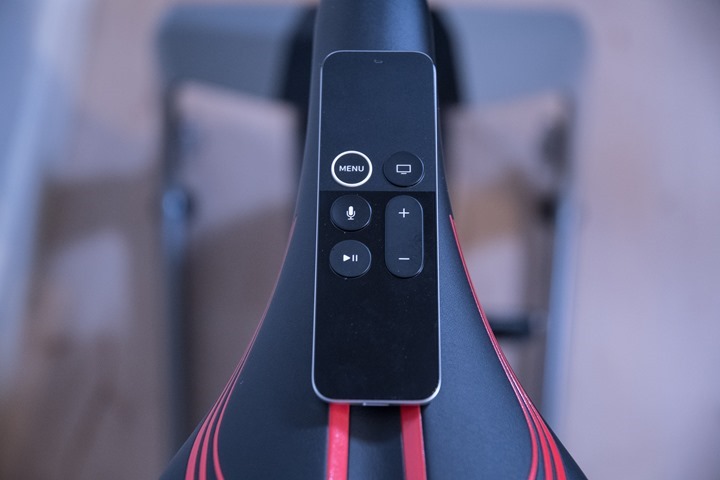 With everything set, off we start riding.  All screenshots in this post are from Apple TV 4K, though recorded using HDMI out into a video capture USB adapter.  You can also jury-rig it using this method as well, sans capture card.  Oh, and if you use the mobile app you can take screenshots as normal (to upload to Strava of course).
For the most part riding is pretty normal like it would be elsewhere within Zwift, and more importantly, the graphics quality is quite good (at least, for what I care about).  I haven't seen any graphics oddities or such, except that cyclists seem to cut each other a bit close on passing in some cases.  For the most part I tend to ride on Zwift iOS on a recent iPad, so this isn't a huge leap from that (using the 4K edition).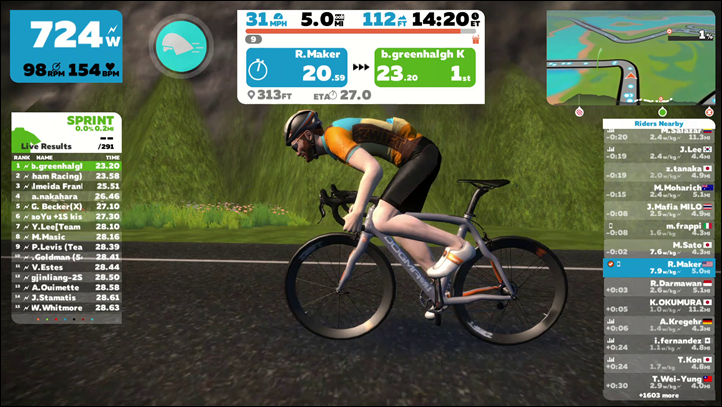 I haven't run the 4K and non-4K versions side to by side, though Zwift says the 4K variant will roughly double the frame rates you'll see.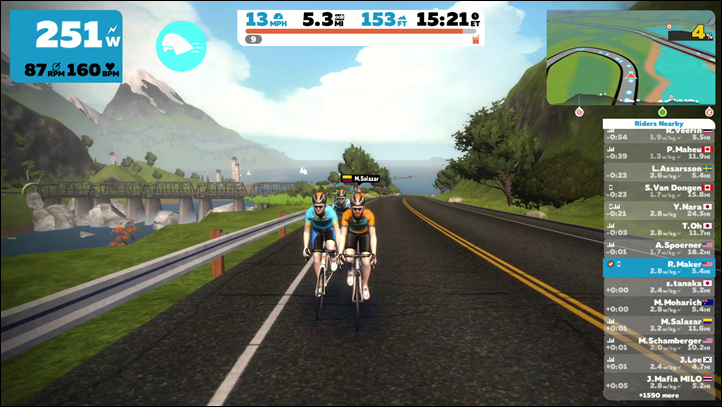 Here's a small random gallery of screenshots (that were captured at 1080p, not 4K):
Now as I noted the biggest catch is really the remote, which is just fiddly to use.  But I found that just using the mobile app really solves all those issues.  It allows me to easily communicate with others as well as take screenshots, change the view, and so on.  It replaces the need for keyboard for traditional keyboard shortcuts too.
As usual, when you've wrapped up your ride it'll show your stat totals.  Also as usual, it'll upload to 3rd party platforms like normal.  So things like Strava, Garmin, TrainingPeaks, and Today's Plan all work.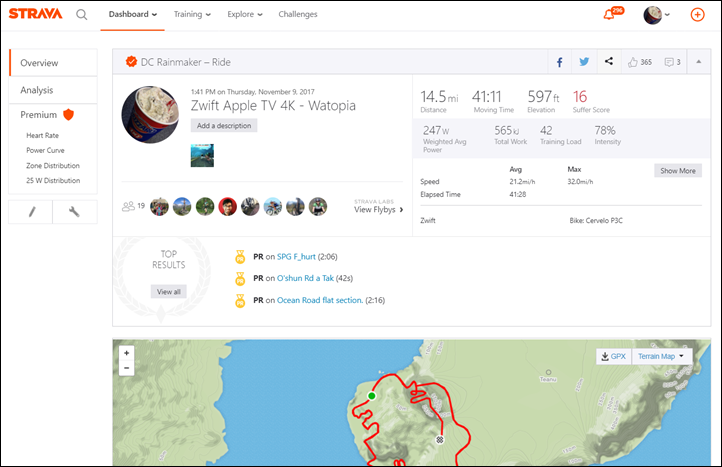 Overall, things work fairly well for me.  I haven't tried to find a compatible Apple TV keyboard to see if it works with that, so if someone has one they've tested Zwift tvOS with, feel free to drop the model/name down in the description!
Wrap-Up: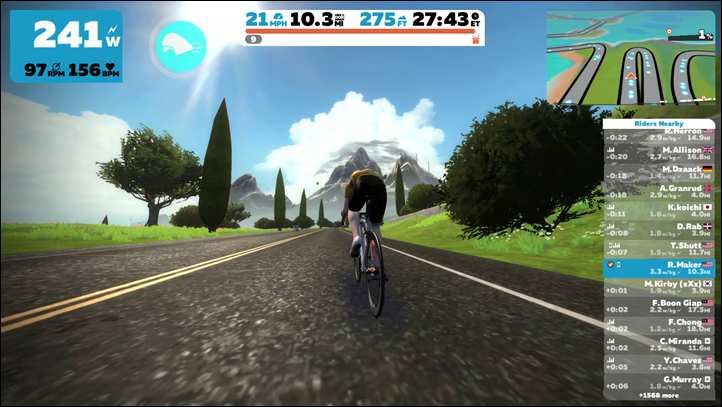 Overall, this is actually the cheapest way to get cookin' on Zwift.  There's no other device that'll support Zwift for under $150, let alone do it for other things in 4K for under $180.  That's amazing.  And the quality is great, likely better than most people's leftover computer hardware that they've repurposed to Zwift today.
Of course, some people might still be bitter about last week's Zwift price increase (that doesn't take effect for another year for existing users), but this does at least show that Zwift is innovating on the platform.  There's no other Apple TV capable trainer apps that I'm aware of.  Though, I'm not totally convinced there's as much value for many of the other apps since their graphics requirements tend to be fairly low.
In any event – if you've got a capable Apple TV, go forth and give it a whirl and report back how well it works for ya.  I haven't seen any recent compatibility issues with sensors, though like anything new, I suspect we'll see a few little bumps in the road in the first few weeks.
With that – thanks for reading!