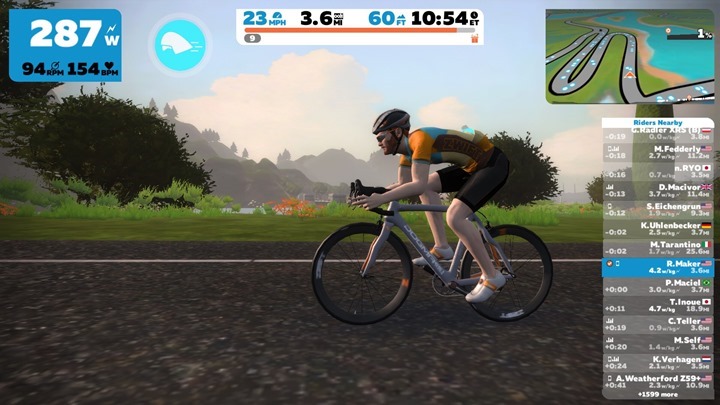 There are approximately four ways you can start off writing about the Zwift price increase, depending on which way you want to spin the increase.  I've used two of them thus far in my post, but to recap, your four options are:
A) Zwift increases price $5
B) Zwift increases price 50%
C) Zwift increases price $60 a year
D) Zwift announces price increase, delayed 12 months for existing users
In fact, there's other variants like 'Zwift announces first ever price increase', accounting for non-USD currency fluctuations, and so on.  But the four variants above somewhat highlight different ways you could spin this.  It is after all – just spin, it's a price increase of course.  In Zwift's case, they did a somewhat poor job of spinning what I think is actually a fair deal for what you pay.  Let me explain.
See, unlike most other apps in the space (such as Kinomap or Rouvy Virtual Training), Zwift doesn't have a ton of feature pillars to call out.  Those apps have core feature areas: Real videos, virtual course re-riding, separate workout functions, ERG mode, and so on.  So they feel like a broader app.  And in many ways – they are.
Zwift on the other hand has one gigantic virtual environment.  Sure, it's divided up into various worlds (e.g. Richmond, London, Zwift Island), and those worlds even get updates and expansions– such as the recent update to Zwift Island a week or two ago.  The app functionality also has various umbrella areas such as workout mode, race/group mode, and just regular riding around mode.
But to most people, these things all just feel like one experience that may not have changed substantially over the years.  In reality though, the change is actually quite substantial.  Some of it is things like introduction of iOS as a gaming platform last year, then announcement of Android as a gaming platform planned for the next few months.  Then there's Apple TV set to roll-out any hour/day now.  All require substantial work, and all things people have been begging for.
The same goes for new worlds and other enhancements.  You probably haven't specifically put on your Christmas list that you want a volcano or jungle ruins, but you likely weren't upset about getting them either.  And that's the problem that developers have in general, but especially games like Zwift.  One person's favorite feature is another person's 'blah'.  To me, for example, all of the Richmond and London courses are 'blah'.  When I see them on Zwift (especially Richmond), I often go to other apps.  It just doesn't excite me at all.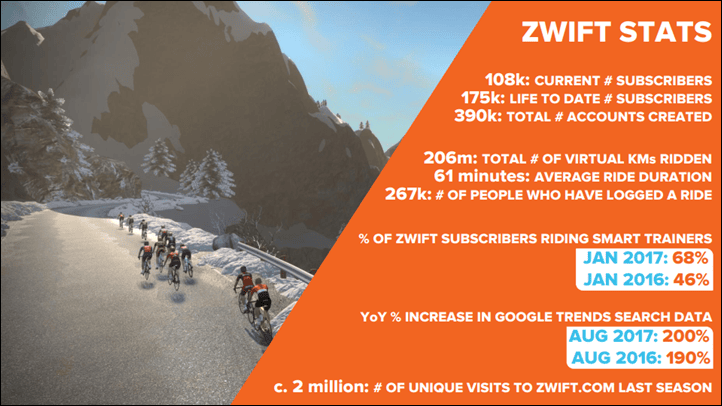 (Stats presented at Zwift Indoor Training Summit Aug 29th, 2017)
So what about the $5?  Well, that too is tricky.  These days Zwift has training plans, specific workouts, races, coordinated events, and far more.  You can even become a professional cyclist with a team contract via the platform.  Of course, as with any app you may or may not use specific functions – so you don't feel like you're getting value out of those areas you don't use.
The $5 piece specifically can be looked at a variety of ways.  For many, it's merely 3-5 gel packets per month (assuming you buy them in bulk), roughly what you'd go through on a couple hours of riding.  It's less than a single trip to Starbucks for most people.  And certainly, it's far less than any coaching plan or coach would cost (not that I'd compare it directly to either, but an element of that exists in Zwift).
From an entertainment standpoint it's certainly cheaper than a movie (especially if you have to pay for a date), and probably costs less almost per session that you could do for an hour or so.  Assuming you ride it only twice a week, that's merely $2 per workout – far cheaper than a spin class at a gym that could run $15-$35.
But is that all rationalizing price increases?  Is that no different than saying that it's 'OK' the iPhone X now costs $999 (and realistically more for most people)?  Or the fact that an Ironman race now somehow approaches $800+ for the entry fee alone?
I do find it somewhat interesting that in the day and age where trainers are becoming dramatically less expensive year over year, that these apps are becoming more expensive.  Some of that in Zwift's case is undoubtedly driven by aspects like the funding they've raised.  Eventually those investors want a return on their investment.  But at the same time, I'm not sure a 50% (or however you want to spin it) price increase is the best way to go about getting there in the short term.  After all, the company has large plans for the platform's growth, as Founder and CEO Eric Min noted at the Zwift Summit at Eurobike this past August:
"Zwift​ ​is​ ​on​ ​track​ ​to​ ​reach​ ​300-350K​ ​users​ ​this​ ​coming​ ​winter​ ​and I​ ​believe​ ​we​ ​can​ ​reach​ ​1M​ ​users​ ​within​ ​the​ ​next​ ​2​ ​years​ ​but​ ​we​ ​cannot​ ​achieve​ ​these heights​ ​without​ ​working​ ​closely​ ​with​ ​our​ ​partners​ ​to​ ​reduce​ ​friction​ ​in​ ​the​ ​customer journey,​ ​collaborate​ ​on​ ​new​ ​products,​ ​develop​ ​standards​ ​(and​ ​possibly​ ​certifications) that​ ​benefit​ ​the​ ​industry​ ​and​ ​consumers​ ​alike,​ ​and​ ​of​ ​course​ ​to​ ​manufacture​ ​the​ ​sheer number​ ​of​ ​trainers​ ​we'll​ ​need​ ​to​ ​meet​ ​the​ ​market​ ​demand."
On one hand, by increasing the price now as opposed to next fall for new users, they can minimize the eventual 'upset villagers' aspect.  Except, in some ways, by splitting the price increase they end up having two 'displeasure events'.  One they're going through now (as evidenced by any social media platform of your choice), and then another they'll go through next fall when people get upset again (the existing user base that got a price increase stay of execution).  As opposed to having picked just one time to pull off the Band-Aid for everyone and getting it over with.
Given the company is at the point in their growth where they've largely plucked off all the low-hanging fruit in terms of user adoption, they now have to make themselves more appealing to an audience that may be skeptical of any online platform to begin with.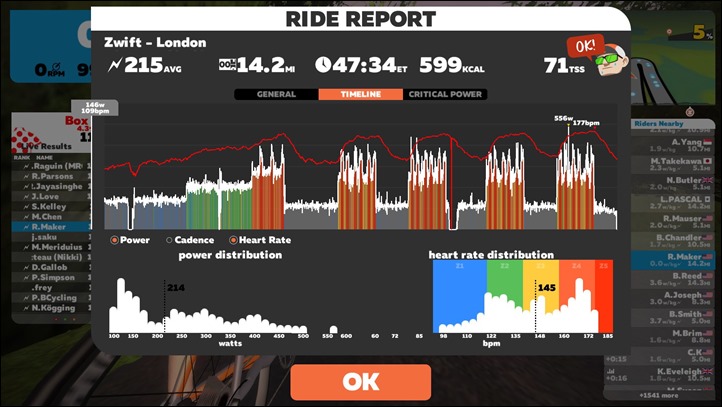 Still, I suspect for 95-98% of people, most people will stay with Zwift.  If for no other reason than there aren't any real competitors to precisely what Zwift does yet.  Sure, companies like TrainerRoad and Sufferfest compete in the space, and certainly compete for user dollars.  But it's kinda like comparing a car to a truck – sure, a given person may only have one, but a person looking for a truck specifically isn't going to buy a car, or vice versa.
And that's likely what Zwift is betting on, they know that at this point in time for people that enjoy the holistic experience of Zwift, that it's both addicting, as well as unique in the marketplace.  And until that changes, they'll keep your additional $60 per year…starting next year.
With that – thanks for reading, and have a great weekend!