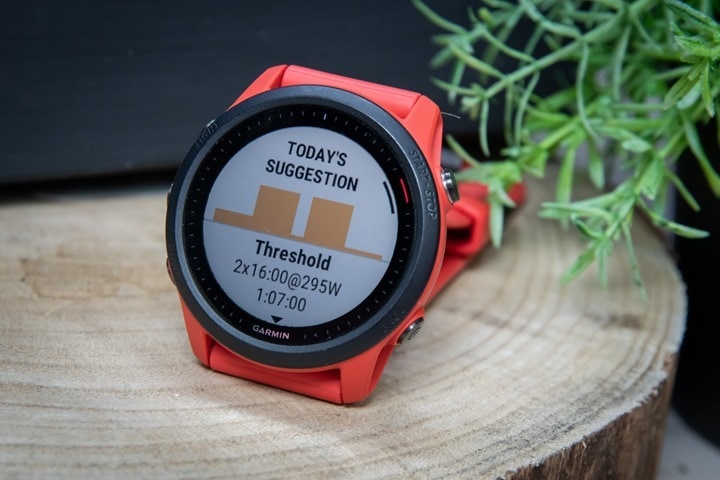 Garmin has announced the new Forerunner 745, a successor to the now four-year-old FR735XT. This multisport watch essentially takes just about everything from the FR945, except leaves the maps by the side of the road, saving you $100. Also, it's a bit smaller/lighter, and thus has less battery life.
However, there are a handful of new features here, including a new track recognition mode that nails your track workout's GPS map to the correct lane on the track, as well as ensuring the distance is virtually identical to what you run. Second, there's a new Daily Suggested Workouts for running and cycling, which gives you specific daily workouts to do that keep you within the bounds of ideal training load and recovery. Oh, and fear not, track mode is coming to FR245/945/MARQ/Fenix6 units next week in public beta (and daily suggested workouts to all but the FR245), and then to final/production firmware in a few weeks.
Now I've been using the FR745 as my daily watch since August, and I've got a pretty good grasp on all the features and nuances, and how it performs across a wide range of conditions. From running to cycling to swimming, flatlands to mountains and more. The unit I'm using is a media loaner, and once I'm done with it here I'll package it back up in the box it came in and ship it back to Garmin. Just the way I roll. If you found this review useful, using the links at the end of the post help support the site.
With that, let's dive into it!
What's New: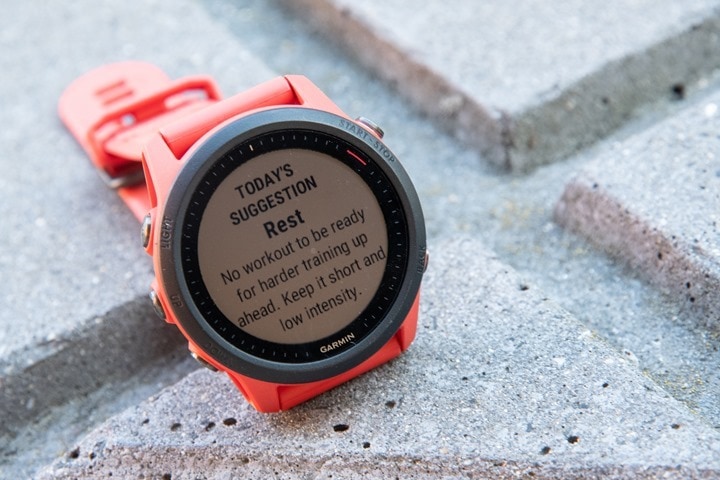 There's no better place to start than with a complete list of what's new/changed from the previous edition (FR735XT) via the video above.
But, if you want a consolidated text-driven list, then below will suit your fancy. I've put together this list using the Forerunner 735XT as my baseline for whether something has changed. Of course, there's been a number of other watches in the Garmin fitness/outdoor realm in the four years since that unit came out, so most of the features below (except Track mode & Daily Suggested Workouts) have debuted on the Fenix 5, Fenix 6, MARQ, or Forerunner 245/945 series units. Still, if you're rockin' a FR735XT, then here's roughly what's changed:
– Added new track recognition running mode
– Added new Daily Workout suggestion (first watch to see this feature)
– Added PacePro
– Added ClimbPro for automated climb notifications on running/cycling/hiking/XC skiing activities
– Added music storage/playback via Bluetooth headphones, including Spotify
– Added contactless/NFC payments
– Added Pulse Ox (pulse oximeter data)
– Added new Garmin ELEVATE optical HR sensor (V3, same as MARQ/FR245/FR945)
– Added training load focus stats
– Added deeper training effect details/metrics
– Added stress tracking
– Changed recovery time advisor to account for Stress/Sleep/Daily Activity
– Added body battery functionality
– Added heat acclimation (for any workouts in temps over 71°F/21.6°C)
– Added altitude acclimation (for any time or workouts spent above 850m/2,788ft)
– Added Incident Detection (if you crash your bike it notifies someone)
– Added new LiveTrack Course Support (shows planned course on LiveTrack)
– Added support for Garmin Running Power (with accessory sensor)
– Added Safety/Tracking Assistance (you can press button to send help alert to friends/family)
– Increases battery life slightly from 14 to 16 hours in GPS mode (and 6 hours in GPS+Music mode). One week smartwatch mode battery life.
– Changed GNSS to Sony GPS chipset, includes support for GLONASS & Galileo
– Added Barometric Altimeter
– Redesigned a bunch of the user interface, especially for post-workout stats
Now, at this point you're probably trying to figure out what the heck the difference is between the FR745 and the FR945, and mainly it comes down to the following:
– FR945 has offline mapping, the FR745 doesn't
– FR945 has longer battery life, the FR745 doesn't
– FR945 has 14GB of storage (~8GB usable after maps), the FR745 has 4GB (~3GB usable)
– FR945 is slightly heavier/bigger (50g) than FR745 (47g)
– FR945 has golf, the FR745 doesn't
– FR945 has Firstbeat Respiration Rate during a workout, the FR745 doesn't
– FR945 has the Temperature, Compass, Dog Track, Alternate Time Zones, and XERO Bowsight Widgets, the FR745 doesn't (note: The FR745 does have a compass, just not a dedicated compass widget outside of an activity)
Here's a double-stack comparison between the FR745 and 735XT in terms of size: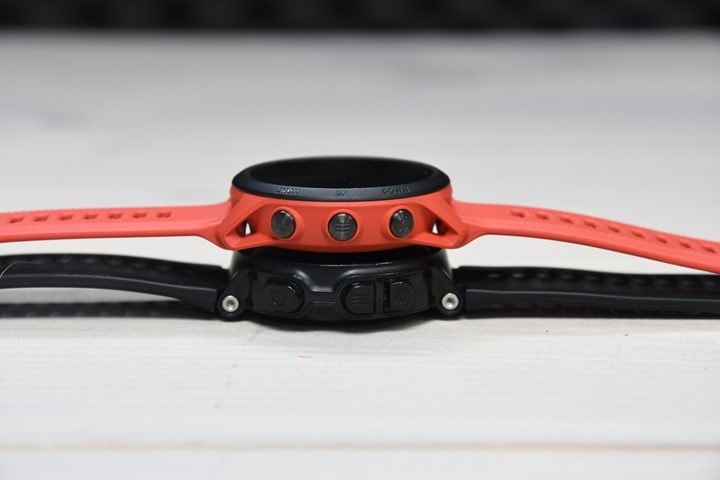 And then from the front: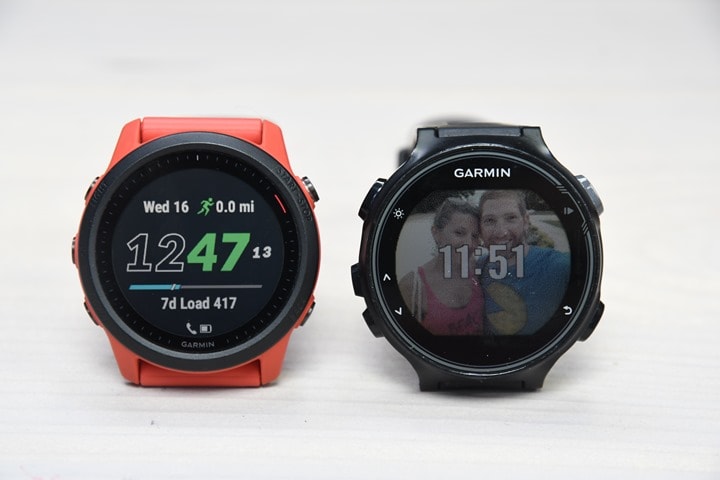 And, as was true to form four years ago, I validated that the size of the FR745 retains the Oreo sizing, so if you're unsure of how it'll look on your wrist, then the easiest way is an Oreo – it's virtually identical in size.
See, just add tape: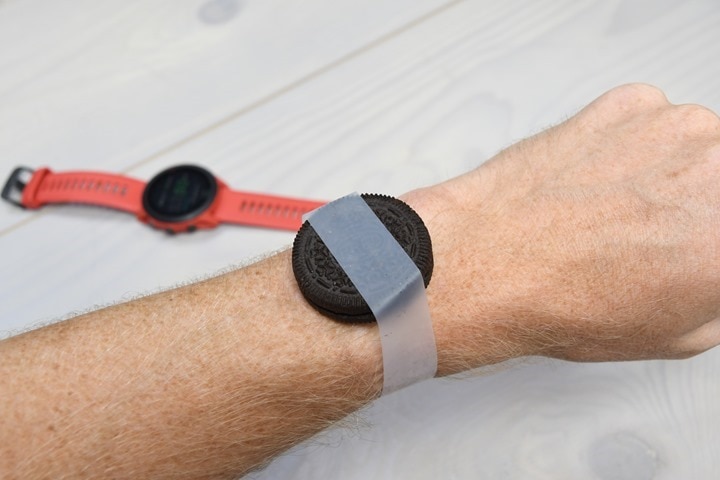 Below, you can see the two units side by side and the slight differences in the button color (FR945 is in black):
Ok, with that, let's finish up with a quick weigh-in versus the 945:
And, off we go
The Basics: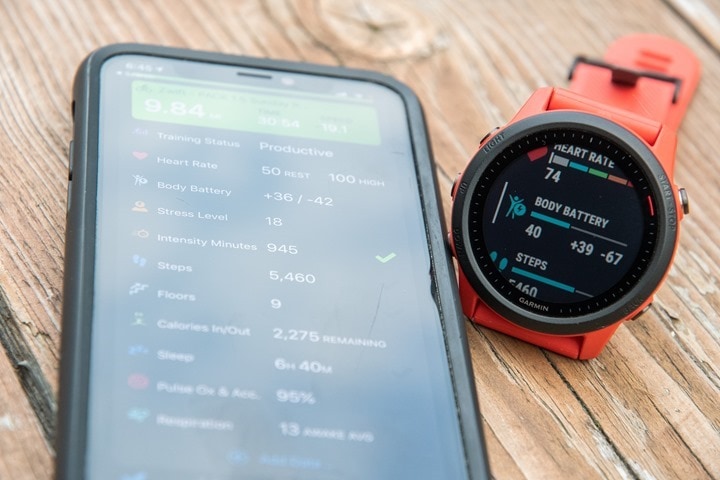 From a basics standpoint, Forerunner 745 is basically identical to other Garmin Forerunner watches made in the last year or two. Thus if you're familiar with something like a Forerunner 945 or 245, you'll find most of the same stuff in this section and can probably skip right to the sports tech where I dive into the new track mode and suggested workouts bit. But, if you're new to the Garmin ecosystem, then this will get you up to speed.
The first thing you've got is the watch face, for which Garmin has broken out a new default design that puts the training status front and center, showing you whether your current training load is productive or not. I actually really like it. It's basically Garmin seemingly saying 'Hey, remember that company we acquired? Now it's on a watch face'. And I agree – if the point of all these training metrics is to have you make day to day decisions upon then, then put them front and center.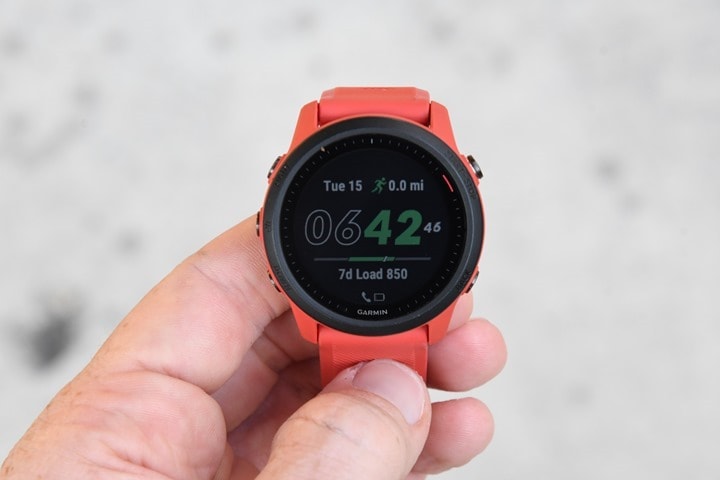 And, surprisingly, it actually worked. For about the first time in…umm…ever…I actually used said guidance to determine whether or not to do some workouts, or whether to specifically do harder workouts (and in my case, specifically ended up curtailing a few weeks here and there).
Still, if you don't like that watch-face, or if you want to customize it you can easily do so. You can either choose a different one already on the watch, or download other custom/3rd party ones from the Connect IQ App Store. There's probably thousands of watch faces there. You can even put the picture of your dog or rabbit on there if you want to.
The FR745 captures all the normal daily activity tracking stuffs you'd expect. That includes steps, stairs, sleep, heart rate, as well as Pulse Ox. Though, enabling PulseOx will burn through battery far quicker than having it disabled. All of these are accessible via the newer Widget Glances concept that was introduced last year on the Fenix 6. It basically takes the widgets and condenses them into three per page: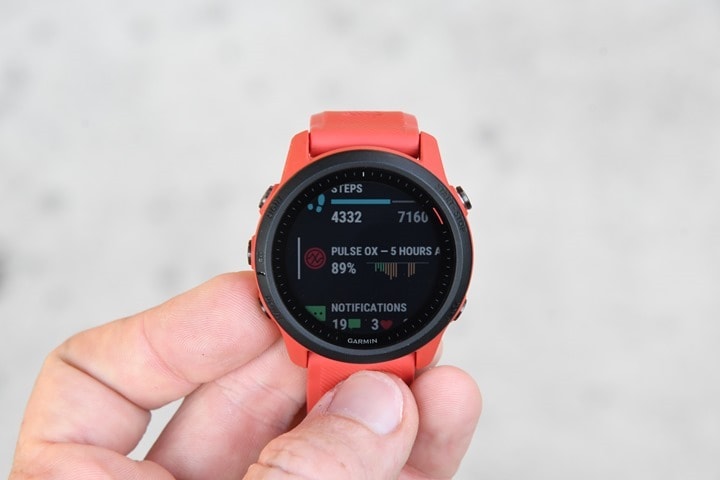 And then you can open any given one to get more data on it. For example, steps, or smartphone notifications, or heart rate, or whatever you want. Here's a pile of them in a gallery:
Everything that occurs from a daily standpoint is not only recorded in the watch, but then synchronized behind the scenes automatically with Garmin Connect via the Garmin Connect Mobile app (or, WiFi in cases of uploading a workout). When syncing via smartphone (iOS/Android) that goes via Bluetooth. Whereas if you plug it into your computer via USB, it'll sync with the Garmin Express desktop app on Mac/PC. It's here you can view daily summary information as well as steps and a million other metrics hidden down in the various data pages.
In general, people tend to either love or hate Garmin's smartphone app. I find that it has by FAR more information than any other app out there, so I kinda like it. But, you have to figure out where that information is. There's a lot of cubby holes to dig through. Garmin has more recently tried to surface that to the front 'Today' dashboard, which shows you today as well as this week. And that does help a fair bit.
Next, there's sleep tracking. The FR745 had planned to launch with an on-wrist sleep widget display (just like was recently added to the Fenix 6 and soon the FR945), and in fact that's what I've been using/testing. However, a last second change two days ago will temporarily pull that feature to track down some newly introduced bugs. So you'll get the previous/existing sleep tracking for the next week or so, which simply means you'll see it on the Garmin Connect App, rather than on your wrist. Garmin says that feature will likely resume next week in an update. In any case, here's how it looks on your FR745. Or, my FR745:
Yes, I know, that's a non-normal and less than ideal night.
And then here's the data on Garmin Connect mobile. There's no need to press any buttons or anything for sleep tracking – it just figures it out automatically. Like other Garmin devices though, it doesn't support naps. You'll get PulseOx information, which in this case below was when I was up on the mountains at altitude, as well as breathing rate.
On the back of the FR745 you'll find the same optical HR sensor as introduced on other Garmin wearables in the last year or so (thus, the FR945 for example), which includes a PulseOX sensor. This sensor measures SPo2 using a red light that you'll see occasionally turn on. Whereas the constantly-on green light is measuring your heart rate:
The 24×7 heart rate can be seen on the widget (see earlier widget gallery), as well as on Garmin Connect Mobile or Garmin Connect online. I use resting HR as a great indicator of when you're over-trained, fatigued, or when sickness is on the way. I've discussed how many people are tracking resting HR and 24×7 HR data to figure out all sorts of things here.
I haven't seen any outliers in the 24×7 heart rate data (I address workout HR data later in the review). Generally speaking, accuracy of 24×7 heart rate tracking these days/years is pretty trivial for companies, and Garmin's sampling at 1-second interval helps that cause as well in terms of getting the true highs and lows for resting HR and such.
In addition, there's the PulseOx data. This is a bit harder to quantify accuracy on. First though, the practical side. While there has been some interesting discussion around PulseOx and COVID-19, most of the interesting research/early indicators is actually breathing rate and changes there more so than SPo2 data. Historically the idea behind pulse oximetry tracking is mostly around high altitude tracking. Though it's often used in hospitals on most patients as well. Still, the focus here is high altitude tracking for mountain climbing and such. Practically speaking for those of us at sea level, it's mostly a useless stat. Again, remember Pulse OX is the red light that comes on next to the green lights on the back of the unit, and typically tracks in 15-minute increments if enabled, and is overlaid against your altitude. In my case, that includes 3-4 days in Switzerland last week where you see the data plotted against my altitude: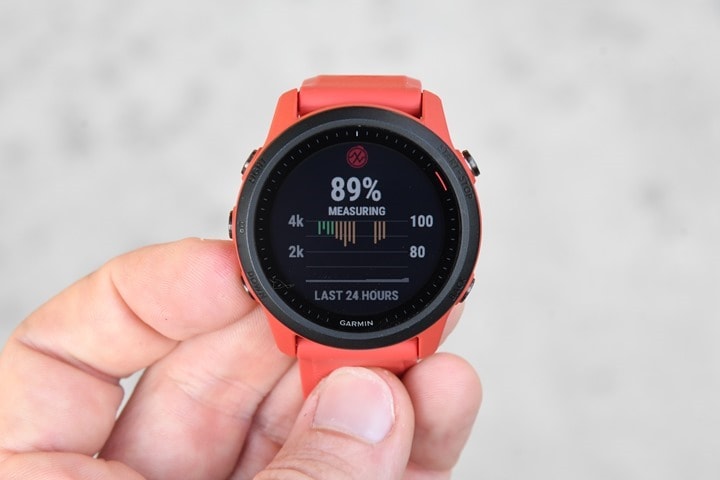 The challenge here with Pulse Ox is really around accuracy. In the case of a typical medical-grade pulse oximetry device, that medical certification is done with the person sitting in a chair very still. The FDA acceptable tolerances are actually surprisingly low (as in, easy), at least compared to what I'd consider acceptable even for sport tracking of heart rate accuracy for example. So you take technology that's really designed to be done when very still and try to apply it to everyday life and you get oddities. That manifests itself in the readings you get. You'll see below that my readings are a bit all over the place. For someone like me at exactly sea level, I should be in the 98%+ range almost the entire time.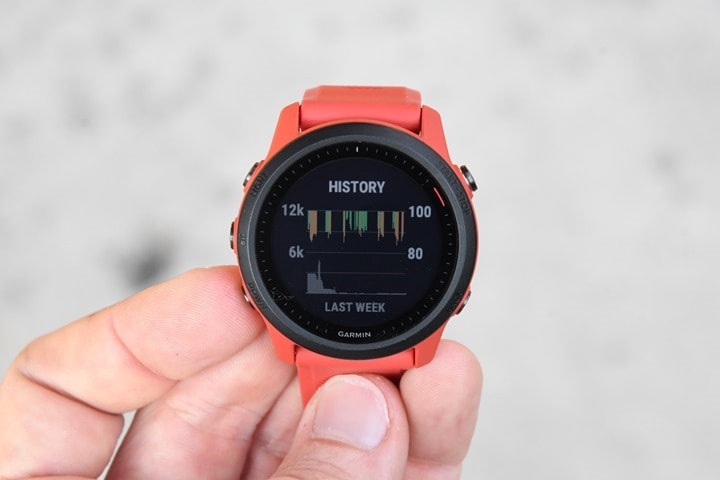 The challenge is that this is taking readings all day long (not by default, but because I enabled it that way), and some of those are inaccurate. Ideally this technology would be leveraged on the side of a mountain and manually triggered to determine your current state. I find when I actually sit down and do it per a proper SPo2 test, that you'll find the results are pretty much what I'd expect for a healthy person, in the upper 90's. Whether or not all the other stats are accurate or not is challenging to validate while I'm sleeping. Thus, aside from this review, I'll turn the feature off – mostly just cause it burns too much battery.
Last but not least, there's smartphone notifications. These will show any apps you've configured on your phone to send smartphone notifications to your watch You can tap on them to expand and get more details.
There isn't any way on the FR745 to respond to texts on iOS, nor to answer calls on the watch itself (you can accept/decline a call, but that's just connecting the call on your phone). It's mostly a one-way thing here. Still, I find the smartphone notifications useful for a quick glance.
At this point we've gone through all the basics, but if you're looking for a bit of a user interface tour, I've put together this simple video that just walks through the menus. It's long, and probably boring. But if you're into kinky user interface menus…this video is where you want to be:
With all the basics covered (except music and payments, which I'll circle back to later), let's shift gears to sports.
Sports Usage: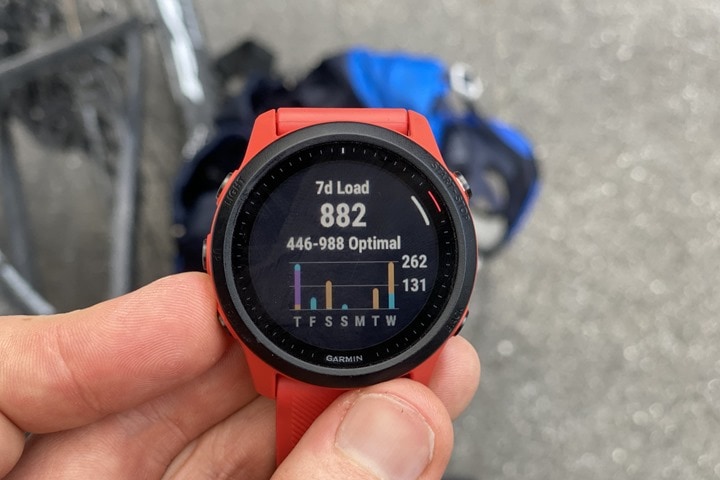 From a sports standpoint the FR745 is essentially just a very lightly slimmed down version of the FR945, and in fact, it has all the same sports features the FR945 does. There's only a handful of tiny widget differences compared to the Fenix 6 series such as golf or the dog track widget or the Xero Bowsight widget. Things you'll probably never use (and in some cases, probably never knew existed). The only feature in the sports realm from the FR945 that aren't yet on the FR745 are respiration rate during an activity (that's breathing rate).
Here's a listing of all the sport types that are on the FR745:
Run, Trail Run, Track Run, Treadmill, Indoor Track, Bike, Bike Indoors, Smart Trainer, Pool Swim, Openwater Swim, Triathlon, Multisport, Triathlon, Virtual Run, MTB, SwimRun, HRV Stress, Hike, Ski, Snowboard, Backcountry Ski, XC Classic Ski, XC Skate Ski, SUP, Kayak, Row, Row Indoor, Navigate, Walk, Strength, Cardio, Yoga, Pilates, Breathwork, Floor Climb, Elliptical, Stair Stepper, Clocks, Other
To access these sport modes, simply tap the upper right button. This is where you'll see your favorites grouped first, and then you can scroll down to access other sports that you use less frequently: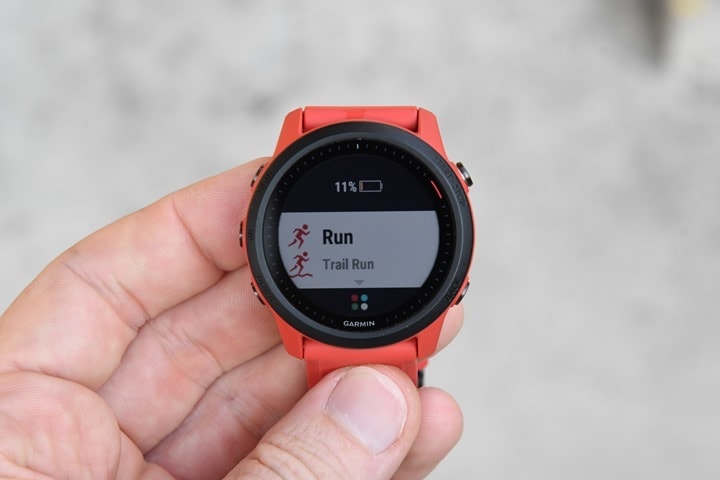 Some sports will leverage GPS (like running outdoors), while other sports won't use GPS (such as running on a treadmill). In the case of indoor sports they'll use sensors in the watch, including the accelerometer and gyro, as well as connectivity to external sensors.  The FR745 supports all the same sensors as the FR945 does, which includes Bluetooth Smart sensors as well.  There's no additional/new sensor types support here. Here's the full listing of sensor types it supports:
Headphones (Bluetooth), External Heart Rate (ANT+/Bluetooth Smart), Speed/Cadence (ANT+/Bluetooth Smart), Cycling Power Meters (ANT+/Bluetooth Smart), Footpods (ANT+/Bluetooth Smart), VIRB Action Camera (ANT+), Tempe temperature sensor (ANT+), Shimano Di2 (private-ANT), Cycling Gear Shifting (ANT+), Cycling Lights (ANT+), Cycling Radar (ANT+), Extended Display (ANT+), RD Pod (ANT+), Muscle O2 (ANT+), Garmin inReach (ANT+), ANT+ FE-C trainers (Smart Trainer)
Notable is the ANT+ FE-C trainers as part of the recently rolled out smart trainer integration on the Fenix 6 & FR945 series.
As with other Garmin devices, you can save multiple sensors of the same type, such as if you had multiple bikes with power meters or cadence sensors on them. Or if you simply have multiple heart rate straps. When those sensors turn on, the watch will automatically connect to them and update the data fields accordingly.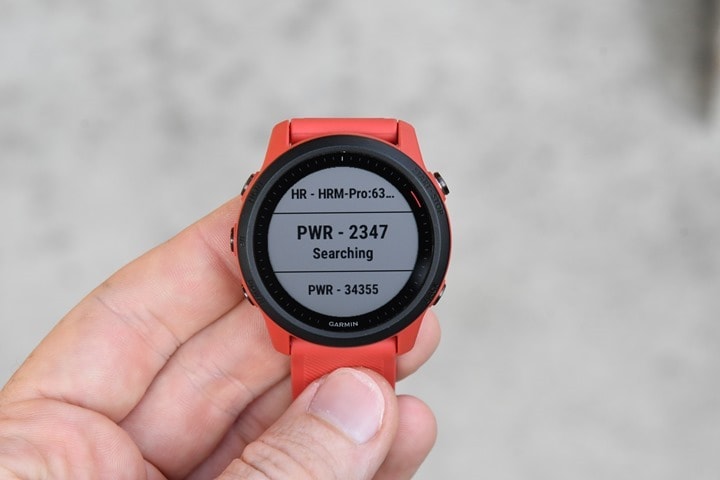 Note that sensors are saved in one sport for all sport profiles. So you define sensors globally, and then all activity profiles/sports can use them. Speaking of those sports above, each one is customizable with unique data pages/metrics, and settings.  All of these screens are customizable, and you can create/add new pages/screens as you see fit (a crapton of them, more than I could create). There are also stock screens with certain data types, including Virtual Partner, Compass, Elevation, Map (just breadcrumb trail), ClimbPro, and Music controls.
While I'm still waiting for Garmin to do a proper wearable lap summary data field like their own Edge devices – or like Suunto's watches (which has a grid listing of all your recent laps, so it's easy to compare), everything else here is pretty darn customizable. You still can't create/customize data pages on your phone, instead, it's all on the watch (which, I prefer). However, of note is that the recent Garmin Edge migration option from older Edge devices still hasn't hit Garmin's wearables either yet. So if you have an older Garmin, you'll need to manually reset everything up.
In any case, let's get back and start this darn workout. And it's at this juncture that you see one of the new Forerunner 745 features – Daily Suggested Workouts. This first rolled out to the Edge 1030 Plus this past June, and now we see it on Garmin's first wearable. It'll produce a workout recommendation based on either a previously planned structured workout calendar, or, if lacking that, it'll come up with something magical by itself. These automatically generated workouts look at your training load and then determine what will keep you in a productive training zone.  For example, today after a busy day yesterday it's telling me to rest: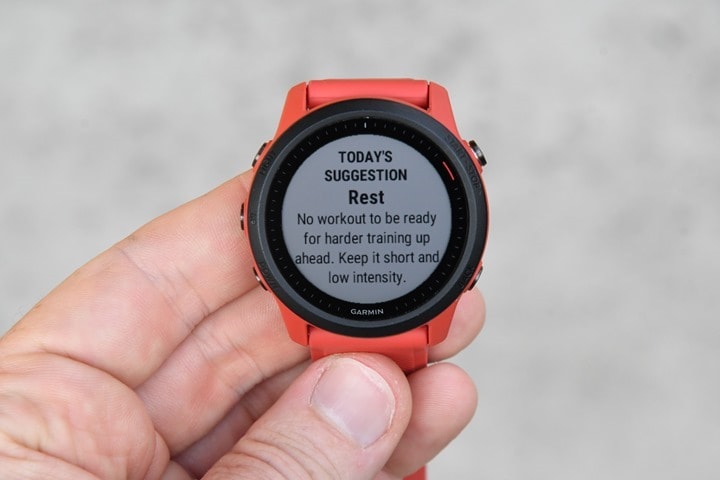 These will vary by sport. Here's one from yesterday later in the day on cycling. In this case this was a bit low for what I'd do as base work, but my cycling input data to this has been pretty wonky lately. Whereas when I tested the cycling side of this back in June on the Edge series it got surprisingly good at figuring me out.
Note that there's no structured workouts offered for swimming best I can tell, so this is more skewed towards runners/cyclists than pure triathletes at this point.
In any case, ignoring this advice for the sake of getting a photo, we'll go ahead and choose a run, so we've selected that sport, and got satellite as well as heart rate lock. Then press start: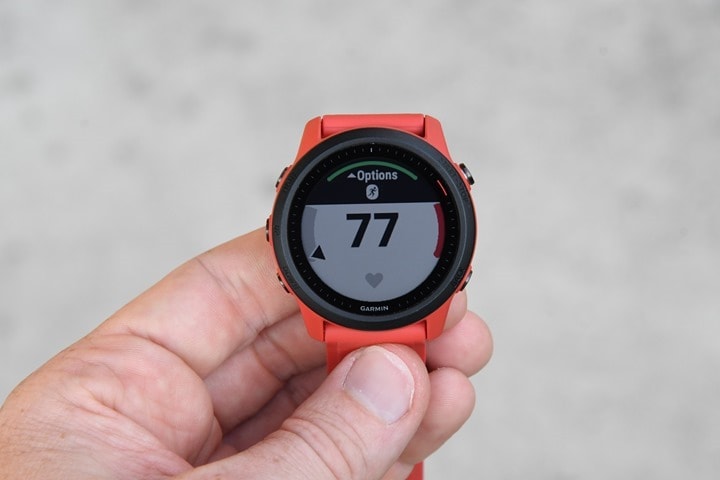 You'll now see the data fields as you've configured, updating and recording just like normal.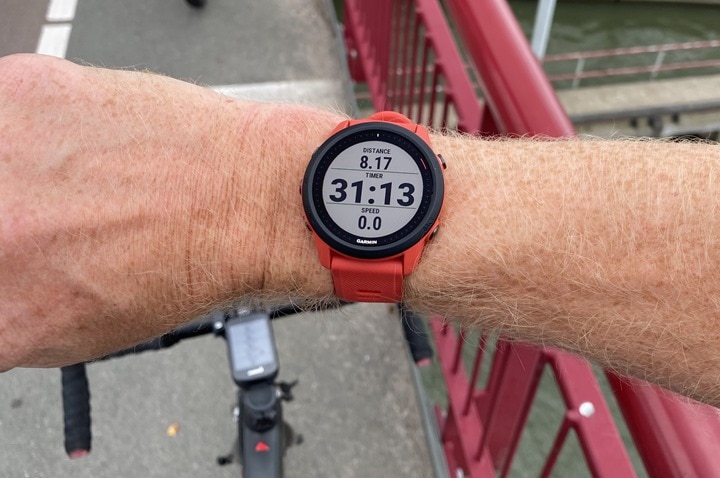 If you loaded a course from Garmin Connect (or from Strava or wherever else), you can follow that course. It's just a breadcrumb trail course, but it's a course nonetheless.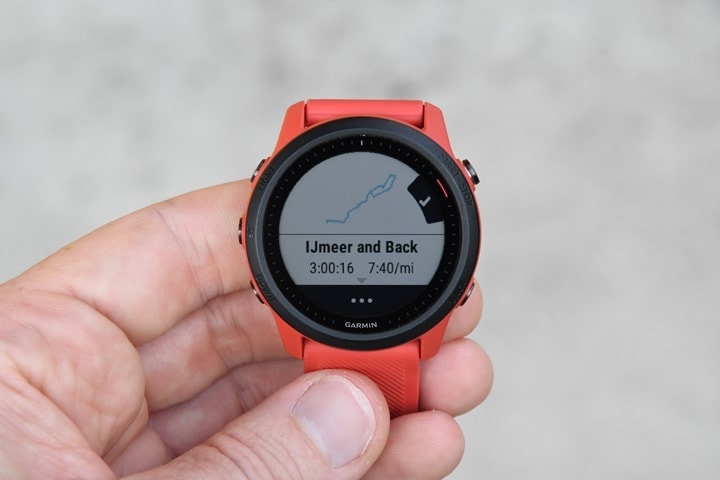 More importantly though is that course gets your ClimbPro on the FR745. That's super useful for routes with lots of major climbs/hills, and will automatically divide up each climb and show you distance/ascent/grade remaining for that climb. I used it last week in the Alps and just like with cycling, it's one of my favorite Garmin features.
In addition, the FR745 also includes PacePro. That lets you load up a course and then insert your desired finish time. On the app it'll let you tweak whether you positive or negative split (run the first half faster than the second or vice versa), as well as aggressiveness on hills. You can also create a more basic version of this entirely on the watch if you've got the course loaded, by inputting a specific time or pace goal.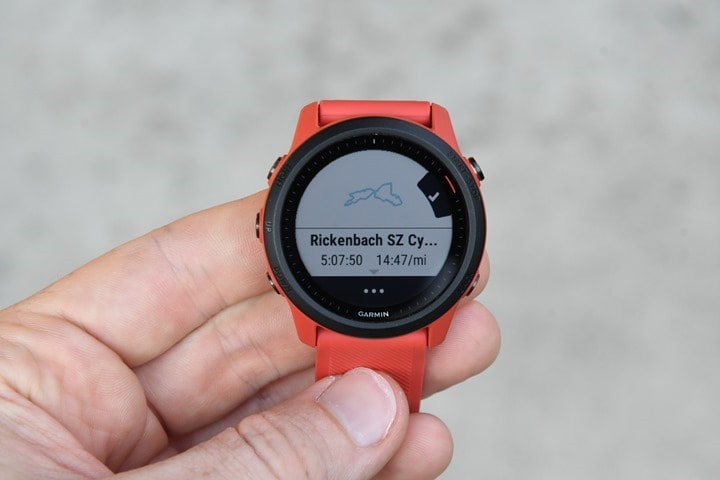 You can then load that up on the watch as well. I tried this out back with the Fenix 6 series when they introduced it there and it's another super compelling feature for races. Though, there aren't many of those these days. Still, you can race your own pretend race I suppose.
In any case, to create laps or splits you can use auto-lap, or manual laps (my preference). You can also customize the lap banners after you press the lap button, to show different information.
Once you've wrapped up your workout you'll get stats about it. These stats are basically divided into two camps. The first are stats related to the run itself – such as distance, pace, calories, etc… Whereas the second half are around the training impact of the run to your overall training load and recovery.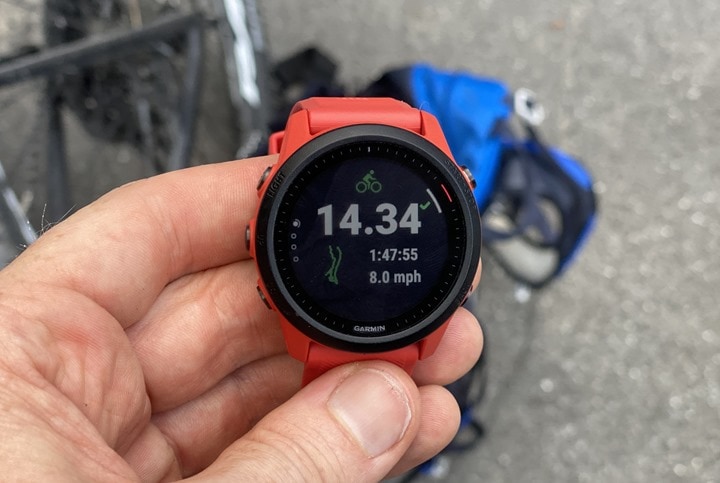 For example, a mountain bike workout from last week shows the training effect area (threshold), as well as the training effect breakdown of 3.6 for aerobic and 2.4 for anaerobic. Note the coloring, which carries through as a label in the different training load screens.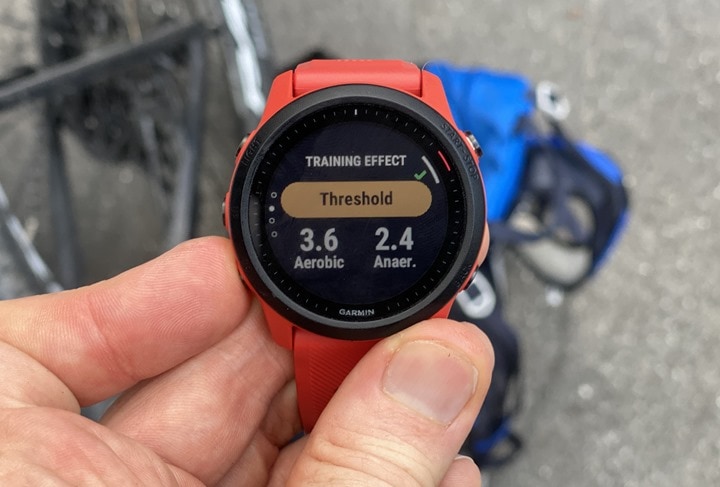 In order to simplify this, Garmin added the new Fitness/Load arrows back with the FR945, which makes it super easy to figure out what's going on with fitness load and whether the training you're doing is productive, unproductive (usually overkill), or simply maintaining.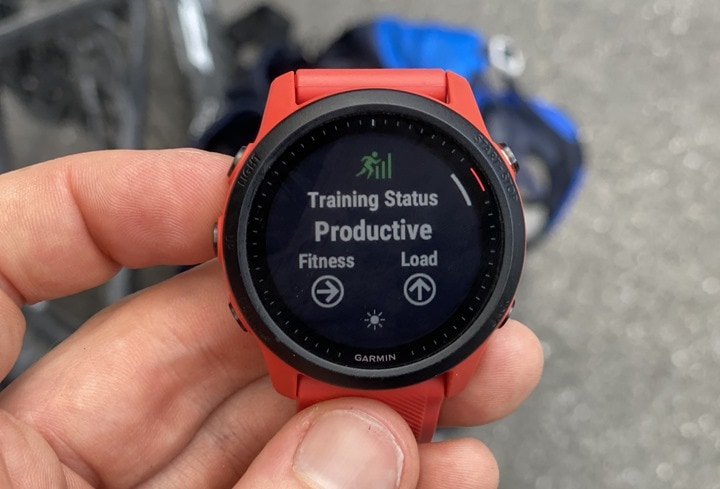 You'll also see the little mountain and sun icons at the bottom, more on that in a moment. If I enter the widget I'll get my current VO2Max, but the next page after that is more important – it's my 7-day load. It's here that I can see breakouts by load type and the load per day. It also shows the optimal load range.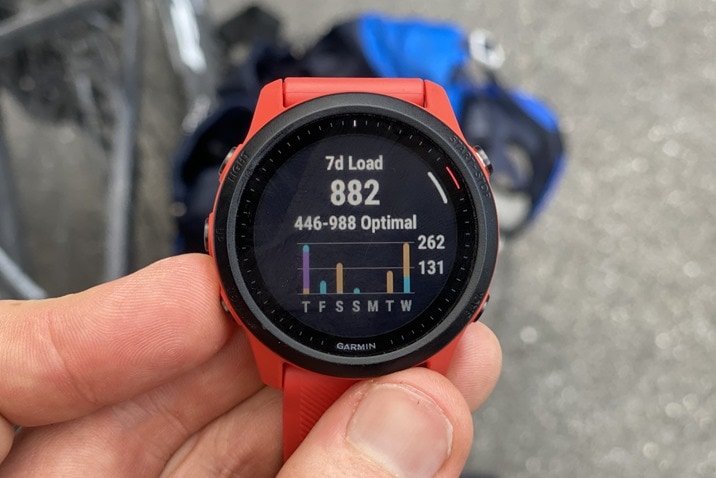 Go down once and I've got a page that is sorta the pinnacle of this entire journey: 4 Week Load Focus. The idea here is that you're trying to get the different types of training load properly aligned to the little 'pills' you see on the screen.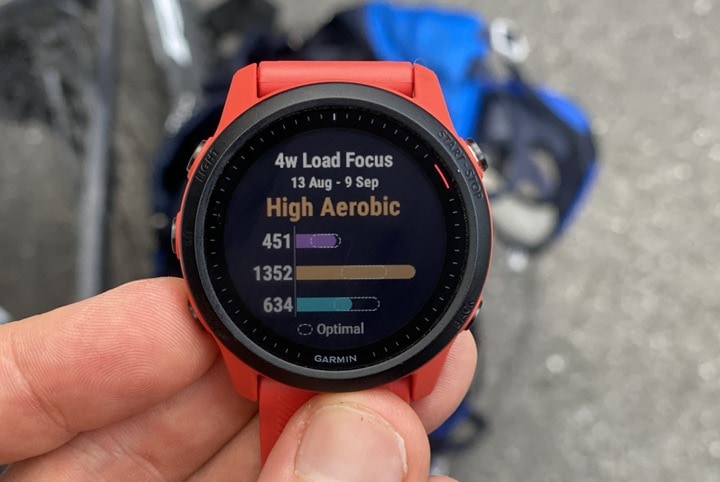 And if I press the start button, it'll give me some general guidance on what I could do to even things out a bit. The next section then shows me my current recovery time and cycling-specific VO2Max: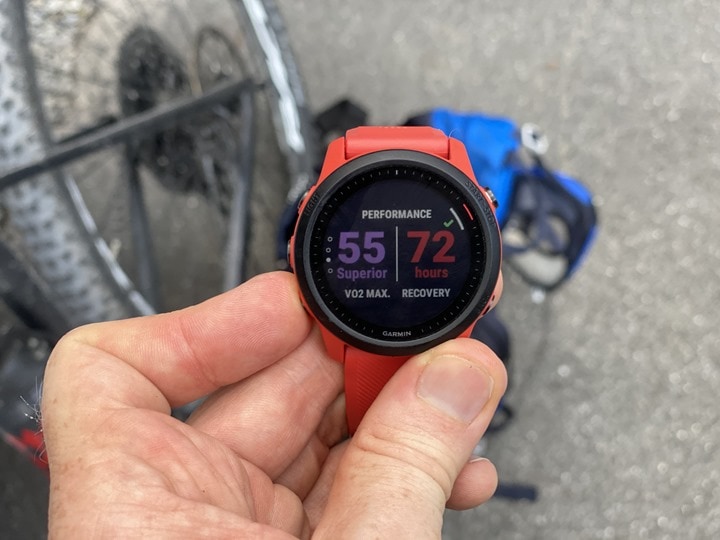 If this were a running workout, it'd show running-specific VO2Max: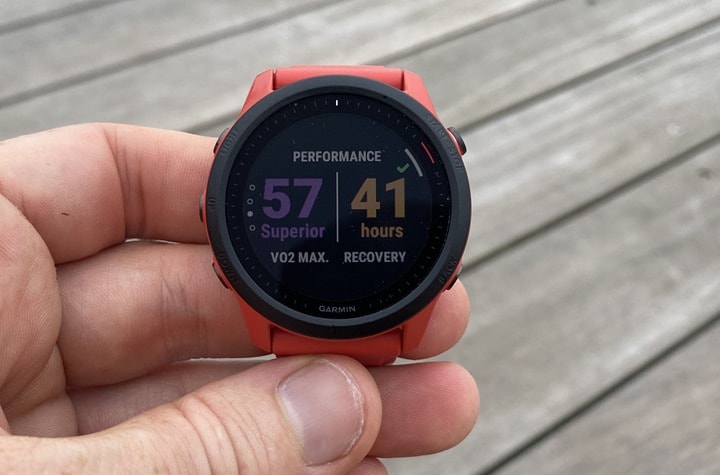 All of this is available within Garmin Connect Mobile as well, and you can dig into the nuances of all these categories and the load of each:
Next, you'll see small icons on the bottom of the training status page if you're in the midst of acclimating to anything. In the case of below last week, I managed to score both a heat acclimation icon: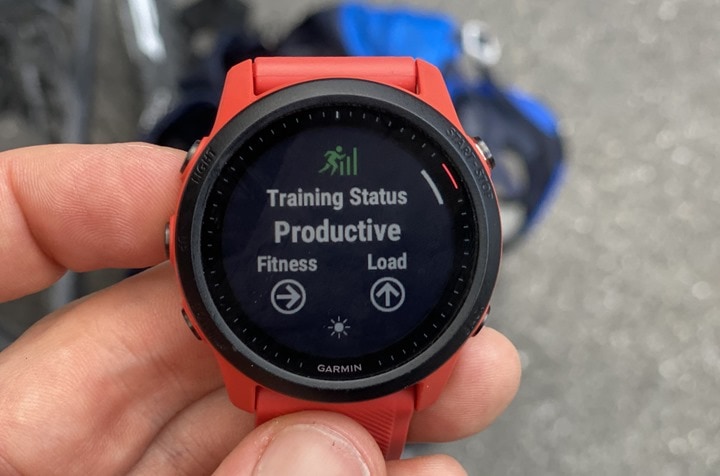 Altitude acclimation/adaption starts with a minimum threshold at altitudes above 850m/2,788ft, and tops out at 4,000m/13,123ft (Garmin doesn't calculate above that level, sorry folks). Garmin says that they divide up training vs living altitudes, just as typical studies would. The company says that adaptation algorithms within the MARQ/Forerunner 945/745/Edge 530/830 assume total adaptation after 21 days, and that adaptation is faster at the beginning of altitude exposure. Additionally, adaptation will decay within 21-28 days depending on acclimation level.
For heat acclimation it applies a heat correction factor for rides above 71°F/22°C, using a percentage based amount from published studies (humidity is also factored into this as well). This is then shown in the training status widget. Garmin says they assume full acclimation takes a minimum of 4 days, and acclimation/adaptation to a given high temperature will automatically decay after 3 days of skipped training within that heat level.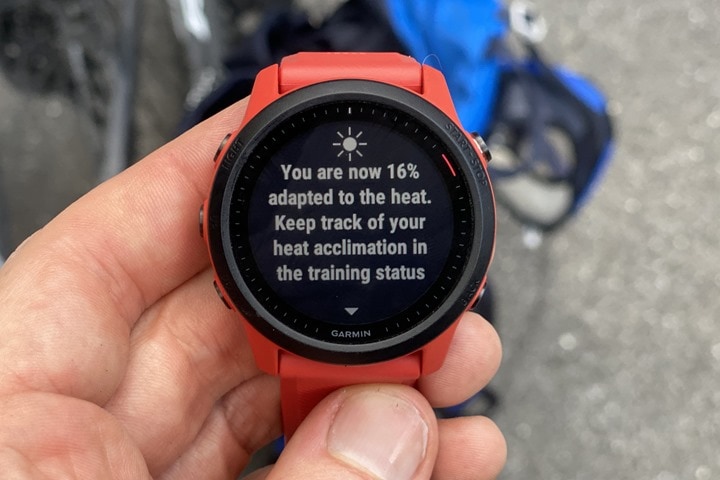 In any case – circling way back to the end of our workout, you can see them on the watch itself as noted, but you can also check out all the stats on Garmin Connect Mobile too:
In addition, at the same moment these activities are sent to any 3rd parties that you've connected to your account, like Strava or TrainingPeaks, among many others. At which point, we've covered how everything works from a sport specific standpoint.
Finally, a word about swims. The FR745 will utilize the optical sensor during swims, both pool and openwater. In my case I've done a number of openwater swims with it – more on the accuracy later. But in short, for ALL watches on the market today, measuring your heart rate optically with water between the sensor and your wrist is incredibly difficult. All companies basically say a variant of 'Good luck, it might work'. And that's roughly what I see as well.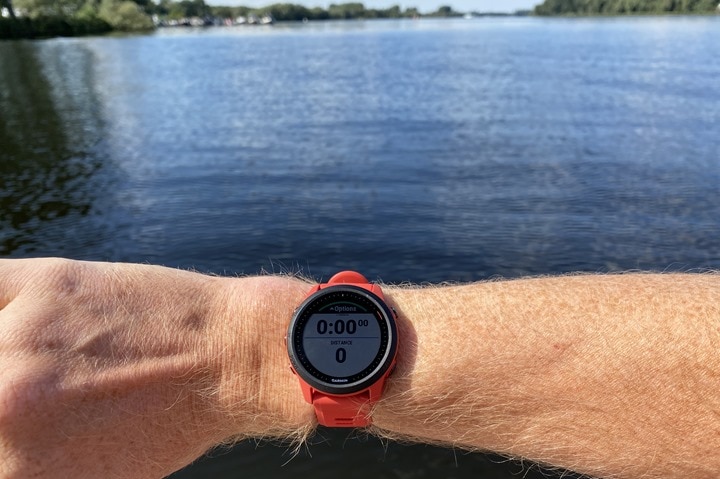 However, in addition to the optical sensor you can use Garmin's new HRM-PRO (seen below) or their older HRM-TRI & HRM-SWIM straps to automatically download your heart rate data after the swim and transmit it to your watch. This won't transmit the data during the swim to the watch (I mean, technically it does, but since the digital signals only got about 3cm underwater, it doesn't do much good). As long as you've paired the watch to the strap pre-swim, it'll automatically download afterwards.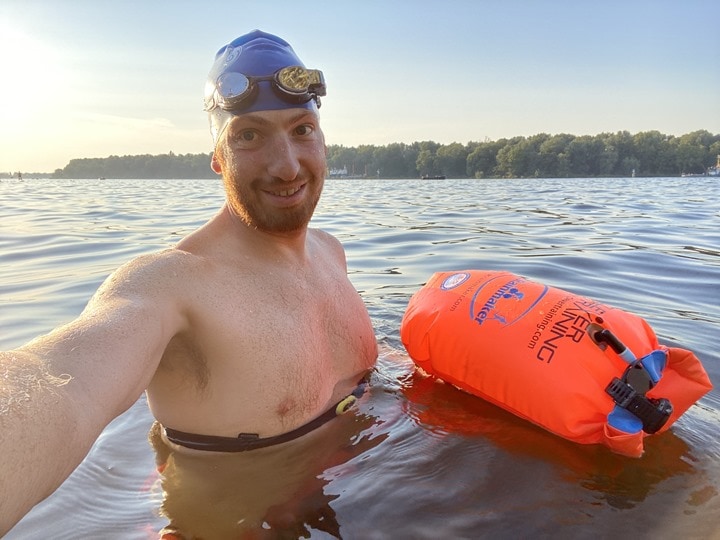 Also, the FR745 is compatible with the FORM Swimming Goggles in openwater swim mode. In fact, as soon as I finish writing this section I'm headed out for a nice late afternoon swim with that setup exact.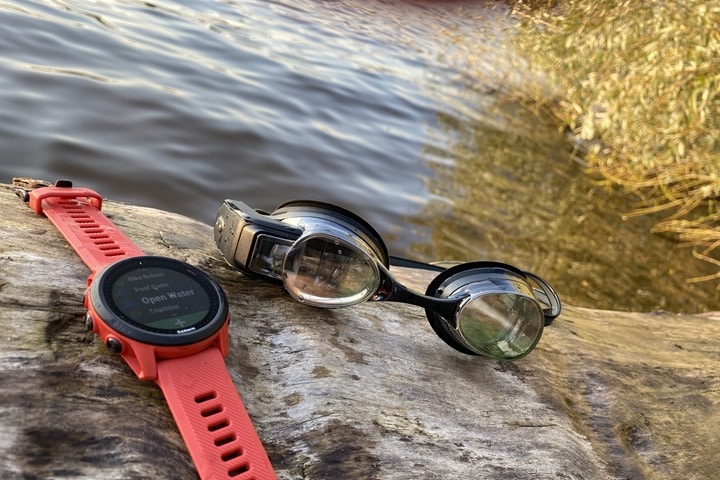 All of that worked exactly as it did on the Fenix 6/FR945, except, just on the FR745 instead.
Ok, with all that wrapped up, the general gist here is that the FR745 is that from a sports standpoint the only meaningful difference between the FR745 and the FR945 is really the battery life, which is slated at 16 hours for GPS mode on the FR745 compared to 36 hours for the FR945.  In my testing, those battery life times seemed about right. I turned on PulseOx over the last week, and that mostly slayed the battery as expected, but for the weeks prior to that I'd had it disabled and battery life was perfectly fine and in-line with claims.
Track Mode: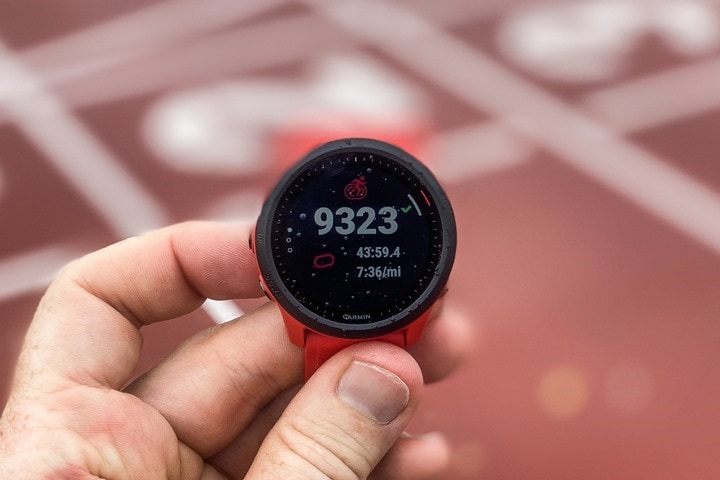 I've separated out Track Mode since it's one of the only two new features on the FR745 that hasn't yet been introduced to other Garmin devices. And by 'yet', I mean…sorta.
Fear not Fenix 6, FR945, MARQ, and FR245 owners – as of today (Update: Now next week) you can get the new Track Mode in a public beta, which will then be added for all owners likely in about 2-3 weeks via a normal production update. The Daily Suggested Workouts feature will come to all those as well, except the FR245. As with other updates, FR645 people need not apply. You apparently did something wrong to your Garmin parents at birth and are forever neglected to the no-update-love pile.
In any case – track mode is pretty darn cool, and is somewhat similar to what COROS introduced last year. In some areas Garmin does it better, and in some areas COROS does it better. But I've gotten a smattering of track workouts under my belt so I've got a pretty good idea on all the interesting nuances.
First up, go to your sports menu and choose 'Track Run':
Now, go find your track. But, don't start the GPS activity until you get to the track. Like COROS, Garmin tries to learn the track as you start the activity, so if you're off meandering through neighborhoods, it won't do that correctly.
Once on the track, start the watch and begin running. By default it assumes you're in 'Lane 1', but you can change that if you're one of those folks that runs in other lanes. Simply hold down the middle left button and then choose 'Track Run Settings' followed by 'Lane Number'.
Now, this time for real, start running. Garmin says that it takes approximately two laps for them to work out the details of your track. They also say their algorithm can correctly detect any track as long as it has two parallel straightaways, and either a single or double-radius curve at two ends. This covers the vast overwhelming majority of tracks, though, there are some super quirky ones that aren't normal out there.
During those first two laps the accuracy may not be as spot-on perfect as once it finishes indexing the track. In fact, Garmin says that if you really want to have the most accuracy, go run 2-4 laps and then save the workout. The act of saving the workout is what commits that track to memory on the watch (in fact, there's even a folder where it stores these track files). Once you've done that track once, it's locked and remembered forever. If you don't care that the first two laps or so might not be perfect, then no worries, continue on with your track workout and next time it'll be nailed. Here's an example of those first 2-4 laps finalizing itself (this was 1,600m, four laps, in my case):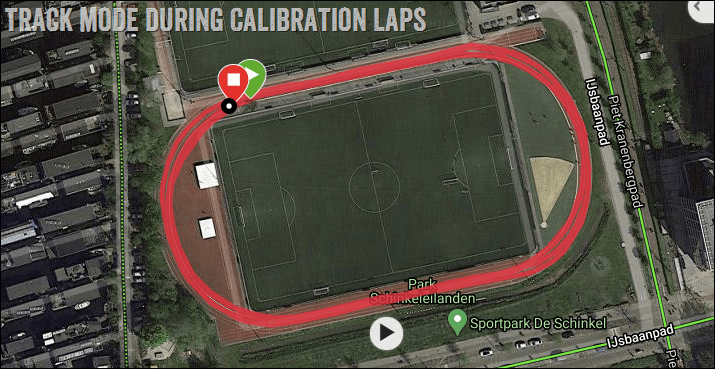 You'll notice how yes, it's good by normal standards, but it's not crazy perfect.
Now, let's pretend it's got the track memorized – at this point it'll accrue distance in an astoundingly accurate way. You don't need to tell it the length of the track or anything else, it just knows that by the algorithm. So as you pass the same point each time, it should be within a couple meters. In my experience, if I'm doing 800's for example, when I hit the same line each time it'll usually be between 798m and 802m, with the rare outlier at 205m on some 200 sprints.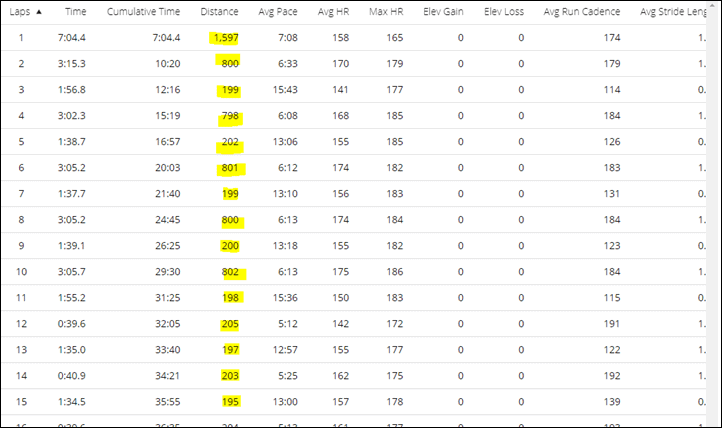 And here's the first (current) difference between Garmin and COROS. In the case of COROS, they 'round' those sets in. So 95% of the time, COROS will see the 398's and 402's and simply call it 400. It knows that's what you actually did when you pressed lap as you crossed the line. And, even if you were half a meter late – it knows the whole purpose of this feature is basically having pretty data (pretty maps, pretty set distances). Compare these two:
Now, in talking to Garmin, they seem to roughly agree here on the rounding intervals idea. So expect some tweaks to this over the coming little while – no guarantees, but it sounds like that's the direction. So at the moment, the implementation is data-split-wise prettier on the COROS side
However, it flips when we look at the map. There, Garmin wins. If you look closely, their algorithm correctly nails the track and the lane. It's spot-on perfect like someone traced a line on the inside lane:

Whereas COROS's algorithm didn't quite correctly detect the track shape, and makes it a bit skinnier, which means each lap I'm off in the bushes at the curves, and on the infield on the straightaways. Your friends on Strava probably won't notice unless they zoom in a bunch. But it's something COROS can work on nonetheless.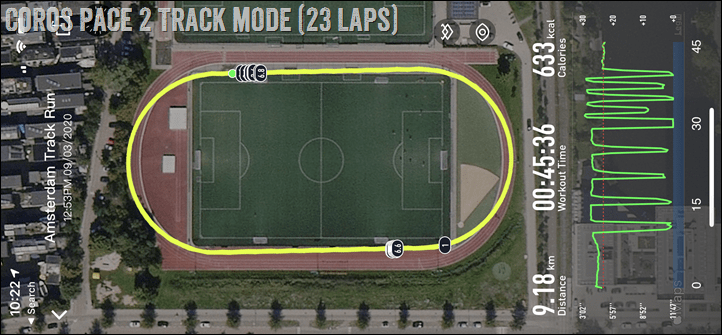 Finally, note that Garmin says that the algorithm that detects tracks is like anything else, a work in progress. They believe it's in a pretty solid state, though they have a moderate update coming next week to the algorithm to optimize it more (it didn't make the cut for the launch firmware). And of course, note that this depends on GPS, so if your track is indoors or has heavily obstructed stadium overhangs, that might impact things too.
Still, I love track mode. Mostly cause I love good clean data. Sure, the benefits here are that everything (map and splits) look pretty to our eye, but the secondary benefit is data accuracy. Your runs will show exactly what you actually ran. Not an extra 283 meters of wobble, or undercut or whatever else. It also makes coaches' lives way easier as well, since they can look at the splits and data like a normal human with correct average paces, as opposed to trying to decode average paces against inaccurate distances.
GPS Accuracy: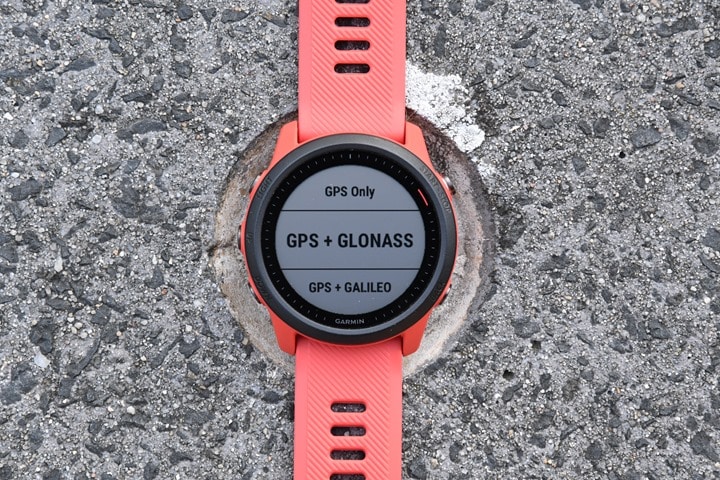 There's likely no topic that stirs as much discussion and passion as GPS accuracy.  A watch could fall apart and give you dire electrical shocks while doing so and somehow athletes will still adore their favorite watch, but if it shows you on the wrong side of the road?  Oh hell no, bring on the fury of the internet!
GPS accuracy can be looked at in a number of different ways, but I prefer to look at it using a number of devices in real-world scenarios across a vast number of activities.  I use 2-6 other devices at once, trying to get a clear picture of how a given set of devices handle conditions on a certain day.  Conditions include everything from tree/building cover to weather.
Over the years, I've continued to tweak my GPS testing methodology.  For example, I try not to place two units next to each other on my wrists, as that can impact signal. If I do so, I'll put a thin fabric spacer of about 1"/3cm between them (I didn't do that on any of my Forerunner 745 workouts).  But often I'll simply carry other units by the straps, or attach them to the shoulder straps of my hydration backpack.  Plus, wearing multiple watches on the same wrist is well known to impact optical HR accuracy. One technique I've been using a bit starting this review that's worked exceedingly well is below. How on earth I never thought to place the secondary watches on the outside of my hands (loosely strapped) is beyond me. Note, for those units on my hands, they *are not* using optical HR. Instead, they're connected to chest straps and other HR sensors.
Next, as noted, I use just my daily training routes.  Using a single route over and over again isn't really indicative of real-world conditions, it's just indicative of one trail.  The workouts you see here are just my normal daily workouts. All of the workouts you see here I did with GPS+GLONASS enabled, as that's the default one and it sounds like the mode Garmin expects the best results in these days.
With that, let's jump in on a mostly trail run in the forest, comparing the FR745, Polar GRIT X, COROS Pace 2, and Fenix 6. As you can see at a high level, it's looking positive. Here's that data set: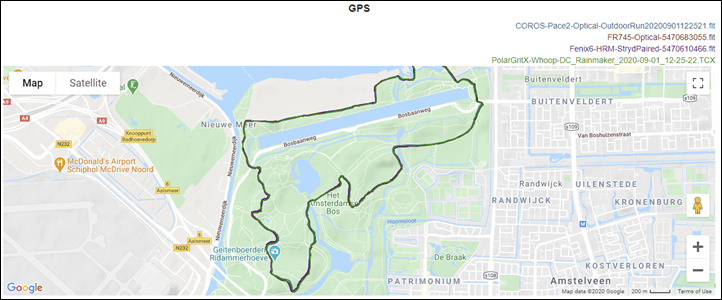 But of course, we're gonna zoom in. A lot. Here's in the trees on the trails, and you can see that the Polar Grit X and FR745 are clearly on the path during the turns the most correct. And by 'clearly', I mean, I get it's hard to see the colors from the trees, but if you cock your head and squint, you can see (or you can use the link above to zoom around yourself).

I wouldn't say it's absolutely crazy perfect, but for trees and trail running, it's pretty darn good. In fact, as I zoom around the map here, it's consistently the most correct, with the Grit X usually right behind it (or…next to it):

About the singular exception to that was this section where the FR745 appears to be about 2-3 meters offset for a short distance. But we're talking a super small amount:

Now, I've already shown the track run bits up above, but I just want to illustrate the differences here somewhat. Below is a Fenix 6 Pro in non-track mode on the track, compared to the FR745 in track mode and the COROS Pace 2 in track mode. You can't even see the other watches tracks because of the variability of the non-track mode lines:

Whereas when I remove the Fenix 6 from the picture and leave the two track-mode watches, you can see the aqua colored line of the FR745 perfectly on the inside lane. The COROS Pace 2 is close, but you see how it cuts into the infield and then goes off into the bushes. It just didn't quite nail the track recognition in terms of specs.
What about an openwater swim? Ask and you shall receive. Here it is compared to the COROS Pace 2 on the other wrist, and a Fenix 6 on the swim buoy as a reference track:

If we look at the swim track more closely, you can see it correctly nailed exactly where I went around the buoys.

If we compare it more closely to the COROS Pace 2, you'll see that while that unit was very good, the Pace 2 is slightly more wobbly on the track, whereas the FR745 is just a bit more refined and near locked to the reference GPS track.

However, the FR745 did make one mistake, which was that at one point when I stopped next to a buoy for a few seconds to take a photo, it created a little 'heart' in the water, as seen below. This added distance inaccurately.

Albeit, despite that the distance was still exactly the same as the reference track. With the COROS Pace 2 being very slightly longer. Again though, this shows that you can be over/under and still get the average or total distance right. So that's somewhat of a non-ideal way to compare things:

Lastly, we'll finish with the boring – a road bike ride. I say boring, cause these are almost always flawless. It's super rare for GPS units to screw-up on road cycling routes. Here's the FR745 compared to the Karoo 2 (beta unit) and Edge 530: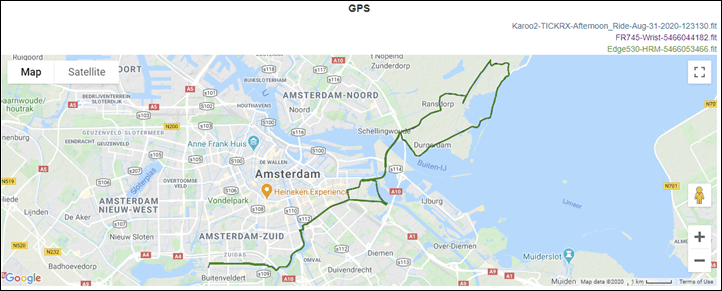 If we zoom into some sections with more buildings around it, you'll see the Edge 530/745 are identical to where I went. The beta firmware on the Karoo 2 is still being optimized GPS-wise:
Same goes for crossing a bridge with plenty of wires and overhead struts around – virtually identical here:

And again, here too:

It's all honestly the same across the entire ride – boringly identical.
As we've seen with each successive review of both Garmin and non-Garmin watches on the Sony chipset, the accuracy continues to improve. The variances become more and more rare, and the accuracy gets better and better. I think we've even reached the point now where we're pretty easily better than the previous MediaTek GPS chipset in almost every condition. I'm sure there's edge cases, but I'm simply not seeing them at this point in my day to day testing.
(Note: All of the charts in these accuracy portions were created using the DCR Analyzer tool.  It allows you to compare power meters/trainers, heart rate, cadence, speed/pace, GPS tracks and plenty more. You can use it as well for your own gadget comparisons, more details here.)
Heart Rate Accuracy: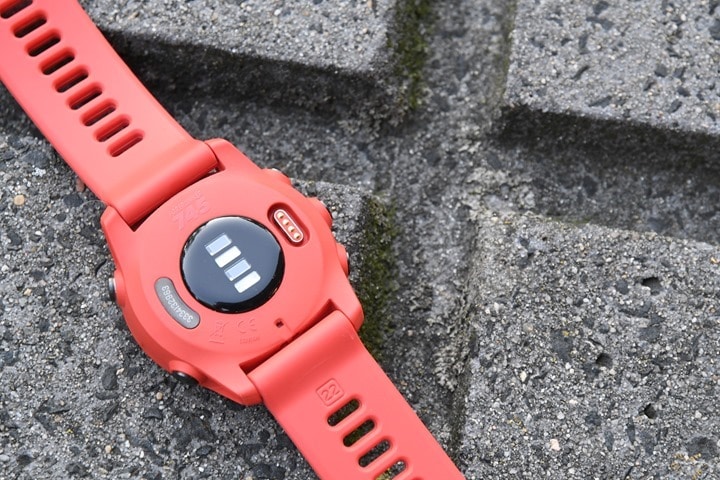 Before we move on to the test results, note that optical HR sensor accuracy is rather varied from individual to individual.  Aspects such as skin color, hair density, and position can impact accuracy.  Position and how the band is worn, are *the most important* pieces.  A unit with an optical HR sensor should be snug.  It doesn't need to leave marks, but you shouldn't be able to slide a finger under the band (at least during workouts).  You can wear it a tiny bit looser the rest of the day.
Ok, so in my testing, I simply use the watch throughout my usual workouts.  Those workouts include a wide variety of intensities and conditions, making them great for accuracy testing.  I've got steady runs, interval workouts on both bike and running, as well as tempo runs and rides, and so on.
For each test, I'm wearing additional devices, usually 3-4 in total, which capture data from other sensors.  Typically I'd wear a chest strap (usually the Garmin HRM-DUAL or Wahoo TICKR X 2020) – though in this review timespan also the HRM-PRO too, as well as another optical HR sensor watch on the other wrist. Note that the numbers you see in the upper right corner are *not* the averages, but rather just the exact point my mouse is sitting over.  Note all this data is analyzed using the DCR Analyzer, details here.
First, let's start and see how it handles steady-state running. This is a 9-mile long run from a few weeks ago, just cruising along at a relatively easy pace. In this case we've got the HRM-PRO as a chest strap reference, the COROS Pace 2 on one wrist with optical, the FR745 on the other wrist as optical HR, and then a Whoop strap on my bicep connected to the Polar Grit X. Here's that data set:
As you can see – or rather, perhaps don't see, the FR745 blends in virtually identically to the HRM-PRO chest strap. After the initial slow-ramp offset of the COROS Pace 2 optical HR, it's pretty much the same. The Whoop strap is…well…the Whoop strap.
However, there was one minor moment of divergence in this run for the FR745, seen here around the 36 minute marker: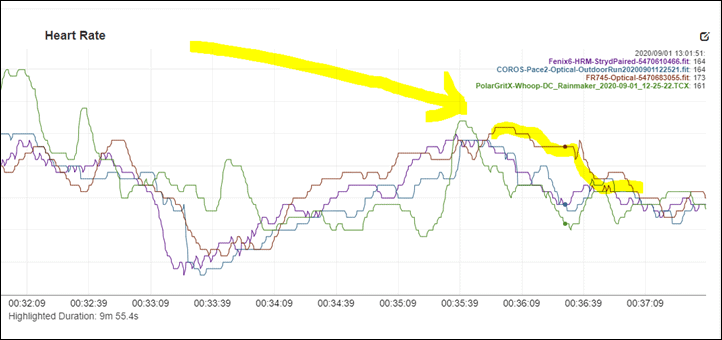 This lasted about a minute, and seemed to be a bit more elevated than reality, roughly 8-10bpm higher before it locked back on. This was at the conclusion of one of my short intervals I was doing throughout the run, so that makes it great to dig into a bit further looking at the heart rate data during intervals.
Thus, we find ourselves now on the track. This is a track workout focused mostly on 800's, but with some sprint 200's in at the end. Here's that workout with the FR745's optical sensor compared to the Garmin HRM-PRO chest strap and then the COROS Pace 2 on the other wrist:

What we see is basically that the FR745 nails pretty much everything, though it has some very nitpicky differences on the 200m sprints towards the end. The COROS Pace 2 meanwhile struggles in the first few minutes, as well as in the sprints. Of note here is that both these watches actually first did a 1,600m warm-up (track calibration), and then I started this set fresh. So my body was warmed up, thus in theory the COROS should have more easily been able to lock HR on this new main section.
In any case, looking at the 800's, these are all spot-on identical between the FR745 and Garmin HRM-DUAL:

As if often the case with intervals and optical HR sensors, you see a very tiny bit of lag on recovery (but virtually no lag on the initial interval pick-up). You see how it's just a couple seconds behind the HRM-PRO chest strap. Again, a super-tiny amount here that you'd never notice in-person if you didn't have a secondary reference source.
Whereas if we look at these 30-second/200m intervals, you'll see there's more lag from the optical side of the house compared to the chest strap, albeit not always. The first one shows lag of maybe 10-15 seconds on the FR745 compared to the HRM-PRO. However the 2nd/3rd/4th intervals are very close on the uptake, but a bit more laggy on the recovery.

Next, let's switch gears and look at an indoor workout on Zwift. In this set we've got the FR745 optical sensor, the HRM-PRO chest strap, and the Wahoo TICKR X 2020 chest strap. Here' that data set:

In the first couple of seconds you see the TICKR-X spike briefly. I suspect that might actually just be something with adjusting it more than anything else, given it happened in the first few seconds and went away.
After that point it's pretty darn boring – all the units are identical across the board until the very end. It's here I do a bit of a 900w+ sprint and my HR spikes accordingly. We see the lag from the FR745 optical sensor, whereas the other units are all pretty much in agreement, with the HRM-PRO being slightly faster than the TICKR X by a second or two.

Finally, here's an outdoor ride with the FR745, Garmin HRM-DUAL, TICKR X, and COROS Pace 2, this is a mostly steady-state ride, save a few stops for canal bridges or stop-lights. It's also in the rain at times, as well as on bumpy roads at times. Here's that data:

So…yeah. Ok, the brown bits are the COROS Pace 2. So what we're looking for here is the purple bits – places where that doesn't match the chest straps. So let's remove the PACE 2 for a second:

Now that's a bit easier to see what's going on. The HRM-PRO & TICKR-X basically mirror each other the entire time. A few tiny differences when I come to a stop where the two slightly differed on the bottom-end, but it's super-duper close.
However, the purple is a bit more variable. Yes, it follows the general trend of things (this isn't smoothed at all), but is often a bit laggy after hard intervals, or during the ramp back up again.
It wouldn't be my first choice to use if HR was important while riding this ride, but it's a heck of a lot better than the COROS Pace 2 did. And it's also honestly a fair bit better than most optical HR sensors on road riding, which continues to be one of the more challenging things for optical sensors to do.
Ultimately, the optical HR sensor performance here seems largely in line with the FR945 and Fenix 6 series, with perhaps a slight bit of edge compared to when I last tested those. I'd have no issues using it for pretty much anything running, including intervals, as well as most indoor cycling. For outdoor cycling I'd probably defer to a chest strap for anything that's not steady-state.
Summary: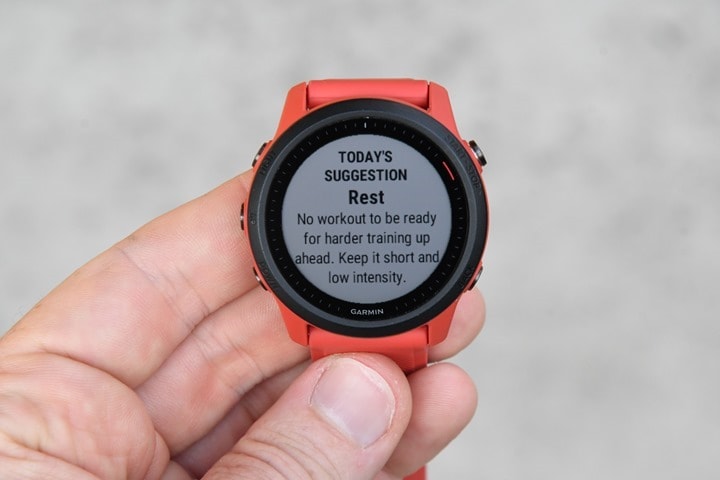 It's been said that the FR945 is simply a plastic Fenix 6, which, is mostly true. And in the case of the FR745, it's basically just a map-less FR945. And, that's mostly true. Sure, there's minor nuances to each of those statements – namely being the FR745 has slightly less battery (and heft) than the FR945 – but in general the sentiment rings true.
In this case – I don't think that's a bad thing. The FR745 is a very capable watch. While I often toggle between the Fenix 6 Pro and FR945 as my daily watch, I'd have no problems wearing the FR745 as my daily watch. Heck, I have been wearing it as my daily watch since back in August. And it's been solid. As long-time readers know, I tend to prefer wearing smaller/lighter watches – and this fits that bill. While the maps would have been helpful occasionally last week in the Alps, I was able to make do with the breadcrumb trail in the vast majority of the case – only a few times either double-checking my phone purely for sanity reasons.
The challenge I see for the FR745 is price. Which, I know I say a lot – but in looking at comments on rumors over the last few weeks, everyone is expecting this to drop at $399…but that's not the case. It's $499. And combine that with the COROS Pace 2 at $199 – and that's a huge $300 gap. The FR735/745 series has historically been Garmin's 'entry-level' multisport watch. But at $500, that's a tough pill for someone to recommend when the COROS Pace 2 does all the core multisport/triathlon features the FR745 does. Sure, the FR745 has a million training benefit/recover, pacing, etc… type features – and some of them are useful. Same goes for things like offline music and countless other integrations and apps. But still, $300 more? That's tough.
Of course, as I've learned over the years – people will buy it. And whether or not it's over-priced, Garmin will account for in due course (as will your wallet). But setting price aside, it's a solid watch that does exactly what the FR945 has done over the last 18 months…just for $100 less and without maps. And people seem pretty darn happy in general with the FR945.
With that – thanks for reading!

Found This Post Useful? Support The Site!
Hopefully you found this review useful. At the end of the day, I'm an athlete just like you looking for the most detail possible on a new purchase – so my review is written from the standpoint of how I used the device. The reviews generally take a lot of hours to put together, so it's a fair bit of work (and labor of love). As you probably noticed by looking below, I also take time to answer all the questions posted in the comments – and there's quite a bit of detail in there as well.
If you're shopping for the Garmin Forerunner 745 or any other accessory items, please consider using the affiliate links below! As an Amazon Associate I earn from qualifying purchases. It doesn't cost you anything extra, but your purchases help support this website a lot. Even more, if you use Backcountry.com or Competitive Cyclist with coupon code DCRAINMAKER, first time users save 15% on applicable products! Or, with TPC (The Pro's Closet), you'll save $40 on purchases over $200 with coupon code DCRAIN40!
And finally, here's a handy list of accessories that work well with this unit (and some that I showed in the review). Given the unit pairs with ANT+ & Bluetooth Smart sensors, you can use just about anything though.
And of course – you can always sign-up to be a DCR Supporter! That gets you an ad-free DCR, access to the DCR Quarantine Corner video series packed with behind the scenes tidbits...and it also makes you awesome. And being awesome is what it's all about!
Thanks for reading! And as always, feel free to post comments or questions in the comments section below, I'll be happy to try and answer them as quickly as possible. And lastly, if you felt this review was useful – I always appreciate feedback in the comments below. Thanks!