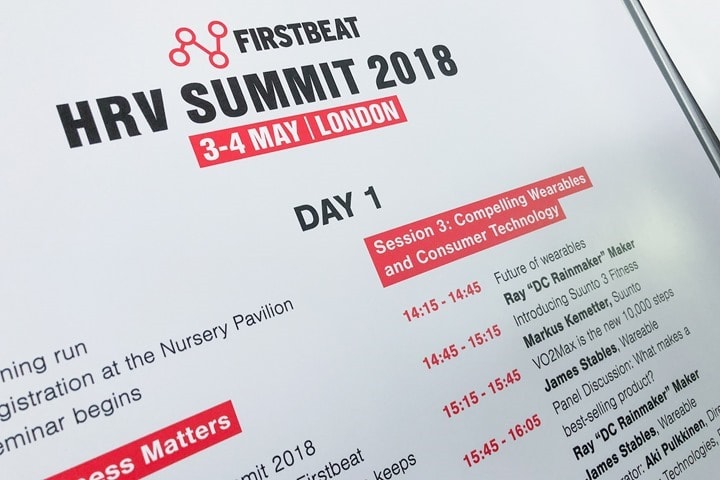 It was about that time of year for Garmin's fitness or outdoor business to acquire someone else. It seems to be roughly a yearly tradition, for example last year was Tacx. The year prior, the remains of a bankrupt solar wearables business. This year's entrant? Firstbeat.
And, if there were ever a smart business acquisition to be made – this is probably it.
Who's Firstbeat?
You're undoubtedly familiar with Firstbeat's work, even if you've never heard the name. They power the vast majority of Garmin's fitness and outdoor training-focused algorithms. For example, on the Garmin Fenix 6 there are some 18 different Firstbeat licensed algorithms being used to cover all sorts of features from training load to VO2Max and respiration rate. And that doesn't even include another 2-3 modules licensed for sleep two weeks ago.
Here, just look at this list: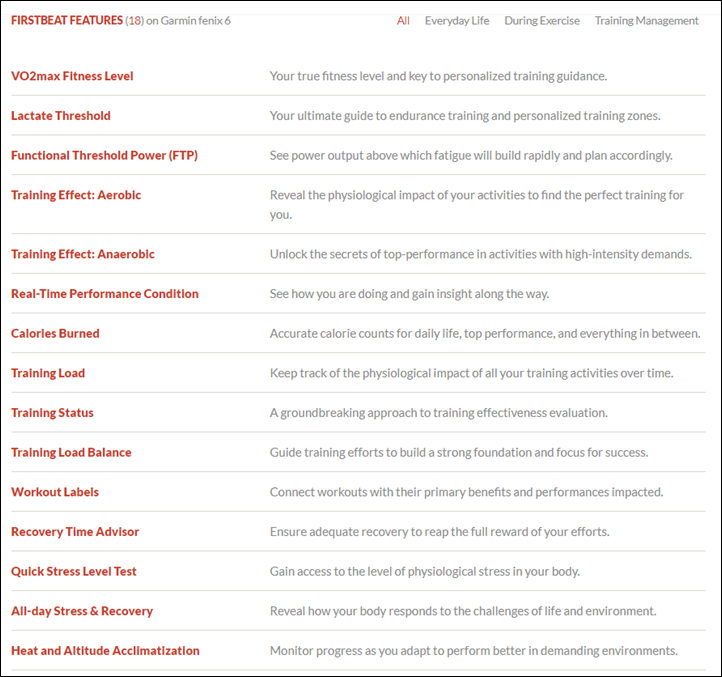 Even Garmin's lower-end wearables license features here too – five features for the lower-end Vivosmart 4.
However, over the past few years, especially the last two years, Garmin has more and more heavily leveraged Firstbeat's features. Be it on the wearables front or the cycling devices side, these were undoubtedly becoming a significant competitive differentiator for Garmin. Not to mention, also becoming a cost incurred for each product in fees.
But more challenging for Garmin would be that Firstbeat was also giving competitors a chance. Sure, some companies leveraging Firstbeat weren't likely to be mainstream competitors to Garmin. But others were. For example, Suunto has long leveraged Firstbeat analytics algorithms. And more recently we've seen Casio do so with their latest solar-powered GPS watch that starts to encroach on Garmin's Instinct and Fenix series lineup. Others, like Huami's Amazfit or Huawei's wearables, while mostly not competing in North America, were leveraging these features to become more serious competitors in Asia.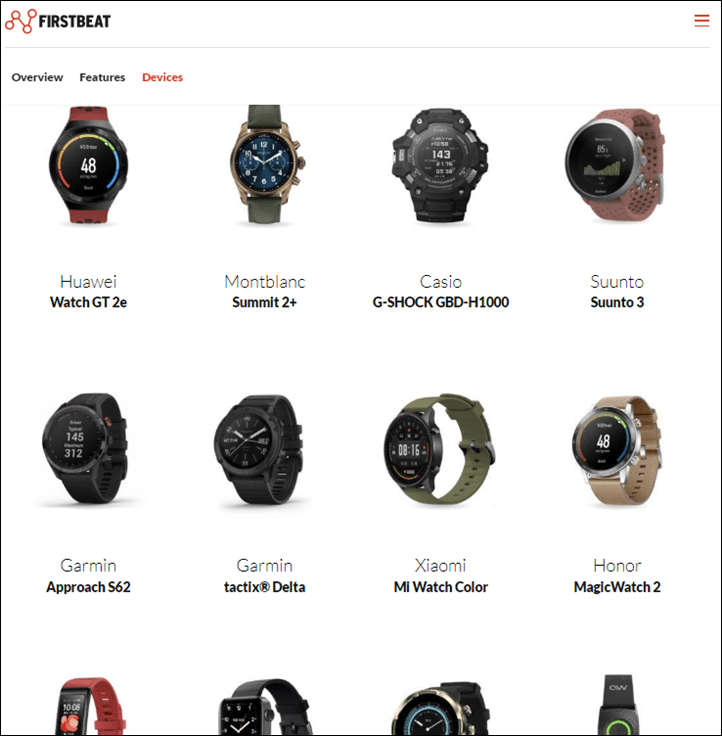 So, one could see how a move to simply buy up the company, for what was probably a relatively cheap price, would make sense. Not only does it eliminate the licensing cost incurred (which means higher-end features could likely more readily be fit into the budgetary constraints of lower-cost devices), but more importantly for Garmin: It could cut off access to metrics for their competitors.
And it's been clear lately that wearable companies are more and more heavily leaning on Firstbeat to do the heavy lifting of getting these metrics correct. The bar has been raised across the wearables industry that simply using basic napkin guessing math for certain physiological metrics isn't a substitute for actually measuring it. Which isn't to say Firstbeat is perfect. I often find quirks in their algorithms.
But really, about the only other company operating in this space in developing their own algorithms at scale here is Polar. That could be good news for Polar in that they've developed all of this IP in-house, and won't potentially lose access to it down the road.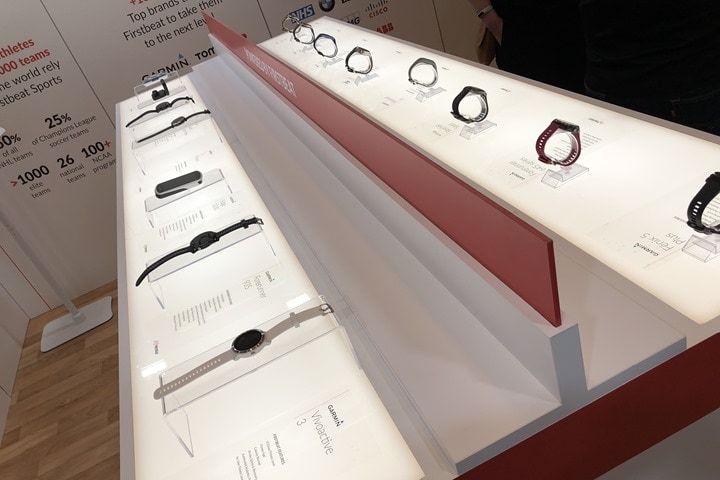 Now, the big question is: Will Garmin cut-off the licensing of algorithms to all these 3rd party companies? Or, will they instead see it as a profit center?
Well, in Garmin's press release on the announcement today they stated: "Firstbeat Technologies will continue operating its Wellness and Professional Sports businesses.", as well as noting that "Firstbeat Analytics is headquartered in Jyvaskyla, Finland, and will remain operating in this facility. Financial terms of the acquisition will not be released."
Keep in mind that Firstbeat technically has a few business lines. First, they license algorithms/modules to companies (that's the biggie), second, they have corporate wellness programs that support companies trying to get employees healthier, and third, they have a professional sports business focused on teams.
(Update heads up – Garmin has clarified they only bought the licensing piece. I've updated the post accordingly.)
Neither the corporate wellness nor professional sports sites were bought/acquired by Garmin, only the consumer product licensing portion. That's notable because neither of those two components contribute hugely to the algorithm side. They have historically worked closely, especially the pro sports site, on validating algorithms however. So it'll be interesting to see how that relationship continues going forward.
But let's get back to the core here: What about licensing to their competitors?
So, I asked simply: Will Garmin continue to license the technology to others?
And, Stephanie Schultz (Garmin's Fitness PR lead) confirmed back that "Yes, Firstbeat will continue licensing to 3rd party companies."
The question is – how long will they do that before they decide it's worth more to keep things from being licensed? Or, maybe they decide there's enough money in licensing to smaller wearables that aren't going to compete with Garmin?
Going forward:
Ultimately, acquisitions tend to fall into two basic questions:
A) Is this good for the two companies involved?
B) Is this good for consumers?
In the case of the first, the answer is obvious. It's undoubtedly good for Garmin. And it's a move I've long assumed they'd make. It's also probably good for Firstbeat, otherwise they wouldn't have taken up the offer.
The next question though – is it good for consumers? Well, probably not long-term.
My guess is that it'll be good for Garmin consumers generally. That's because I suspect that Garmin requests were probably driving a lot of the R&D at Firstbeat anyway (directly or indirectly). However, there may be cases now where money isn't spent on R&D for something because it's not interesting to Garmin.
The large piece though is that regardless of whether or not Garmin says they'll continue licensing to 3rd party companies, it just doesn't make any business sense to. Garmin undoubtedly is losing wearables sales to 3rd party competitors because of these features being present in those watches. That's absolutely a fact. The licensing fee cost of pennies or dollars per feature isn't anywhere near the revenue compared to the profit of selling a single wearable.
As such, it's bad for consumers to have less competition in the space – even if it might be good for Garmin consumers specifically. And heck – now there's zero excuse for people's uploads to Garmin Connect from Zwift or TrainingPeaks not to count in their Garmin device's Training Load (which is powered by Firstbeat). So, that might be good for us. Right?
But, I guess we'll have to see where it takes us from here.
With that – thanks for reading!