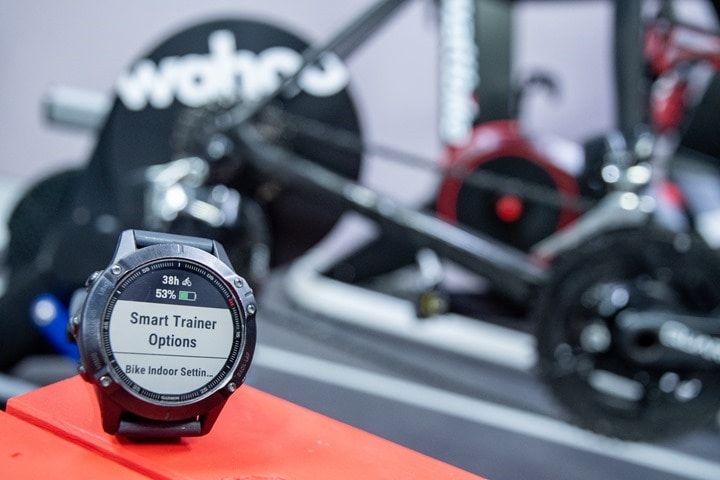 Sometimes, I just stumble on things. Which, was exactly the case a number of weeks ago when I went to start a Zwift race, using the Fenix 6 as a background recording device for some trainer/power meter testing. As I did so I was slightly taken askew when a new 'Smart Trainer' menu option popped up. It didn't help that I had only 27 seconds left to finish putting on my cycling socks, get on my cycling shoes, get on the trainer, and start pedaling before I'd die from the hell that is the start of Zwift races.
To which I thought: This is NOT the time to get sidetracked by nifty new features!
Thus, I put that aside till later and went off to inflict pain on myself for an hour.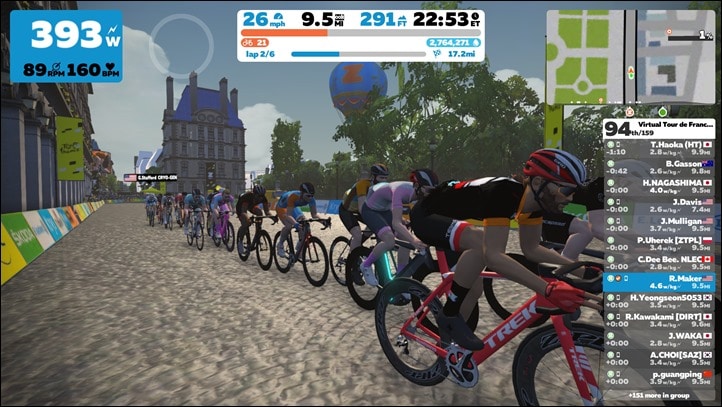 Came back a few hours, and was trying to figure out how I'd missed the announcement. Turns out, I didn't. It hadn't been made yet, I was just on an earlier beta.
But through the magic of TV or easy-bake ovens, fast forward to now, and Garmin has quietly launched it in public beta. You'll find it in the Fenix 6 public beta (albeit unlisted as in there). And more visibly, also available and listed in the release notes of a recent Forerunner 945 beta. There's also nifty new LiveTrack 2.0 support, which was added to the Garmin Edge 1030 Plus back a few months ago, that now shows your planned course data to friends. And a new updated live event sharing feature.
How it works:
To get things started you can either pair the trainer from the sensors menu like any other new sensor, or, you can just wait for it to prompt you later in the new 'Smart Trainer' menu. So, we'll do the 2nd one for now – two birds with one stone I suppose.
So first, start a new 'Bike Indoor' activity. The option won't show up otherwise: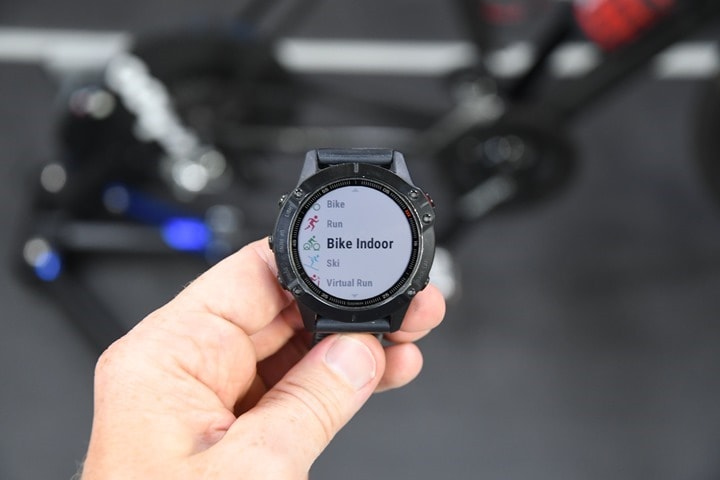 Then, hold down the left menu option (as if you were going into settings), and you'll see the new 'Smart Trainer Options' menu: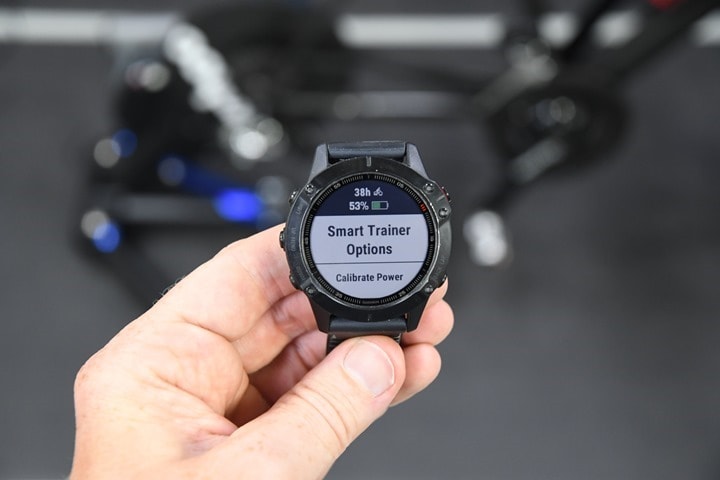 Crack that open and you'll see a list of different things you can do:
A) Free ride: Simply connects to trainer and captures all trainer data without a specific program/course/etc.
B) Follow workout: This will follow a downloaded structured workout with specific targets
C) Follow course: This will change the trainer's resistance to follow the elevation of a predefined course/route
D) Set Power: You can specify the exact wattage (e.g. 250w) and the trainer will hold that
E) Set Grade: You can specify the exact grade (e.g. 8%) and the trainer will hold that
F) Set Resistance: You can specify a resistance level (1-100% in 10% blocks) and you'll attempt to hold that
In this case, I'm going to choose to follow a course. But no matter what option you chose, it'll go and try and connect to your smart trainer. It does this via ANT+ FE-C. But of course, since we haven't paired a smart trainer yet, it'll start searching for one nearby: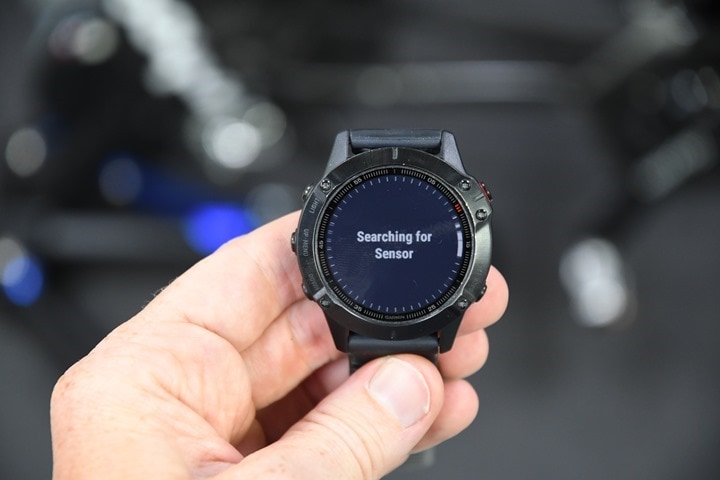 It'll come back a few seconds later with a list of nearby trainers, listed by the ANT+ ID, which is the ANT+ FE-C trainer being enumerated. Virtually every trainer on the market these days supports this (and for the last few years). Here you can see it showing the new KICKR 2020 (#25254) as well as the Wattbike ATOM 2020 (#3):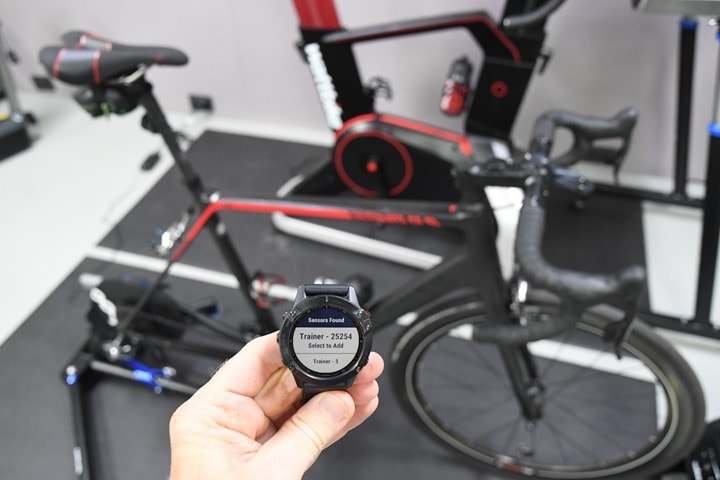 A few seconds later it'll be paired up and saved for future reference, and then it'll show trainer connected: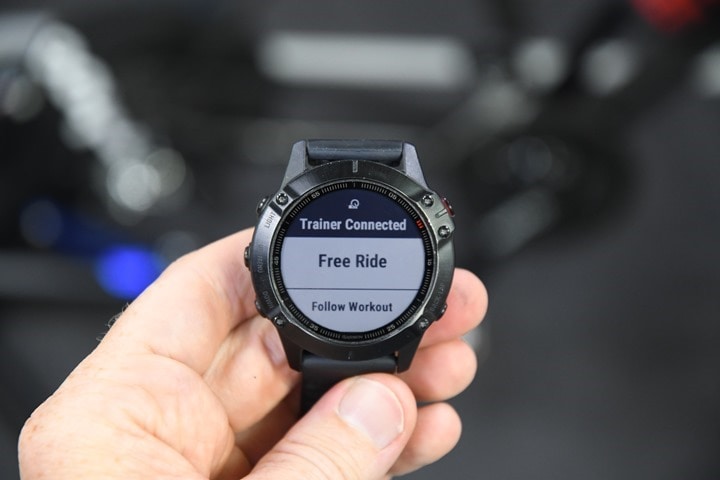 Now you can choose the course you want. It'll actually list all courses on your watch, even hikes/runs/etc. I suppose that's fine, because perhaps I'm gonna pace some pro marathoner to a new world record – gotta practice my cycle pacing! Of course, it'll also list all my usual rides too – including all my courses from Strava. Again, there's the seven different options I mentioned above, courses is merely one of those.
Instead, I could choose to do a structured workout. This includes things synced from TrainerRoad and TrainingPeaks (or any other platform syncing structured workouts via the Garmin Connect Training Platform API). So here's those (the names are from TrainerRoad):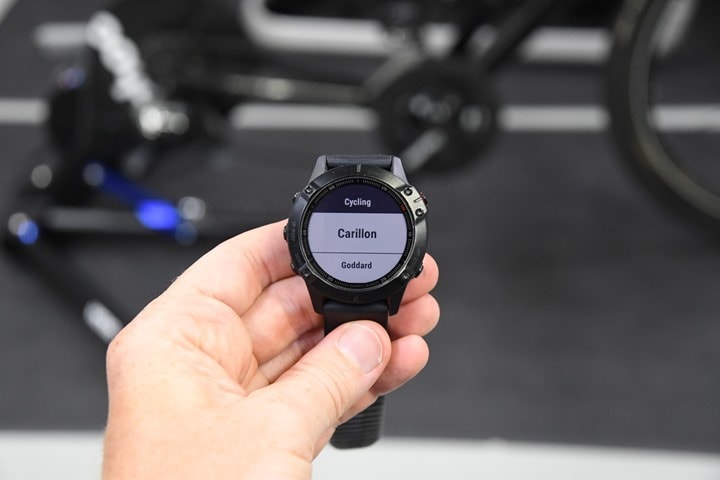 And I can go through all the steps individually:
I'd argue this is probably the single biggest weak-point here. Compared to an Edge series device which will show me the workout profile, the watches don't. So I don't get something like this: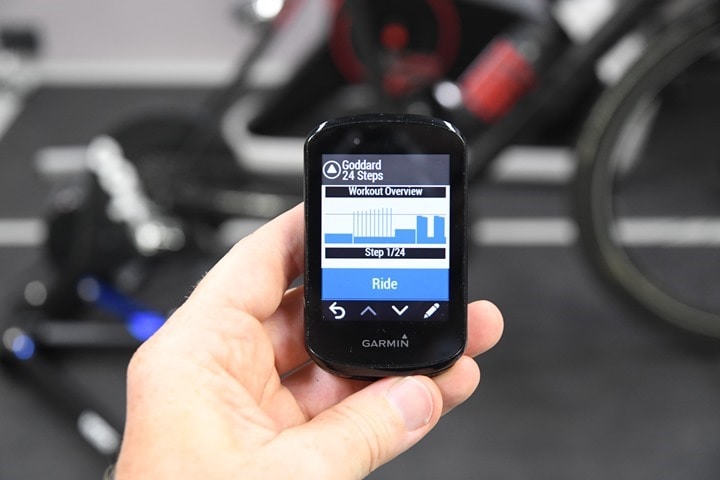 But hey, beggars can't be choosers I guess.
Once you've selected to do the workout, it'll show you the steps for each successive workout portion – and most importantly, it'll change the resistance for you (assuming that's set in the workout). I make that nuanced notation because some steps in the workout may not have power targets, in which case it appears to simply set the trainer at 0% grade (I think), and then it's up to you. Whereas other portions have clear targets.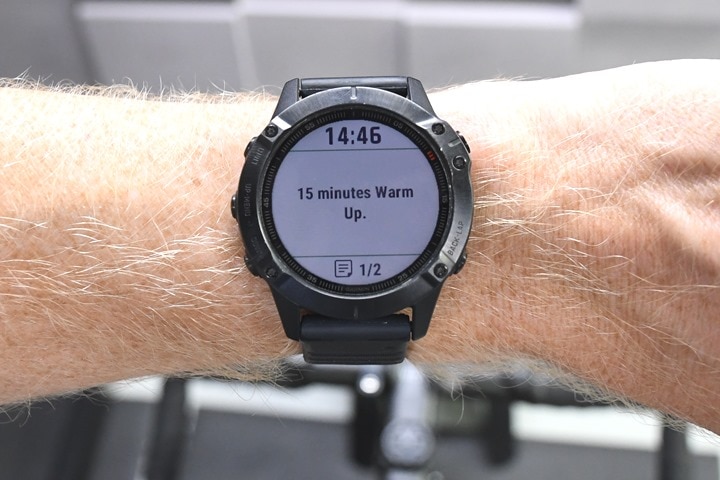 I like that there's two dedicated pages to seeing what the current step is, and then what the next step is. The above/below steps happened to be more nebulous in nature than specific ranges. This is because when TrainerRoad converts indoor workouts to outside workouts (as it did here), it ends up making them more viable on the road, than the hyper-specific ERG workouts with military-precise times and wattages. So this rest step is basically another way of saying 'Wait till after the traffic light to start this interval'.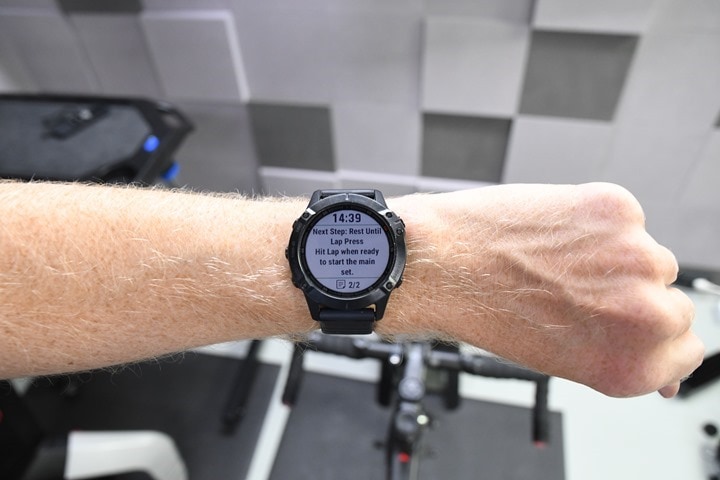 All of this is of course essentially a round mini-version of what Garmin has on their Edge series, including features like the ability to skip ahead to the next interval by pressing the lap button.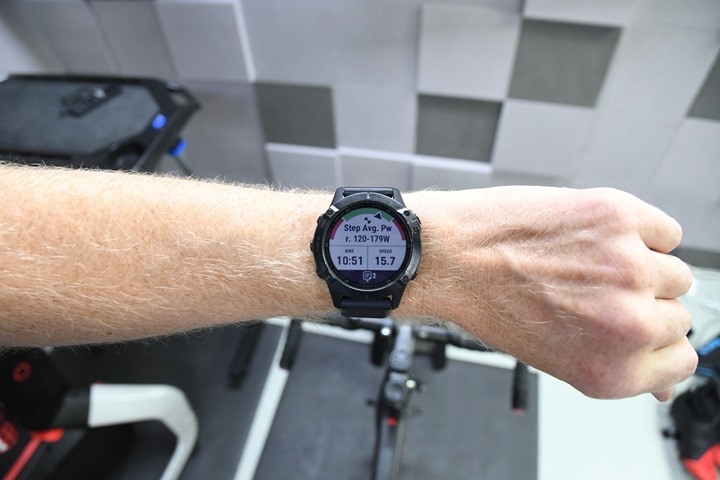 Also, the pages with the red/green gauges are showing your power against the power target for that interval. It seems like the trainer is roughly targeting the middle of that range, giving you a bit of flex with cadence to be slightly above/below the target.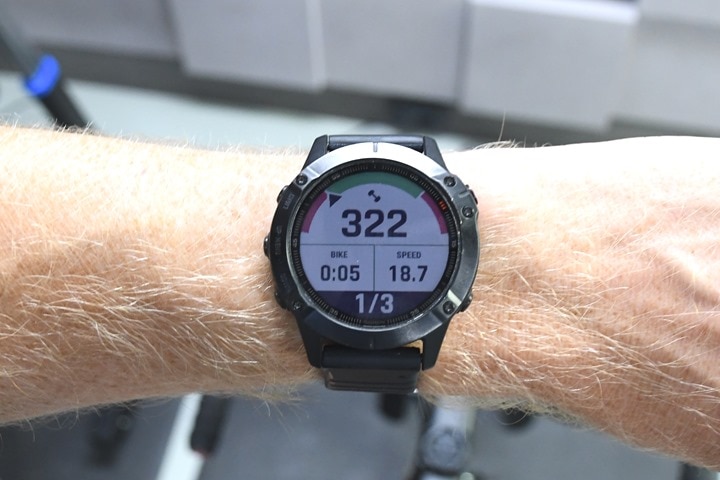 In any case – all this seems to work well on a quick test. I haven't put it through all the paces of a full review, but a quick glance at bits here and there seems to be trending in the right direction. After all, most of the base code is pretty well baked from years on the Edge series, so any quirks would more likely be adjustments to the smaller watch form factor.
But, give it a whirl and see what ya think.
Going Forward:
So, here's the thing – I'm a huge proponent of adding compatibility for industry standards like ANT+ FE-C. In fact, I don't think anyone has argued it for as long as I have (this was 7 years ago, at one of the earliest public ANT+ FE-C demos, but things even predated that).
(Related Inside Baseball Nugget: While searching for that link, I found a single line comment on one of my old ANT+ Symposium posts in 2011 where the TrainerRoad co-founders Nate & Reid were asking for a standard way to someday control smart trainers. This was a year before the first KICKR was even announced – let alone available. In fact, that comment was just a few weeks after they announced themselves as a company into existence by borrowing about 14" of counter space at the end of the ANT+ booth for a quick demo at Interbike. Two game programmers by day, making a wattage focused training app by night. Who knew what it'd become? Also, remember Interbike?)
At any rate, I'm honestly not convinced there's that many people using their wearables to control their smart trainers in 2020 (or beyond). I think the number of people executing trainer workouts from wearables (and even bike computers) is diminishing as training app platforms get better and better at what they do.
Which is to say, while I appreciate the feature – and appreciate just how deep it is, I'm not super certain that it's something that's going to get a ton of real-world traction. No doubt some of you use this – but I'd love to know what % of users use it. Perhaps Garmin might know that, since these workouts automatically get uploaded to Garmin Connect, and they'd easily be able to run a behind the scenes query for people attaching to FE-C trainers and controlling workouts on the Edge series units.
Still, I can certainly see why Garmin would add it. With the acquisition of Tacx last year, one of the main things they promised the industry at large (during an 'Indoor Training Summit' at Eurobike 2019), was better integration between Garmin products and Tacx products. They wanted to make those two items far more seamless. We've seen some hints at that already in various Garmin Edge firmware updates, around pairing and setup. But this is the first time we've seen any effort from the wearables side of the house.
In any case – if you've got a smart trainer, one of these two wearables, and the desire to stay inside on this warm sunny summer day – then go forth and enjoy! Meanwhile, I'm headed outside for a mid-day ride. I've been inside riding new trainers/bikes for the last month and a half, so looking forward to some sunshine.
Thanks for reading!