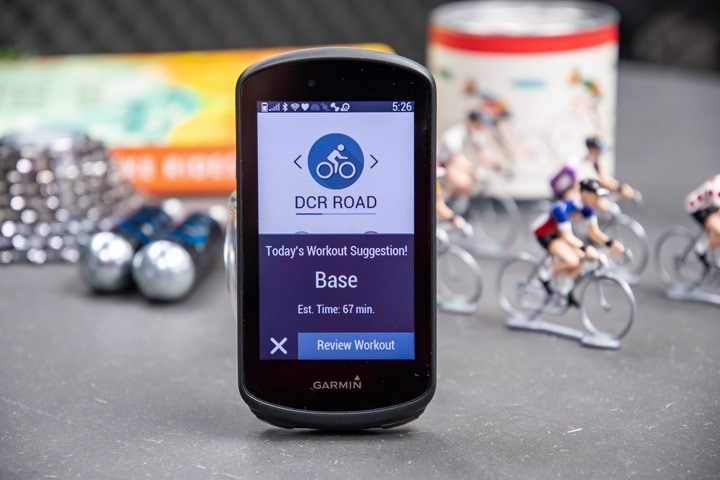 Like with most Garmin products that tack on a 'Plus' designator, the changes from the Edge 1030 to the Edge 1030 Plus aren't earth-shattering. In fact, the Edge 1030 received overwhelmingly more changes last summer when it got a massive firmware update sweep of features from the then new Edge 530 & Edge 830. Still, this unit does have some minor new features that fill in some of the cracks. And ultimately, if you were looking to get an Edge 1030, then just like with a new model year Apple product, you'll take the minor changes over not.
Still, the Edge 1030 Plus changes aren't throwaway either. There's now a streamlined setup process that'll migrate your old Edge settings and sensors (even from an Edge 1000), plus you've now (finally) got free global detailed maps for anywhere you go (except Asia). And the LiveTrack now will actually show your route to the friends/family you share it with. Plus lots of minor changes like re-routing quick-select options when you go off-course, and increased storage up to 32GB. And finally, new daily suggested structured workouts based on your training load.
All of which you can get the full details on in one super efficient video by hitting play below:
I've been using the Edge 1030 Plus for all my rides since last month, and I've got a pretty good handle on how exactly it works and whether these changes are worth the extra cash for an upgrade from an older Garmin (the price remains the same as the Edge 1030 at $599USD). As usual, this media loaner Edge 1030 Plus will go back to Garmin once I wrap up here with it, and then I'll go out and get my own. If you found this review useful, simply hit up the links at the bottom of the page. Or, become a DCR Supporter (also, at the bottom).
With that, let's dive into it!
What's new: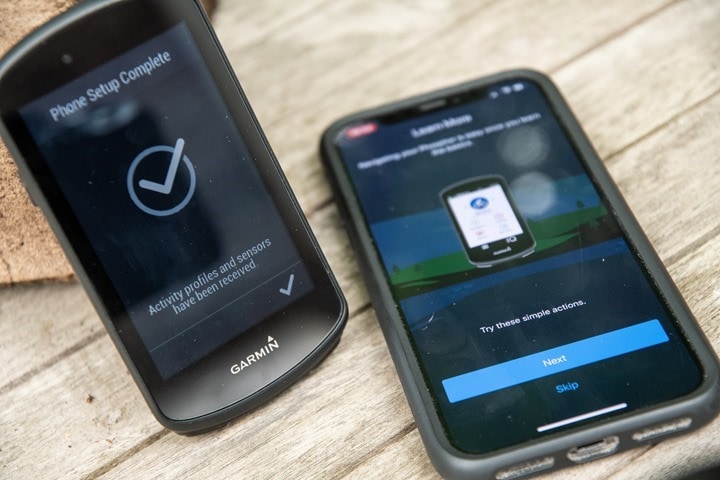 Now, I'm going to actually split this list in two. Mostly because it's plausible (likely in fact), that someone looking at an older Edge 1030 review (even mine), might assume that a bunch of the features of the Edge 1030 Plus aren't on the base Edge 1030. In fact, they are. They were just added last summer, nearly two years after the Edge 1030 came out.
So, this first list is the differences compared to a fully updated Edge 1030 unit today. In other words, if you just compared an up to date Edge 1030 to the new Edge 1030 Plus, what's different:
– Now black instead of white: Just like the Bontrager Edge 1030 was, except this says Garmin instead of Bontrager
– *New setup routine: Sensors from your older Garmin unit are automatically imported for you on first use
– *New setup routine: Ride profiles and data fields from your older Garmin unit are automatically imported for you
– Now includes detailed maps for *ANYWHERE* you travel to (all regions…except Asia), free, inclusive of Topo data.
– Now includes Trailforks app pre-loaded (with full Trailforks data sets included)
– Now includes ForkSight, previous Edge 1030 update didn't include this specifically
– New daily on-device workout suggestions based on training load
– New pause-route option (when you go freestyle off a course)
– New off-course re-route selection options
– *LiveTrack will now show the course/route that you're on to your friends/family (whoever you've shared the route to)
– Onboard Storage size has been increased from 16GB to 32GB
– MicroSD card expansion slot has been removed (since you've got tons of on-board storage space)
– Beeper/Chirper an eff-ton louder (and a bit different)
– Up to 48 hours of GPS-on run time in a basic configuration, 36 in mid, and 24-hours in high navigation/sensor configuration
– New display/touchscreen to match that of the technology used on the Edge 830
– New Sony GPS Chipset (to match most other Garmin devices since 2019)
*These features will come to the existing Edge 1030, Edge 530, and Edge 830 later this year in Q4.
Now everything else you know about the Edge 1030 remains the same. The above are the only differences I've been able to find (or were told about).
As for the setup routine transfer bits, that's actually pretty interesting. I'll dig into it below, but in short, recent firmware updates for virtually every mid-range or higher Garmin Edge unit made in the last 6 years supports this. Specifically the Edge 1000, 1030, 520, 520 Plus, 530, 820, and 830.
Next though, we've got what is roughly the differences since release of the Edge 1030. This is somewhat of a throw-away list for users familiar with these products, but if you're again coming from older reviews, it's useful to understand what was added to the Edge 1030 from the Edge 530/830 series last year (via free firmware updates):
– Added ClimbPro: Automatically shows how much distance/elevation remains for each climb on route
– Added Mountain Bike Metrics: Shows Grit, Flow, and Jump details on both unit and Garmin Connect
– Added Heat Acclimation: Will automatically take into account heat/humidity for performance/recovery metrics
– Added Altitude Acclimation: Will automatically take into account (high) elevation for performance/recovery metrics
– Added Training Plan API support: This includes a redesigned structured workout execution page
– Added Courses API Support: This allows course/route downloads automatically from partners like Strava & Komoot
– Added Hydration/Nutrition Smart Alerts: When using a course/route, it'll automatically figure out how much water/calories you should be taking
– Added Hydration/Nutrition Tracking: It allows you to record this data in ride summary screens and log it on Garmin Connect
– Added Performance Power Curve: This shows you your mean maximal power over different durations/time frames (like many training sites)
– Added Bike Alarm Feature: Used for cafes/bathroom stops, emits loud alarm if bike is moved
– Added 'Find my Edge' feature: Automatically record exact GPS location on your phone if Edge is disconnected (in case unit pops off)
– Added Training Plan Weather/Gear Tips: Basically tells you to HTFU when it's cold out
Again, nothing on that list there is new to the Edge 1030 Plus. It's simply making it clear that all those features that you might see marketed as Edge 1030 Plus features are also there on the Edge 1030 already today.
Ok, with that sweeping overview done, let's dive into how to use it.
The Basics: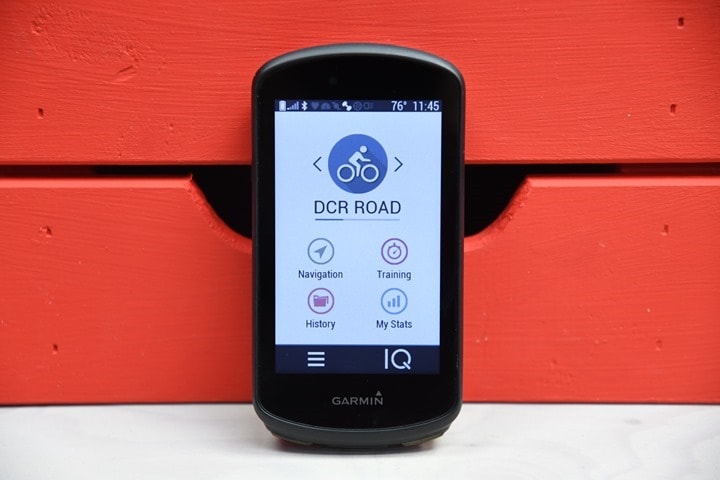 In general I tend to skip over some of the setup aspects of devices these days since it's trivial and repetitive (assuming no issues). But with the Edge 1030 Plus it's notable because it's a major shift for Garmin away from the past. It's also an area that historically Wahoo has done SO MUCH better than Garmin (and a key thing people cite as to why they switched to a Wahoo unit over a Garmin).
So this time around I'm gonna talk about it, again, cause it's finally different. Which isn't to say its perfect, but it's an improvement.  With the Edge 1030 Plus the setup process will do two key things:
A) It'll import all your old screens/data field configuration from past Garmin Edge devices
B) It'll import all your paired sensors automatically
How it does this is actually pretty interesting. With the first one, Garmin has released a firmware update for the following devices (Edge 520, Edge 520 Plus, Edge 530, Edge 820 Edge 830, Edge 1000, Edge 1030, Bontrager Edge 1030) quietly over the last month that enables those devices to be compatible with the Edge 1030 Plus setup process. So after you order your Edge 1030 Plus, go and update your older bike computer first and do a ride (even if just a few seconds) so that it'll sync that data up.
As for sensors, those too are already happening in the background. Garmin will automatically pull in any paired sensors from the last 365 days of uploads to Garmin Connect – up to the maximum number of sensors the Edge 1030 Plus supports (30 total).
Here's how this all looks in the real-world. First, it'll pull in all your sensors found on Garmin Connect in the last 365 days.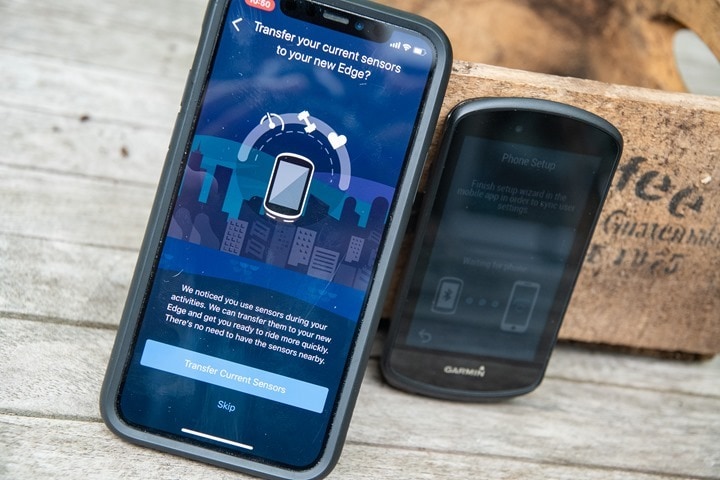 In my case with all the device testing I do, that means it punches itself in the #$#@. But after it's done doing that, it does indeed pull down the most recent 30 sensors paired. For normal humans, that'll more than cover your situations. Also, it'll even include whatever you named those sensors too (for example my PowerTap P2 pedals are named 'P2', and my second set of PowerTap pedals on the Peloton bike are named '54715p3', because when I named them many months ago one random night – that made sense in my head.
Lucky, you don't see the Favero Assioma pedals in this list, because those are literally named 'Ass pedals', since that's the shortest thing to type on this display.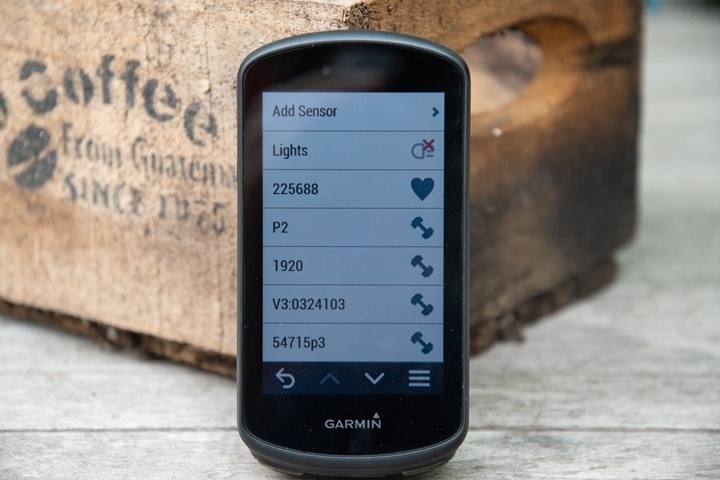 This is a one-time pull, so if you update the sensor's names on other bike computers it won't pull them in here the next time. Again, that's fine for 99.99% of people.
Next, as you go through the setup process it'll ask you if you want to copy in your activity profiles: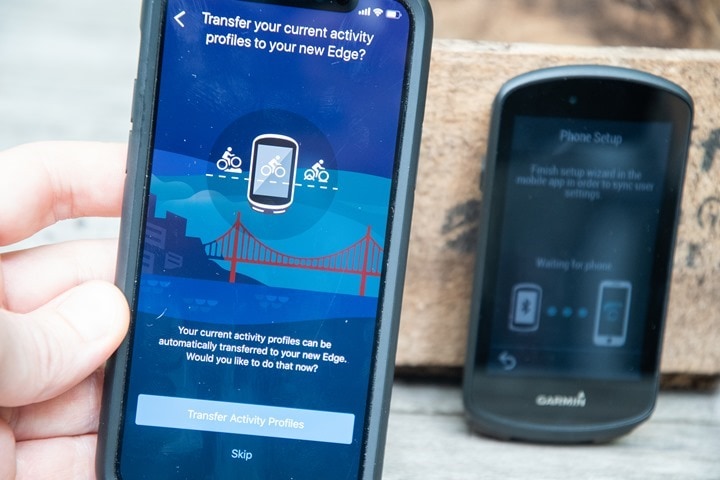 So you'll see my main activity profile is named as such immediately after setup: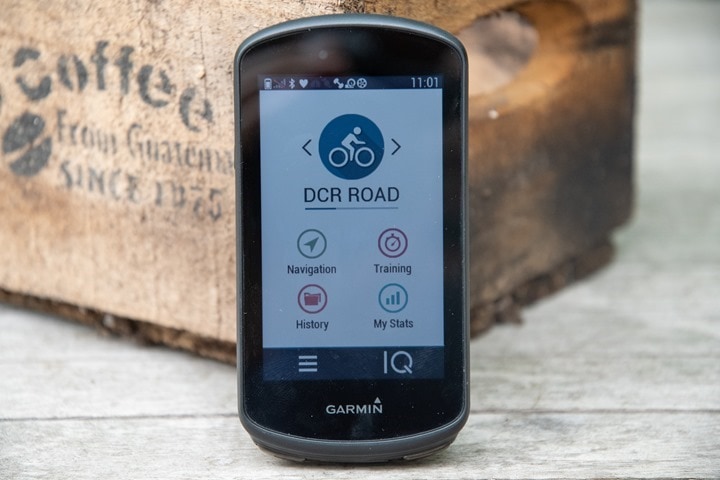 Now, with that all set let's take a step back on the basics. The Edge 1030 Plus is a touch-screen driven unit with three dedicated buttons. One on the side for power, and then two at the bottom for stop/start, and lap.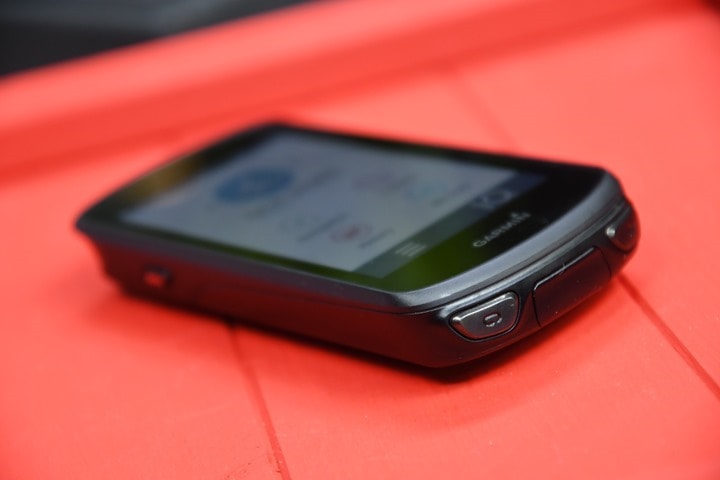 The touchscreen is improved over the existing Edge 1030, and is now using the same touchscreen tech as the Edge 830 (which, some 14 months later people seem pretty darn happy with). However, just to demonstrate this, I took it out in the rain…and you can see the footage of that in the video at the start of this post.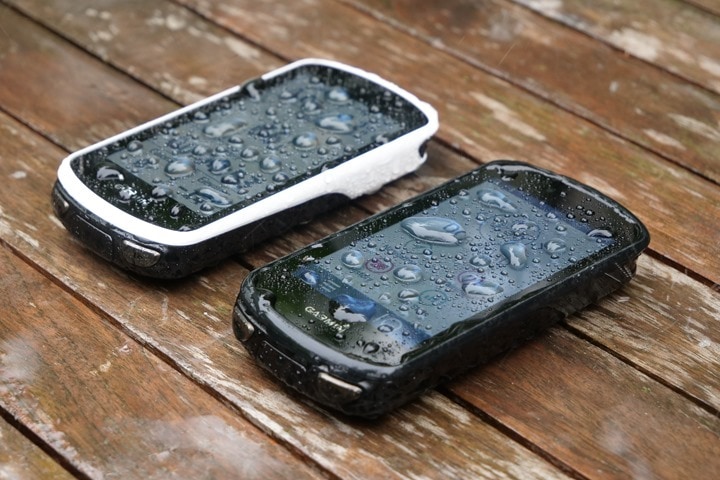 On the bottom, you'll find the same old tired micro-USB port. No USB-C here folks. I'm convinced they must ban shipments of USB-C ports to Kansas or something.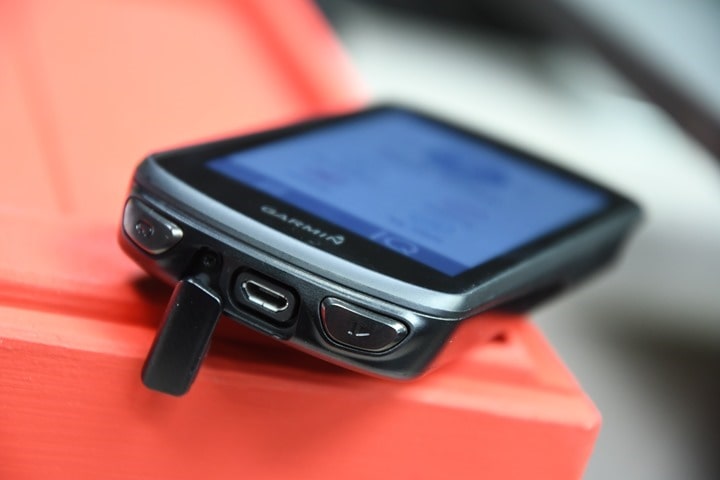 On the main dashboard of the touchscreen are the main features. To start a ride you'd tap the big bike icon. Right now you see 'DCR Road', which indicates that's the activity profile I've named. These profiles let you group settings together (such as data fields or how the map looks, hydration/nutrition settings, and a gazillion other features).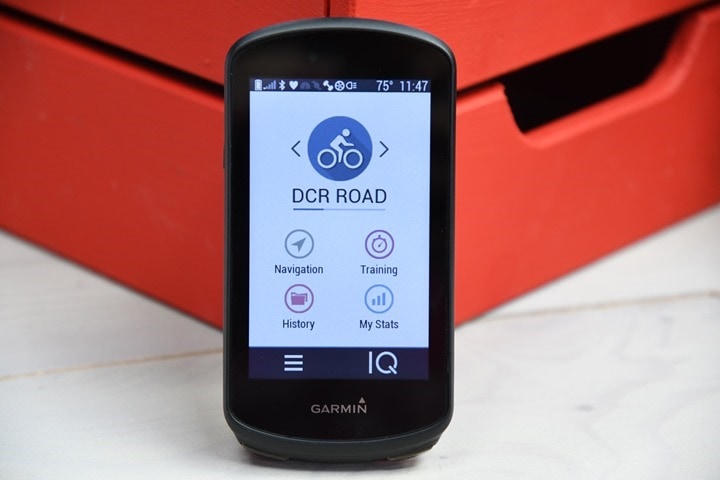 You can create numerous activity profiles called anything you want with color coding: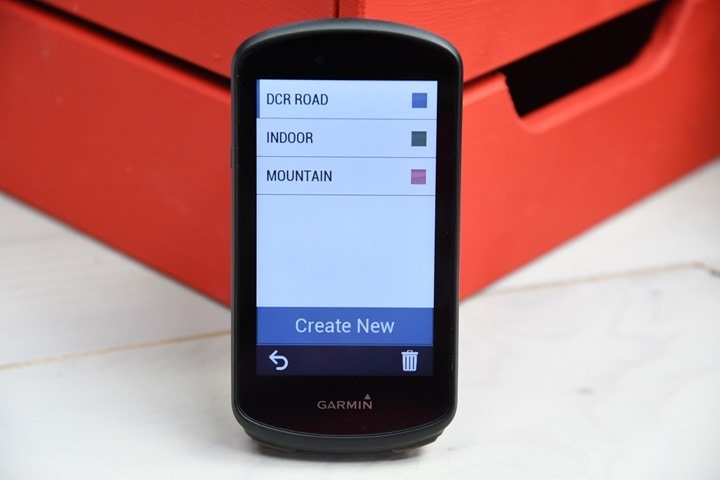 Inside each activity profile you can make those aforementioned settings. Here's a small survey of those settings:
Speaking of settings, there's more general settings as well. These control things like sensors, safety features such as crash detection/notification, battery save modes, and even recording rates or HRV recording. It's mostly dizzying what's in here. Again, another gallery of various settings.
Since we're talking settings and sensors, I'll briefly dive into that. The Edge 1030 Plus supports pretty much every ANT+ & Bluetooth Sensor type in the fitness world for cycling, specifically the following:
ANT+ Cadence only sensors
ANT+ Edge Remote
ANT+ eBike
ANT+ Heart Rate
ANT Garmin inReach Devices (satellite messenger/communicator)
ANT+ Bike Lighting Control
ANT+ Power Meters
ANT+ Radar
ANT+ Gear Shifting (SRAM RED eTAP, Campagnolo EPS)
ANT Shimano DI2
ANT+ Speed/Cadence combo sensors
ANT+ Speed only sensors
ANT+ Varia Vision (aka remote displays)
ANT VIRB Action Cam
Bluetooth Smart Cadence only sensors
Bluetooth Smart Heart Rate
Bluetooth Smart Power Meters
Bluetooth Smart Speed/Cadence Combo
Bluetooth Smart Speed-only sensors
Oh, and then you've got 3rd party pieces like Muscle Oxygen sensor support via Connect IQ apps as well (for Moxy, and now discontinued BSX devices).  Plus other 3rd parties have done other private-ANT implementations via Connect IQ too. Same goes for aerodynamic sensors too.
You can pair and store up to 30 sensors. When you activate the sensor on your bike (usually by just spinning the crank or wheel), it'll wake up the sensor and automatically connect to it. This sensor pool concept has been around many years and works pretty well, especially when you have multiple bikes.
With Garmin now owning Tacx, it also means they've ramped up their trainer control interfaces. Nothing here dramatic, and nothing specific to the Edge 1030 Plus, but we've seen Garmin spend much of this winter making minor iterations in each new Edge 530/830/1030 Plus firmware version to better integrate trainers. And in fact, virtually all of these changes are applicable for every model of trainer, not limited to Tacx ones (by doing so via ANT+ FE-C trainer control protocol).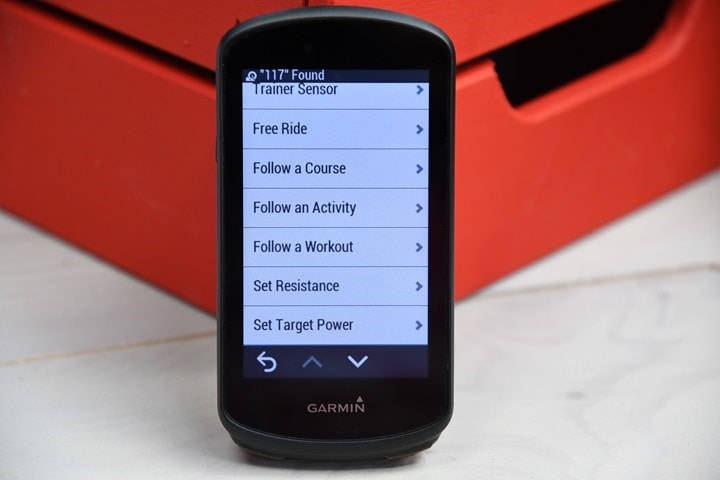 For example, you can now make indoor profiles not start LiveTrack automatically (or not start the lights automatically), or configure the trainer to ride a specific grade (instead of just a given wattage). And then there's still the abilities to re-ride any route you've already ridden, or any route downloaded to the unit that has elevation data in it.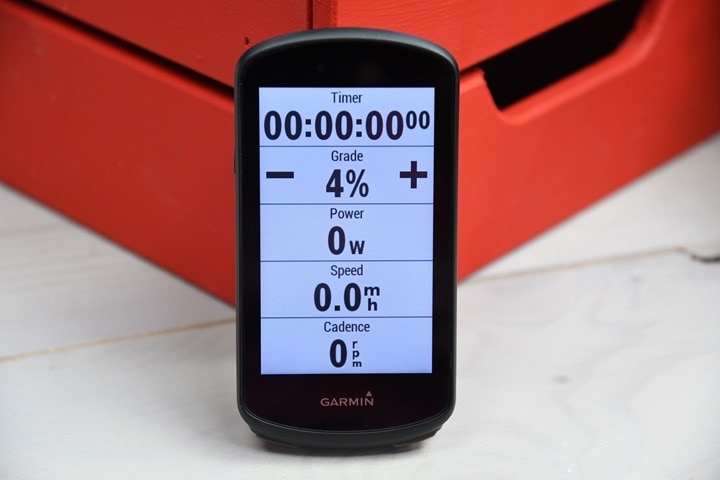 I'll touch more on structured training later in this review though. Most of the time you're probably gonna be riding outdoors with it. To do that, you'll tap the bicycle icon, which takes you to the data fields you've configured. Before you do that though, up at the top you can see your current GPS status, sensor status, phone status, and whether or not you graduated high school on the honor roll.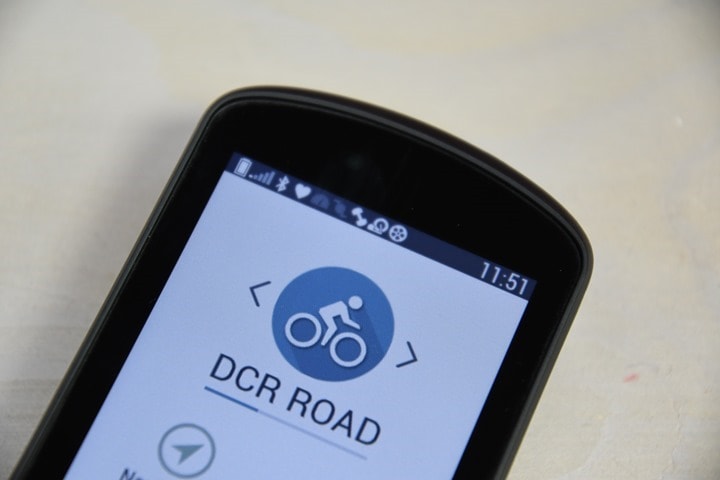 Once in the data screens, you can simply press the start button to begin your ride: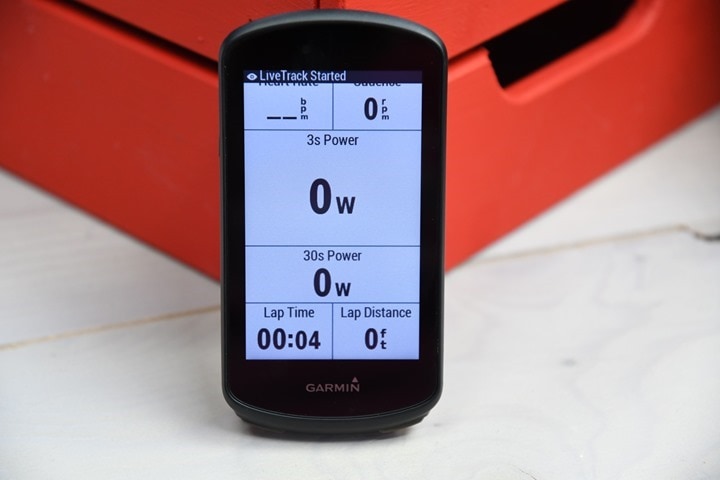 You'll swipe left and right to change your data screens. You can also long-hold a given data field to swap it out for something else if you want.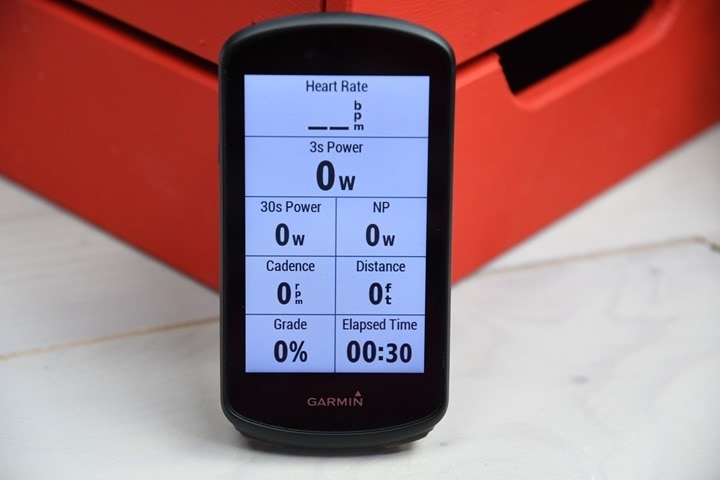 The lower left button is your lap button, while the lower right will pause your ride: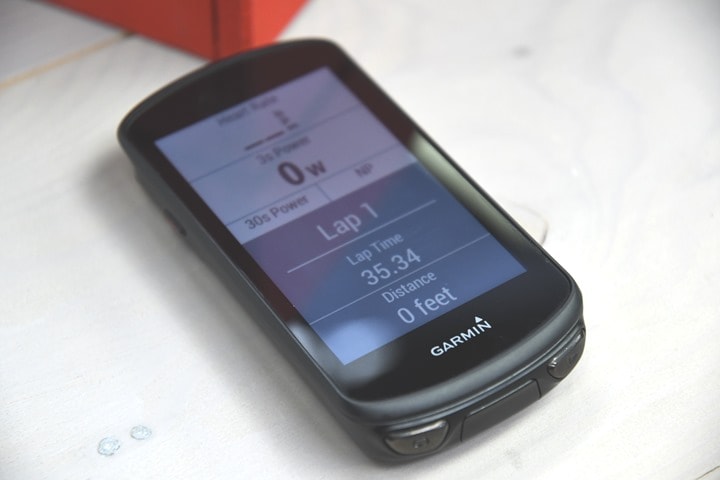 From a screen visibility standpoint,I've had zero issues seeing the screen. Nor have I seen any downstream impacts/issues with using the newer Edge 830 display technology (nor for that matter have I had any issues with my Edge 830's display in the last 14 months or so).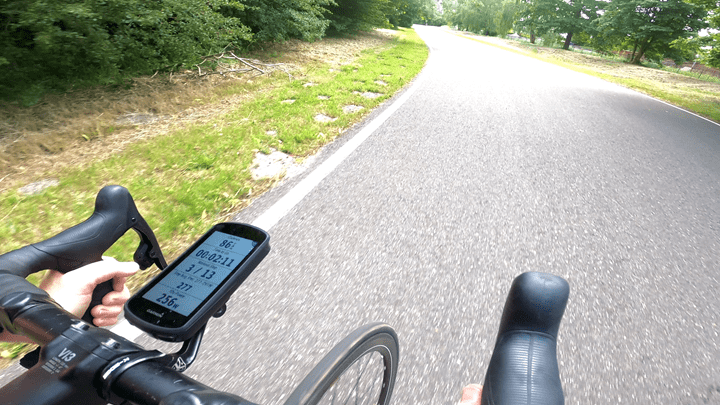 Once you're done with your ride it'll sync via WiFi or Bluetooth Smart automatically to your phone or home WiFi network. Or, if you plug in your Garmin Edge 1030 Plus it'll sync via USB with Garmin Express. Or, you can simply grab the completed .FIT file off of it like a USB hard drive. Once that's done it'll sync that ride to Garmin Connect and then onwards to platforms like Strava, TrainingPeaks, and more. The world is your oyster there (as long as that oyster isn't Dropbox, sadly).
On the Garmin Connect Mobile app you can look more deeply at your ride and sensor data:
Same goes for online at Garmin Connect web too: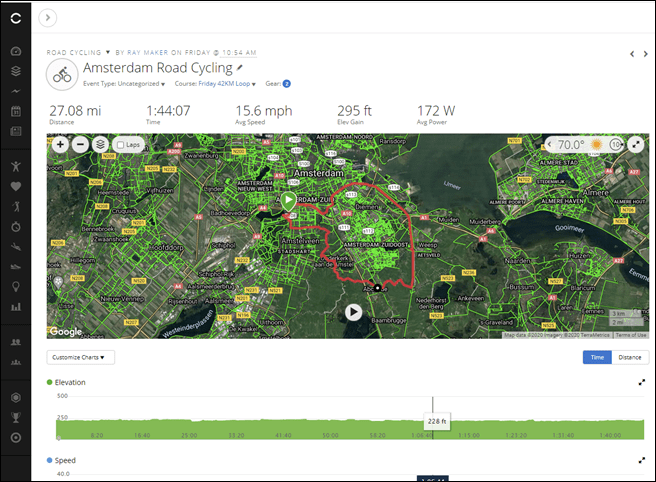 None of this has changed from any past Garmin device – it all works the same here.
With that, we've covered the basics of the Edge 1030 Plus. I've got separate sections for Mapping/Navigation, and another for the structured training aspects. Of course, there are so many features on the Edge 1030 Plus it's impossible to write about them all without publishing an entire book (unless you consider this 10,000+ word review a book). So invariably there's some aspect of the unit I didn't cover here. I try and test and use the devices just like any other person and that includes the features I use personally. And just like you, I probably won't use every feature combination personally (nobody could, there's hundreds, if not thousands, of combinations).
But I think the features I do use are most indicative of what most folks use. So, let's talk mapping.
Mapping & Navigation: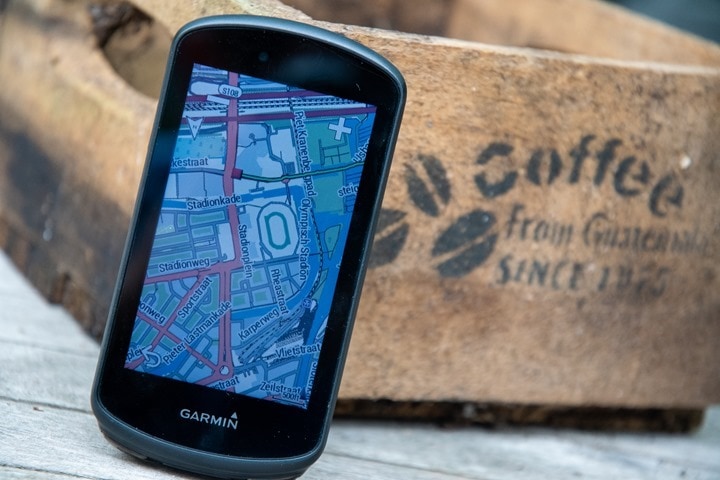 For the most part, the mapping and navigation on the Edge 1030 Plus hasn't substantially changed. Instead, the changes are more incremental, though – one is a massive new 'benefit' – the inclusion of all maps globally (except Asia). When you buy an Edge 1030 Plus you'll get on the device itself a 'pair', of two regions pre-loaded with detailed TopoActive maps. Here's the listing of SKU's and pairings:
North America SKU: Includes North America and European maps

Europe SKU: Includes North America and European / Africa maps

Australia/New Zealand SKU: Includes Australia / New Zealand and European / Africa maps

South America SKU: Includes North America and South American maps.
Asia: Now this is a tough nut. Folks from regions OUTSIDE of Asia will not get Asian maps. My assumption is this is due to the character sets loaded, but I've asked Garmin for a technical explanation of why this will. Will update when I hear back.
This by itself is a huge deal in the Garmin world. Up until now you only got maps for the region you bought it in. For anything else you had to use 3rd party maps (and you still can if you want). However, those maps lacked the underlying heatmap (aka Trendline Popularity routing) data that's so useful when you're out and about and want a faster/better/different route. So the fact that you now get multiple regions pre-loaded is big.
But what's even bigger is Garmin is finally joining all of their rivals in allowing you to download maps for any region out there. To do that you'll use a computer (Mac or PC) and the Garmin Express app, which shows you the regions you want. Remember the Edge 1030 Plus got expanded storage, now 32GB instead of 16GB. In general, regions tends to be about 7-9GB.
Here's what my North America one shows (in this case, Africa falls under the Europe mapset), when I go to the new 'Manage Maps' option in Garmin Express: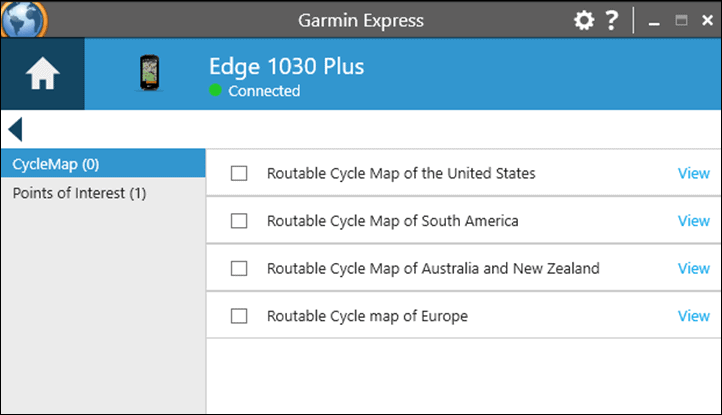 Note that there isn't a WiFi-driven option (like with Wahoo, Hammerhead, and Sigma). I'd love to see them offer that eventually. There's pros and cons to both methods. For example, the WiFi one is great when you're at home on a WiFi network that doesn't have an 'I Accept' type page. However, that approach entirely breaks if you're at a hotel, Starbucks, etc, where the bike computer can't press the "I Accept" button. So in this case as long as you had a computer with you that could connect to WiFi, then you're golden. Or just remember to add the regions ahead of time.
When it comes to the Edge 1030 Plus, you've got a few ways you can route:
– Load a course from a platform like Strava Routes, Komoot, RideWithGPS, or others
– Create a course on Garmin Connect (web or smartphone)
– Enter an address/location/point of interest on the Edge 1030 Plus itself
– Re-ride a past activity as a course on the Edge 1030 Plus
– Wave it around in the sky and hope it gets you somewhere
– Have it generate a 'Round-Trip Course' on the fly with a given distance/preferred direction
– Route to a saved location (such as your home/work/etc…)
– Browse the map and navigate to that location
– Leverage TrailForks for mountain bike trails (on-device)
– Manually load a GPX/TCX/FIT file course onto the Edge 1030 Plus
– Route 'Back to start' mid-ride
Seriously, there's so many ways to ride a route/course it's kinda nuts. And frankly, there's even variants of the above.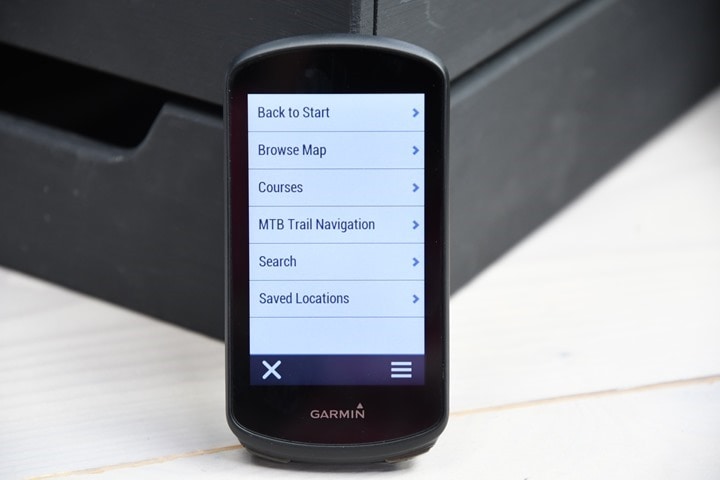 It used to be that the main thing the Edge 10xx series devices had over lesser devices was being able to pick an address/POI/etc and route directly to it on the Edge. However, these days the Edge 830 can do that, and the Edge 530 can do aspects of that too. Instead, for the most part what you're paying for with the Edge 10xx series is a larger screen.
In my case, I predominantly use Strava Routes for all my routes, though I've done a few recent ones with Komoot. One thing to be aware of with Garmin Routes is that *ONLY* Strava routes using the new routing API will include Strava Segments. So, if you use a Komoot route, you won't get any Strava Live Segments on your Garmin during the ride (they'll show up afterwards when you upload the ride). This sucks for people that really like other non-Strava mapping platforms but still like Strava Live Segments.
I wrote an entire post just a few weeks ago on how that all works, so I won't re-hash it. But in short, once you create a route on Strava and then favorite it, it'll automatically show up on your Edge 1030 Plus as soon as it syncs (via WiFi, Bluetooth, or USB). It won't pull down previously starred routes though, so you'll need to unstar and start them to get them to sync to a newly setup Edge 1030 Plus.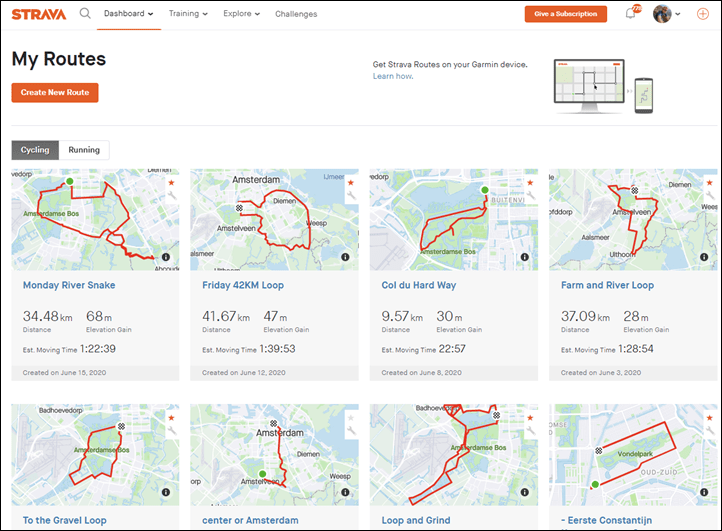 Though, there still isn't any easy/obvious way to tell an already-on Edge to simply grab the latest routes from those platforms (like there is on the Wahoo units). In any case…from there you'll tap Navigation > Courses > Saved Courses, and choose the course you want: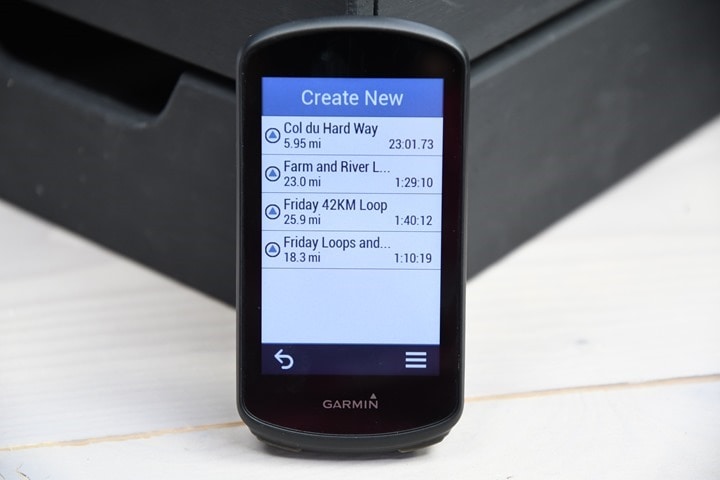 At this point you can view summary information about the course, as well as the map, elevation data, and even tweak the color of the line.
Note that depending on how big the course is, it won't show the high detail map until you zoom in a bit, which is kinda weird.
Obviously, being in the city below with lots of canals, it's kinda hard to see the blue line of the route.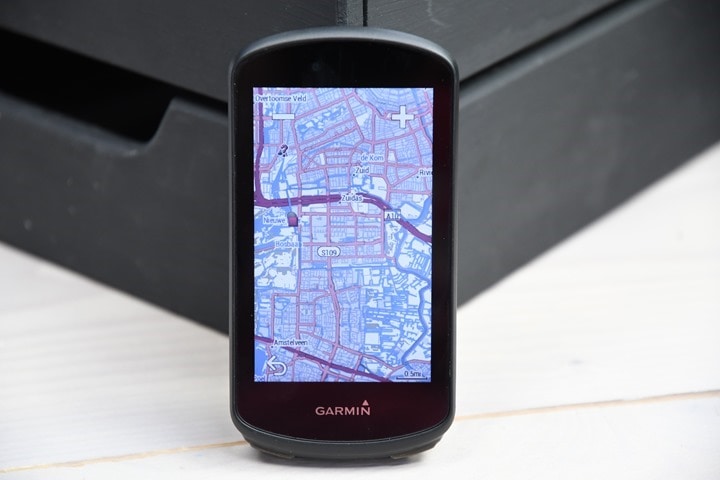 You'll go ahead and tap the ride button, which will start calculating the route. It won't actually start your timer yet (but will remind you). Now the calculation is something that Garmin says they've significantly improved here, via increasing the processor hardware. Specifically they said it should be in line with the Edge 830 now and significantly faster than the original Edge 1030. It does seem that way in some places, but not others – notably, not in calculating routes though for me, which still takes a long-ass time (like, many minutes).
Garmin says a firmware update that the city-aspect with the extreme density of bike routes in Amsterdam is slowing things down. However, most places won't see that level of density.
Now, it's worthwhile noting that you don't have to wait for it to finish 'calculating' the route. You can press start almost immediately and it'll still give you routing details immediately. It'll just finish the rest of the course in the background. I tried that on a few routes and it did it just fine.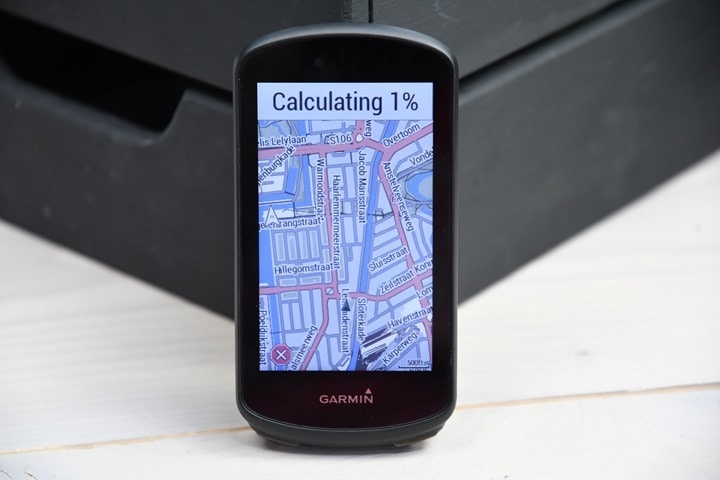 While you're riding you'll get turn by turn directions as you approach a given turn. So you can stay on your normal data fields/pages, and then when you near a turn, it'll chirp and show you this page – counting down till the turn. Here's three different looks at that.
After the turn, it'll go back to your regular data fields. You can also simply keep the map page up the entire time if you want as well:
Now if you go off-course it'll warn you within usually about 3-5 seconds depending on your speed. However, this is where one of the changes is on the Edge 1030 Plus – the new re-routing and pause navigation options. Once you go off-course, you'll get three new 'Re-routing' options:
A) Re-join where you left the course
B) Skip ahead to the next logical point to re-join course
C) Cut across the course to somewhere way downstream
How each of these reacts will depend entirely on your course and where you are. For example, on my ride this morning (which was a wonky lollipop route), I made a purposeful route diversion in the first 60 seconds. The three options thus were quite drastically different, with the rejoin/skip being spot-on as expected, but the 'Cut Across' option basically said 'Let's call it a day and go home'. And you can't really fault Garmin here, it's doing exactly what it says – cut the course (useful on a much longer course when you just need to get home).
Here's those three screens from today's ride:
In addition, the new pause navigation option is handy when you might specifically go off-route to a coffee shop and don't want to be constantly beeped about it. Or, recently I used it when I created a course that led me to a track where I was doing loops for a while. I didn't want to create that as part of my route, so this allowed me to pause navigation while I did my loops, and then resume it when I was done.
You can see this comes up on any screen you're o, so you don't have to be in the map screen. That 'Re-Route' button takes you to the three options listed above.
From an overall routing standpoint, I haven't had any route/re-routing/calculation type failures issues on any of my rides. I've purposefully gone off-course numerous times to see how it'd handle (and a few times not on course). In fact, over the last 2-3 weeks I've tried planning numerous new routes or portions of routes that I haven't ever ridden before, just to put it to the test. And I've purposefully gone off course so many times I'm sure my LiveTrack following peeps thought I was stupid or drunk (or both).
Zero issues.
But then again, that's probably not surprising. If we look at the Edge 1030 Garmin Forums, you'll find over the last 30 days that there are a mere 2 threads related to routing issues (out of hundreds of posts). One thread had no usable detail/information, while the other did, but seemed related to loading additional maps. Point being, routing on these devices is rarely an issue in 2020 – and that's what I saw.
The main factor that's probably worth complaining about is more the speed of the display. Compared to the Hammerhead Karoo or Sigma ROX12 units based on Android, it's substantially slower and less responsive (those act like the phones they are). The challenge is: Is that trade-off worth it?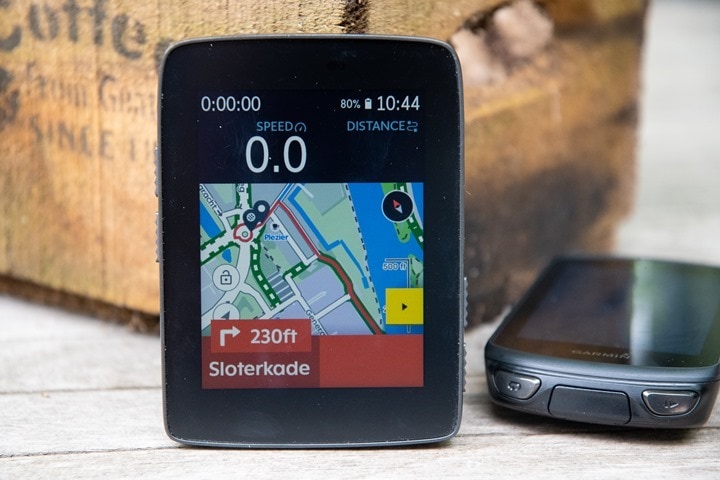 From a routing standpoint, Garmin's map layers have consistently performed better for me (especially in edge cases). But sidestepping that, and talking displays, it's trickier. The Hammerhead Karoo has a stunning display and as you move around with your fingers to see what's around you, it's as fast as a phone. Though, it lacks POI (points of interest database) information. Visibility-wise both seem fine to me, no issues in sun or rain. And touch-screen-wise, all companies there have done things that makes that a non-issue (again, even in rain – as seen above).
Of course, the main reason Garmin uses the display technology they do is battery life. Specifically, conservation of it. Garmin claims upwards of 24hrs of runtime on the Edge 1030 Plus. Whereas the Karoo claims 12-15 hours depending on features. Now, whether or not that matters to an individual rider will vary. While the 'that's damn pretty' aspect of me appreciates the Karoo display's speed, the practical side of me knows that from a routing/re-routing standpoint it hasn't really mattered any. As anyone in the industry will tell you, Garmin's real secret sauce at this point is the heatmap (Trendline Popularity routing) data, which basically means taking all the tens of millions of rides that users upload each year to Garmin Connect automatically, and determining the best bike routes from that. Their other secret sauce is having simply done bicycle routing for more than a decade now. It makes it immensely difficult for their competitors to catch-up on that specific piece. Inversely, having a decades worth of features make it hard for Garmin to make tough decisions on legacy features that weigh it down.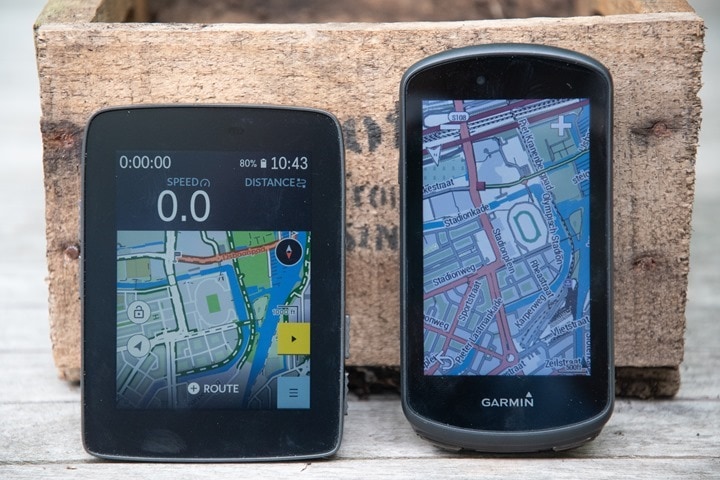 Switching topics briefly to some of the on-device routing functions, there's round-trip routing, which gives you three different one-off routes you can follow, based on the distance you selected. You can also specify a direction of travel.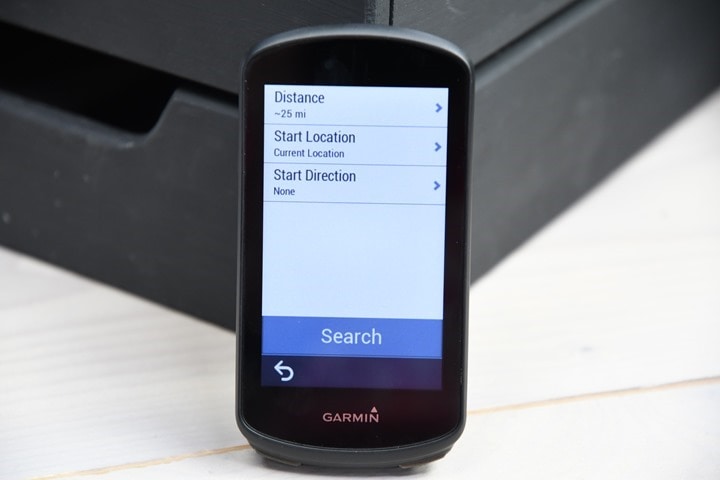 The Edge 1030 series allows you to enter in a specific street address you want to route to: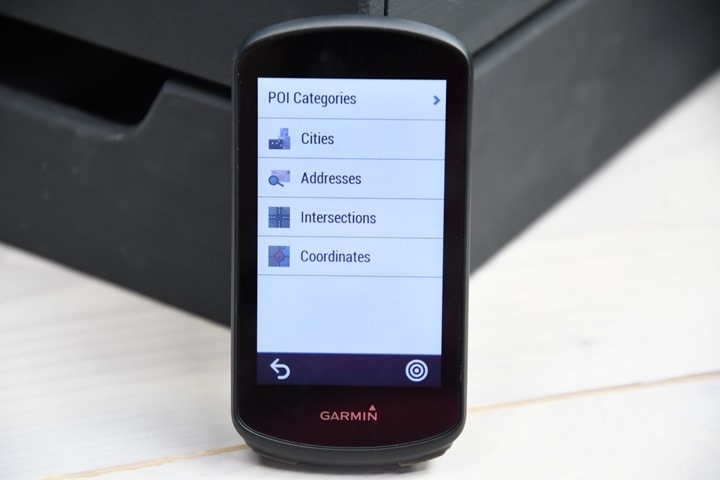 As well as search for nearby points of interest. such as restaurants or tourist type things. Obviously, I always search for movie theaters with my Edge units.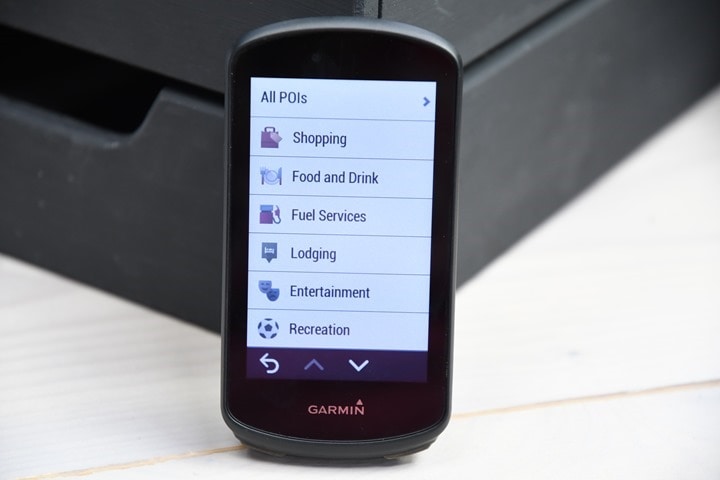 I almost never use POI search, it's not that it doesn't work (it does). It's just that my phone and Google Maps is simply so much better at that than Garmin's unit – especially for handling things like whether or not a café is even open, or if the coffee is actually any good. Nobody wants a bad café mid-ride. And this is where I wish there was better one-off integration between the Garmin Connect Mobile app and the Edge 1030 Plus mid-ride. For example, on a Wahoo ELEMNT/ROAM/BOLT I can quickly do a one-off route to a given spot in a few seconds and off I go with the Wahoo. That's simply not viable nor quick on the Edge series. In Garmin's line of thinking, you do that one-off routing on-device. But I'm not sure that's what people actually want in 2020.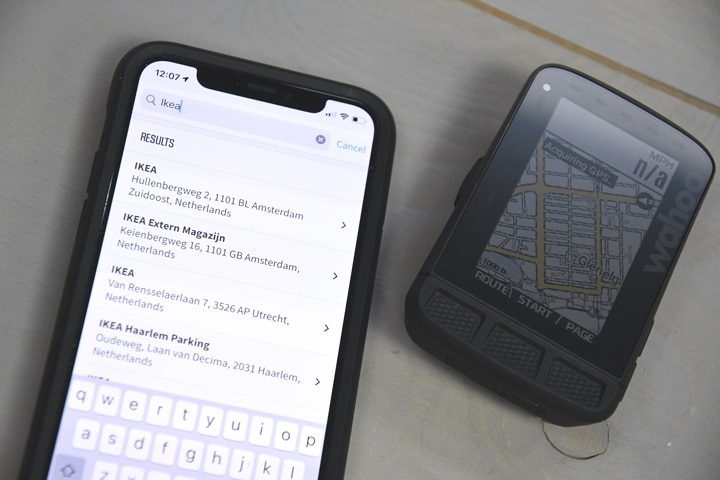 Moving along, given this section is about navigating, it seems fitting to end on the new LiveTracking with course display feature. Mind you, LiveTracking is certainly not new to Garmin devices. It's been around nearly a decade – and ignored nearly as long. But last year they started refocusing on behind the scenes platform aspects around reliability and stability, and this appears to be some of the culmination of some of that. Specifically, with today's announcement two things happen:
– The LiveTracking platform gets a user interface refresh from 2010 to 2020
– LiveTracking now will display your planned course that you loaded on your Garmin
The first one will start being shown to everyone, given it's a backend piece. While the second one will be rolled out to certain devices – notably the Edge 530, Edge 830, Edge 130 Plus, and Edge 1030 Plus. I don't know about plans for any other devices/wearables (though Garmin says they have plans there, but haven't finalized them yet).
From a user standpoint, you'll enable LiveTracking as normal in the smartphone app. Remember, LiveTracking uses your phone to transmit your position to friends and family. The Edge doesn't have any cellular connectivity/SIM card itself, so it needs that phone connection to access the interwebs. You can specify which e-mail addresses (or Twitter accounts) to send tracking details to.
Also, you can toggle the ability to automatically do this every time, as well as to use Strava Beacon (which can send text messages). Also, you can enable the option to extend how long the link lives, up to 24hrs. This is handy because otherwise once you end your workout, the link dies(which would be confusing to someone). So this way they know you've completed the activity.
I've got mine configured to simply send a live tracking link every time I ride. As long as Garmin Connect Mobile (the phone app) is running somewhere in the background on your phone it usually works. You'll get confirmation at the top of the device that LiveTracking is functioning: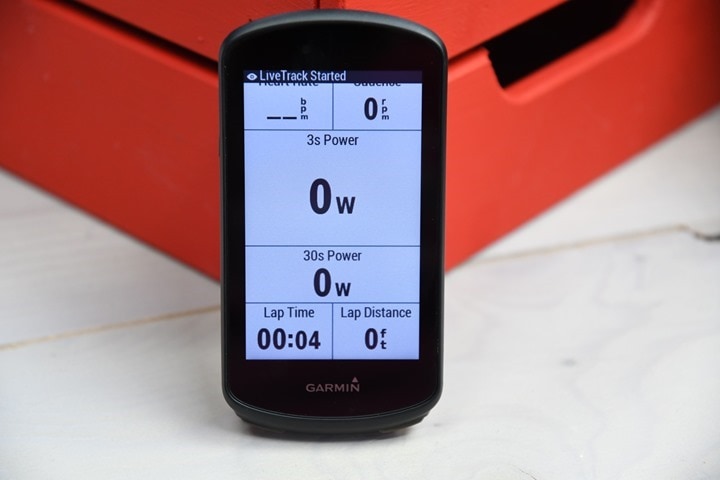 Also, on your phone, you'll get a message that the LiveTrack has successfully initiated.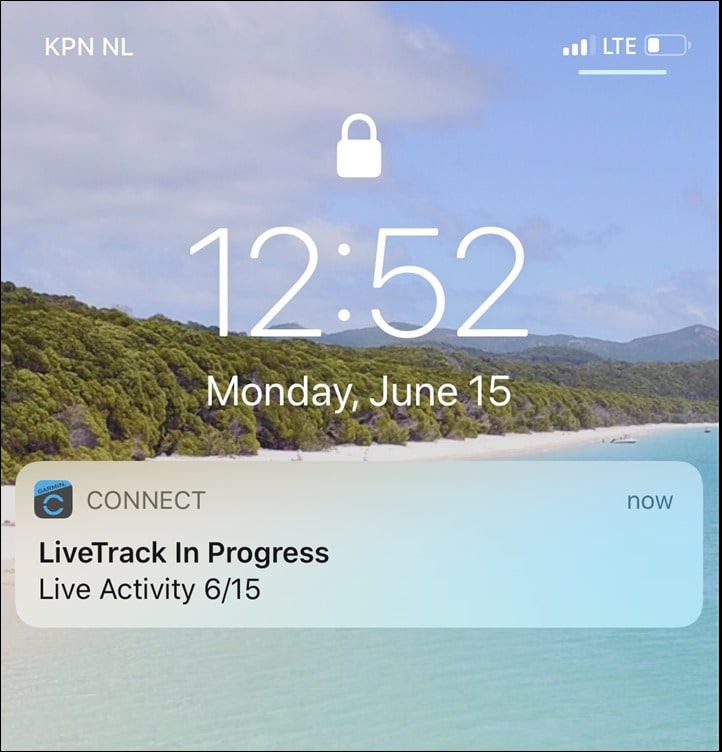 Meanwhile, your peeps get the following e-mail: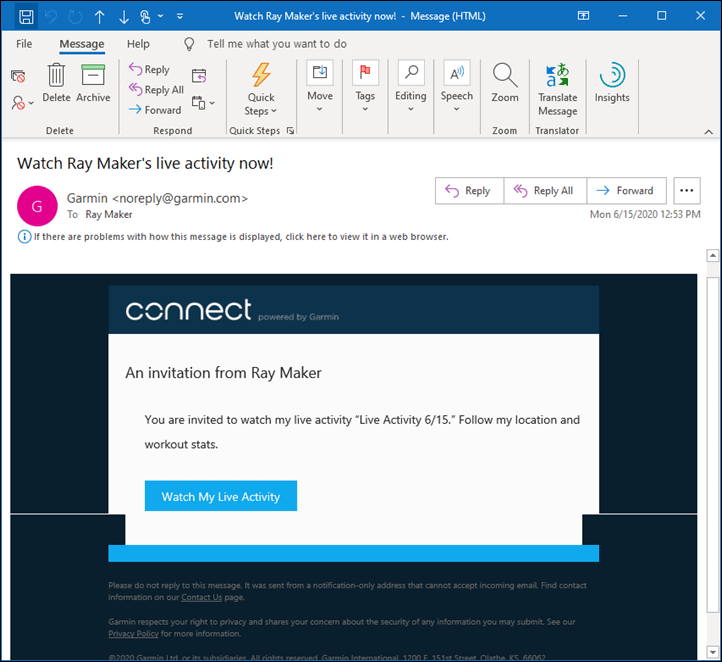 They can click on the link and that brings them here. In the below screenshot you can see I went specifically off-course (which is purple), where my blue line was off in the forest.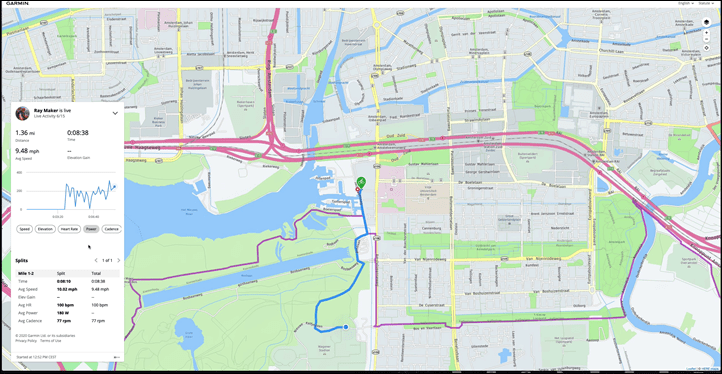 This page shows your current position, updated every 30 seconds, and then additional metrics on the side – including Speed, Elevation, Heart Rate, Power, and Cadence (if you have those sensors). They'll also see splits.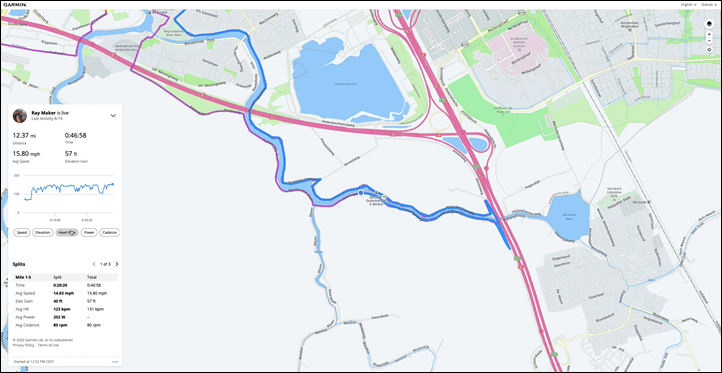 Now, my experience with the route showing bit has been good – that's worked. And again, it's cool to see the off-course pieces show up on the live tracking link: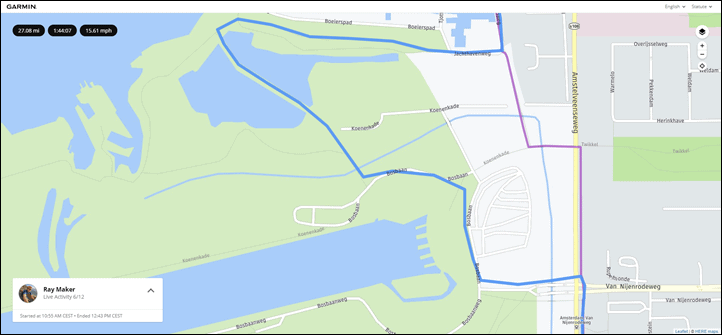 However, I've had numerous troubles with the actual underlying LiveTracking connection and my phone (it simply transmitting my position, and/or drops the connection to the Edge). Garmin has been extensively troubleshooting them with more logging than an astronaut. For whatever reason, over the years I've always had a really rough time with stability and Garmin LiveTrack. And up until today's ride, that theme had continued.
On today's ride though, using some updated software and a few other tweaks, I was able to get through the entire ride without a failure. I'll keep trying over the next month or so and report back on whether that trend continues.
Finally, for lack of anywhere else to stick it – note that the Edge 1030 Plus supports the Garmin external battery pack if you plan to go more than 24-48 hours. Sure, you can simply use a micro-USB cable and a USB battery pack just fine (really, it works just fine) to provide constant power. The only catch with that is if it rains. But if you're riding in sun – go forth!
Still, if you want a clean/integrated option, there's the external battery pack that locks into the bottom of the unit with a Garmin mount: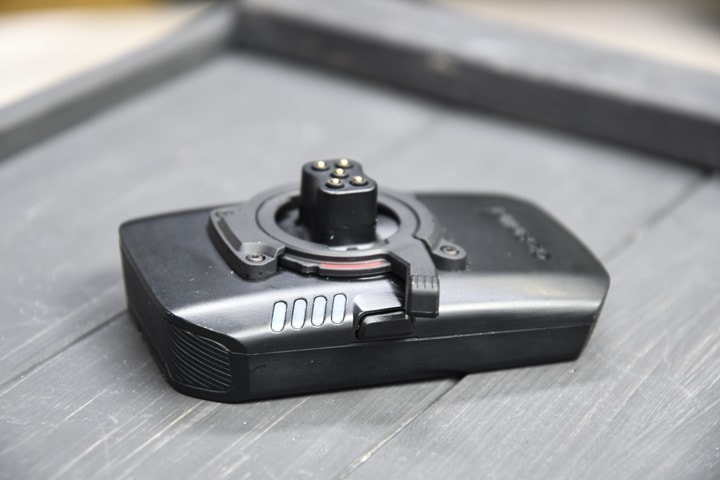 The battery pack itself charges via micro-USB, like most battery packs out there today.  It has a 3,300mAh capacity, so it's on the lower end of USB battery packs its size.  Though, it's also designed to be waterproof (IPX7, so up to 1m for up to 30 mins) and snap onto the front of a bike computer at speed.  Obviously, there are tradeoffs here compared to a simple USB lipstick charger.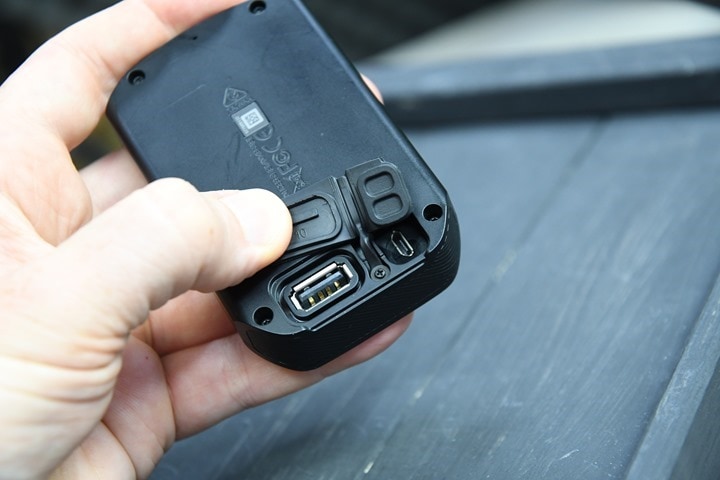 The unit has battery status indicators on the edge of it, allowing you to see current battery status.  Unfortunately there isn't anything clever like Apple's own iPhone case where it shows battery status of the battery within the Edge unit, though that'd be cool.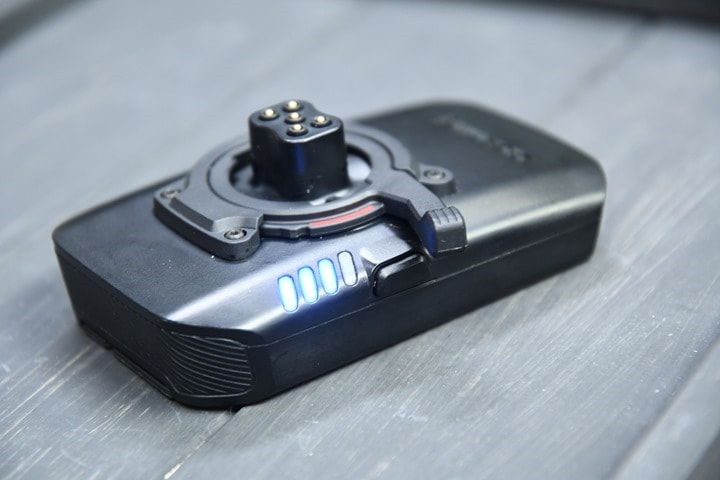 On the bottom of the unit, near the micro-USB charging port, you'll also find a regular USB charging port so you can charge your phone or other device.
As a pro tip, I take along this simple and cheap charging cable with me if I'm headed out for a long ride.  It allows me to charge my phone via it (has Micro-USB, USB-C, Apple Lightning, mini-USB connectors), and I can even plug the battery pack into a USB port at a café or such.  It's like my most favorite $8 cable ever.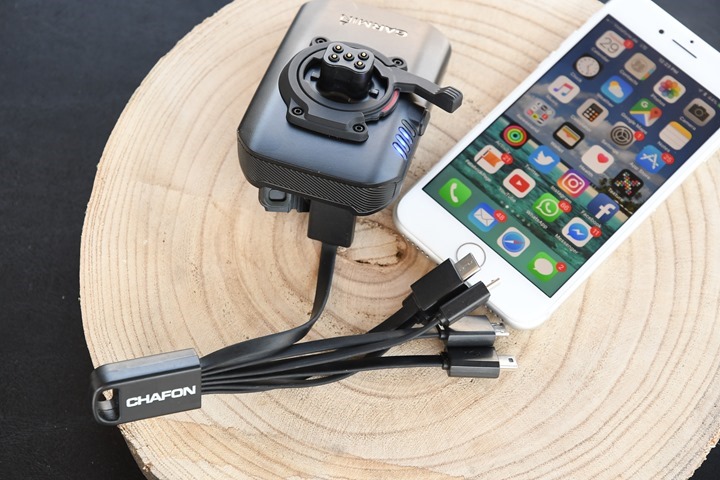 Finally, this whole thing locks in place using a locking system on the out-front mount that you swap out. Hell, they even have a TT-compatible mount these days for it, in case you wanted to do a 48hr time-trial bike ride:
The thing is pretty stable though, so I don't expect any issues.  Nor have I had any issues in terms of cobbles or the like. It's a rock-solid locking system, very similar to that of the Garmin UT-800 lights.
From a battery standpoint, the built-in battery on the Edge 1030 Plus has the following specs: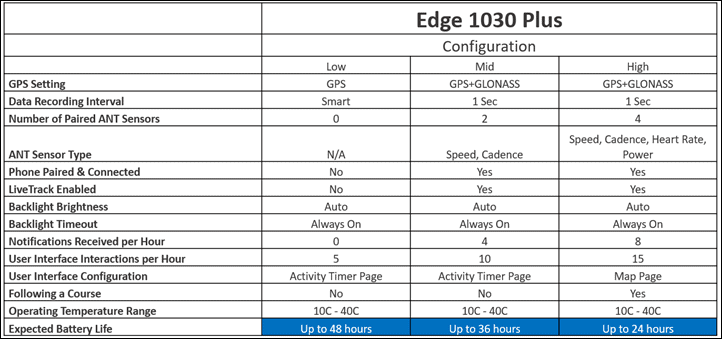 Note that Garmin says the number of vehicles that pass you can have an impact if using radar, as can the complexity of the course.
In looking at some of my rides, I'd roughly fall under the 'High' configuration (usually 3-4 sensors, with mapping), and taking a look at a random nearly 82-minute long ride (doing a structured workout atop mapping), I burned 6% of battery (from 94% to 87%). Also, in this case, the backlight was on HIGH (not auto), because I was also taking photos/video. As such, that'll burn more battery than anything. In any case, that gives me a 5.12%/hour battery burn rate, or essentially 19 hours worth. But again, the backlight set for 'HIGH' is really what brought it down.

So, for another ride, I set the backlight on auto (on a sunny day), again, with navigation and four sensors. Here's what that looked like – 3.16%/hour, or basically 31 hours worth.

Ultimately, battery fun aside, from a navigational standpoint the minor tweaks to the Edge 1030 Plus are appreciated. And from a functionality standpoint I didn't have any errors on the navigational front during my rides (LiveTrack is different however, as noted). But more broadly than navigation is the map inclusions/loading piece. That's huge if you travel a lot (as I do, well, did till this year anyway). That makes your life so much easier than dealing with loading 3rd party maps that don't have all the heatmap cycling-specific data you want them to.
Structured Training: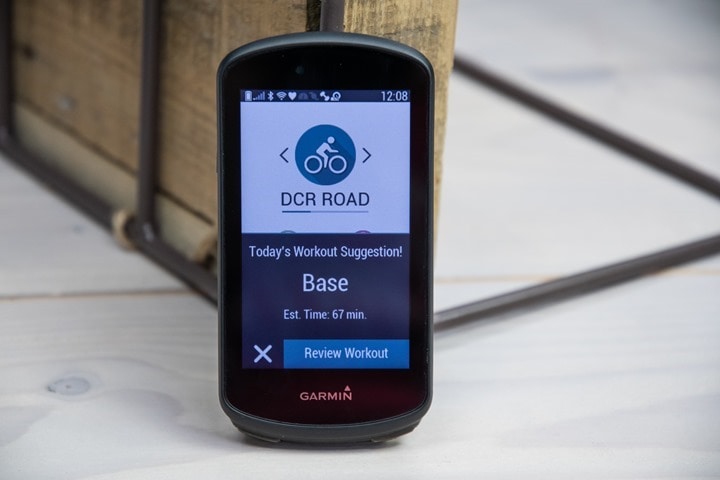 The Edge 1030 Plus takes a quiet, but important, step forward in terms of Garmin making training recommendations for any given day. In fact, it's the first Garmin unit to specifically recommend a workout/duration based on your day to day training load. This essentially follows what Polar did with the Polar Ignite a year ago, except, focused on cycling.
Anytime you power on the Edge 1030 Plus it'll quickly and quietly go and grab your latest training load data from Garmin Connect behind the scenes. It's doing this to ensure that if you did other workouts (like a run) on a Garmin product such as a Fenix or Forerunner watch, that it's aware of that training load. It doesn't want to give you a hard workout if you ran 20 miles yesterday. You'll see this at the top of the screen, where it says 'Downloading'. If you're at home, it'll do this via WiFi in most cases.
A few seconds later, once it's done, you'll get a workout of the day recommendation (officially called the 'Daily Suggested Workout'), that you see in the photo above. When you tap 'Review Workout', you'll get more details on it: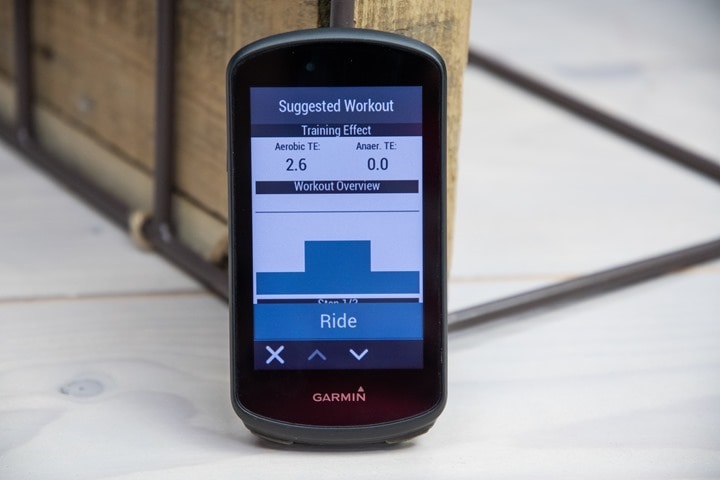 And then more details yet again n the specific steps, in this case a pretty…simplistic…workout: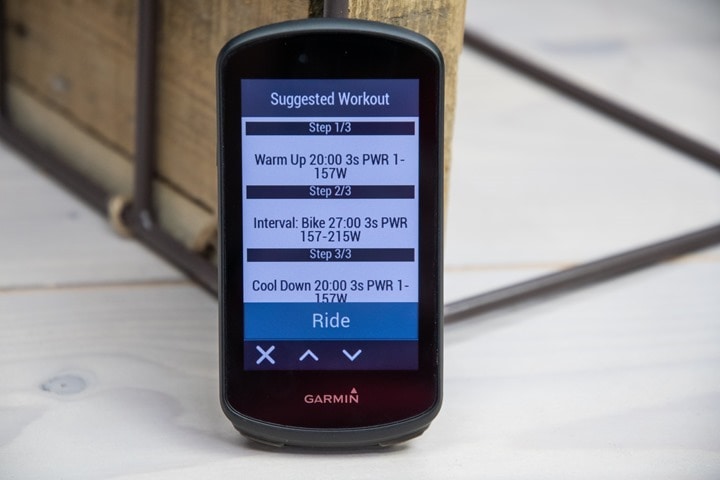 Now, if you're part of a specific training plan, such as one from TrainerRoad, then those will take precedence. However, as of today, it'll still give me a recommendation ignoring that plan. I'm told that'll change in the next firmware update very shortly to account for the known training plan. Also, it doesn't seem to be pulling down anything more than just today's TrainerRoad workout (it should at least also be pulling down tomorrow's).
The daily suggested workout engine leverages the Training Status, Training Load Balance, and daily tracked VO2 Max data. However, in order for it to work it needs both heart rate and power meter data. Otherwise it doesn't really know how much training load you're actually getting.
You'll see your training load after every ride, as well as in the dashboard menu under 'My Stats'. You'll first see this dashboard on your training status, which at the moment thinks I'm "unproductively" managing my training due to the higher load versus recovery. Normally I'd say 'FU Garmin', but honestly in this specific week it's right.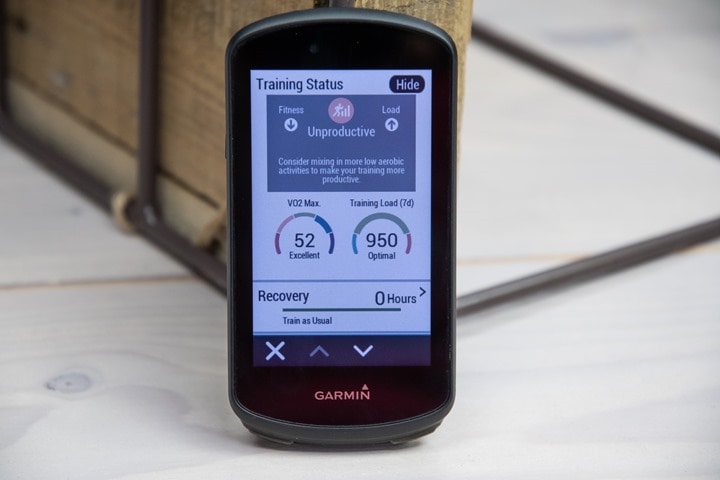 If you tap on that 'Unproductive' banner, you'll see your VO2Max stats, Training Load, and Load Focus. The Training Load page shows how much load you've had over the last 7 days, and the color-coding designates the load focus area. You can see yesterday (Sunday) I basically took the day off, with only a tiny little bit of easy pedaling with my kids. At the time I took this first photo, I hadn't done my Monday ride yet.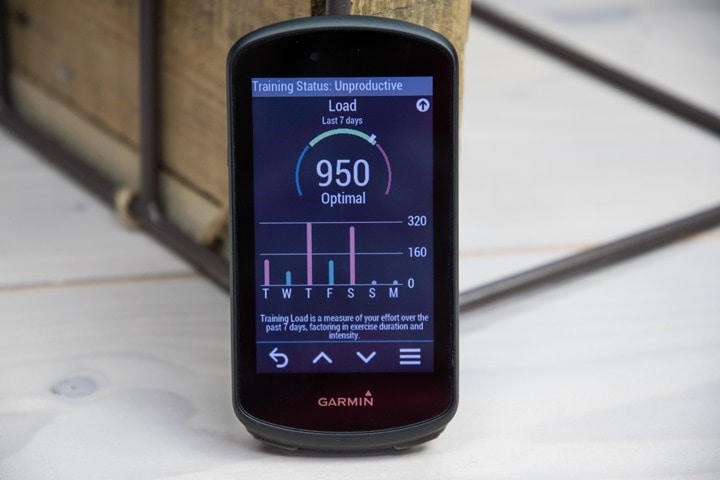 If I look at the Load Focus, you'll see it's overwhelmingly way too much 'High Aerobic'. Now, I'd generally disagree with Garmin/FirstBeat here on the distribution. I find in general it's far too conservative for me on high aerobic balance. Yes, this week is definitely out of whack, but it's almost unheard of for me to see the 'High Aerobic' in the right zone (the dotted lines).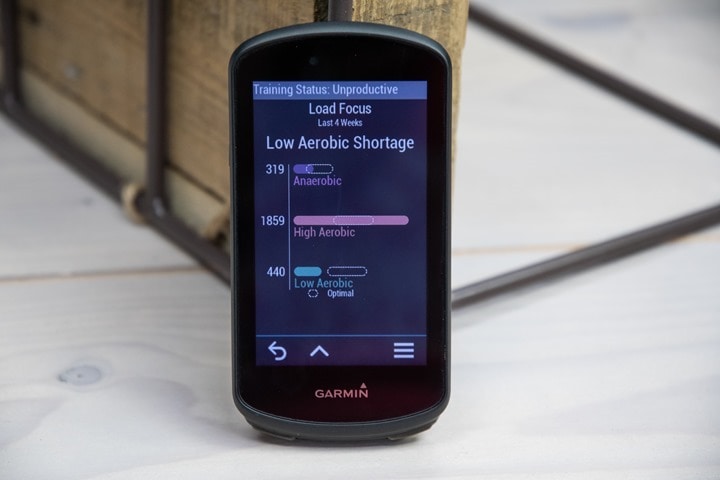 However, about an hour after taking the above photos, I went out for a 90-minute ride. Nothing too hard, just base mileage cruising around. That ride apparently gave me redemption. Somewhat ironic if you ask me.
Seems a bit peculiar that it's complaining about my load being too high one second, and then the next it's OK with it. Though there also may be an element of timing here in that if my previous Monday ride (a bit harder) was higher and then 'fell off' the exact 7-day rolling window, replaced by this less challenging ride.
And then there's your VO2 Max scores. This too requires a power meter. Keep in mind though that VO2 Max won't shift much, but it's also typically dependent on having hard VO2 Max workouts to trigger newer values.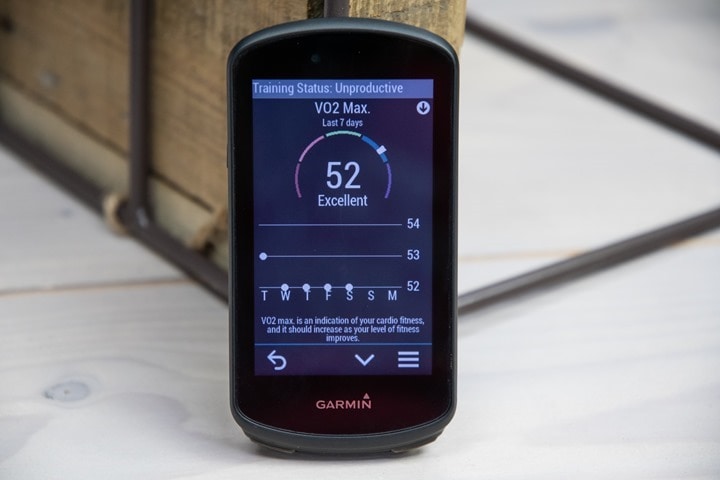 If I go back to the main 'Stats' dashboard after this ride you'll see my Recovery Hours remaining – 22 hours (about right), and then my current estimated FTP at 285w. Currently, my latest FTP test about three weeks ago with TrainerRoad put me at 299w, but I didn't use this device for that test. So it's had to make its calculations on other workouts. I suspect we'd see them very close after my next test.
You can dive into things like your power curve (Mean-Max power) over different time frames: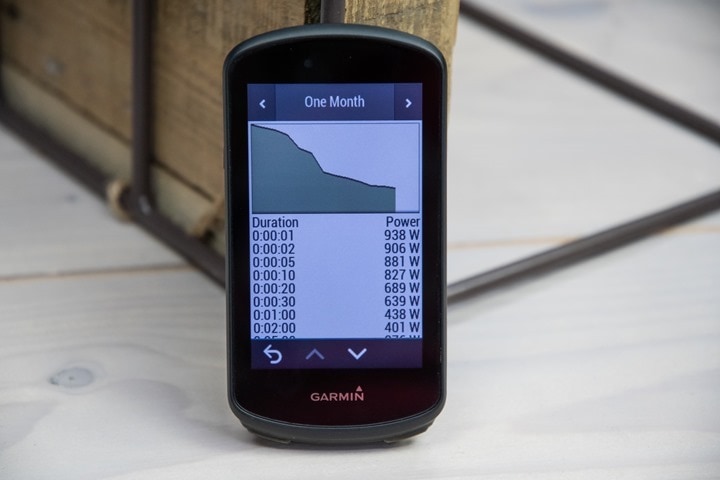 Or double-check your profile like age and weight. If you have a Garmin Index scale it'll automatically update the weight for you.
It's worth noting that you can connect your Zwift or TrainerRoad accounts to Garmin Connect and receive workouts into your Garmin account completed on Zwift/TrainerRoad. However, and this is a HUGE however, you WILL NOT get any training load credit on any of the above screens for those workouts. Nor on any other Garmin device. Frankly, this is stupid, frustrating, and infuriating. All it does is make you double-record things and then delete workouts. Why bother making an integration that just fires blanks?
Now, that said, if you do a TrainerRoad workout on your unit, then it'll compute it. However, you'll then lose out on all the descriptive text you'd get on the TrainerRoad app for inside workouts. I've got a separate post coming on that (probably), but we can touch on it briefly in terms of how structured workouts work on the Edge 1030 Plus. In fact, I've done a number of TrainerRoad Outside workouts on the Edge 1030 Plus in recent weeks, and those have worked well. And, since these work identically to other structured workouts you might create yourself or push from apps like TrainingPeaks, FinalSurge, or Today's Plan, then I can show them all in one boat.
To begin, the Edge will display/suggest a workout pushed to it that's on your calendar for that day. For example, this one: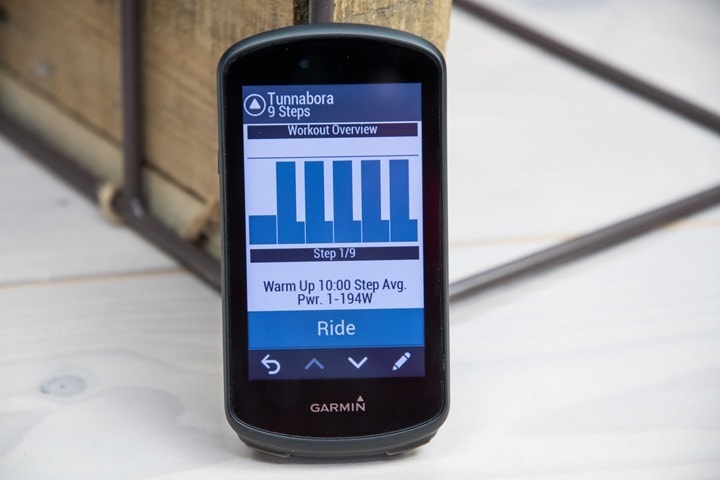 Upon selecting it (or any other in your training library), you'll see the exact steps listed out. Depending on how the workout is created, it'll either automatically advance through each step, or some steps might wait for you. For example, on most of my TrainerRoad outside workouts it'll actually wait for you to press the 'lap' button before advancing from a rest segment to a work interval – in case you're contending with traffic lights or such.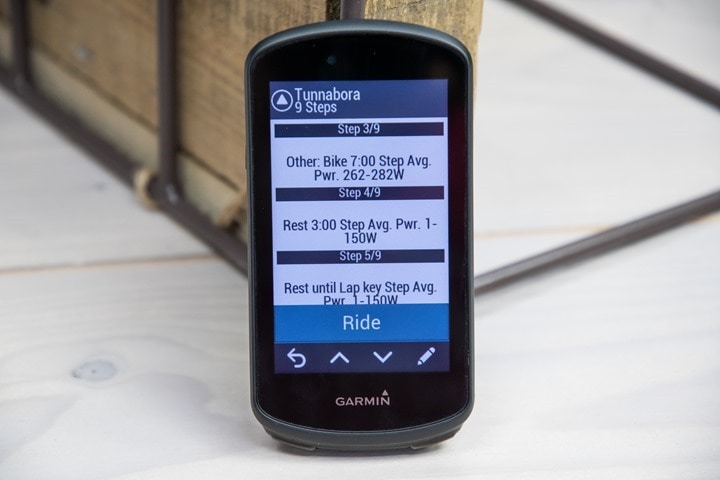 Once you've begun your workout it'll show you steps as they approach, and then list the current step targets. You can customize these fields however you'd want: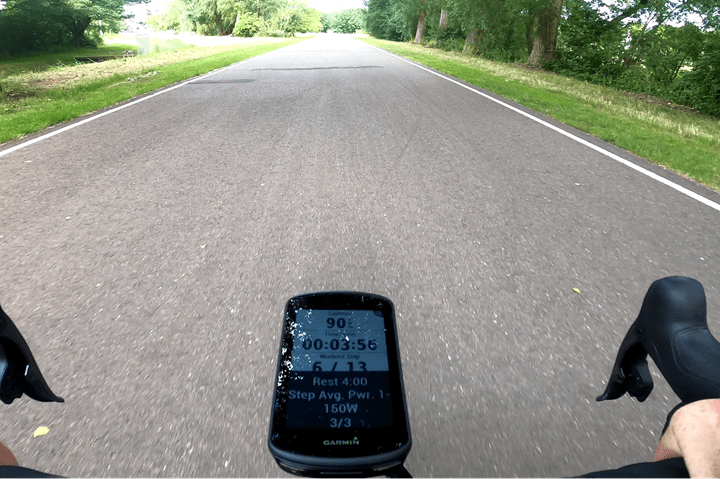 Rinse and repeat until the end of your workout. The most challenging part of doing a structured workout with specific power zones outside won't be the technology, it'll likely be your ability to pace power with rolling terrain to exacting targets. TrainerRoad actually has some good suggestions on how to set up your data fields to best tackle these workouts at the bottom of this page, and their suggestions apply no matter whether you're using TrainerRoad or some other platform.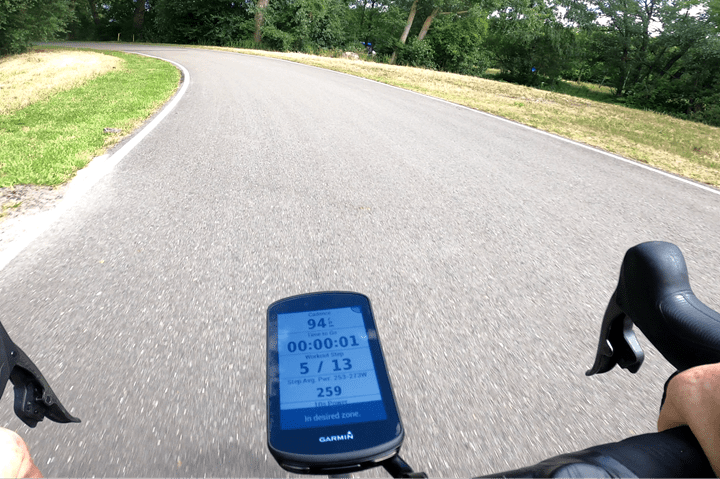 When it comes to structured workout execution, Garmin's main competitors on the cycling-specific side here are Stages and Wahoo, with Hammerhead also adding in structured workouts recently to their Karoo. Again, I'll dive into the nuances of those later on. It's really a game of details and tiny differences between them all.
However, none of them have training load or similar concepts (at all). My (major) annoyances with lack of Zwift or TrainerRoad app load counting in the Garmin realm aside, there's simply nothing on the market that has the depth and integration that Garmin does when it comes to cycling and training load tracking. Now, that doesn't mean Garmin's features (largely driven via Firstbeat's algorithms) are always right. Nor that you'll even use them.
But, if you want them – and if you don't want to pay another company/platform/coach for them, then they're there for the taking.
GPS Accuracy: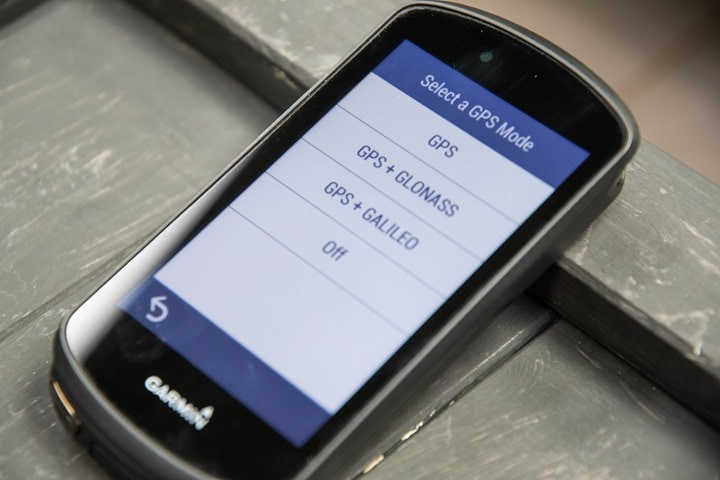 There's likely no topic that stirs as much discussion and passion as GPS accuracy.  A watch could fall apart and give you dire electrical shocks while doing so, but if it shows you on the wrong side of the road?  Oh hell no, bring on the fury of the internet!
GPS accuracy can be looked at in a number of different ways, but I prefer to look at it using a number of devices in real-world scenarios across a vast number of activities.  I use 2-6 other devices at once, trying to get a clear picture of how a given set of devices handles conditions on a certain day.  Conditions include everything from tree/building cover to weather.
Over the years I've continued to tweak my GPS testing methodology.  For example, I try to not place two units next to each other on my wrists, as that can impact signal. In the case of GPS bike computers, I put multiple units on my handlebars, though quite well separated (such as one on an out-front mount, another on the stem, and others to the side of the handlebars).
Next, as noted, I use just my daily training routes.  Using a single route over and over again isn't really indicative of real-world conditions, it's just indicative of one route.  The workouts you see here are just my normal daily rides/workout. At least as much as is possible in this COVID-19 world without being able to travel far, I've varied my workouts and terrain (cities/buildings, trees, quiet roads, bridges, etc…). But, given I live in a pretty flat place (Amsterdam), it means there's very little high-altitude mountain type testing right now. Maybe later this summer. Sorry!
(Now, I'll give you a spoiler since you made it thus far: By and large it's pretty rare to see GPS screw-ups on road-cycling routes. And frankly, that continues here. This section is super boring because nothing 'exciting' happened.)
First up for a test ride is just from yesterday on a very diverse route where I was basically trying to break navigation. In this case there were some forested sections, lots of tree-lined sections, some farm roads, and some buildings/underpasses here and there. It's comparing the Edge 1030 Plus, Edge 130 Plus, Wahoo ROAM, and a Fenix 6 Pro on my wrist. Here's those data files: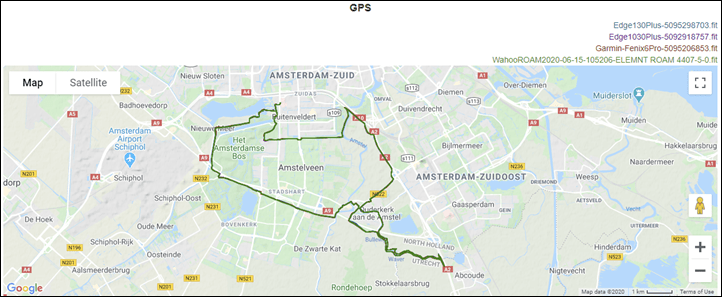 While my path looks drunk, I mostly wasn't. I was just following canals/rivers and see how many wrong turns I could make before I really upset the navigation of the unit. Turns out, I couldn't. On the GPS-side though, we'll start off with the beginning forested area, and you can see all the units are super close: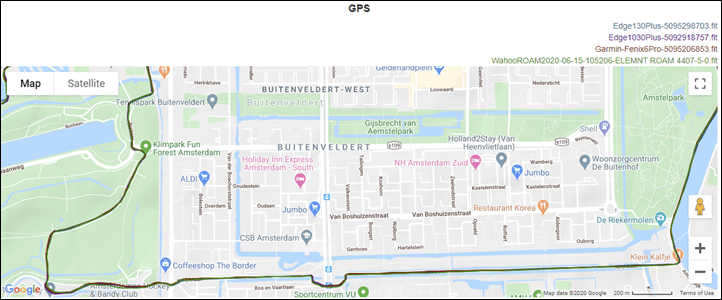 It continues this way, so close together that you can barely tell there's multiple lines there. Even on the swerving sections along the river, no divergence: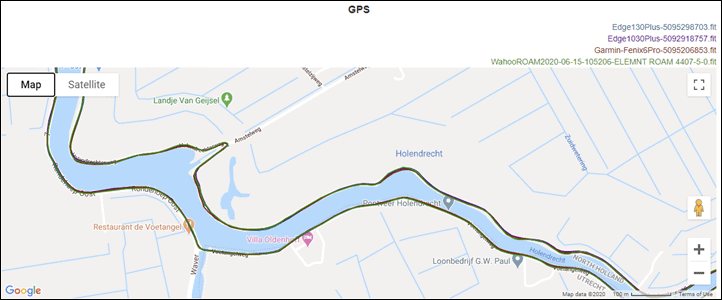 Interestingly however, a bit later I did see some divergence, specifically from the Edge 130 Plus. It went askew for about 300 meters long, slightly offset perhaps 30 meters or so. You can see the Wahoo ROAM barely snuck its head out as well. So whatever was going on with that section of tree-lined roadway, seemed to impact both – though not the others.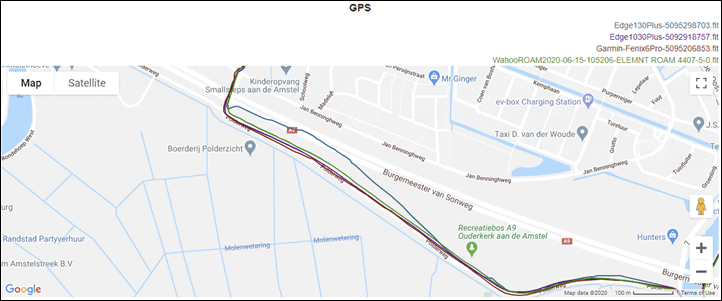 Later on as I pass some tall apartment buildings for a block or two there's a slight bit more divergence from the different units, but we're talking a handful of meters. When the tracks look so perfect on the rest of the ride, even the tiniest bit difference is noticed: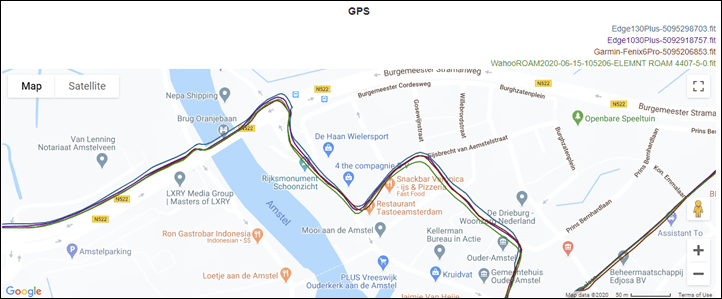 Later on in the ride we see a bit more of that slight divergence from the Edge 130 Plus, but the 1030 Plus and others remain near lock-step. The Wahoo ROAM did cut some corners though as you can see: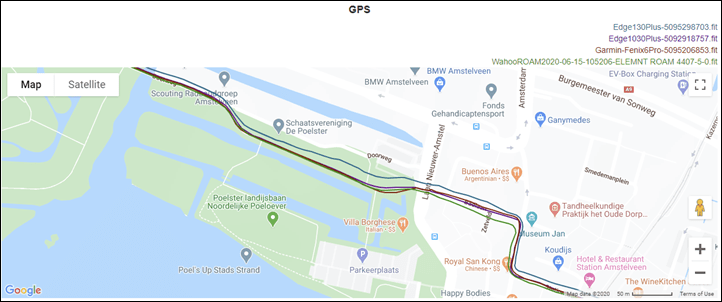 Here's another example of a ROAM cut corner. Well, I guess this is technically an overshoot followed by an undershoot. It's Mario Karting.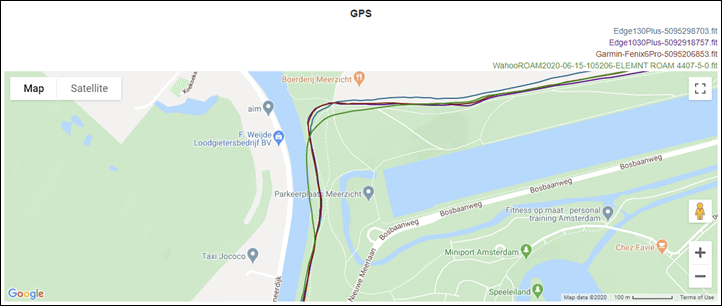 OK, let's move along to another one, this time making it a bit more complex. Sure, the overall geographic spread is smaller here, but it's because I'm doing repeated laps over and over and over at a local cycling track/loop. As such, that'll make things much more difficult to see if it can maintain lap after lap on the exact same track. Here's that data set: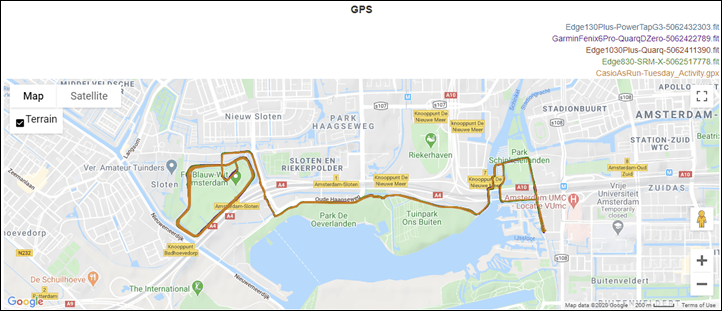 To begin, I start-out going under a gigantic 6 or 60 lane highway/train tunnel thing. Like, all the lanes. Either way, there's no issues here from anyone here. There's technically a gap half-way through those lanes where the units can see the sky. So we see a little blip there, but nothing more than a couple meters worth.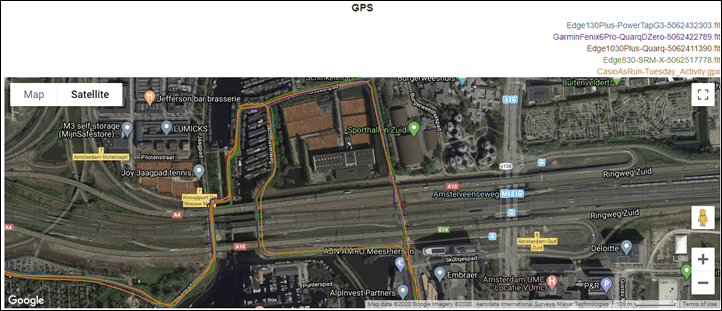 Next, cruising through/along a forest to get to the track. Everything is spot-on here too: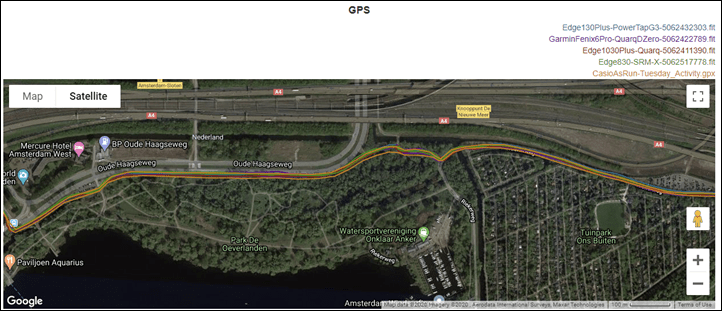 So, let's get right to the good stuff: The Track.
I'm going to split it in two pieces, the upper half and the lower half. Now, looking at the upper half it's a bit hard to tell what's going on, because the Casio unit is a bit wobbly.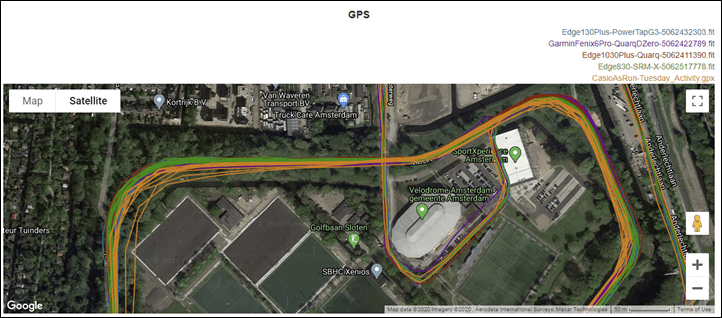 So, let's get rid of that. Here we go: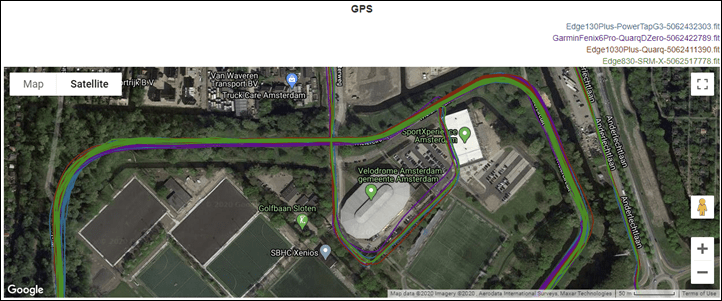 Now you can see all the units are very close to each other. What's interesting though is each unit tends to have a slight preference in certain parts of the track where it might meander in/out towards a given section. For example, on the upper straight-away the Fenix 6 Pro seems to favor the southern side. Whereas the Edge 830 favors the northern side. Meanwhile, on that upper left corner turn, the Edge 130 Plus seems to favor the inside while the Edge 1030 Plus seems to hang out more middle of the road.
Here's the mid of the track:

And here's the lower half of the track: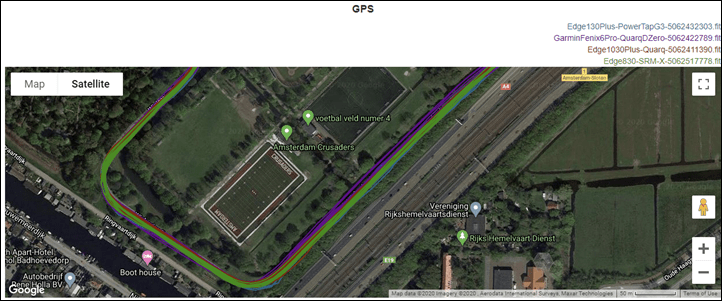 Realistically, any of these GPS tracks are fine. I'd say there's a bit more variability overall from the wrist-based Fenix 6, but for the GPS bike computers they're all virtually identical, and when the Strava Live Segments were triggering on each loop, they were doing so almost all in concert.
So, overall that ride looks pretty good.
Let's take a look at one last ride, this time a big ol' loop starting in the city, and then heading out to the countryside, before looping back to reality again Here's that data set: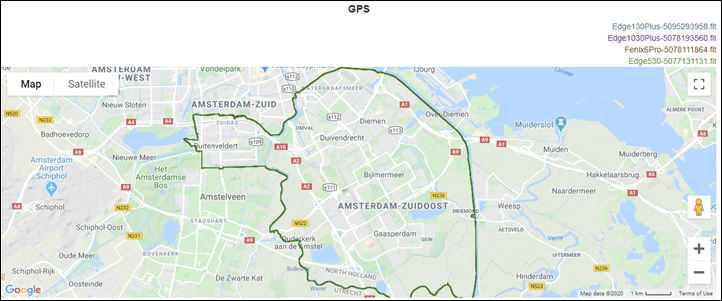 For this route I decided to make things as difficult as I could, at least initially. So, I went down a street next to plenty of tall buildings. So far, pretty good. Not perfect, but about norm for GPS next to tall buildings: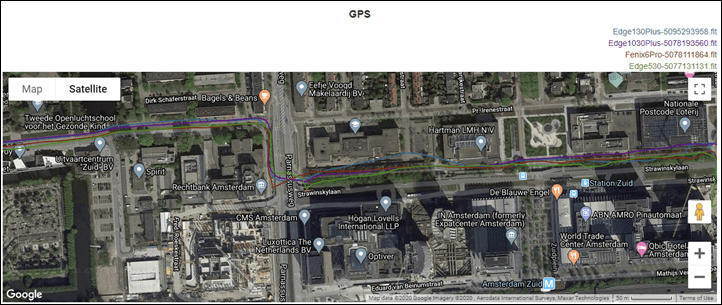 And then, by pure dumb luck I made a right turn off-course instead of a left turn. This meant I went through a bicycle underpass that curves (kinda like a 'J') rather than just going over the street. Turns out, none of the GPS units were happy with that: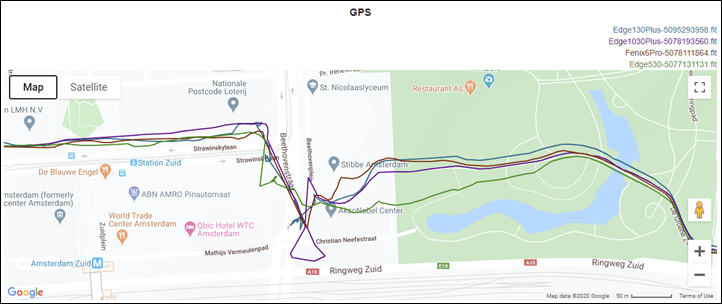 Everybody crapped the bed here. Now to be fair, there's four massive tall buildings, including one I then go through after coming out of the tunnel. I could see why all the units were displeased at this juncture.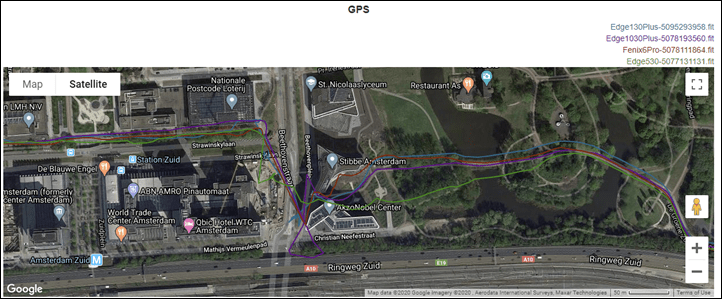 That said, within just a few meters of getting out of the buildings, all but the Edge 530 returned to the bike path immediately (a couple of seconds). The Edge 530 took a few hundred more meters before it trusted my navigational skills again. I can understand the hesitancy there.
At this point, things basically get boring again from a GPS standpoint: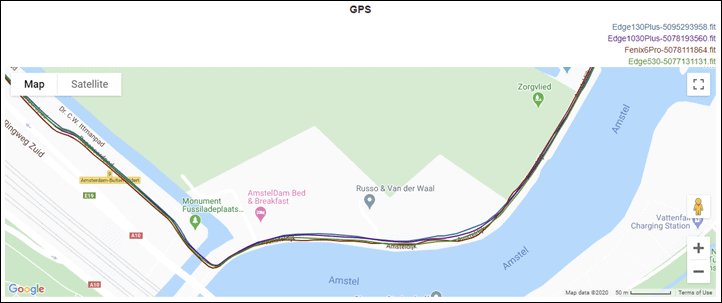 A handful of minor quibbles here and there when passing under bridges, but nothing of significance: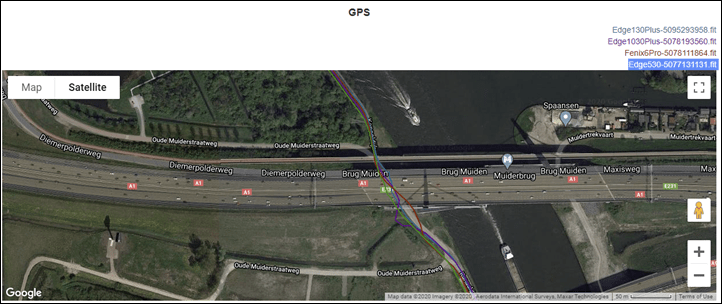 For the most part, all the units were stuck on each other. Sometimes, like below when I passed under high tension wires, you see slight differences, but nothing much.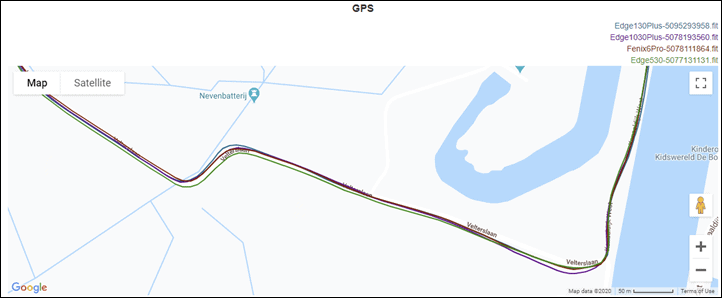 Mostly, it's just boring and looks like this: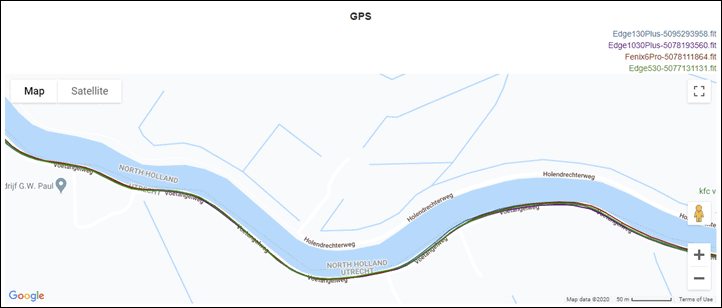 And that's the overall gist of things with GPS on both the new Edge 1030 Plus and Edge 130 Plus: Boringly accurate.
For all these tests I used GPS+GLONASS, and all of them were mounted on the handlebars or an out-front mount depending on the day (or sometimes my top-tube near the stem). I didn't see any difference in GPS accuracy between those different positions.
As I stated earlier, it's super rare to have meaningful GPS accuracy issues for road cycling. You tend to get a bit more mountain-biking in the actual mountains (which I lack). I took my road bike off-road here on trails, and didn't see any issues there. In fact, it's how I did the recent Strava Local Legends post, using the Edge 1030 Plus on my handlebars as I completed 26 laps of that Strava Segment. Zero issues, and super dependable on each lap of it.
(Note: All of the charts in these accuracy portions were created using the DCR Analyzer tool.  It allows you to compare power meters/trainers, heart rate, cadence, speed/pace, GPS tracks and plenty more. You can use it as well for your own gadget comparisons, more details here.)
Summary: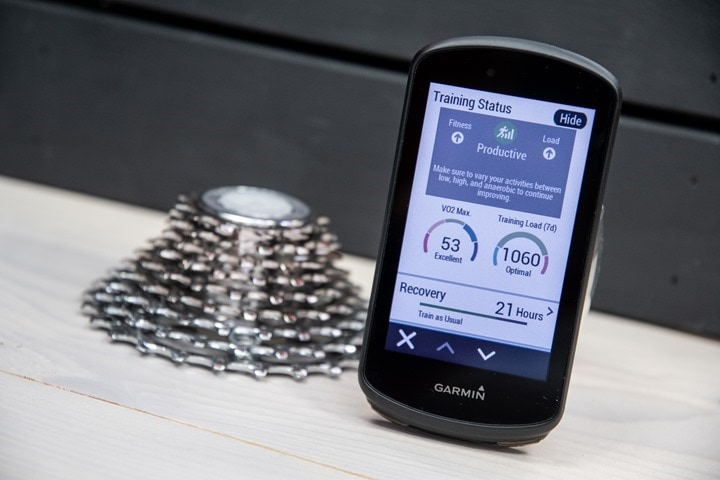 At the end of the day, the Edge 1030 Plus is essentially the bike computer you buy when someone asks 'What's the best GPS bike computer no matter the cost?'. There's very few people out there that would argue that line of thinking. There's no bike computer out there that approaches anything near the number of features the Edge 1030 Plus has. Not even close. And more importantly, whether you're talking the original Edge 1030 or new Edge 1030 Plus – it just works, really well for the most part.
However, the question you probably need to ask yourself is: Do I need all these features? And, are they executed the best out there?
And the answer to that is more complex. A variant of 'It depends'.
When it comes to things like mapping or navigation, I'm pretty sure most would agree Garmin wins that depth easily. However, when it comes to ease of use or setup, most people would argue Wahoo is simpler. Though Garmin is clearly making strides here, as we see with the new setup process – yet it still lacks phone data field/page configuration. And for Garmin it's a tough balance of giving people the hundreds of features they've had on their past Edge units for the last 13 years (seriously), versus going with a far more reduced feature set that you'd find on competitor units. I can't tell you (or them) what that balance is, or whether or not you'd even use those added features.
Whether it be a Garmin Edge series or a Wahoo ELEMENT ROAM, both will happily download those Strava or Komoot routes, pair to your sensors, show your standard data, and get you to your destination pretty much the same. It's the added features which differentiate the Edge 1030 series, such as all the on-device routing features, the heatmap-driven data for when you go freestyling, or the extensive training load/focus type functionality. None of that exists elsewhere.
As for comparing it to the Edge 530 or Edge 830? Frankly, it's mostly screen-size driven (and the free added maps now). If you boil it all down, for the most part the Edge 1030 Plus is giving you a bigger screen with global maps. And some minor other features. I've used the Edge 530 & Edge 830 as my daily-driver bike computers for over a year now. I'm perfectly happy with them. Will I use the Edge 1030 Plus going forward? Maybe? I don't know. My answer is usually driven by whatever unit is actually charged up and closest to my handlebars when I head out the door.
But if it ends up being the Edge 1030 Plus – I'm pretty happy with what I've seen in my testing thus far with it.

Found This Post Useful? Support The Site!
Hopefully you found this review useful. At the end of the day, I'm an athlete just like you looking for the most detail possible on a new purchase – so my review is written from the standpoint of how I used the device. The reviews generally take a lot of hours to put together, so it's a fair bit of work (and labor of love). As you probably noticed by looking below, I also take time to answer all the questions posted in the comments – and there's quite a bit of detail in there as well.
If you're shopping for the Garmin Edge 1030 Plus or any other accessory items, please consider using the affiliate links below! As an Amazon Associate I earn from qualifying purchases. It doesn't cost you anything extra, but your purchases help support this website a lot. Even more, if you use Backcountry.com or Competitive Cyclist with coupon code DCRAINMAKER, first time users save 15% on applicable products!
Here's a few other variants or sibling products that are worth considering:
And finally, here's a handy list of accessories that work well with this unit (and some that I showed in the review). Given the unit pairs with ANT+ & Bluetooth Smart sensors, you can use just about anything though.
And of course – you can always sign-up to be a DCR Supporter! That gets you an ad-free DCR, access to the DCR Quarantine Corner video series packed with behind the scenes tidbits...and it also makes you awesome. And being awesome is what it's all about!
Thanks for reading! And as always, feel free to post comments or questions in the comments section below, I'll be happy to try and answer them as quickly as possible. And lastly, if you felt this review was useful – I always appreciate feedback in the comments below. Thanks!