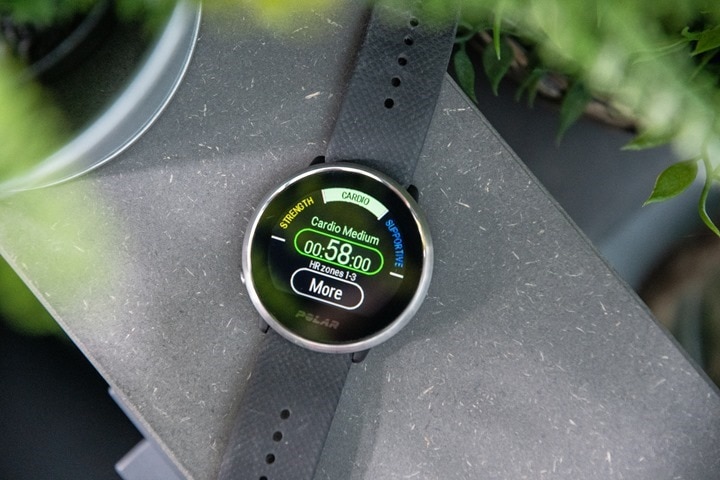 Back in June Polar announced their Ignite GPS watch. This new watch undercut the higher end Vantage M on price, but yet at the same time also added a slew of features that the Vantage series doesn't yet have (most of them are coming in November to the Vantage M/V). While the Vantage series was aimed at more hardcore athletes, the Ignite watch aimed to straddle the soft squishy middle.
No, not like your belly after forgetting to workout – but rather the mid-range price point of approximately $200-$250, and to do so with not just GPS included, but a slew of training and recovery type metrics aimed at actually making you faster/stronger/whatever, by giving you dynamically created workouts and targets based on what you were doing day by day. It's actually more impressive once you start to dig into it, and is frankly something nobody else is doing quite this well (or even half-assed).
The watch has been on my wrist now for two months and I've got plenty of workouts and daily use on it. The good, bad, and ugly – we'll cover it all. While the watch is impressive from a training metrics standpoint, it also falls short in areas like accuracy and just general usability. I'll dive into all those things and you can decide if it's worth the trade-off, or whether it fits the bill on pricing – and areas I think they've missed the mark on.
Finally, note that Polar sent over a few Ignite units to test, which are media loaners. Once I'm done with them I'll get them boxed up and sent back to Finland. Just the way I roll. If you found this review helpfull, hit up the links at the end to help support the site. With that – let's get cookin'.
The Quick Overview: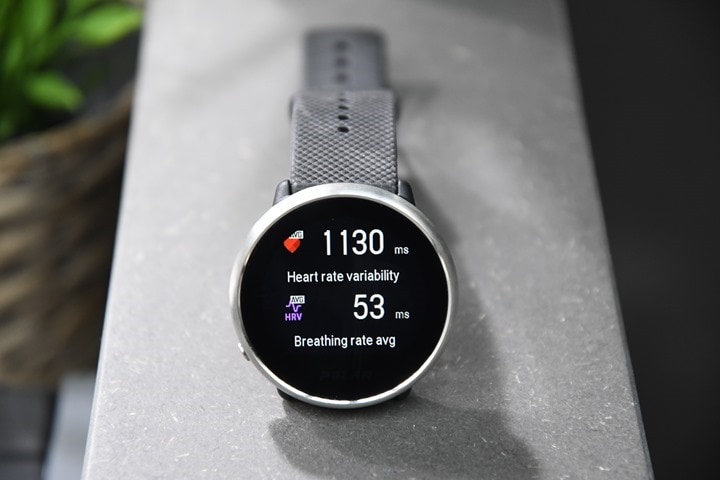 Don't have time to read a few thousand words and a hundred photos? No worries, I've got you covered. The Ignite is aimed to compete primarily against something like the Garmin Forerunner 45 or Vivoactive 3, but it's also up against the Fitbit Versa and Ionic, and even the Apple Watch Series 3 (often found for $199). Also in that range is the Samsung Galaxy Active Watch. This slate of competitors is strong, and the pricing even more so, especially with most of them often on sale for ~$199-$229 (or less).
Polar has priced the unit for $229 in the US, and 199EUR in Europe. For both base prices you'll get a harder rubber band. Whereas in Europe if you spend 229EUR they offer a much nicer silicone band.
On the hardware side of things, here's the quick rundown of specs:
– Color touchscreen display, single side button
– Display is not always-on (only turns on when raising wrist, like Apple Watch or most Fitbits), workout mode does have always-on option though
– Has Sony GPS chipset, like Polar Vantage series
– Polar Precision Prime optical heart rate sensor on back (same as Vantage series)
– Strap in two models, a harder rubber (base model), and a silicone strap ($30 more)
– Bluetooth Smart HR sensor support (though not power meters/cycling/footpod sensors)
– Waterproofed to 30 meters
– Swappable wristbands
– No music/storage on watch, nor NFC/contactless payments
– Claimed daily battery time of 5 days, GPS battery time of 17 hours
Most of what you see above is fairly standard. Actually, all of it is. Nothing earth-shattering there. The only 'downside' is that it's not an always-on display. So unlike the vast majority of Polar watches (except the older Android WearOS based M600), this display turns off after a few seconds. And unfortunately, it's pretty slow to turn back on too (about 3 seconds from wrist raise while running, 2 seconds sitting at a desk). But more on that down below.
What's most interesting is what's new in the Ignite. These are features that aren't really seen on any other Polar watch at all (not even the Vantage series).
– Added 'Nightly Recharge' feature that looks at breathing rate/heart rate/heart rate variability (ANS data) to figure out if you're recovering at night
– Added 'Sleep Plus Stages' which adds in REM/Light/Deep sleep
– Added a nightly sleep score
– Added 'FitSpark' feature which gives you daily workout options based specifically on history + Nightly Recharge (this is huge)
– Added 'Serene', which are guided breathing exercises (like what Fitbit and others have)
Those 4-5 features are totally new to Polar, and also the ones I'll be diving into down below in more depth since you won't have seen them before. But more importantly, I think some of them are doing far more of what I've been asking for, for years. I've long said there's such a gap between what happens at night (sleeping, not the horizontal shuffle) and training guidance. You could have a horrific sleep night, and then the device turns around and says to go do a 2hr long run.
Whereas that's somewhat the entire point of 'FitSpark' relying on the Nightly Recharge feature. And in my experience, it's pretty solid at figuring out whether a night was 'good' or not from a recharge standpoint. I'd argue more so than Garmin's FirstBeat based metrics have been. I got somewhat sick a few weeks back and the Ignite did a really good job of constantly classifying my sleep recharge as horrific (it used slightly nicer language, but only just barely).
But more than what's new is all the usual Polar goodness that's still there. Polar didn't simply take a Vantage M watch and rip out everything from it. In fact, the vast majority of things are still present in the less expensive Ignite:
– Has structured workout support (download workouts from Polar Flow to watch)
– Tracks general activity metrics (e.g. steps, distance, calories, etc) 24×7
– Tracks heart rate 24×7
– Tracks sleep (see new sleep features though)
– Includes VO2Max score (aka 'Running Index')
– Includes 'Fitness Test' feature (VO2Max test while lying down)
– Includes *both* pool swim mode and openwater swim tracking
– Does *NOT* have multisport (aka triathlon) mode
– Includes timers (countdown timers & stopwatch)
– Includes 'Training Benefit' metric
– Includes distance
– Maximum of 20 sport profiles on the watch itself (far more than Apple, Garmin, Fitbit, or Suunto allow at this price point), some 100 sports on platform to add to watch
– Can apply both heart rate zones and speed zones (no power zones/nor power meter support)
– Accelerometer-based speed/distance when no GPS is available (or inside on treadmill)
Phew, got all that? Good. Now with this overview of the features and the watch itself, let's turn towards using it. We'll start with the daily usage bits – including all those new sleep metrics, and then we'll shift towards sports and training.
Day to Day Basics: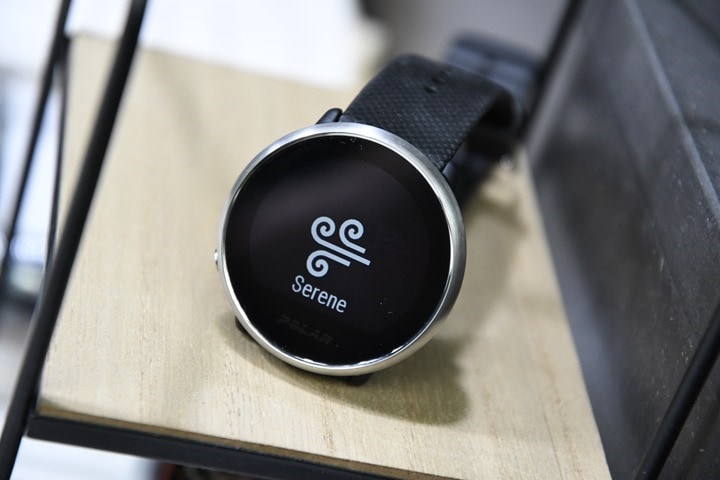 The first – and probably most important – thing to know about the Polar Ignite is the display and touch screen. The unit only has a single button on the left side, whereas all other interactions are completed through touches and swipes on the display: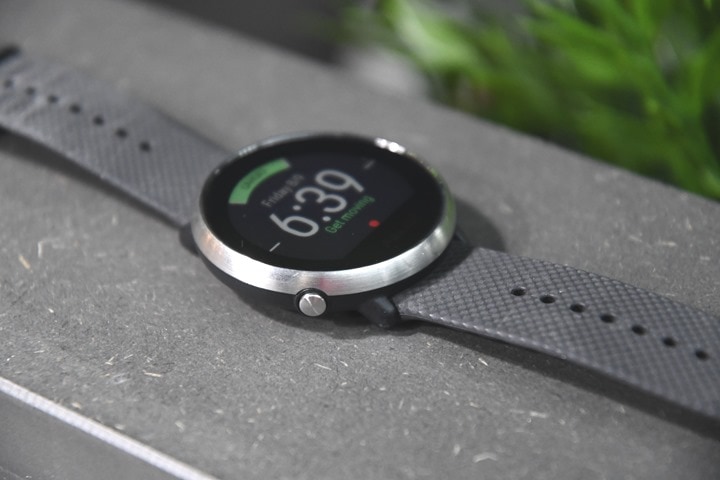 The display stays off unless you touch the button or raise your wrist. This is similar to the Apple Watch and most Fitbit watches. Companies do this to conserve battery when using brighter displays. And indeed, the display on the Ignite is brighter and has more contrast than that of their Vantage series watches: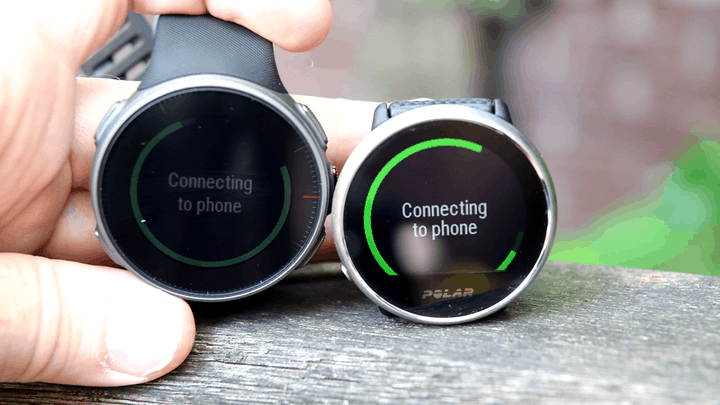 The downside though is that it's not always on. So you have to use 'raise to wake', which means to raise your wrist up for the screen to turn on. And frankly, it sucks. Even workout mode only has an always-on backlight, but that doesn't mean the screen is always on, just the backlight.
I figured it might improve with firmware updates from when it first launched, but two months in, and the raise to wake often takes 3+ seconds, and usually requires me to put my arm in weird positions to get it to actually wake up. Yet other times at night while in bed it'll trigger itself on and lighthouse the entire room with its bright backlight. Without question, the comparatively poor raise to wake algorithm of the Ignite (in contrast to Apple or even Fitbit) is the biggest downside for me. Note that in theory you can set the bright backlight to not come on at night, but it doesn't seem to be taking for me.
As for the touchscreen, I'd put it in the 'meh' category. It's fine for casual use, but I'm glad I don't have to interact with it a ton. Simple things like swiping between sport modes often requires repeated attempts. On the bright side, the button works every time as I'd expect. You mostly use the button for 'back' commands.
Speaking of the back, the unit has Polar's Precision Prime optical HR sensor on the back, the same one as the Vantage series.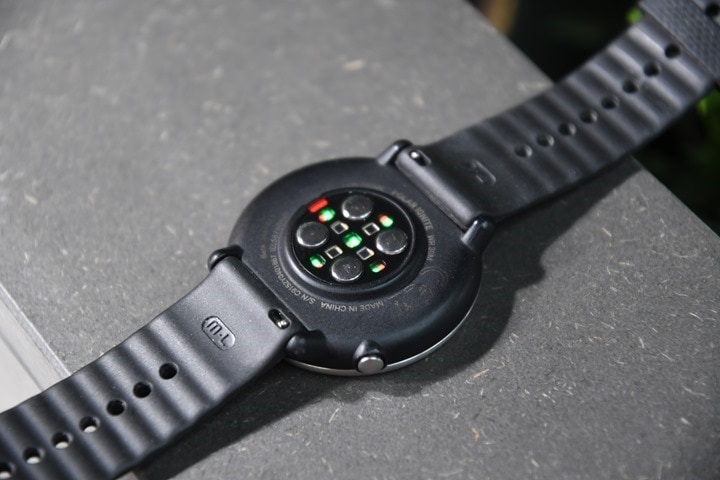 Further, by looking at the back you'll see how the wrist straps are detachable. You can buy other ones from Polar, or go out and buy any standard 20mm straps.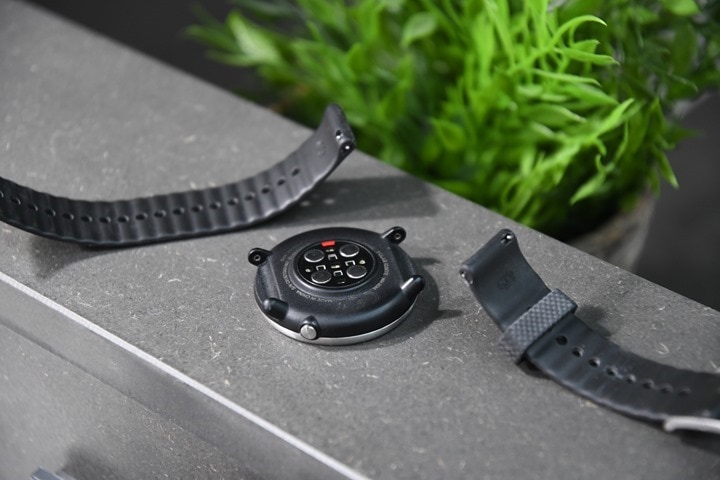 Back on the front, we'll start with the main dashboard. This shows the time/date, and then at the bottom your time since last training.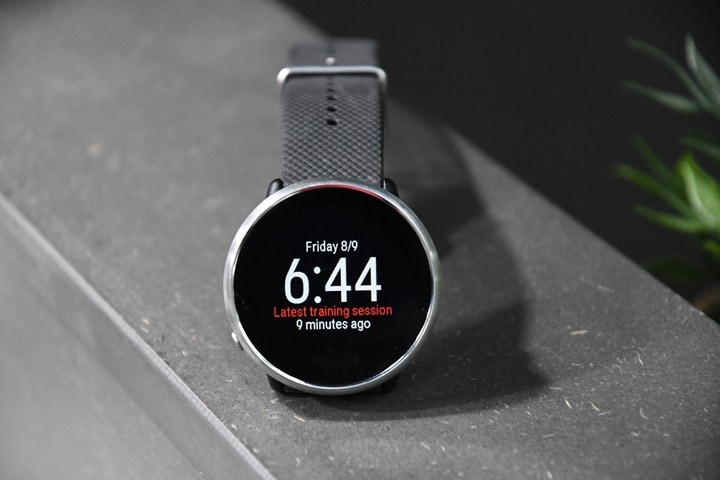 If there's a small red dot at the bottom it indicates I've got smartphone notifications to check out. Here's how they look. Super simple/basic, but does the trick.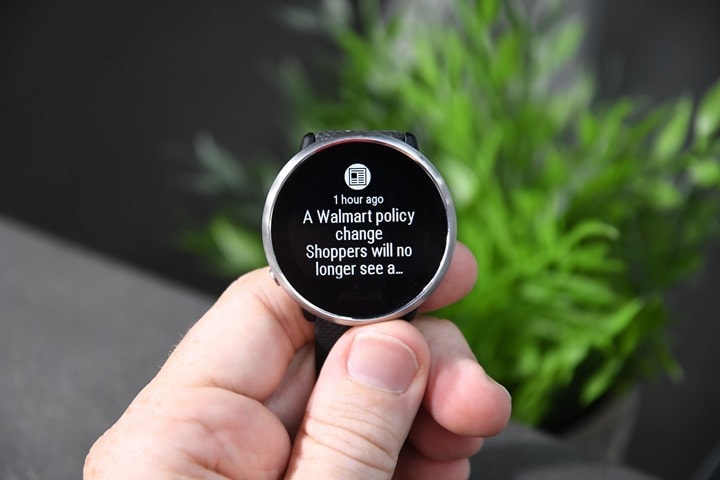 Now technically speaking, your default dashboard might actually be a different page. For example, I can swipe to the right to see my Nightly Recharge sleep stats (random side note, as I did this for this photo, the unit actually just crashed and restarted – the first time in two months):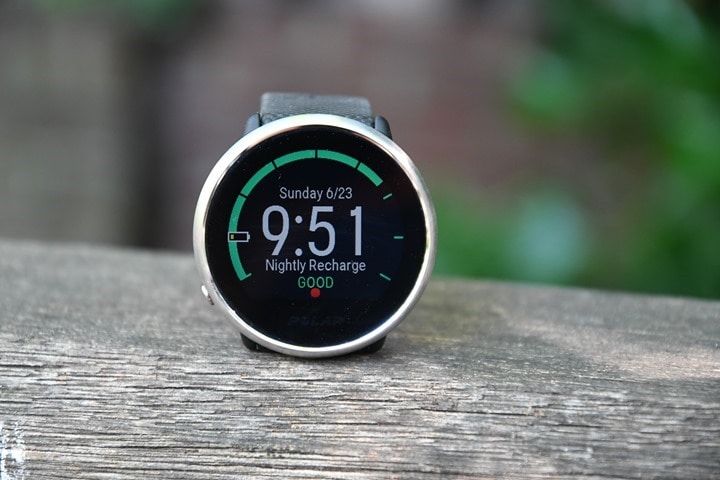 These sleep stats do depend on interaction with the Polar Flow app (only seen there). Also somewhat important is that you don't run low on battery during the night. Last night I went to bed with low battery, but figured it was fine. While the watch was still alive when I woke up (down to 3% battery), it appears to turn off some of the advanced features to save battery for basic activity tracking. Fair enough and actually kinda logical, just an FYI though as you won't get nightly recharge tracking if you fall below the critical battery level.
If you swipe again you'll get the training recommendations page. This is kinda like a coach that gives you a variety of options for today's workout. It'll first suggest a category – such as Cardio, Strength, or Supportive. That's shown in the upper portion of the screen: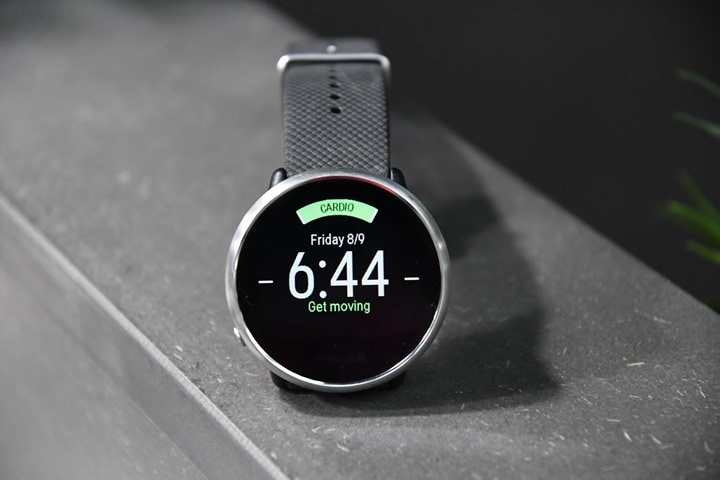 Then once you tap into it, it'll give you not only an exact duration, but actually multiple workouts with very specific details. But more on that later.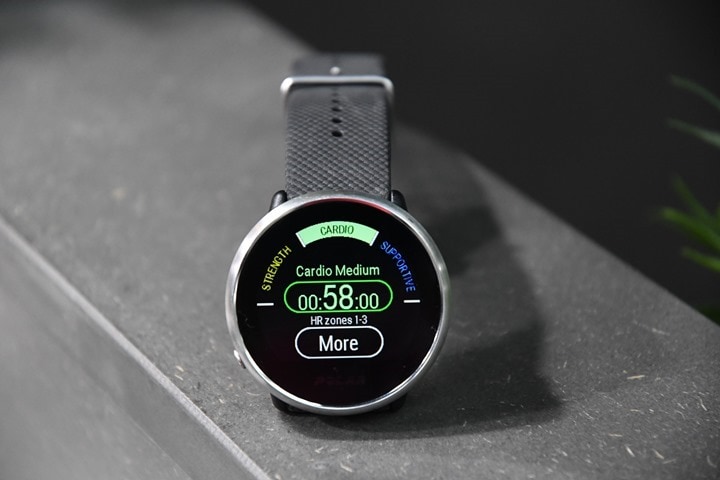 Swiping through the display we've got the regular activity tracker page, counting things like steps, active time, and calories:
Swipe again and you get your current heart rate (HR) and related stats. This uses the optical HR sensor on the back of the unit to measure HR 24×7:
With that, we've swiped through all the basics of the screens (aside from starting a workout), so let's dive into that 24×7 HR bits a bit more. The 24×7 HR data is sent to Polar Flow (desktop or smartphone app), and then you can see your HR trended over the course of the day, including periods where you did a workout:
You can also look at plots of this over time. The blue line you see is your lowest HR during sleep, while the lower black line/dots is the lowest HR during the day, and the higher black line is your highest HR during the day:
In fact, those same charts above are also showing you your daily activity % over goal. Meaning that 348% is over your daily step goal. You can look at individual days by scrolling down on the daily activity feed:
Next within the app is the sleep bits. Part of that is shown above at the bottom of the screen (up above) where it shows the duration for how much you slept. The remainder though comes under the app tab titled 'Nightly Recharge'. This is where you get all the ANS Charge and Sleep Charge details as well. In fact, there's an astounding amount of information once you click on either of the two tiles (ANS Charge or Sleep Charge):
Of particular note is the breathing rate, which is new to the Polar Ignite (and Polar lineup). This uses some of the previously untapped elements of the Polar Precision Prime sensor. You can see breathing rate on a per night basis:
Now I'll note that I don't have any medically comparable data here. So this rate could be totally bogus. Perhaps I'll get lost on Amazon and buy something I probably don't really need to compare these metrics. Until then, you'll just have to make do with a metric that might be accurate, but also might not be accurate.
What I can say however is that for the most part it gets a lot of things right in terms of how I felt. Let's take the below range of days. I got kinda-sorta-fairly-sick. So much so that I wasn't really sleeping. Perhaps 15-30 minutes at a time at best. But the rest of the time I was withering on the floor in pain. And oddly enough, the watch mostly gets that right. Check out the interruptions listed. Also, check out the nightly recharge status of 'Compromised', and even the ANS charge of "Much below usual" still later in the week:
That night it said 'Compromised?' – I'd end up in the hospital shortly after the sun came up (interestingly, I can't find any documentation to understanding exactly what 'Compromised' means precisely). On the flip-side, it still then recommend an odd combination of 'Get more sleep' along with 'Today is a good day for some exercise'. Trust me, as one who could barely walk 50 meters – it was not a good day for some exercise.  [Story end-note: I'm perfectly fine now, though after a ton of tests they have no idea what it was.]
All of this, by the way, is mirrored on the watch itself as you go day by day. Note that it does take three days of sleep before you start seeing scores. And in the event you miss a night of sleep (because your watch battery died), then you'll have to wait for that clock to reset again.
I think Polar's onto something here – even if it's not quite perfect (yet). I'd like to see them surface these recommendations up more visually on the watch itself, rather than just the app.
As a note, when it comes to syncing the watch to the app, in theory it's supposed to happen automagically in the background. In practice – it seems rather…intermittent. Most of the time I have to manually sync the watch by long-holding the button down which then initiates a connection to my phone.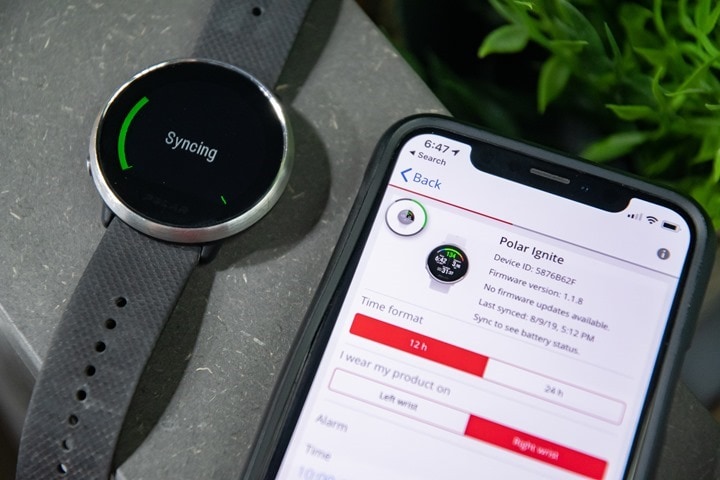 Interestingly, this is somewhat the same problem I had back during my Vantage series testing. Sometimes (and for sometimes days at a time), it'd sync just fine, but then other times it just wouldn't ever background sync. I can't establish a pattern there, though I can say numerous other readers reported the same.  You can however also sync via the USB cable to a Mac/PC, which works just fine as well.
I've mostly focused on the smartphone app, but Polar also has the entire Polar Flow website, where you can do a bunch of analytics into your workouts, daily activity/sleep, as well as tweak settings around sport profiles and device connections (such as syncing to Strava):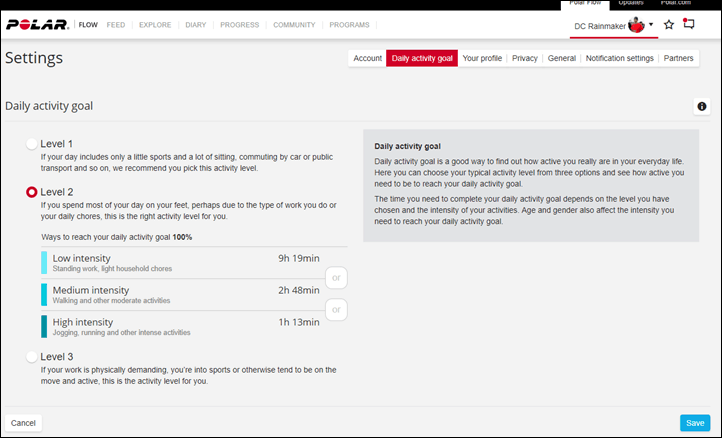 And back on the app you can also tweak items like turning on or off smartphone notifications, as well as do-not-disturb time periods, and alarms. More or less all the basics you'd expect.
Last but not least, there's Serene. Best I can tell, it's got no integration with anything else. And for the most part it's not much different than what Apple or Fitbit or others do. It simply guides you through breathing exercises. The default is to do 3 minutes of breathing, inhaling and exhaling each in 5-second phases. Rinse, repeat (I show this in the video as well).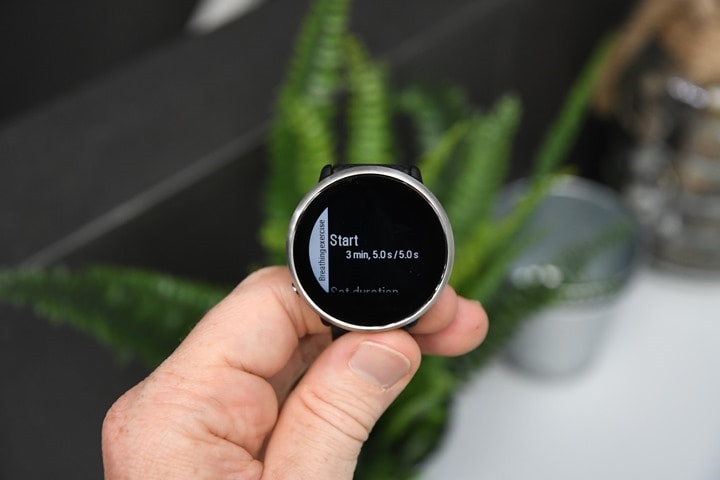 After it's done, it divides things up into different special zone buckets with very jewelry store sounding names:
Unlike some of their competitors, I haven't seen any proactive recommendations from the watch telling me to do the breathing exercises. For now, you have to remember to dig into the menus and do them yourself.
Sport & Training Specifics: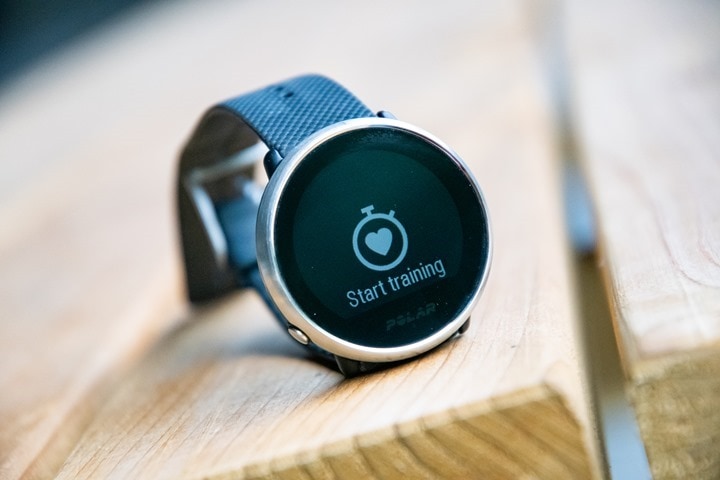 With the non-sport basics out of the way, let's switch over to using it for sports, which is likely what you bought this watch for in the first place. Because honestly, if you're not into sport or fitness there are better watches on the market for you.
The Ignite comes with the same massive slate of sport profiles that the rest of Polar's watches do. However while it does support up to 20 sport profiles loaded at once, some sport profiles aren't compatible. Most specifically: Triathlon mode.  The point of these modes is to not only provide a bit of a starter template for certain data fields (which you can customize), but also to ensure calorie burn is correct for each activity. Additionally, they set the GPS on status to the correct state. For example, turning it off for treadmill running, but having it enabled for openwater swimming.
When you tap into a given sport profile on the app it'll show you up top if it's compatible with that watch. In my case I have multiple Polar watches linked in my account, so that's why I have so many dots up top.
Below that is where you can customize data pages and data fields. You'll also see the toggles for dedicated data pages like time of day and heart rate pages. Of course you can create your own data pages with up to four metrics each. You can arrange these however you see fit:
Note that the Polar Ignite does not support either running power or cycling power, nor does it have an altimeter, so it doesn't have elevation related metrics on it.
All activities on the Polar Ignite are recorded at the 1-second rate, there isn't any method to tweak that here to prolong battery life or such (for better or worse). However, Polar does seem to get pretty strong battery life (or at least claimed so) compared to its competitors in this price range. That said, I'm not sure I'd get the claimed 17 hours of GPS-on time. I am pretty consistently getting a solid 5 days of battery life with about 45-55 minutes of GPS time each day, or a longer weekend ride or run in there. But I haven't done a full GPS 'till death do us part' test. However, some of you DCR readers have done some much longer activities and it seems folks are on track for like 10-12 hours GPS-on time.
In any event, switching over to the sensor side of the house – you've got the optical HR sensor on the back of the unit. But if you want to pair it with a chest strap instead, you can do that via the sensors menu.  No cycling sensor support here though. Also, this is only for Bluetooth Smart sensors – no ANT+ sensors supported at this point (though, Polar did semi-recently start adding ANT+ support to their Polar OH1 and H10 units).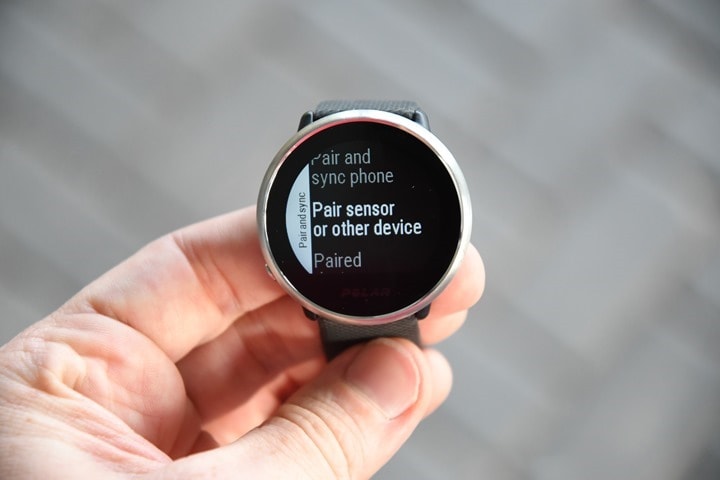 Also note that the Ignite doesn't support legacy analog chest straps, which in turn means that you can't get heart rate from a chest strap while underwater. Though you can get it from your wrist. So…win some, lose some.
In any event, to start your workout you'll either press the button once, or, swipe a few times and then tap the 'Start Training' option: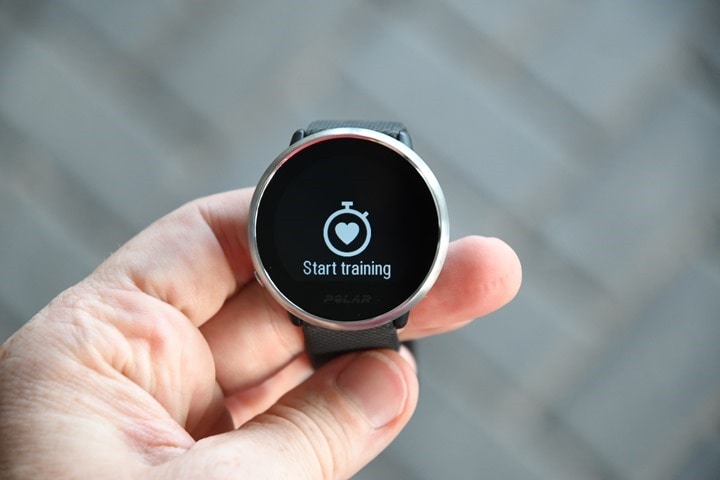 Once that's done you'll swipe-de-swipe a bunch till you find the sport you'll be suffering through today. This is the area where the touchscreen shines the least. I find it doesn't swipe well and I'm often swiping repeatedly to get past a given sport. Further, it doesn't appear that Polar is doing any sorting logic here in terms of the sports displayed. Yes, it'll default to your last used sport, but beyond that it doesn't order them by what you used before then. Instead, it'll use them based on the order sorted on the Polar Flow app.  With so many sports (20) loaded on there, it'd be handy if it kept your three most frequently used ones near.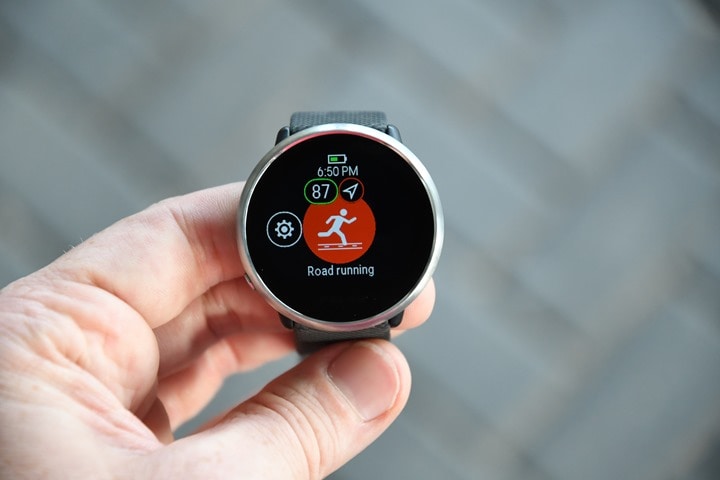 Once you've selected the sport though it'll show a circle around your heart rate (green means ready, red means locking still), and the location icon (green means ready, red means wait). For pool swims it'll show the pool size to tweak if you want to. And remember, the watch even supports openwater swims (but not triathlon mode).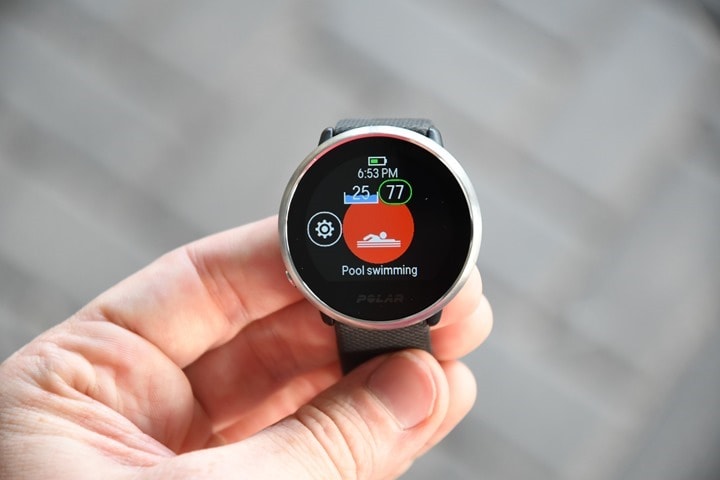 And, you can also pull up favorite structured workouts, as well as an on-unit interval workout option: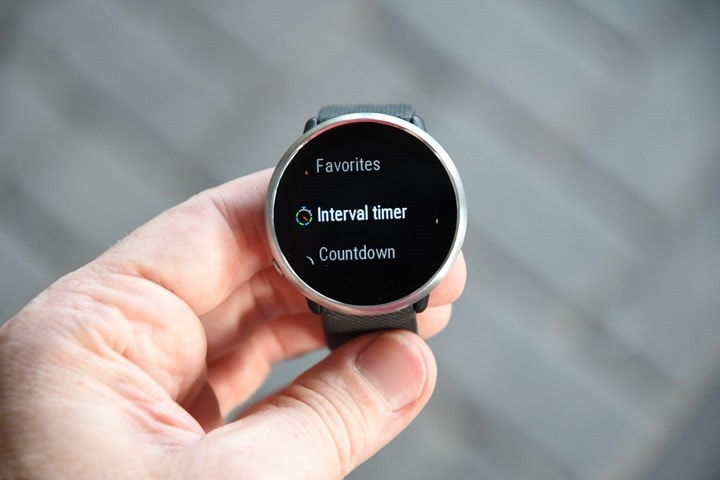 Assuming you've been wearing the watch already, the HR acquisition has always been instant for me. In my experience with GPS on the Ignite, it finds GPS almost immediately every time. At present Polar is only doing GPS+GLONASS, and not doing any form of GALILEO satellite connectivity. Perhaps down the road.  With all that set, off to start your workout you go. The watch will display stats from the workout in real-time as you expect, once you tap in the center of the screen to start.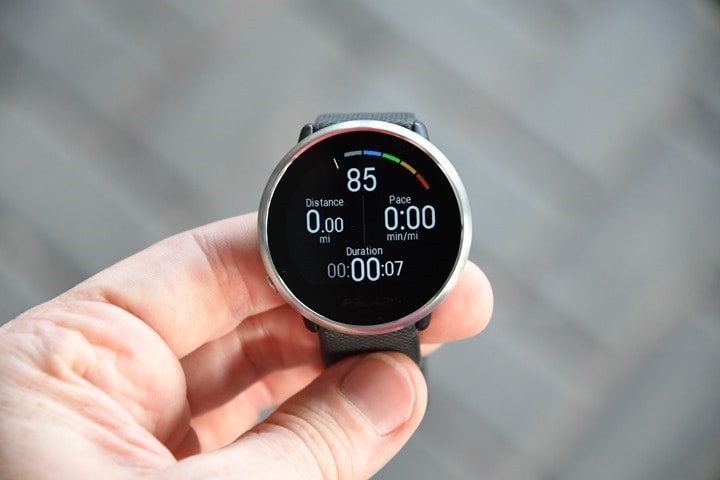 One item of note is that while there is automatic lap (configured as either distance or duration), there is no manual lap option. Again, no manual lap option. This is one that many runners would likely lament, especially if doing any sort of intervals that you didn't program into the watch. I don't really understand the logic here. And it's something that others have stumbled on in the past as well (I remember Garmin skipping this on some low-mid range watches initially and then adding it back in after users rightly got angry).
We're going to dive into the actual GPS & HR accuracy in the following sections. But note that by and large the watch worked for me just fine for outdoor workouts, though as noted the screen being always off and waiting for it to turn on is super annoying, especially when running. Once you're done, you'll get the summary information on the watch.
In addition, upon syncing to your smartphone you'll get the same summary with a bunch more details there too. Typically if just syncing a single workout it'll complete it in under a minute or so. You can long-hold the button down to get it to sync manually:
All of this is then automatically synced to any partner websites that you've set up – such as Strava, TrainingPeaks, and so-on: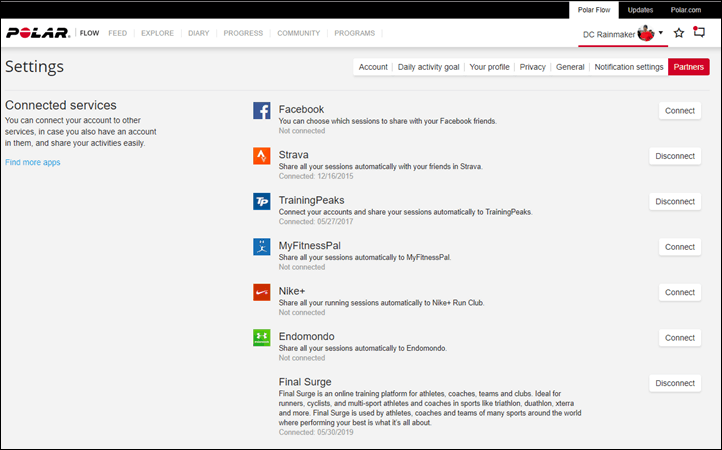 But let's actually circle all the way back to the earlier dashboard bits around something called 'FitSpark'.  FitSpark is basically a virtual coach that has no overarching fitness/seasonal goal in mind, except to give you a workout of the day. But the biggest and most important take away is that it looks at your nightly recharge scores and underlying sleep data to determine whether or not you should be doing anything at all.
That's a super critical gap that's been missing. Most automated training guidance coaches/platforms don't do that. And by 'most', I mean, 'none do'. You could have a newborn at home and be days deep of horrific sleep, and they'll tell you to go out and run a 2hr long run. Whereas Polar will look at that sleep data and give you a go/no-go type guidance, and then depending on what your greater training data looks like, will also give you specific workouts to do.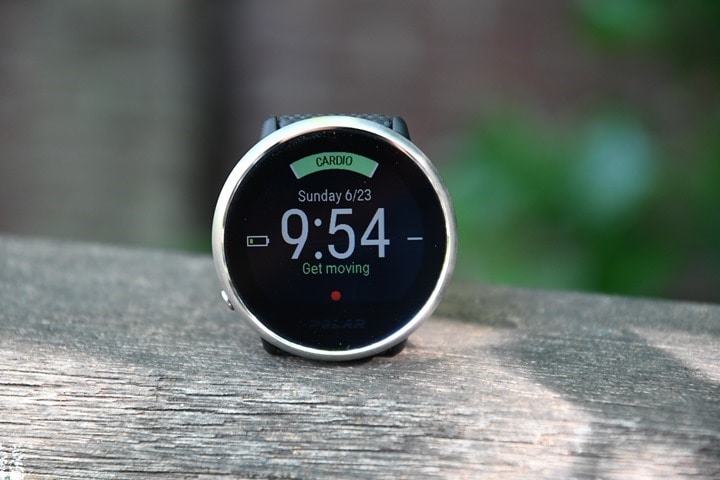 Remember, this isn't tied to a plan. Meaning, you're not tied to some 5KM running plan. This is basically saying 'Hi there, I know a scary amount about you, here's four options for workouts today. Pick one.'
Oh, right, yes, it gives you options. Numerous options. Pick your poison:
And then for each of those options it'll give you the specific steps and guidance in the watch itself. There are cardio-focused running workouts with different intensities. And then there are core type workouts too, and for those, it'll give you the specific moves to do, along with animations and text for each one: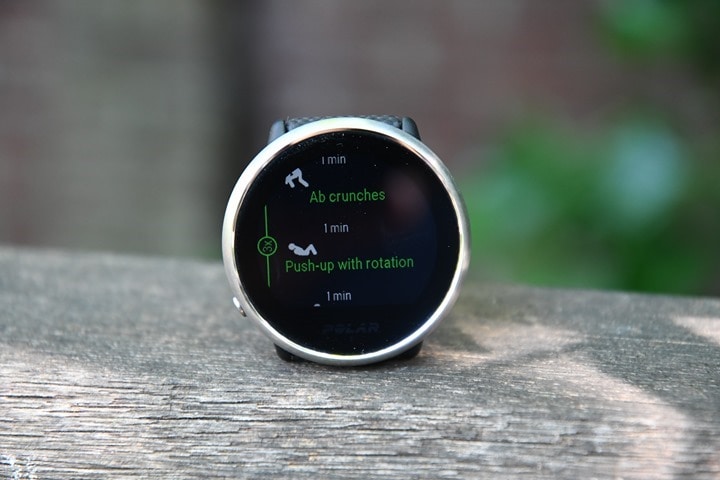 But let's say you choose the cardio workout, go run an hour or so, and then finish up. At that point the watch gives you new suggestions. Specifically ones around active recovery such as stretching and related core workouts that'll help and support that initial workout.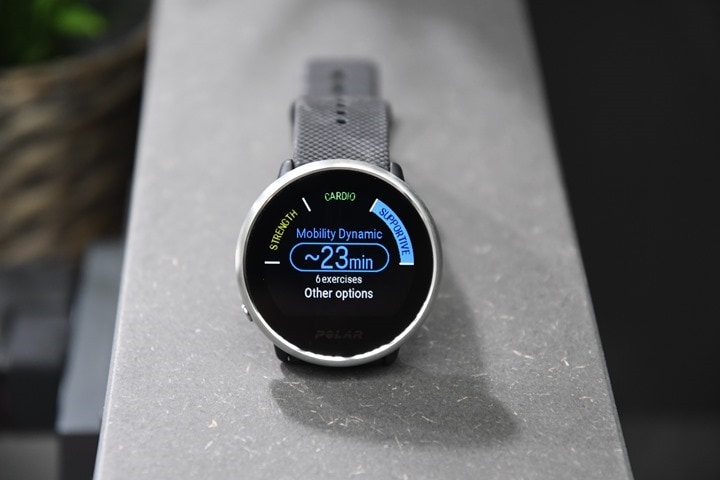 Seriously.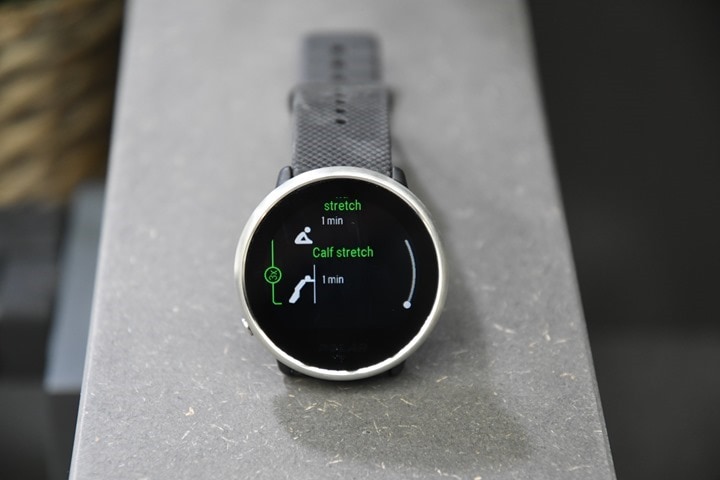 It's like for once the coaching aspects of the unit are actually smart. It's not just following some blind plan telling you to do something just because it was on the schedule. It's making up the schedule on the fly based on what it knows about your exact day thus far.
And atop all that, if we dive back into the strength workouts, it'll give you actual animated icon stick figures for each of the strength-specific items, as part of the full workout. This is roughly like what Fitbit has been doing for a few years now, but…from a company not called Fitbit. Garmin and Suunto both lack something like this.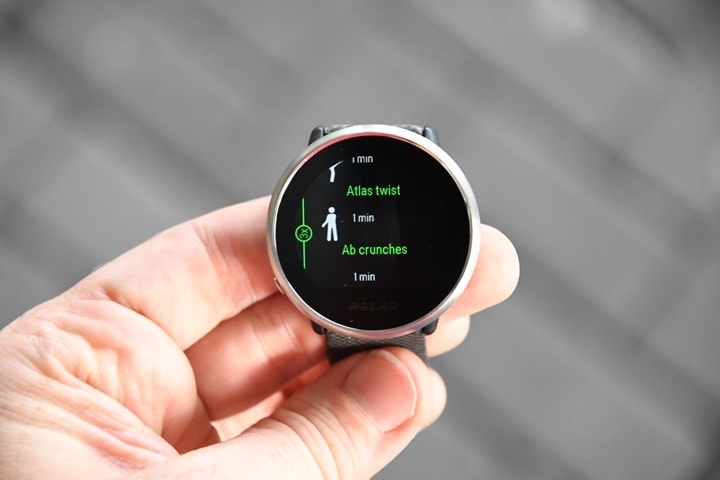 Ultimately, after two months of looking at FitSpark suggestions, I think Polar's trending in the right direction here. Having a watch give you specific workouts that seem to align to your current health state is certainly the direction all wearables should be going in the future, and I think Polar's got a head start. It is different however than the typical Training Load or Recovery Pro bits that Polar has on their higher-end Vantage series watches.
In those cases, Polar is looking at your specific *training* over time and tracking that, or your specific recovery over time. It's not looking so much (if at all) at your day to day life, whereas FitSpark is. To that end, Polar says they're developed for different audiences in mind. With the Vantage series they're assuming you've got a plan and are following it. Whereas with FitSpark they're assuming you're looking for guidance.
At a high level, those are logical assumptions. But ultimately even Olympic gold medalists have an off-season, and that's where for most of us 'have a plan athletes' we're looking for a bit of variety and just enough to keep us from falling off the bandwagon entirely. That's where FitSpark seems to fill a role that could be applied to the Vantage series. In talking to Polar, they hadn't really seen it looked at that way before, but are considering it for down the road. As it stands today, FitSpark is more or less the only feature not coming to the Vantage series watches in November. Polar noted that the challenge would be how to balance FitSpark with the Training/Recovery Pro features that are in some ways at odds with FitSpark. Remember – FitSpark's goal is to get/keep you active, whereas Recovery Pro's goal is to tell you to chill out.
Still, I'm excited to see where Polar can take this from here.
GPS Accuracy:
There's likely no topic that stirs as much discussion and passion as GPS accuracy.  A watch could fall apart and give you dire electrical shocks while doing so, but if it shows you on the wrong side of the road?  Oh hell no, bring on the fury of the internet!
GPS accuracy can be looked at in a number of different ways, but I prefer to look at it using a number of devices in real-world scenarios across a vast number of activities.  I use 2-6 other devices at once, trying to get a clear picture of how a given set of devices handles conditions on a certain day.  Conditions include everything from tree/building cover to weather.
Over the years I've continued to tweak my GPS testing methodology.  For example, I try to not place two units next to each other on my wrists, as that can impact signal. If I do so, I'll put a thin fabric spacer of about 1"/3cm between them (I didn't do that on any of my Ignite workouts).  But often I'll simply carry other units by the straps, or attach them to the shoulder straps of my hydration backpack.  Plus, wearing multiple watches on the same wrist is well known to impact optical HR accuracy.
Next, as noted, I use just my daily training routes.  Using a single route over and over again isn't really indicative of real-world conditions, it's just indicative of one trail.  The workouts you see here are just my normal daily workouts. I've had quite a bit of variety of terrain within the time period of Ignite testing.  This has included runs in: Amsterdam (Netherlands), Newfoundland (Canada), Italian Alps, Venice (Italy), and a bit in the Greek Islands. I've probably forgotten some other trips too, it's been kinda crazy.
First up is a run earlier this week around the rowing basin near me. I actually go back and forth on a path a bunch, which is always interesting to analyze. Here's the full data set, against an Apple Watch and a Garmin Forerunner 945.

Even at this level you can already see the Polar Ignite errors, in red. Here, I'll zoom in on them: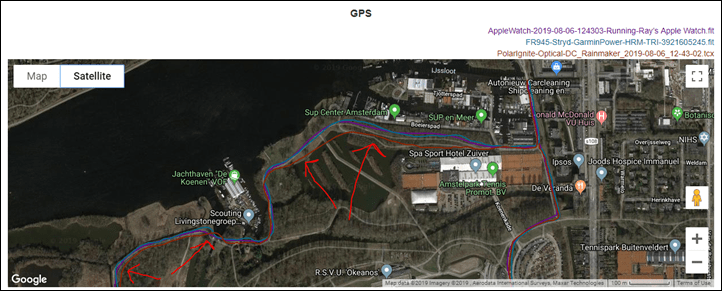 You can see that it quickly has me off in the swamps. I mean sure, that's great if you're a bird watcher (seriously, lots of bird watchers in there), but less ideal for running. Even crossing the small pedestrian bridges here the Polar Ignite has me off the side and into the canals on all of them.
While the watch does get a bit better for the next section, it's not perfect. Sure, perhaps I'm nitpicking, but we're talking having me off the trail by probably 20-30 meters here. None of the other watches are this far off consistently.

And then above to the left I apparently barnstorm the pancake house's barn. As my toddler daughter will tell you – that place is full of those crazy-ass peacock birds. Nobody wants any of that action.
That said, for the remainder of the time I spent running back down the basin, things are actually pretty good. Including the repeated back and forth area where I was spending time doing intervals:

Though if you zoom in, you can easily see that the least accurate of the three watches was the Polar Ignite. At which point you might say 'Well, that's because the other watches were more expensive.' To which I'd say: Nope-de-nope. As one who has done about a thousand or so of these comparisons, I've never seen price a factor in GPS accuracy. There are super expensive watches with crappy GPS accuracy, and super cheap ones with awesome accuracy.
GPS accuracy doesn't tend to care about the price of the watch, it cares about the implementation and design of the GPS antenna/case, chipset, and firmware/algorithms. This is true of every watch I've ever reviewed, including some past very inexpensive Polar GPS watches that have done really well in GPS tests.
Moving along to last weekend's Sunday run, we've got a larger loop around the lake. Again, nothing super fancy here. Some initial/ending bits near buildings, and then a pile in the wooded area of the park, and also some open field areas. A good blend. Here's the dataset against a Garmin Forerunner 935, FR945, and Suunto 5: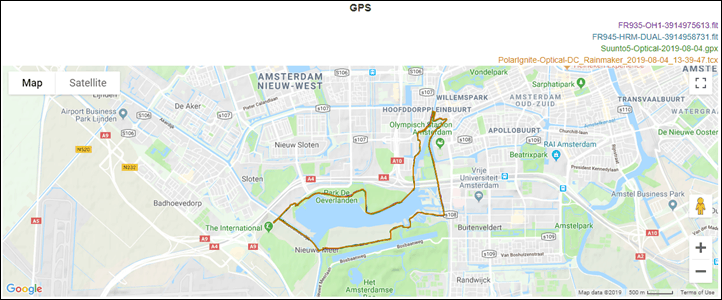 The run actually gets off to a fairly good start, with no immediate errors by anyone. A mile or two into things, and it's still looking pretty good. Here's an area through the wooded parkland of crazy free-roaming fuzzy cows. No issues here, save one blip by the FR935 coming around a corner: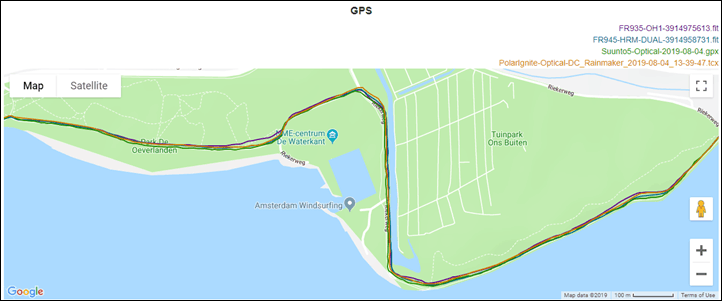 And again, mostly the same a bit further in the run as I crossed over and back under a bridge to cross the waterway. All was fine:
I did, however, see a bit of variance from the Forerunner 935 on the edge of the field/trees border, with it bobbling a little bit, whereas the Ignite seemed to nail it along with the FR945 and Suunto 5: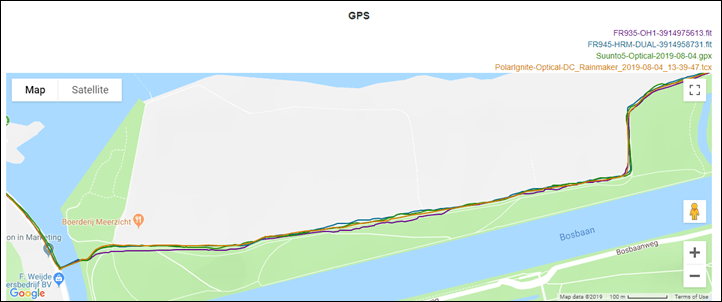 And that was basically the story for the rest of the run. As I got back into the city the FR945 took one detour into the railyard for a couple of seconds, but by and large everyone stayed basically together.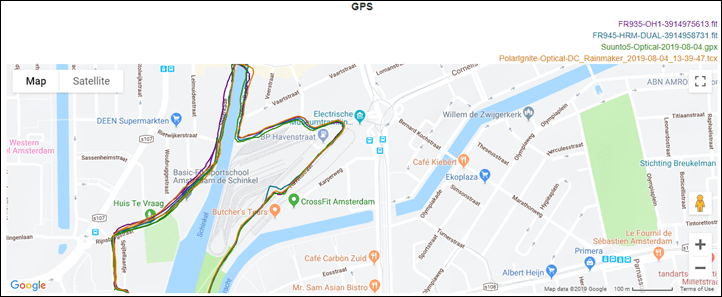 Next, let's switch over to doing loops around in Newfoundland, Canada in the woods. These trees weren't crazy high or anything, but it's a good test of correct positioning nonetheless. This is against the Garmin FR945 and the Garmin MARQ Athlete watch.

Now I know the above/below can be a bit hard to see, but the key thing to look for is the red line. That's the Polar. And it's always off in the trees. The MARQ and FR945 are actually largely on the trail or within a meter or two of it.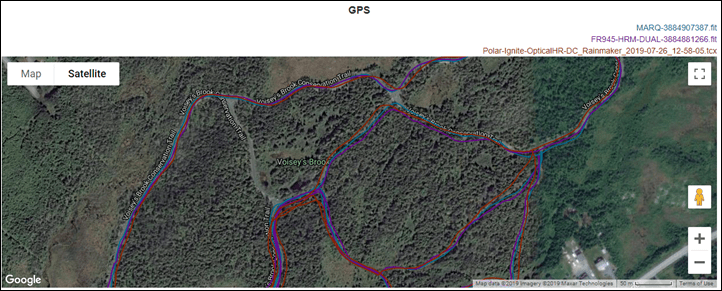 Though, all watches, including the Polar Ignite and MARQ did quite well on this brief out and back section when I left the woods and stumbled into a neighborhood. Including most notably staying on the outer edge of this cul-de-sac: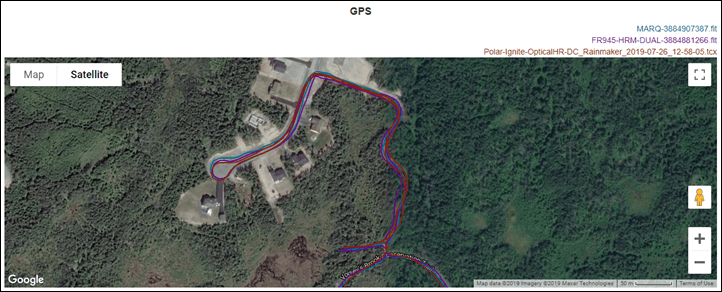 Whereas below you can see when I got back towards the clearing of the baseball fields, the Polar Ignite was always the odd man out.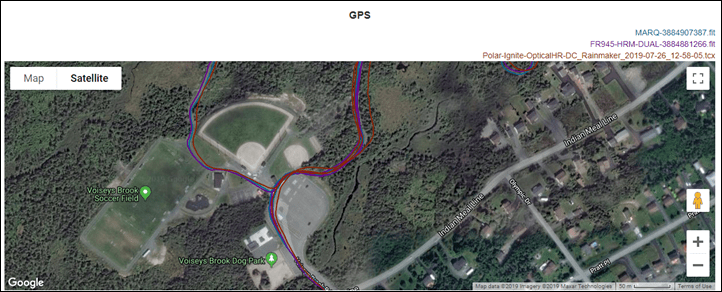 Now let's shift over to a quick ride. Well, a quick review of the ride. The reality is that for road bike riding most GPS units handle it fairly well, and this was no different for the Polar Ignite. Here's that overview/data set: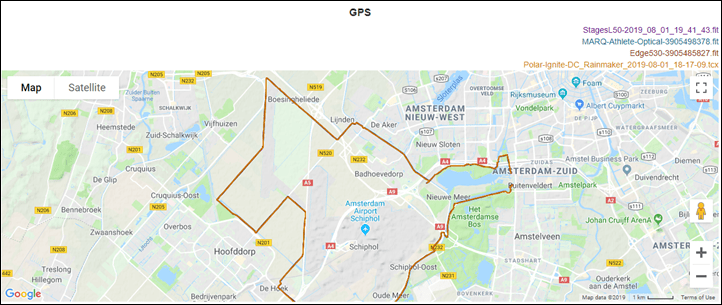 Zooming into some of the forested bike path section for the fun of it: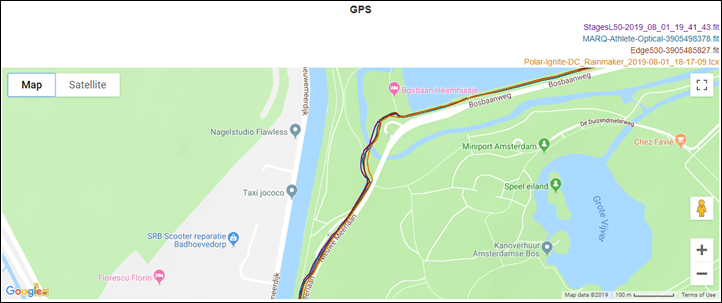 You'll see that the Edge 530, Stages L50, and Garmin MARQ do just fine. Whereas the Polar Ignite GPS cuts the corners a bit above. Other times though all units easily make the corners, even under some relatively significant 4+ lane highway overpasses that this little zig-zag goes under, like below.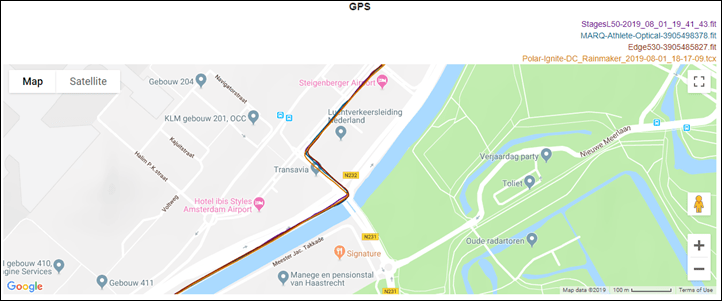 To wrap things up – the GPS on the Polar Ignite isn't awesome. It's not horrible, but it's definitely not great either. Whatever tradeoffs Polar apparently had to make for the Ignite show most visibly in GPS accuracy, and my discussions with Polar don't inspire confidence that they can fix these specific accuracy issues with firmware. After all, this is the same GPS chipset used in their Polar Vantage V & M series watches, and the same chipset used by both Garmin and Suunto in their watches over the past year. As such, we kinda have a rough baseline for the capabilities of the underlying chipsets. From that point it's down to implementation in firmware, but most importantly antenna and case design.
For many casual users, these GPS errors are probably minor. But if you're more discerning, some of these errors might drive you nuts.
(Note: All of the charts in these accuracy portions were created using the DCR Analyzer tool.  It allows you to compare power meters/trainers, heart rate, cadence, speed/pace, GPS tracks and plenty more. You can use it as well for your own gadget comparisons, more details here.)
Heart Rate Accuracy: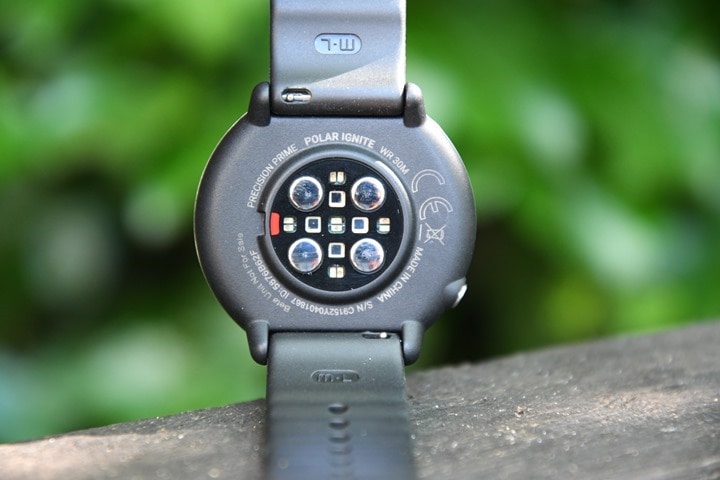 (Note: While it says 'Beta' unit on it, Polar confirmed it's actually a final unit in terms of hardware and software. Polar always prints that on units headed to reviewers early on.)
Before we move on to the test results, note that optical HR sensor accuracy is rather varied from individual to individual.  Aspects such as skin color, hair density, and position can impact accuracy.  Position, and how the band is worn, are *the most important* pieces.  A unit with an optical HR sensor should be snug.  It doesn't need to leave marks, but you shouldn't be able to slide a finger under the band (at least during workouts).  You can wear it a tiny bit looser the rest of the day.
Ok, so in my testing, I simply use the watch throughout my normal workouts.  Those workouts include a wide variety of intensities and conditions, making them great for accuracy testing.  I've got steady runs, interval workouts on both bike and running, as well as tempo runs and rides – and even running up and down a mountain.
For each test, I'm wearing additional devices, usually 3-4 in total, which capture data from other sensors.  Typically I'd wear a chest strap (usually the Garmin HRM-DUAL), as well as another optical HR sensor watch on the other arm (primarily the Polar OH1+, but occasionally the Wahoo TICKR FIT, and Scosche 24 too).  Note that the numbers you see in the upper right corner are *not* the averages, but rather just the exact point my mouse is sitting over.  Note all this data is analyzed using the DCR Analyzer, details here.
While I've been using the Polar Ignite since mid-June, I'll largely focus on the most recent workouts since they'd have the most recent firmware, though I haven't really seen any shift in accuracy one way or another during this time period.
First up on the docket is an interval run from earlier this week. Pretty straightforward warm-up period, then a slight build and then into 4x500m. Nothing fancy really. For comparison was the Apple Watch Series 4 on the other wrist, then a Garmin HRM-TRI chest strap on my chest. Here's how that data set looked:

Overall the above isn't too bad, save for whatever the heck went wrong around the 1-4 minute marker for the Polar Ignite. You can see those significant spikes there. This was just an area on simple bike paths running through the fields and forests. Nothing fancy or complicated. Though you can see the classic Apple Watch optical HR sensor fail at the beginning. Apple doesn't have a 'standby' menu for workouts, so basically it takes the first minute or so to acquire HR, which it does as part of your workout. That's why that straight line is there, and even then it's wobbly for a bit.

After that though, it settled down across the board. So here's a look at the intervals:

Remember the teal line is roughly our baseline (the chest strap). While I wouldn't always say that chest straps are more correct than optical HR sensors, in this case I'd easily consider that a known good and the most accurate display of my actual effort.  You can see that the Polar Ignite though is slow on the first recovery, basically missing it all, though the 2nd/3rd/4th recoveries are better, albeit still a bit delayed.
Generally speaking, I place less of a concern on how quickly an optical HR sensor shows recovery as long as it's within at least a few seconds or so. This is pushing the limits of that a bit, especially when it misses some recovery portions entirely. Meanwhile, on the actual intervals themselves it does handle itself fairly well (perhaps because it skipped the recovery on some of them). In fact, we see some little optical HR quirks with the Apple Watch, brief spikes/drops.

What's semi-interesting about that is I suspect those are actually errors Apple has made in post-processing correction. Apple's HR sensor is generally exceedingly good, in part because they do machine learning after the workout to sort things out. In fact, Polar has discussed this kind of stuff as well. The flip side to this is that while it 'cleans' workout for post-activity analysis, it still means the HR is potentially wrong during your workout.
In any case – let's shift to another workout, this time mostly steady-state for a weekend run.  I've got a lot of comparative sensors on me on this one, since I could attach the extra recording watches to the running stroller and have them collect for my heart rate strap. So from a HR standpoint I've got a Polar OH1 Plus on my upper arm, and a Garmin HRM-DUAL on my chest, and on my right wrist is the Suunto 5, with my left wrist being the Polar Ignite. Note that I pushed the stroller exclusively with my right hand (the Suunto), letting my left hand/arm swing like normal (with the Polar). You can see some of the funk in that below, so I won't really hold that against Suunto here. Full data set here:

As you can see, the Suunto and Polar get off to a bad start. It takes a few minutes for both to calm down. Though once they do, things are pretty much smooth sailing for the Polar and other sensors till my brief boat ride:

The above (sans-Suunto) are relatively close – within 1-2BPM the entire time, mostly dependent on slight shifts up/down.  You see there's a brief drop after this where I took a 20-second boat ride to get across the canal. I stopped all watches here on purpose, and then resumed them on the other side.

What we see though is that by and large things are pretty good (again, ignoring the Suunto hand-pushing issues). A minor blip at the 56-minute marker from the Polar Ignite, but everyone else is pretty darn close.
So what about cycling? Ask and you shall receive. Simple road cycling prior to sunset around the countryside with a friend. Nothing crazy intensity or temperature-wise, just a nice ride. Data set here.

That teal line that drops out and spikes up is the Garmin MARQ Athlete. It's the one that sticks out the most as least like the others. Whereas the Polar Ignite is pretty close to spot-on with the Garmin HRM-DUAL chest strap and the Polar OH1-Plus sensor Cycling outdoors is typically one of the most challenging things for wrist-based optical HR sensors, primarily in any shifts in intensity, and this time the Ignite nails it.
That's also true when we zoom in:

But the vast majority of the ride things were generally within 1-2BPM of the rest of the sensors.

Ultimately, for the most part the Polar Ignite does fairly well on the optical HR sensor side – especially cycling. Like many optical HR sensors (and even chest straps) there are cases and times where things go off the rails, but in the case of the Ignite, it does appear to only briefly, and not for long periods of time. However, there does seem to be some delays in recovery time for different interval sessions I've done.
Product & Pricing Comparison:
I've added the Polar Ignite into the product comparison tool, which allows you to compare it against any watches I've reviewed to date.
Now, I said in the very first intro paragraph that we needed to talk pricing, as this is where I think Polar missed the mark. Sure, they missed the mark when they bait and switched (purposefully or accidentally) the price on day of launch from a planned $199USD to $229USD, only telling me a few hours later despite their press release stating otherwise. So while I was annoyed about that, the core of the issue remains: It's just not as competitive at $229.
And some of you might think 'What's $30?', but let me explain how big a deal $30 matters in this particular market segment.
See, when Polar had their massive hit success of the original Polar M400 a few years back, they did so because they undercut everyone on pricing. It was a runaway moment for the company that ultimately forced Garmin to dramatically cut prices on their watches. A pricing theme that's stayed ever since – impacting not just them but the entire industry. It was a watch that had not just a ton of features, but was priced far below everyone else.
And that's roughly what the Polar Ignite could have been at $199, but at $229 it's in an entirely different camp. Here, let me show you. Here's what Polar is competing with in this market. These are the specific watches that the unit will sit next to at Best Buy or in any gadget line-up:
Fitbit Versa (with music, no GPS): $199
Apple Watch Series 3 (with GPS, music, contactless payments): $199
Garmin Forerunner 45 (with GPS): $199
Garmin Vivoactive 3 Music (with GPS, contactless payments): $199
Samsung Galaxy Active Watch (with GPS, contactless payments, music): $199
Fitbit Versa (with music, contactless payments): $229
Fitbit Ionic (with music, GPS): $229
Polar Ignite GPS: $229
And, atop that, both the Fitbit Versa and Ionic are often found for $30 cheaper as well. The Garmin Vivoactive 3 is sub-$190 often, and the Vivoactive 3 Music at $199 price is what's showing this very second on Amazon – it's frequently at that level.  All of those watches have music. Some have contactless payments, most have GPS. Some even have support for streaming services like Spotify or Apple Music.
One might try and argue that someone looking for a fitness-focused watch would skew towards Garmin or Polar instead of Apple. But for this target market, that's a silly assertation that doesn't reflect real life. Most customers for this watch aren't hardcore endurance athletes – so any of the above units will likely fit well. Therefore, one can quickly see that $229 puts you on the higher end of pricing, and that's all before we begin the annual early-September sweep of new mid-range watches from all the usual major suspects. Every year Apple, Garmin, Samsung, and Fitbit have historically announced new products. That'll drive pricing of all the above-listed products lower while new products come in at roughly existing pricing.
As I said, Polar has overpriced this product in the US market, it's really as simple as that. In the European market, they kept the 199EUR pricing, which is on-point as basically all of the above prices are parity for EUR/USD.
In any case, as for the full feature database on the Ignite, you'll see it below. You can easily mix and match against any other products within the database here, by creating your own product comparison tables.  Note that in some cases nuanced features (like having ANS data), doesn't really fit well into product comparison tools designed to host hundreds of watches (when only a single watch has it).
Function/Feature

Polar Ignite GPS
Apple Watch Series 3
Fitbit Ionic
Garmin Forerunner 45/45S
Samsung Galaxy Active
Copyright DC Rainmaker - Updated November 17th, 2022 @ 10:19 am New Window
Price
$229
$169-$179
$229
$199
$199
Product Announcement Date
June 26th, 2019
Sept 12th, 2017
Aug 28th, 2017
Apr 30th, 2019
Feb 20th, 2019
Actual Availability/Shipping Date
July 2019
Sept 22nd, 2017
Oct 1st, 2017
Early May 2019
Mar 9th, 2019
GPS Recording Functionality
Yes
Yes
Yes
Yes
Yes
Data Transfer
USB, BLUETOOTH SMART
Bluetooth Smart
Bluetooth Smart
USB, Bluetooth Smart
Bluetooth Smart
Waterproofing
Yes - 30m
50m
50m
50 meters
50 meters
Battery Life (GPS)
Up to 17 hours
5hrs GPS on time (24-48hrs standby)
10 hours
13 Hours
Undeclared (claims 45hrs non-GPS)
Recording Interval
1s
Varies
1-second
SMART RECORDING (VARIABLE)
1-second for GPS, 1-minute for HR
Alerts
Vibrate/Visual
Vibration/Audio/Visual
Visual/Vibrate
Sound/Visual/Vibrate
Vibrate/Visual
Backlight Greatness
Great
Great
Great
Great
Great
Ability to download custom apps to unit/device
No
Yes
Yes
Watchfaces only
Yes
Acts as daily activity monitor (steps, etc...)
Yes
Yes
Yes
Yes
YEs

Music

Polar Ignite GPS
Apple Watch Series 3
Fitbit Ionic
Garmin Forerunner 45/45S
Samsung Galaxy Active
Can control phone music
No
Yes
Yes
Yes
Yes
Has music storage and playback
No
Yes
Yes
No
Yes
Streaming Services
No
Apple Music, Spotify (but not offline yet)
Pandora, Deezer
No
Spotify

Payments

Polar Ignite GPS
Apple Watch Series 3
Fitbit Ionic
Garmin Forerunner 45/45S
Samsung Galaxy Active
Contactless-NFC Payments
No
Yes
Yes
No
Yes (but only with Samsung phone)

Connectivity

Polar Ignite GPS
Apple Watch Series 3
Fitbit Ionic
Garmin Forerunner 45/45S
Samsung Galaxy Active
Bluetooth Smart to Phone Uploading
Yes
Yes
Yes
Yes
Yes
Phone Notifications to unit (i.e. texts/calls/etc...)
Yes
Yes
Yes
Yes
Yes
Live Tracking (streaming location to website)
No
With 3rd party apps
No
Yes
No
Group tracking
No
No
No
No
No
Emergency/SOS Message Notification (from watch to contacts)
No
Yes
No
Yes (via phone)
No
Built-in cellular chip (no phone required)
No
Yes (with cellular version)
No
No
No

Cycling

Polar Ignite GPS
Apple Watch Series 3
Fitbit Ionic
Garmin Forerunner 45/45S
Samsung Galaxy Active
Designed for cycling
Yes
Yes
Yes
Yes
Yes
Power Meter Capable
No
No
No
No
No
Speed/Cadence Sensor Capable
No
No
No
Yes
No
Strava segments live on device
No
No
No
No
No
Crash detection
No
No
No
Yes
No

Running

Polar Ignite GPS
Apple Watch Series 3
Fitbit Ionic
Garmin Forerunner 45/45S
Samsung Galaxy Active
Designed for running
Yes
Yes
Yes
Yes
Yes
Footpod Capable (For treadmills)
No
With 3rd party apps
No (but has treadmill functionality)
YES (ALSO HAS INTERNAL ACCELEROMETER)
With 3rd party apps
Running Dynamics (vertical oscillation, ground contact time, etc...)
No
No
No
No
No
Running Power
No
No
No
No
VO2Max Estimation
Yes
Yes
Yes via app
Yes
No
Race Predictor
No
No
No
No
No
Recovery Advisor
No
No
No
no
No
Run/Walk Mode
No
With 3rd party apps
No
Yes
With 3rd party apps

Swimming

Polar Ignite GPS
Apple Watch Series 3
Fitbit Ionic
Garmin Forerunner 45/45S
Samsung Galaxy Active
Designed for swimming
Yes
Yes
Yes
NO (PROTECTED THOUGH JUST FINE)
Yes
Openwater swimming mode
Yes
YEs
No
N/A
Yes
Lap/Indoor Distance Tracking
Yes
Yes
Yes
N/A
Yes
Record HR underwater
Yes
Yes
No
N/A
Yes
Openwater Metrics (Stroke/etc.)
Yes
Basic stroke type only
No
N/A
No
Indoor Metrics (Stroke/etc.)
Yes
Basic stroke type only
Yes
N/A
Yes
Indoor Drill Mode
No
No
No
N/A
No
Indoor auto-pause feature
Yes
Yes
No
N/A
No
Change pool size
Yes
Yes
Yes
N/A
Yes
Indoor Min/Max Pool Lengths
20M/Y to 250 m/y
1y/m to 1,500y/m+
10m/y-100m/y
N/A
Ability to customize data fields
Yes
Very limited
Yes
N/A
Captures per length data - indoors
Yes
Yes
N/A
Yes
Indoor Alerts
N/A
Yes (goals)
Yes (distance)
N/A
No

Triathlon

Polar Ignite GPS
Apple Watch Series 3
Fitbit Ionic
Garmin Forerunner 45/45S
Samsung Galaxy Active
Designed for triathlon
No
Not really
No
No
No
Multisport mode
No
Yes
No
No
Sorta (can combine sports manually)

Workouts

Polar Ignite GPS
Apple Watch Series 3
Fitbit Ionic
Garmin Forerunner 45/45S
Samsung Galaxy Active
Create/Follow custom workouts
Yes
With 3rd party apps
No (Premium Coached only)
Yes
No
On-unit interval Feature
Sorta (offers structured workouts)
With 3rd party apps
No
Yes
No
Training Calendar Functionality
Sorta (offers daily workouts
With 3rd party apps
No
Yes
No

Functions

Polar Ignite GPS
Apple Watch Series 3
Fitbit Ionic
Garmin Forerunner 45/45S
Samsung Galaxy Active
Auto Start/Stop
Yes
Yes
Yes
Yes
Virtual Partner Feature
No (but can give out of zone information)
No
No
Virtual Pacer
Pace guidance only
Virtual Racer Feature
No
No
No
No
No
Records PR's - Personal Records (diff than history)
No
No
No
Yes
No
Tidal Tables (Tide Information)
No
No
No
No
No
Weather Display (live data)
No
Yes
Yes
Yes
Yes

Navigate

Polar Ignite GPS
Apple Watch Series 3
Fitbit Ionic
Garmin Forerunner 45/45S
Samsung Galaxy Active
Follow GPS Track (Courses/Waypoints)
No
With 3rd party apps
No
No
No
Markers/Waypoint Direction
No
With 3rd party apps
No
No
No
Routable/Visual Maps (like car GPS)
No
With 3rd party apps
No
No
No
Back to start
No
With 3rd party apps
No
No
No
Impromptu Round Trip Route Creation
No
With 3rd party apps
No
No
No
Download courses/routes from phone to unit
No
With 3rd party apps
No
No
3rd party apps

Sensors

Polar Ignite GPS
Apple Watch Series 3
Fitbit Ionic
Garmin Forerunner 45/45S
Samsung Galaxy Active
Altimeter Type
GPS
Barometric
Barometric
No
Barometric
Compass Type
N/A
N/A
N/A
None
N/A
Optical Heart Rate Sensor internally
Yes
Yes
Yes
Yes
Yes
SpO2 (aka Pulse Oximetry)
No
No
No
No
Heart Rate Strap Compatible
Yes
Yes
No
Yes
3rd Party Apps only
ANT+ Heart Rate Strap Capable
No
No
No
Yes
No
ANT+ Speed/Cadence Capable
No
no
No
Yes
No
ANT+ Footpod Capable
No
No
No
Yes
No
ANT+ Power Meter Capable
No
No
No
No
no
ANT+ Lighting Control
No
No
No
No
no
ANT+ Bike Radar Integration
No
No
No
No
No
ANT+ Trainer Control (FE-C)
No
No
No
No
No
ANT+ Remote Control
No
No
No
No
No
ANT+ eBike Compatibility
No
No
No
No
No
ANT+ Gear Shifting (i.e. SRAM ETAP)
No
No
No
No
nO
Shimano Di2 Shifting
No
No
No
No
No
Bluetooth Smart HR Strap Capable
Yes
Yes
No
No
3rd party apps only
Bluetooth Smart Speed/Cadence Capable
No
No
No
No
No
Bluetooth Smart Footpod Capable
No
No
No
No
3rd party apps only
Bluetooth Smart Power Meter Capable
No
No
No
No
No
Temp Recording (internal sensor)
No
No
No
No
Yes
Temp Recording (external sensor)
No
No
No
No
No

Software

Polar Ignite GPS
Apple Watch Series 3
Fitbit Ionic
Garmin Forerunner 45/45S
Samsung Galaxy Active
PC Application
Polar Flowsync - Windows/Mac
None
PC/Mac
Garmin Express (PC/Mac)
No
Web Application
Polar Flow
None
Yes
Garmin Connect
No
Phone App
iOS/Android
iOS only
iOS/Android/Windows
iOS/Android
iOS/Android (iOS is limited though)
Ability to Export Settings
No
No
No
No
No

Purchase

Polar Ignite GPS
Apple Watch Series 3
Fitbit Ionic
Garmin Forerunner 45/45S
Samsung Galaxy Active
Amazon
Link
Link
Link
Link
Link
Backcountry.com
Link
Link
Link
Link
Link
Chain Reaction Cycles
Link
Link
Link
Link
Link
Competitive Cyclist
Link
Link
Link
Link
Link
REI
Link
Link
Link
Link
Link
Wiggle
Link
Link
Link
Link
Link

DCRainmaker

Polar Ignite GPS
Apple Watch Series 3
Fitbit Ionic
Garmin Forerunner 45/45S
Samsung Galaxy Active
Review Link
Link
Link
Link
Link
Link
Remember, you can mix and match and create your own product comparison tables here, for watches not seen above.
Summary: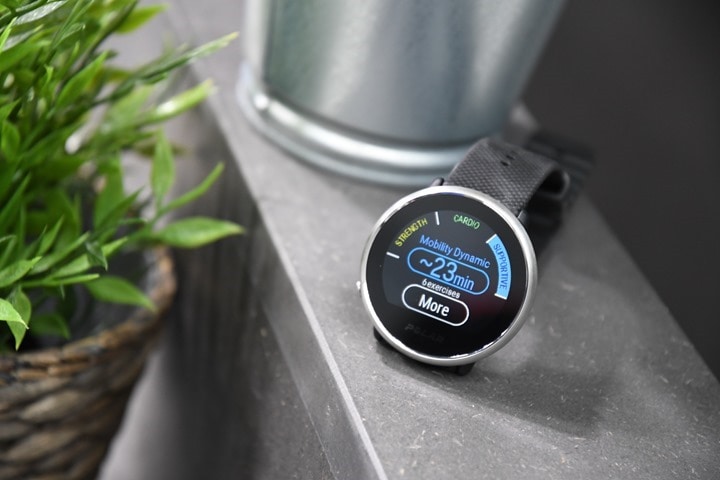 Overall Polar's done some impressive things on the Ignite, mainly from a software functionality standpoint. The Nightly Recharge and FitSpark functionality are truly new within not just Polar's lineup, but across the sports tech and fitness industry. It's great to see Polar leading again in some areas of feature innovation, which frankly hasn't happened in a number of years. I'm looking forward to seeing how Polar can incorporate those features into their higher-end Vantage series watches going forward.
And digging further into FitSpark, adding in elements around strength and supportive workouts and having specific animations for which moves to do and guided workouts is something that most other companies in the industry simply don't have. Sure, numerous other watches in the past have done this sort of thing – but a number of those are no longer with us (here's looking at you, Adidas SmartRun GPS). And certainly neither Garmin or Suunto, or Apple natively, have that type of functionality at this point.
On the flip side, this unit definitely has elements that remind me that it's kinda a first-gen watch. Or at least it feels like it. The display wrist turn/raise detection just isn't good, and the GPS accuracy by Polar's own admission lags behind their own other watches. This isn't just a GPS chipset thing anymore, but more of a fundamental design element that really shouldn't exist (seriously, there's no reason why a $229 GPS should be notably worse than a $279 GPS). And of course, all of this ignores that for many people, the unit is just a bit overpriced within the US market.
The good news is some of these things they can likely fix with updates, be it software or pricing. I suspect they have the hardware in the Ignite to spend time on better algorithms for the display wake-up.  And certainly changing the price is as simple as a single conference call, just like they've done on other products in the past. For the GPS however, I get the impression from Polar that's perhaps a hardware-driven limitation, either in components or design.
Like I've said a few times though – I'm eager to see where Polar can take things with the Ignite, it's a great base for the company to start from and ultimately a solid offering in the marketplace to consider.

Found This Post Useful? Support The Site!
Hopefully you found this review useful. At the end of the day, I'm an athlete just like you looking for the most detail possible on a new purchase – so my review is written from the standpoint of how I used the device. The reviews generally take a lot of hours to put together, so it's a fair bit of work (and labor of love). As you probably noticed by looking below, I also take time to answer all the questions posted in the comments – and there's quite a bit of detail in there as well.
If you're shopping for the Polar Ignite GPS or any other accessory items, please consider using the affiliate links below! As an Amazon Associate I earn from qualifying purchases. It doesn't cost you anything extra, but your purchases help support this website a lot. Even more, if you use Backcountry.com or Competitive Cyclist with coupon code DCRAINMAKER, first time users save 15% on applicable products! Or, with TPC (The Pro's Closet), you'll save $40 on purchases over $200 with coupon code DCRAIN40!
And finally, here's a handy list of accessories that work well with this unit (and some that I showed in the review). Given the unit pairs with just about any Bluetooth Smart sport sensors, you can use just about anything though.
And of course – you can always sign-up to be a DCR Supporter! That gets you an ad-free DCR, access to the DCR Quarantine Corner video series packed with behind the scenes tidbits...and it also makes you awesome. And being awesome is what it's all about!
Thanks for reading! And as always, feel free to post comments or questions in the comments section below, I'll be happy to try and answer them as quickly as possible. And lastly, if you felt this review was useful – I always appreciate feedback in the comments below. Thanks!