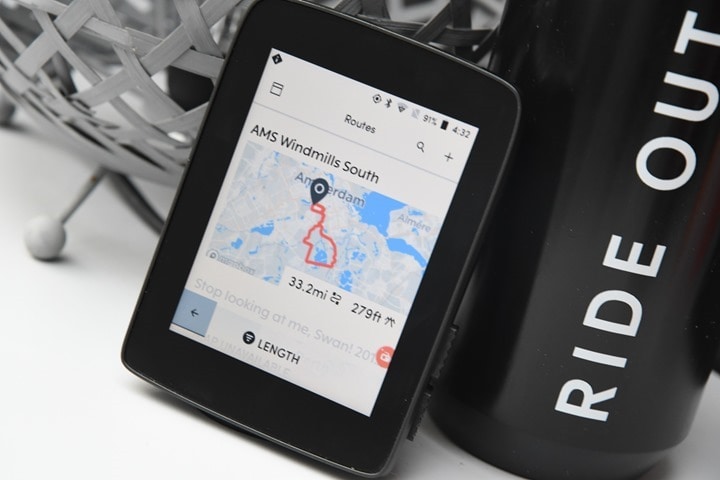 Hammerhead has begun rolling out a refreshed user interface to existing Karoo users, ahead of the Karoo 2 unveiling. Hammerhead has previously announced their intention to announce the Karoo 2, but hasn't actually made the announcement yet. Or, something like that. However, in their user interface post on their site, they do give some hints as to the screen aspect ratio of the new Karoo 2. More on that in a minute.
There's probably no device on the market that's seen as many major updates since launch as the Hammerhead Karoo (actually, I should back-up a second, you can't buy the Karoo 1 anymore, you haven't been able to since last year. The ran out of stock, then COVID-19 hit, and then they just decided to wait till Karoo 2 instead). In any case, since the OG Karoo started shipping two years ago it's had more updates than you can shake a stick at. Now of course, that's largely because as a first-time entrant to the GPS bike computer category, they had to. They started out behind, and needed to innovate to become competitive.
Ironically, I think it's really only since late last year that software-wise they've unlocked that achievement. Unfortunately, about the same time, they ran out of hardware. As noted previously, I think the lack of beeper/audible alerts on the Karoo 1 meant it was a deal-breaker for me and many others that use it for navigation. Hopefully, the Karoo 2 fixes that.
What's changed:
Given it's Friday and it's sunny out, we're gonna roll through these changes efficiently. When the Karoo 2 comes out, I'll dive into them in more depth. To begin, the home page has been updated to remove the dark black/yellow theme, and go with a much more modern look. This part isn't on my unit yet (coming next week), so here's a screenshot: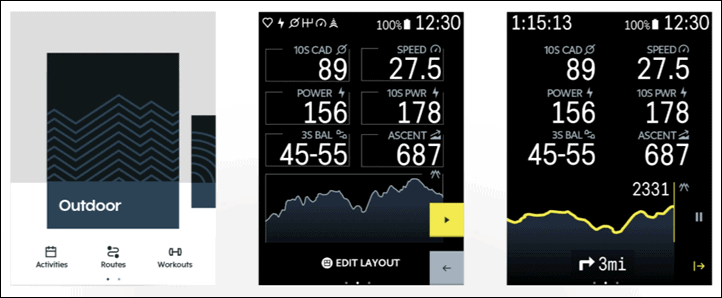 It's here that you can swipe between the different ride profiles, such as Indoors or Outdoors. On indoors it'll shut-off GPS.
At the bottom, you can choose a route or structured workouts. Structured workouts pull from TrainingPeaks. Here's what happens when I tap that, pulling in a workout I built on TrainingPeaks: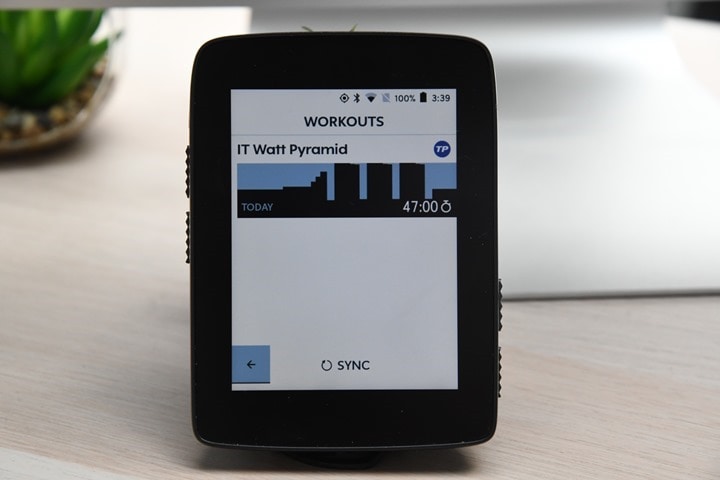 This is an area I'd love to see them expand more. For example, it'd be great to have other partnerships with TrainerRoad, Today's Plan, and more. And I feel like with TrainerRoad especially the screen and underlying interface is at the point where they could probably really make the TrainerRoad experience sing more than others could (such as with the explainer text that Garmin and Wahoo don't show).
Oh, wait, check that out on their screenshot…it's a nice little TrainerRoad logo: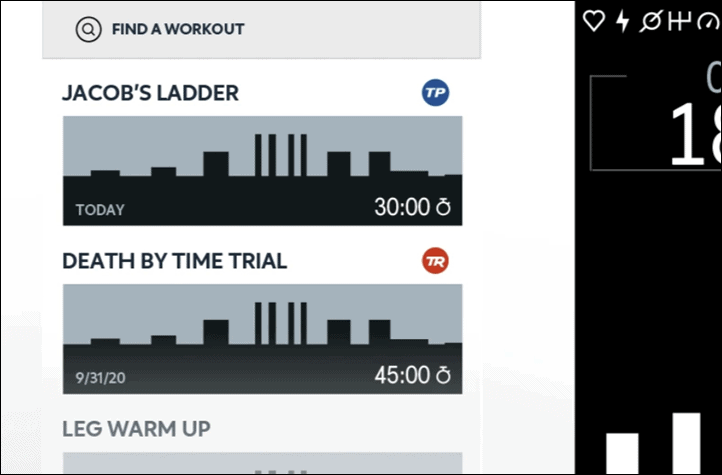 (TrainerRoad started beta testing TrainingPeaks and Final Surge integration earlier this week, so perhaps Hammerhead is also tied in somewhere, or perhaps Hammerhead is just being optimistic here.)
In any event, looking at my TrainingPeaks workout, here's the details: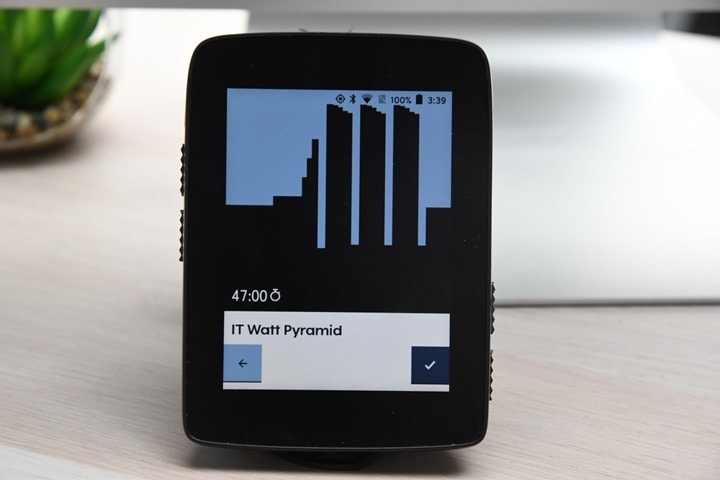 It would however be nice if, as I dragged my finger over the top of the workout above, that it would show me the power targets, similar to how it works on certain apps. In other words, I want to see how much the upcoming workout is gonna suck.
Once in a workout, you'll get a mix of interface screens showing your structured workout as you iterate through it. You start/stop the structured workout piece independently of your actual ride. So basically you can get to where you want to do your workout, and then start the structured workout. You can go forward/back through the steps too.
However, I'd really like to see a display option that's not atop a black background. Meaning, I love the clean white/grey look used elsewhere in the user interface. But I've never been a fan of white text on black for bike computers or wearables during daylight. Nighttime sure, but daylight it isn't my thing. For example, while riding today with bright sun, it's really hard to see the grey text descriptors atop the black background. And by hard, I mean entirely impossible.
Stepping back, if we crack open the routes builder you've got a similar refreshed layout, pulling in your routes from various platforms including Strava, Komoot, and others: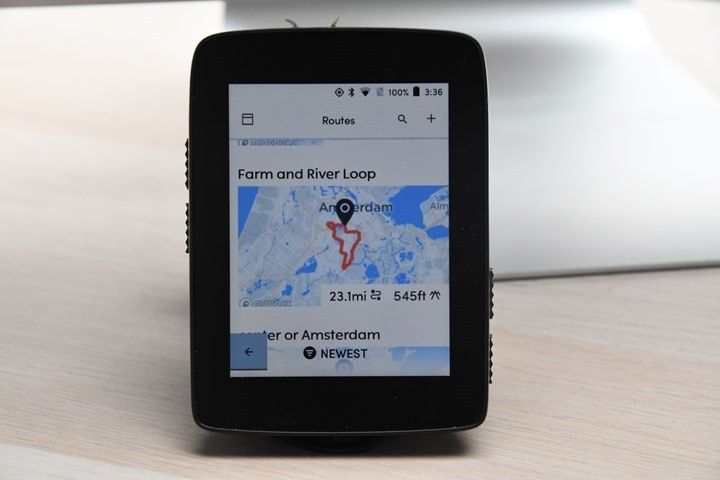 And if you tap it, it'll open up a more detailed look at the route: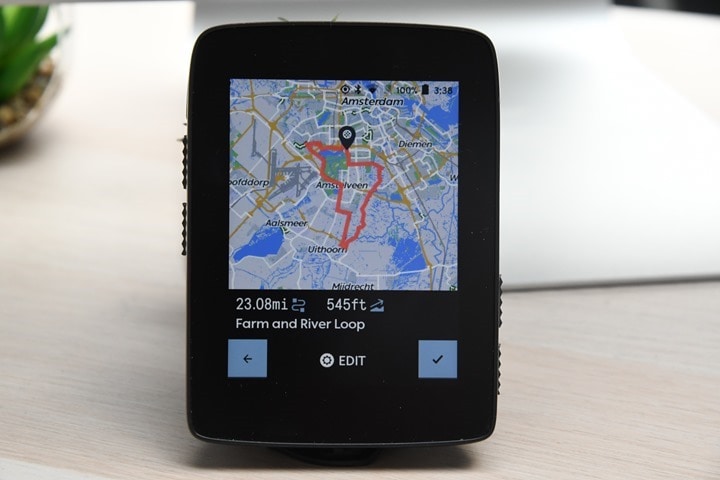 Heck, I can even attempt to edit a route to add or remove points on it. To me, that's playing with fire. But you do you: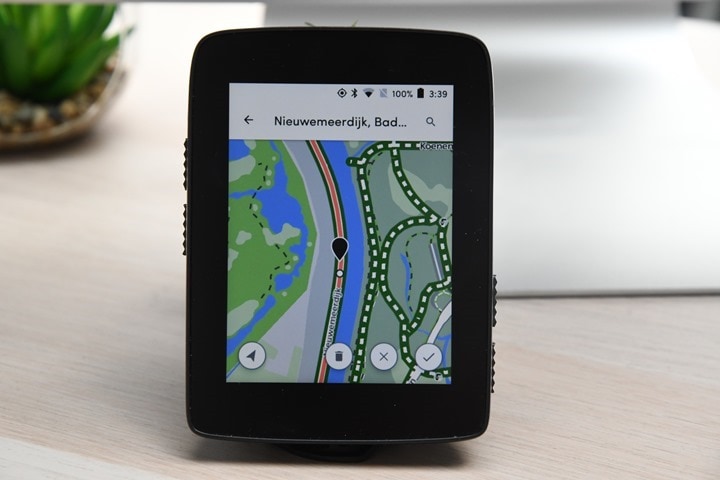 Anyway, cracking things open to start a ride, you'll see the screens are tweaked a bit from the past. Here's some generic data fields from my ride:
However, where you really see things clean-up is the navigation bits. Super nice overlays here, it looks really sharp above with the inset of directional arrow atop instructional bit.
But the pièce de résistance on the Karoo is honestly the Strava Live Segments integration they introduced back last month. Seriously, it's so clean and so sharp. When you have overlapping segments, you can simply swipe left and right to see them (hence the three dots in the screenshot at right below, I'm on three segments at once), and it'll clearly indicate which one you're on, plus you can easily see the orange overlay on the map
In fact, even if you're not on a segment you'll see the orange highlight in a lighter orange on the map for Segments you've favorited. You can see this on the street ahead of me, which isn't on my route.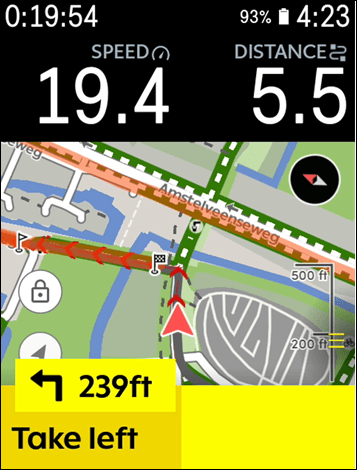 Not only that they've introduced new concepts atop it to better the Live Segment experience. For example, you're all familiar with chasing the KOM, or your PR's. And probably those you follow. But Hammerhead has tweaked that concept a bit. They've introduced the Carrot & Wolf, which basically takes those people you follow and makes it clear when you're trying to topple them (the carrot), or if they're close behind you (the wolf):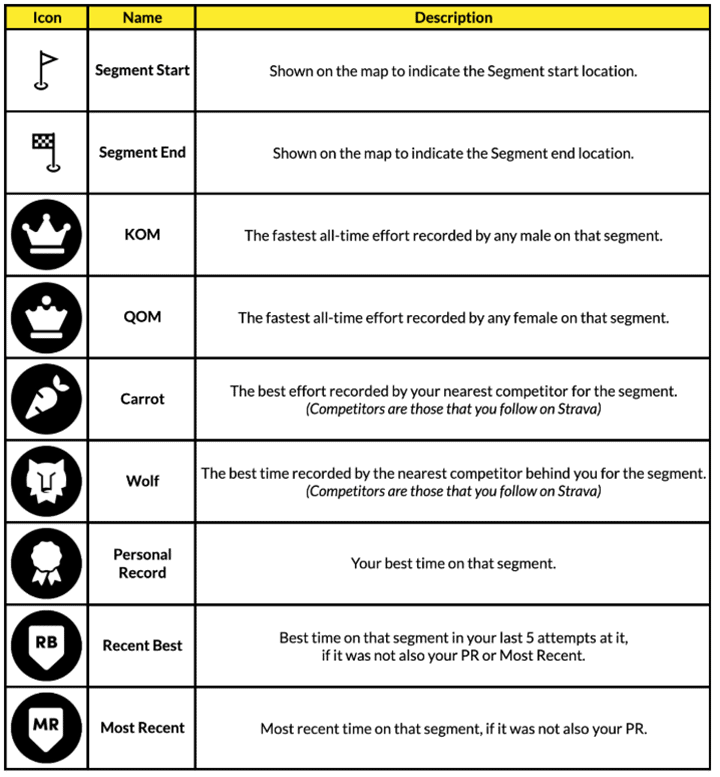 As I said with my Strava Local Legends post, I'd love to see Strava roll out API support for the Local Legends, because the Karoo interface would be able to easily show that in a clean way without becoming cluttered. Simply display it as you approach the segment showing your current count and the local legend count (I'd recommend hiding that below a certain threshold though).
Now, it's not to say the implementation is perfect. For example, on some of my Strava Segments the elevation graph makes a mountain out of a molehill. These segments are pancake flat, but they appear like they're gigantic hills because it doesn't flatten out the scale. There's at most a meter of elevation change here across this entire Segment running next to a (flat) lake on a flat road.
There's other minor things I'd love to see while they're tweaking UI bits. For example, in the sensors menu they show this gigantic Scarlet Letter A+, which is supposed to mean ANT+. For Bluetooth devices they show a Bluetooth logo. I'd recommend switching to the ANT+ logo here, since…that's better than a Scarlet Letter.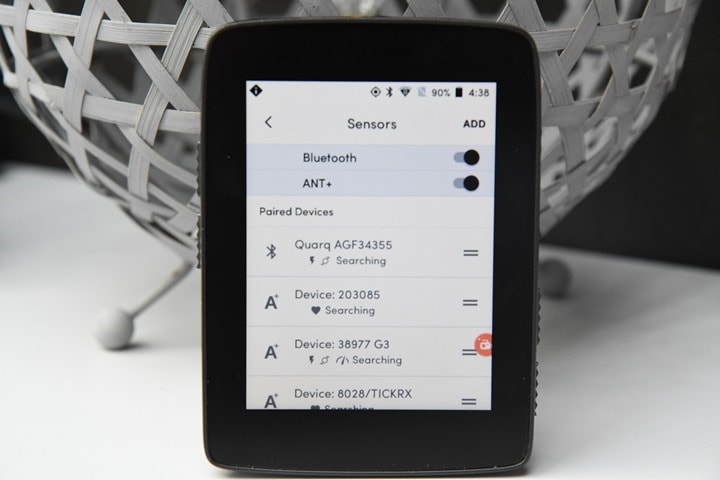 Similarly, getting to the power meter calibration menu requires way more steps than necessary. I'd like to see that be an easy swipe down from the top and tap calibrate if a power meter is paired.
In any case, finishing up here, the post-activity data is cleaned up as well, and is super clear. Elevation graph is displayed along the bottom, and then the map up top. Though, like the first portion of the unit firmware, this piece isn't live on mine yet. So here's a screenshot from them.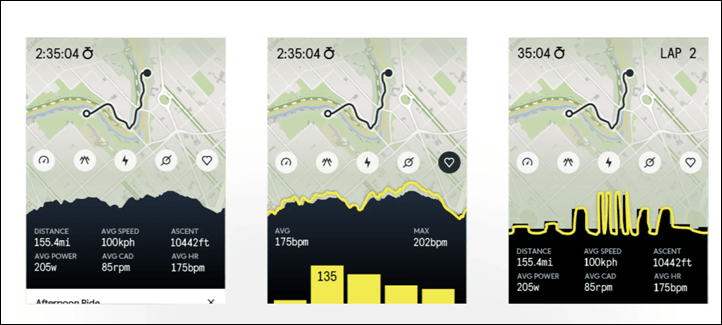 Though again, I'd love to see this tweaked to a brighter interface version akin to that of the rest of the dashboard pages.
Of course, the fact that existing Karoo 1 users are getting a major user interface update at all is notable, it's pretty rare for that to happen in the bike computer world. In fact, I don't think it's ever happened.
Peeks at Karoo 2: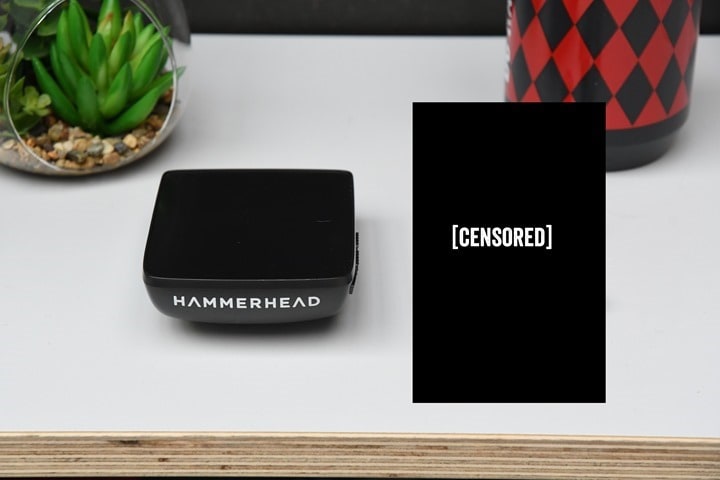 Now, above is a comparison of the Karoo 1 to the Karoo 2, except, I had to censor the Karoo 2. However, Hammerhead was more revealing than I'll be with the unit sitting on the desk next to me. While to date they haven't shown any imagery of the unit to indicate size or such, their post yesterday does give some hints. Namely on-screen aspect ratio.
Throughout their post they included samples of all the user interface imagery for both the Karoo 1 and the Karoo 2. And one specific thing sticks out:
It's clear that the Karoo 2 is taller than the chubbier Karoo 1. I mean, realistically it couldn't have been any chubbier than the Karoo 1. That thing takes the cake on…well…all the cake. Of course, looking at their screenshots it could be that the unit's screen isn't any taller, but just that the screen is now less wide. I don't know. You decide.
Here's to hoping there's a beeper in there.
More down the road of course. DHL just arrived.
Wrap-Up: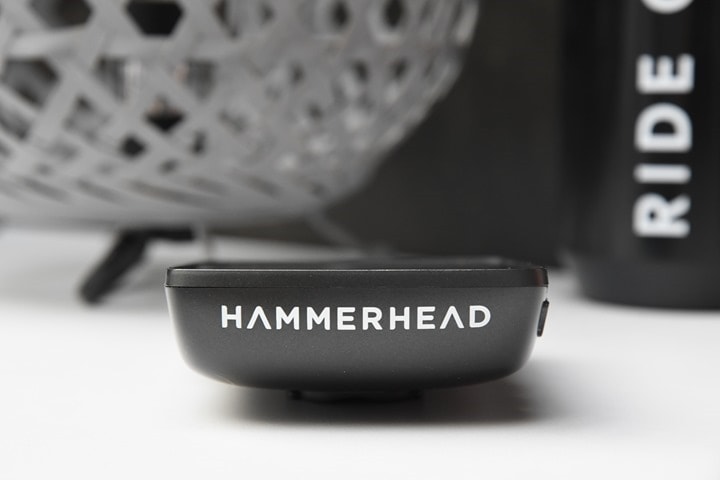 Ok, there ya go, a quick look at the refreshed user interface. Again, I think the biggest takeaway here is that Hammerhead is looking to adopt a practice of updating the existing Karoo 1 units from a software refresh standpoint, despite the fact they aren't even making or selling the original Karoo units anymore. Heck, technically speaking the company isn't selling anything right now. One could argue they're kinda like a non-profit in that sense.
Of course, it's 'easy' to do what Karoo is doing when they've got the carrot of revamped hardware for their 2nd generation unit. Meaning that assuming the Karoo 2 is a much better piece of hardware visually and internally, then erring on the side of making existing customers happy such that they want to support the company further and pick up newer/better hardware makes sense. We saw Wahoo do the same when they went from the original ELEMENT to BOLT to ELEMENT ROAM. The challenge for Wahoo, and eventually Hammerhead, will be down the road figuring out a way to get users to upgrade.
The quantity of users Hammerhead has with Karoo 1 is relatively small compared to their potential user base for Karoo 2, now that they're a more established company than they were 3-4 years ago when they first started the Karoo 1 journey on Kickstarter. Upsetting that original user base would be a PR fail, versus making those users happy is effectively cheap marketing.
Now, some (including Hammerhead) would argue that by having that Android base it means they'll be able to more easily update the device going forward. And to some degree that's true, but the challenges are also significant as well. For example, the Karoo 1 still doesn't support any smartphone integration. There's no way to get alerts on it, and unless you're near WiFi, there's no way to upload rides. Oh, sure, there's the SIM card slot. But I'd question how many people are actually paying to put a SIM card in that. I'd struggle with the value of that as presented right now.
In any case – looking forward to seeing where Hammerhead takes things with Karoo 2, whenever that bird decides to make its more public appearance.
With that – thanks for reading!