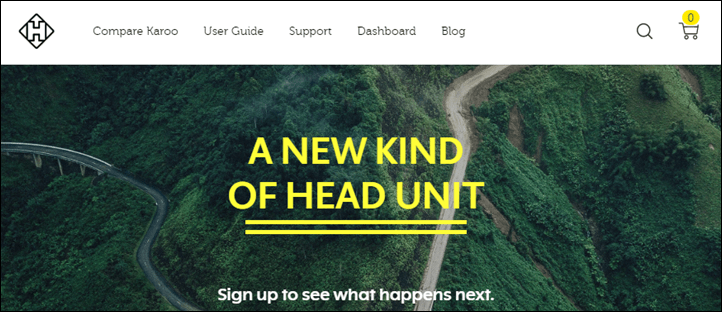 It looks like at some point in the year 2020 we'll have at least one more cycling GPS added to your table of options. This week Hammerhead, in conjunction with one of their lead investors, announced plans for their next model of the Karoo, dubbed the Karoo 2.
Following which they e-mailed their existing customers letting them know about the plans, as well as posted a brief tidbit on their social media stuffs.
The reason for this announcement of a future announcement was simple: They stopped making Karoo 1 units and were out of inventory. As such, people were starting to wonder if they'd gone out of business or something. In fact, quite the contrary – they'd recently brought on numerous investor groups and completed a new round of funding.
In total, the company says they've now got the following investors in place: Primary Venture Partners, Maveron, KB Partners, Courtside Ventures, R/GA Ventures, and Techstars. Beyond that, they also have a slate of angel investors including the founder of MapMyFitness – Robin Thurston, the founder of Zipp – Andy Ording, and Brad Feld of Foundry Group. And they noted they added Wade Davis, the CEO of Univision to be the Chairman of their Board of Directors.
Oh, wait, sorry, I missed one: Next Ventures. That's Lance Armstrong's group. All-in these groups have invested about $4.5M in the most recent investment round that they closed last week (or announced last week).
What's in the Karoo 2?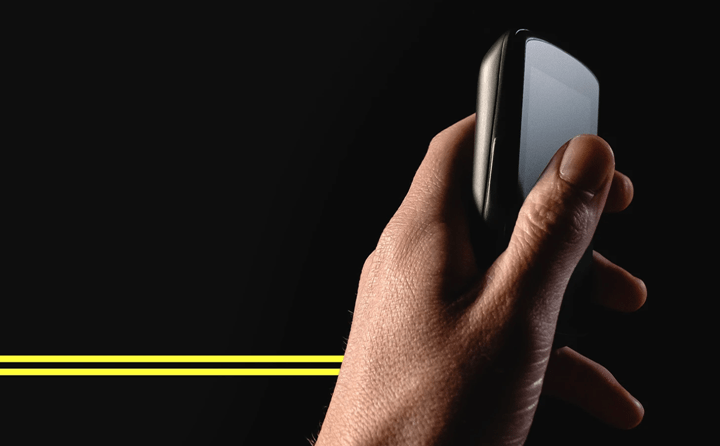 Above is the singular photo published by Hammerhead of the new unit, being held up in between someone's hands. Unfortunately, we don't have context for how big this person's hands are. As we know from the last few years, the size of a person's hands are apparently very important to understanding the product we get.
Still, by the looks of that, the Karoo 2 based on the above appears smaller than the original Karoo – which roughly represented a Wahoo ELEMNT that spent two weeks eating pizza and nachos (with all the cheese) in quarantine without a smart trainer. Svelte was not on the descriptor list of the Karoo 1.
Not convinced? I present you Exhibit A: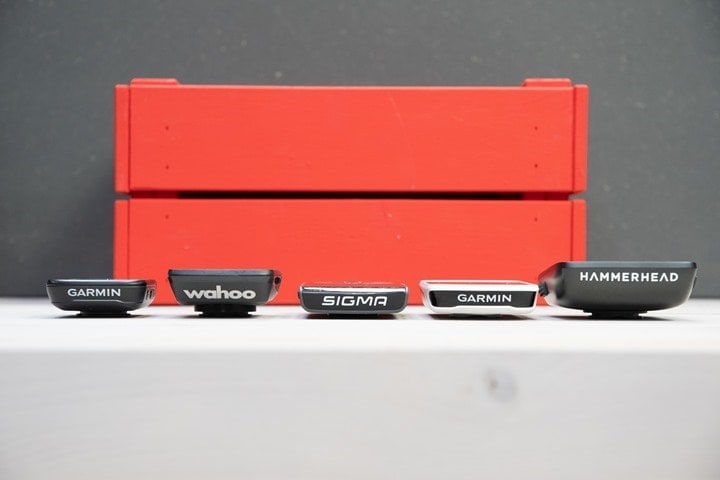 [Left to right: Garmin Edge 830, Wahoo ELEMNT ROAM, Sigma ROX 12, Garmin Edge 1030, Hammerhead Karoo 1]
However, as taught in elementary school – beauty is on the inside. Or the beholder. Or, something like that. And when it came to the routing and navigational aspects of the Karoo 1, it blew away Garmin from a screen beauty and responsiveness standpoint. And still does. It's just as responsive as any phone GPS you've ever used…largely because it is a phone GPS. It's a custom-designed unit built atop Android, but still retains all the speed of and screen beauty of any decent Android phone.
But that doesn't mean it was perfect, and in fact, it had one massive flaw: No beeper (meaning, it couldn't make any noise).
For a bike GPS solely focused on navigation (at launch), lacking an attention-seeking way to tell the rider that it was time to turn was a huge issue. And a core reason why I couldn't recommend it (and still would struggle to).
However, to their credit, they've spent the last few years launching feature after feature on it. Be it structured workouts, Varia radar support, or smart trainer support. They've revamped parts of the user interface and squashed bugs. Sure, for periods they spent more time squashing bugs than actively moving forward on new features – but I think they're largely in the new-feature camp now.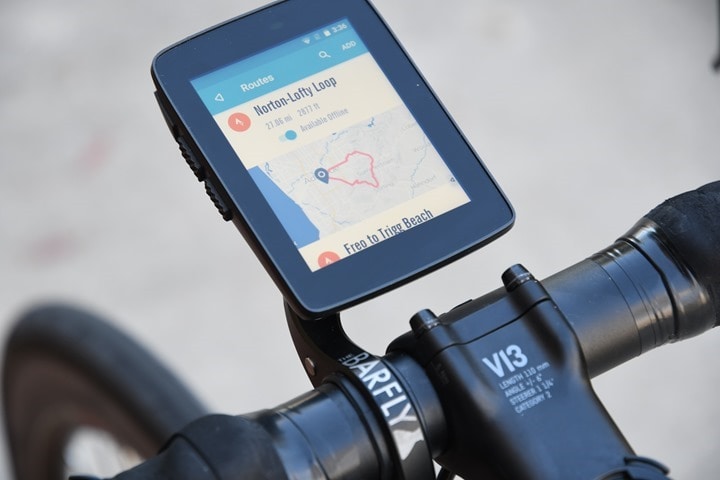 Still, what do I think are the key things the Karoo 2 needs to have in order to make meaningful market share gains on Wahoo or Garmin? Roughly the following:
1) A beeper, obviously
2) It needs to be smaller/thinner, more-inline with something like a Sigma ROX 12 or Edge 1030
3) It needs a solid 'hot damn!' price point, likely $399
4) It needs at least 3-4 'nobody else has' features
5) It needs to be able to communicate with your smartphone for notifications (and ideally tracking)
Anything else is gravy. If they can do those five things, they'll make progress on Garmin. Key in that is the pricing. I've strongly felt Hammerhead went out too high with the Karoo initially, and it cost them longer-term success. Sure, the Edge 1030 is normally $599, though right now it's $399 (and has been a while).
Other competitors in the full mapping navigation space are at $379 (Wahoo ROAM), $399 (Edge 830), and $299 (Edge 530). All of them are well regarded with major brands behind them. We saw Sigma come in (a company far larger than Hammerhead) and launch their ROX 12 in the US at $499. They pulled out less than a year later, despite having a product that was more feature-rich than the Karoo. Even if Hammerhead launched at $449, while nice sounding, won't move the needle in the way $399 would.
Next, it needs to have unique features. Things that aren't in other units. Merely adding rough equivalents of other companies' features doesn't tend to move users from one platform to another. Instead, you need to do something that makes people say "I want that feature, when can I switch?"
Without that carrot, you end up with just another product that might do OK, but not really make market gains.
Will Hammerhead do all those things? I'm not sure. I mean, I guess I probably know. After all, see that Hammerhead box over there near the printer?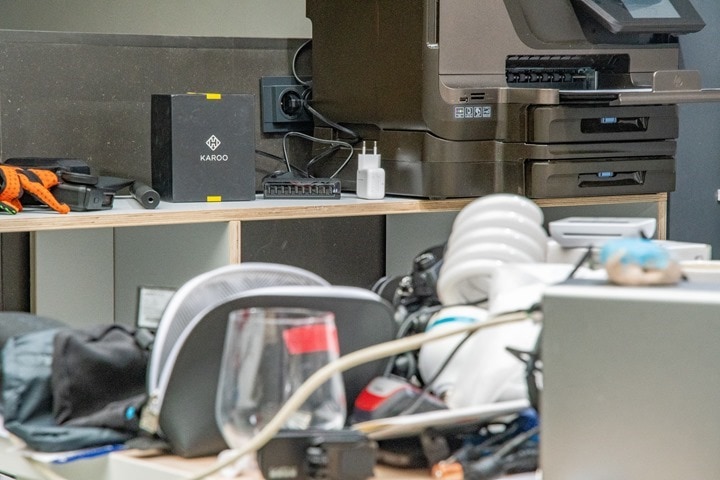 Yes, that's a Karoo 1 box. But it had a Karoo 2 in it. Like Lance's box it's still just the old packaging at this point. Instead, a Karoo 2 functional prototype is sitting on my desk in that pile somewhere. And yes, that's what my desk actually looks like when it's not a DCR Open House. It's packed with all sorts of devices, light bulbs to re-order, contactless payment readers, and leftover coffee cups. Who has a clean desk?
Going forward: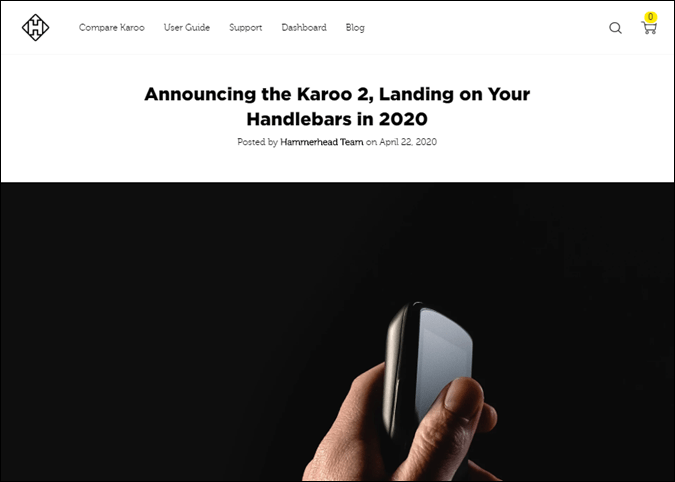 So what happens to existing Karoo units? And when will the Karoo 2 be announced?
Hammerhead says the existing Karoo users will continue to get updates, including something in the coming weeks. I asked whether there were any hardware limits to the existing Karoo 1 units that would limit the ability for them to maintain feature parity (akin to what Wahoo does) going forward. They said "No". So that's potentially good news. Obviously if the Karoo 2 ends up having a beeper they can't magically make the Karoo 1 start beeping sans-hardware. But everything else sounds like it could come to the Karoo 1 as long as the hardware supports the feature. Or at least, that's the way I read that. Hopefully that ends up being the case.
Which then gets to the most pressing issue of the day: When will Hammerhead both announce the specs of the Karoo 2 and the unit itself?
Well, that's a bit muddy. In the company's most recent social media post they note that they will "be sharing more information about the Karoo 2 over the coming weeks". Whether that's a steady drip-drip of information designed to enhance their campaign, or the full announcement, I'm not sure. They also noted that the Karoo 2 will "be landing on your handlebars in 2020", which probably is a better indicator of timelines.
Historically speaking when a company (any company, from Apple to Garmin to Google) uses the year identifier instead of a more specific timeframe, then they plan to launch that product for availability later in the year. Maybe that won't be the case here. We'll see.
With that, stay tuned for more down the road.