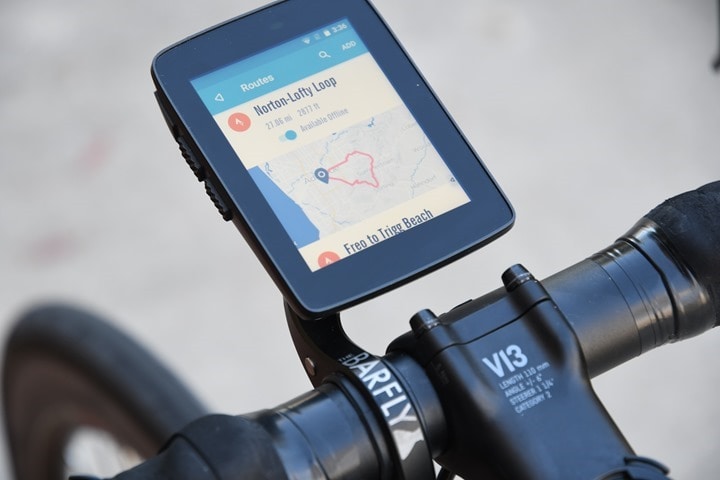 After an elongated delivery timeframe, the Hammerhead Karoo is finally shipping.  If the various engagement metrics I track tell me anything, it's one of the most awaited bike computers of the last year. It could be the fast touchscreen display speeds, the built-in cellular capabilities, or maybe the gloriously colorful and bright screen.  Or perhaps just the promise of something different.
The question is: Is that bated breath sentiment justified?
I've been using a Karoo now since late December, both in a beta state and now in a production shipping state.  The company started sending out units to folks about two weeks ago to backers all over the world.  This, after announcing the product last May. And of course a few fairly public misleading events this past December.
In my case, I bought my own unit (actually, two units oddly enough).  And I've been using it alongside various other bike computers on the market since December.  This allows me to compare not just the fancy navigational features side by side, but also more mundane things like GPS accuracy and sensor accuracy.
So how did things turn out?  Well, let's get right into it. I'll give you a hint though: It's not quite as clear-cut as one might envision.
Unboxing: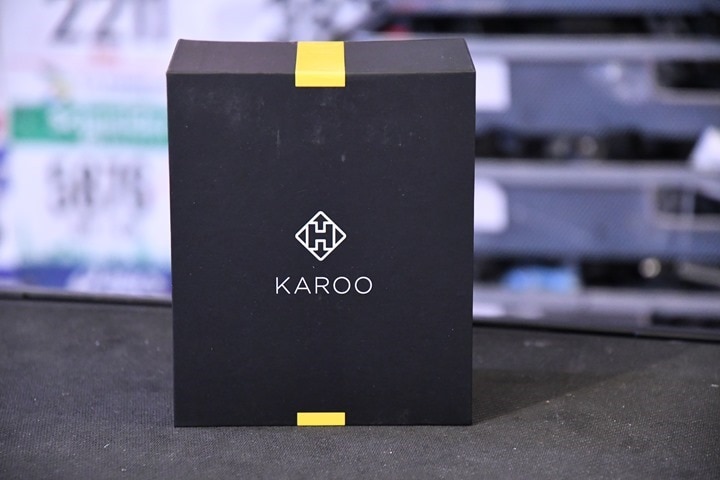 I've got one heck of an unboxing video for you to watch, which you can hit up right here.  The video includes a boatload of size and weight comparisons between the Karoo and other units on the market.
But if you don't want the video – no worries, here's the box cracked open: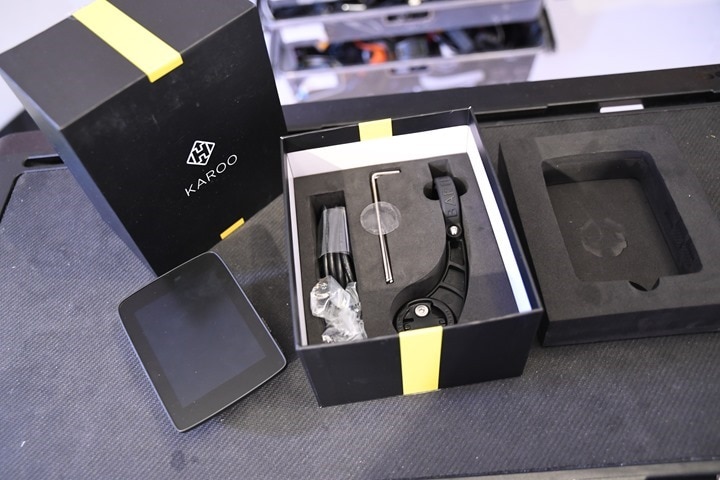 Inside you'll find a slew of components; I'll walk through each individually.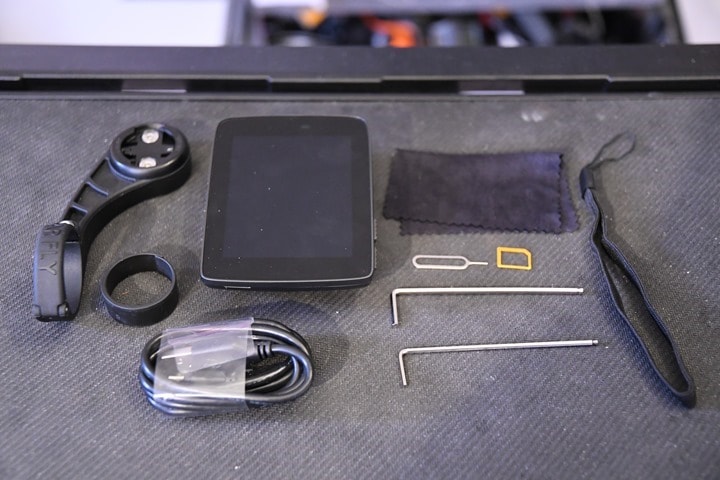 First, the least exciting one – the micro-USB cable: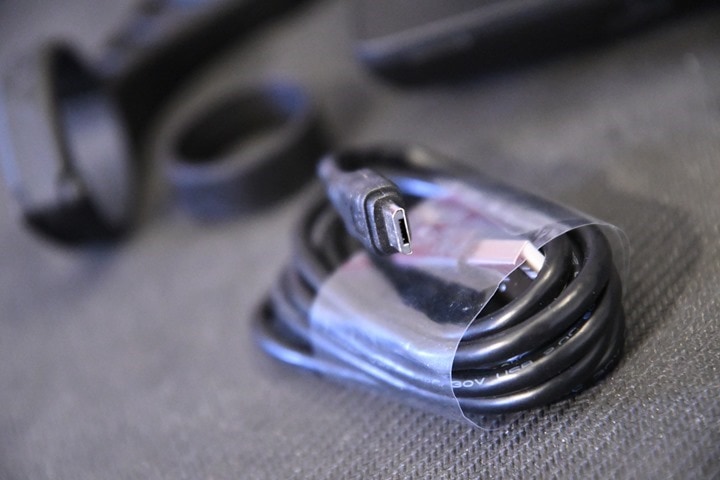 But then we've got the mount, which is actually made by Barfly.  What's even cooler is that it's got the ability for you to buy (relatively inexpensive) accessory parts from Barfly. For example, a Di2 adapter, or a GoPro adapter.  The mount is stock Garmin compatible, so any mounts good for a Garmin device work here too.
Next, we've got a SIM card popper thingy, and SIM card tray.  As well as a display cleaning cloth.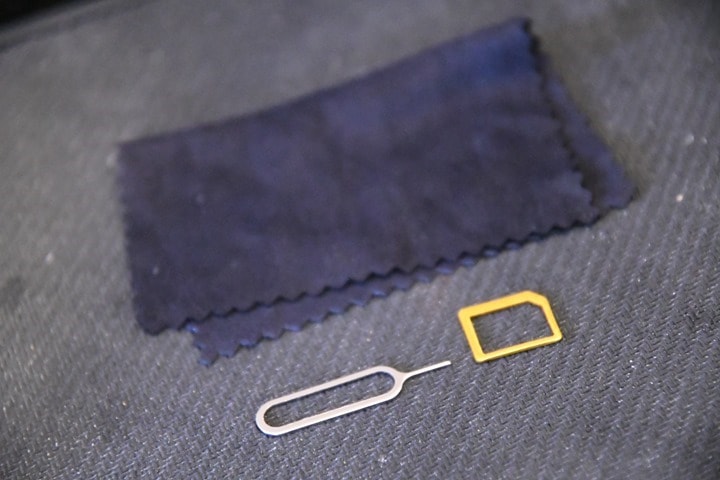 Then two tiny hex wrenches for accessing the internals and the mount: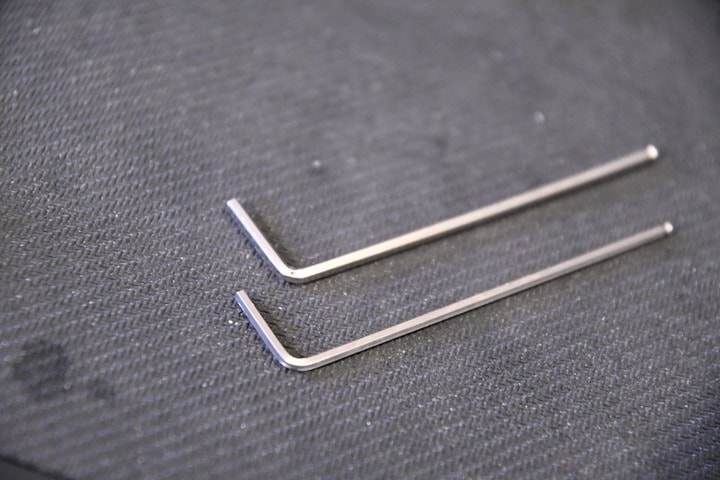 Oh – and a lanyard: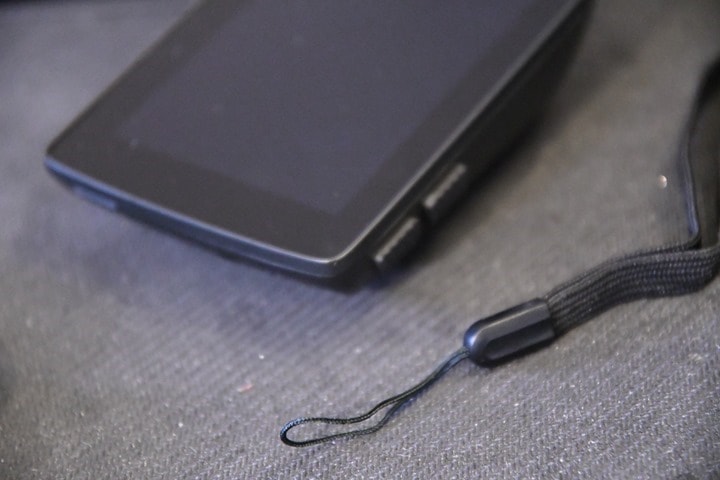 It's through these tools that you can access the innards and swap the SIM card or add the lanyard.
Oh, and speaking of the unit, I suppose I should include a couple of photos of that here. It's got three buttons on the left side, and two buttons on the right side.
The bottom has the micro-USB cable port, which is internally waterproofed (like most bike computers these days):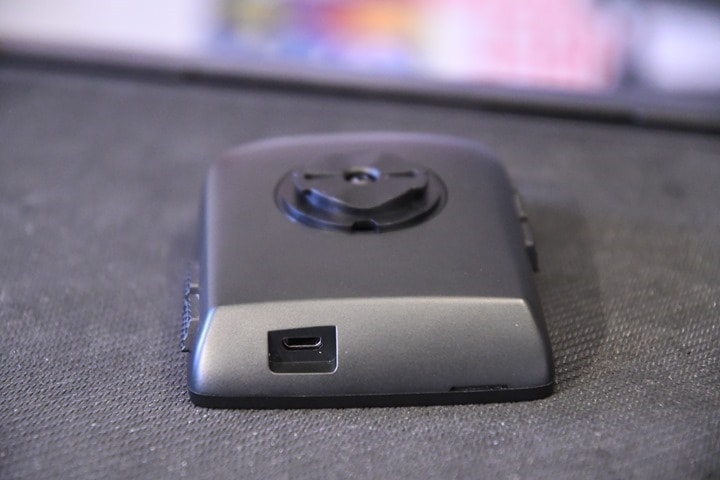 With that – I think we've covered just about everything you could want!
The Basics: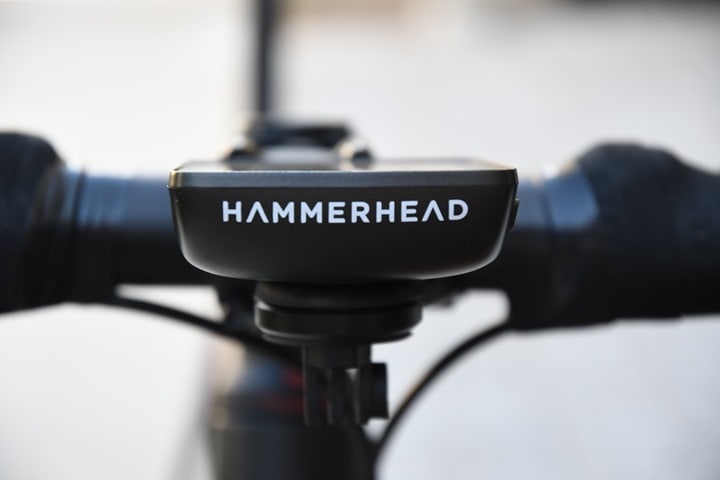 After you've got it all unboxed, the device will walk you through creating an account on their platform.  This allows you to upload rides to their site, as well as then pull down routes from not only their site but other 3rd party sites like Strava.
What's interesting here is this is the very first device I'm aware of where you can have multiple user profiles.  That's because you can sign out and then sign-in as someone else, and all their settings come down to the device: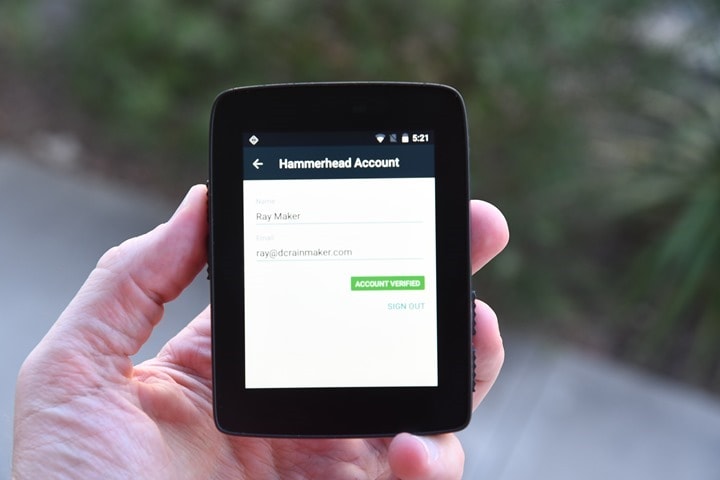 So if I had two people in my household that wanted to use the device, I could do so.  It might take a minute or two to download all the routes and such that you've saved (or past activities).  But your data screens and settings should all appear.  I've loosely tested moving between devices and it seems to work (my pages and such). It's possible there's some nuanced bugs I may have missed, but even with that it's far more than any other device maker does today.
Once that's all done you'll be at the main dashboard on Karoo.  It's here that you can access past activities ('Activities'), pre-created routes ('Routes'), your data pages/fields ('Pages'), your paired sensors ('Sensors'), various device settings ('Settings'), and then some kinda random promotional videos ('Videos').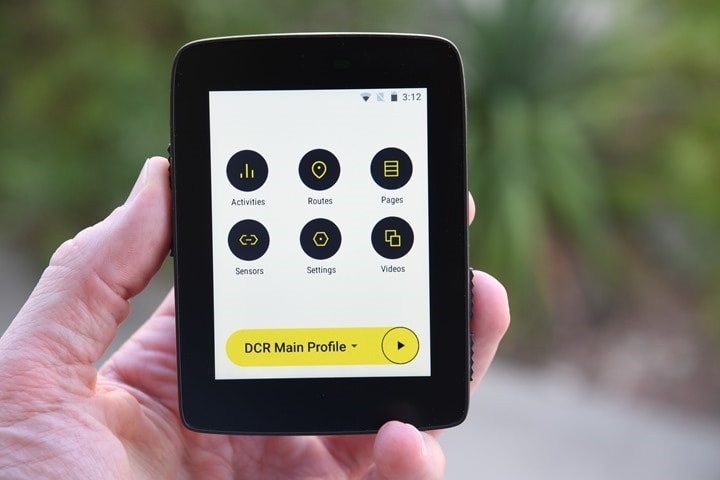 If you swipe down from the top edge of the screen you'll see the WiFi network you're connected to, as well as any Bluetooth audio sensors you're connected to.  You can also adjust screen brightness as well as enable GPS services and tweak the theme from dark to light (or light to dark).  You'll also see any notifications from the system, though at this point that's just system notifications like pending updates or failed uploads.  I did notice that the brightness slider doesn't actually do anything.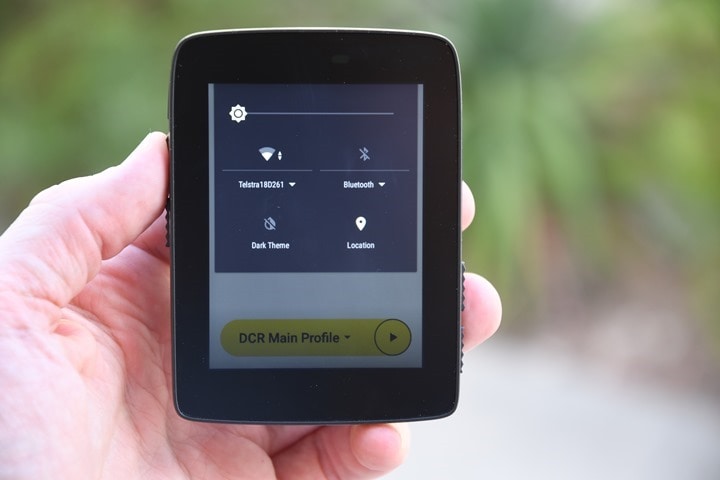 Going through each page briefly, we'll start at activities, which is where I can look at past activities.  At present, it's simply a list of past rides.  You can tap on any given ride and look at the overall stats about that ride.  Things like max and average speed, power, heart rate, and cadence.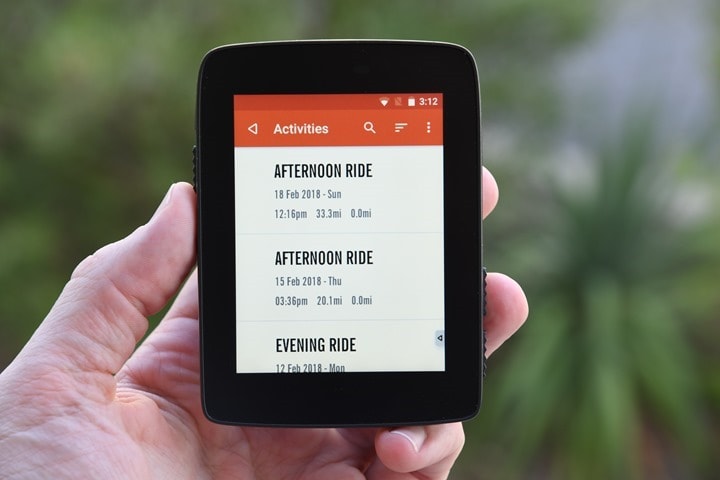 You can also re-upload that ride to Strava, as well as change the title of the ride (locally on the device, or when you upload to Strava).  There isn't a map shown here though, which is kinda a bummer given they have beautiful maps otherwise.  There also aren't any other metrics for things like time in zone or related.  Like I noted above, it's kinda basic.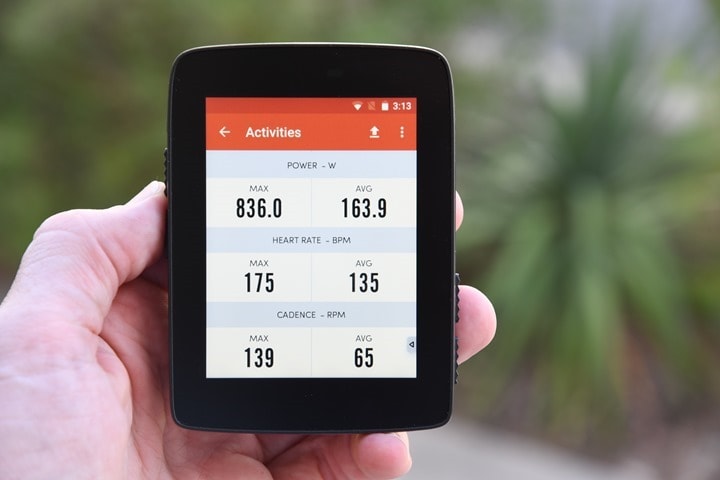 Back on the dashboard we've got the 'Routes' option.  This is where I can pull open synchronized/created routes and look at them in more detail.  Since I'm going to look at those details in more detail in the next section, I'm going to skip this for the moment.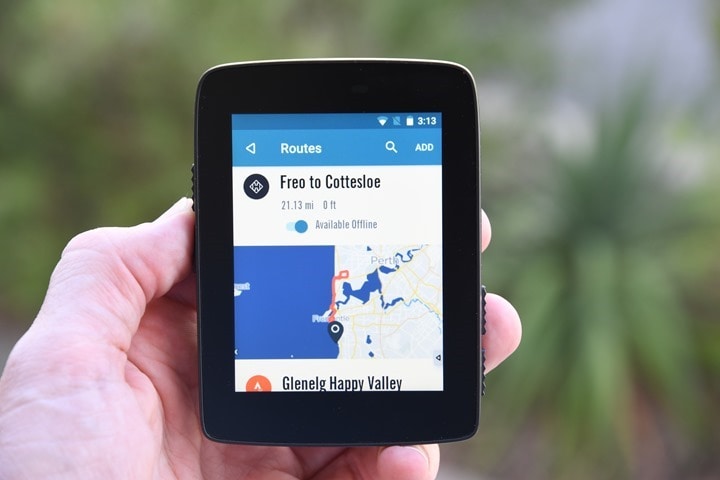 Then we've got 'Pages'.  This is where you create your data pages (which have data fields).  You can create different profiles for different activity types that you want different pages for.  For example, perhaps one set for on the trainer, another mountain biking, and another in a race.  The same concept exists on other bike computers as well.
Once inside the settings you'll see that I can name it (above right), as well as tweak data screens.  The only per-profile setting right now is Auto-Pause.  Everything else is handled at the global device level.  I suspect over time we'll see more settings shift here for things like mapping behavior and such.
Within that, I can seemingly endlessly add data pages.  Each page can have up to 12 data fields on it:
The fields covered are pretty robust, but not quite yet matching other competitors.  You've got most of what you want (both max/average/lap fields), across most metrics (distance/speed/power/cadence/HR).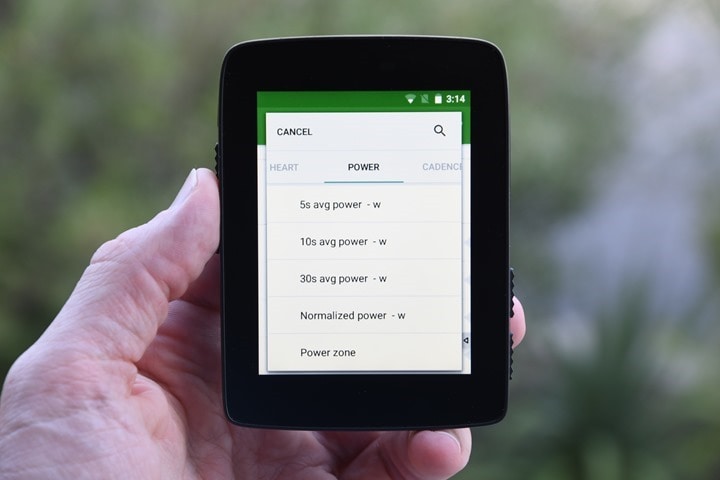 However, you'll notice it's missing power related fields like Intensity Factor (IF) and Training Stress Score (TSS).  The company implemented NP (Normal Power) in the most recent firmware update, and says they plan to implement the other metrics (which are all licensed from Training Peaks), in about 6 weeks.
Other obvious fields that are missing are elevation/grade/temperature fields, which are planned to be implemented in about two weeks.  Beyond that, you'll find a lack of any graphical data fields (like little charts and such) that are often seen for metrics like power and heart rate zones.  Those too appear to be on the futures radar, as seen on their futures page (more on that later).
For me riding mostly flat to rolling terrain in the past few weeks, it hasn't been a huge issue lacking the elevation/grade/temp fields.  But if I were going to do mountain riding, that'd be a pretty big gap.  Note that at present they are not recording any elevation data to the unit, though again, that's coming in a couple weeks they say (Update: It's now there, woot!)
Sliding all the way back to the dashboard, the next screen we have is 'Sensors'.  This is where you pair ANT+ & Bluetooth Smart sensors, as you might expect.  You can enable either ANT+ or Bluetooth Smart or both at once.  When searching, it simply searches for all sensors (versus a filter of sorts).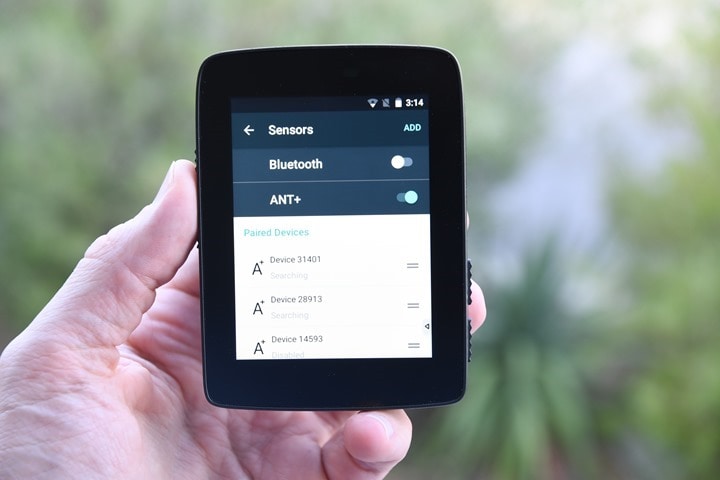 This is actually an area that shows a bit of the lack of refinement compared to others.  For example, instead of a gigantic Scarlet Letter "A+", they could use the ANT+ and Bluetooth Smart logos (which would look cool).  Also, it doesn't list the specific sensor types in any categorical way once paired though.  You see a small 'Power' or similar below it, but again using small icons here for power/speed/cadence/etc would be a really nice touch (perhaps instead of ANT+/BLE logos).
When it comes to sensor types, they allow pairing of the following today: Heart Rate, Cadence-only, Cadence/Speed Combo, Speed-only, and Power Meters.
Note that you can enable/disable various sensors without delaying them, as well as rename them to whatever you want (for example, rename a power meter to 'Quarq power meter').
Next, we've got the general 'Settings' page.  It's here that you'll find device-specific settings.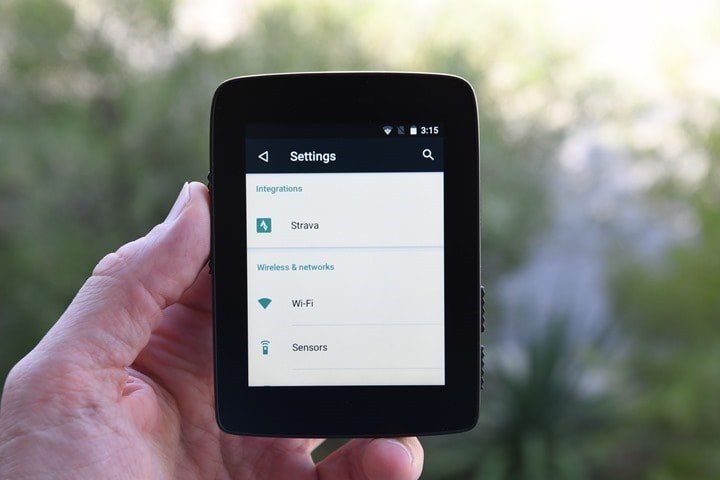 For example, you'll pair your device here to Strava (the only platform as of the time of this writing that they support).  Note for Strava, this is purely uploads and not for Strava Live Segments. There isn't a specific implementation timeframe for that at this point.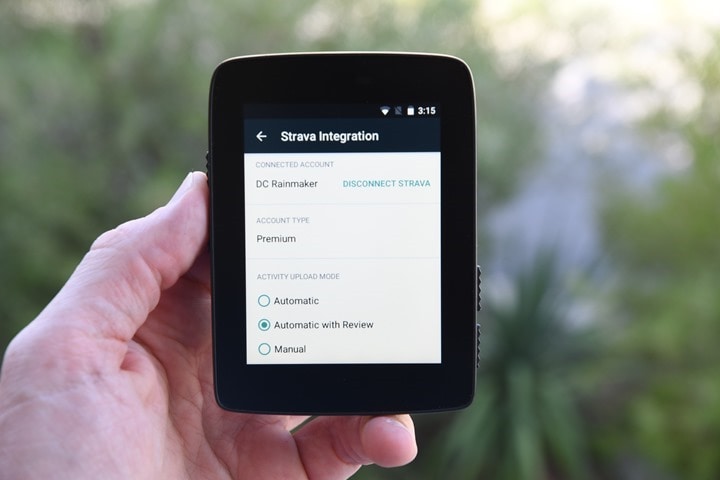 It's also where you can connect to WiFi networks, and additionally access the sensors menu again.  Further, you can poke at cellular options and enable airplane mode here.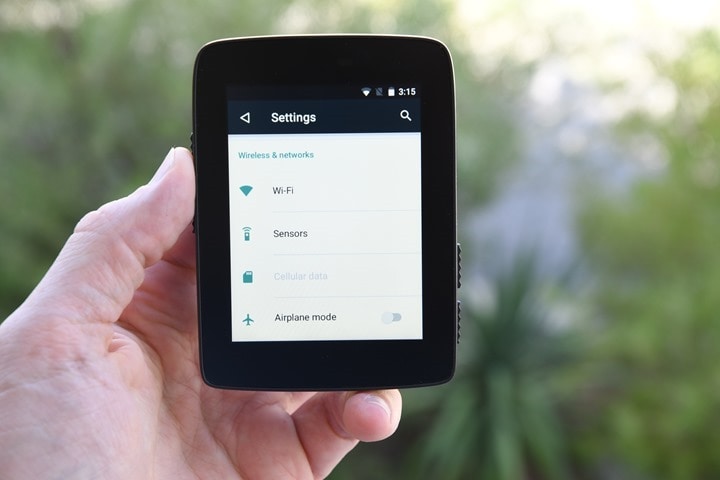 For lack of anywhere else to stick it, let's super briefly talk about cellular/3G connectivity (which requires you add a SIM card as you'd expect).  Note that the hardware is there for LTE, but at present they've focused on enabling 3G since there isn't a bandwidth need for LTE on Karoo yet.  Regardless for cellular as a whole, at this point, it's actually not really used for anything meaningful, except to upload workouts upon completion.  So there isn't any live tracking, nor do you need it for any sort of routing.  If you haven't downloaded maps for the local area, then you would need it, but that's easy enough to do via WiFi before you set out
The SIM card slot is located in the back of the unit, and requires popping off the back of the case to access (which is good, it helps with waterproofing):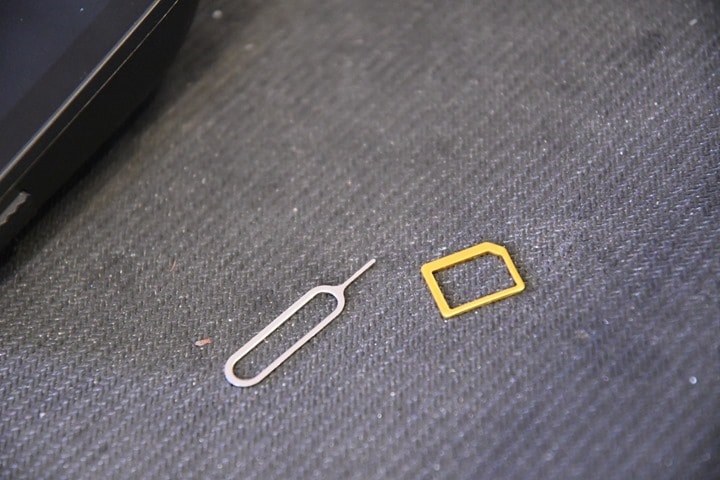 I can do everything and anything I want offline, save for uploading my completed ride, which I do as soon as I walk in the door when it connects to WiFi.
Also, what's cool is that unlike a Garmin or Wahoo device, this can connect to protected 'I agree' type WiFi networks (like those at Starbucks or hotels).  That's because it leverages the Android operating system to handle that, so it can simply prompt you like it would on your phone.
Next in the settings section is personal settings.  It's here that you can login to your Hammerhead account, as well as specify rider profile, bike profile, and training zone options.  Most of these are pretty darn basic.
Then we've got some device settings like 'Date & Time', Units (Metric/Statute), and about.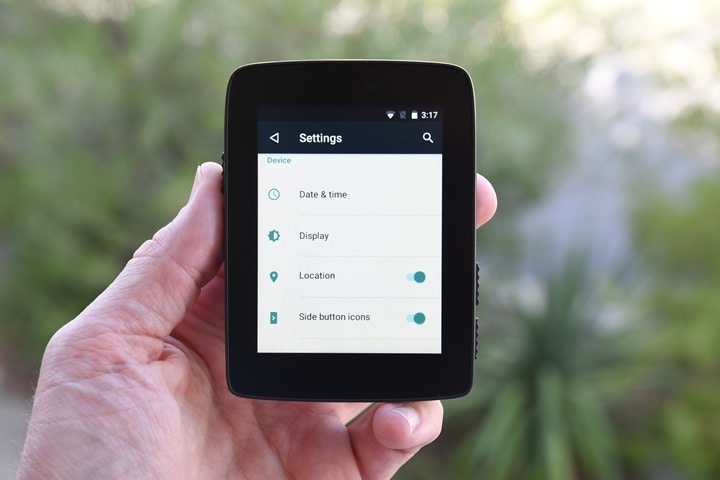 It's also in here that you can update the software on your unit.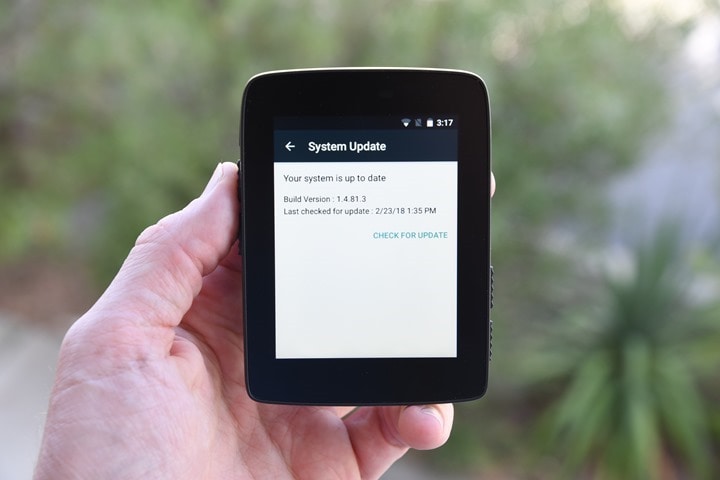 Ok, all the way back to the main page again we've got one section titled 'Videos'.  At present this isn't terribly useful, as it's just promotional stuff on what's coming up.  It sounds like down the road they may turn this into a more useful portal with how-to videos.
And then at the very bottom we've got a bright yellow bar which is where you start your ride from.  So, let's head straight into that.
Riding With It:
Now that we've got everything configured, it's time to tap that lower left yellow bar (Sidebar: I really hope at some point we can change the yellow/black color scheme to anything else.  It just looks kinda dated).  That'll first have you select which riding profile to use (that corresponds to your data pages):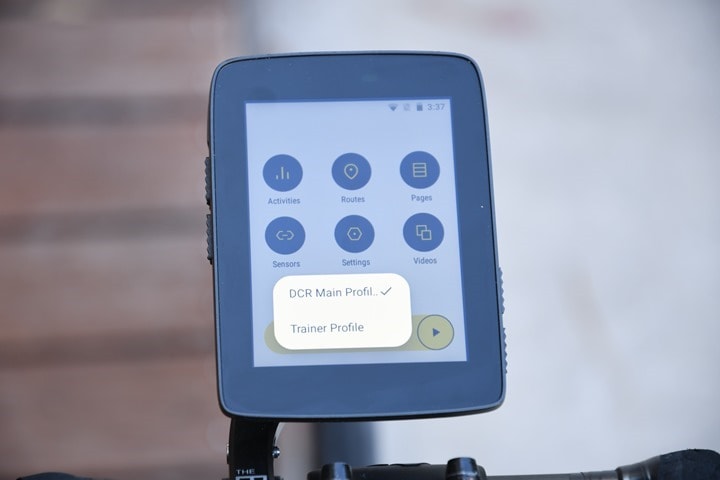 Next, it'll ask you whether you'd like to set/apply a route.  This is notable because no other bike computer on the market makes navigation so up-front and center in terms of implying that every ride would utilize a pre-defined route.  Again, going to show you that routing is really core to what they're trying to do here.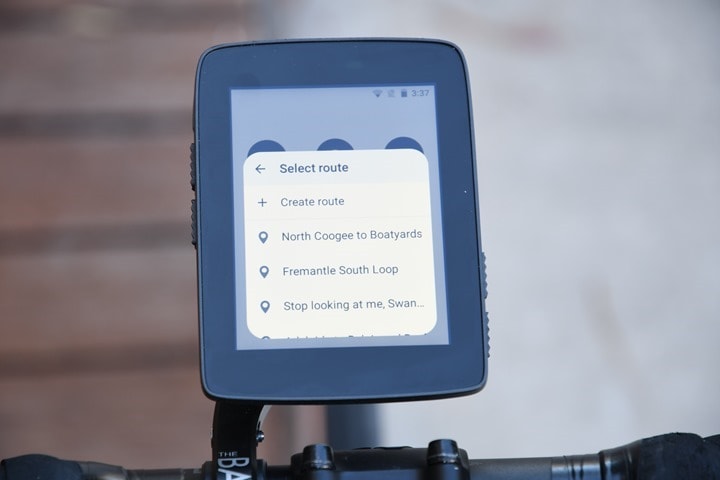 After selecting a route (or not), you'll press the 'Go' button and be immediately on the data pages.  The one downside here is that you just have to kinda 'trust' that you've got GPS signal.  I find in general the little GPS icon (if you swipe from the top of the screen), isn't a reliable indicator of having GPS signal.  For most of us cycling though, by time you get everything all set outdoors it'll have it, but since there's no real status – perhaps give it a few extra seconds.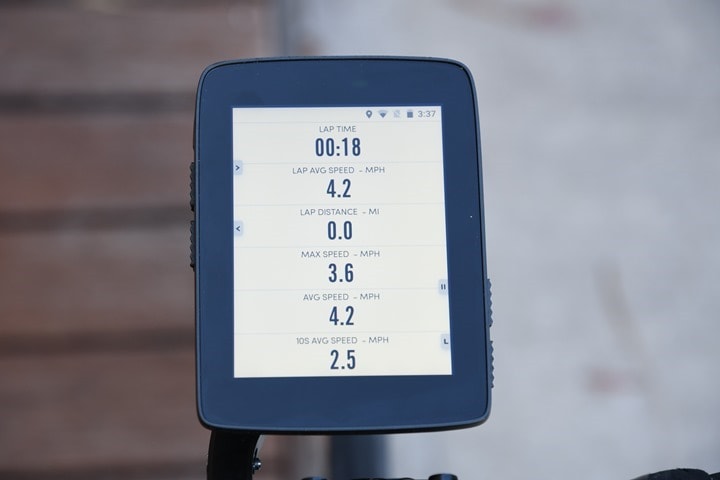 At this point you can swipe left/right through the data pages, or you can press either of the two left buttons to iterate through the pages.  Somewhat annoyingly you can't simply swipe left or right forever, instead, you eventually hit a 'wall', and have to go back the other way.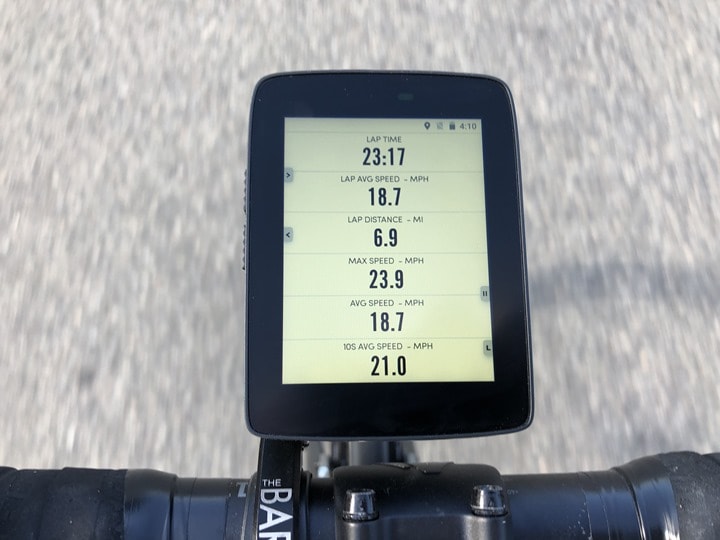 Without getting into navigation (which I cover in the next section), it's pretty much like any other bike computer in terms of showing data fields.  There's nothing special here.
What you may notice is how many features you've come to expect that are missing.  There's no Strava Live Segments, no virtual partner type options, no structured workouts that are downloadable, no live tracking (nor friend tracking), no trainer control, no other sensor types like Di2 or eTAP, nor muscle oxygen or anything else.  Nor any apps.  Hammerhead has various timelines for some of these, but it's gonna be a while till you see the majority of them on the Karoo.
And even then, it's kinda hard for me to know what your specific 'must-have' feature is.  By that, I mean that everyone has things they consider show-stoppers, but sometimes they just don't realize it till it's not there.  In culmination, these can kill a new entrant, because everyone's 'must-have' list is different.  One person might say they must have Varia Radar support, and another doesn't give one fart about that.  It's effectively death by a thousand cuts.
Still, from a basic data display standpoint, I haven't had any recent issues.  That all works just fine.  And there are some unique things here that aren't seen elsewhere.  For example, when I finish a ride, I get a Strava upload screen: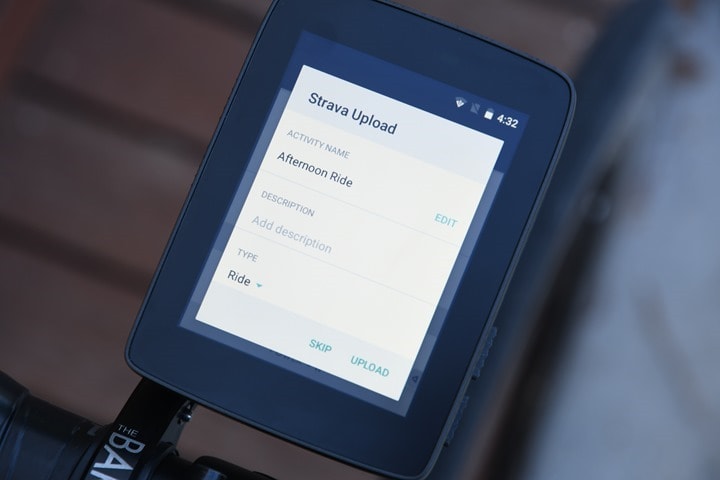 This screen actually allows me to set things like privacy settings and even the title of my ride before uploading to Strava.  I'll still likely go to my Strava mobile app to add a photo or what-not, but at least the title and privacy settings are correct.
Speaking of mobile apps, there is no mobile app for the Karoo (nor any plans to at this point).  Similarly, at present, there's no smartphone notifications (e.g. missed calls or texts or what-not).  Hammerhead doesn't really have any timelines for those either. Like almost everything out there, it'll be one person's 'must-have' and another person's 'don't care'.  Still, I do believe some things are definitely more important, especially if they're considered baseline on even the cheapest connected bike computers these days.
Also of note, your ride file isn't accessible locally on the unit (meaning you can't plug the file in and access it locally via USB drive).  However, your activity file is synced to their web platform and you can download the .FIT file there.  The site still is pretty new, so you can't do things like actually see your ride. It's just a list to download.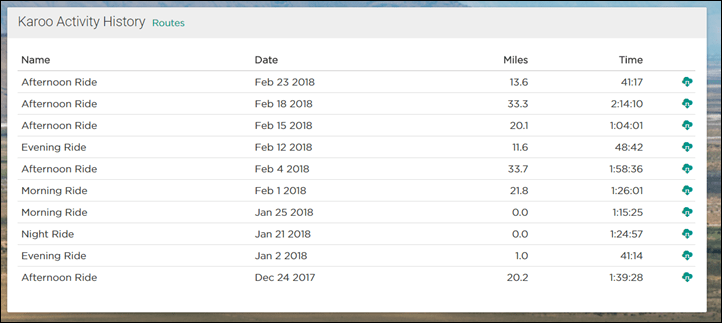 But at least it's there, it wasn't always there.  Still, I really want to see them generate the .FIT files locally on the unit and make them accessible via USB.  Simply put – I don't trust any company's web platforms (Suunto was down for more than half a week just a couple weeks ago).  I want to know that I can always access my workouts (my data) without having to upload to a site first.
Mapping & Navigation:
Since Hammerhead's very first product (the H1), it's always been about mapping and navigation.  In fact, they even went out last year and acquired/hired the developers behind dynamicWatch (aka dwMap)  Ironically, that app was voted a winner at Garmin's Connect IQ Summit last year.
In order to dig into mapping, I'm actually going to start on their website.  This isn't required, but it's definitely unique and notable.  Also, its almost the only thing actually on the website, thus, seems relevant to talk about.  You've got two options for creating a route.  First is to import a previous route.  This is actually super cool.  You can just copy and paste any Strava route or activity, as well as any activity from any one of the services noted below.  And of course files like GPX files too: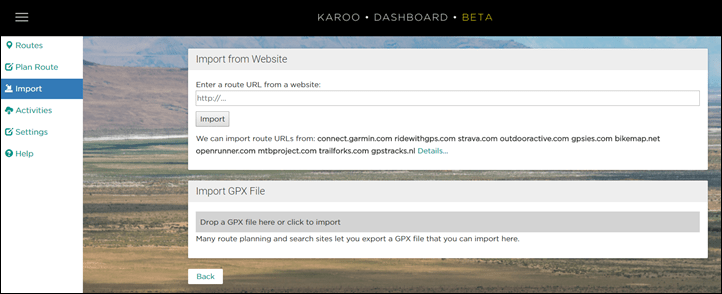 From there it'll automatically create the route for you…and done. It's that easy. It shows up in your list of routes.  You'll see the ones with the orange Strava icon are ones I pulled in from Strava.  I can also click on any of them to get options like editing the routes.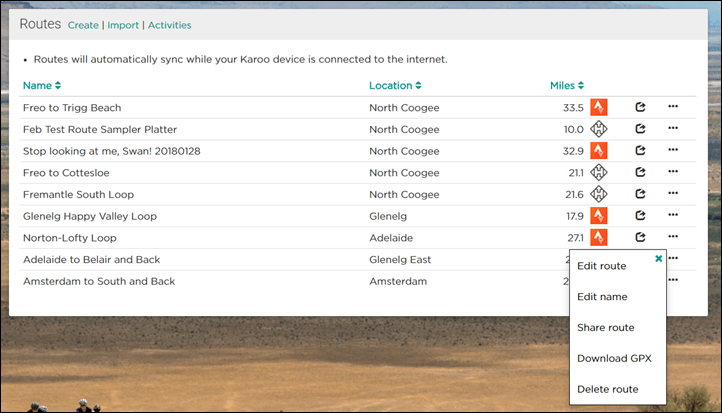 But what if I want to create a route from scratch? I can do that via the route builder, which brings up a map and allows me to play 'connect the dots', like most other route engines: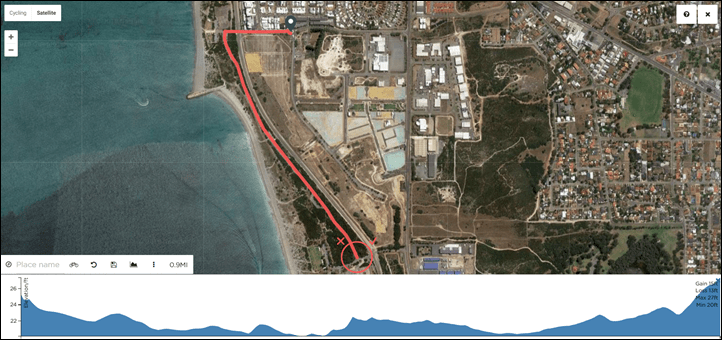 The only problem is that sometimes it's kinda finicky.  It seems to have more troubles with traffic being on the wrong side of the road (Australia/UK/etc…) than being on the right side of the road.  When back in France or on a trip to Amsterdam, I didn't have such routing issues.  Part of it is that you have to specifically click on the correct side of the road, else it'll do odd things.  That may sound obvious, but most other routing engines seem to figure it out better.
Another challenge is that it's heavily biased towards putting you on bike paths (above right).  That may sound like a good thing, but even in the example above it goes out of its way to put me on a shared use path that's more appropriate for running strollers and beach cruisers than road bikes. Below, it routed me off this road to do apparently a real-estate tour of the neighborhood for a few hundred meters, because a crappy dirt bike path exists there.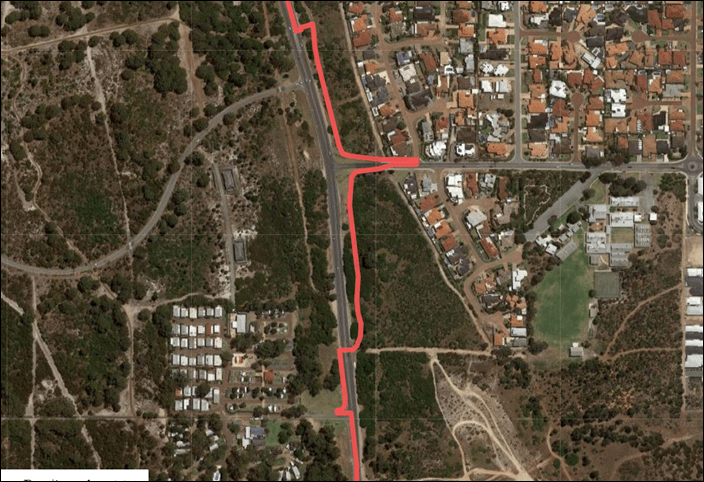 Which then leads to the next issue – a maximum limit of points.  Since I have to spend more time correcting where it's going, you end up using those points pretty quickly. It used to be 30 points, but now it's about 90 points.  But even that's easy to hit up against in any meaningfully long ride.  My example ride above is a mere 13.6mi (21K), and I used 36 points to avoid all the required wonky automation onto sidewalks (and even then there's still some wonk I just ignored).  You can get around this limitation by just importing in from other services (I.e. Strava), but it's not ideal.  Also, before someone asks – no, you can't do waypoints.
Personally, I don't find much value in waypoints 99% of the time, but I know a bunch of folks do.  To each their own.
Still, despite its quirks, I get my route all finished: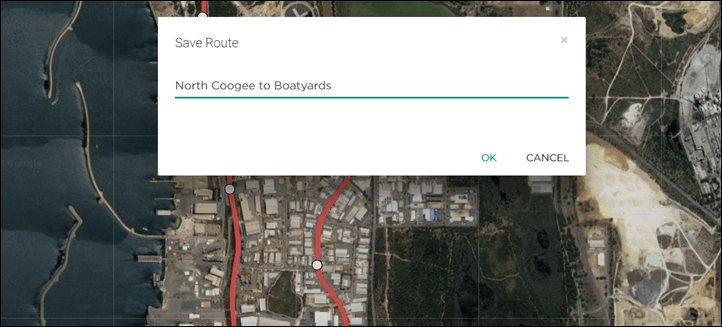 You'll then see it listed within the list of routes: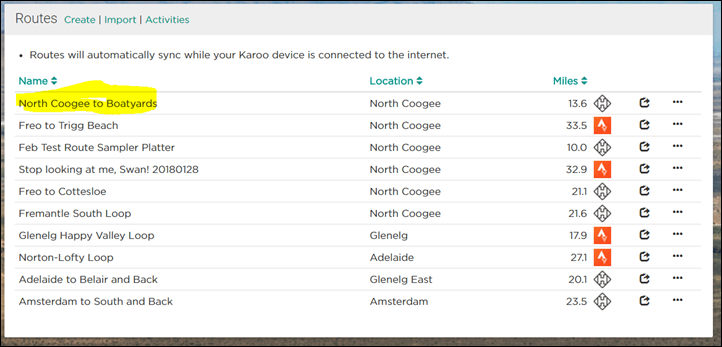 Then, almost immediately (often within a second or two) you'll find it available on your Karoo, assuming it's connected to WiFi.  You can tap to then set the whole route as offline, which downloads more detailed maps for that specific route.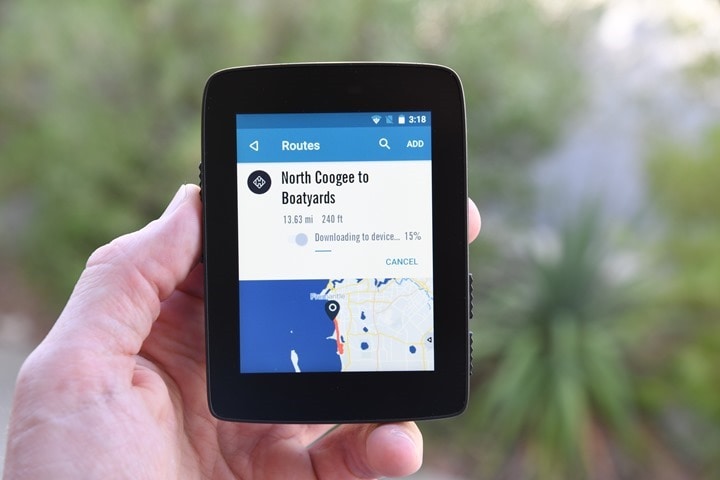 You can tap the route to zoom around it, or even edit it.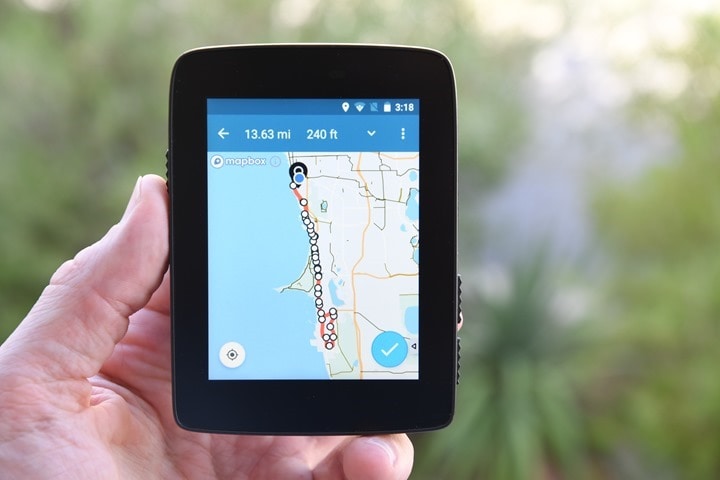 In theory, you can also add stops which would be crazy cool.  I tried searching for various local businesses though (for example 'Boost Juice', a smoothie shop), but it never found the place, or it found shops of that chain located thousands of miles away.  So it doesn't appear to search close to the route.
With that all settled, let's head out on a ride with routing.  In order to best demonstrate that, I've got an entire video on routing and how it looks, which you can watch here:
Once out on a ride, you'll see the map page that allows you to look at the upcoming route, as well as where you've been.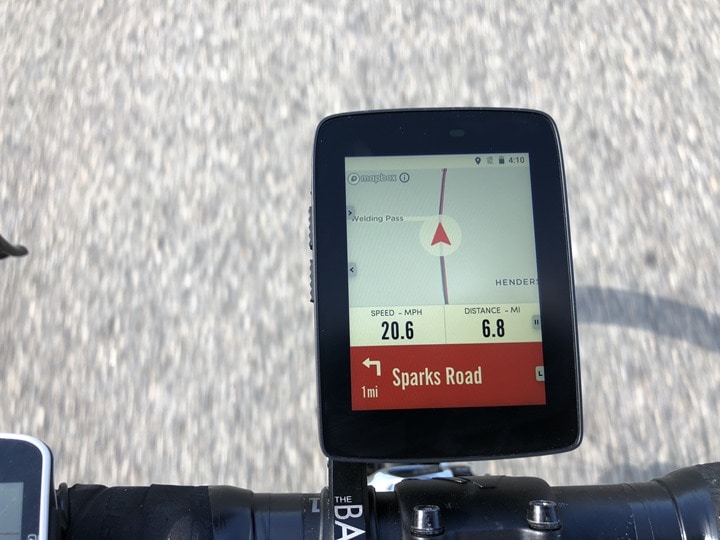 On non-map data pages, it'll display a banner at the bottom as you approach a turn: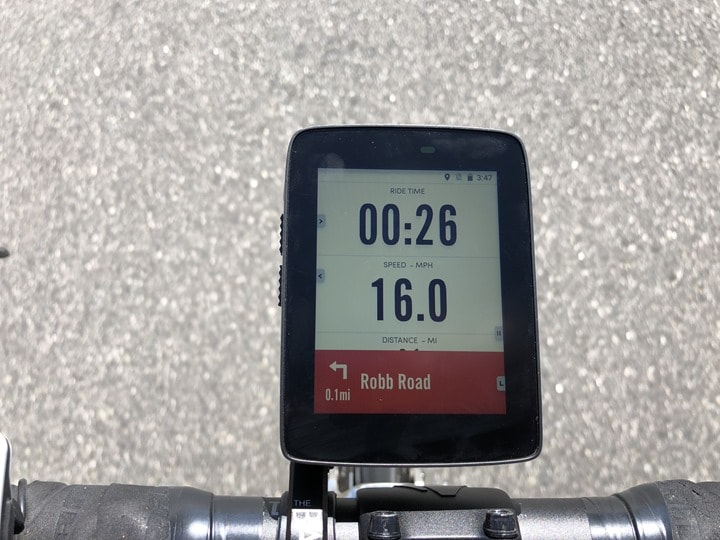 If you miss a turn it'll give suggested routes to get back on track.  Further, you'll see upcoming turn alerts shown as well on all pages, regardless of which screen you're on.  Below, you see a thin blue line with the suggested route to get back on track.  The red line is where I was supposed to be.  The grey line behind me is where I've gone (I rather like that coloring).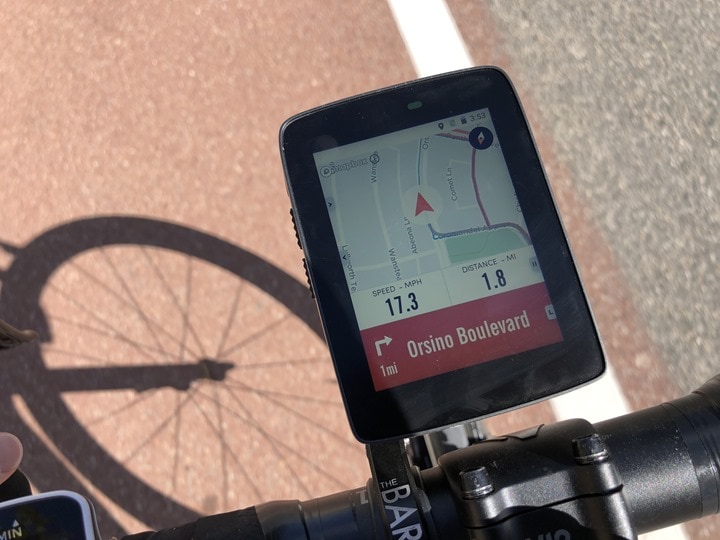 The biggest and most important takeaways though you may have picked up from the video are:
– There are no audio alerts built into the device: Thus, you have to watch your screen for upcoming alerts.  The hardware simply doesn't exist in Karoo to make a beep.  The company says they're looking to add Bluetooth headphone support (which would also work with helmets like the COROS Linx I use).  But they don't have a timeline for that.
– The routing engine is actually pretty forgiving: In my experience it does a really good job and trying to figure out a better route forward after you ignore it or miss a turn.  That said, in the past on previous firmware versions I have seen cases where it's almost too excited to give me a new (more scenic) route, even when I'm already on the existing route.  I haven't seen that in the current firmware version.
– The map downloading piece is precisely what Garmin should be doing: Garmin seems to be dragging tooth and nail against making it easy to have maps on their devices.  I get they think they can make money on that piece (especially outside your default region), but nobody cares.  It's a core reason why Wahoo has succeeded – it just works and people don't pay extra.  Now, Wahoo actually doesn't have legit on-device turn by turn navigation like Garmin or Hammerhead does.  The Wahoo devices don't really know what streets you're on, they just hope you don't go off-course, as it can't re-route you back onto course.  That's the key difference in mapping here, and Karoo makes it the most seamless thing in the world to have the right super-detailed maps for your device, when and where you need them.
All that said, routing mostly works well for me while riding – but I think the lack of audio alerts is a pretty significant issue.  It's less of a problem when your next turn is in 38KM.  But in busy city type riding, having to constantly be watching the screen waiting for the next turn is a pain in the butt.  I rarely got my turns right when routing through cities.
Smartphone Connectivity & Online Site:
Sometimes I include sections within a review, even when said section will be relatively empty.  It's largely done to assist those trying to find out information on a specific aspect of the topic.  Especially when the topic is a big ticket item and folks might incorrectly assume I've forgotten about it.
In most of my device reviews I include a section about the smartphone app and online site experience.  But in this case, that's kinda hard to do.
Starting with the smartphone app: There is no app.
There's at present no method to connect to the Karoo from your smartphone, save creating a WiFi hotspot.  But even then, that's not an app – that's just allowing the Karoo to access the interwebs to upload/download things.  In talking with the company, they say that they really wanted Karoo to stand alone on its own as a device, and not need a smartphone app.
And there's some truth to that.  I haven't really needed one per se.  But at the same time – the general trend in the industry is well-designed apps that enhance the experience.  They aim to make it faster and easier to create routes, view activities after a ride, or track fitness related stats like how your FTP is trending or your HR zones for that activity or month.  These are all common things in one form or another on all Garmin or Wahoo devices.
More importantly though – it also means there's no connectivity to your smartphone for functions like smartphone notifications of texts or calls (or any other apps).  Same goes for live tracking (none).
Shifting focus to the site, I covered the route navigation piece in the previous section (which is pretty cool).  But I didn't really cover anything else on the site up till this point.
Why?
Because there is nothing else. For real.
The only other tab/page/anything is a single list of your completed activities: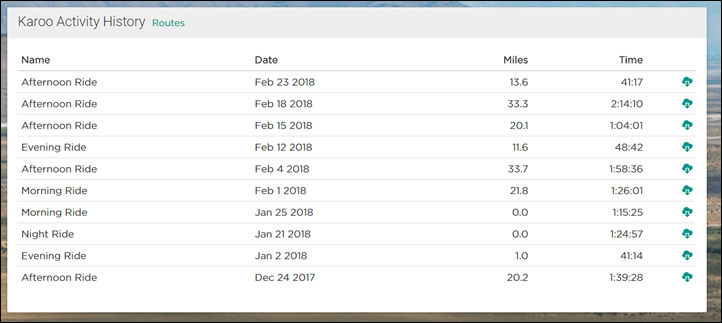 From there you can tap the cloud icon to download the .FIT file of that activity.
And that's it.  There are at this time no other functions.
Of course, such an approach isn't new.  Readers will know that Wahoo also gets away with having no site at all (so even less than Hammerhead).  But in Wahoo's case they have a highly functional companion smartphone app.  They also have extensive 3rd party app integration (versus just activity upload to Strava at this time for Hammerhead).
And to Hammerhead's credit, their cloud-sync option for your user profile pieces is pretty cool.  I can login on a new device (or reset my existing device) – and everything follows me.  My data pages and field configurations, my downloaded routes, and all assortment of settings.  It's just instantly there when I connect to WiFi and sign-in with my username.  That's something that nobody else has today in the industry, surprisingly enough.
GPS & Data Accuracy:
Typically speaking when it comes to GPS bike computers I'm looking at accuracy in three categories:
A) GPS Accuracy: How well does it track where you went from a track/mapping standpoint?
B) Elevation Accuracy: How well does it track your elevation gain (as well as things like grade/incline)?
C) Data Sensor Accuracy: Does it accurately capture sensors like power meters and heart rate?
In general, for most bike computers I review, bullet point A above on GPS accuracy is usually pretty easy.  Watches, on the other hand, tend to be more complicated here, but bike computers – largely by virtue of your speed, tend to do fairly well.  And the same is true of the Karoo too.  If I look at track file after track file, it's essentially perfect.  It not only nails the road I travelled on, but generally even the correct lane I was in.
Just picking a bunch of random screenshots here.  For example, today's ride showed near perfect alignment, even through some building construction areas: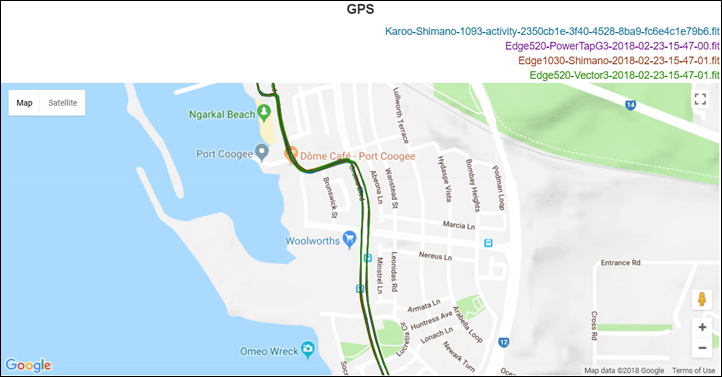 Last week on a longer route with plenty of twists and turns as I rounded to and through the city and back, including a few bridges (over and under):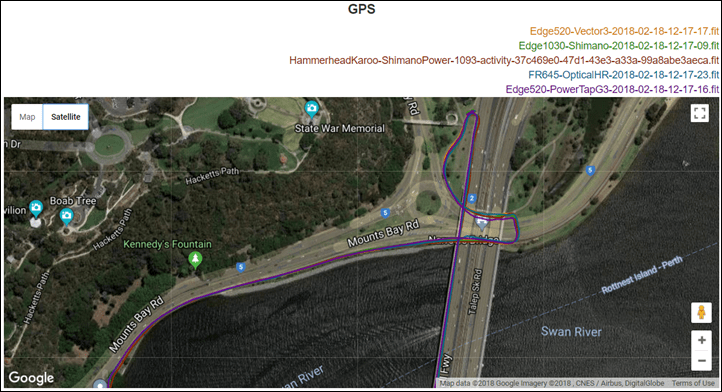 If we look at the distances on that ride, all of these three via GPS, we'll see they're within 50m in total – for the entire 53KM ride.  That's solid.

Skimming through the entire 53KM, I can only find a single turn to nitpick (and really, it's if I'm really nitpicking), whereby the Karoo cut the corner by a couple of meters.  But there were other spots where the Garmin did similar.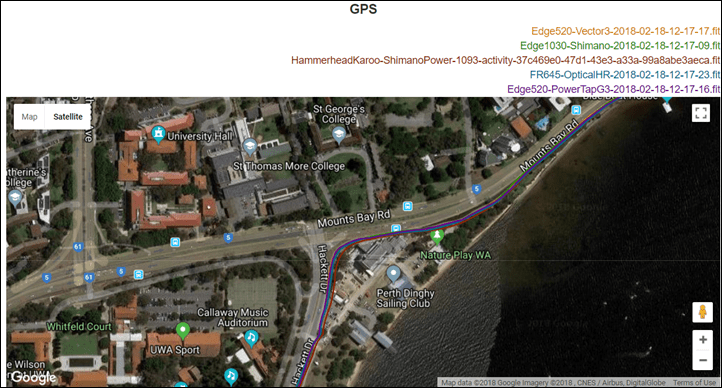 No matter how many sets I look at, the result is the same – there's zero issues with GPS on the Karoo from what I see. Be it accumulated distance, or the actual track files – it's super clean.  Below – a total variance of +/- 75m off the average between them, on 32KM (thus 0.1% – 1/10th of 1%).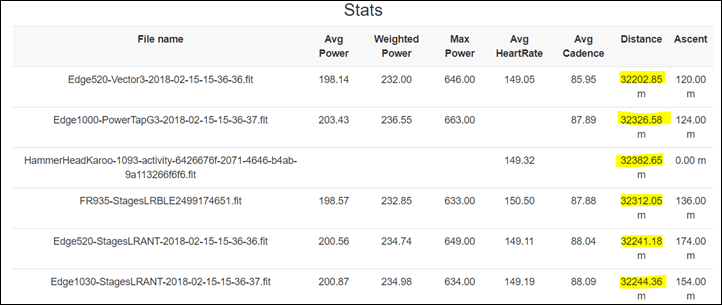 Another ride, from today, if we look at recorded distance – all the units are within 100m of each other on a 21K ride.  In fact, it's actually even closer than that.  The one that's 21,900m is using the PowerTap hub ground-speed data, putting it 100m higher than the others.  Else, all units are within 10 meters of each other, which is kinda crazy.
Next, I'd typically look at elevation data accuracy.  Unfortunately in the case of the Karoo that's not possible yet.  See, the unit doesn't yet leverage its internal barometric altimeter for anything.  So it's not showing elevation data from that, nor is it recording data from that. Thus at present there are no elevation data fields. [Update: As of the latest software, this is now being recorded. I'll look at get a few rides in and add some charts.]
The good news is that Hammerhead has it on the short-list to implement the barometric altimeter data.  The bad news is that it's simply not there today, and without it even recording altimeter data, I can't begin to compare it.  The files are just empty for that data field (see above how it shows 0.00m for ascent).
Finally, there's the aspect of data collection – primarily around sensor data, but not explicitly.  Still, since sensor data is actually the most straightforward one to analyze, I'm going to focus on that.  To do so, I'm comparing data gathered from the same sensor on multiple devices.  In this case, it's a power meter and a heart rate strap.  The power meter also broadcasts cadence too.  Note however that as of this writing, the Karoo cannot trigger a power meter to calibrate (zero offset).  That's coming shortly, but as of today you'll need to use some other method of doing that.
Up until yesterday, I was having issues with power meter data collection and it doing some incorrect stuff around zero values.  However, per the release notes and my ride from this afternoon, the latest firmware now fixes that.  You can see that most easily in my data sets, but also just in the values recorded from the same power meter on two different head units. Here's today's ride for example.

If I look at the data charts, those power meters show virtually identical plots:

You will see very slight per-second variances due to the way the units receive the data packets, but if you look at the mean/max graph, it's also virtually identical. The only differences you see (tiny ones) are at the sprints, which again is totally normal since you're talking 1-second sampling rate differences.

That said, I suspect there's some bumps in the road ahead on different units that aren't on my bike at this second.  For example, certain SRM power meter models are still a challenge for Wahoo's head units.  It's due to a very specific version of SRM units that can cause the issue. But there are many such data quirks that companies like Hammerhead, Wahoo, and Garmin have to (and have already) deal with.  It's simply that the longer a company has been around, the longer they have known about these things to figure out.
So in my case, I can only report back the specific sensors I've tested with.  In this case, most of my time with the Karoo has been using the following sensors: Stages LR power meter, Wahoo TICKR X heart rate strap, Wahoo TICKR FIT heart rate strap, PowerTap G3 hub power meter, and the Shimano R9100P power meter.  I've undoubtedly connected a few other items in there, but those are the biggies off the top of my head.
(Note: All of the charts in these accuracy sections were created using the DCR Analyzer tool.  It allows you to compare power meters/trainers, heart rate, cadence, speed/pace, GPS tracks and plenty more. You can use it as well for your own gadget comparisons, more details here.)
The Future: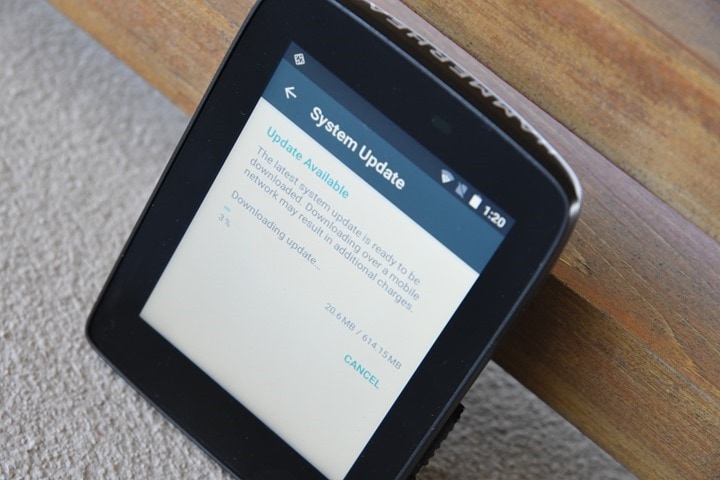 In many (most) ways, the sustainability of Karoo as a product (and likely Hammerhead as a company) depends 110% on the next 3-6 months.  That may sound obvious, but it's quite different than most other products.
That's because put quite simply, Karoo is a barely finished product.  Actually, a little card in the package states that they never expect to be finished – to be always evolving.  And while that's a laudable Silicon Valley-type techie goal, one has to step back and compare features (which the next section does).  A pretty screen only gets you so far if you're missing the things people want.
The company has put together a plan for the next couple months, which they outline on this site (click the software tab).
That plan is both aggressive and not at the same time.  It's aggressive in the very short term (I.e. few weeks), but less so when you look longer term (I.e. summer).  Sure, the company doesn't want to show all their eggs for fear of competitors stealing them.  But honestly, they need to show that they're going to at least reach feature parity with their competitors.  Things like Strava Live Segments, connecting to platforms like Training Peaks and Today's Plan, integrating with your phone for smartphone notifications and so on.
Speaking of 3rd party connectivity – you may be wondering about apps.  In fact, you may be wondering why I've only used the word 'Android' once in this entire review.  The reason is simple: While the unit is Android, that has no practical meaning here.  They aren't opening up the doors for you to download YouTube (or Strava) on it.  It's totally locked down – even more so than your average Android phone.  Instead, they hope to entice developers to work with them via their own app store for Karoo.  That's going to be a tough sell until they can get volume such that a 3rd party believes it's in their interest to invest in Karoo over apps on Garmin or a direct integration with Wahoo.  A really tough sell.
Still, all Hammerhead can keep doing is keep their head down and just release features.  Of course, balancing that with managing what will likely be a slew of bugs for a new product launch (like any new product launch) will slow things short term.
Product Comparison Tool:
I've added the Karoo into the product comparison database, which allows me (and you) to compare various features on the product against other unit competitors.  In this case, I put it up against what I think are the most relevant/viable competitors in the space – the Wahoo ELEMNT BOLT and the Garmin Edge 520 and 820.  I put both Garmin Edge units, because one is mapping focused and one is not. It's also quite valid to compare against the Edge 1000 – since that's the same price these days.  And of course the ELEMNT and ELMNT BOLT are identical software-wise, just different screen sizes and an extra LED light bar.  In any case, you can mix and match those all as you see fit here.
Function/Feature

Garmin Edge 520
Garmin Edge 820
Hammerhead Karoo
Wahoo ELEMNT BOLT
Copyright DC Rainmaker - Updated December 10th, 2020 @ 7:09 am New Window
Price
$229
$399
$399
$229
Product Announcement Date
July 1st, 2015
July 13th, 2016
May 2nd, 2017
Mar 14th, 2017
Actual Availability/Shipping Date
July 31st, 2015
Mid-July 2016
Feb 9th, 2018 [No longer available]
Mar 14th, 2017
GPS Recording Functionality
Yes
Yes
Yes
Yes
Data Transfer
USB & Bluetooth Smart
USB, Bluetooth, WiFi
WiFi
Bluetooth Smart, WiFi, USB
Waterproofing
IPX7
IPX7
IP67
IPX7
Battery Life (GPS)
15 hours
15 hours
10-15hrs
15 hours
Recording Interval
1-Second or Smart
1-Second or Smart
1-second
1-second
Quick Satellite Reception
Yes
Yes
Yes
Yes
Alerts
Audio/Visual
Sound/Visual
Visual
AUDIO/VISUAL + LED's
Backlight Greatness
Great
Great
Great
Great
Ability to download custom apps to unit/device
Yes
Yes
In future
No
Acts as daily activity monitor (steps, etc...)
No
No
N/A
N/A

Music

Garmin Edge 520
Garmin Edge 820
Hammerhead Karoo
Wahoo ELEMNT BOLT
Can control phone music
No
No
No
No
Has music storage and playback
No
No
No
No
Streaming Services
No

Payments

Garmin Edge 520
Garmin Edge 820
Hammerhead Karoo
Wahoo ELEMNT BOLT
Contactless-NFC Payments
No

Connectivity

Garmin Edge 520
Garmin Edge 820
Hammerhead Karoo
Wahoo ELEMNT BOLT
Bluetooth Smart to Phone Uploading
Yes
Yes
No
Yes
Phone Notifications to unit (i.e. texts/calls/etc...)
Yes
Yes
No
Yes
Live Tracking (streaming location to website)
Yes
Yes
Yes
Yes
Group tracking
No
Yes
No
Yes
Emergency/SOS Message Notification (from watch to contacts)
Yes
Yes
No
No
Built-in cellular chip (no phone required)
No
No
Yes (with SIM card added)
No

Cycling

Garmin Edge 520
Garmin Edge 820
Hammerhead Karoo
Wahoo ELEMNT BOLT
Designed for cycling
Yes
Yes
Yes
Yes
Power Meter Capable
Yes
YEs
Yes
Yes
Power Meter Configuration/Calibration Options
Yes
Yes
Yes
Yes
Power Meter TSS/NP/IF
Yes
Yes
Yes
Yes
Speed/Cadence Sensor Capable
Yes
Yes
Yes
Yes
Strava segments live on device
Yes
Yes
Yes
Yes
Crash detection
Yes
Yes
No
No

Running

Garmin Edge 520
Garmin Edge 820
Hammerhead Karoo
Wahoo ELEMNT BOLT
Designed for running
N/A
No
No
N/A
VO2Max Estimation
(CYCLING YES THOUGH)
(Cycling Yes though)
(No for cycling too)
N/A
Recovery Advisor
(CYCLING YES THOUGH)
(Cycling Yes Though)
(No for cycling too)
N/A

Triathlon

Garmin Edge 520
Garmin Edge 820
Hammerhead Karoo
Wahoo ELEMNT BOLT
Designed for triathlon
N/A
No
No
N/A

Workouts

Garmin Edge 520
Garmin Edge 820
Hammerhead Karoo
Wahoo ELEMNT BOLT
Create/Follow custom workouts
Yes
Yes
Yes via TrainingPeaks
Yes
On-unit interval Feature
Yes
Yes
No
No
Training Calendar Functionality
Yes
Yes
No
No

Functions

Garmin Edge 520
Garmin Edge 820
Hammerhead Karoo
Wahoo ELEMNT BOLT
Auto Start/Stop
Yes
Yes
Auto-pause/restart (but not Auto-Start)
Yes
Virtual Partner Feature
Yes
Yes
No
No
Virtual Racer Feature
Yes
Yes
No
No
Records PR's - Personal Records (diff than history)
Yes
Yes
No
No
Day to day watch ability
N/A
No
No
Shows time/date
Hunting/Fishing/Ocean Data
N/A
No
N/A
N/A
Tidal Tables (Tide Information)
N/A
No
N/A
N/A
Jumpmaster mode (Parachuting)
N/A
No
N/A
N/A
Geocaching
N/A
No
N/A
N/A
Weather Display (live data)
Yes
Yes
No
No

Navigate

Garmin Edge 520
Garmin Edge 820
Hammerhead Karoo
Wahoo ELEMNT BOLT
Follow GPS Track (Courses/Waypoints)
Yes
Yes
Yes
Yes
Markers/Waypoint Direction
Yes
Yes
Yes
No
Routable/Visual Maps (like car GPS)
Yes for maps (but not routable)
Yes
Yes
Yes
Back to start
Yes
Yes
No
Yes
Impromptu Round Trip Route Creation
No
Yes
No (But can create one-way routes on device)
No (But can create one-way routes from phone app)
Download courses/routes from phone to unit
Yes
Yes
No (only via WiFi from site)
Yes

Sensors

Garmin Edge 520
Garmin Edge 820
Hammerhead Karoo
Wahoo ELEMNT BOLT
Altimeter Type
Barometric
Barometric
Barometric
Barometric
Compass Type
GPS
GPS
Magnetic
Magnetic
Heart Rate Strap Compatible
Yes
Yes
Yes
Yes
ANT+ Heart Rate Strap Capable
Yes
Yes
Yes
Yes
ANT+ Speed/Cadence Capable
YEs
YEs
Yes
Yes
ANT+ Footpod Capable
No
No
No
No
ANT+ Power Meter Capable
Yes
Yes
Yes
Yes
ANT+ Weight Scale Capable
Yes
Yes
No
No
ANT+ Fitness Equipment (Gym)
No
No
No
No
ANT+ Lighting Control
Yes
Yes
No
No
ANT+ Bike Radar Integration
Yes
Yes
Yes
Yes
ANT+ Trainer Control (FE-C)
Yes
Yes
No
Yes
ANT+ Remote Control
Yes
Yes
No
No
ANT+ eBike Compatibility
No
Yes
No
No
ANT+ Muscle Oxygen (i.e. Moxy/BSX)
With apps
With apps
No
Yes
ANT+ Gear Shifting (i.e. SRAM ETAP)
Yes
Yes
Yes
Yes
Shimano Di2 Shifting
Yes
Yes
Yes
Yes
Bluetooth Smart HR Strap Capable
No
No
Yes
Yes
Bluetooth Smart Speed/Cadence Capable
No
No
Yes
Yes
Bluetooth Smart Footpod Capable
No
No
No
YEs
Bluetooth Smart Power Meter Capable
No
No
Yes
Yes
Temp Recording (internal sensor)
Yes
Yes
Yes
Yes
Temp Recording (external sensor)
No
No
No
No

Software

Garmin Edge 520
Garmin Edge 820
Hammerhead Karoo
Wahoo ELEMNT BOLT
PC Application
Garmin Express
Garmin Express (PC/Mac)
No
N/A
Web Application
Garmin Connect
Garmin Connect
Yes
N/A
Phone App
iOS/Android/Windows Phone
iOS/Android/Windows PHone
No
iOS/Android
Ability to Export Settings
No
No
No
No

Purchase

Garmin Edge 520
Garmin Edge 820
Hammerhead Karoo
Wahoo ELEMNT BOLT
Amazon
Link
Link
Link
Link
Backcountry.com
Link
Clever Training - Save with the VIP program
Link
Link
N/A
Competitive Cyclist
Link
Wiggle
Link

DCRainmaker

Garmin Edge 520
Garmin Edge 820
Hammerhead Karoo
Wahoo ELEMNT BOLT
Review Link
Link
Link
Link
Link
Again, remember you can mix and match to make your own comparison charts here in the product comparison database.
Summary: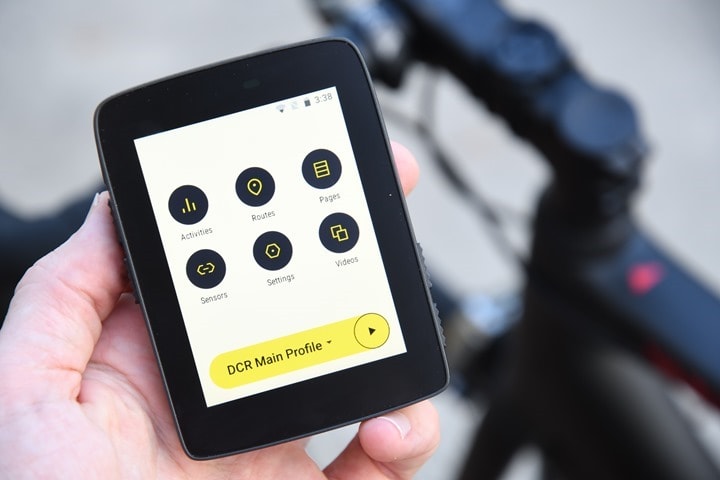 The Hammerhead Karoo shows a lot of promise of what a bike computer could be, specifically with respect to high-quality displays and fast touch interactions.  It's effectively like using a streamlined phone on your handlebars (well, because technically it is).  But the challenge is converting that promise into reality.  As I've said numerous times over the last 6 or so months, I don't expect Hammerhead to be a serious contender to Garmin or Wahoo until 12-18 months after release.
It took Wahoo 12 months after the release of the ELEMNT to be in a competitive spot with the BOLT (which has done fantastically well).  But that was after having 3+ years of bike computer development experience with the RFLKT product line.  They had a jump start that Hammerhead doesn't.  On the flip side, Hammerhead isn't burdened by expectations and legacy baggage like a company such as Garmin (or even Wahoo) would be.
There are elements within Karoo today that are fantastically unique and move bike computers forward.  They include the Strava customization, offline map download pieces, user profile/settings cloud sync, and of course the speed and brilliance of the display. And if we look down the road at some of what they've proposed – those too could be uniquely leveraged – such as their SIM card support.
But you just have to understand it's a long game.  If you're looking for the best bike computer $300 can buy today for immediate use, I don't think the Karoo is it.  But if you're looking down the road, perhaps Fall 2018 or Winter 2019 – Karoo could be very compelling to a lot of people that are looking for something different.
With that – thanks for reading!