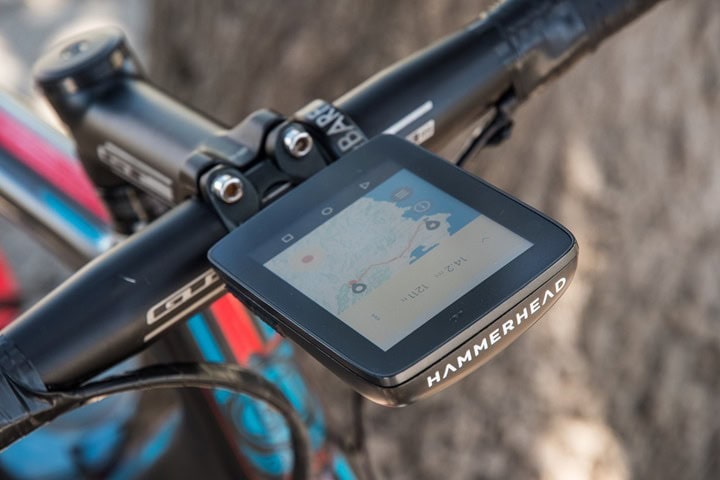 It's been a few years since startup Hammerhead announced their H1 navigational bike accessory.  It was sorta like a fish finder for navigation while on a bike. Rather than be a full bike computer head unit, it mostly offered you a light bar system telling you which way to turn on a route.
But that all changes as of today. The company has announced their entrance into the full-blown GPS bike computer market with the Hammerhead Karoo.  This new head unit will offer complete turn by turn mapping navigation, Strava integration, coaching, and dual ANT+/Bluetooth Smart sensor compatibility.  All of which is based on Android with a 10hr battery life, 3G cellular connectivity, and is IP67 waterproof.
I got a chance to poke at the unit (sans-riding) while at Sea Otter two weeks ago – giving you a bit of a glimpse of an early beta unit.  The company has stressed to me though that a lot has shifted since I saw it just that short time ago.  Of course, that's somewhat normal at this stage in the product development life cycle.
Video Overview:
If you're looking for the quick and dirty overview of the Karoo, dive into my hands-on video below, which covers all the basics of using the system from setting up sensors to configuring data pages and routing.  Though, the video does lack a proper intro, as there was a disconnect between my brain and the recording button on my camera.  No worries, I promise you'll still enjoy it!
With that, let's dive into the tech details within the textual landscape of this post…YouTube be damned!
The Tech:
When you first pick up the Karoo (pronounced ka as in 'Cut' and then 'roo', like Kangaroo), it'll sorta feel like a plump Edge 820.  Kinda in the ballpark of the Polar V650. Nothing wrong with that per se, as it's still shorter than an Edge 1000 would be.  Its current weight is 168g, though that may decrease between now and production.  It's sized at 98x72x28mm. As for the name? Karoo is named after the desert in South Africa where the founders grew up riding bikes.
On the bottom, they've gone with a quarter-turn mount that's compatible with any Garmin Edge series mount out there.  That's great news for consumers as it means you've got tons of 3rd party mount options, especially now that bikes have started to integrate that into handlebar setups.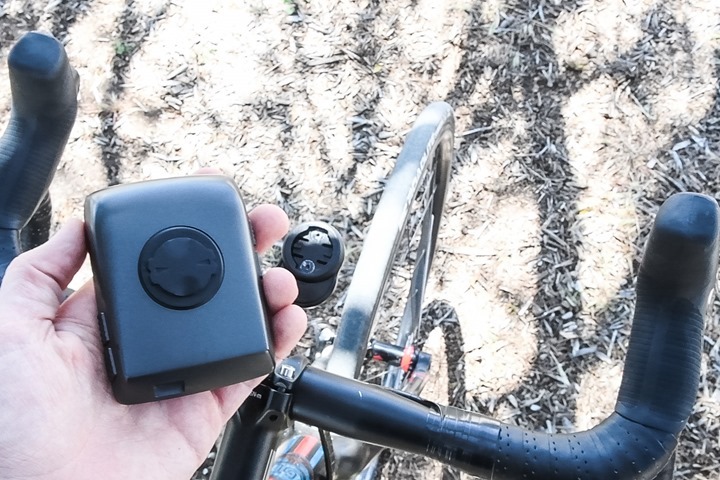 However, if you don't have a quarter-turn mount already, then you're in luck as they're bundling it with a Barfly out-front mount – which is a nice little partnership.
The unit sports a Gorilla Glass cover glass, which they claim reduces glare.  And no doubt, it definitely did for me toying with it and its 3.5" 640x480px display.  On the left side, you've got two buttons for better glove-like control, followed by two on the right side as well. The micro-USB port sits on the bottom for charging.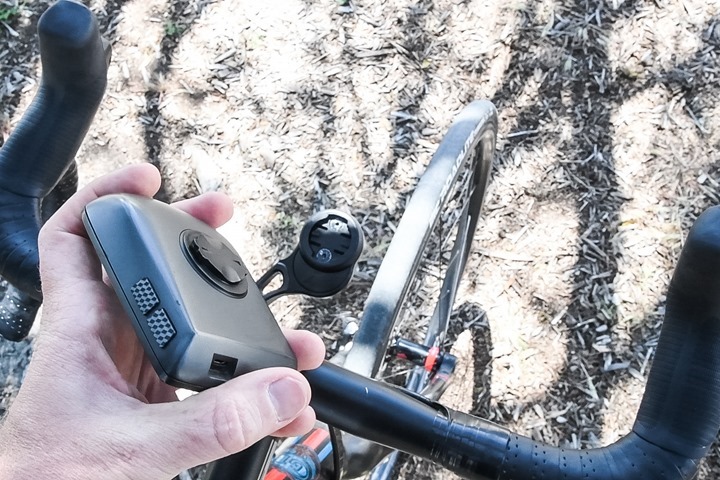 You'll start off at the dashboard, which allows you to enter different functions – such as configuring sensors, navigating somewhere, or general riding.  Note that some of the Android button layouts appear within my photos (triangle/circle/square), since this development unit hasn't had those hidden/disabled yet.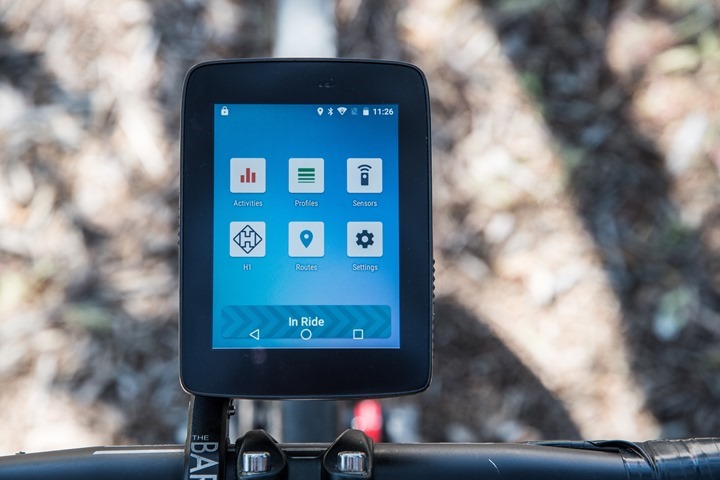 As noted earlier, the unit is capable of pairing to both ANT+ and Bluetooth Smart sensors (power, speed, cadence, shifting, muscle oxygen, trainer control, and heart rate).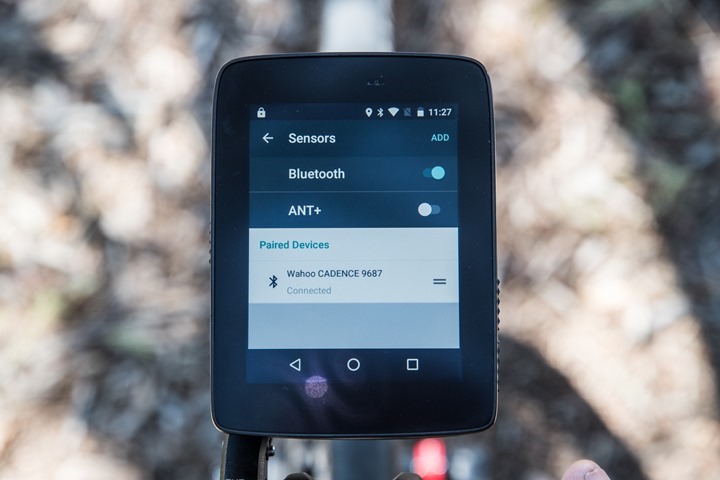 When it comes to setting up data pages, those can be done here as well.  You can slide through and pick most of the majors I've seen on other units, though I didn't take a complete inventory of every data field since it's still early beta.
You can setup multiple bike/activity profiles (which in this case was utilized for multiple demo users), allowing you to save those data field configurations in the same way you would on a Garmin Edge device.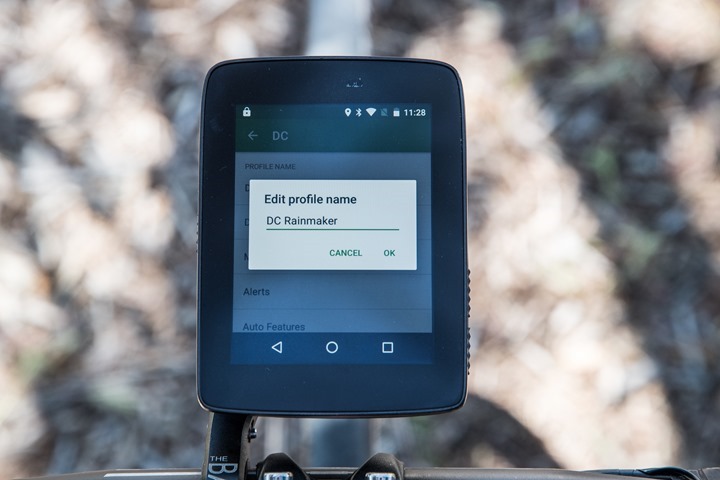 Here's how one of those more complex data pages I setup looks: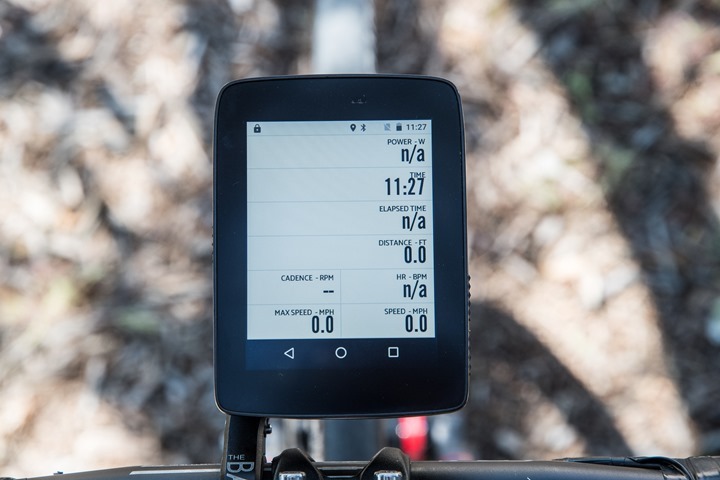 Of course, the real meat of the Hammerhead solution is their navigation platform.  After all, it's the basis behind the H1 device they've been selling to date.  The end-state goal here is like most other bike computers in that you can route wherever you'd like, be it from saved files (i.e. GPX/FIT) or platforms (Strava/MapMyRide/TrailForks)…but also just by tapping where you want to go on the screen.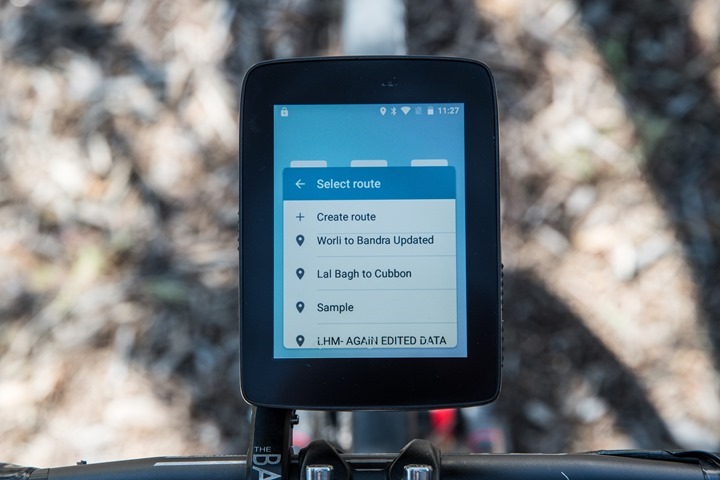 It's amazingly easy (as seen in detail in my video above), and really just so much more efficient than manually trying to do it via long addresses on a Garmin Edge unit.  It's basically just like you'd do on your smartphone within any number of maps apps.  You can pinch and zoom your way around the screen and then add a location to add to your route.  You can super-quickly create a looped route that might have taken forever on other platforms.
The maps will be cached on the production unit, though for the development unit we had to rely on cellular connectivity.  But even in that case, it wasn't too bad once we found signal.  Again the next version of beta units will have caching enabled.  The maps can also be downloaded using WiFi within the unit.
You'll notice within that data is the elevation profile as well, which is automatically generated on the fly – pretty cool.  In the below case you'll see the elevation profile for the two pins I dropped on the map (hence why address isn't shown). That simple.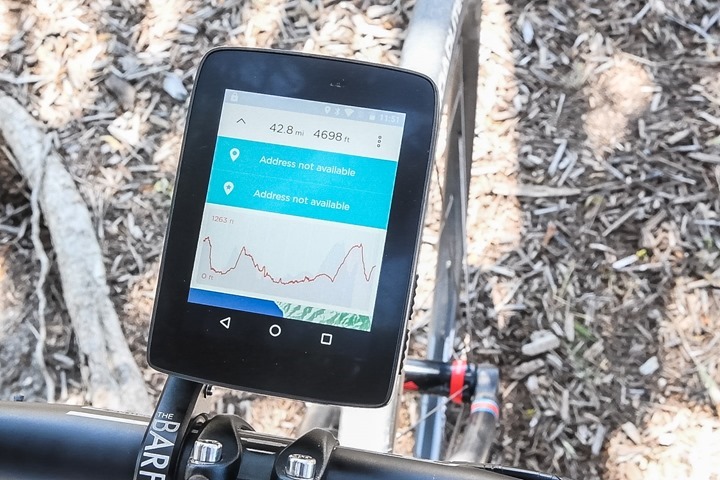 You can save these routes or pull up existing ones pretty easily from the home screen.
I think the biggest takeaway I had from toying with the Karoo is just how darn quick and snappy everything is.  It all just feels instant, there's virtually no lag (except when my fat fingers miss a button and I have to do it again).  Heck, it even feels faster than my iPhone 6.  Though, my iPhone 6 seems to be in need of being taken behind the shed and being put out of its misery.  But you get my point.
The company has a number of features planned for post-release, including areas such as structured workouts and a full 'live' coaching system to provide real-time feedback during a ride.  But we'll need till 'late 2017' to see how those all shape up.
Here's a quick gallery of three pages of tech specs I was provided (click to expand):
Oh – and one final tidbit for fun? They just acquired the Garmin Connect IQ App Dynamic Watch (aka dwMap) and brought on its founder – Marcus Needham to the team.  That's a pretty massive win, especially days after it just won Garmin's Connect IQ developer award for best wearable app.
Pricing & Availability: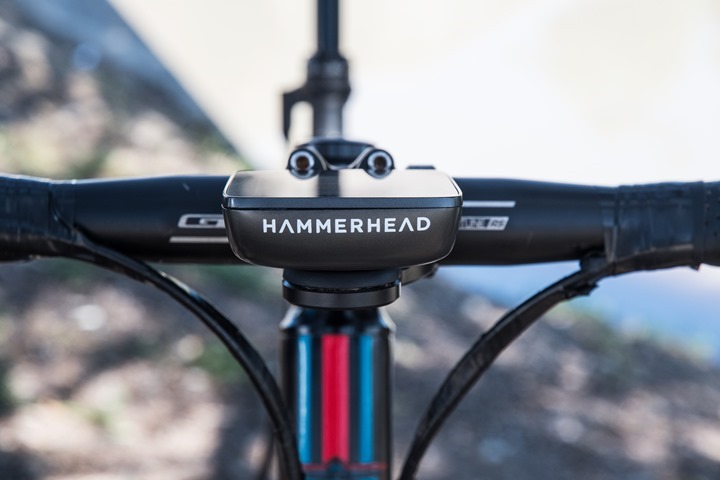 Next is the tricky part – at present the company hasn't actually released pricing information yet.  Though they have decided on an August 2017 shipping timeframe.  Starting with evaluating that – I'd say that as of two weeks ago, I'd consider August optimistic.  Not unachievable though, given the company is already in the marketplace with bike tech products and understands the navigation side well.  So they're essentially repackaging/leveraging their existing product for that piece.  My bet though is that we'll see it ship closer to late September or so around Interbike.  Just my gut feeling looking at many products and where companies stand.
Then we've got pricing.  We don't know where they are – but they'll be battling what are basically two extremes.  On one hand you have something like the Wahoo ELEMNT (non-BOLT), which is an incredibly capable unit with mapping and such and many other features the Karoo won't have.  That sits at $329  The ELEMNT lacks the pretty display, more detailed maps and full routing of the Karoo.  It also lacks the 3G cellular connectivity.  But it makes up for it in many other areas like better sensor support, integrated trainer control already, Strava Live Segments and numerous other smaller features that Wahoo has had to work through over a much longer timeframe.
At the other extreme you have something like the Edge 1000, which sits at $499.  It'd be easy to assume (as Acer did) that one's product with a prettier display is worth that higher price, but one would be mistaken.  The simple reality is that the Edge 1000 can command the price it gets not so much because of the mapping, but because of all the other things it does.  It's a beast in terms of functionality, even if most consumers never use all of it.  Everyone's 1% setting never used is another person's most important thing.
So my thinking is this would sell well in the same price range as the ELEMNT ($329…maybe $349 at most).  I feel we're going to continue to see more and more competition in the bike computer market over the course of the year, and it's going to be really important for new entrants to understand they have to undercut leaders on price where they lack features and brand reputation/history (like Wahoo themselves did with the BOLT at $249 – which has sold exceptionally well in the last two months since announcement…compared to the original ELEMNT, which had a tougher go at $329 in a larger size).
Still, as I always note – it's great to have competition no matter the price.  It makes incumbents work harder, all of which benefits the consumer.  Plus, since we don't know the price yet, we could find the Karoo being priced very competitively (i.e. $299 would be a solid blow to others).  We'll just have to see.
In the meantime, you can hit up their e-mail list to get details and purchasing abilities once they're ready to announce pricing and take orders.  All of which, of course, should be before August.
With that – thanks for reading!  I'm looking forward to getting hands-on another beta device down the road, in between now and release.  So stay tuned for that!