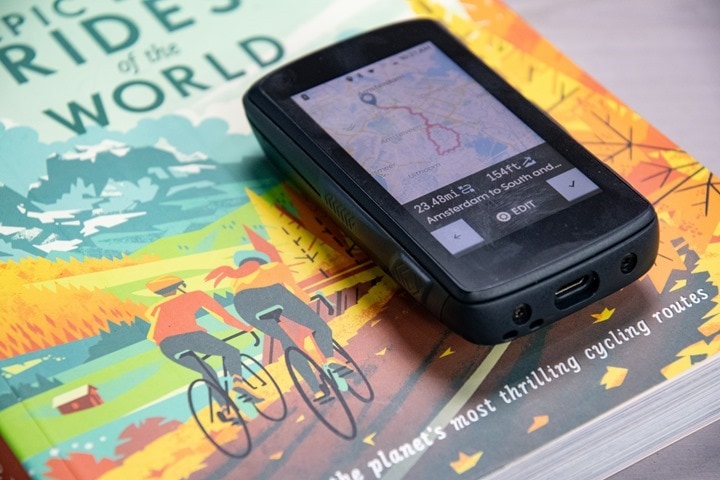 Update: My full Hammerhead Karoo 2 In-Depth Review is now published! Check it out over here.
Long teased, and long awaited…it's finally here – the Hammer Karoo 2. And by 'here', I mean here in this post – and you can order it. It won't actually ship till October. But hey – what's a month or two between friends?
The Karoo 2 would technically be Hammerhead's third product, following the original Karoo and then prior to that the Hammerhead disco lightning rod navigation thingy (in 2013!). And while the jump from disco machine to original Karoo was massive in every way, the Karoo 1 to Karoo 2 is more evolutionary than revolutionary. It's largely a hardware shift more than a software one. In fact, virtually every new feature on the Karoo 2 is coming to the Karoo 1. In fact, it's pretty much already there. The handful of new Karoo 2 features that aren't coming are ones tied to physical hardware limitations of the Karoo 1.
In effect, Hammerhead is taking the Wahoo & Apple approach that all their products stay on effectively the same software version (save hardware limited features), updating older products with new software features. It's a strategy that has earned both companies much customer love over the years, and Hammerhead is hoping that same approach works here too.
Point being, don't expect this post to be a big list of new features and functions – because honestly, those don't exist. Instead, while we saw Hammerhead stop shipping Karoo 1 units back around December 2019, they've spent that time iterating/revamping the user interface and adding feature after feature to both the Karoo 1 and the Karoo 2. So now, the Karoo 2 is really just about new hardware…and a beeper.
To hear that beeper in all of its glory, as well as see how the unit works mid-ride and plenty more, whack that play button below:
Or, keep on scrolling for plenty more text and photos.
[Note: The photos you see in this post are of the real Karoo 2 that I've been using. However, it's not the final Karoo 2. There's numerous minor external physical appearance tweaks including display shell coloring, shell material finish, button finish, nacho cheese dispenser addition, and beeper beepiness that are still being finalized. However, the sizing, display quality, etc… is all final.]
The Hardware: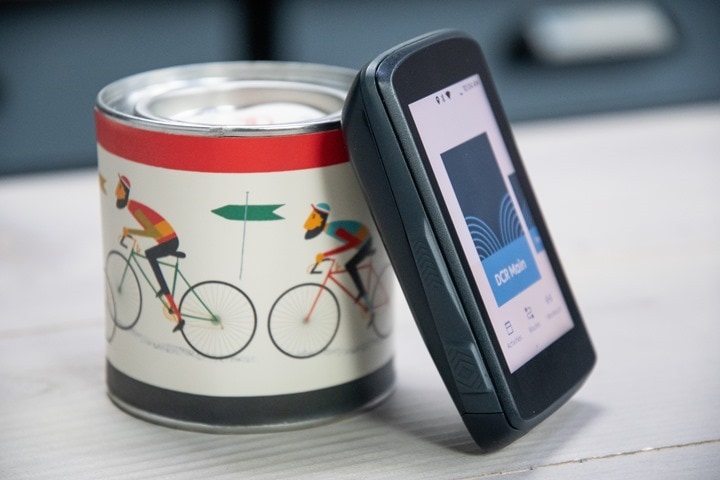 To sum up the size, the Karoo 2 is roughly in the same ballpark size as the Edge 1030. It's a touch bit less tall (if stood on end), yet a bit plumper in depth. They're nearly identical in width. They're obviously vastly different in prices and features. But hey we're talking size here, not money.
First up, some comparison shots. Here's a lineup of popular bike computers people would most likely be comparing, and how it looks from the top: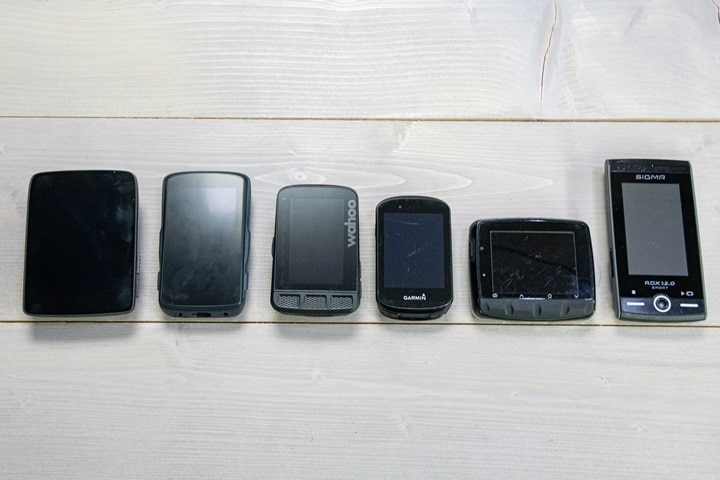 (Left to right: Hammerhead Karoo 1 – $399, Hammerhead Karoo 2 – $399, Wahoo ROAM – $379, Garmin Edge 830 – $399, Stages Dash L50 – $299, Sigma ROX 12)
Next, from the side, placed on their mounts. In the case of the Karoo 2, it currently has the mount-adapter in it for this photo. That technically adds a sliver of height to it, whereas when you remove that adapter it transfers that height additive to the mount itself. So, it's really a wash either way.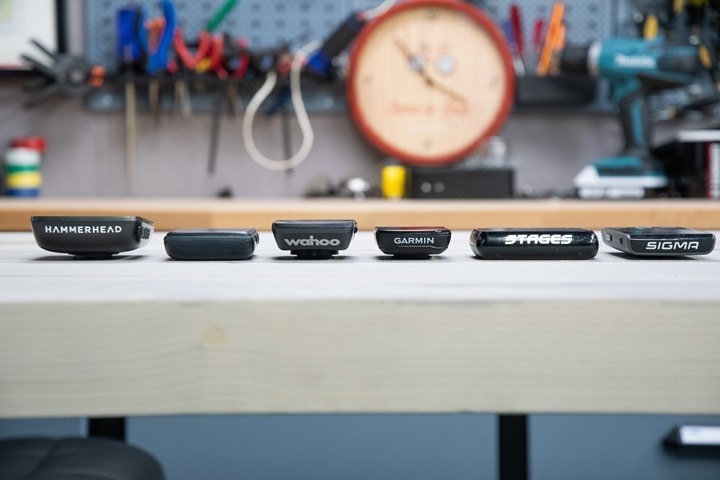 (Left to right: Hammerhead Karoo 1, Hammerhead Karoo 2, Wahoo ROAM, Garmin Edge 830, Stages Dash L50, Sigma ROX 12)
And then, another shot for fun this time with the Karoo 2 quarter-turn mount adapter (which adds a tiny bit of height)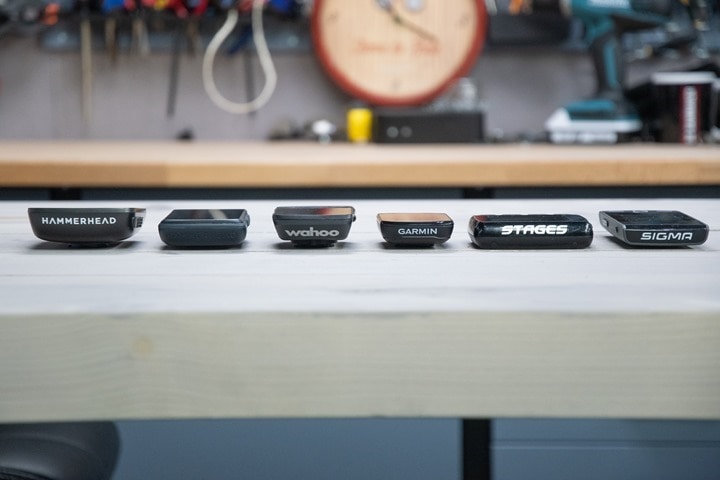 Now, it's obvious that unlike the original Karoo, the Karoo 2 no longer eats small children dipped in ranch dressing for breakfast. As such, it's far more slender. However, more in my geekery mind is the fact that it uses USB-C for charging. Something that Garmin, Wahoo, and others lack. While some go 'shrug' at this, the practical side of a more sturdy port is that it charges faster. I can get to 30% charge in 30 minutes and 50% in an hour.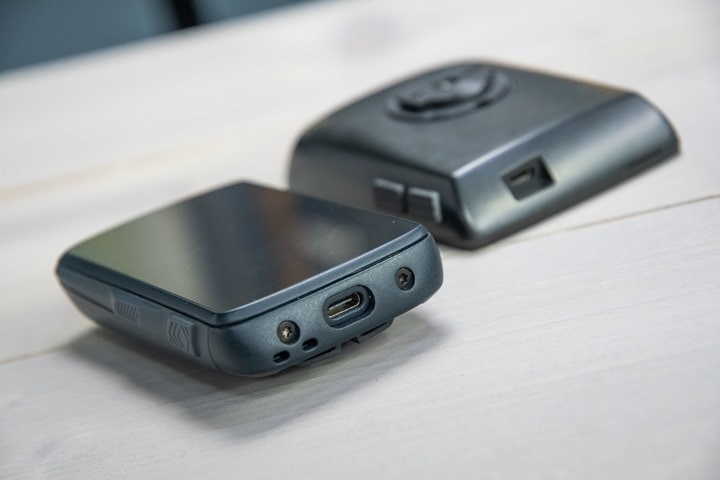 Next to the port you'll see two screws, this allows you to swap out for colored shells (like with the original Karoo). Hammerhead hasn't decided on which colors yet for the accessory shells, though, you will find them asking questions in a survey online. Thankfully, this group all chose the correct answers of 'Red' and 'Black'. For the 19 people who selected neon yellow…oh, nevermind.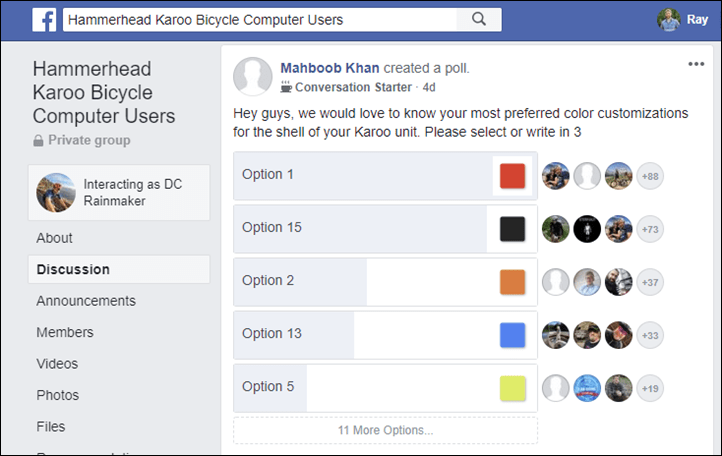 In any event, flip the Karoo 2 over and you'll find yourself the SIM card cover. Twist it open and inside you can stash a SIM card, enabling your Karoo to provide revenue to your nearest wireless carrier. In return, you'll be able to upload to Strava over cellular as well.
While in the Karoo 1 days that was a notable achievement, I'm less convinced it's as meaningful a feature as I hoped these days. Also, back in the Karoo 1 days, you were never able to link it via Bluetooth with your mobile. That was a challenge because it meant you couldn't get smartphone notifications (or sync) from your phone. Like politics, everyone has a different opinion on smartphone notifications mid-ride. But I suspect it's more the vocal minority that doesn't want them, I think most riders do want specific (mainly text) notifications to come in. And pre-Karoo 2, that was a gap.
With the Karoo 2 though, Hammerhead says their underlying hardware will support it. Specifically, they've added in dual Bluetooth chipsets to allow for one to communicate with both iOS and Android devices. However, as of this writing – that feature isn't in there yet. Hammerhead says that it'll be available by product launch. And while I definitely hope so, I would point out that a similar promise was made prior to the Karoo 1 launch. It never happened.
Still, I think Hammerhead has learned their lessons in that area this time.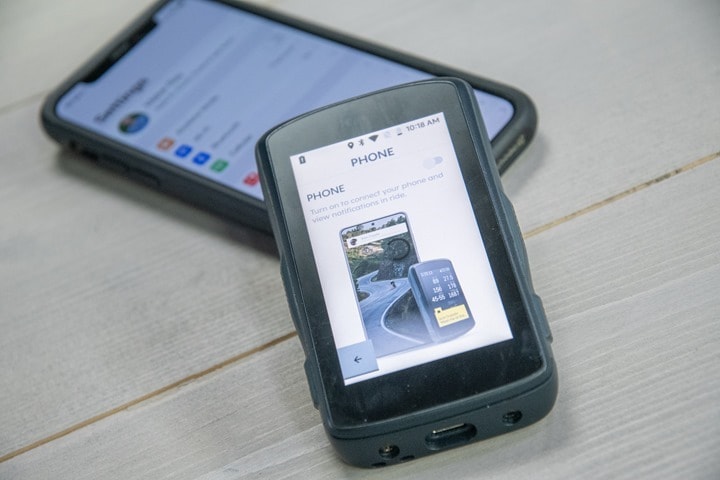 Next, there's the newly designed mount. While the Karoo 1 used a Garmin quarter-turn mount, the Karoo 2 goes it alone with this flying wedge mount. Hammerhead says this mount is much stronger than the Garmin tabs system, and that it only requires a 16° turn to snap in place, allowing it to fit much closer to the bars than a Garmin mount would.
Hammerhead also says it reduces the total system weight (computer + stock mount) to significantly less.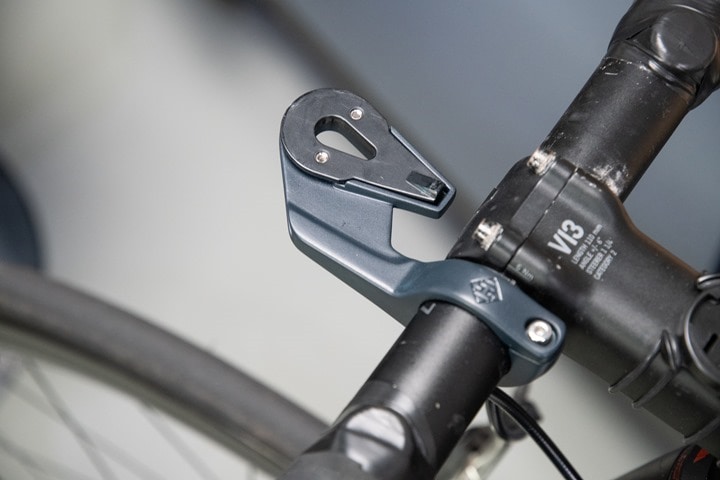 However, fear not 3rd party mount lovers – Hammerhead is also including a Garmin mount adapter in the box [Update: This is apparently TBD, they're still deciding whether or not to include it, obviously- I think they should]. This nifty shim slides in place, and then instantly makes it compatible with the near-universal adoption of the Garmin quarter-turn mount in 3rd party mount designs.
While still a 3D printed prototype shim, I used it on a few rides without issue in conjunction with a K-Edge out-front mount.
I understand Hammerhead's concerns about using Garmin's mount, primarily from a legal standpoint – so I kinda get their move there (even if I'll likely never use the native mount). However, more importantly, I really appreciate the inclusion of the adapter in the box. There's just too many 3rd party bike mounts I love and use (with things like GoPro mounts on them), and have available on numerous bikes that aren't now in a Karoo variant. So it's awesome I don't have to think much to make it fit all my bikes.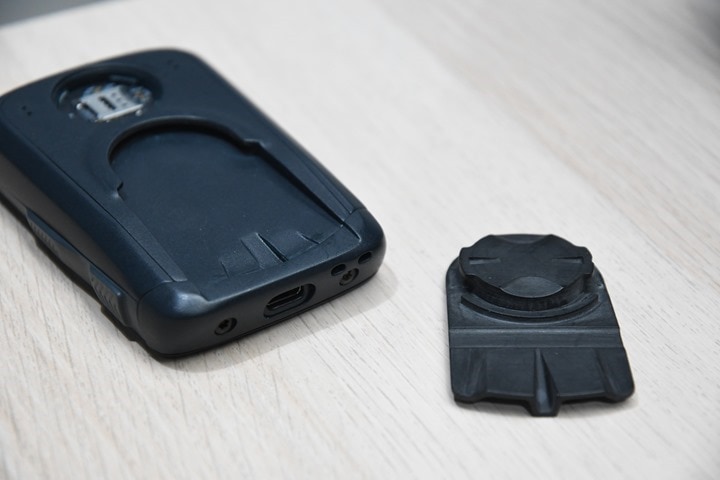 Next, there's the beeper. Quite honestly the most important piece of the Karoo 2. This was a big deal with the Karoo 1 because for a navigation device, you might never know you missed the turn unless you were specifically looking at it when it gave a notification. Now that's solved – it beeps.
Albeit, the beeper is a little bit shy in the prototype unit I had. Apparently the conversation went something like this:
Hammerhead HQ: Hi manufacturing facility on other side of world, I'd like to have a beeper included, can we do that?
Manufacturing facility: No problem, we've got a great price on some beepers sitting in a warehouse, sound good?
Hammerhead HQ: Perfect – we'll take them all, that's exactly what we wanted to hear!
Manufacturing facility: Great, sounds good. We'll get to work
[Months later, after unpacking prototypes]
Hammerhead HQ Person 1: Huh…I can't hear anything.
[Hands to person 2 in a socially distance manner]
Hammerhead HQ Person 2: Oh, I hear it no problem. All good!
[Attempts to send to DCR, shorts DHL delivery services stock, a lot of pardoning our French, three weeks later…]
DC Rainmaker Starts Ride: What the eff is that hearing test beep sound coming from on my bike?!?
Turns out, due to a minor prototype manufacturing error, the beeper was placed against the plastic too close – which resulted in the beep basically sounding *IDENTICAL* to a hearing test beep. Or one of those call center beeps that reminds you your call is being recorded. That short high pitched sound? That one.
Fear not peoples, that's not the final pitch, sound, position, or anything else. I point this out not to make fun of Hammerhead (though, it is hilarious), but because people will be asking me to hear the beep. And quite literally some of you won't be able to hear it, depending on your hearing level.
And no, I can neither confirm nor deny anything that may or may not have happened in, at, or to, a DHL facility in an unnamed French village three weeks ago.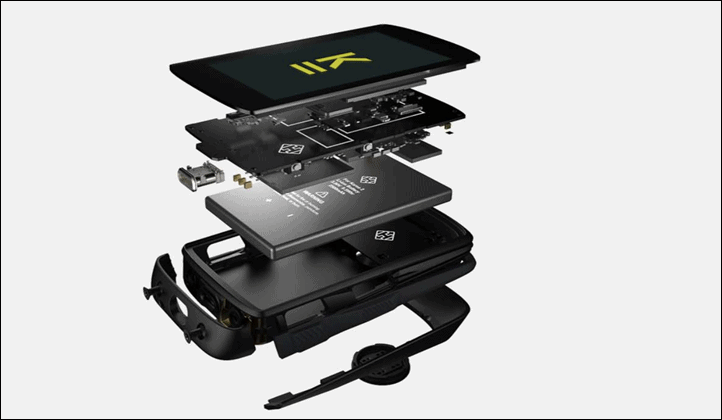 Finally, there's numerous internal guts changes around performance that Hammerhead has made. They say these internal changes are largely what will be the dividing line in the future between features being available on the Karoo 1 or not. Here's a quick laundry list:
– Added a beeper (you can still pair Bluetooth headphones/speakers)
– Reduced size dimensions (in mm, now 60.8w x 19.3h x 100.6L vs 73w x 28h x 99L)
– Reduced unit weight from 186g to 122g
– Reduced mount weight from 55g to 33g
– Storage in the Karoo 2 is 32GB instead of 16GB
– Screen is covered in DragonTrail glass, which is sorta like Gorilla Glass – treated to reduced glare
– USB-C port waterproof spec IP67
– Added 4G coverage (2G/3G/4G, with your own SIM)
– Added dual Bluetooth Smart chipsets
– Added quad-core processor
Phew, got all that? Good. Again, main thing – it's got a beeper (you can hear it in the video), and it's no longer doing Twinkie shots in between rides.
The Software: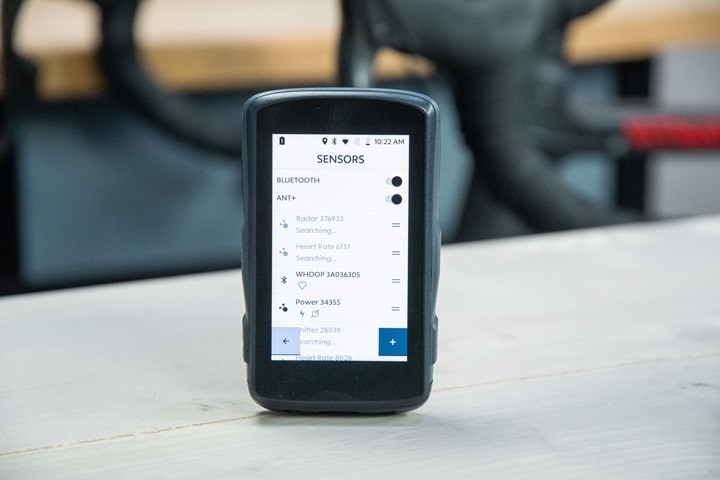 So, this part of the piece is kinda tricky. Namely because if you've got a Karoo 1, then you've got all the same features as the Karoo 2 sitting in front of me. It's identical.
Hammerhead essentially traded a big PR splash with new features, for keeping their users happy during 2020. So we saw update after update this year and late last year, including Varia radar support, structured workout support, smart trainer support, revamped pairing menu, new graphical charts mid-ride, and on and on. Their release notes are full of these features. Some big, some minor, some just behind the scenes things.
Thus, I don't have my typical bullet point list of 'What's Different from Karoo 1', because there is no differences on the software front.  However, there are some things that are new that aren't yet here. Specifically, the following features are not on the unit I have yet:
– Smartphone notification (specifically, Hammerhead calls them "category leading phone notifications")
– Setup tool via website to pre-configure Karoo so that when it arrives in mail, you just connect to WiFi and it's ready to go
– Various changes to sensor management
– Various changes to in-ride screens
And of course, it's mainly that first one that's the biggie for most people.
Till then, here's a quick look around the user interface, for folks that aren't as familiar with the recent Hammerhead Karoo updates. This is the main dashboard, it's here that you'll launch your ride from. The big rectangles are your different ride profiles. These are where you customize things like data pages and data fields:
In the lower menu you've also got settings, where there's piles of things to tweak such as how turn by turn navigation occurs or display brightness or elevation calibration. Again, all of this is the same as on the Karoo 1 at this point.
Sensor management was recently updated a few weeks ago, and now looks a ton better. You can pair individually ANT+ or Bluetooth Smart sensors, and the entire data layer is super detailed: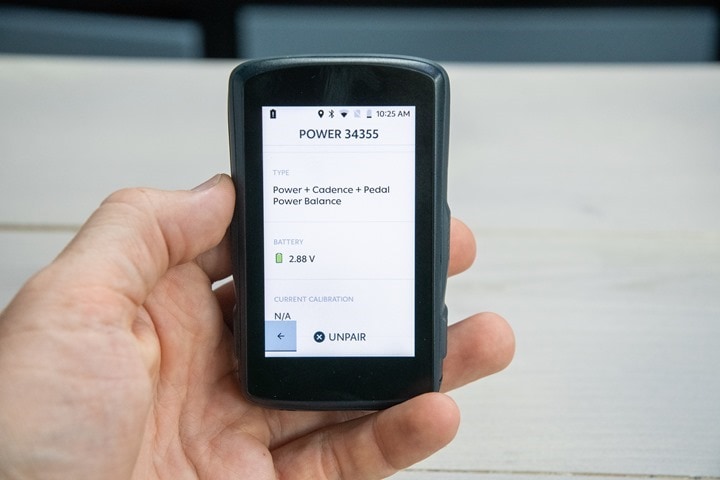 There's also structured workouts via TrainingPeaks and syncing there. In fact, that's the easiest way for me to show off the beeping sound: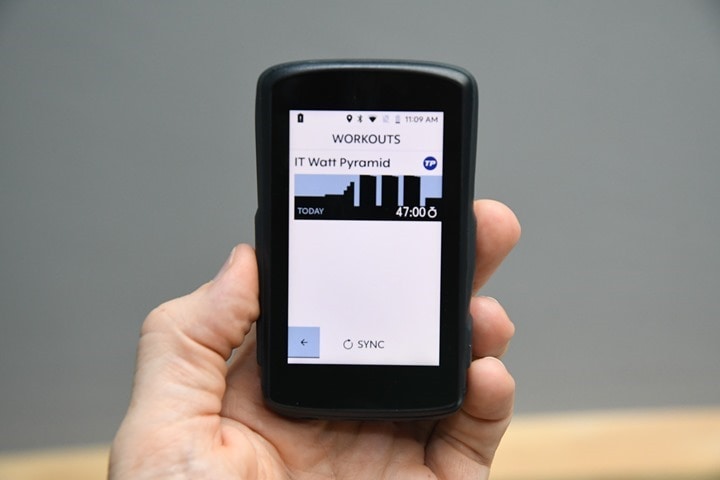 Going back again to the main menu there's routes. This is where you'll open up routes and then choose to navigate them. Right now there isn't any added detail once you tap on the route. For example you can't see the elevation profile or much else. The loading of the map tiles is pretty slow here at this beta stage, often taking 20+ seconds to render the first time. But once loaded it's instant like a phone.
Once you've selected the route it'll crack open your default profile, allowing you to then start riding. At this point it'll navigate and give you turn by turn prompts with the pretty as always map layer as well (you can of course hide that away too). Here's some various navigation shots from recent rides. Starting first with the banner that pops up when you're approaching a turn: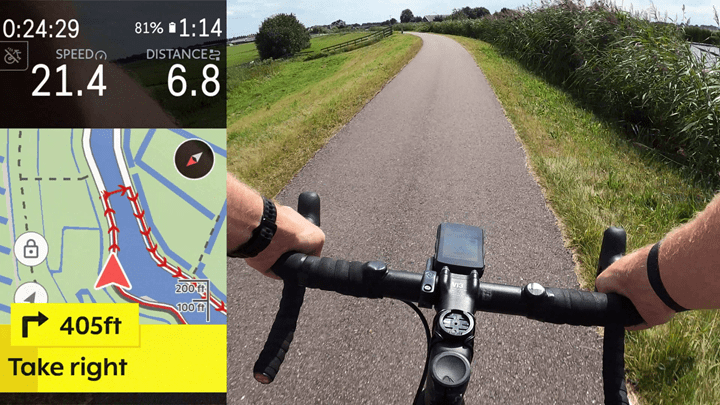 It'll count-down as you near the turn, and then disappear or change as required.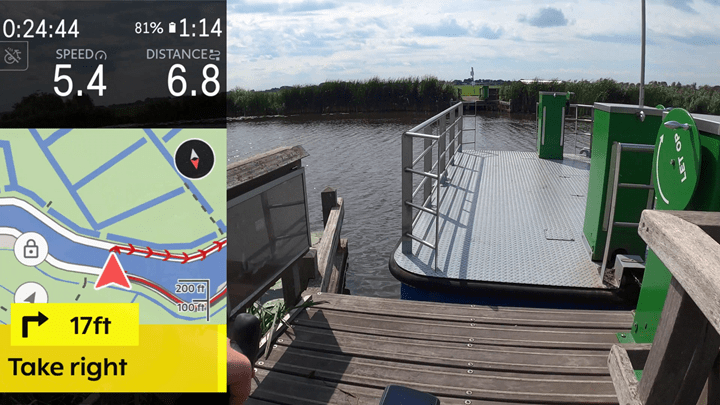 My favorite part here was when it switched to 'Unknown Instruction', as I boarded the small boat platform that I'd have to hand-crank across the canal: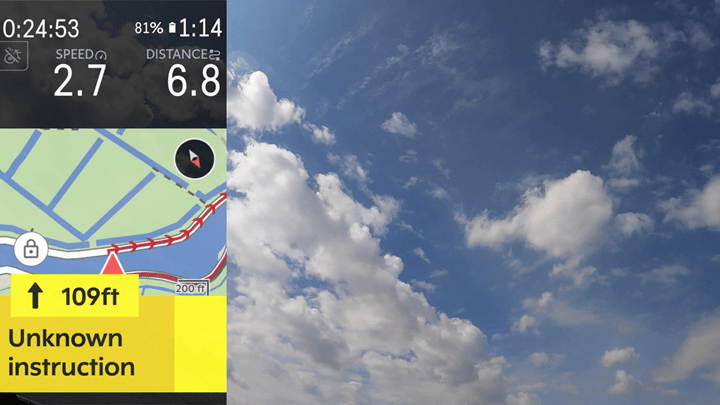 Re-routing mid-flight works as well. You can see this here where my planned path is off to the right in reddish color, and the newly instantiated path is in blue ahead of me, even giving me the red turn by turn instructions for this new path. Though, the line is a bit hard to see being blue (the same color as the endless canals here). It also sounds like Hammerhead is already looking at some options there too.
Note you don't have to be on the map screen to get turn by turn prompts, they'll show up on any screen.
In general I never had any major issues with routing (using routes from Strava), rather, most of the issues I had were minor things where the turn instructions wouldn't match reality. The map was correct, but sometimes it'd tell me to turn left onto a path that was already going straight. I say these were minor because in most cases there simply wasn't an option to do what it said, and in the remaining few, the map/course line made it clear what to actually do. Still, Hammerhead says they're taking a look at this – but suspect most of these issues are related to slight alignment problems between Strava and Hammerheads map and routing data sets.
Strava Live Segments works just the same as when it was rolled out this past spring. As you approach a segment it'll show up as upcoming: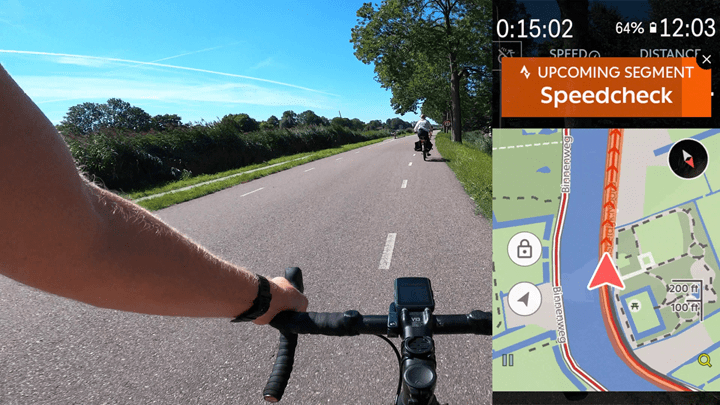 For example here you can see the KOM ahead of me on the map/line (with the orange segment highlight), as well as my PR behind me: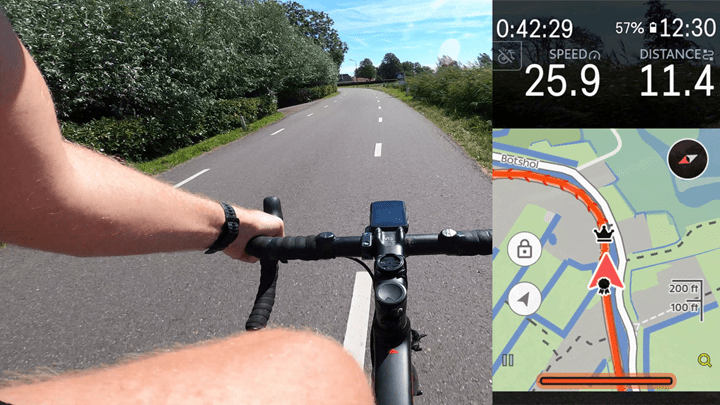 You'll then see your progress in that segment against various rivals and PR's, such as below. You can see I'm 17 seconds ahead of my PR, but 14 seconds behind the KOM. In this case below I've changed the data page to a large graph one, but the orange banner is across any page: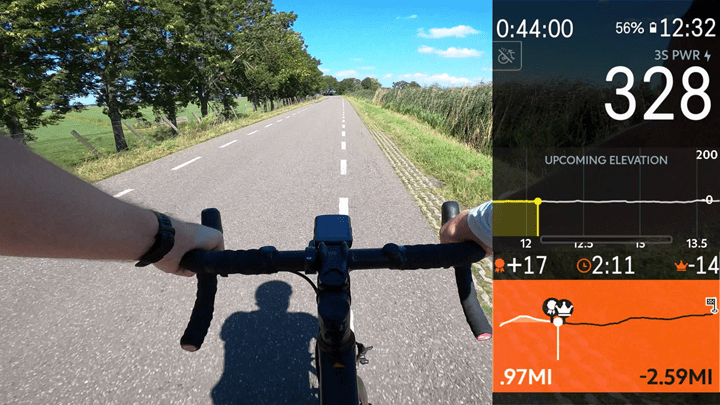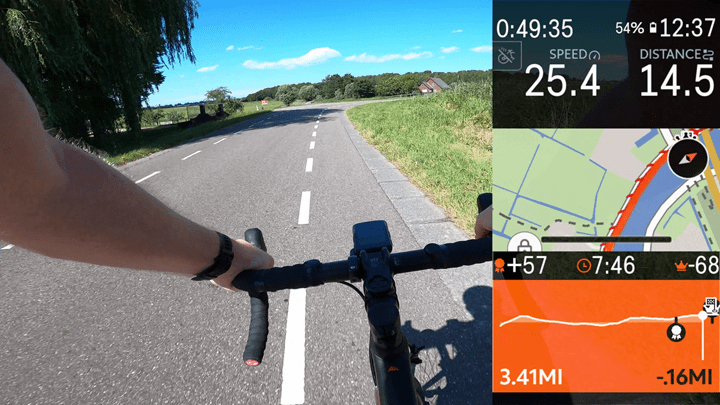 Once you finish you'll get any notifications if you manage to grab anything, in my case I got a PR as well as the Wolf, which means I kept at bay the next person behind me on the leaderboard that I'm following: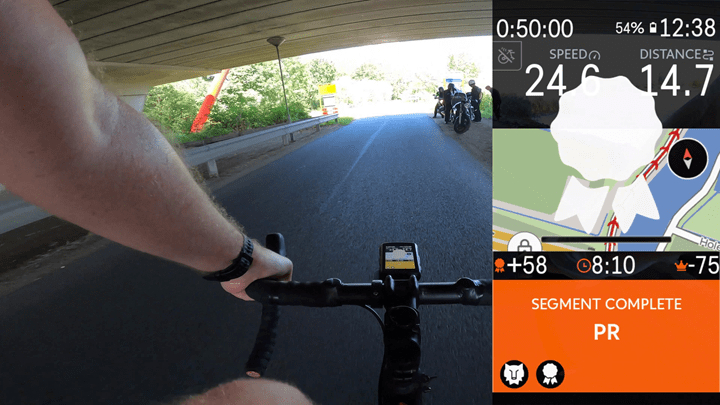 Though, it doesn't say who that person is, which is too bad. In this case it appears to be Des and Von, but I had to look that up later on after the fact. How cool would it be though if it showed their Strava profile pic instead of the Wolf? That'd be effin awesome. And Hammerhead has the display to be able to pull that off. Whether or not Strava has the API is a different question.

Finally, once the ride is done I can give it a descriptive name (which even carries through to Strava and TrainingPeaks) as well as see some summary stats by category (such as power and cadence). However, you can't see a map view – which is a bit of a bummer. Nor can you see any of the Strava Segment information for favorited segments, which would seem to play really well to this display.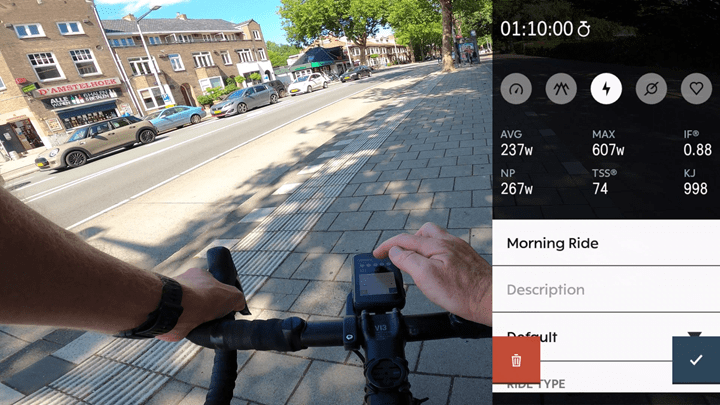 If you're looking for a bit deeper dive, in the video up above I go through even more details of the user interface, especially while riding.
Going Forward: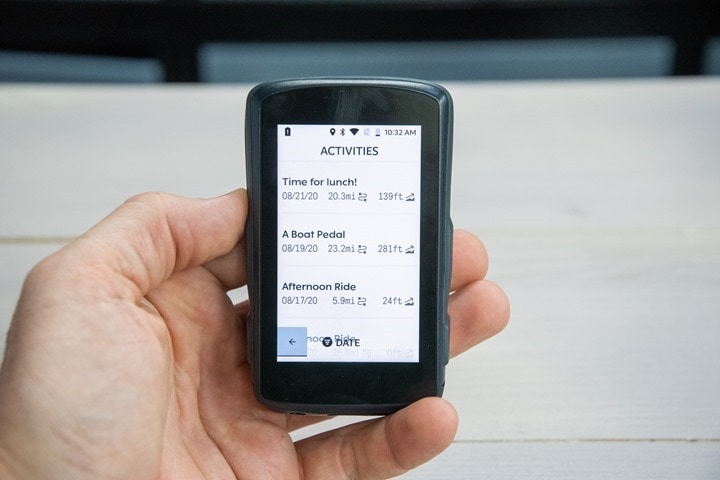 Now as I said earlier, this isn't a review. The unit isn't final yet, and won't start shipping till October. Once I get final hardware and final software, I'll start the review process. Still, I think they've made some good gains here. Obviously, the beeper was/is clutch, as is the much smaller form factor. Without those, it'd be tough to recommend. The screen remains a huge selling point, along with the speed of the mapping.
Of course – there aren't yet standout new features here, beyond the planned phone integration by launch (and the pre-setup options via website). I do think that might pose a challenge for Hammerhead. On one hand, Hammerhead is constantly adding new features to both Karoo 1 and Karoo 2, things like Strava Live Segments, TrainingPeaks Workout Integration, Varia Radar Integration, and so on. But the challenge here being that all of those are features that their competitors have had for years. So it becomes more of 'catch-up' than 'step ahead'. And consumers by and large aim for stepping ahead. I'm hoping we'll see Hammerhead throw down some new features that make people pause and go 'Oh damn, that's cool – I want that!'.
Though, for many the screen brilliance and responsiveness in mapping is that feature. And Karoo is second to none there.
Still, I'm excited for the possibility of the hardware. Heck, if nothing else, my life is infinitely easier because I can screen record the screen in real-time using normal Android apps (as you saw in the video). That's super cool for me, but also practical for other use cases like race footage. That alone is a major benefit for me that admittedly doesn't probably mean much to most people. Similarly, while the platform is built atop Android, we haven't really seen much come from that in the Karoo 1 timeframe. Maybe that'll change in the Karoo 2 timeframe given some of the architectural changes they made under the hood.
Finally, it's worth noting that Hammerhead will be giving Karoo 1 users a $120 credit towards the Karoo 2, once you send back in your Karoo 1. Thus bringing the price down from $399 to $279 – which is incredibly appealing. We've never seen Garmin, Wahoo, or really anyone else do that in the bike computer world – so that's super cool. And again, Hammerhead will continue releasing features/updates for the Karoo 1, as long as those features are supported on the Karoo 1 hardware (same model as Wahoo/Apple to date). Of course, one will have to stay tuned to see what those features are.
With that, thanks for reading! 
Found This Post Useful? Support The Site!
At the end of the day, I'm an athlete just like you looking for the most detail possible on a new purchase. These posts generally take a lot of time to put together, so if you're shopping for the Hammerhead Karoo 2 or any other accessory items, please consider using the affiliate links below! As an Amazon Associate I earn from qualifying purchases. It doesn't cost you anything extra, but your purchases help support this website a lot. Even more, if you use Backcountry.com or Competitive Cyclist with coupon code DCRAINMAKER, first time users save 15% on applicable products!
And of course – you can always sign-up to be a DCR Supporter! That gets you an ad-free DCR, access to the DCR Quarantine Corner video series packed with behind the scenes tidbits...and it also makes you awesome. And being awesome is what it's all about!