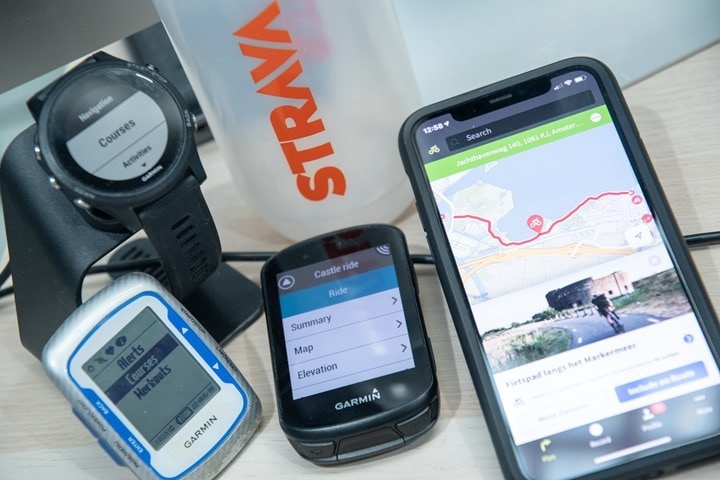 It's rare that we get new features from companies, let alone Garmin, that actually work on devices a decade old. But today, today is special apparently. Because this new feature will work on your really really really old Garmin watches and bike computers.
Today Garmin has released a new API that allows partners (namely, websites/platforms) to push routes straight to your Garmin, with no additional work for you. The first two partners launching today are Strava and Komoot, and from here forward, anytime you create a route and star/favorite it on Strava (or add it to your Komoot tours), it'll automatically show up on your Garmin. No frustrating half-baked Strava Connect IQ app to deal with, or clunky pairing steps. In other words, it's basically just like what Wahoo rolled out four years ago.
But what's cool here is that you don't need some fancy new Garmin for this. Anything that supports .FIT file courses will work, and the line in the sand there seems to be since roughly 2009. So for example, the Edge 500 (old school review alert!!!) or Edge 800 will work with this. Whereas the 2007-based Forerunner 305 (even older alert!) doesn't quite make the cut since it doesn't support .FIT files (I tried).
Here's a quick tips video I put together showing how it works.
Or, roll on to read up on all the details and nuances.
Strava Sync:
For Strava sync, it'll automatically sync any new starred/favorited routes you create from this moment forward, as well as any routes you un-favorite and favorite again. It won't just sync all your older existing routes automatically.
In any event, if you're reading this, there's an approximately 100% chance you've already linked Strava and Garmin together. Good news, you're almost there. However, you need to go to this page and toggle the new 'Courses' feature on, that'll give it permissions to sync courses.

Once that's done, you're good to go.
Let's say you create a new route (for any sport), we'll call it 'To the Gravel Loop'. In this case, I just created it on mobile, and then I left the default to have it starred. The star is important because it tells Strava to push it to Garmin (and numerous other device platforms too).
Next, I crack open my Garmin. Doesn't matter if it's a wearable or an Edge. It doesn't matter if it's a running course or a cycling course. Any course of any type will send over. And, you can use either WiFi or Bluetooth Smart sync (or USB). Here, I'll demonstrate WiFi sync on the Edge 530. In this case, I simply turned it on, and it connected to WiFi and within a few seconds grabbed the course: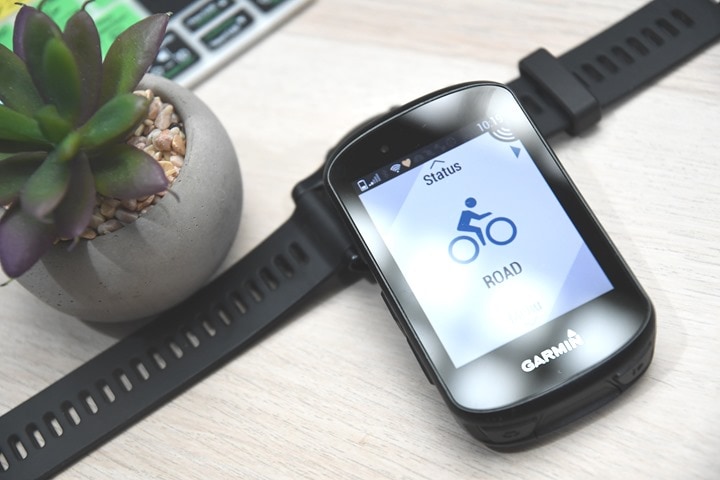 And, here's the course in the usual Courses folder under Navigation: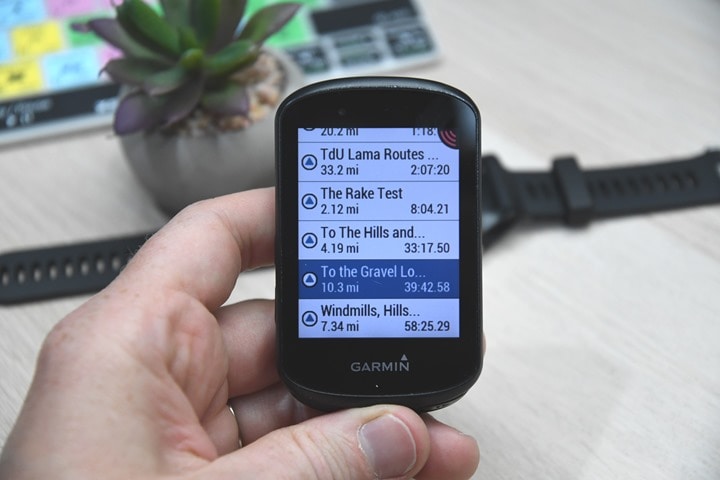 Now, you can ride it just like normal.
What's cool about this is that this is *WAY* more compatible than the previous Strava Routes Connect IQ app. Specifically, it now works on devices up to about a decade old. For example, the Edge 500 can actually work with this. As long as the device supports routes/courses, and supports .FIT courses specifically, then it'll be fine. The rough line in the sand seems to be about 2010, when Garmin introduced .FIT file courses to devices around the launch of the Edge 800. Whereas my older Forerunner 305 does actually receive the routes from Strava using this new method, but can't open the .FIT file courses.
Still – that's pretty impressive – and a huge win for older device users!
So – to recap, here's what you need to do to get courses onto your Garmin:
A) Ensure your Strava and Garmin Connect accounts are linked, specifically with the courses toggle
B) Create new course on Strava (and star it) *OR* un-star and re-star an existing course
C) Sync your Garmin
D) Done
Oh – and one final note here. When you sync these courses in, they actually show up in your Garmin Connect account as well, which is how/why they get to your watch/bike computer. So you'll see a copy there, just an FYI:
Ok, with that, we're done here.
Komoot Sync:
Meanwhile, over on the Komoot side, if you haven't synced up your Garmin to Komoot accounts yet, you'll need to do that. Once that's done, you'll see there's an option at the bottom for courses. Historically you'd have used the Komoot Connect IQ app. But with the new courses sync, it'll just sync everything for you (click this link here):

Once you tap that option, it'll show a confirmation to sync courses over: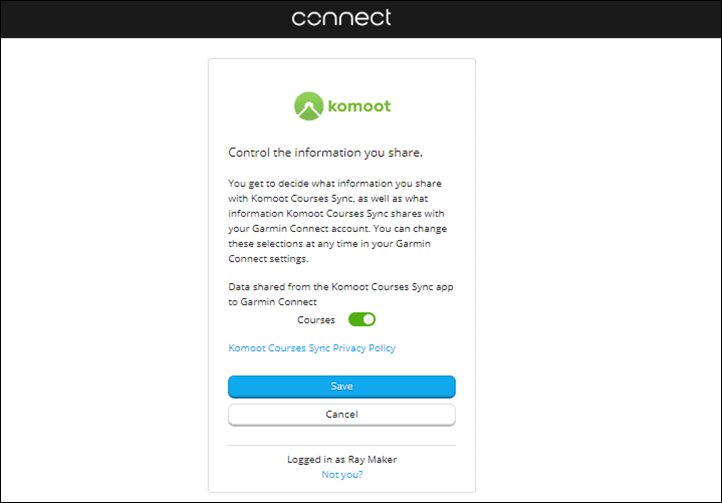 Now, when you do that it'll sync your most recent 50 Komoot Tours into Garmin Connect and then down into your device. As well as any new ones you create from this point forward.
Here, I'll add a quick tour to my Komoot account. I found this one from a nearby user, called Beach Bumble that looks interesting – similar to a route I've used in the past, but with a bit more off-road.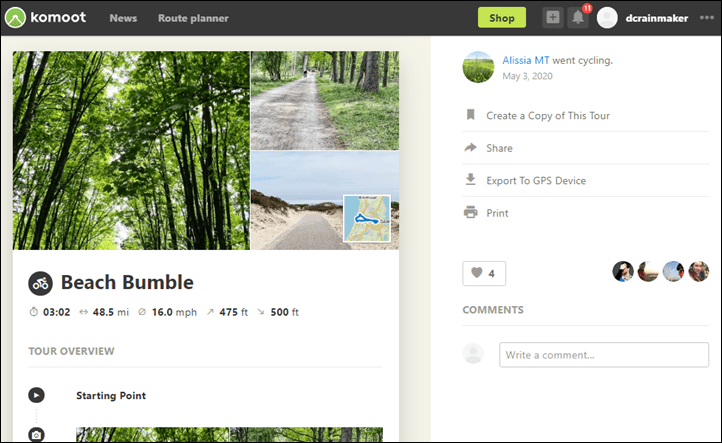 So, I tap 'Create a copy of this Tour', which then adds it to my account: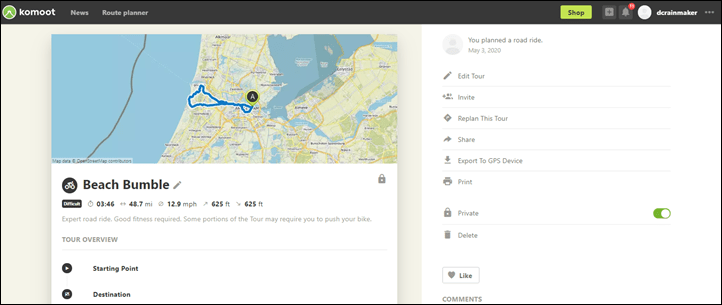 Now at this point all you need to do is sync your Garmin, just like with Strava it can be synced via WiFi, Bluetooth Smart, or USB. As with every other device on the market, there's no direct server push option. So you'll need to initiate that sync somewhere. Though, if you have a wearable it'll eventually sync by itself in the background. But if you're rearing to go outside now, then I'd manually sync it.
In my case, I simply put the device to sleep and then turned it back on again, which initiated the WiFi sync. At left you can see the little arrows indicating it's syncing, and then the 'Download Complete' message: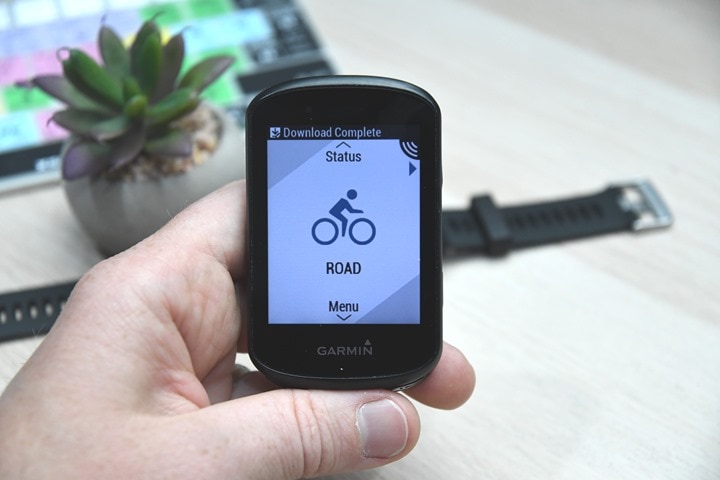 And now, if I look in courses, you'll see it there: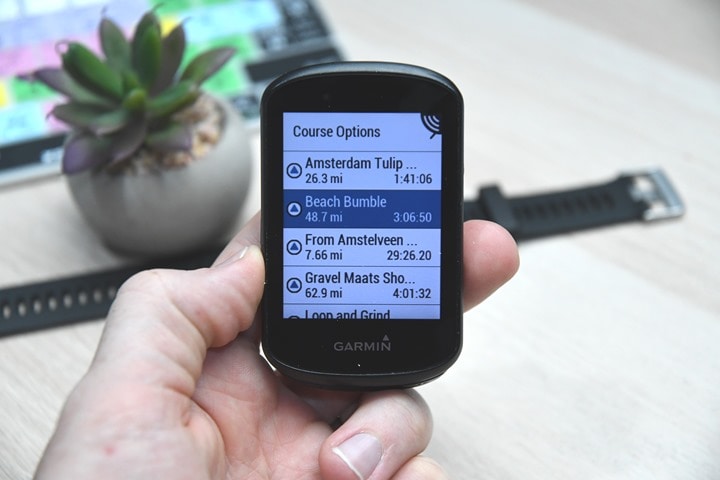 It'll include elevation information as well, so you'll see that during the ride.
And with that, you're done! So – to recap, here's what you need to do to get Komoot courses onto your Garmin:
A) Link up your Komoot account to Garmin Connect, specifically enabling the Courses feature
B) Past 50 courses are automatically synced, as are all new courses
C) Sync your Garmin
C) Done
And thus, concludes everything you need to know about the new Garmin courses API sync for Strava and Komoot. Of course, the concept behind this is that it's an API that can be used by every platform, just like the Training/Workouts API of a year ago. So expect plenty more platforms to start supporting this pretty quickly. Everyone likes an easy button.
Oh, and finally, Garmin says they don't plan on pulling the Strava Routes Connect IQ app from the store, and while I haven't heard back from Komoot yet, I doubt they'd pull theirs (since it offers more functionality than just sync). So if using those apps are your jam, you can keep on jamming.
With that – thanks for reading! But…do come back in about two hours for yet another announcement. Just sayin'.