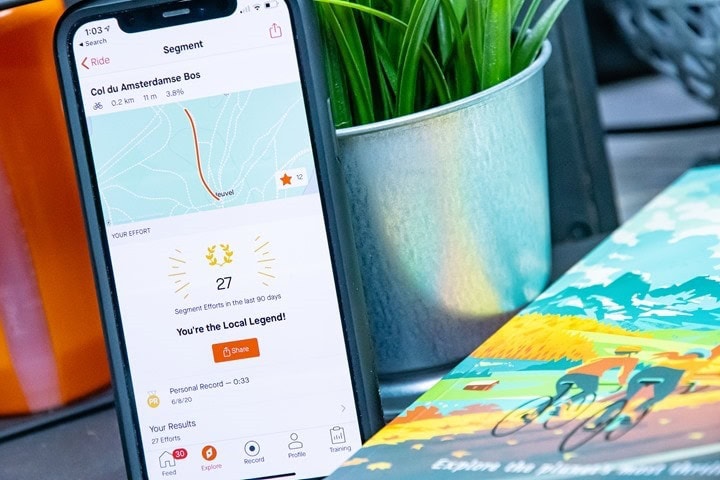 Strava has rolled out a new feature today to a subset of the population that lets all Strava users earn a new type of crown equal to that of the KOM/QOM, simply for doing a given segment more times than everyone else. If you, like me, aren't likely to take the KOM anytime soon – then you too can win an award for failing the most times.
And yes, that's exactly what I did earlier this week on a nearby Col (the term for a significant European climb). But more on that in a moment.
The new Local Legends feature operate on a 90-day rolling window and awards the individual who did the most attempts of that segment a new crown, which is in the form of a laurel. As with other Strava Segment crowns, there's both an overall top spot and a women's top spot. As noted this feature is available to all Strava users (free and paid), though there's a very slight difference in the additional data that free users don't get (but really, it's a tiny difference this time).
I've been trying out the new feature for the last week or so, which basically means I've been stalking which nearby segment I could take the new crown on in the easiest possible manner. All in the name of science of course. But ultimately, while there was a segment directly out my doorstep with a mere 6 attempts, I decided to kick it up a notch and attempt the Col du Amsterdam Bos, which would require besting 23 attempts of the arduous climb.
Here, let me explain:
Still not clear after the video? Fear not, I'll explain it below with a ton of text and photos.
How it works:
First off, for approximately…umm…most of you, you won't be able to use this feature today – even if you're already a Strava paying subscriber. That's because it's only rolling out to select geographies for a while, specifically the following areas:
June 10th (today): US users in California, Colorado, Florida, Illinois, New Jersey, New York, and Texas.
July 2020: US (entire country), UK, France, Spain, Germany, Brazil, Japan
Sometime in the future: Strava doesn't have any date on when rollout will finish, other than they'll decide after the July rollout list.
Strava says this lack of global rollout is to be able to refine the feature more before rolling it out more broadly. I guess that's true, though, they did find a way to turn off features pretty darn instantly for everyone a couple weeks ago.
Also, if you meet that list, then ensure that you're on the most recent iOS or Android app, which were released on Monday, and are versions 154 or higher.
To begin, you'll need to find a nearby segment that has a Local Legend designation. My understanding is not all segments will get this, but specifically the most popular ones. You can try your regular segments to see if there's a new Local Legend option, or, you can search for Local Legend segments by first toggling "View Local Legend Segments Only" in the iOS or Android search settings (the little controls icon to the right of 'Segment Explorer' text below), then go to Explore > Segments and search for the segments nearby a given location:
When choosing a segment you'll see the new 'Local Legend' designation right next to the KOM and other similar winner circle records below it. It's interesting to me that the Local Legend is now top of the list over the regular leaderboards:
If you tap into it you can see the current record holders for overall and women:
And then down below you can see your specific attempts, and notably, the comparison of efforts in the last 90 days you've had versus the top dog with this new histogram.
Now for the most part, in looking at piles upon piles of segments nearby me – almost all the winners seem to be using the segment in question for:
A) A daily commute
B) A nearby stretch outbound/inbound from their starting point to elsewhere
Of course, as you get further from the city, then those numbers drop a bit and you get what are essentially regulars on a route, which, I presume is Strava's goal here. Because commuting by bicycle is so overwhelmingly common and popular here, a substantial portion of the Local Legends are indeed just commutes – even in the middle of nowhere. Whereas my guess is if you did this same test on random segments in other locales, you'd get more workout-driven rides. Note that it matters, this is a trophy for iterative participation, not for hard efforts (that's the point of the KOM).
However, one important note here: Private activities don't count towards Local Legend totals.
This is probably a good example of where the whole 'commute' tag breaks down. Right now I don't record or upload my daily commute. Meaning, I don't think my 15,520 Strava followers want their feeds filled with my 1.8mi/2.9km ride each direction to the office. There's only so many ways I can photograph that section of bicycle path. Had I recorded that daily and made that public, then I'd easily win the local legend on the plethora of segments between me and home. I'm guessing there's lots of folks like me that might make their shorter commutes public if Strava had a way to turn those off (or not display them) in followers feeds.
Also of note is that at this time the Local Legend status cannot be seen from the web, only the smartphone apps. Strava says they're working out the plans for that still.
As for free subscribers, they'll see whether or not they attained the local legend, as well as your current attempts in the last 90 days, but you won't see a histogram of your past attempts. From Strava, here's what you'll see: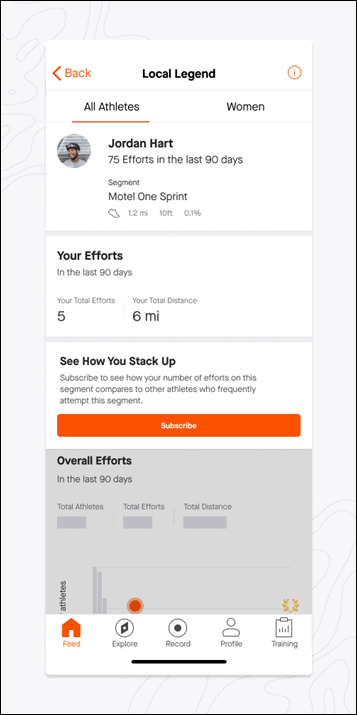 Honestly, there's not much lost for free users here. As long as you know how many efforts you've done, then most of the other stuff is just noise.
Got all that? Good, let's give this a whirl.
Becoming the Legend: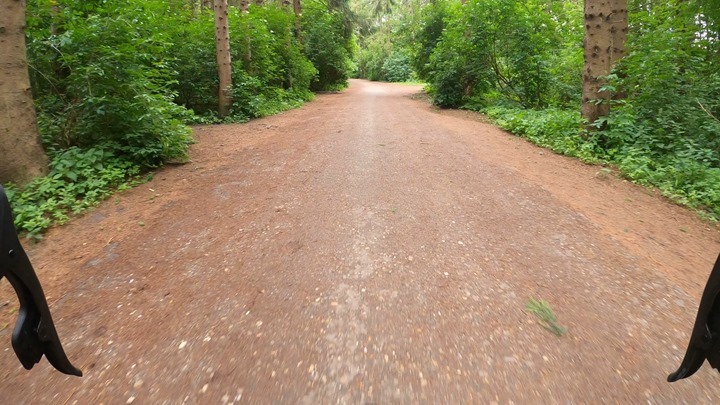 Of course, I couldn't settle for not having a screenshot of me as the reigning Local Legend of something. And while I could have picked one of the random segments that only would take a mere 6 attempts of a 300m long section, I decided I needed to step it up a notch.
So, I found the biggest climb near me. The tallest of tall, the most grandeur of European ascents: The Col du Amsterdamse Bos
Unofficial estimates put the total ascent here at just over 1,100cm at an average gradient of a painful 4%. I mean, just look at this climb:

The current Local Legend on this segment has completed it some 22 times in the last 90 days. My current standing in the last 90 days?
Just one attempt.
Clearly, I've got my work cut out for me.
So, I got the segment favorited and loaded on my Garmin, then plotted a quick route to the climb. As the crow flies its barely 2KM from the DCR Cave. But I added another 6-7KM as a proper warm-up. I couldn't go into this ill-prepared.
My plan was simple: Ride it 27 times.
Why 27? Because I figured I'd screw up counting. So 27 gave me enough of a buffer to screw up at least a few times and not have to go back out again to top off the tank.
Off I went on the wet dirt path towards the legendary summit – complete with occasional competitors: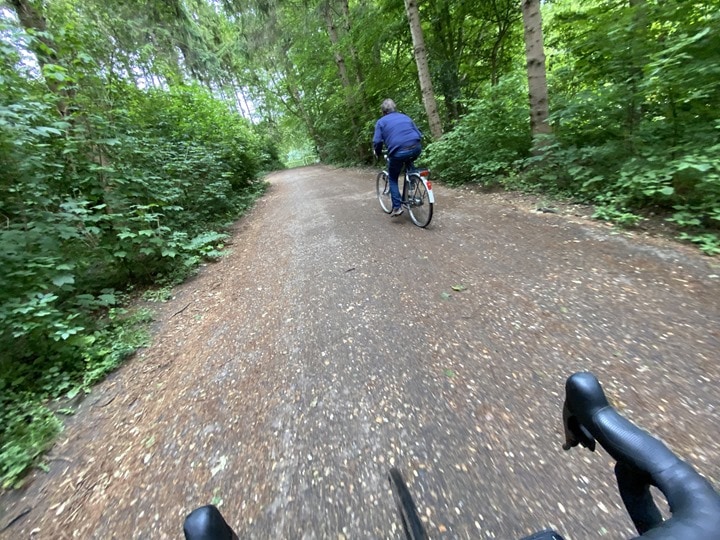 Up…and…down…and…up…and…down…and…up…and…down…and…up…and…down…and…up…and…down…and…up…and…down…and…up…and…down…and…up…and…down…and…up…and…down…and…up…and…down…and…up…and…down…and…up…and…down…and…up…and…down…and…up…and…down…and…up…and…down…and…up…and…down…and…up…and…down…and…up…and…down…and…up…and…down…and…up…and…down…and…up…and…down…and…up…and…down…and…up…and…down…and…up…and…down…and…up…and…down…and… wait, am I done yet?
Roughly an hour later I had completed 26 times (I thought I had done it 27 times, but not so much apparently).
Most of the time I just cruised to the top and back. Though, I did throw down a few half-hearted attempts at the KOM, usually to be stymied by a random dog or dog walker. Still, I did manage to break myself into the top 10 leaderboard: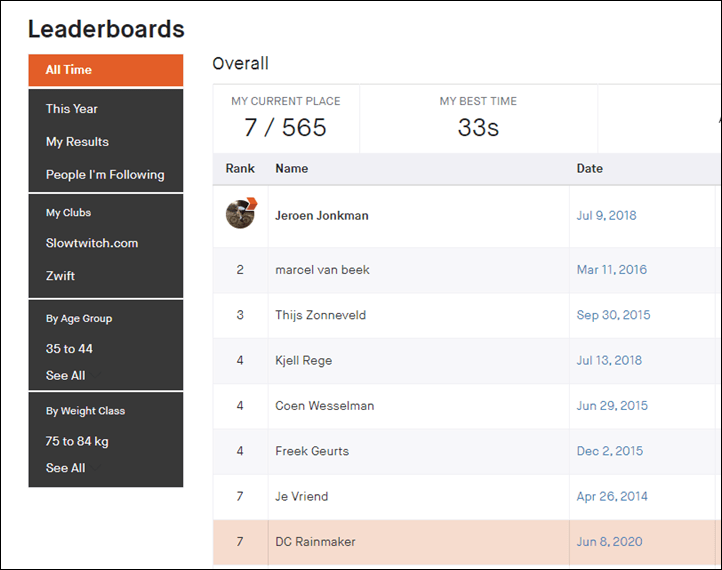 On a quiet dry day I'm pretty sure I could snip this KOM.
But I wasn't here for the KOM. I was here for local legend status. And, upon completing the ride and setting the activity to Public, I rightly received the golden laurel designation I came for:
And inside that Segment details I can see my efforts that day:
Lastly, if I go into my Strava profile I can see my Local Legend titles there alongside my other KOM's and running CR's: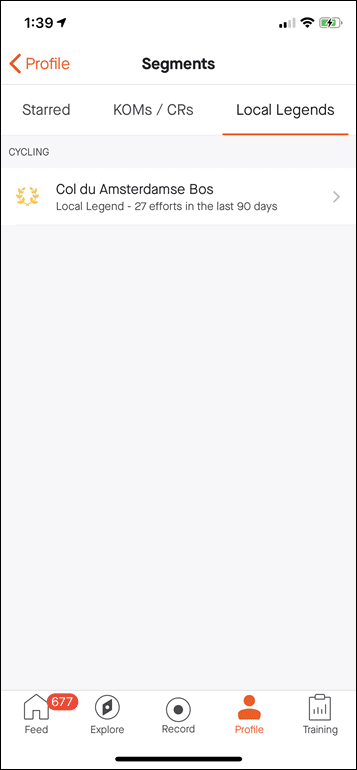 And with that, my legendary quest is complete. As an interesting side note – this particular climb for the women's leaderboard would only require two attempts to take the local legend status. My guess as to why? The women among us are smart enough to have gone to the top once, and realized there was no justification for going up there again.
I'm sure someone will take this crown back in no time, which is the point of the Local Legend status. In 88 days time my record will be erased, even if nobody decides to waste their time going up and down a climb less than most highway overpasses in Texas. Like sandcastles to the tides, or Strava features from free members.
Wrap-Up:
Overall this feature is cool, but not earth-changing. Though, it was fun to find some of my friends as Local Legends on nearby segments, which obviously I'll work to dethrone if it takes…umm..minimal effort.
But beyond that, I don't personally tend to focus too much in Strava on collecting titles/crowns. Except in hard to get places like random running routes in Accra (Ghana), the eastern provinces of Saudi Arabia, and a tiny bridge connecting Norway and Finland in some unknown town. In which case I'm all-in, because that's about the only place I can manage to defend a KOM/CR. Anything where I think there's a substantial chance it'll take years for someone to best it, I'm there!
It makes sense that this feature is visible to all Strava users (even if the analysis portions are reduced for free users). After all, this crown is all about doing something numerous times without being the fastest. And my guess would be that frequent KOM/CR holders and hunters would be more likely to have a paid Strava subscription than not.
Now, the only thing that I think would be valuable here would be that device makers could leverage this new leaderboard position in Strava Live Segments. How cool would it be if my Wahoo/Garmin/Karoo/whatever device popped up a message that said 'You just became the Local Legend!', just like it does for taking the KOM? Or, if when you crossed over it, it said '5 more times on this Segment to become the Local Legend?'. That would be cool, and might make me actually game the ride a bit more, especially for loop-type scenarios if I was close.
With that, go forth and start defending your local legend titles, and thanks for reading!