For this post, I'm going to dive into all the differences between the Fenix 7 and its mini-me, the Instinct 2. Comparisons have long been drawn between the two, and whether or not the Instinct was essentially a Fenix-lite. And in many ways, it is. Whereas in others, it's clearly not. However, never has the line been closer than now with the Instinct 2, which swallows up the vast majority of the Fenix 6-era sports and fitness features, but stops short of adding newer Fenix 7—era features, or adding a fancier display.
Of course, in any comparison like this, one has to acknowledge the obvious: The Fenix 7 (base) is twice the price of the Instinct 2 (base). The Fenix 7 series starts at $699, whereas the Instinct 2 series starts at $349. Still, for many people, either device would work well. And I hope to arm you with the information you need to see which extra features you prefer, or decide to skip on.
Now as always, this post is based on real-world long-term usage of both devices. And more notably, both devices literally side by side on long adventures and workouts. So I can dive into some of the interesting nuances between them that aren't obvious…unless you're 6-hours into a hike with changing weather conditions requiring a route change.
Oh, and the two in-depth reviews are available here:
– Garmin Fenix 7 Series In-Depth Review
– Garmin Instinct 2 Series In-Depth Review
And in case you're considering the Epix or Venu 2 Plus units, then consider one of these two posts to guide you:
– Garmin Fenix 7 vs EPIX: A Very Detailed Comparison
– Garmin Epix vs Venu 2 Plus: A Very Detailed Comparison
Wait, one more thing! Upon noticing that the Fenix 6 price today is at $399 (seriously) for the base edition, I decided to add a little section for that too. So, in case you need the Fenix 6 review, it's here:
– Garmin Fenix 6 In-Depth Review
Note that while the $399 will undoubtedly disappear, I do expect us to continue seeing that $399-$499 range for Fenix 6 series sales from various retailers, we even saw that back during Black Friday – including even the Fenix 6 Pro at one point.
Got it? Good…now hold on for the ride!
The Key Differences: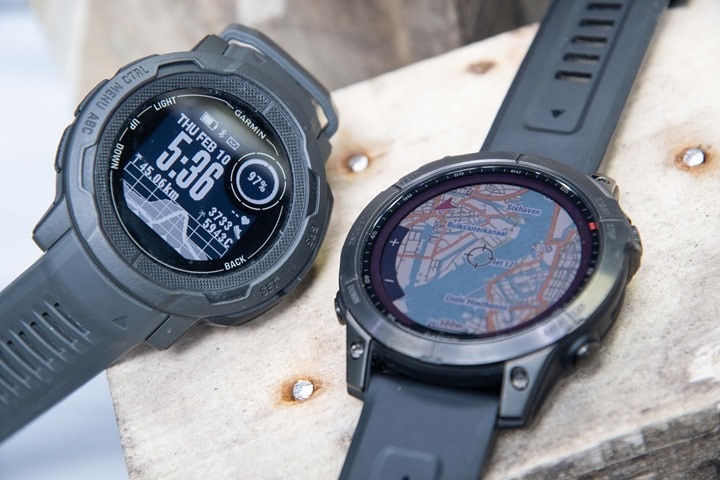 As with my past 'Comparison' posts, these are largely composed in concert with the video you see above. As such, the sections are in the same order, and the video has supporting video goodness that shows each concept in more detail.
1) Price, Size, Hardware:
We'll start here with the easiest one – the Fenix 7 starts at twice the price of the Instinct 2. It's $699 for the base Fenix 7 (which includes mapping, music, WiFi, and Garmin Pay), whereas the Instinct 2 base unit starts at $349. If you want solar editions of either unit, it's an extra $100. Then in the case of the Fenix 7 series, there's also the "Sapphire" editions, which cost even more but add dual-frequency GPS (more on that later), extra map storage (32GB instead of 16GB), and a more scratch-resistant screen/case. The Instinct 2 series doesn't have such a fancy level, but does have their 'Specialty' editions, which are Surf and Tactical. These cost $50 more than the base or Solar, respectively (depending on the version).
From a sizing standpoint, there are two sizes of Instinct – 40mm and 45mm (Instinct 2S & Instinct 2). Whereas the Fenix 7 series has three sizes: Fenix 7S at 42mm, Fenix 7 at 47mm, and Fenix 7X at 51mm. Here's a lineup of them for your viewing pleasure: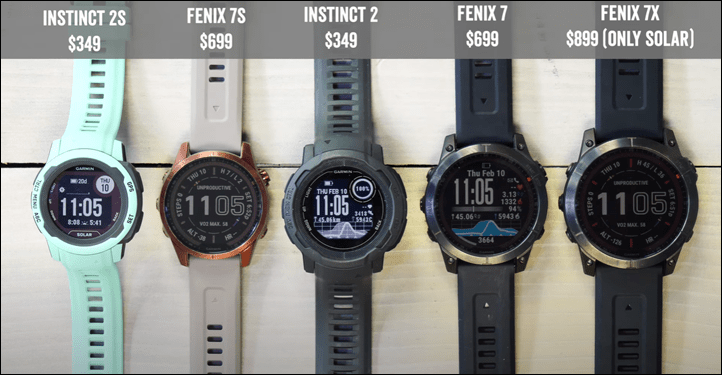 Weight-wise the Instinct 2S is the lightest at 43g, then then the Instinct 2 at 53g, with the Fenix 7 from 63 to 89g depending on the variant. Waterproof-spec-wise, all these units are the same at 100m – so you're good there at the same level. Also note that the Fenix 7X has a built-in flashlight/strobe light, whereas the Instinct series does not (neither does the rest of the Fenix series).
2) The Display:
From a hardware standpoint, the biggest difference is arguably the display. Simply put, the Instinct series is black and white, whereas the Fenix 7 series is color (64 colors). Not only that, but the resolution is higher on the Fenix 7 series (Fenix 7S is 240x240px, Fenix 7 is 260x260px, and Fenix 7X is 280x280px), versus the 156x156px for the smaller Instinct 2S and 176x176px for the Instinct 2 units. Of course, it goes without saying that having color gives Garmin lots more flexibility in other areas, especially things like elevation profiles (such as ClimbPro that we'll talk about), as well as even what different 3rd party Connect IQ apps might display. Still, aside from specialty data pages/charts, the vast majority of the time I'm using a watch I'm using it on black & white data fields. So for being out at the track doing intervals or a long run, the display isn't actually a consideration.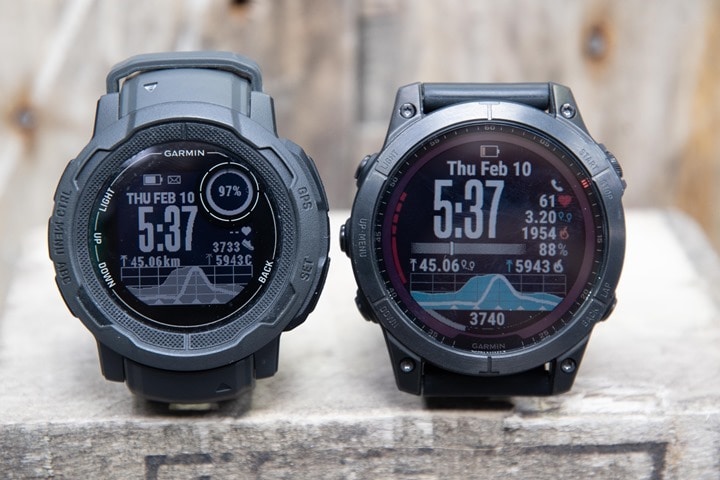 Instead, where it's a huge difference is both the hiking/mapping/navigation features, but also just day-to-day widget glance type functions. As you can see above, the color is a nice touch. I've gotta believe though that if we look ahead to an Instinct 3 in a few years, it'll probably be offered in both an AMOLED display as well as perhaps a Fenix-style color display. Especially as battery life improves to make these jumps.
And finally, the Fenix 7 has a touchscreen, whereas the Instinct 2 is purely buttons only. Of course, the Fenix 7 doesn't require you to use touch at all, in fact, you can straight-up disable it watch-wide, just during specific sport profiles, during non-sport uses, during sleep, etc….
3) Mapping and Navigation:
As big a difference as the display hardware is, the software differences here on the mapping/navigation side are so vast it's tough to really cover all of them. I could probably do a standalone post on just this one area (and an hour-long video). First up, the Instinct series doesn't have any maps, whereas the Fenix 7 series has full downloadable maps with terrain data, trails, roads, points of interest (like cafes, monuments, and shelters), and even popularity map data (heatmap data). And in the case of skiing, they've got full ski runs and ski areas, for both downhill and cross-country skiing. The same goes for golf courses.
But it's how that data is leveraged that's more important. First, though, let's step back momentarily.
The Instinct can load up a course/route that you create ahead of time online and then sync to the watch. You'll then follow a breadcrumb trail of a small arrow/dot on a line. Just like you would have done a decade ago on other Garmin watches. And sure, don't get me wrong – that works just fine. Whereas the Fenix 7 series will also show the real-world map below that, and actually snaps your route to that real-world map. So it knows when to tell you to turn off onto a different trail.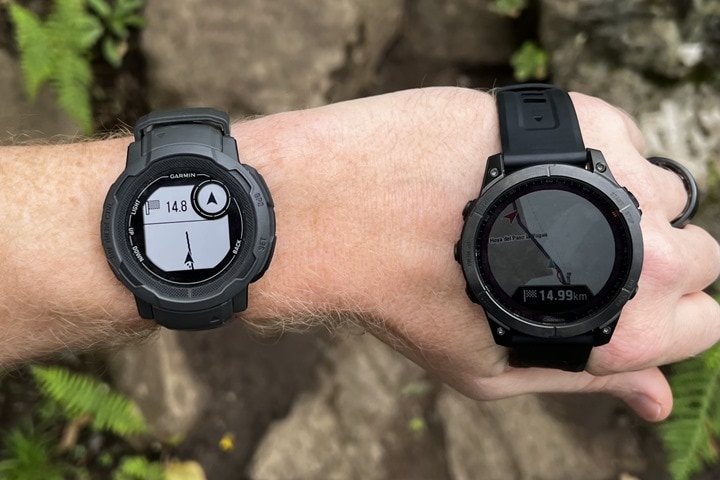 And if you go off-course, it'll first warn you, and then eventually it'll just go with it and give you new routings to your next waypoint or destination. But more than that, it'll also snap your elevation to the known-good map data. For example, on this 6-hour hike, my elevation on Instinct 2 slowly shifted with the weather changes, such that when I finally reached the ocean it was offset 30-meters high. Whereas the Fenix 7 hit 0-meters as the waves hit my feet.
Both units allow you to re-route older activities, as well as save waypoints. And both units can route you back to the start. But the Fenix can route you back to the start in the most direct manner possible since it has all the known trails/routes. And both units can route to coordinates, but with Instinct, it's just line of sight, whereas with Fenix it can be using the known routes. Further, the Instinct doesn't support the new Fenix 7/Epix 'Up Ahead' feature for showing a table of upcoming waypoints/icons and their distances.
Finally – my biggest/most favorite Garmin feature: ClimbPro. This isn't available on the Instinct. ClimbPro will automatically take your route (or on the fly route if re-routing or created on the watch), and will splice up the ascents and descents into individual climbs. You'll see the distance to the top of the climb, gradient remaining, elevation remaining, and so on. And it shows you which climb you're on (e.g. Climb 2 of 5). The Instinct 2 can show you your overall course elevation profile, and where on that profile you are. Here's the differences out in the real world with a hike: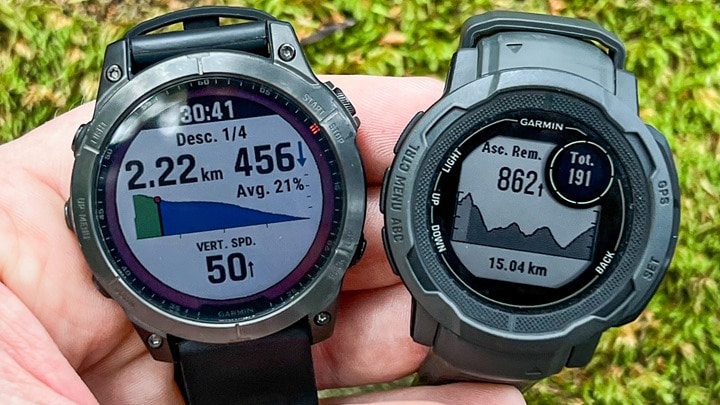 If there was any feature that would have me buying a higher-end watch over the Instinct, it's ClimbPro. Note that ClimbPro is actually offered on other watches besides the Fenix 7. It's been around since the Fenix 5 Plus Series, so it's on the Fenix 6 series (and derivatives like Tactix), Forerunner 945, Forerunner 745 (as long as you pre-plan the route, since it doesn't have maps by itself), and EPIX.
4) Battery & Solar Life:
Next is battery life. Now this one gets messy really quickly depending on which version you've got. Given there are basically like 20 versions of each product series, and given my graphic design capabilities are limited to MSPaint, I'm just going to stick both battery charts here and let you sort it out for the next 4-5 hours. First up, the Fenix 7 chart: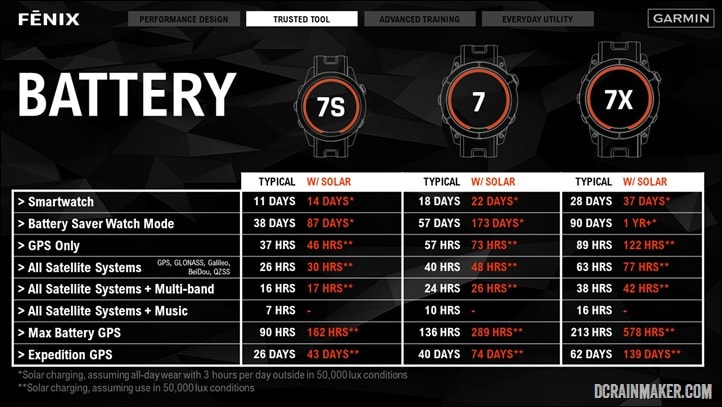 Then the Instinct 2 series chart: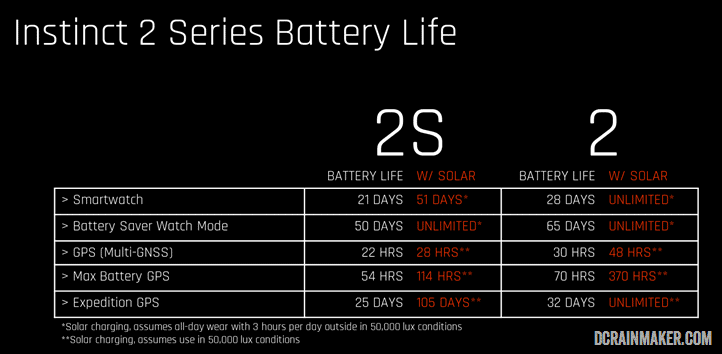 In terms of real-world usage, my data supports certain areas that I've validated. Meaning, I've tested multi-band GPS extensively on the Fenix 7 and get equal or better battery life than spec. The same goes for day-to-day usage. And that also matches with the Instinct 2 series – meeting spec. Obviously, your exact usage will vary a bit, but Garmin's done a good job in recent years in ensuring their battery specs match real-world usage (like having optical HR enabled, Bluetooth phone connection, etc…) – and not being some mythical make-believe lab battery claim. But I haven't tested things like expedition mode or the Max Battery GPS settings, simply because I don't tend to go trekking across Africa for 30 days at a time on my weekends.
5) Sports Profiles: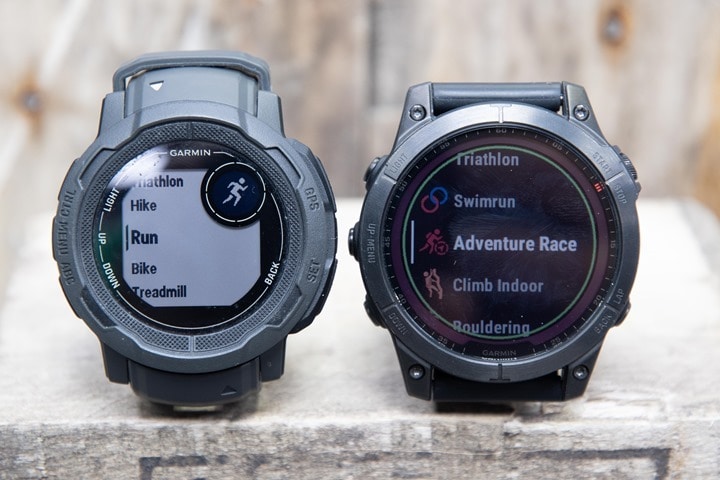 This area is the one where things have converged the quickest with the Instinct 2 series. There are almost no differences here, at least on the surface anyway. Both units have triathlon mode and multiple cycling modes, as well as numerous indoor/strength/HIIT/Yoga/etc modes. And both have golf. Though, the extent to which each feature is fulfilled differs. For example, on the Fenix 7 series golf will show you a little map of each hole, whereas on the Instinct 2 series it'll show you distances to each tee, but not the actual hole/course design.
Further, while structured workouts are supported on both units (e.g. running, cycling, etc…), there aren't animated guided structured workouts for strength, yoga, and others as there are on the Fenix 7 series. So if you're trying to follow a core workout indoors, the Fenix 7 will show you each movement, whereas the Instinct doesn't have that.
Now, let's look at the sports profiles supported on each one, as of this writing. Sorry, these aren't in some specific order, they're just in the order they've ended up on my watches.
Fenix 7 Sports Profiles:
Run, Hike, Bike, Bike Indoor, Treadmill, Open Water, Navigate, Expedition, Track Me, Map, Map Manager, Connect IQ Store, HRV Stress, Health Snapshot, Multisport, Trail Run, Ultra Run, Virtual Run, Track Run, Indoor Track, Climb, MTB, eBike, eMTB, CycloCross, Gravel Bike, Bike Commute, Bike Tour, Road Bike, Pool Swim, Triathlon, Swimrun, Adventure Race, Strength, Climb Indoor, Bouldering, Ski, Snowboard, Backcountry Ski, XC Classic Ski, XC Skate Ski, Snowshoe, SUP, Surf, Kiteboard, Windsurf, Row, Row Indoor, Kayak, Golf, Tempo Training (Golf), Tennis, Pickleball, Padel, Project Waypoint, Walk, Cardio, HIIT, Yoga, Breathwork, Pilates, Floor Climb, Elliptical, Stair Stepper, Jumpmaster, Tactical, Boat, Clocks, Other
Instinct 2 Series Sports Profiles:
Triathlon, Hike, Run, Bike, Treadmill, Bike Indoor, MTB, Openwater Golf, Virtual Run, Yoga, Navigate, Expedition, Track Me, Project Waypoint, Area Calc, Pulse Ox, Pulse Ox, Multisport, Trail Run, Indoor Track, Walk, Climb, eBike, eMTB, Cyclocross, Gravel Bike, Bike Commute, Bike Tour, Road Bike, Pool Swim, Swimrun, Ski, Snowboard, Climb Indoor, Bouldering, XC Classic Ski, XC Skate Ski, Backcountry Ski, Kayak, SUP, Row, Row Indoor, Strength, Cardio, HIIT, Elliptical, Stair Stepper, Floor Climb, Tactical, Boat, Fish, Hunt, Health Snapshot, Other
Note: Garmin says Track Running (Outdoors) is coming to the Instinct 2 series in a planned firmware update.
Ok, so that was a fun typing exercise. But what are the differences? Ask and you shall receive:
Map, Map Manager, Connect IQ St, HRV Stress, Ultra Run, Adventure Race, Snowshoe, Surf, Kiteboard, Windsurf, Tempo Training (Golf), Tennis, Pickleball, Padel, Breathwork, Pilates, Jumpmaster, Clocks
Note additionally that the Instinct 2 specialty Surf and Tactical editions also have differences here. The Surf edition has the Surf/Kiteboard/Windsurf sport modes. And the Tactical edition has non-sport profile differences including being night-vision goggle friendly, as well as a kill switch feature that deletes all data from the watch in a single button press.
Both units have full training load, status, recovery, VO2Max, and training effect support. That's all the same. However, the Fenix 7 series does display this on some watch faces, whereas the Instinct series doesn't. Further, the Fenix 7 will display a 'Training Load Focus' single-word tag at the end of a workout, telling you what workout type that workout targeted (list of them here). You can access this data at the end of a workout, or from the widgets menu at any time, on both units.
6) Sensors & Data Metrics
Next up there's all the data from those sport profiles.  And a lot of that data comes from external sensors (more on the heart-rate sensor data below). With the Instinct 2 they've dramatically expanded sensor support over the instinct 1, both in terms of sensor types supported, but also sensor protocols (ANT+ & Bluetooth Smart), as well as the data derived from the sensors. First up, here's the sensors supported.
Instinct 2: Club Sensors, Heart Rate, Speed/Cadence, Power, Foot Pod, VIRB, Tempe, RD Pod, Xero Laser Locations, inReach, DogTrack, Smart Trainer

Fenix 7: Club Sensors, Headphones, Heart Rate, Speed/Cadence, Foot Pod, Tempe, Lights, Radar, Power, VIRB, Shimano Di2, Shifting (e.g. eTAP), Extended Display, RD Pod, Muscle O2, Xero Laser Locations, inReach, DogTrack, Smart Trainer
So in short:
Differences not on Instinct 2 Series: Shimano Di2, Shifting (e.g. eTAP), Extended Display, Muscle O2, Varia Radar, Lights, Headphones
I do find it somewhat bizarre that Varia Radar isn't on this watch, given Garmin has put it on $150 cycling computers, and the non-endurance-sports focused Venu 2 series.
Both units support downloading swim (or any workout type) data after the fact from the HRM-TRI/HRM-SWIM/HRM-PRO straps.
And both units now support Cycling Dynamics & Running Dynamics from sensors (e.g. cycling dynamics from Garmin Vector/Rally or Favero Assioma pedals), and Running Dynamics from the HRM-RUN/HRM-TRI/HRM-PRO/RD-POD accessories. You'll also get mountain bike metrics like Grit & Flow on both units, assuming you're in the MTB profile.
For each of these features, you'll see different things on the units themselves though during the workout, due to the display differences. For example on the Fenix 7 series, you've got colorful running dynamics pages, whereas on the Instinct 2 it's just black and white.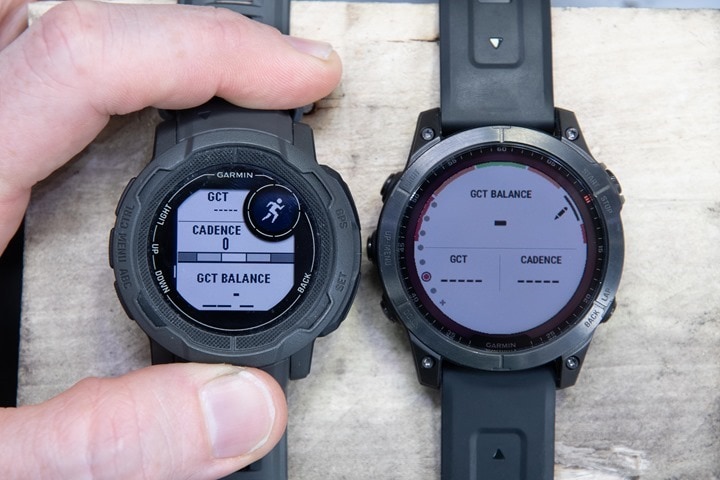 Similarly, both units support PacePro Plans – though you'll need to create those on Garmin Connect ahead of time. Meanwhile, only the Fenix 7 has Strava Live Segments support, the Instinct 2 doesn't have that. The Instinct 2 does have Lactate Threshold testing, Racing an Activity, Structured Workouts, on-unit Interval creator, and setting a target (e.g. distance, distance/time, or distance/pace). Both units have the metronome feature, both have auto lap, auto pause, auto climb (which adds an extra customizable data page as your ascent rate goes up), 3D speed/distance, and auto-scroll. The Instinct 2 lacks the 'Self-evaluation' feature post-workout where you can grade your workouts with smiley faces.
The Instinct 2 series also doesn't have the new 'Stamina' workout tracking features introduced on the Fenix 7 and Epix units. Nor does it have the automatic categorization of walking/running time within a workout (new charts on the Fenix 7/Epix). However, the Instinct 2 series does have daily workout suggestions for both cycling and running, like the Fenix 7. Finally, both units are capable of using Garmin's Running Power Connect IQ app, which will leverage the HRM-RUN/HRM-TRI/HRM-PRO/RD-POD accessories. Sadly, Garmin doesn't have native on-wrist running power like COROS or Polar. Alternatively, you can use 3rd party apps like Stryd for that, since both units support Connect IQ.
7) GPS & Altimeter Hardware Differences: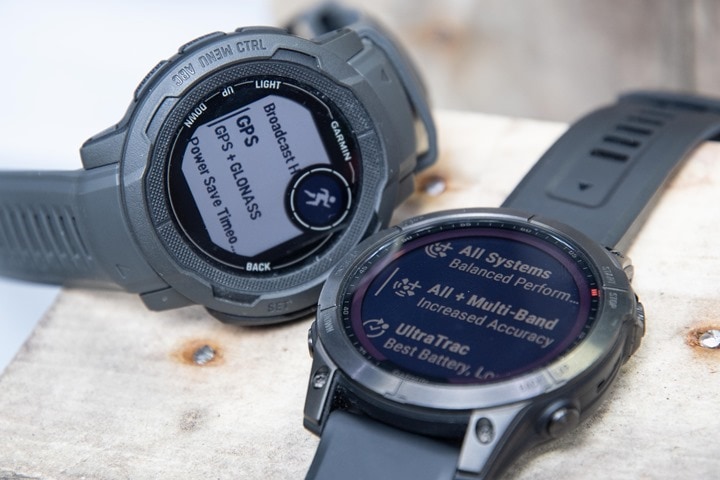 When it comes to the GPS chipsets, they are substantially different – especially for the Fenix 7 Sapphire editions. The Instinct 2 series still uses the 'older' Sony chipsets. Which aren't bad at all – and in fact, if you look at my GPS accuracy testing section on the Instinct 2 series (of which every set had a Fenix 7 for comparison), you'll see the differences in most situations are negligible.
Whereas the Fenix 7 has a chipset from MediaTek/Airoha. And in the case of the Fenix 7 Sapphire editions (but not the non-Sapphire editions), they've also got the new multi-band GPS, which is generally seen as the holy grail of GPS accuracy. Or at least, the potential to be. While it's been getting better as a whole in the industry (COROS added it last summer with the Vertix 2), I don't think it's quite at holy-grail level. Still, it is slightly better than the Instinct 2 series.
A simple example of this was a run I did around some semi-tall buildings, the two watches on opposite wrists, the multi-band GPS (Epix in this case, but it's the exact same chip) clearly produced crispier tracks around these buildings whereas the Instinct 2 meandered a bit. Once away from the buildings, the two tracks were basically identical.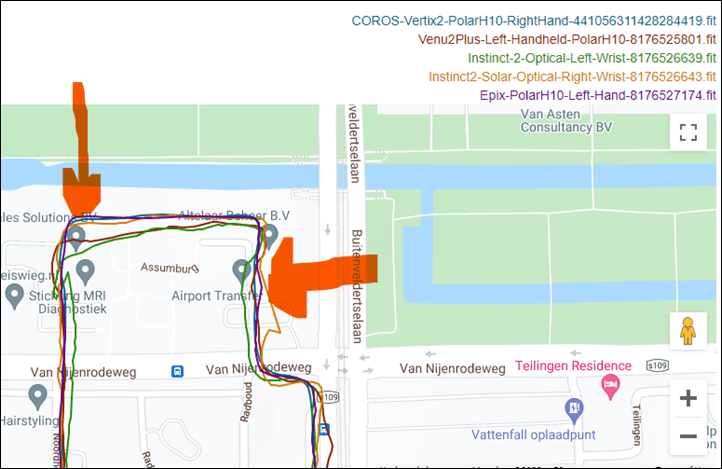 Yet, if we look at this super dense jungle switchback section in the mountains, it's a wash between them: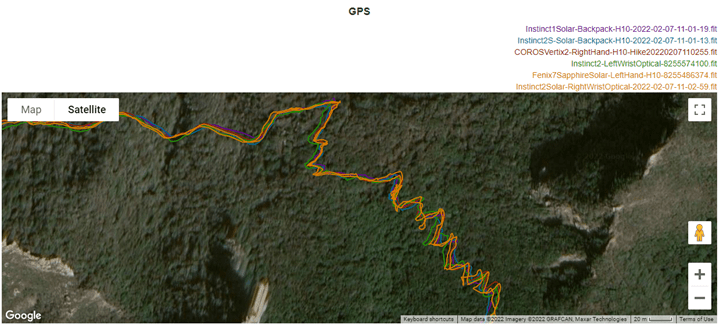 I wouldn't necessarily let this line-item be the deciding factor one way or other, especially since the base edition doesn't have multi-band support. I think we'll ultimately see the Fenix 7 multiband units get better over time, whereas I wouldn't expect any further meaningful performance-focused GPS firmware updates on the Instinct 2 series, given Garmin's attention is likely going to be on the MediaTek/Airoha chipset going forward. But again, the Instinct 2 tracks have been really good for me.
In terms of altitude, both units generally do very well. The Instinct 2 series changed both the port location, as well as other software elements compared to the Instinct 1 series, attempting to address accuracy issues there. Both units have a slew of altimeter-related settings and options. But one advantage the Fenix 7 series has is that it'll snap your elevation to the known elevation points in its maps. A good example of this is this 6-hour hike, where I started deeper in the mountains and then eventually dropped my way down to the ocean. Once on the beach at the water's edge, I noticed the Instinct 2 had slowly drifted over time (due to changing weather), whereas the Fenix 7 was spot-on at 0 meters.

Certainly, I could have mitigated this by recalibrating the altimeter with known values, but there was none of that here. I could have also re-calibrated the altimeter at the water's edge for 0-meters, but that'd have ruined my fun science experiment. Again, there are not many cases where being within a few dozen meters is absolutely critical to your hike/workout/etc, but in case it is, that's something to consider.
Both units however, have heat/altitude acclimation tracking for your body, which is done automatically behind the scenes and accessible via the widgets menu.
8) Music, WiFi, and Garmin Pay: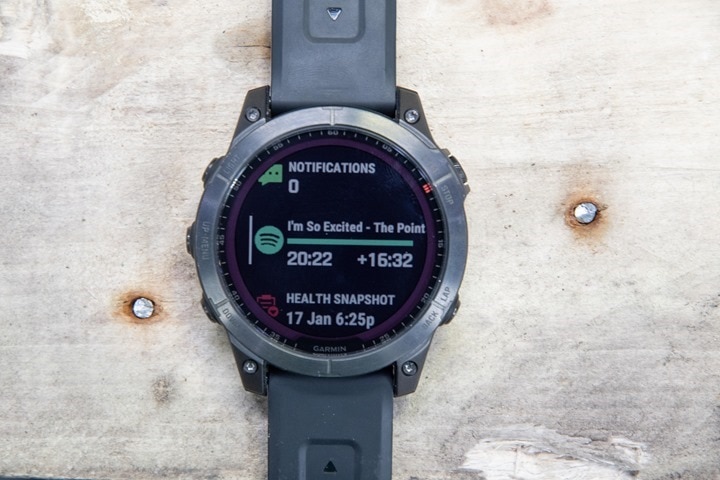 Next, a relatively easy category – the Instinct 2 series doesn't have music, or WiFi. Meaning, you can't store any music on the watch, whereas the Fenix 7 has onboard music storage for both MP3 files, but also streaming services support for Spotify, Amazon Music, Deezer, and more. This allows you to download and playback those music services playlists offline without your phone, to Bluetooth headphones.
It does all that via WiFi, which is how it also downloads maps. The fact that the Instinct 2 doesn't have WiFi though is really a non-issue, since it'll easily use either your phone or computer (via USB) for all its needs. WiFi is really only needed for larger data things (music/maps), and is supremely overkill for the tiny fitness files that the Instinct creates/consumes.
As far as Garmin Pay support goes, all Fenix 7 units have Garmin Pay built-in, whereas only the Instinct 2 Series Solar variants have Garmin Pay (plus the Instinct 2 trucker edition – DEZL). Garmin Pay is Garmin's contactless payment system (using NFC). It works well, but only if your bank is supported. In the US, there's a strong chance your bank is supported. Where outside the US it varies quite a bit. You can look it up here.
9) The Heart Rate Sensor: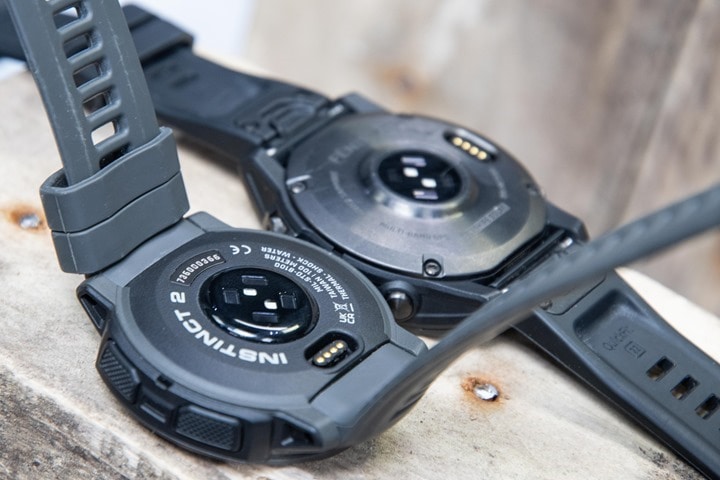 This is another quick and easy one: Both have the same Garmin Elevate V4 optical HR sensor. This sensor gets all the same core metrics including 24×7 heart rate, workout heart rate, respiration rate, and other features like stress. And in fact, both have PulseOx to get blood oxygen levels on-demand, 24×7, or just during sleep. And both have the new Health Snapshot feature to collect all this data into a tidy report.
The main nuanced difference with the Fenix 7, is that it can also plot those Blood Oxygen levels over altitude over time, for high altitude climbing. Whereas the instinct just plots them over time (without altitude).
Both units support concurrent ANT+ & Bluetooth Smart broadcasting (the Instinct 1 Solar did Bluetooth broadcasting, but not the non-Solar Instinct), so you can broadcast your heart rate to 3rd party apps or devices using the optical HR sensor. Further, both units have Virtual Run support, so you can also broadcast your pace & cadence while on a treadmill to 3rd party apps like Zwift, which treat that as a footpod (but also with the heart rate data bundled in).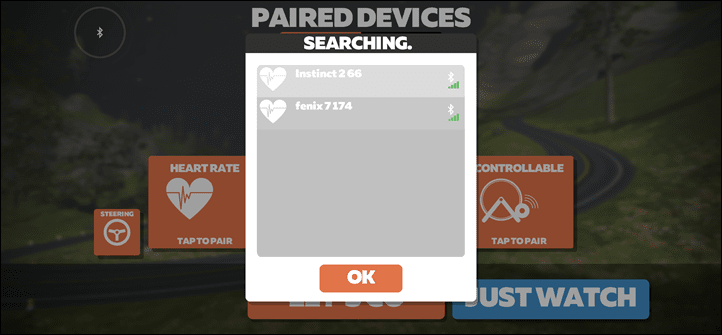 Both units support recording/display heart rate while swimming, though, accuracy will vary significantly on swimming (for every watch on the market).
Beyond swimming activities, I haven't seen any appreciable differences in terms of accuracy between the two units in all my testing, however, keep in mind that generally speaking a heavier/bigger unit will bounce more on your wrist, so if looking at the Fenix 7X for example, you may see more variability in accuracy there than the lighter Instinct. But again, that'll vary from person to person.
10) Tracking & Emergency Features:
Both units have many of the same safety features like fall/crash detection, which notifies friends and family automatically, as well as both have LiveTrack to share your position automatically, and both have silent safety assistance alerts (such as if you're feeling uncomfortable in a dark parking lot).
However, only the Fenix 7 has 'Group Track', which allows you to see the position of others in your group on your watch in real-time. This of course requires your friends or others to also be on Garmin watches.
I used LiveTrack pretty extensively side by side on both units, and didn't notice any differences (or issues). Obviously, since neither unit has cellular built-in, you'll need your phone nearby for all features in this section. In cases where cellular service is lost on a LiveTrack, it'll resume once cellular service is regained (and it'll show to your stalking friends that connectivity is currently lost).
Both units have Garmin inReach accessory support, which is a satellite communicator for when you're out of cellular range, though no Garmin devices currently automatically switch back and forth between cellular connectivity and satellite inReach connectivity for LiveTrack. Instead, you'd just have a secondary inReach LiveTrack. Still, wouldn't that be cool?
11) Connect IQ Differences
The Instinct 2 series added support for Garmin Connect IQ, which is Garmin's app platform. This means you can load watch faces, data fields, apps, and widgets onto the Instinct 2 series. The Fenix series has had this for ages.
And at a high level, that'll bring an absolute ton of functionality to the Instinct 2 for extended features. However, there are some minor catches to be aware of, at least short-term. First off is that because the display on the Instinct 2 series is more limited (black and white), some apps might not be ported to the Instinct due to lack of coloring. Further, it'll just take time for apps to toggle 'Yes' to compatibility for Instinct within the Connect IQ platform. Though I expect the most popular ones to do so.
In fact, a good Connect IQ example of an app/feature not ported is Garmin's own 'Face It' feature in the Connect IQ app store that allows you to create custom watch faces with any photo/picture. That's not available on the Instinct 2 series, whereas it is on the Fenix 7 series. This one is somewhat peculiar given that lesser resolution watches have been available historically (e.g. FR230), though with color. Still, something to be aware of.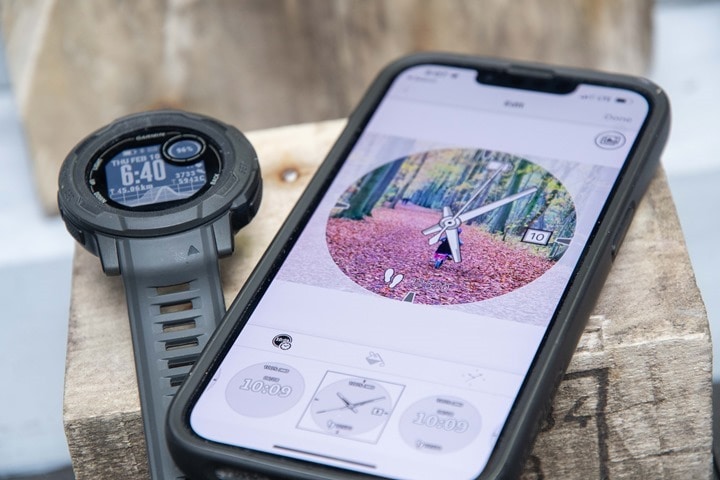 The other difference is that the Fenix 7 series has Garmin's new Connect IQ Store on the watch itself. This gives you a handful of recommendations from Garmin's Connect IQ store, and lets you download/install them directly from the wrist, without opening your phone. Right now though, this feature is *incredibly* limited (like, it's only got 5-7 apps in total showing), so I wouldn't overthink this one. But I'm sure if we fast forward another year or two, it'll be a significantly different story. But again, you can just use your phone to download apps – so it's not a big deal.
Compared to the Fenix 6: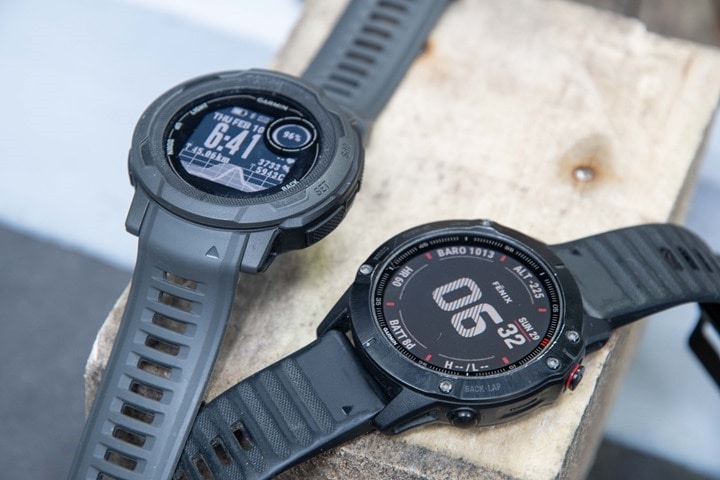 Now, I wanted to briefly point out that the Fenix 6 has been creeping lower and lower on the 'Random Drunk Retailer Sale' charts, with it currently as of this writing being $399USD for the base edition, and occasionally in that same range for the Fenix 6 Pro series edition with maps. So, when the prices are right, what's the difference between everything I outlined above, and the Instinct 2? Well, not much. Here's the short version (there are more Fenix 7 vs Fenix 6 features I outline in the 'What's New' section of my Fenix 7 review, but these are the main ones):
– Fenix 6 base doesn't have music or WiFi (but Fenix 6 Pro series does)
– Fenix 6 base doesn't have the maps (but Fenix 6 Pro series does)
– All Fenix 6 and Fenix 7 units have ClimbPro, regardless of maps (you just have to have pre-planned routes on the Fenix 6 Base for ClimbPro, whereas the Fenix 6 Pro can do it on the fly given the included maps)
– Fenix 6 series has the Gen 3 optical HR sensor versus Gen4 on Fenix 7, but does have PulseOx – so you won't get the Health Snapshot feature, but you basically get everything else
– Fenix 6 series doesn't have the workout stamina or run/walk automatic categorization features of the Fenix 7 series
– Fenix 6 series doesn't have the Connect IQ store on-wrist, nor the phone-based config of data fields
– Fenix 6 series doesn't have a touchscreen, but does have the same button layout as the Fenix 7
Again there are some more nuanced feature differences I outline in the Fenix 7 review, but in the context of Fenix 6 vs Instinct 2 series, those above are really the big ticket differences, and for many people, they aren't that big a deal.
Wrap-Up: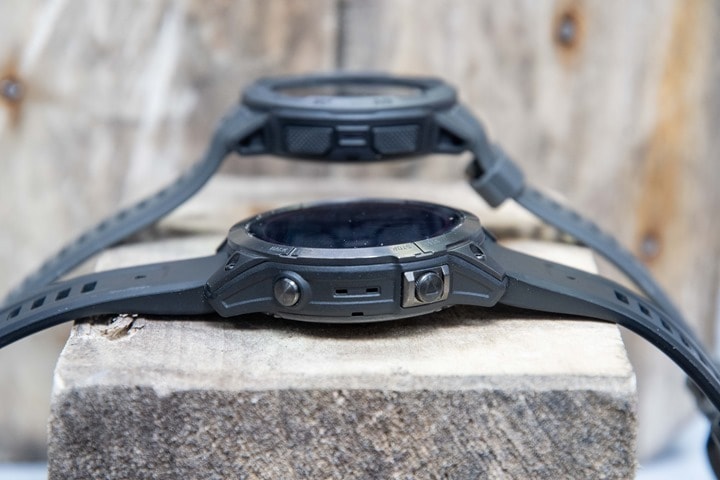 Phew. Ok, lots for you to think about.
My general guidance would be that if you're spending lots of time hiking or trail-blazing in some capacity where you're doing unknown routes, I find the maps on the Fenix series tremendously useful. Not because I can't follow a breadcrumb trail, but more as a backstop or insurance policy.
For example, last weekend I was doing an 80KM gravel/MTB ride. Or at least, that was the plan. And then the route I planned on a different platform kinda evaporated under my wheel. Being able to use the maps in an area that had no cellular service was useful. I'm able to glance around and go "oh, OK, there's a trail about 200m over here I should be able to get to". Sure, it involved lots of awkward hiking up an embankment with my bike, but hey – in 20-30 minutes I was back in business, versus having to backtrack somewhere far further back.
And then beyond that, I hugely value ClimbPro while hiking and cycling in the mountains. But, you can also get that on a number of cheaper Garmin units than a Fenix 7. Both from the Forerunner 745/945 side, as well as even the older Fenix 5 Plus and Fenix 6 series.
But, if you're not doing the type of adventures where maps would be of value, or if you have lots of sun and want more battery life – Instinct is amazing at that. It was awesome last summer to see the 'unlimited' symbol pop-up on my Instinct 1 Solar unit showing I'd unlocked unlimited battery power due to days-on-end of endless summer sun.
Hopefully, this guide helps you figure out what you value most to make the right decision. Thanks for reading!
Found This Post Useful? Support The Site!
At the end of the day, I'm an athlete just like you looking for the most detail possible on a new purchase. These posts generally take a lot of time to put together, so if you're shopping for the Garmin Instinct 2 or Garmin Fenix 7 or any other accessory items, please consider using the affiliate links below! As an Amazon Associate I earn from qualifying purchases. It doesn't cost you anything extra, but your purchases help support this website a lot. Even more, if you use Backcountry.com or Competitive Cyclist with coupon code DCRAINMAKER, first time users save 15% on applicable products!
And of course – you can always sign-up to be a DCR Supporter! That gets you an ad-free DCR, access to the DCR Quarantine Corner video series packed with behind the scenes tidbits...and it also makes you awesome. And being awesome is what it's all about!