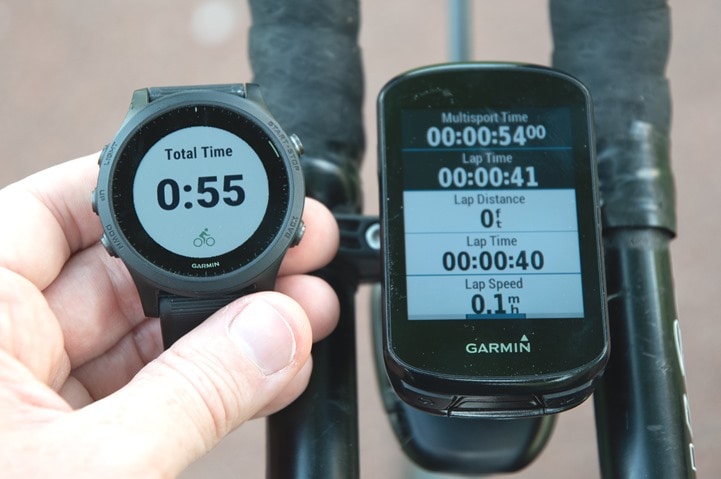 Like any true triathlete, I violate all the rules of common sense. The most important one being to never try something new on race day. But given I have a long history of violating said rule, I figured a few weeks ago that a local triathlon was the perfect time to try out Garmin's almost never talked about 'Extended Display' triathlon-focused feature. This function allows you to mirror your watch to your Garmin Edge bike computer. Thus ensuring that your data fields and total race time match exactly.
While I'd tried connecting the sensors together about a year ago, that was basically a backyard adventure. Certainly nothing I'd attempted in a workout, let alone a race. So I figured I'd tell you how to set it up, how it works, how it went, and whether its worth doing at all.  Or, you can just watch this video. Your choice:
And yes, I filmed that video two weeks ago. I had high hopes of productivity that day. Not sure what I was thinking.
Getting it setup:
Since this is a two device thing, that means you'll need to take steps on both devices. My little guide below will make it seem far more complicated than it is. Seriously, the one sentence version is: 'On your Edge open up the remote display option, while then on your watch add it as a remote display sensor. Done'.
And sure, I could leave it there and tell you to figure it out. But then I'd have wasted all these photos. So, let's give you the photo tour. First up, on your Garmin Edge device (Edge 130/520 Plus/530/820/830/1030) go into the menu and select 'Extended Display Mode'. There's no meaningful options here. It just opens up and goes into a waiting pattern saying 'Searching for watch'.
The only options you get on your Edge unit for the extended display mode are related to the display timeout: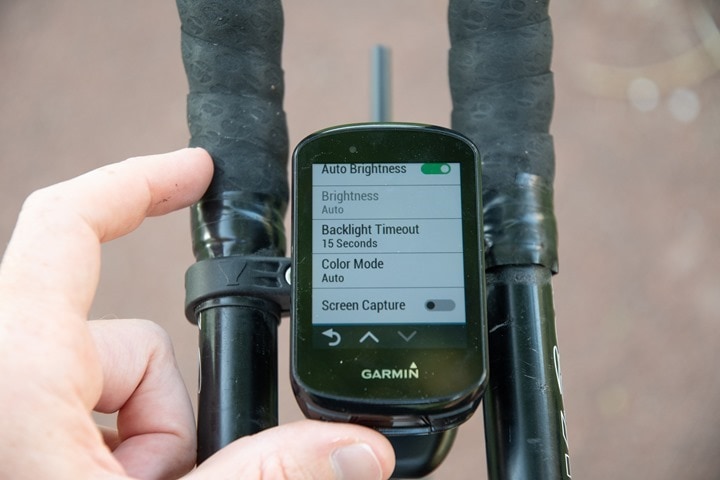 So, with that set, your Edge is ready to receive stuff from your Garmin watch. In this case the watches that support this are the Forerunner 245/245M/645/645M/735XT/935/945, MARQ, and Fenix 5 Series/5 Plus/Chronos Series. So on your watch, go into the sensors menu. The same place you'd pair a cadence sensor, power meter, etc… Then scroll down to add a new 'Extended Display Device'
After a few seconds, it'll find the Edge, and show it just like it would any other sensors (complete with a sensor ID):
Here's a bit of geekery coolness for you: Technically speaking, any company can implement what Garmin has done here. And in fact, in theory (ok, a lot of theory), Wahoo could make it compatible with Garmin's watches. Or Stages could do the same with Garmin's watches. Or whatever. It's all an ANT+ open standard device profile, called the 'ANT+ Remote Display'. It's actually exactly what Garmin Varia Vision heads up display does. Same exact tech and functionality, just a different device type.
In fact, one 3rd party company has already used it: ProShift. They use the same thing to allow you to broadcast information from their automated gear shifting system to the Varia Vision glasses. Cool, huh?
Ok, back to your Edge. At this point you'll see it connected and showing data metrics. You know that it's in extended display mode because the top two metrics are in black, whereas the bottom portion of the page is white:
Now that it's set up, let's go to race day.
Race Day: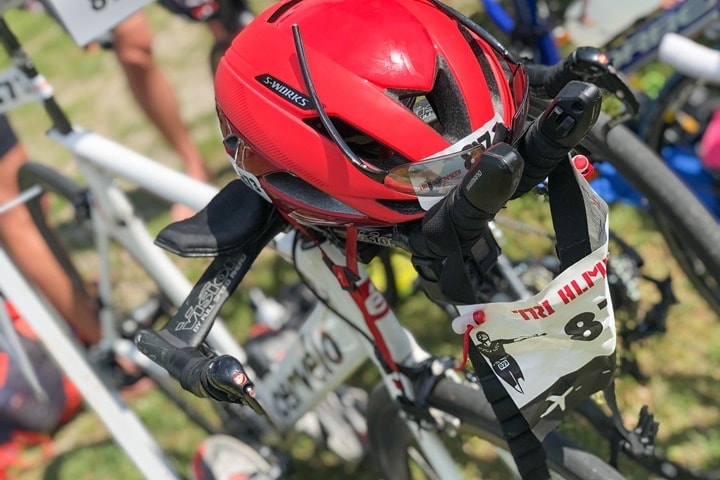 Ok, so here you are, ready to try this out. Obviously, I'd suggest you try this out on a training day first. But if you're a maverick, then go forth and give it a whirl on your first Ironman. Or maybe Kona.
All you need to do on your bike is simply put the Edge unit into extended display mode. It'll just wait there forever for its buddy to show up and dance:
Seriously, it won't fall asleep in this mode. It's just hanging out. Given the battery life of any of the Garmin Edge devices is well more than any bike-leg of any triathlon (except those crazy deca ones), there's no harm in leaving it there while you're off swimming. Of course, if you've got your backlight set at full brightness for some reason, that's on you.
Meanwhile, your watch has already remembered the Edge as a sensor. So you'll never have to do anything on your watch. Instead, go off and swim. Try not to get kicked in the face. Then exit the water: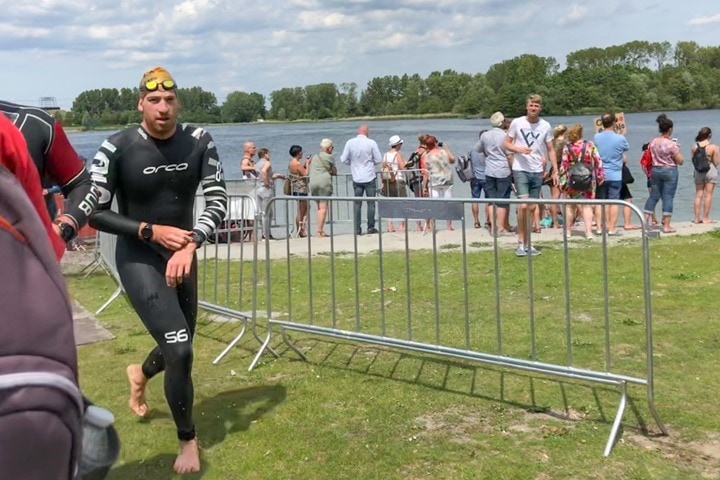 See, the watch is already looking for its friend. And before you even get to your bike, it'll have found it. That was the case for me. Given ANT+ has a range of upwards of 30-40 meters in unobstructed open air, it'll easily beat you to your bike. Once you arrive at your bike, you'll see your current times displayed on the Edge unit, sorta like this, assuming you had gotten horrifically lost on the swim and then had breakfast in T1: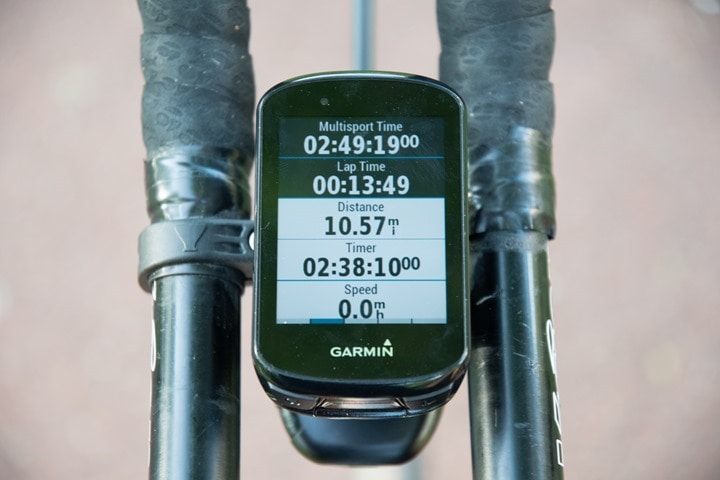 Here, let me break it down for you:
Top Line: Total Multisport Time (aka your race time) – 2:49:19
2nd Line: Current Lap time (somewhat the current sport time) – 13:49
Everything else: Exactly same data fields as your watch
So the first two are static. You can't change them. But the bottom ones? They mirror the exact fields as your watch (within a second or so). See, check it out: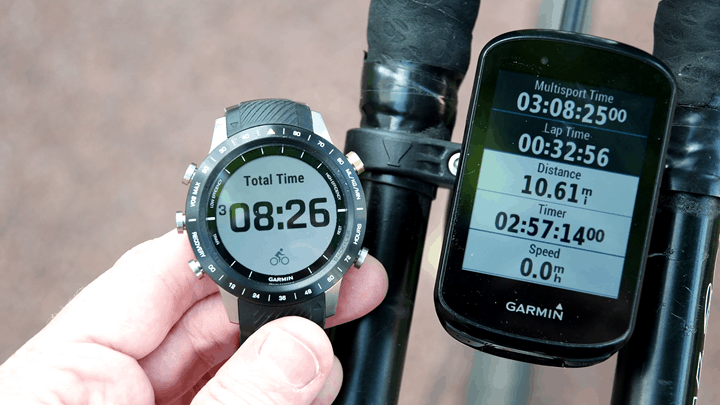 And you can change to different pages like you normally can, it'll simply iterate through whatever pages you've set up on your watch. Sometimes it gets a bit quirky. For example if you look at the watch below it shows my HR as 71, and the Edge mirrors that too. But the watch uses the colors around the edge of the bezel to show my HR, whereas the Edge unit shows my HR zone as the numerical equivalent (0.7 in this case).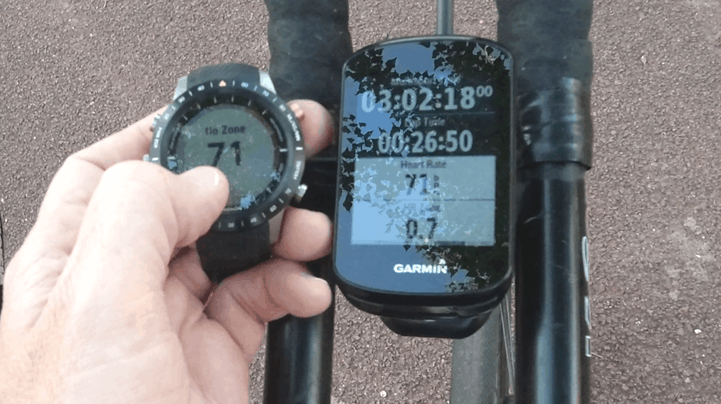 Now, let's go back to that 2nd line, the 'Lap Time'. This field was a bit confusing for me on the race, because mentally I expected this to mean 'Sport time', as in, showing me my bike time while I'm riding. The top was total time, so that was Swim + T1 + Bike, logical.
But lap time was exactly what it implied – the actual lap itself. In my case my watch had been configured to use 5-mile splits for the cycling mode (the default on Garmin devices). So at five miles into the race, it reset that lap, and I lost my bike split. Grr.
There is a workaround though. And you'll see it below. The 'Timer' data field shows the current timer time of that sport, so in this case, 2:38 would be the bike time.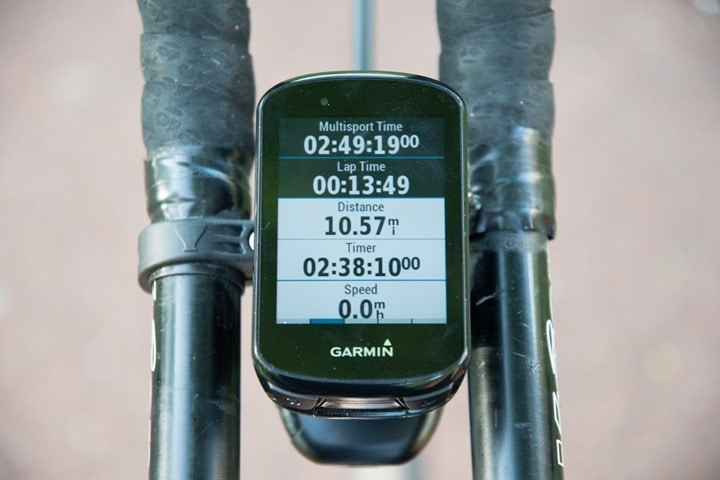 But to me that's a bit clunky. While I'm sure there's someone out there that wants 'Lap time' up top, I suspect 99.98% of us really want 'Current sport' time. Ideally Garmin would give us just one option here, to toggle between 'Lap Time' and 'Current Sport' time.  I mean, I could ask for lots of options, but this would be the biggest one.  Especially because there's many reasons people might use custom laps in a race. But given Garmin doesn't allow manual laps in triathlon mode (only auto-laps), the 'value' of showing lap time comparative to Suunto/Polar (which do allow manual laps) is pretty low.
As a random side note, the feature overall worked well for me during the bike segment. There was a brief moment for about 1-2 seconds where the connection was lost, and then it resumed automatically. Could have just been some random interference, but no biggie.
In any case, once you're done with the bike, you simply run away.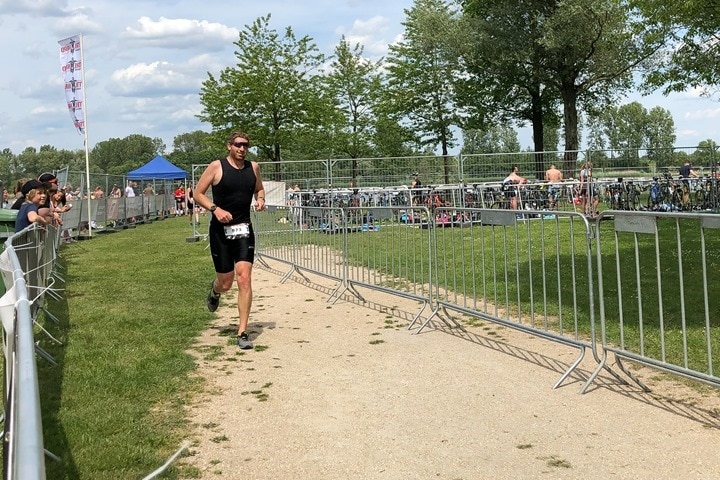 You'll hit lap on your watch and then enter T2 just like you normally would. Technically, the Edge will actually show this. It doesn't really truly care what mode you're in. It's just duplicating your display. Then you literally run away from your bike computer. You can leave it there on if you want, or turn it off. Once you're out of range the display will go back into the 'waiting' mode. Doesn't matter, nothing was recording on it – just like a fart in the wind.
At this point you just finish your run/race like normal, and then upload your race afterwards to Garmin Connect just like normal (from your watch).
FAQ:
Here's the list of the most common questions I suspect folks will have:
Wait, when was this added?
Oddly enough, last summer. First quietly in a beta firmware update. I had pointed it out then, but never had a chance to really dig in.
What Edge units does this support?
The feature is available on the Edge 130, 520 Plus, 530, 820, 830, and 1030.
What watches work with this?
It's currently on the Forerunner 245/245 Music, FR645/645 Music, FR735XT, FR935, FR945, Fenix 5 Series, Fenix 5 Plus Series, Fenix Chronos, and MARQ watches. I haven't checked things like the Descent, though I suspect it works there too. I would not expect to see it in non-multisport low end range watches, but would expect it for any future multisport watches.
Can 3rd parties add support for this?
Yes, technically speaking they can. They 'just' have to follow the ANT+ Extended Display profile. Now, what catches are there once they try and do that is an entirely different question. But in theory it's possible. Companies that make ANT+ bike computers like Wahoo, Stages, Lezyne and more could all offer this as an option. And while neither Suunto or Polar have ANT+ on their watches at the moment, they too could technically do it. Of course, I wouldn't expect them to.
Does this hurt my battery life?
On the watch side, my guess is non-meaningfully. ANT+ sensors (which is what this is) typically have a negligible drain on battery life. On the Edge side, my guess would be that it actually helps battery, since it's not technically recording anything (and I believe GPS is disabled atop that).
So it doesn't record a file on the Edge?
No, it's just like a TV screen for your watch. TiVo this is not. So that's one significant downside, as I typically use my Edge unit as a backup in case something goes wrong with my watch (even due to user error, like pressing the lap button). So at the end of the day, there's no file created on the Edge, only on your watch.
Do I get to see my normal Edge data fields?
No, and that's really the second big limitation. You'll only see the data fields configured your watch, and since Garmin watches only support four data fields per page, that means that's the max it'll send to the Edge unit (plus the total time/lap time fields at the top). Where this matters (beyond just wanting to configure/show more data fields), is for newer features or more advanced features. For example, you can't see ClimbPro on your Edge, since you aren't riding a course anymore. Same goes for the more advanced Cycling Dynamics pages and such – or even the map page. None show up.
Can I disable the total time/lap time fields at the top of the Edge?
No, and honestly, that'd sorta defeat the entire purpose of this feature. Those two fields stay there no matter which data pages you show. Always in black, always there.
If I iterate data fields on my watch, does it change my bike computer fields?
Assuming you mean if you just press up/down on your watch, then no, it won't also change your bike computer at the same time.
Where are my sensors paired?
Totally on your watch. The Edge won't use any sensors pairings it has.
Should I turn auto-lap off?
Personally, I would. At least for the bike. To me it just makes it confusing. But again, that's a personal choice.
What if I don't have any more questions?
Good, I don't have any more answers.
Going forward: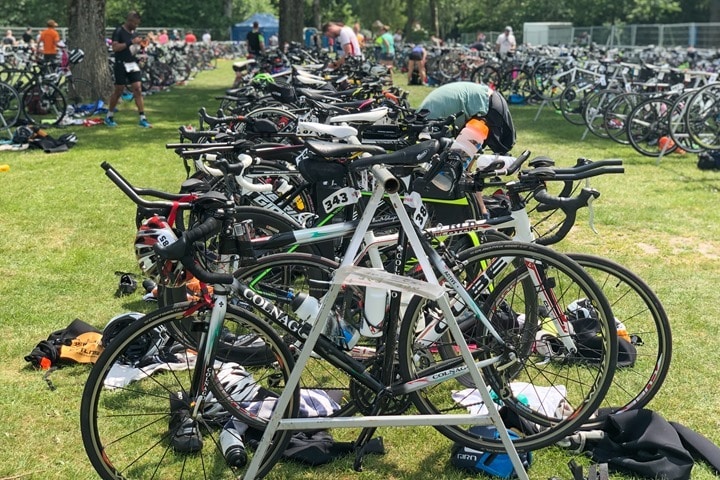 Some of you might say that this is a useless feature. Perhaps even say that it's exactly the kind of feature that Garmin shouldn't implement and instead fix bugs. But I think that's incorrect.
That's a binary way of thinking. And frankly, it's the same thinking that nearly put Polar out of business years back when they ignored things like GPS and smartphone connectivity, assuming they were all fads. Like it or not, Garmin is a tech company now. And tech companies have to keep innovating. Or they die. That's binary, and reality. Doing features like this doesn't mean they can't also have resources that fix and focus on bugs. It requires more people, yes, but Garmin's recent financial results indicate that shouldn't be a problem.
Sure, the way this feature is implemented today isn't perfect. But I see it as an interesting first attempt. I'd like to see three specific tweaks though:
A) Option to adjust the top two static data fields on the Edge (don't need tons of fields, just a handful like 'Sport time')
B) Option to enable 'backup recording' on the Edge that automatically occurs when you trigger the 'bike' sport
C) Option to add/enable certain Edge-specific data pages (like the map)
That's it. At that point I think it'll be a much more useful feature. And see, I didn't even ask for too much this time.
With that – thanks for reading, and good luck on your next race!