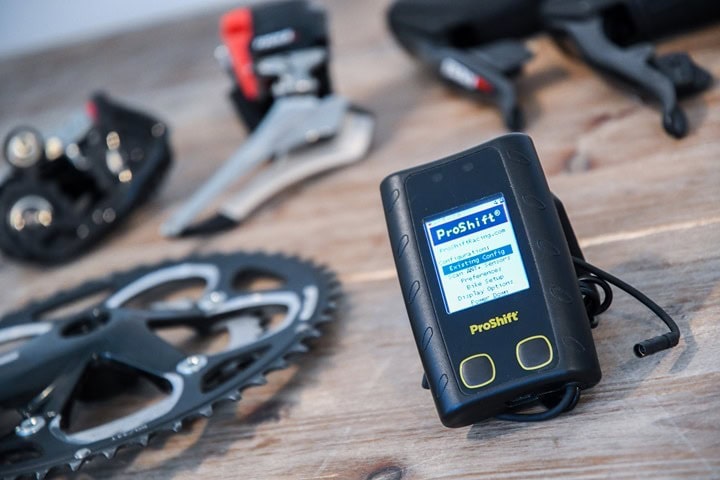 It's been about two years since I first wrote about an automated bicycle shifting system, then called BioShift. The device would control all shifting on your bike for you, based on understanding your optimal gearing and the demands you placed on the bike.  If you sprinted, it would automatically gear accordingly.  And it would offer modes to match a given heart rate or power effort.
At the time the concept was just that, a concept.  It wasn't a saleable product, nor something you could even pre-order.  However, that's since changed.  As of this past fall you could actually order the product, now called ProShift, and attach it to your bike.  Assuming your bike had an electronic shifting system like Shimano Di2, SRAM RED eTap, or Campagnolo EPS.  So I did exactly that.  The folks at ProShift sent over a loaner unit to try out this past summer, and I've been toying with it since.  A lot of toying in fact, but we'll get to all the details here later in the post.
First I'll cover the basics of how it works, then how well it works out on the road, and then the direction I think the technology and the company are likely to move towards next.
(Side note for long-time BioShift watchers: When I first tried out the product a few years ago, the company was run by Armando Mastracci and called Baron Biosystems and the product BioShift. Shortly thereafter, they were also demonstrating a software platform called Xert.  Since then the company has effectively been split in two.  Xert (the software) is now run by Armando out of Toronto under the Baron Biosystems company name, while BioShift was renamed to ProShift is under Baron Controls and run by his brother Ennio Mastracci out of Texas.  These days they are two separate companies which rarely (if at all) intersect.  I'll be covering the coolness of Xert in a separate upcoming post.)
Hardware Basics: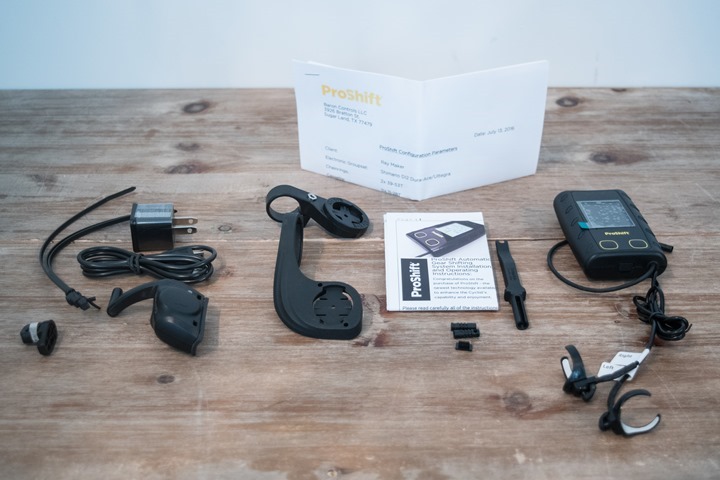 The ProShift system is rather simplistic in some ways, yet complex in others.  At first glance it appears to be a head unit, roughly the size of a Wahoo ELEMNT.  And in some ways it is.  It shows your speed, heart rate, cadence, power, and connects to various ANT+ sensors.  It can display numerous metrics at once, and allows you to enable specific automated shifting modes.  Sounds like a normal bike computer, right?
Yes, except one minor detail: It can't record any of that data.
The other differentiator is that it has wires coming out of it.  Three different wires to be precise.  Two wires create what are secondary shifters, much like Blips on eTap or extended shifters on Shimano.  These can both be used for shifting as well as operating the menu system.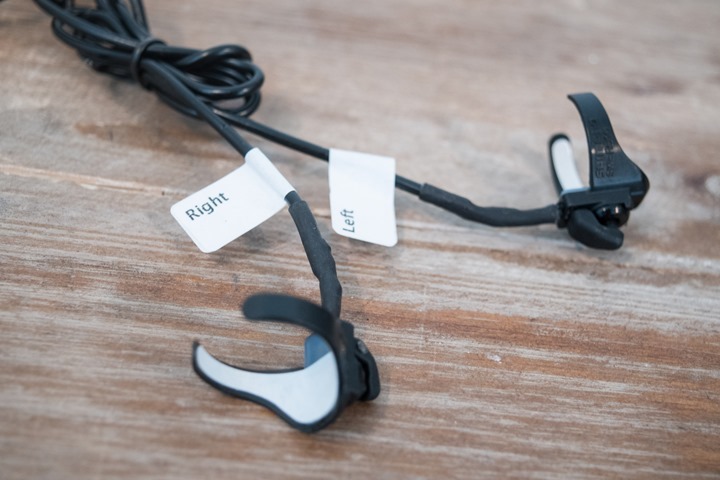 The third wire connects to your Di2 (or eTAP or Campagnolo) junction box.  This is how it interfaces with your shifting system.  While there are wireless shifting standards (SRAM and Campagnolo use the ANT+ Gear Shifting standard, Shimano uses a private-ANT variant of that), those standards actually don't enable the shifting of gears themselves.  Rather, they're for recording the data.  It's read-only.  So a wire is needed to light the whole system up.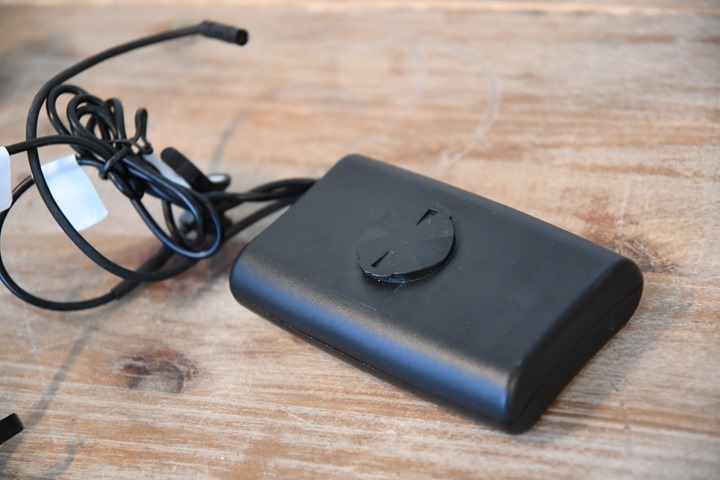 That wire then connects into the junction box as noted above: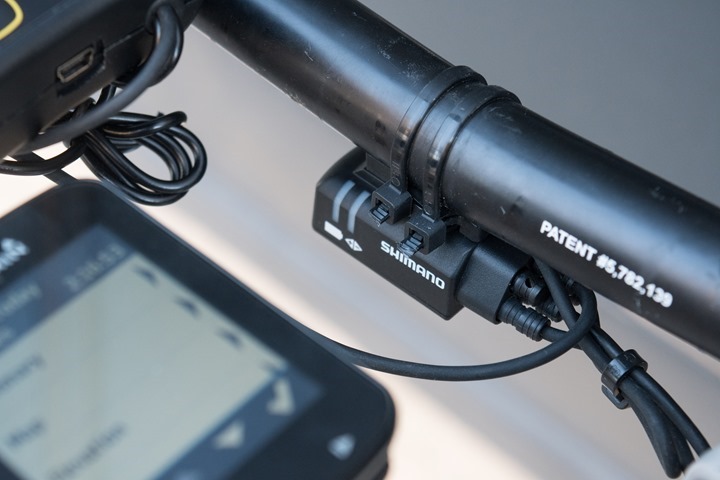 The unit requires your bike have electronic shifting, and is compatible with the following electronic shifting systems:
–    Any Shimano Di2 system: Dura-Ace M9070, Ultegra 6770/6870, XTR M9070, and Alfine;
–    SRAM Red eTap (via Wired or Wireless)
–    Any Campagnolo EPS system: Athena, Chorus, Record and Super-Record (V1, V2 and V3).
Now the wireless integration to SRAM eTap is actually kinda interesting.  See normally you connect to the junction system on the other electronic shifting components, so it's still wired, which is fine.  And that's true of SRAM eTAP as well, they can also plug into the Blip Box.  Except eagle-eyed readers will probably notice they've got an option for eTAP that's completely wireless, but at an added fee of $250USD.

Within that fee they're actually taking a Blip Box and building it into the internals of the ProShift system.  I note this because some will wonder whether it means that SRAM has given away the keys to the wireless shifting kingdom, but in reality, it's just a bit of 'creativity'.
Speaking of added functionality, they also rolled out the ability to connect to the Garmin Varia heads up display this past fall.  That allows one to see your power/speed/cadence/HR/shifting data on the Varia heads up display, versus on the ProShift bike computer.  They're able to do this because Garmin is actually using the open ANT+ standard for a second display.  Thus ProShift (just as Wahoo, Lezyne, or anyone else) can display any data they'd like on Varia.  Pretty cool.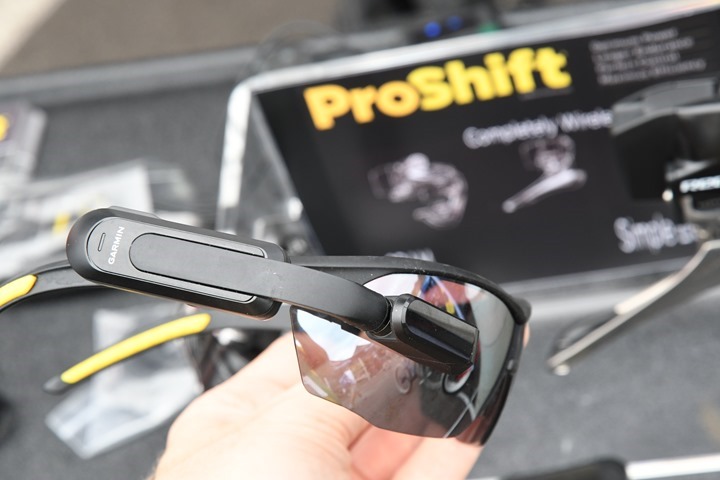 With that – you've got the entire kit ready to roll on your bike.  On the back of the box is a standard Garmin quarter-turn mount.  That allows you to use any Garmin 3rd party mount you like. For example, in my case on my triathlon/TT bike I used the Barfly TT mount; works perfect: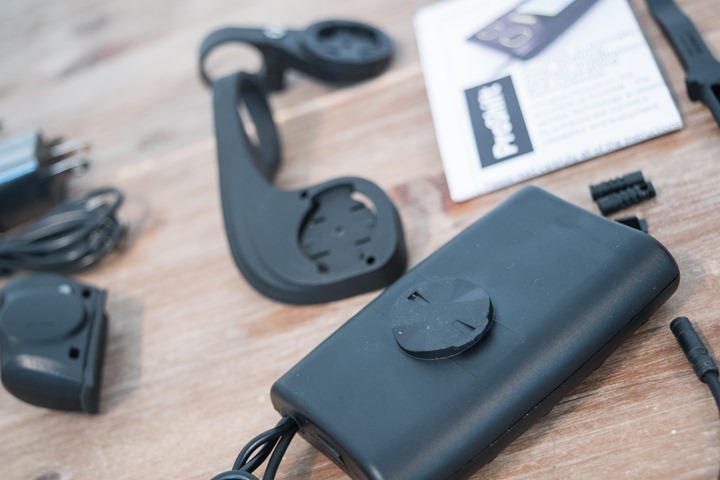 Now that the hardware is sorted, we'll boot up the system.  There's no on/off switch, but rather just pressing one of the buttons will turn on the unit.  Similarly, if it doesn't detect any sensor data for a while, it'll just quietly turn off.  The company says it gets about 50 hours of battery life per charge (uses a standard mini-USB port).
Once booted it'll go through a scan of ANT+ sensors nearby, picking up sensors for power, speed, cadence, and heart rate.  This is how it can display the data on the screen during the ride.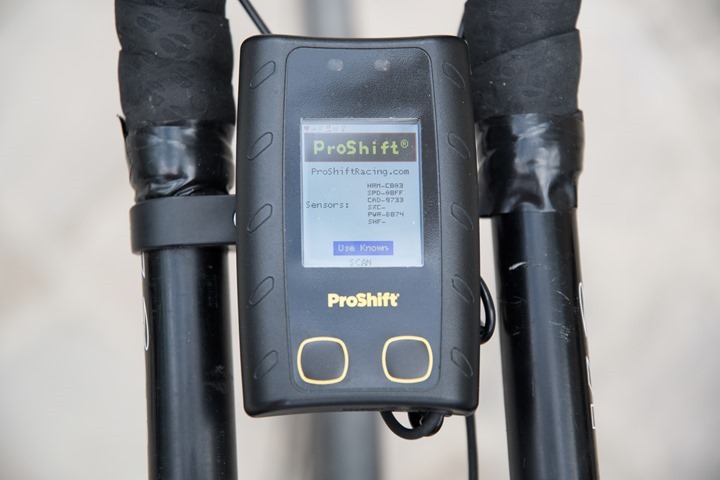 Note that speed/cadence/power sensors are required in order to use those inputs as control.  Said differently, in order for the system to know when to shift, it's gotta have something within it that tells it what's actually happening with power/speed/cadence, as the unit itself is only able to monitor the current gearing.
Once it's done with that there's menus to setup configuration settings.  These include chainring and cassette configuration, as well as aspects like ideal cadence and your FTP.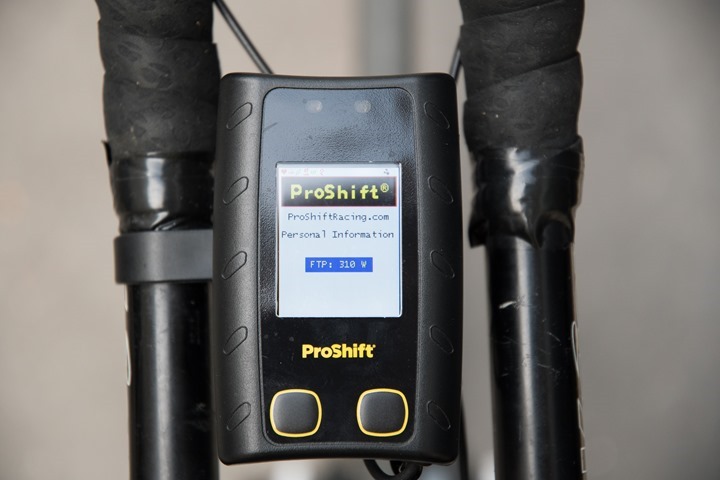 Your specific hardware configuration information (chainrings/cassettes) is absolutely critical to proper/clean operation, and to a large degree so are the personal settings like cadence and FTP. Without that you may find it'll shift at places that don't feel natural.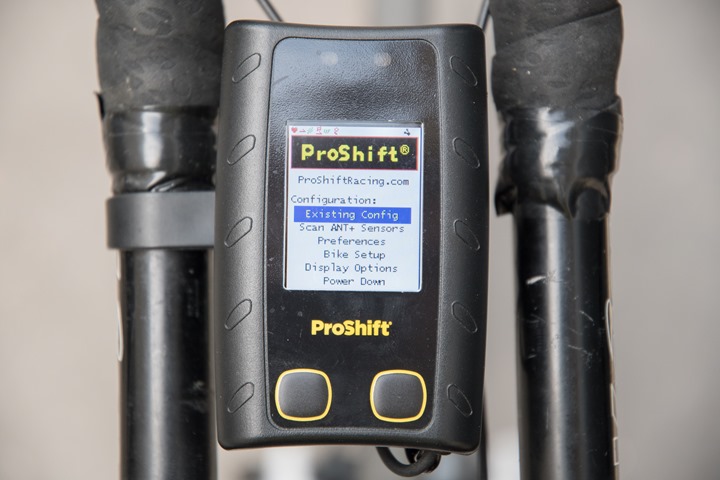 With that we've got the basics covered, so we'll head out onto the road and talk a bit more about operation there.
Out on the road: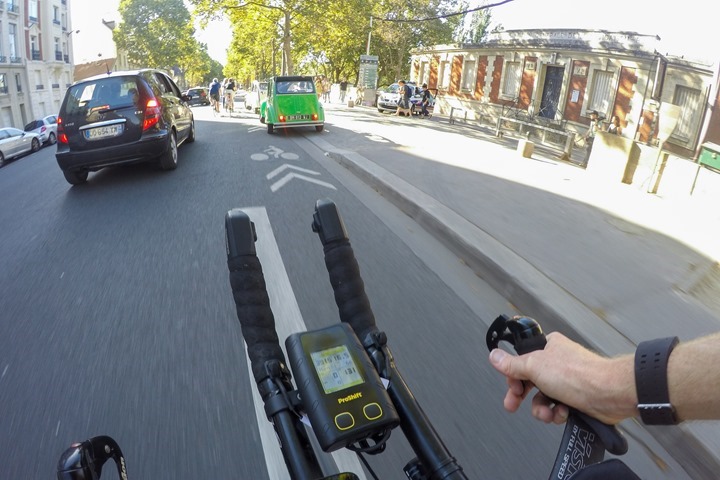 Now that we've got everything all setup, it's time to head outside and give things a whirl.  While you can use it on a trainer, neither the company nor myself would recommend it.  The company notes issues below 100w (i.e. easy pedaling in between intervals), and I found it was often a bit wonky at other wattage levels, likely due to tiny variations of how a trainer responds vs how the road responds.
In any case, now that we've started riding, the ProShift system will by default not be doing anything other than watching what you're doing.  It's not engaged yet and is considered in Manual mode, as indicated on the screen and by the flashing blue LED lights.  Instead, it's monitoring shifting and will quickly figure out which gears you've got selected.  It'll also display any ANT+ sensor data on the screen.  The screen isn't customizable, but can display a fair bit of data, as seen below: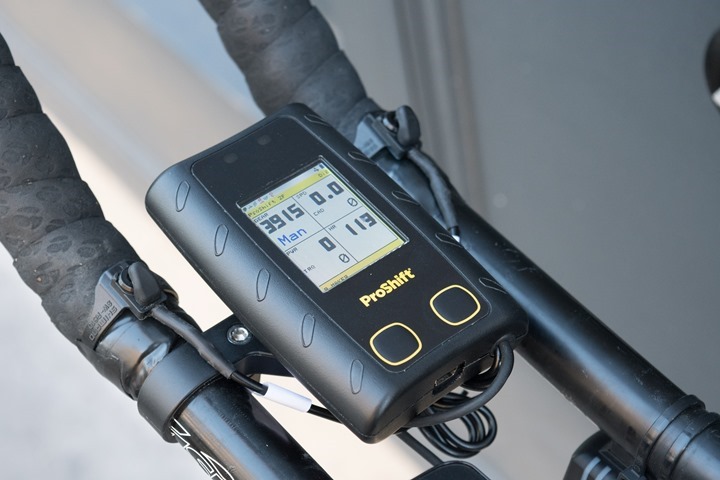 Next, to enable automatic shifting you'll hold down the right button for about a second.  Once you do so the unit's LED lights will flash green, and 'Auto' is now displayed on the screen.  This lets you know you're in automatic mode.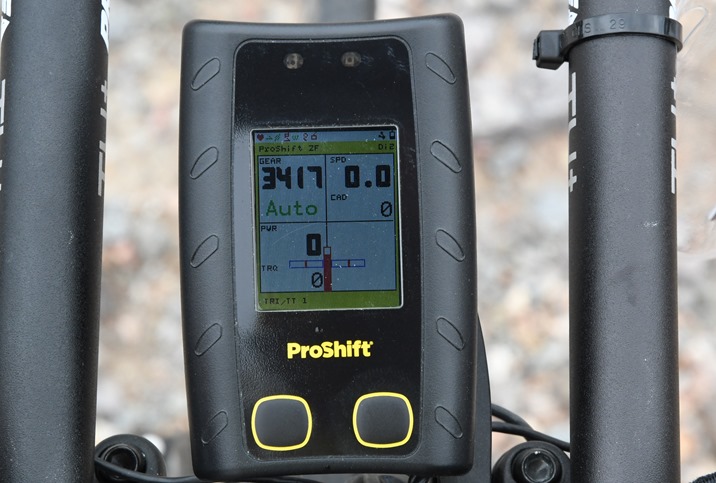 While in automatic mode the unit will do as you'd expect, shift automatically.  However, you can override shifts at any time just as you normally would.  When you do so the unit will suspend any further automatic shifts for the next 20 seconds.  There's lots of use cases for this that are handy, such as quickly down-shifting for an unexpected stop, or just because you don't like the specific gearing it's in.
While in automatic shifting mode it's aiming to find the most optimal gear, which is largely based on your optimal cadence (though not exclusively).  It's this little bit where their algorithm magic resides, as it aims to keep you pedaling at the most efficient level, despite the power output you're putting out.  This mode is simply called "ProShift".
When it comes time for the unit to automatically shift, it'll briefly blink one of the LED's, giving you a momentary cue that something is about to change.  Else, it's a little bit unnerving to have the bike shift on you, especially while applying full power.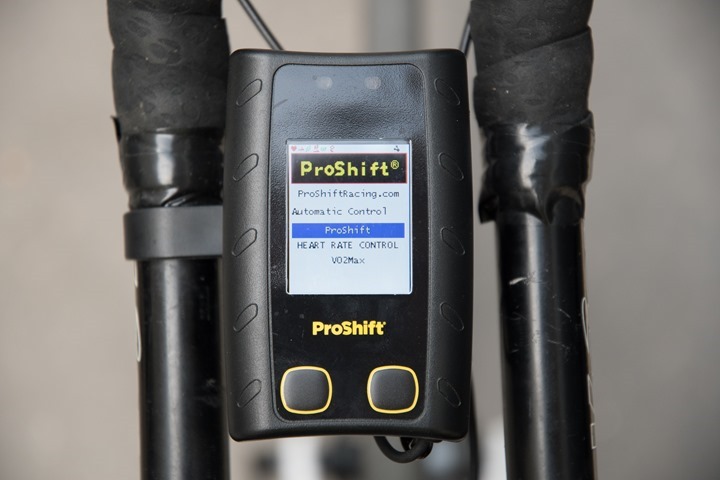 However the ProShift mode isn't the only mode.  The unit can also be configured for heart rate control, which is designed to keep you at a given target heart rate (HR). This can be useful if you're focused more on HR zones than power zones.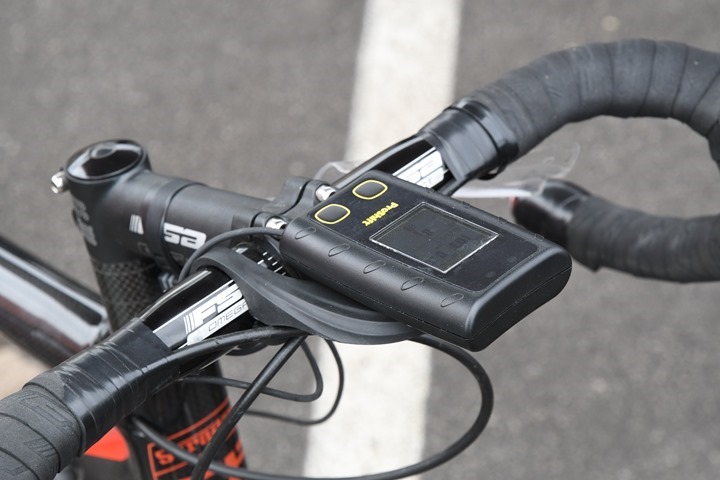 In addition, through the settings menu you can actually turn the shifters into a synchronized shifting mode, even while manually controlling it.  This allows you to iterate up/down the gears without thinking about front/back shifters.  It just figures out the next most logical shift.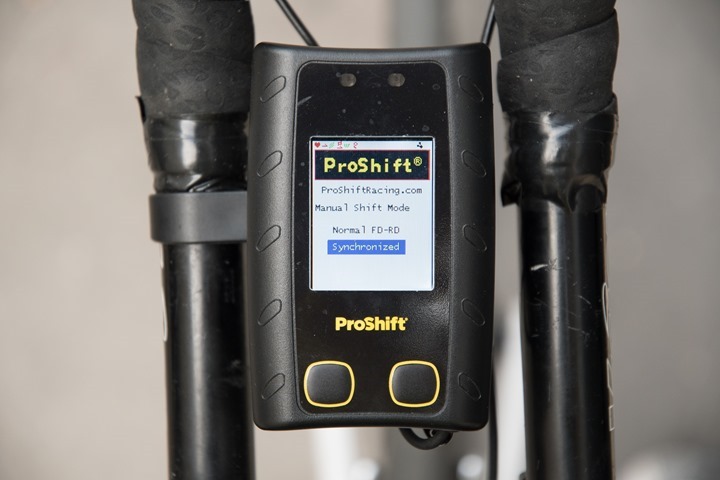 So does it actually work well?
Well, that's where things are a bit mixed.
Over the past few years I've tried out the system on a number of bikes. Interbike, CES, Eurobike, and when the company visited me in Paris.  Then this past summer they sent over a unit to connect up to my triathlon bike, which has Shimano Di2 on it.  Since then I've been (off and on) trying to get it to work, but without a ton of luck.
The basics of the system do work in terms of connectivity and configuration, however I don't generally get smooth shifting like I'd expect – it jumps around.  We've done a fair bit of troubleshooting during these months, without getting to a complete resolution of why it's finicky on my TT bike.  At one point it was suspected it may be due to a non-optimal drivetrain (meaning, my mechanic skills are low). So I actually brought my bike to the Shimano Di2 engineering team (serious) at Eurobike to perfect it.  They made it pretty darn perfect.  When shifting in manual mode – it's spot-on silent and efficient.
The ProShift folks have been more than awesome at trying to get it to work on my bike, including firmware updates and plenty of troubleshooting.  Of course troubleshooting is further compounded by living in the middle of the city, since doing quick tests on the trainer isn't valid for this product.  Thus we've even had conference calls on the side of the road outside the city to troubleshoot.
Still, let's put aside my bike for the moment.
Let's assume it's a 'me' problem, and not a ProShift problem.  I've seen it work on numerous other bikes, so I know the concept can indeed work.  I've found that it works best when the software is optimized for me, versus generic usage.  For example, during the Eurobike and Paris demos, they configured my FTP and cadence ranges – and it was virtually flawless.  It was exactly what I thought automatic shifting should be.  It just did it magically, and I was thrilled.
Whereas this past fall at Interbike in Las Vegas, it was a generically configured demo bike, and I could tell it wasn't quite optimal for me.  It missed shifts when I'd sprint, where it wouldn't do that on bikes configured for me. But in many ways that's just like any other component on your bike.  If you're saddle is too low or your frame too big, it's not going to give you a good ride.
So this is where I'm a bit conflicted.  If I put aside the fact that I can't get it to work for whatever reason on my bike, then I think the underlying concept is great.  And when I say underlying concept – I'm talking to the technology/software that shifts the bike.  When it works, it's awesome and really impressive.  It could be of most use to triathletes and time trial situations, where it's far too easy to find yourself in a non-optimal gear.  Or, find yourself at too high of an effort level.
But there are some downsides.  As noted the unit doesn't record any data, so you'll still need another bike computer on your handlebars (or your wrist).  Plus, it's also pretty big.  For a triathlon bike it's not as bad because it can fit in between the aerobars bars (as I did), but that's also where many people stash hydration products.
Still, if you can live with those limitations and have a fair bit of extra cash – then it's something to consider.
The Future: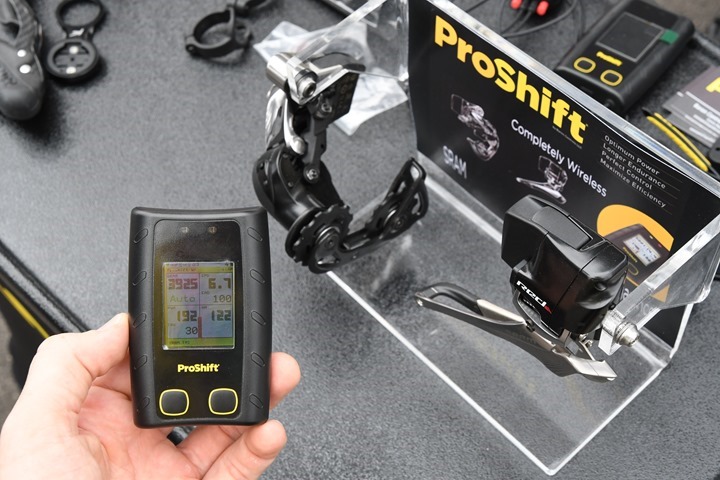 The ProShift technology has a ton of potential, especially when it's working.  But I'm just struggling a bit to understand who will purchase the product in its current device and price form factor.  As I've said, I'd love to see the technology ported into something display-less and just operating behind the scenes and plugged into the existing shifting junction box.
That said, I suspect a lot of people will misinterpret what I've written in this post, so let me make it super-duper clear.  The easiest way I've found to do that is bullet points:
1) The future of bike computers is to have automated shifting software features in them.  Anyone who says otherwise is kidding themselves.  Any company who says otherwise will eventually be out of business, or at least out of that product line.  Period.  We can already see underlying components of this within Shimano's lineup and their synchro shift, this is merely the stepping stone to fully automated shifting.
2) When it works, ProShift's algorithms work well.  Over the last 2-3 years I've ridden it on numerous bikes in numerous countries at numerous events.  On the whole, it works well when they install/configure it.  Or when it's not my bike.
3) When it doesn't work, it's incredibly frustrating.  It'll hop around, or shift when you don't expect it.  As noted before, it largely works well on systems they've setup.
4) My biggest issue with the product is simply the size.  It's massive when you consider you still need another bike computer.  The number of people who will buy a product this big that's still not a bike computer is…very…very small.  I just can't see a specific consumer for this.
5) I am not saying for them to build a true recording bike computer. God no. That'd be the death of the company.  Going down that route is a huge rat-hole that only the biggest and most focused of companies can do (even PowerTap bowed out of that race this year).
6) I'm saying they need to ditch the screen/display components and make it the size of a small Di2 junction box.  Configuration as required can happen either via Bluetooth Smart to a smartphone, or coordination with bike computer companies like Wahoo Fitness or Garmin (Connect IQ app).  The tech is absolutely present today to do so.  There's no reason I need to interact with this device on my handlebars, since the only thing I do mid-ride is turn it on/off (which can be handled any number of other ways).
7) While the current price is an issue, I think it's only an issue because of the size/functionality of the unit makes it incompatible with a legit bike computer.  I suspect a small in-line system could retail at $499 to this market (people who have already bought a high-end electronic shifting system) and probably do well.
That's all.
Again, I really want ProShift to succeed, but I just don't think it can in the current form factor.  It's a device concept that attracts a lot of attention in cycling media circles, and is easy to put on the front of a magazine cover, click-bait title, or YouTube thumbnail.  But once you get through the minutia of the size, price, and how it works, much of the sexiness fades away.  Which is unfortunate, because the underlying concepts and algorithms are incredibly cool.  And it's those very algorithms that if appropriated correctly could indeed match the image that the cycling media wants to make it out to be.
With that – thanks for reading.