Garmin has just revamped their Instinct series with the new Instinct 2 and smaller Instinct 2S, both offered in not just Solar, but approximately 87 other variants for things like surfing and military use. And while these units visually look near-identical from across the table, they're entirely different inside – not just the hardware, but also far more importantly the software. As with before (and any other style thing in life), you'll either love or hate the look of Instinct.
With the Instinct 2 series though, no longer is the watch focused entirely on the hiking/general outdoors realm, now it's a full multisport/triathlon watch too! Complete with everything from power meter support to mountain bike metrics. It supports nearly every sensor type the Fenix series does, along with performance-focused metrics like training load/status, and recovery. Meanwhile, for day-to-day use, it's now got Garmin Pay (Solar edition only), pregnancy and menstrual cycle tracking, as well as full Connect IQ app support. And like most Garmin wearables, it further extends its battery profile, now officially claiming 'Forever power' in more battery categories with the solar editions (don't worry, I'll put that to the test too).
But we'll get into all those details and plenty more throughout this review. I've been testing the Instinct 2 series for quite some time, and have put in countless hours to figure out what works well…and what falls short. I've used the Instinct 2, Instinct 2 Solar, and 2S Solar – as well as recruiting my wife to put in hours and workouts on the Instinct 2S Solar. All of this includes a wide variety of conditions from on and off-road riding and running up volcanos, runs in freezing temps, openwater swims, cities to mountain passes, and everything in between. Oceans, forests, deserts, and more.
As usual, this watch is a media loaner, and it'll go back to Garmin shortly. This review is not sponsored (nor does any company get to preview anything I review), and I don't take any advertiser money from any companies I review. And as regular readers know, if something is crap, I'm gonna tell it brutally like it is – no matter the brand. Once this unit goes back, I'll go out and get my own for any future testing needs. If you found this review useful, you can use the links at the bottom, or consider becoming a DCR Supporter which makes the site ad-free, while also getting access to a mostly weekly video series behind the scenes of the DCR Cave. And of course, it makes you awesome.
What's New: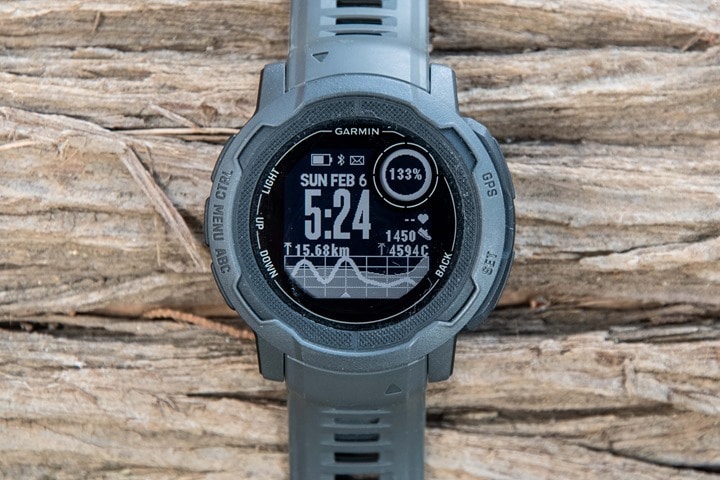 As always, I love lists. They're easy to understand, easy to skim, and easy for me to type. Thus, here's the massive slate of newness that's on the Instinct 2 series compared to the previous Instinct – and I'm almost certain I'm missing things. I've been adding to this list for over a month now, even up till yesterday with new features I've discovered compared to the existing models. You'll notice that every single item on this list has already been introduced on other Garmin watches over the last few years – except for the very last line item, for the Tactical editions.
– New second smaller size (Instinct 2S – 40mm, regular is 45mm)
– The new second smaller size is lighter (42g vs 52g)
– Increased resolution from 126×126 to 176×176 for Instinct 2, and to 156×156 for Instinct 2S
– Battery life increases – marked at 'Unlimited' in five different categories now
– Upgraded to Garmin Elevate Gen4 Optical HR Sensor
– Added Phone Configuration of watch data fields/pages/sports/settings
– Added Garmin Pay (Contactless NFC payments) on ***Solar & Dēzl Models Only***
– Added Connect IQ watch faces, apps, widgets, and data pages (to all units)
– Added Smart Trainer Support
– Added power meter support
– Added Bluetooth Smart sensor support (of all supported types)
– Added MTB Grit & Flow
– Added Daily Suggested Workouts
– Added newer Edge cycling profiles for Gravel & eMTB
– Added Multisport/Triathlon/Custom/SwimRun Profiles
– Added Manual Multisport profile
– Added Sleep Score & Sleep Insights (and on-watch display of sleep data)
– Added Fitness Age
– Added Health Snapshot
– Added Historical Data for Predicted Race finish times widgets (5K/10K/Half-Marathon/marathon)
– Added support for HRM-TRI/PRO/SWIM offloading
– Added Support for HRM-RUN/TRI/PRO & RD-POD Running Dynamics data support
– Added broadcasting of heart rate via Bluetooth Smart
– Added PulseOx (blood oxygenation levels)
– Added Menstrual Cycle and Pregnancy Tracking (with Garmin's Connect IQ App)
– Added VO2Max tracking
– Added Heat & Altitude Acclimation
– Added Training Load/Status/Effect
– Added Recovery Time
– Added Virtual Run sport profile (for broadcasting to Zwift with Pace/cadence/HR data)
– Added Garmin Running Power Connect IQ App Support
– Added More Sport Profiles (Indoor climbing, Bouldering, Backcountry Skiing, XC Classic Ski, XC Skate Ski, Yoga, and more)
– Added HIIT Workouts
– Added PacePro Plan support (for running race pacing)
– Added heart rate from wrist while swimming (previously wasn't permitted on older sensor)
– Added Golf Support: Including downloading courses & connecting to Approach CT10 sensors
– Added Widget Glances (Instinct 1 only had full-size widgets)
– Adding Track Run Mode (in Future Firmware Update)
– Surf Editions: Added Surfline App surf conditions support
– Surf Editions: Revamped surf algorithm to reduce false-positive waves (extra waves)
– Surf Editions: Added Windsurfing & Kiteboarding Activity
– Tactical Editions: Added new 'Kill Switch' option that resets/deletes all data quickly (master reset in a single button)
– Increased the onboard storage from 8MB to a whopping 18MB (just used for tiny course/activity/fitness files, usually less than 100KB per GPS-hour).
– Changed charging port location from left side on back, to bottom on back (still on back of course)
– Changed altimeter port location for increased accuracy/reliability
– Added an Instinct Series 2 Trucker edition (called Dēzl), for driving
– Prices: Instinct 2/2S is $349, Instinct 2/2S Solar is $449, Dēzl is $399
– Prices: Surf/Camo/Tactical variants $399 for non-Solar, and $499 for Solar
Got all that? Good. Wait, there's one more thing – which is the battery life. For lack of anywhere else to stick it (the battery chart below), you'll notice significant gains in battery life, namely for more categories that gain 'forever power', or "UNLIMITED" above. Essentially these are categories with the Solar editions where if you spend 3 hours per day outside in 50K lux conditions (sunny, but not crazy sunny), you'll get forever battery life.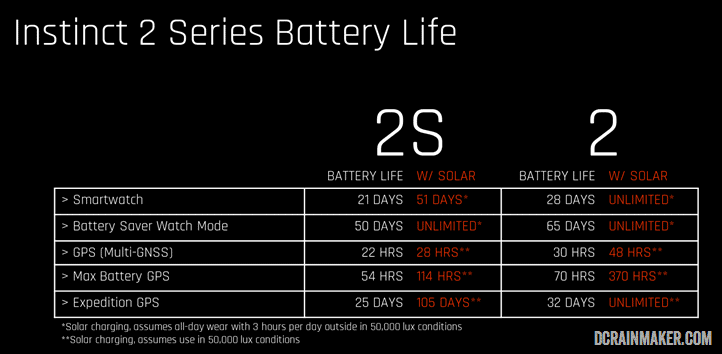 As for existing Instinct owners, sadly, there's none of that for you. While Garmin has been somewhat good about adding newer features to older watches lately (such as Fenix 7 features to Fenix 6 watches), the Instinct 1 is not part of that cool-kids club. Garmin confirmed no new Instinct 2 features will go to the Instinct 1 watch, which for the most part hasn't seen much in the way of new features at all during its three and a half year lifespan. I don't know why, but it's definitely disappointing.
Unboxing: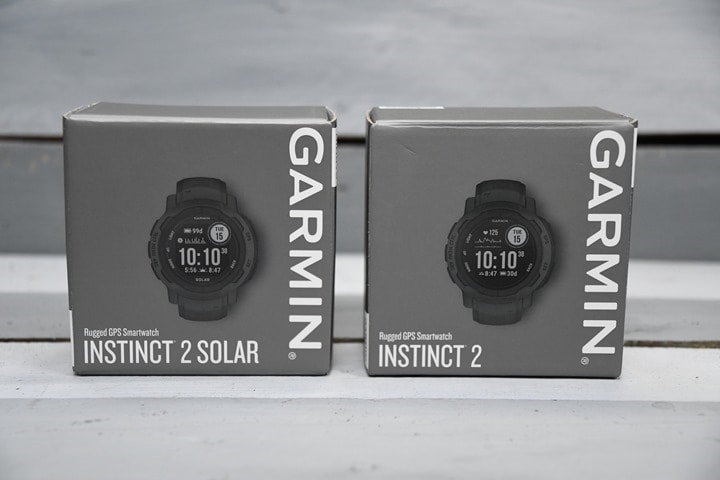 While each Garmin Instinct 2 series unit has a different box, the contents inside of them are all equally the same: Watch, charging cable, paper stuffs.
Here, let me demonstrate that. First up, the Garmin Instinct 2 & 2 Solar:
And again, with the Instinct 2S Solar too, just more colorful:
In terms of the box contents, there's the charging cable – the same as almost all other Garmin watches the last half a decade or so: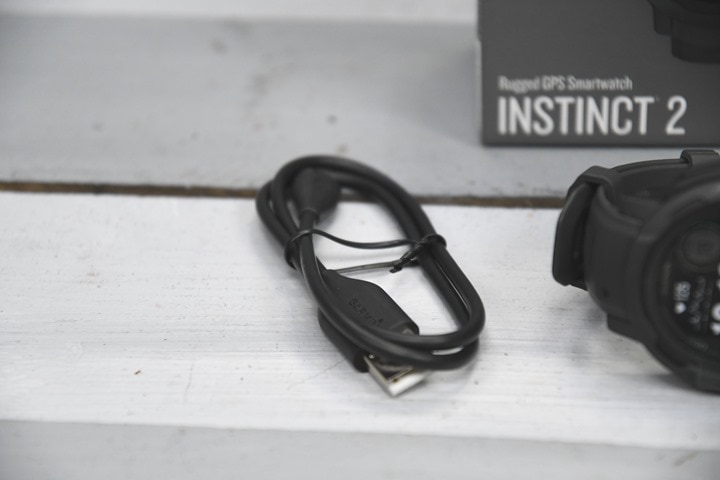 And then some paper manuals you'll have zero reason to read after this review: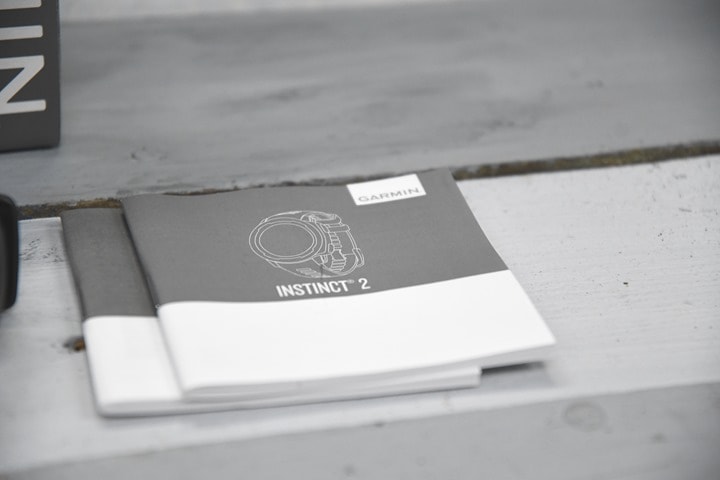 And side by side with the original Garmin Instinct (left), and Instinct 2 Solar (Right):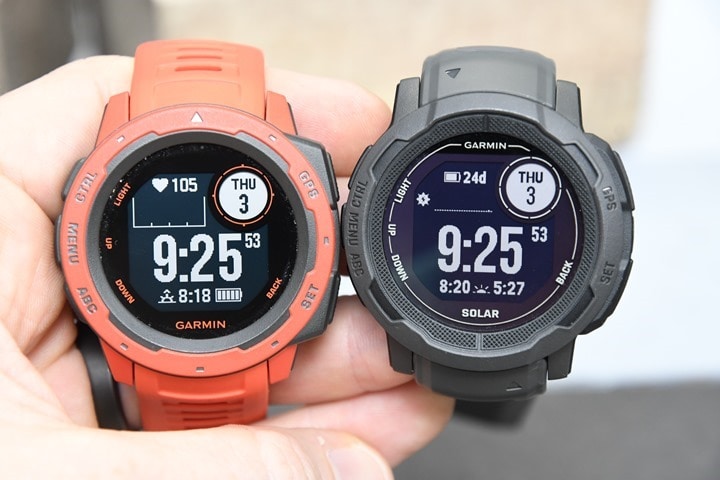 Then, looking at how it compares to a semi-random-but-not-so-random assortment of watches: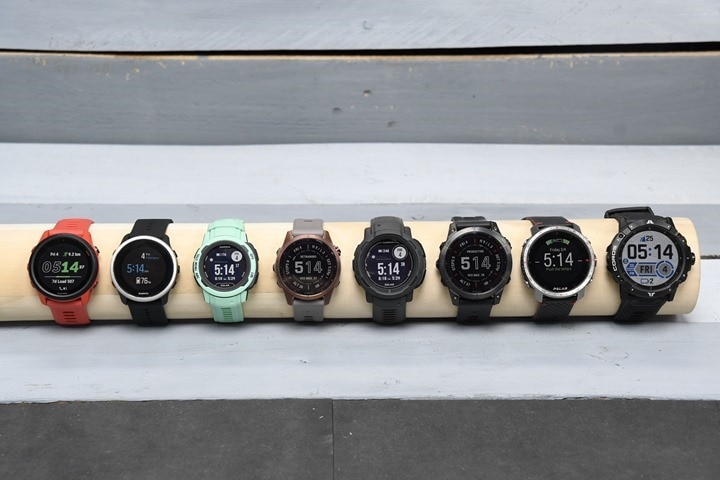 Left to right: Garmin FR745, Suunto 5 Peak, Instinct 2S Solar (in Teal), Garmin Fenix 7S Solar Sapphire, Garmin Instinct 2 Solar, Garmin Fenix 7 Solar Sapphire, Polar Grit X Pro, COROS Vertix 2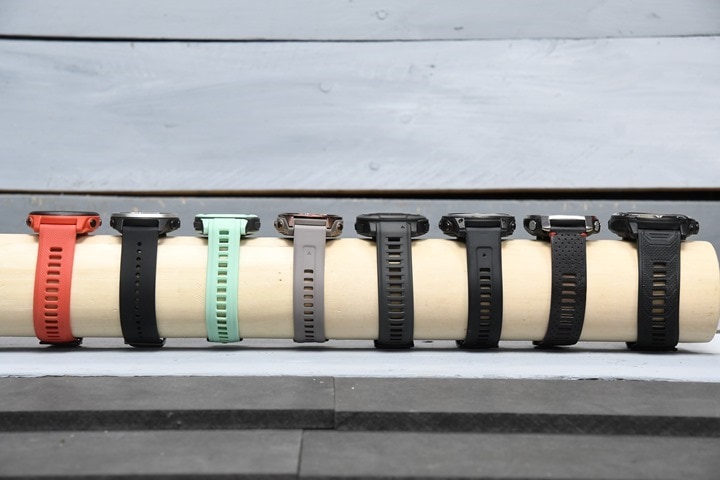 And then finally, looking at weights, they are:
Instinct 2S Solar: 43g
Instinct 2: 53g
Instinct 2 Solar: Also 53g
Which, I can confirm on my little scales:
So let's start using it.
The Basics: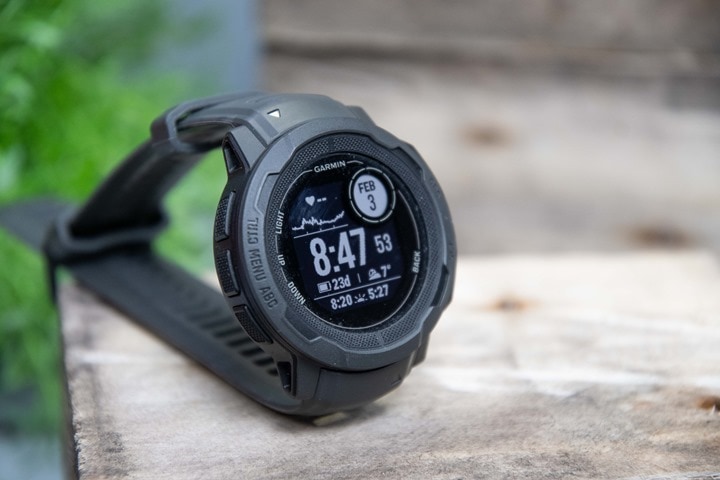 So for this first section here, I'm going to focus on the basic aspects of the watch – so from simple things like buttons and the screen, to the daily activity tracking elements (step tracking, sleep, SpO2, etc…), and then general usability aspects. Anything sport/fitness-specific is in the next section, and then after that, all the routing stuff in its own section. Oh, also note that *anytime* I say "Instinct 2", I'm talking about the entire Instinct 2 series product line, so the Instinct 2, Instinct 2S, and the solar variants of both.
With that, the Instinct 2 matches that of the Instinct 1 in terms of size and button layout, so we've got 5 buttons – three on the left and two on the right. This is the same layout as Garmin's Fenix series, as well as countless other Garmin watches. In general, top right is select/enter, bottom right is back, and then left buttons are navigation focused.
Meanwhile, on the back you've got the newish Garmin Elevate Gen4 optical heart rate sensor. This sensor was introduced last spring with the Venu 2 series, and is now on numerous watches including the Forerunner 945 LTE, Fenix 7, & Epix watches. In other words, it's Garmin's top optical sensor – and in general for 24×7 usage especially it's quite good. This includes your 24×7 heart rate, blood oxygen (pulse ox/SpO2) readings, breathing rate (respiration rate), and then heart rate derived metrics like stress and recovery.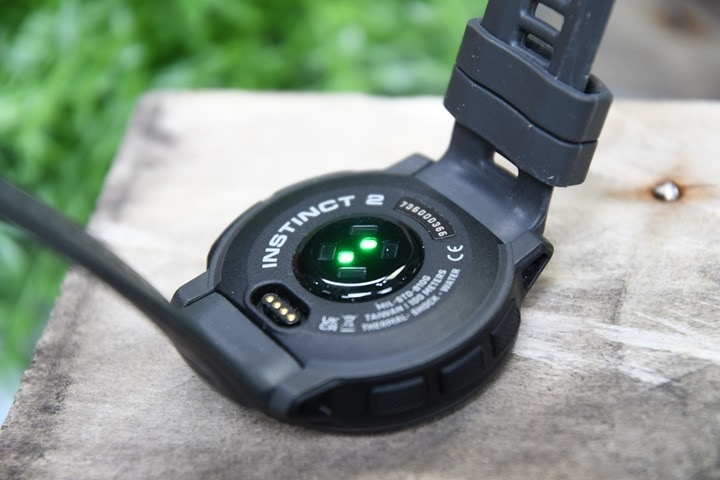 Meanwhile, the straps are technically removable, so you can swap out for other 22mm bands if you want to, both generic ones as well as Garmin's QuickFit ones. You'll simply stick a paperclip in one side, and pop it out.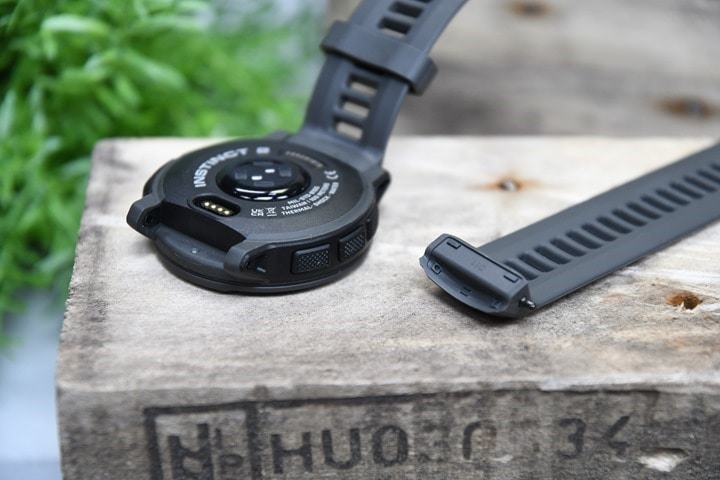 Now, the Instinct 2 series has a higher resolution display, 176×176 instead of 126×126, and frankly, in most cases it's near impossible to notice the difference. This higher resolution display is essentially giving apps/widgets/watch faces more room to play with. However, you'll notice small tweaks – for example, check out the '3' in the upper right corner (orange is old watch), and you'll notice they can make it thinner without looking scraggly. Or, maybe they just decided to change the font. But in general, most of the smaller numbers/letters got a touch bit thinner to allow for more of them, without being becoming pixelated.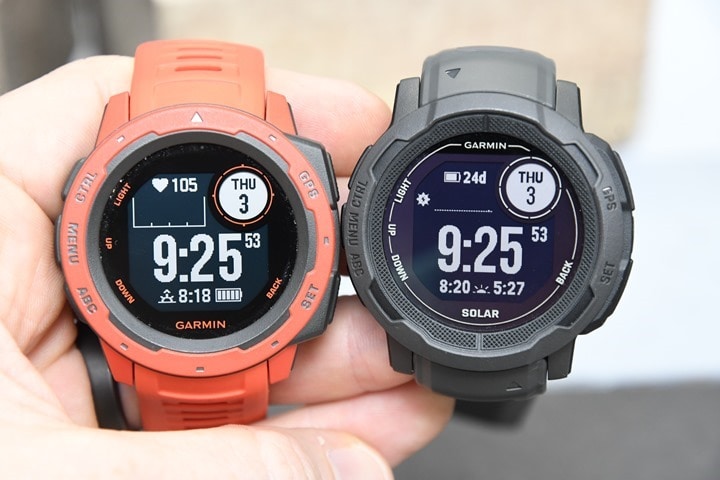 Next, we've got the watch face. In the case of Instinct 2, it now supports Connect IQ watch faces for custom watch faces. However, there's still a number of stock ones, all of which are customizable so you can put quite a bit of data on there of your own choosing. For example, each element in this watch face is customizable, including the one in the little circle as well as the small chart shown in the upper left.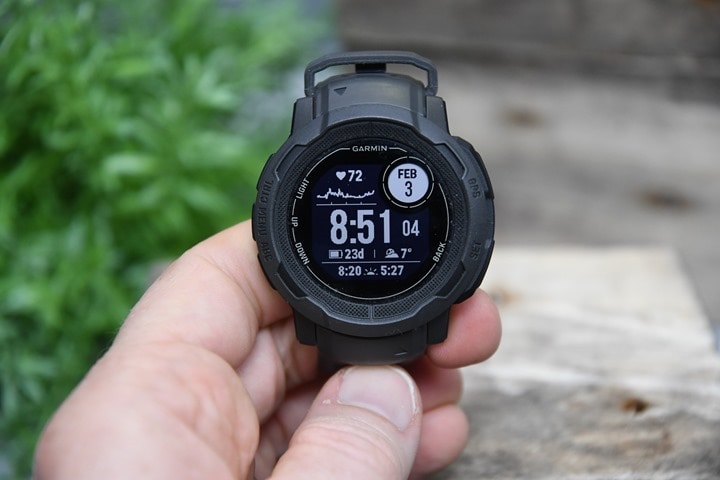 Before we talk about the Connect IQ ones though, I will say I'm pretty disappointed that despite this massive slate of new performance sports features around training load, multisport/triathlon support, recovery, and plenty more metrics – none of these can be displayed as data points on stock watch faces (unlike almost every other Garmin performance-focused watch). For example, I can't add training load or recovery times to these watch faces.
I asked Garmin what the deal there was, and they said that they didn't see the core audience of this watch as being performance-focused as other units. Which is fine, except then I'd argue – why bother adding all those aforementioned features if that's not the audience?
In any case, the good news is there's Connect IQ support now in the Instinct 2 series. You can dig into these from the Connect IQ App.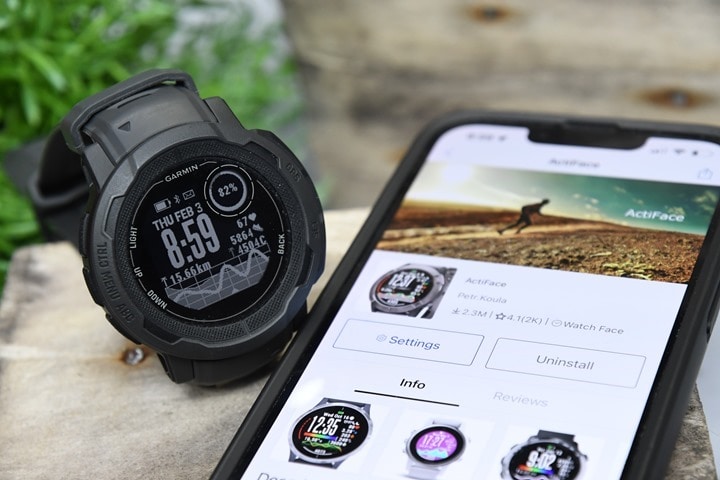 Note that interestingly, the Connect IQ app won't let you create 'Face-It' watch faces of your own, whereas it does for virtually all other watches. I presume that's because this is a black & white display, versus a color display.
Getting beyond the watch face are the widget glances. If you've been a Garmin watcher for some time, you've probably forgotten that the old Instinct had regular full-size widgets, since most other watches made that change a few years ago. But now, you get the much nicer widget glances, which are smaller while scrolling, but can be opened up for more detail at full screen. Below you see there are three pieces of information per page: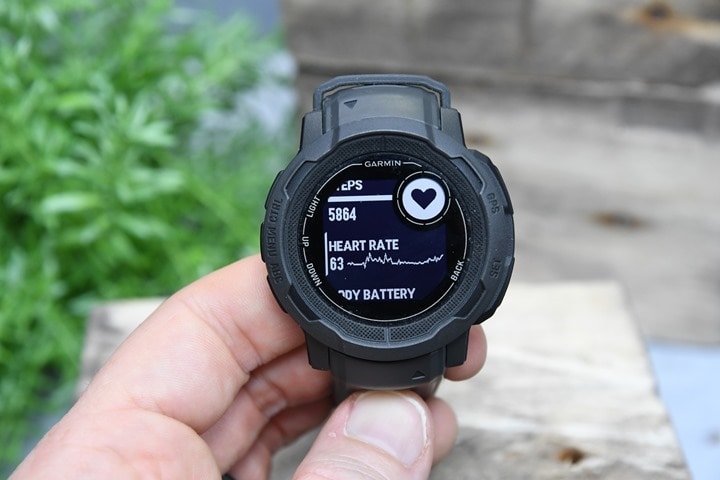 And then I can tap into any of these widgets for full details, usually with multiple pages. For example, here's the steps one:
There are tons of stock widgets, most of them set to be on by default, for things like steps, weather, calendar, notifications, sunrise/sunset, and so on. In fact, here's a huge gallery of a pile of them on my watch:
But, you can also add more too, both Garmin ones and 3rd party ones, by just scrolling to the bottom of the list.
Next, there are many day-to-day metrics driven by that optical heart rate sensor on the back. For example, you've got 24×7 heart rate, which is constantly monitoring both your heart rate and breathing rate. You can see these metrics both on areas like the watch face as well as in the widgets: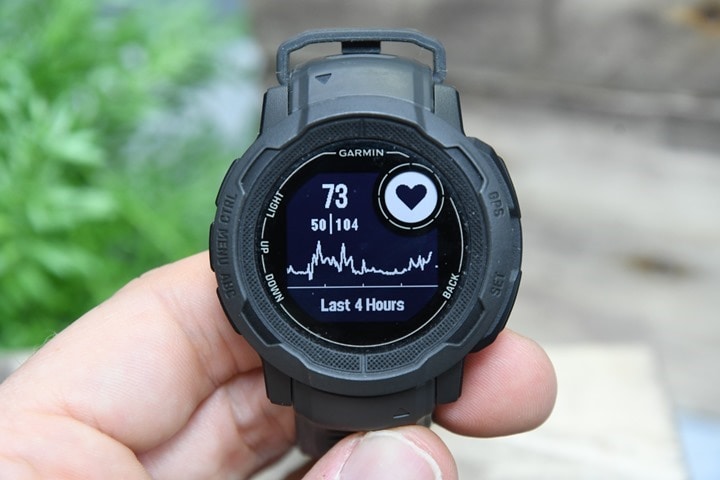 But all this information is concurrently saved to the Garmin Connect platform, so you can access it on your smartphone or the website too:
The same is true of sleep. Sleep is automatically tracked each night, and then can be displayed both on the watch as well as on the website. For example, you'll see your sleep score, as well as plain-English explanations of how you did or didn't sleep enough, or well. I mostly get admonished for my efforts, though, they're usually spot-on. This is an area that Garmin has really come a long way in over the years. These plain-English explanations of my night are the best of any wearable out there. And in terms of sleep time tracking, it gets that correct too (what time I fall asleep/wake up).
However, where Garmin falls though is their lack of any sort of nap/secondary sleep support (there's no nap tracking at all). Further, I continue to see issues in the 6-8AM range where if I wake up then for a short period (say 3-5 minutes) and then go back to sleep, it'll often incorrectly end my sleep. I've seen this issue for a while, and am optimistic that eventually it'll get fixed. It's an area that Oura and Whoop almost always handle better.
Further, there's no support for any sort of smart-wake features, such as timed to a given sleep phase. Though, given how unreliable and inaccurate most sleep phase detection is on most wearables (and even supposed gold standard devices), this probably isn't such a bad thing. You can still set regular alarms though.
In any case, like the heart rate metrics, all this sleep data is further available within the Garmin Connect app:
Along these same lines of optical HR driven metrics, is the Health Snapshot feature. This was added last spring with the Venu 2 series, and continues to be found on all new Garmin watches with the ELEVATE V4 sensor. The Health Snapshot feature basically aims to take many of the same data metrics Garmin tracks 24×7, but allow you to get a consolidated report of those data points on-demand.
The way it works is that you sit down and do nothing for 2 minutes, during which time the Health Snapshot feature will capture your: Resting heart rate, Breathing Rate, Blood Oxygen Level, Stress, and HRV level. To start it, you just scroll down to Health Snapshot, and then sit down. I'd recommend sitting for a minute or two first, especially if you've been active, then starting it.
Once you're done you'll get a tidy summary of all these metrics: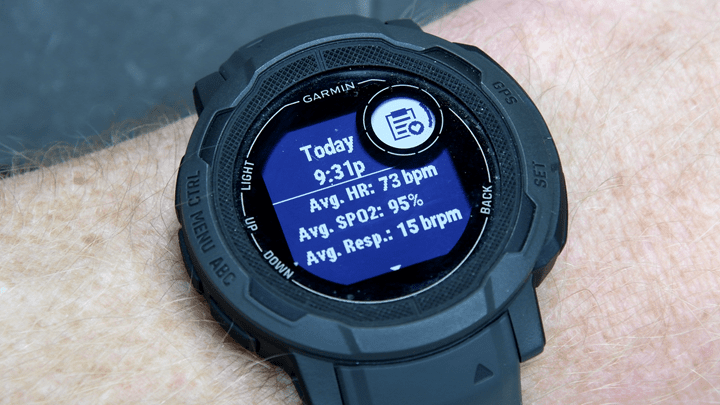 And then after that you can see all these data points on Garmin Connect, and even export out a .PDF file of them.
As I've noted in recent posts though, one of the challenges here is you can't trend just the Health Snapshot values alone. Meaning, the point of doing a Health Snapshot is having control over when these values are gathered (to minimize outside factor variations), such as always doing them 10 minutes after waking up. This is especially true of HRV values, which Garmin doesn't display any other place in their app/platform. Hopefully we'll see Garmin add this though via the GCM app, as it'd be pretty trivial for them to do it there (given the probably hundreds of other metrics they allow you to trend over time).
Switching topics entirely, we've got some general bits, including smartphone notifications. The Instinct 2 series will show incoming notifications from your phone. Given there's no cellular onboard the Instinct series, you'll need to have your phone handy and within Bluetooth range. But, it'll show the notification and you can dismiss it, or open it. Some basic emoji will show as well: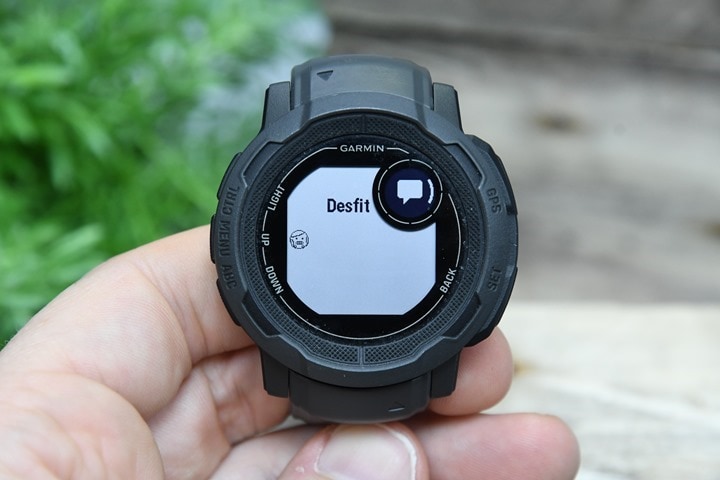 Similarly, you can accept or decline phone calls, which simply accepts or declines them on your phone. So accepting a call means it'll accept the call on your phone, not on the watch (it doesn't have a microphone or proper speaker, just a beeper). Oh, speaking of which, you can control the sounds/vibrations/tones within the settings menu, in case you want the unit to do something different in that arena: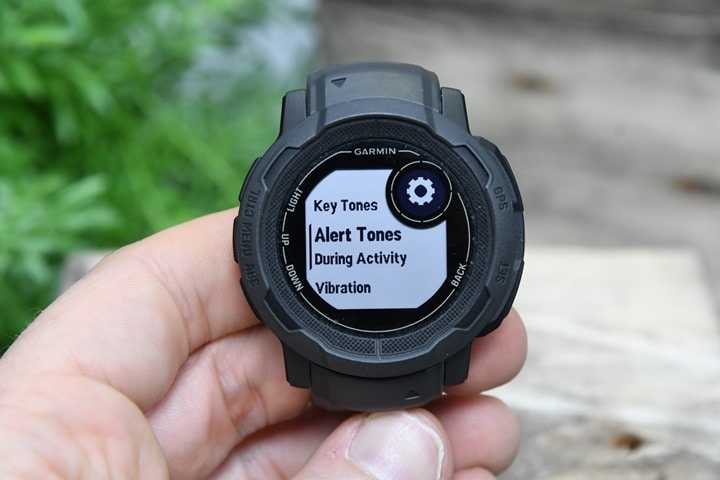 Next up, the Instinct 2 Solar editions have Garmin Pay, which is contactless payments. You'll need to ensure your bank is supported first. In the US, statistically speaking based on issuers supported, the answer is 'probably', whereas outside the US, the answer is 'maybe'. Assuming you have your bank supported, it takes just a couple of seconds to add the card using the Garmin Connect app.
Then from there you'll be able to pay for things by going into the controls menu and choosing Garmin Pay. It'll ask you for a PIN, but as long as you leave it on your wrist, you'll only have to do it once per 24hrs: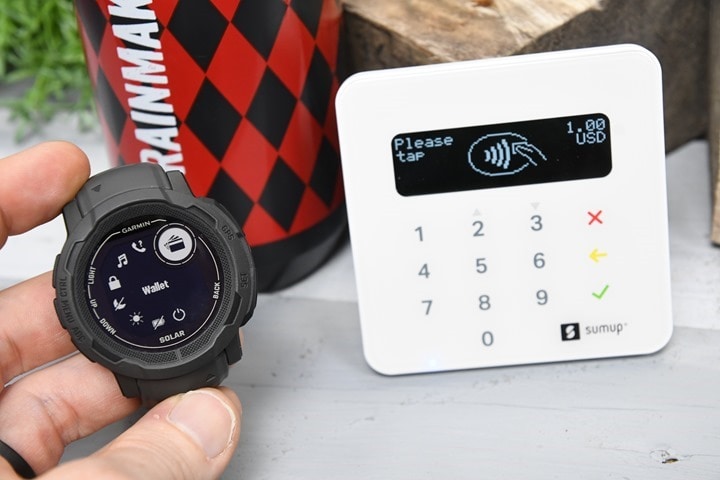 Then, just tap the NFC/contactless payment reader and you're done. It'll give a little checkbox in that circle portion of the screen:
Finally, while I'll talk about battery and such later in the context of sport, note that there is a battery saver mode for the watch as a whole. When you toggle this it'll roughly triple your battery capacity, and even more on Instinct 2/2S Solar – likely getting you unlimited power depending on your sun exposure. Battery saver mode turns off the optical HR sensor, turns off the phone connectivity, puts your watch face into a low power mode, turns off the backlight, and turns off PulseOx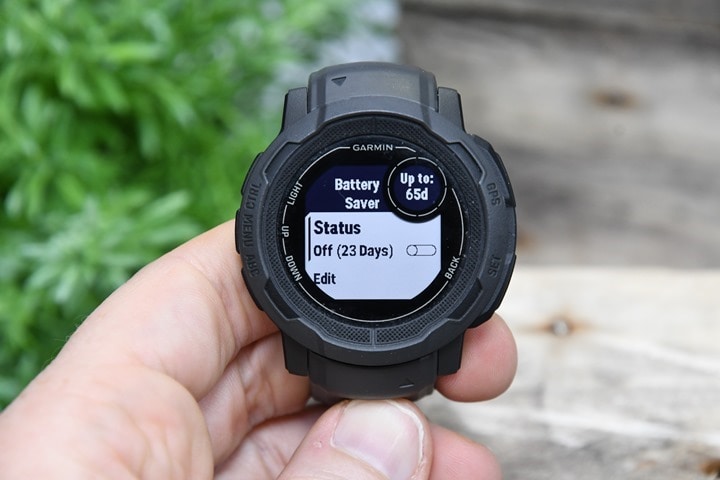 I think the use cases here are probably pretty slim, but if you're in a disconnected locale for extended periods of time anyway, and don't care about your heart rate, this can save a boatload of battery power.
Solar Edition Features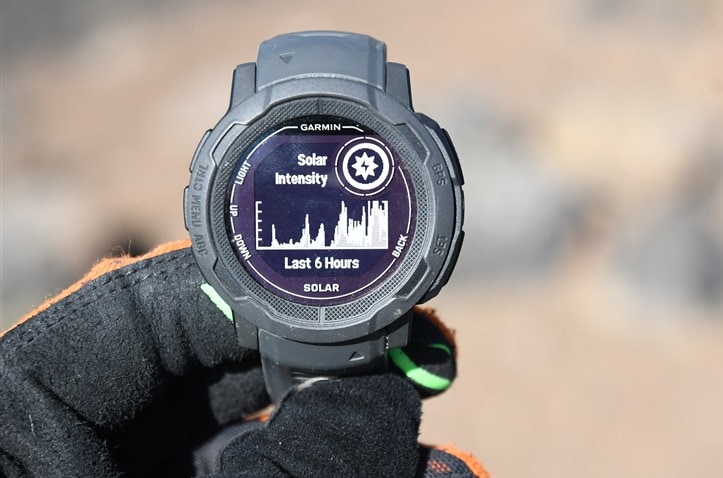 Next, this section is only applicable to the Solar edition, because…well…its got sun-soaking-solar-specifications. Or something. I ran out of S words.
The Instinct series was the second set of Garmin devices to get solar, following the original Fenix 6X Solar edition. With the Instinct 1, it dramatically expanded the usefulness of solar in a Garmin watch. You see, while the Fenix 6 gained some benefit from solar, it really didn't add a ton. It was mostly pretty minor because the solar areas were smaller/thinner. On the Instinct however, the far larger solar surface area, and that combined with the Instinct's more power-friendly design meant a significant difference. Most notably, there were scenarios that the Instinct 1 Solar could get forever-power.
With the Instinct 2 Solar series, Garmin has basically doubled down on that.  They've done it with two specific changes:
1) They increased the efficiency of the panels themselves (just like we saw with the Fenix 7 Solar units)
2) They increased the efficiency of the watch as a whole, from a power draw standpoint
Unlike the Fenix 7, there's no solar size changes here. The panel sizes stay the same on Instinct. With the Instinct series, there's two different solar panels at play on the watch:
A) The 'empty' space around the edges of the display. This semi-blocky area is used for solar panels, and is easily seen
B) The entire area atop the display but below the plastic layer, this is essentially invisible to you
Looking at the edge area first, if you look directly at the watch (not on angle), this mostly disappears. However, when viewing at an angle you'll see the solar panels easily. This area can collect 100% of the sun's rays. Well, technically it's of course less than that, but in terms of simple relativity here, we'll go with that being 100% from a Garmin spec standpoint.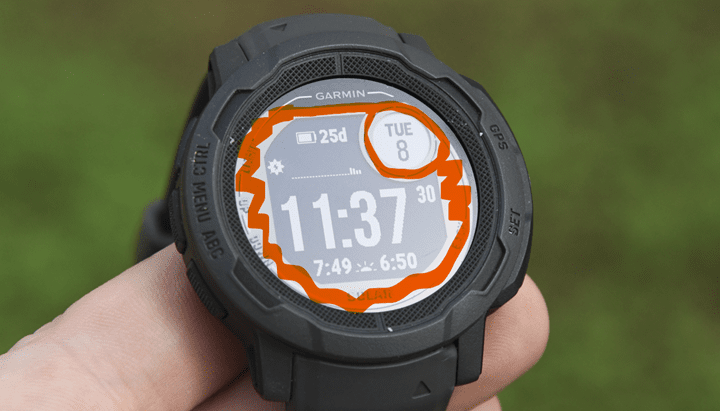 Then, there's the whole chunk atop the display – basically atop the words/text/numbers, and such. This area doesn't gather as much solar goodness, only 10% of the sun's rays. This is because if it were 100% you wouldn't be able to see the screen. Whereas at 10%, it's basically invisible to you and doesn't impact clarity.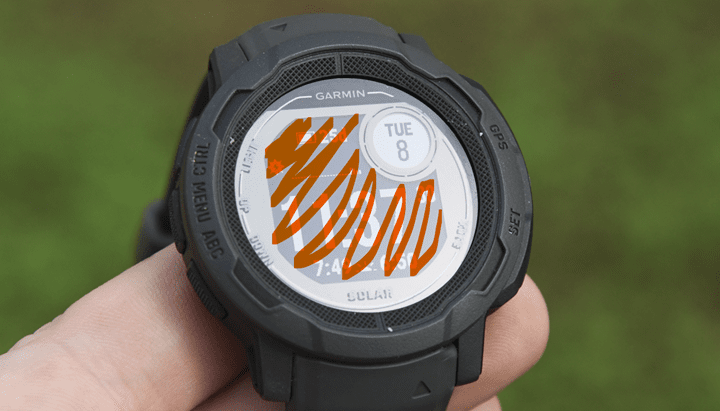 With the Instinct 2 Solar series units, you can see your solar power in a few different places. First up is on default watch faces, where it'll show as a little timeline graph on the upper left side.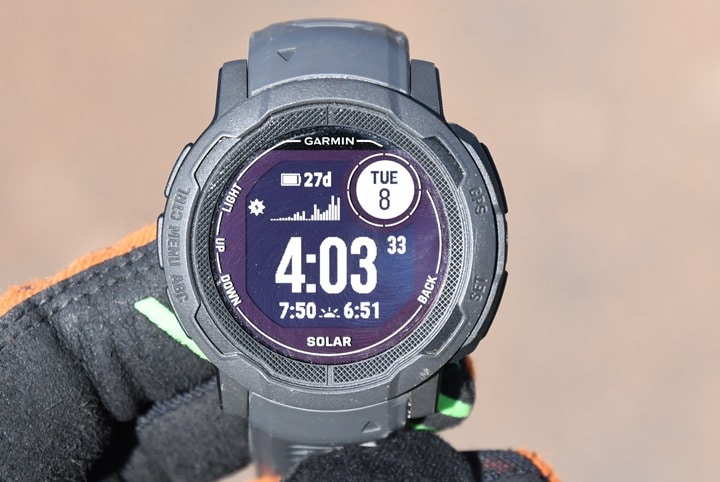 You can then scroll down in the widget glances, and see a timeline of the last 6 hours there. As you hover over that widget, in the upper right corner you'll see a sun icon split up into 10 blocks. Each block represents 10% intensity. So basically more is better, meaning, the sun is brighter. On a cloudy day you might only get one or two blocks (if that). Whereas full sun at the beach in summer will light up not just the 10 blocks but the center sun as well: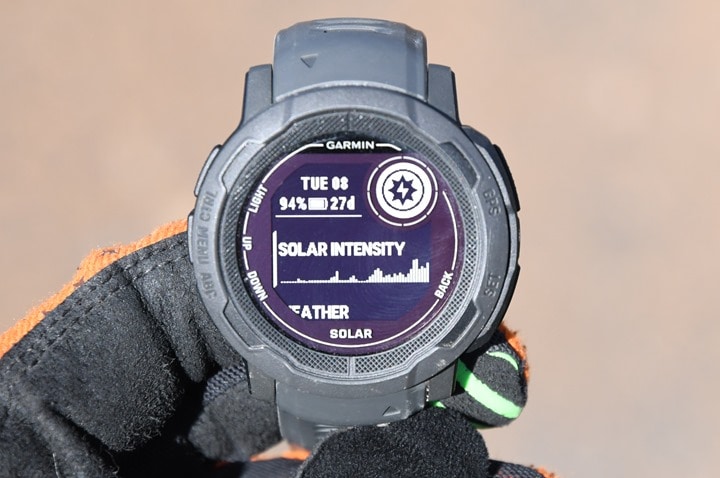 And the same goes if you crack that open, looking at the varying intensity levels: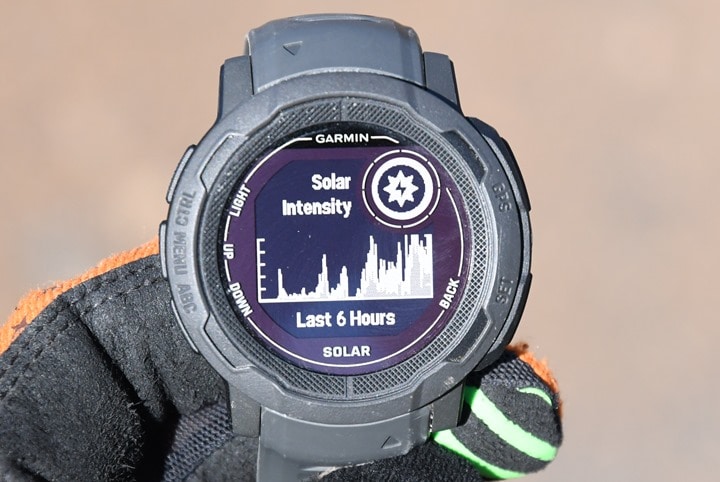 Though, there isn't a way to see either of these widgets if in the middle of a workout, which is a little quirk. Albeit, there is a Garmin Connect IQ data field you can add if you want, that'll both show you the current sun intensity levels, but also record it. Of course, you can also just look at the Garmin Connect mobile app and see your watches history there too: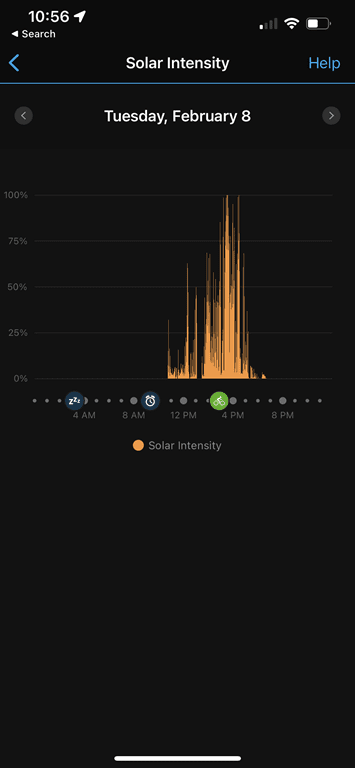 So how much is solar worth exactly in terms of battery juice? Well, let's start with this chart: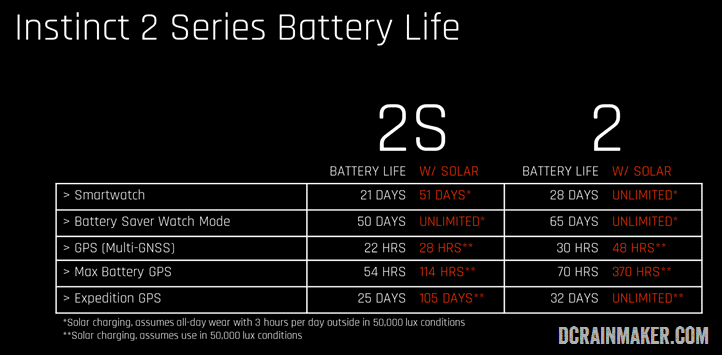 Garmin says the easiest way to think about it is that if you get 3-hours in 50K lux conditions, it'll get you 1 hour of GPS time or 1 day of smartwatch/standby time. For context, 50K is semi-sunny weather, but not crazy summer sun at the beach time sun. You can find 50K sun in the winter without issue. Meanwhile, I can easily find 100K+ sun in the summer at the beach. What's cool here is that if you over-achieve on finding sun, Garmin will leverage that. Meaning you'll get more power faster.
And while all of Garmin's specs only refer to 3 hours of sun time at 50K lux, you can very easily see how if you spend two weeks on vacation in the summer in the sun the majority of the day, you'll blow through not just the 3 hours, but also the 50K lux, since you'll likely be at 100K+ (and perhaps for 8-10 hours a day). And that's where you can unlock 'forever power'.
In fact, the Garmin Instinct Solar editions (both 1 and 2) will even show that with a forever icon for estimated battery life. Here's a picture I took last summer with the Instinct 1 Solar showing it (I haven't quite unlocked the forever power achievement mid-winter yet).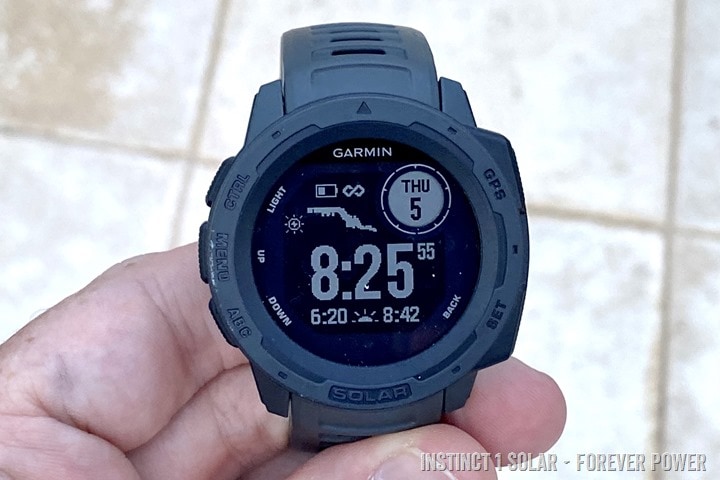 Now one notable difference between Fenix 7 and Instinct 2 Solar features is that the Instinct 2 won't show you lux-hours. You can see this here on the Garmin Fenix 7, which basically shows you how many lux-hours you get per day, so you can start to do simple math. Ideally Garmin would also just do the math for you and say "You gained 3 days of smartwatch battery today, or 3 hours of GPS time". But, in the case of Instinct 1 & 2, Garmin says the underlying technology they have doesn't allow them to display lux-hours, which is a bummer. The Fenix 7 wasn't on my wrist for that gap there, whereas the Instinct was, hence the solar gap.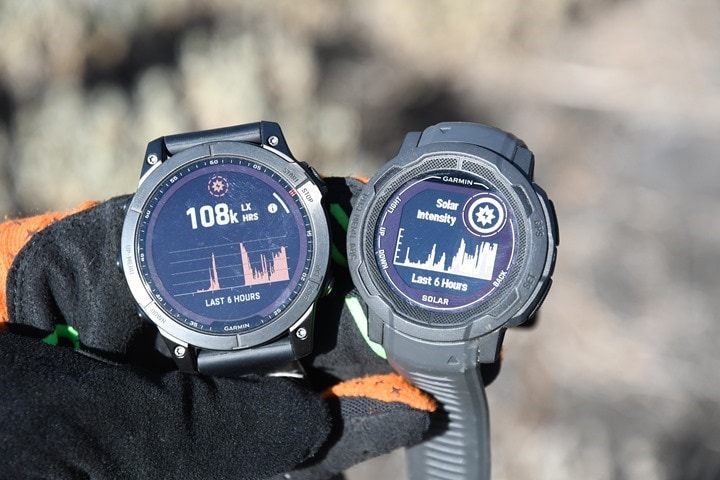 Ok, so specs aside, what does battery burn look like? Well, for that we're gonna look at three activities with varying levels of sun. In all three of these I wore the Instinct 2 non-Solar on one wrist, and the Instinct 2 Solar on the other wrist. None of these activities had jackets involved, all had warm sorta-tropical sun of the Canary Islands. But, the weather and terrain differed each day.
I was able to use the DCR Analyzer to plot the power profiles of each day. And each day they were configured identically (with courses, optical HR enabled, Bluetooth Live Tracking enabled, and in the case of cycling, also a power meter). They did however differ slightly in which data fields might have been open over the duration of these 5hr+ long activities. All were configured for GLONASS and 1-second recording rates. In other words, everything was enabled. No wimping out here.
First up, we've got a 5-hour long gravel/MTB bike adventure. The first chunk of this was in tall pine forests, with hazy skies. I eventually broke out of that, though still a bit hazy.

You can see here the Instinct 2 Solar unit was trending towards 24.57hrs of GPS battery life, whereas the instinct 2 without Solar was only trending towards 19.87hrs, so roughly 23% longer – despite non-ideal solar conditions.
Next, we've got a 6-hour hike. This started in the jungle with overcast skies, but then I broke out of that and was in a mix of sun and occasional clouds for the remainder, before ending up back in the jungle for the last hour. Note that while the Instinct 2 units had courses enabled, the Instinct 1 unit on my backpack did not.

As you can see here that the instinct 2 Solar was on track for 26.04hrs of GPS battery life, while the Instinct 2 non-Solar was at 20.16hrs, or 29% better battery burn for Solar. And again, this is with jungle conditions for the first portion, and cloud/jungle again for the last portion. In fact, if you look at the Instinct 2 Solar around the 55-minute marker, you see the purple line gets 'longer' between drops for about 2 hours till the 3hr marker. This is when I had the most sun.
Finally, we've got a 1hr 50min ride. This was in super sunny conditions, though occasionally in the forest – but at high altitude, so the pine trees were semi-sparse. Note on this workout I did *NOT* use a course file, but did have an ANT+ power meter connected as well as optical HR enabled and live tracking enabled.

This is a bit on the shorter side for where battery estimates work well in the DCR Analyzer (definitely don't try and make judgments for workouts under an hour because there just might not be enough data points written to the file), but by 2hrs things have largely stabilized.
In any case, what you see is interesting. For whatever reason, the Instinct 2 non-Solar actually outperformed the Solar – this despite the Solar unit getting plenty of sun according to it (all of the solar pictures in this post were actually taken immediately following this ride). Of course, *BOTH UNITS* had battery burn rates above/better than their published specs. Perhaps there's some quirky setting that's different between my two units, though certainly not anything obvious to me. I've also triple-checked the files to ensure they weren't switched, and re-pulled them from Garmin Connect just to be sure.
So yes, in summary, in most cases the solar aspects clearly make a big difference to battery life. And keep in mind that you can easily save way more battery life by doing things like turning off optical HR and using a chest strap (a massive savings), or not doing Live Tracking, or not loading a course, and so on.
As far as regular battery life beyond that, things seem to be roughly trending towards what Garmin specifies on their battery specs, though perhaps a little bit lower with my slightly higher use. I'd note that in my case, that's assuming an average of 1hr of workouts per day this time of year (sometimes outside, sometimes inside). For the time periods where I've been doing crazy long adventures per day, obviously that's going to impact battery life more than a boring day of doing nothing. But given I saw better than claimed battery life with the Fenix 7 & Epix, I'd say this is just 'on-spec'. Which, is perfectly fine.
Sports Usage: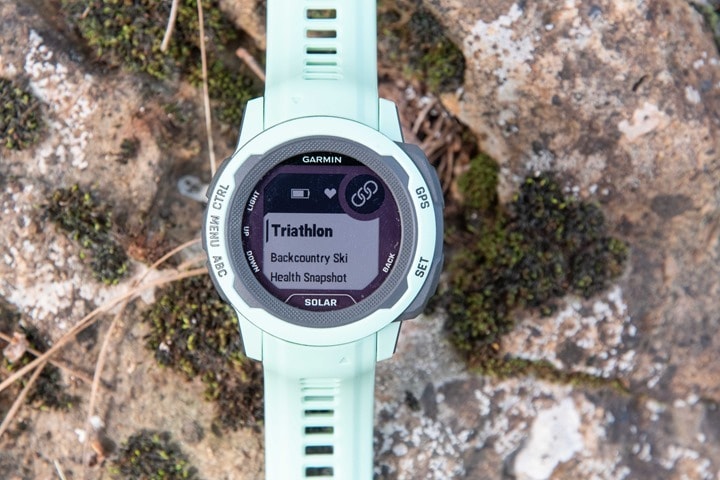 While the Instinct 2 can literally last forever in solar mode, one thing that'll quickly dash those forever-power hopes is doing a GPS activity, and that falls under the scope of sports in this case. Of course, not all sports are GPS activities. For example, a pool swim or indoor gym workout don't leverage the GPS, but instead various internal sensors and accelerometers – depending on the sport.
The Instinct 2 series significantly expanded the sport types, notably now including triathlon/multisport modes, as well as a slate of cycling-specific modes (like MTB with MTB-specific metrics). Here's your complete look at all the sport modes you can configure (some of these fall within the sport menu, even if they're more like utilities, but I'm listing them here for simplicity's sake):
Bike Indoor, Run, Bike, Treadmill, Navigate, Expedition, Track Me, Project Waypoint, Area Calculation, Pulse Ox, Multisport, Trail Run, Virtual Run, Indoor Track, Walk, Hike, Climb, MTB, eBike, eMTB, Cyclocross, Gravel Bike, Bike Commute, Bike Tour, Road Bike, Pool Swim, Open Water, Triathlon, Swimrun, Ski, Snowboard, Climb Indoor, Bouldering, XC Classic Ski, XC Skate Ski, Backcountry Ski, Kayak, SUP, Row, Row Indoors, Strength, Cardio, HIIT, Yoga, Elliptical, Stair Stepper, Floor Climb, Tactical, Boat, Fish, Hunt, Golf, Health Snapshot, Other
You'll notice that as of today, outdoor Track Mode is missing from the list. Garmin says that's being added post-launch in a firmware update. I don't have an exact timeframe for that, but it's good that it's being added, as I had a pretty long rant-paragraph written up about that omission that I was then able to delete.
In any event, once you're ready to start a workout or race, go ahead and tap the upper right button, which brings you to the sport list: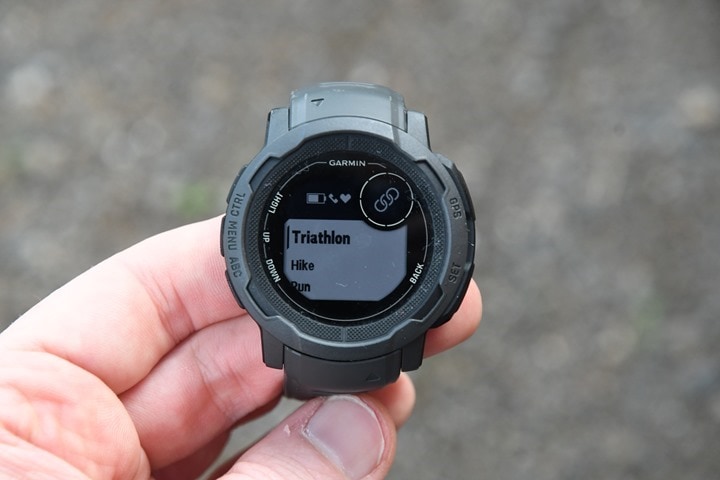 This sport list is customizable, with the ability to add favorites to the top of the list, or simply access sports as a one-off thing lower down in the list. Also customizable are the data fields and pages for each sport mode. And the Instinct 2 joins the Fenix 7/Epix series in offering phone-based configuration of all these settings. So you can customize and configure everything from the exact sport profiles you use, to which metrics are shown on the data pages. Further, you can even configure almost all watch-wide settings like GPS satellite modes, alerts, and more. The only thing you can't really do today is copy settings from an older device (like you can with a Garmin Edge series unit). So you'll still have to set these up fresh.
On your phone, you'll dive into the lower right tab of the Garmin Connect app and then device settings. From there you can see each sport profile and/or app, and then within that, all of the settings and data screens that you want to tweak or add.
And then more broadly, you've got settings like internal sensors like the barometer and how your device broadcasts your heart rate, though you can't actually pair external sensors here (such as a cadence sensor or such).
Speaking of sensors, the Instinct 2 series has significantly expanded the slate of supported connected sensor types. These can be accessed within the Sensors & Accessories menu, and include the following types (both ANT+ & Bluetooth Smart supported, depending on the exact sensor type):
External Heart Rate, Speed/Cadence, Power, Foot Pod, VIRB, Tempe, RD Pod, XERO Laser Locations, inReach, DogTrack, Smart Trainer, Club Sensors
This is all in addition to the internal compass, barometer, altimeter, and optical HR/PulseOx sensor. You can pair and configure sensors, such as tweaking the crank length on power meters. Further, you can save multiple sensors of any given type, as well as enable/disable as you see fit.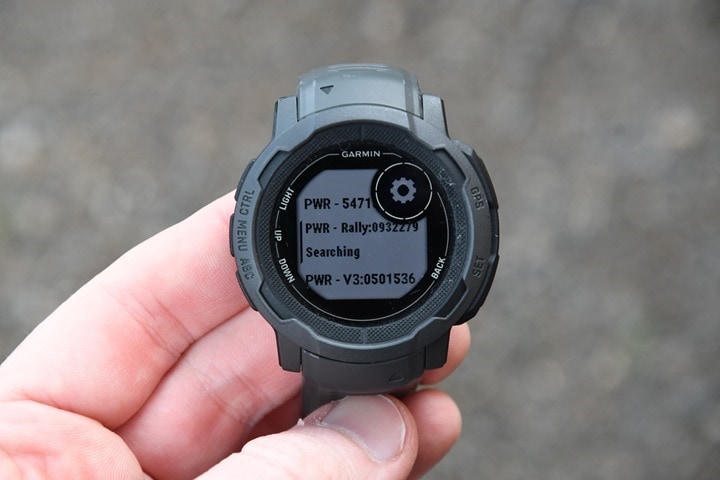 For cycling power meters that support Cycling Dynamics, it'll record that data for later viewing, such as seated/standing time or pedal center offset. Currently that'd be Garmin Vector/Rally pedals, and then Favero Assioma supports a subset of cycling dynamics. Similarly, for running it supports Running Dynamics metrics, from supported straps/sensors.
Ok, so headed way on back, let's assume you're starting a sport. In this case, we'll go with a hike. Once you do so you'll see the GPS status shown in the upper right corner, as well as estimated battery time along the top.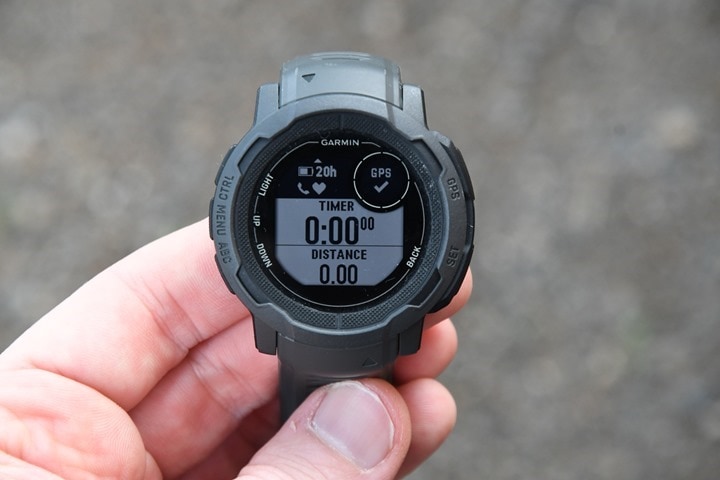 If you need more battery time, you can tweak settings in the Power Mode feature, to reduce certain settings. For example, turning off the optical HR sensor and using a chest strap (or nothing at all), is a massive savings. There are also lesser or greater reductions with different GPS modes too (taking off GLONASS saves about 10%, whereas going to UltraTrac will usually triple your battery life but dramatically reduce track accuracy).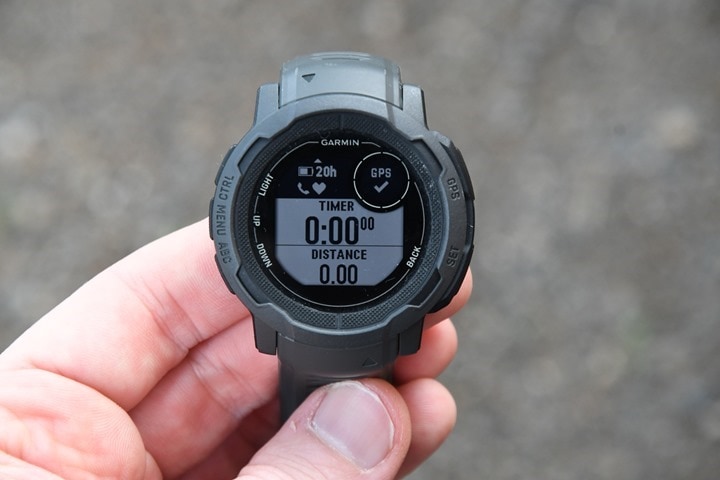 This is also a good time to add any navigation/routes that you want. You can add previously designed courses, re-do an existing activity/workout's route, go to a Saved Location, Sight 'N' Go, or input specific coordinates. One thing to keep in mind is there's no Mapping on the Instinct series. Instead, it's just a breadcrumb trail. But I'll cover all that in the next section.
Now is also the time you'd add any structured workouts you wanted. In the case of hiking, that's unlikely, but the same concept applies if you were in a run or other workout. In fact, for running and cycling you'll get offered a Daily Suggested Workout, based on a blend of your recent activity and current recovery status. Things like poor sleep will impact it, and even scrub the workout for the day if things aren't looking good. As you can see, it can be pretty serious about the workouts it'll suggest.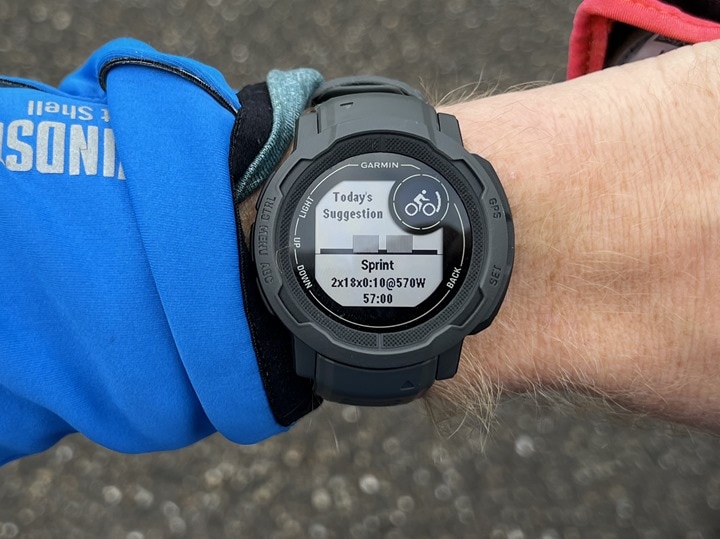 During these workouts (either suggested ones, free training plans from Garmin Connect, or manually created ones), it'll iterate through each step of the workout for you, specifying what to do next and alert you if you screw up. Of course, these workouts are based on your history, so you're not gonna get slammed with a 75-minute interval session at 550w if your training doesn't support it. Also, you can turn these off if you don't want them.
With everything set, we'll go ahead and press Start to begin recording. You can iterate through your data pages by pressing the up/down button. And if you're wearing a jacket or such, I'd recommend locking the screen so that your coat doesn't accidentally do bad things to the buttons/workout (to do that, just hold the upper left button to get to the controls menu). Here's a few shots from a recent workout on what these look like:
With the Instinct 2 series, it's still using the Sony GPS chipsets, and not using the newer multi-band GPS chipset found on the Garmin Epix & Fenix 7 series. Still, for the most part, I've found GPS accuracy just fine. I dive into that in the later sections. Also just fine is pace stability – keep in mind that the Instinct will show instant pace within 5-second blocks (e.g. 7:20/mile or 7:25/mile, but not 7:22/mile). You can though change to lap pace to get around that.
You can also add things like auto lap, auto pause, auto climb, and even 3D distance and speed for super-steep climbs/descents. We'll talk about auto climb in the navigation section.
Once you've wrapped up your workout, you can tap the upper right button to end the workout, and you'll get a summary screen. Within this screen you'll see the newer training load metrics and recovery details, plus all your other totals are available too within the menus:
And then of course, all of these things are displayed as well within the Garmin Connect Mobile app, as well as Garmin Connect itself.
Of course, all of these workouts are then sent to any 3rd party platforms you've connected up like Strava, TrainingPeaks, Today's Plan, Final Surge, and so on.
Taking a quick detour to talk about the newer Training Status and Training Load features here. These of course aren't new to Garmin (they're about 3-5 years old, depending on which portions you're talking about), but they're very much new to the Garmin Instinct series. The first is training status. You'll have seen this above at the end of a workout, but you can also access it at any time from the widgets menu. The first page shows your overall status and whether fitness and load are going up or down: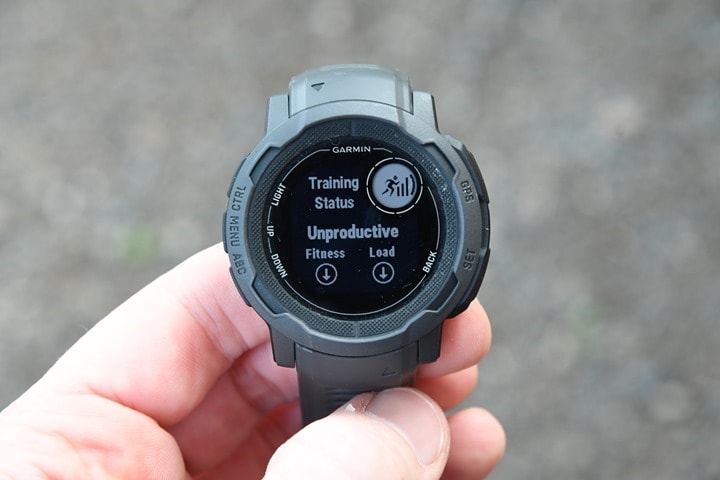 You can tap that to get some plain English details about why it's happy with your performance, or upset at you. This is one of those things that's easy to make fun of, but in general, it's usually right about my status/load. If I'm trying to do too much too quickly, it'll say unproductive – because realistically if I go from 5-7hrs of workouts per week to 20hrs of workouts the next week, any coach would say the same. They'd also remind me I'm stupid and will get injured. The best smack-talk Garmin pulls out is the 'Unproductive' label. Though detraining is particularly stinging too.
I'd inversely counter for this particular workout that I'd be less stressed and more "productive" if the Instinct 2 hadn't lost half my ride's power data, but hey, I'm not salty about that or anything.
In any case, if you go down once you'll see your VO2Max. These are calculated separately for cycling and running. Cycling VO2Max requires a power meter. This also shows your trending direction.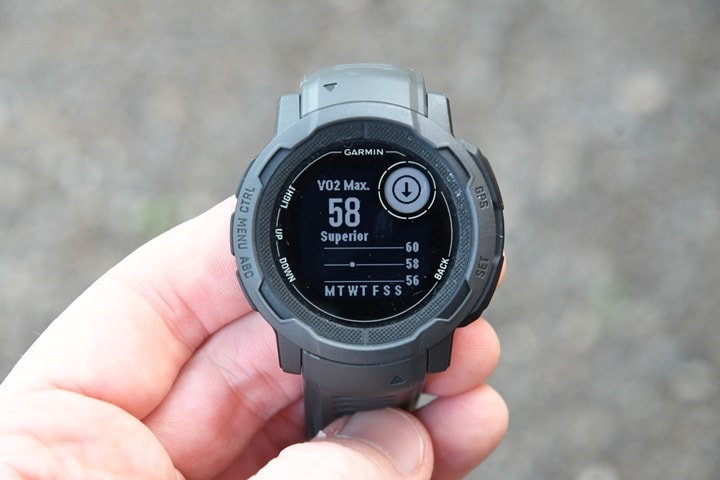 Press down again and you'll get your 7-day training load. This is arguably the most useful chart, especially for figuring out whether or not you're keeping your overall training load where you want it. If you tap the upper right button, you'll get another simple explainer of what you're doing right or wrong.
Now, as I noted in the earlier section about watch faces, it's frustrating that none of these training load/recovery metrics can be added to the data customizations on stock watch faces, which is unlike other Garmin watches. Given the whole point of adding all this performance stuff is to use it, I don't understand this gap.
Lastly in the training load area is the current recovery time. Keep in mind, this isn't recovery until any workout, it's 'Recovery time till next hard workout'. In general, I find Garmin overestimates this a bit. Or is basically just a bit more cautious. Which again, is just like real life. Some coaches are more cautious to avoid injury, and some are more aggressive. To each their own.
You'll also see your VO2Max for both sports, if you step back once, to the VO2Max Menu, showing both cycling and running:
It'll also show your lactate threshold, as well as prediction with the new historical charts for 5K/10K/Marathon/Half-Marathon:
These data points now have logic in them that basically say you might be able to throw down a fast 5K based on your VO2Max, but unless you've put in the mileage, it's not going to give you a correspondingly fast marathon time. So in my case, I haven't been focused on long-runs in the middle of January/February, and thus, my times are skewed a bit slower on the longer distances.
Next, there's both altitude and heat acclimation. These are based on time spent at altitude (namely during sleep), and then also time spent in hot weather (above 70°F). You'll acclimate bit by bit over time. Also, the temperature data isn't from your watch, but rather from nearby weather stations during the activity. Here you can see when I took this photo I had spent one night thus far at about 915m (3,000ft), so I had acclimated thus far to about 850m. Going up to 'just' 3,000 feet is pretty easy to acclimate, whereas going up to 10,000ft is a different ballgame.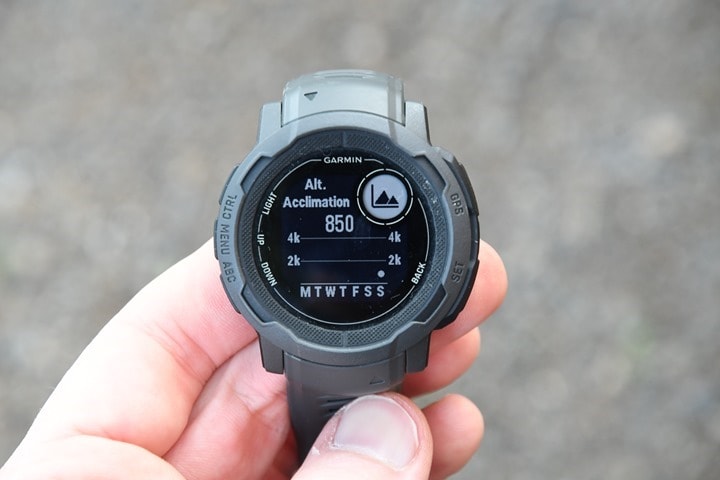 Wrapping things up, just as a quick note on triathlon/multisport mode here, since that's something that's new here, it basically works the same as other Garmin units, meaning you can choose which sports you want if in a 'multisport' mode, if in a normal triathlon you'll chose the triathlon sport profile. That then allows you to customize the three sports, and whether or not you want transitions recorded separately. Further, you can have the device auto-lock after each sport profile change.
To change sports you'll press the lap button, but only after unlocking it. You can also set it to repeat if you want to. Again, it's cool to see this added, as this actually makes the Instinct 2 series the lowest-priced Garmin watch capable of doing a triathlon (at $349). I mean, sure, you can buy an older watch for cheaper. But in terms of their official lineup, this is the least expensive option they have.
Finally, one more area to briefly mention is that the Instinct 2 series supports Bluetooth and ANT+ heart rate broadcasting. The original Instinct 1 series didn't support Bluetooth broadcasting, though the Instinct 1 Solar editions did (different internals, 1.5 years later). You can see for example here I've got the Instinct 2 connected up to Zwift, broadcasting my heart rate, using just Bluetooth Smart.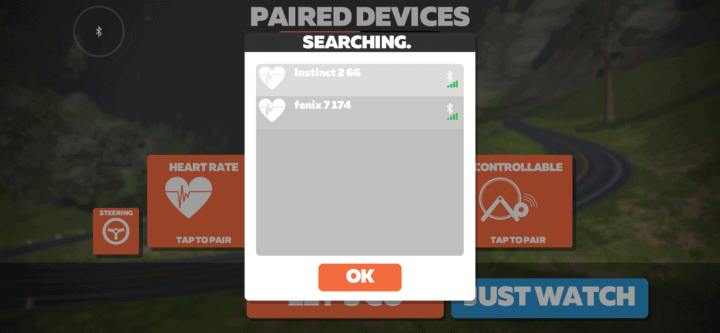 With that, let's dive a bit deeper into following a course.
Routes & Navigation: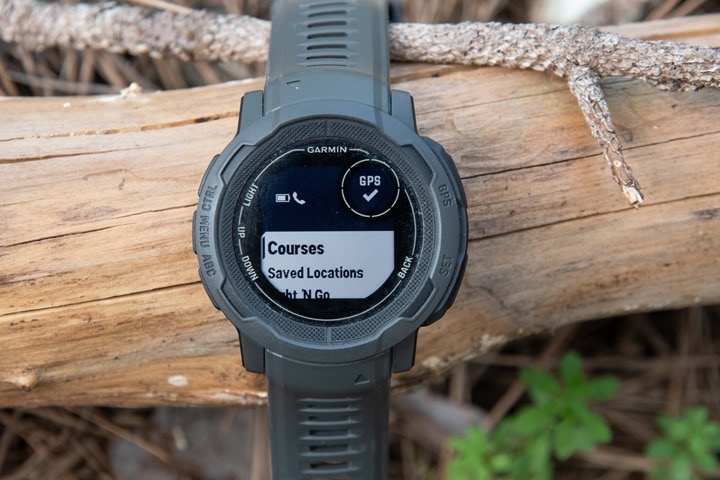 For this next section, I'm going to focus on the routing and navigational aspects of the Instinct 2. In other words, loading a course/route and following it – as well as non-preplanned routing (such as to a set of coordinates).
For the Instinct 2 series, there are no maps on the unit (of any sort), thus all navigation boils down to two categories: Following a breadcrumb trail of the planned route, or direct-to-point navigation (effectively a compass/arrow heading/direction). If one were to boil down the key navigation/routing related differences between the Instinct series and the Fenix series they'd be:
A) No Maps on Instinct, whereas Fenix has full mapping capabilities
B) No ClimbPro on Instinct, whereas Fenix has ClimbPro that automatically breaks down all ascents/descents with exact detail about each climb
C) No points of interest, roads, places or other information about what's nearby on Instinct
There are of course numerous other details based upon those three foundations. For example, without maps, you can't have the unit automatically create a 10KM or 50KM route for you at a new location (officially called 'Round Trip Routes'). Similarly, there's no 'Up Ahead' feature that was introduced on the Fenix 7, showing a breakdown of waypoints.  Still, for years people have gotten by just fine and dandy without maps. Sure, I prefer maps because they give context to the surroundings, but that's fine – and I've navigated just fine with the Instinct on numerous hikes in places I've never been before.
So with that, let's start with getting a course onto the unit. There's a multitude of ways that can occur, but essentially you can:
A) Import a .GPX/.TCX./etc file into the device or Garmin Connect
B) Create a route on another platform and have it automatically sync to the Instinct (e.g. Komoot, Strava, etc…)
C) Manually create a route on Garmin Connect or Garmin Connect Mobile
D) Re-do an existing activity again, as the route
For today's route, I'm going to create it on Komoot first, and then let it sync over – but the end resultant is the same no matter which route option you choose above. Here's my planned route up on Komoot: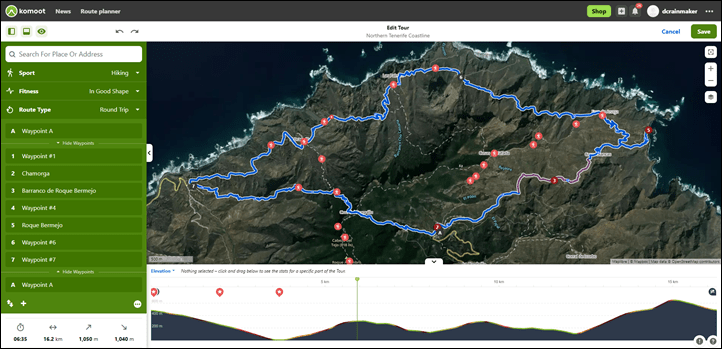 From there, it'll automatically get sent to my Instinct, because I've linked up my Garmin & Komoot accounts. Thus routes immediately get transferred. Though, immediacy is based on your watch syncing via Bluetooth or USB. Point being, don't wait till you get to the trailhead to do this, or you'll likely be hosed if connectivity is bad, since Garmin Connect requires internet connectivity to sync routes (whereas the Garmin Explore app doesn't require internet, but has it's own set of quirks, more on that later).
You can see this now on my Instinct, by going into any sport profile and choosing Navigation from the menu: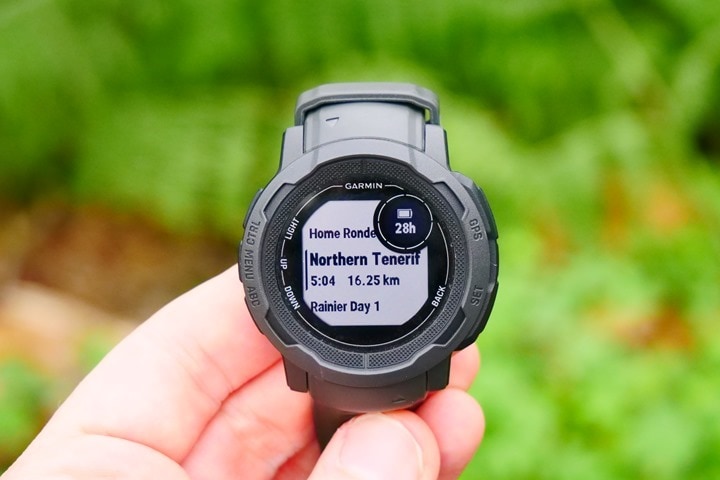 Once I open it up, I can look at the map (breadcrumb trail) and the elevation profile. I can also inverse the course and do it backwards (which, is ironically what I decided to do).
Now, I've had varying failures with the quirky 50-course point max limitation. My 80km planned gravel bike adventure failed this strongly, yet road rides were fine. And even more oddly, the above trail hike was fine one day, but failed it the next day.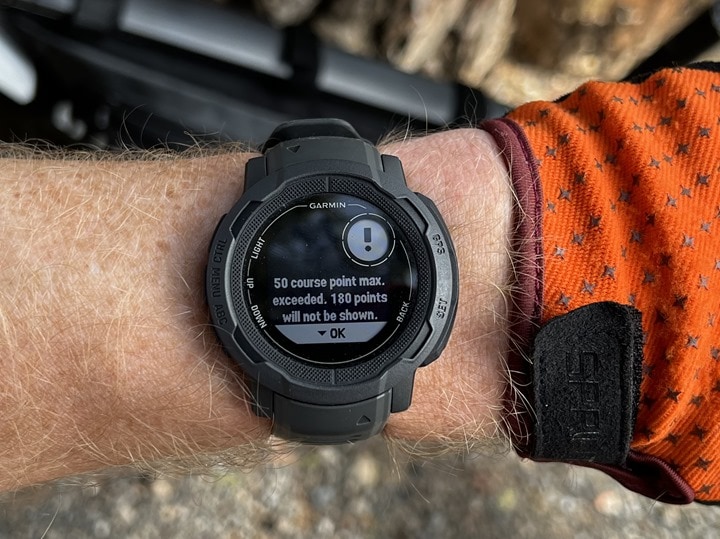 This limitation isn't new to the Instinct series, though, it appears to be applying sporadically. And interestingly, out of all the years I've done routing on Garmin devices, I've somehow never managed to hit the limit till today. Garmin says that's likely because most of my really long adventures (e.g. 100 miles+) tend to be on roads rather than trails. Whereas on trails the course points go up very quickly (hence how I hit it at 80KM for a gravel/MTB route).
Still, I don't understand why in 2022 this could even be a thing. How is merely 50 of anything a thing? Garmin says they are working on some improvements here for a future firmware update. I can only hope the improvement is no reasonably achievable limit at all.
In any case, with that, I was out and ready to navigate for my hike. You'll see you can follow a breadcrumb trail of your route, and zoom in/out as you see fit.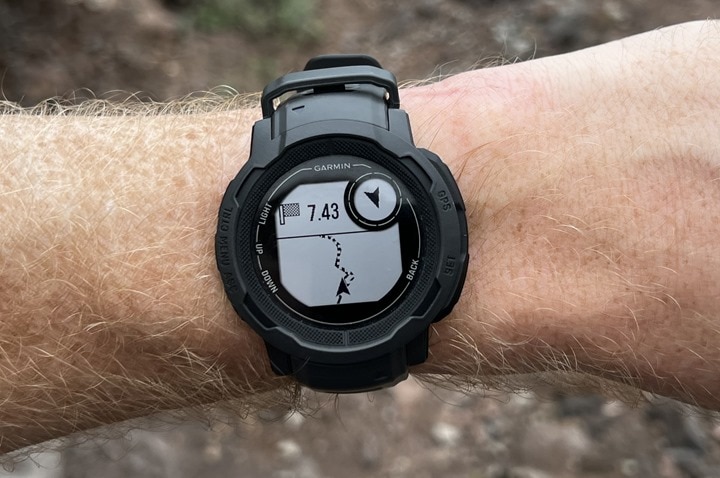 Now, while the Instinct doesn't have ClimbPro (which splits up each climb automatically and shows you how much altitude/distance/grade/etc to the top of the climb), it does have AutoClimb. This long-ago introduced feature will automatically show an extra data page as you start to ascend, with climbing-specific stats. Meaning, it'll show you rate of climb and other elevation stats, which allows you to guesstimate how long things might take if you know your course well enough.
Ok, so with our hike going just fine, we can also route back to the start. In this case, we've got two basic options: Route direct to the start (called "Straight Line", and route along our track to the start, called "TracBack". However, oddly, on this hike, I only got the Trackback option. Which is somewhat ironic because when I took this photo, I was all of perhaps 500-700m from the finish. So in this case, it wanted to route me back some 18km of trails instead.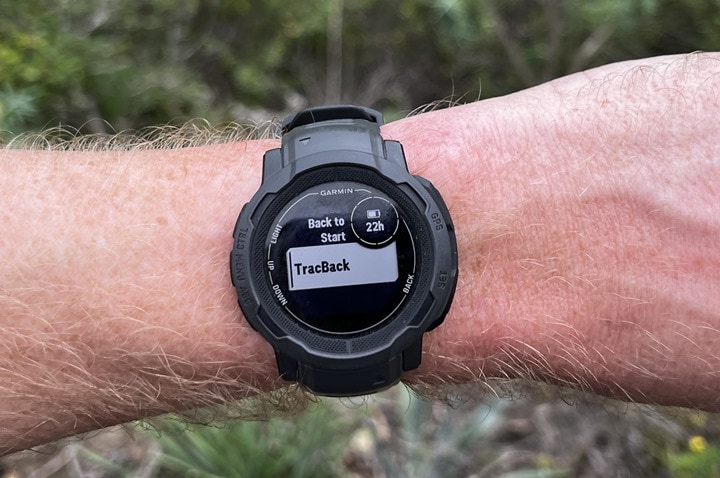 In any case, with a direct routing, you're on your own, because it's going to do so as the crow flies. So this is probably fine in a city where you can just zig-zag your way home (or, on a boat with nothing but open water/ocean). But out in the wilderness, this is largely a non-starter because it'll assume you can walk over mountain ranges without trails or cross vicious rivers. Still, it's theoretically an option if you need it.
This is similar then to the other 'direct' routing options, including routing to a set of coordinates. So if someone gives you a set of coordinates to route to, you can input that into the unit and get direct routing to that location:
Note that Instinct 2 Series supports basically every coordinate type known to mankind, in fact, you can find the massive list here. And once your coordinates are entered, then you'll simply follow the arrow till you get there (or, die trying).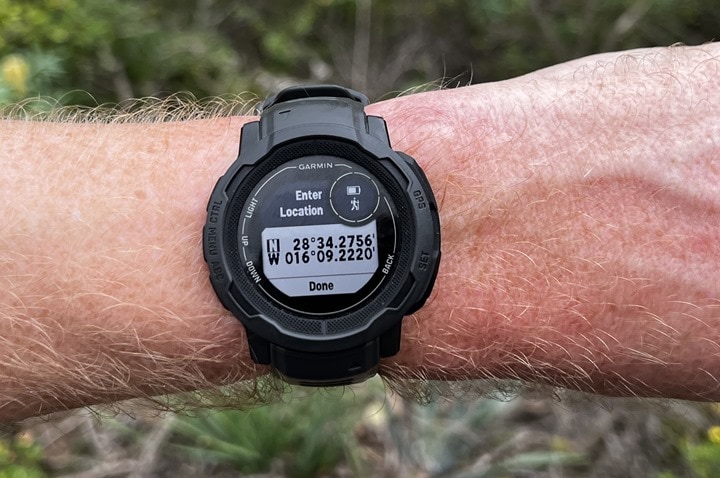 Finally, for lack of anywhere else to stick it, you've always got access to ABC functions via the ABC widget (altimeter, barometer, compass), by just tapping down a bunch (you may have to add it to the widget roll if you haven't yet):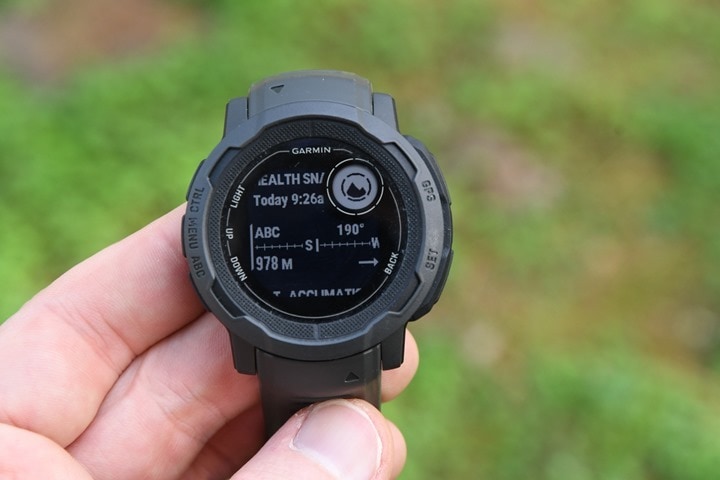 Note that you can also have just a dedicated widget for each of those three functions too. This will use the unit's magnetic compass and barometric altimeter. And when you open up this widget, you get four data pages. The first is all three data points in one: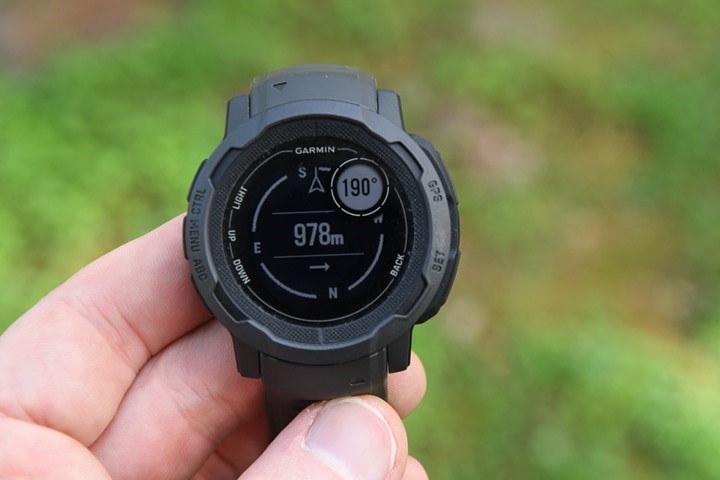 Then you've got a chart of the altimeter information. You can calibrate the altimeter here, choose whether to auto-calibrate, as well as whether to display the data in meters or feet.
Followed by the barometric pressure details. You can calibrate this, as well as change the plot type to 6hr/12hr/24hr/48hr. You can also change the sensor modes, storm alert options, and how it displays pressure.
Followed then by the compass. The compass also has calibration options, as well as the ability to change the mode, for example, from the display (degrees or mils), to how it displays North (true, magnetic, grid, user);
With that, I think I've covered everything there is to cover here on navigation and routing, so, let's dive into whether or not any of that is actually accurate in the real world.
GPS & Altimeter Accuracy: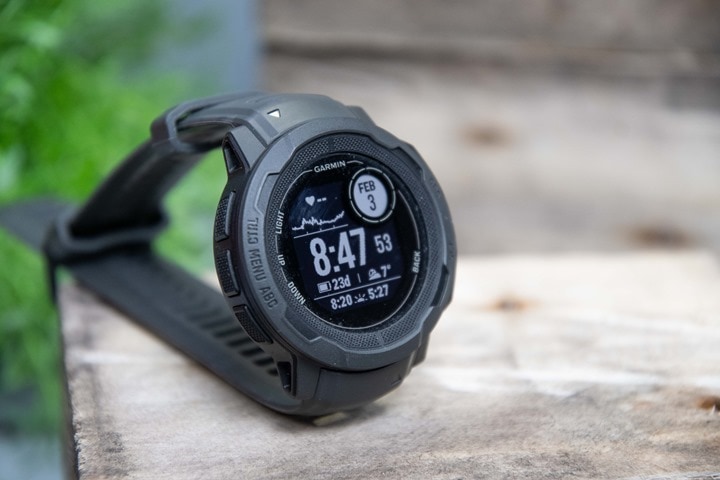 There's likely no topic that stirs as much discussion and passion as GPS or heart rate accuracy.  A watch could fall apart and give you dire electrical shocks while doing so, but if it shows you on the wrong side of the road?  Oh hell no, bring on the fury of the internet!
GPS accuracy can be looked at in a number of different ways, but I prefer to look at it using a number of devices in real-world scenarios across a vast number of activities.  I use 2-6 other devices at once, trying to get a clear picture of how a given set of devices handles conditions on a certain day.  Conditions include everything from tree/building cover to weather.
Over the years, I've continued to tweak my GPS testing methodology.  For example, I don't place two units next to each other on my wrists, as that can impact signal. Instead, I'll often carry other units by the straps, or attach them to the shoulder straps of my hydration pack or backpack.  Plus, wearing multiple watches on the same wrist is well known to impact optical HR accuracy. Note that I sometimes will carry extra reference units over my hands/fingers, so as to keep them separated (but not use the HR for these reference units).
We'll start things easy and increase difficulty with each successive set. First up is a run through the forest outside of Amsterdam. This has both an Instinct 2 and Instinct 2 Solar, and then is compared to a COROS Vertix 2 and Fenix 7 Solar Sapphire. Both the Instinct 2 watches are using GLONASS, while the Vertix 2/Fenix 7 are using multi-band GPS. And at a high level, things look relatively similar.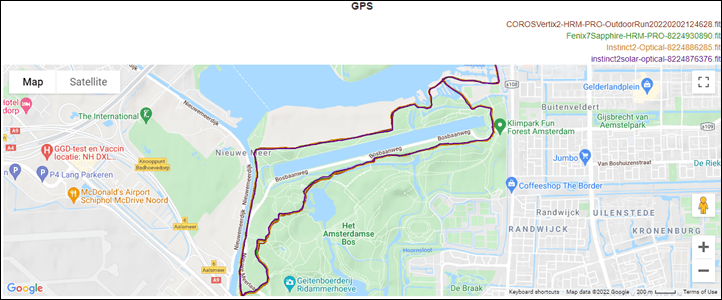 And in fact, when you dig into most sections, whether be in map or satellite view, they're all mostly within a meter or two of each other: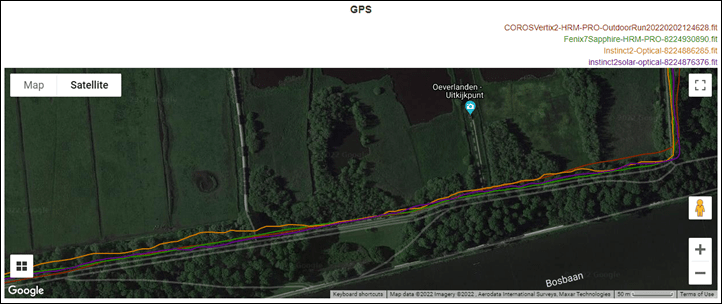 But there are a number of cases where one of the Instinct units wander slightly more than the others off into the bushes, like you see here in purple with the Instinct 2 Solar offset by perhaps 5-10 meters from the actual track. Of course, also notice the COROS Vertix 2 then undercuts down in the lower left corner.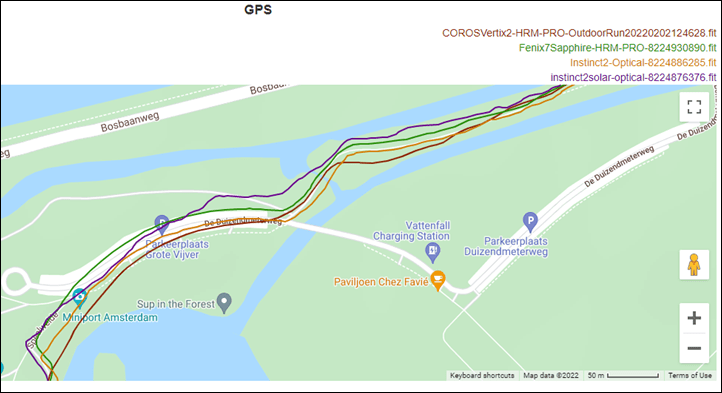 And then there are plenty of times, where like above, we see those undercutting on the Vertix 2 and the Instinct 2 is fine. For this entire run, it's mostly in tree cover, though, given it's winter there aren't as many leaves.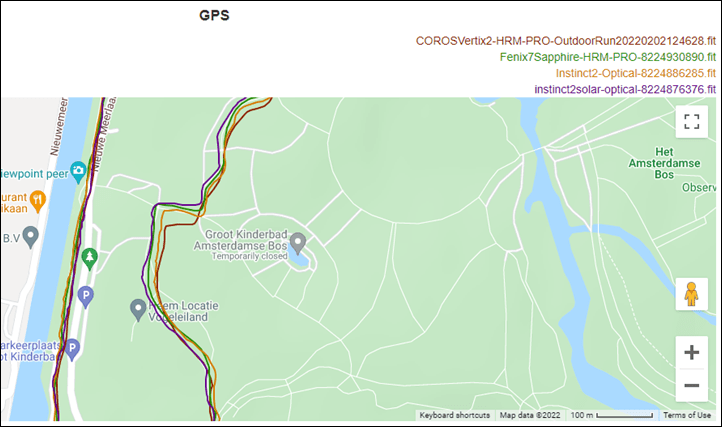 This is largely a so-so accuracy run. I wouldn't consider results from the Instinct 2 or Vertix 2 great, but just 'shrug'. The Fenix 7 did actually nail this one pretty well.
Next, I wanted to briefly show this set, because it's a blend of a simple neighborhood run, but also some twists around a building. And it's a perfect example of where multi-band/dual-frequency on some higher-end units (Fenix 7/Epix/Vertix 2) really does out-perform non-multi-band GPS (Instinct 2/2 Solar). Whether or not it's worth the cost is the real question then. As you can see, at a high level these are nearly identical.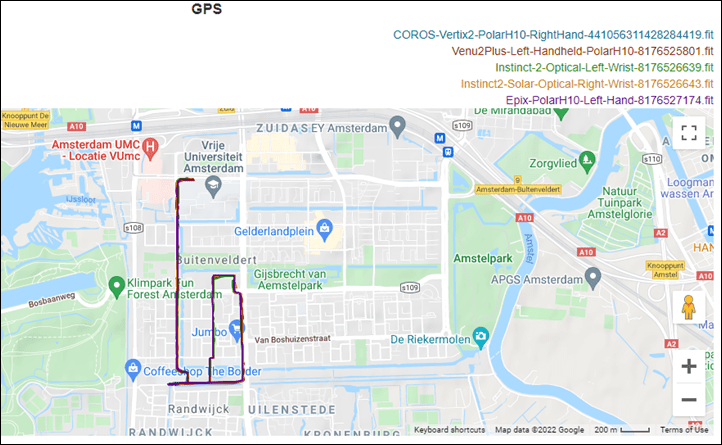 But check out this little section where I ran through two buildings and then back around them together. The Epix & COROS Vertix 2 were absolutely steadfast in their perfection around this area. Spot-on with the path/road. Whereas the Instinct 2 and Venu 2 units using 'lesser' GPS technology jumped around a little bit. Now, do keep scale in mind here – we're talking only about a bus length's worth. But I thought it was a great example to demonstrate how these two technologies differ.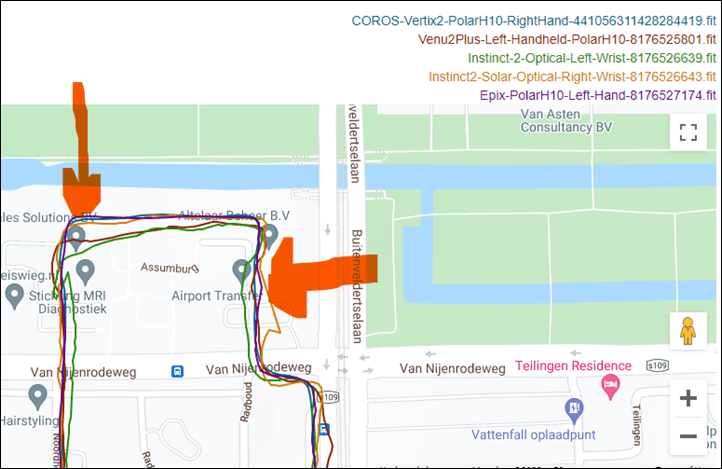 And just to help clarify, here's the two buildings I'm talking about. They're maybe 10-15 stories tall each, but otherwise there's nothing around them.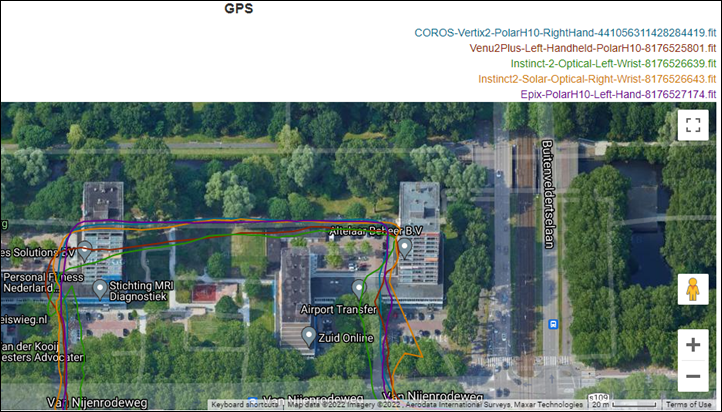 Next, a quickie – this is a road bike ride. I've got a slate of head units on the bike, and the simple answer here is that it was boringly perfect.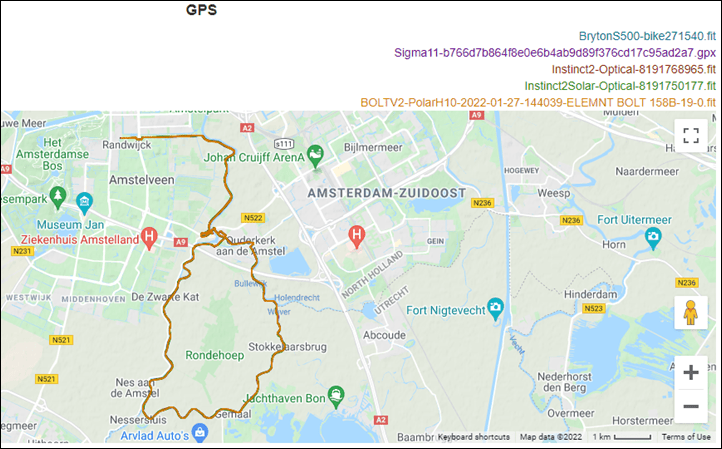 Like I said – super boringly perfect. Even despite all these twists and turns due to construction.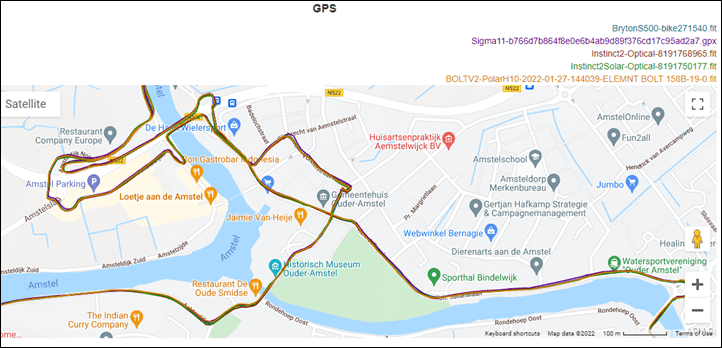 So, let's go off-road now. First up we've got a mountain/gravel bike ride, up into high altitude territory, with tons of tree cover, cliffs, and more. Also, a boatload of bike computers and watches. You can see the tracks swirling around through the mountainside there.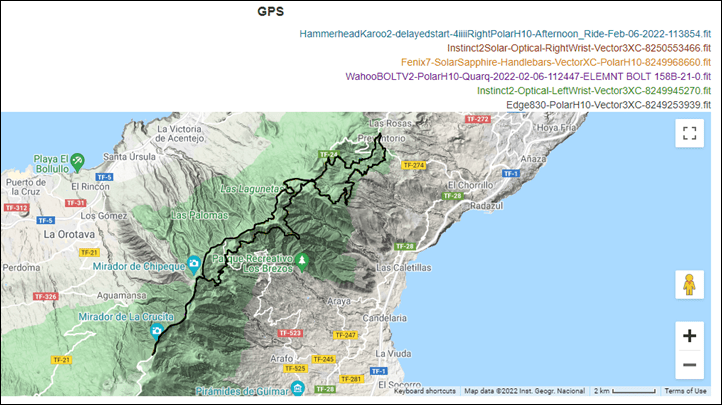 But here's the thing – they're all really good, and basically identical between the units, no matter where I look at this 5-hour adventure.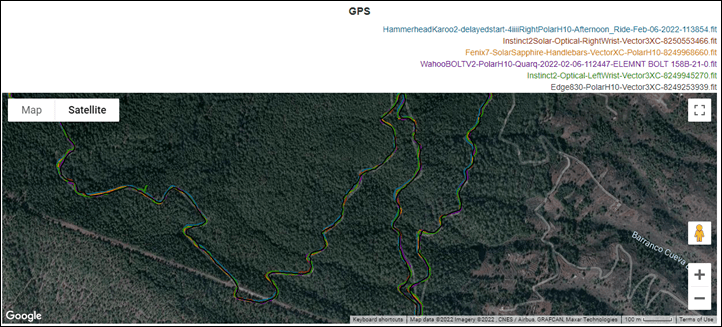 Take for example this section, with cliffs right on my shoulder, and tall trees everywhere else.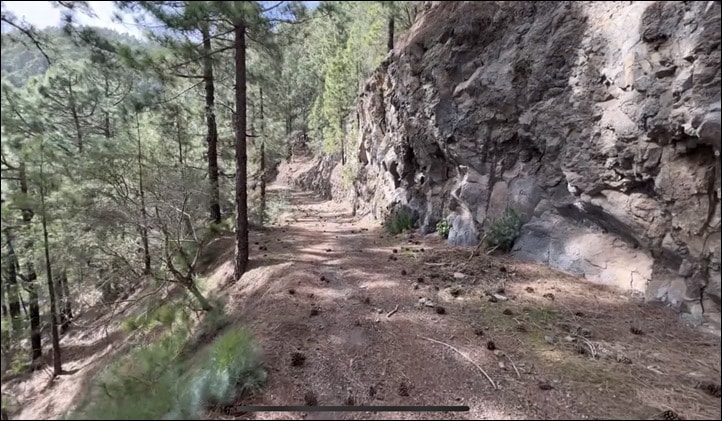 It looks perfectly fine: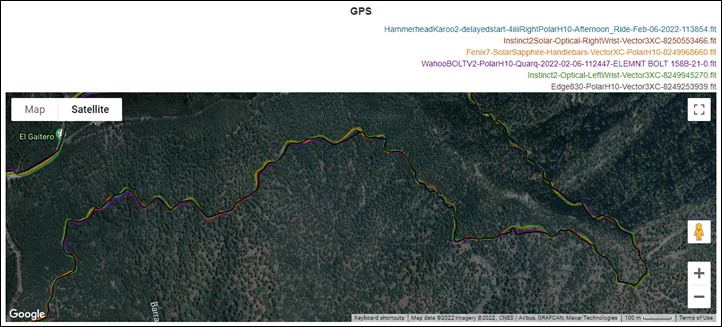 As does every other part of it. This is arguably *THE* territory for this kind of watch, and it handled it without issue.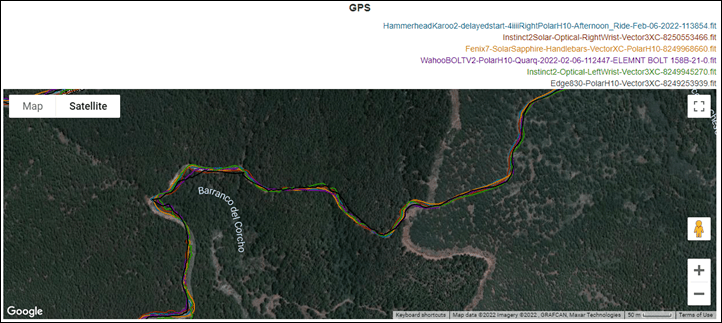 And as for elevation accuracy? Using their own automated altimeter calibration routines (meaning, I didn't manually calibrate any of them), they were all within just a few meters the entire time, despite shifting weather.

So, let's kick it up again, this time a hike deep into the jungle and then out along the ocean cliffsides. There's no cell coverage here, so I was fully dependent on these watches getting me out of there.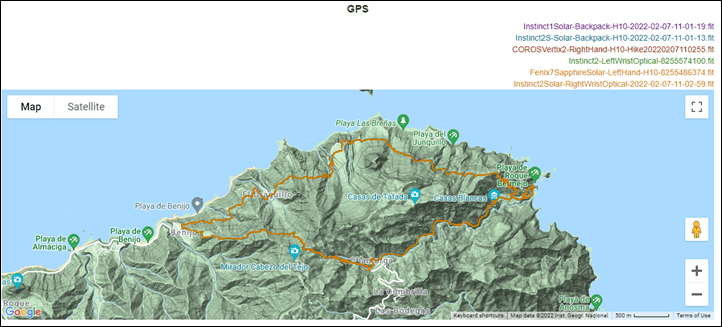 And if you look at the vast number of watches I had with me, the simple reality is there were almost no major track differences. For example, this super tight switchback section – the Instinct 2 tracks look the same as the Fenix 7 & COROS Vertix 2 (in multi-band configs):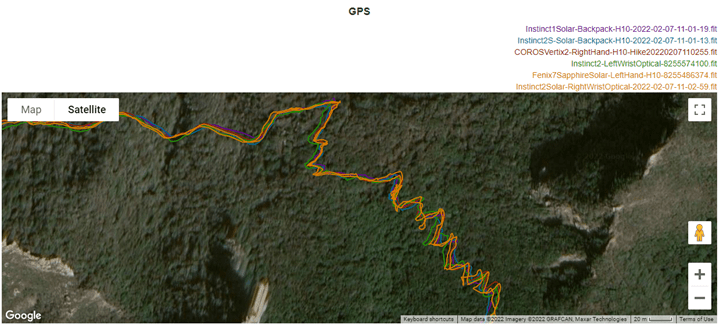 In fact, throughout this, there are virtually no appreciable differences.
And even if there were tiny differences – this brief blue line separation below – it's for just a handful of meters, and only a couple of meters off. Note on this I also had an Instinct 1 attached to my backpack for GPS & altimeter tracks.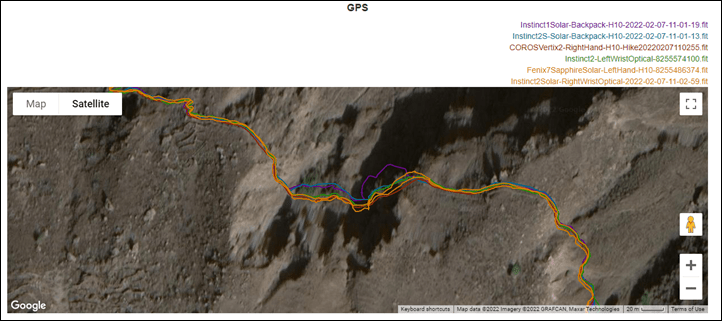 On the elevation side of this plot, things were OK, but still a bit of drift over the course of 5 hours on one of the Instinct 2 units. Note that weather had come in during this period, with a huge shift in both temps as well as weather systems (rain giving way to sun, and high winds). So you can see that green line slightly shifting over the course of the route. Note I placed my dot below at the point I touched the ocean (literally). The only unit to read the proper elevation of zero meters was the Fenix 7 which is because it's the only unit that's snapping its elevation to the underlying map data when appropriate.

I've got countless data sets from numerous activities, but all of them basically follow this relatively similar pattern.
So let's go get wet and wrap things up on an openwater swim. This is the Instinct 2 on my left wrist, and the Fenix 7 Solar Sapphire on my right wrist, plus another GPS on a swim buoy behind me.

And as you can see, it's virtually identical. The only difference is I forgot to hit end on the Fenix 7 wrist, and so when I got to the showers up on the beach it resumed, and thus the line across the beach. But in terms of the Instinct, there's absolutely nothing wrong with this GPS track – it's spot on.
So overall, where are we?
Well essentially, it's got pretty good GPS performance, on par with most other watches in the market. There are virtually no major errors, and only a handful of minor errors lasting mere seconds and with minimal impact to overall GPS accuracy. In some of those situations, multi-band GPS would outperform it slightly, though, not all. There are far more cases where the differences were negligible one way or the other between them. That might change down the road with improvements on those higher-end units, whereas the GPS accuracy you see today for Instinct will likely remain the same, since I suspect Garmin will shift to the other multi-band GPS chipset for more watches in the future.
In terms of elevation accuracy – things are generally good/stable here, though sometimes minor drift can be a problem in changing weather conditions. I could mitigate that by manually calibrating if I had known values to go off of.
(Note: All of the charts in these accuracy sections were created using the DCR Analyzer tool.  It allows you to compare power meters/trainers, heart rate, cadence, speed/pace, GPS tracks, and plenty more. You can use it as well for your own gadget comparisons, more details here.)
Heart Rate Accuracy: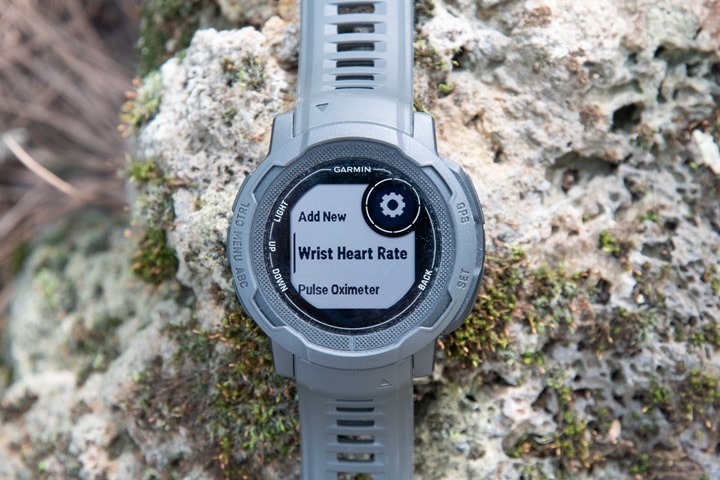 Before we move on to the test results, note that optical HR sensor accuracy is rather varied from individual to individual.  Aspects such as skin color, hair density, and position can impact accuracy.  Position and how the band is worn, are *the most important* pieces.  A unit with an optical HR sensor should be snug.  It doesn't need to leave marks, but you shouldn't be able to slide a finger under the band (at least during workouts).  You can wear it a tiny bit looser the rest of the day.
As such, I've tested all three Instinct series sizes in my workouts.  These workouts include a wide variety of intensities and conditions, making them great for accuracy testing.  Swims, bikes, runs, hikes, indoor workouts, and more.
Meanwhile, for HR accuracy testing I'm typically wearing a chest strap (either the Polar H10 or the Garmin HRM-PRO), as well as another optical HR sensor watch on the bicep (mostly the Polar Verity Sense, as well as the Whoop 4.0 band). Note that the numbers you see in the upper right corner of the charts below are *not* the averages, but rather just the exact point my mouse is sitting over.  Note all this data is analyzed using the DCR Analyzer, details here.
Like with GPS, we'll start easy here, and then build difficulty. This first set is a relatively steady-state effort, so in theory, it should be pretty easy. And indeed, it was – with all the units virtually identical to the reference chest straps and even the Whoop 4.0. There were two minor bobbles from one of the Instinct 2 units where it struggled for a few seconds each, but that's it.

Next, here's an indoor cycling workout. These are actually 30×30 intervals (meaning, 30 seconds hard, 30 seconds easy), though the chunks are long enough it just looks like one painful interval. Either way, there's no reason to dive into this set in any more detail – it's perfect and essentially flawless. It tracks spot-on compared to the chest strap.

Here's another indoor cycling workout, this one with longer intervals. While we see some weird wobbles at the beginning as I warm-up, perhaps due to wrist movement or something, it settles out as I get into the workout, virtually perfect from that point forward, save one tiny couple-second spike.

Now, if we get a bit more complicated – we've got this 5-hour hike. Essentially this can be divided up into going up, and going down. I've highlighted the going-up sections in yellow. And what we see there is that it's basically spot on (ignore the one green blip in that last section, I was trying to take a photo off-wrist). The sections going down weren't 'bad', they were just fuzzier because the HR is lower (only 100bpm or so). Thus, we tend to see more variations there – from both optical HR sensors and straps alike. But point being, any time I was exerting effort, it was spot on.

Next, let's look at that gravel/MTB bike adventure earlier. Remember, this is basically climbing for 4 hours, then descending for one hour. With a short lunch/food break in there before I descended. At a high level you see that things were basically perfectly fine when going up, and were a mess while I descended. This is pretty much the norm for cycling and wrist-based optical HR sensors.

There are two other 'quirky' moments in here. One around the 3hr marker where I had to hike the bike for a while, so the wrist that I was holding up the bike with showed wonky results. And then around the 3hr50min marker you see the line, that's when one of the Instinct 2 units paused after it rebooted/crashed. I didn't catch the pause right away, but it was just as I was stopping for food, hence the line.
If we look at the ascent though, it's reasonably good – with the only differences really being when I'd descend quickly for a short period:

And then looking at the overall descent, it's a mess, as expected:

Finally, switching over to some indoor lifting, I've got a workout from my wife. She was wearing the Instinct 2S Solar, and then a chest strap (HRM-PRO). The first portion of the workout was about 30 minutes on an indoor bike, and then she transitioned mid-way through to weights for the next 45 minutes.

As you can see, the bike portion was virtually identical. Pretty much spot on.
If we zoom into just the weights and core portion, you'll notice that it's a bit more jagged. Frankly, that's to be expected. However, you'll notice that the units are actually fairly similar – just with a few seconds of lag on the Instinct.

As with the GPS data sets, I've got plenty of data sets from these watches – but rather than repeat the same things over and over again, they all look basically like this.
Which is to say they're largely pretty good. This is the same exact sensor as the Garmin Fenix 7 or Epix series (which is the Garmin ELEVATE V4 optical HR sensor). That sensor tends to do pretty well under higher intensity exercises, in running, cycling, and even strength training. It does tend to struggle a bit down in scenarios where significant pressure is placed on the wrist without a corresponding higher intensity heart rate (such as descending cycling).
I haven't seen any huge large-scale inaccuracies or large timeframe inaccuracies though outside of those known 'problem areas' for optical HR sensors. Even in virtually all my running and intervals (including outside in the cold), it tracked just fine.
Instinct vs Fenix Comparison:
So about now you're trying to figure out how these two watches differ. And don't worry, I've got you covered. I've got a second post that's somehow almost as long as this one, detailing all those differences and similarities between the two models.
Now you've got two options – you can either watch the video above, or, you can head over to the detailed Fenix 7 (and also Fenix 6) vs Instinct 2 comparison post, which covers much of the same pieces, except with a lot more words and in some cases a bit more detail. Whereas in the video I show more of them side by side in…well…video format.
Wrap-Up: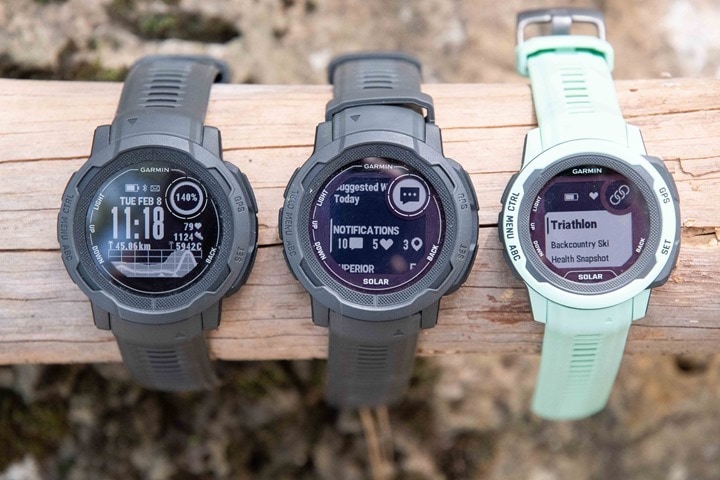 In doing this for the last dozen years or so, I don't think there's ever been a product I've reviewed that's added as many features from the last iteration to it as the Instinct 2 series. All while still somehow looking virtually identical externally to the last unit. On one hand, it's arguably the pinnacle example of how methodical Garmin is with their software features and product plans. After all, not a single feature on the Instinct 2 series is "new" to Garmin. All of them have debuted on other Garmin watches, largely within the last three years. But it's Garmin doing what Garmin does best: Incrementally taking higher-end software features and rolling them down to less expensive models a few years later.
In terms of the execution of that, the Instinct 2 series does that well. It's obviously not the most full-featured watch Garmin makes (for either sport/performance, or hiking/outdoors/etc usage), but in terms features for both camps of people, for the money, it's actually the most capable device they make. Nothing in Garmin's realm comes close to this many features at $349, unless you find a Drunk February Black Friday sale again of the Fenix 6 Series (which, you won't).
And the effectiveness of the updated solar panel with lower battery consumption means that there's a very strong chance that certain groups of people will indeed be able to have forever power for likely months at a time in the summer. It's not hard if you're spending even just a few hours outdoors in sunny summer conditions.
Now, I will say I've had my fair share of Instinct 2 series crashes over the last few weeks (across three different devices), roughly one per day, with the recent being Sunday during a ride. In no cases was there data loss, but in all cases it did restart my watch – kinda like a brief commercial break. However, that's actually not been my biggest problems. Instead, it's been numerous other issues like courses ghost-loading (basically being empty), or elevation profiles not loading, losing half my power data from one watch (yet the other Instinct recorded just fine), 1,500w random FTP values, phone-based config being finicky at best, and other unexplainable things. To Garmin's credit, as fast as I'm finding issues, Garmin seems to be issuing new firmware versions with fixes. But as I sit here typing this up, there's no more days left till launch. These devices are available as of this post going live, with the firmware I'm using. And all those issues are just the last three day's worth. It's not a smooth experience. My guess/hope based on how things have improved recently, is they're probably still 2-4 weeks worth of dev time until things are stable.
Assuming though they can sort out these issues quickly, it's frankly hard to beat this device in terms of features and price. As I said above, there's absolutely nothing on the market even close to it at $349, Garmin or otherwise.
Found This Post Useful? Support The Site!
Hopefully you found this review useful. At the end of the day, I'm an athlete just like you looking for the most detail possible on a new purchase – so my review is written from the standpoint of how I used the device. The reviews generally take a lot of hours to put together, so it's a fair bit of work (and labor of love). As you probably noticed by looking below, I also take time to answer all the questions posted in the comments – and there's quite a bit of detail in there as well.
If you're shopping for the Garmin Instinct 2 or any other accessory items, please consider using the affiliate links below! As an Amazon Associate I earn from qualifying purchases. It doesn't cost you anything extra, but your purchases help support this website a lot. Even more, if you use Backcountry.com or Competitive Cyclist with coupon code DCRAINMAKER, first time users save 15% on applicable products!
Here's a few other variants or sibling products that are worth considering:
And finally, here's a handy list of accessories that work well with this unit (and some that I showed in the review). Given the unit pairs with ANT+ & Bluetooth Smart sensors, you can use just about anything though.
And of course – you can always sign-up to be a DCR Supporter! That gets you an ad-free DCR, access to the DCR Quarantine Corner video series packed with behind the scenes tidbits...and it also makes you awesome. And being awesome is what it's all about!
Thanks for reading! And as always, feel free to post comments or questions in the comments section below, I'll be happy to try and answer them as quickly as possible. And lastly, if you felt this review was useful – I always appreciate feedback in the comments below. Thanks!