It's been a little while since I've done a 5 Random Things post. Largely because with everything in the world, there hasn't been a ton of non-tech things to do/show, except riding our bikes in circles every weekend around Amsterdam. Which, I suppose is what this one is as well. But hey, I'm optimistic this series will begin a slow return to its normal self over the next while.
Plus, a bunch of you have asked for a recap on my Tenerife cycling/hiking/adventure trip after seeing everything on Instagram, so I need to do that too.
1) Zwift & More Zwift
For the most part, I vary my weekly allotted training time between Zwift, TrainerRoad, and Peloton. With occasional meanderings to other platforms here and there. Sometimes though, as situations would have it, I ended up just doing a number of back-to-back workouts on a given platform. This was one of those weekends.
Friday I did a structured workout on Zwift. I would have probably done this on TrainerRoad, but alas, my iPad was elsewhere, and I didn't feel like occupying my laptop. So, Apple TV it was:
I was testing an odd slate of other things. Those will become apparent in short course. Some hardware, some software. The hardware worked well, the software was a proper fail. Or at least, my understanding of it was a fail. I'm now in the midst of slow-lobs back and forth with the company trying to make sense of a feature that has virtually no purpose in life as implemented today. It had tremendous purpose if it was implemented how they had marketed it, but once I tested it, I realized it was but a shell of its marketed sell. And entirely useless.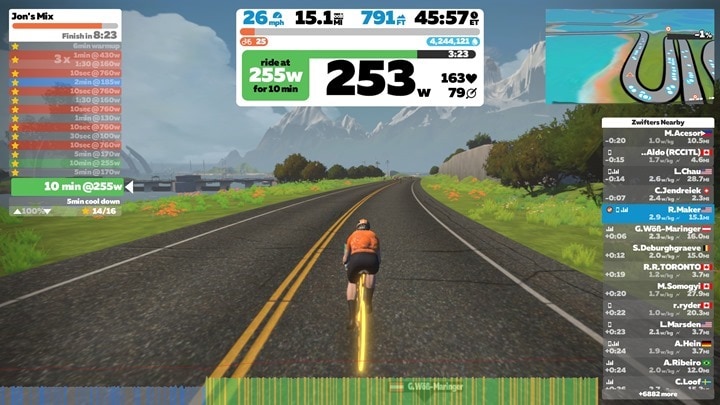 In any case, at least it was a good workout! Sometimes I get frustrated mid-workout when things I'm testing are clearly failing, because it usually means that workout was a waste of time (versus doing something else). But in this case, I couldn't see the failure till afterwards, so…a fool's paradise I suppose.
2) Farm Land Bicycle Gangs
The weather has been acceptable around these parts lately. A year ago this time we were packed with ice and snow. First snow, then a lot of ice, and then more snow. This year, the flowers are already blooming, and trees doing the 'getting green' thing. It's kinda insane.
So given the lack of sideways rain and such this past weekend, we had some fun with the kids out in the farm lands. Which, is basically like at the end of our street. But hey, how quickly Amsterdam turns from city to farms.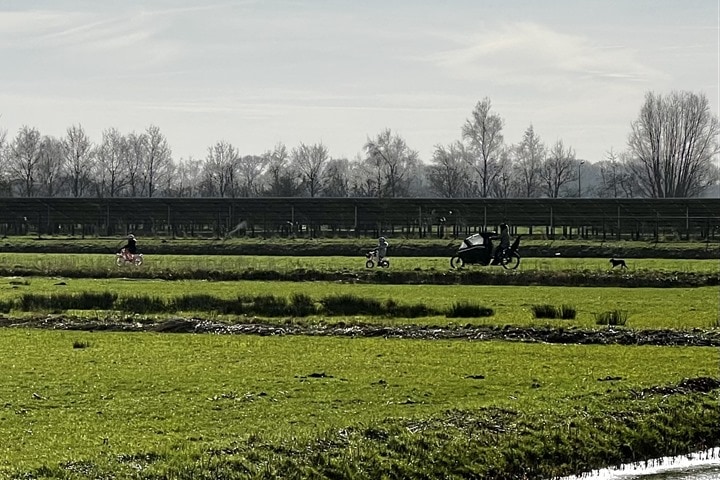 Our two oldest peanuts (P1 is 5yo, and P2 is 4yo) bike everywhere these days. School, around the city, around the farms, etc… P2 already needs a new bigger bike. That kid puts out like 120rpm cadence trying to keep up with her little bike/legs. Meanwhile, P3 (who is 2yo), does her best to mimic the others. She's best on the trike, but once she saw her older sisters take out their two-wheeled bikes, there was no option in her mind for a third wheel on this journey.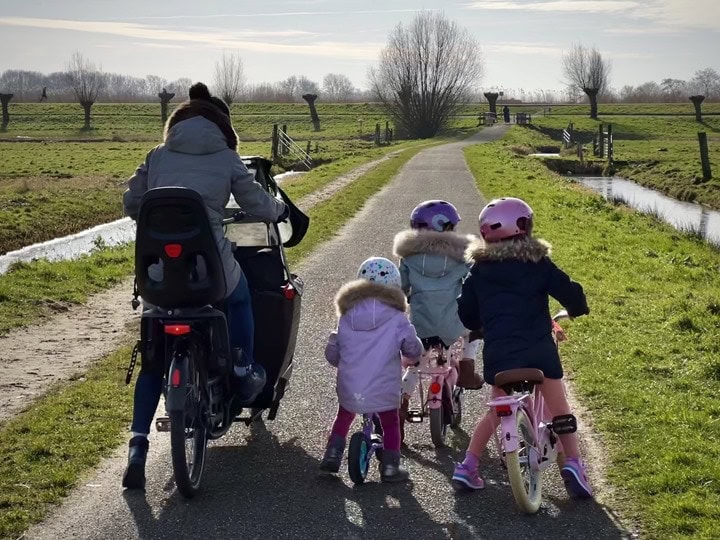 We had some fun on the boat-bridge thing. Basically, you pull yourself across using the cable. The older girls have fun going back and forth on it, with me ready to go for a swim if I have to (though, their very regulated Dutch swim lessons teach the kids early on how to get themselves to safety if they fall in a canal with their full winter coats/gear on). Plus, the wide-angle lens looks far further away than they actually are.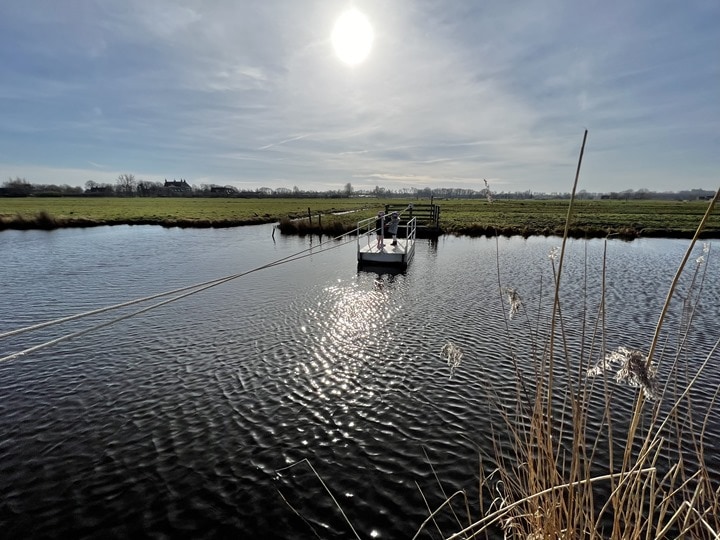 There were oddly no cows in the fields today out there. I don't know where they were. But none were to be had. Which is probably for the best, as our kids for sure would have wanted to trounce through the muddy fields to say hi.
3) Garmin Firmware Update Tweak
While testing the Instinct 2, I noticed a curious change to the behavior of firmware updates – which is that the unit was prompting me mid-morning (e.g. usually around 10AM, about an hour after I got deep into e-mails/etc at the office sitting at my desk), rather than doing it overnight during sleep as it had been in the past.
I asked Garmin if I was seeing things, and they confirmed that no, not in this case. This was actually a change they've recently made for Instinct 2/2S, Fenix 7/Epix G2, and as of today (Feb 14th), also the Fenix 6 series.
In short, the update will transfer in the background like it always has, except now, it'll ask you immediately if you want to update, or update later. If you choose later, it'll find a time when you're sitting around doing nothing (based on actual activity), and then ask you to install it. If you don't respond, it'll give you a 30-second countdown and then begin the update. The reason why this makes the weekend cut is that I actually watched it happen in real-time on Saturday. Though, I had been sitting down doing nothing when it first prompted, and then got my coat on to head out: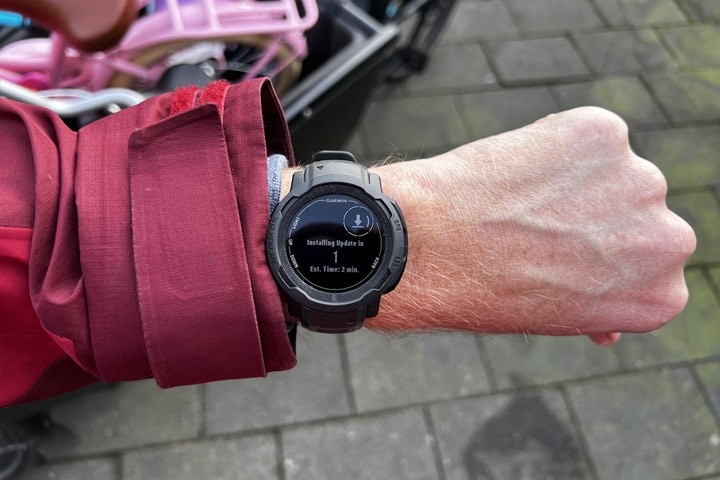 The update took about 2-3 minutes as usual to complete.
I suspect the reason why they might do this during the day now, is that it lessens the chance of a notification-bomb at 2AM from your phone, if your phone/device were having any previous connectivity issues. In theory, if you've configured do-not-disturb it wouldn't occur (and I've never had it happen to me during the night because I have that auto-configured). But I have seen cases where after a device reboot (from numerous vendors) it'll enumerate dozens of older notifications. This would mitigate that.
4) Toying Around with Solar & Lighting
The whole concept of how much energy can be gathered from solar for wearables' sake is interesting. Obviously, none of that is new in Garmin's (or Casio's) worlds, however, the return on that solar energy and the efficiency of the platforms continues to evolve. In the case of Casio, they've had forever power on solar for some time. However, that's largely limited to non-GPS activities and very basic watch functions. Once you turn on GPS, it blows through that power super quickly.
(One-second background: Garmin's solar tech has two panels on watches today, one that usually sits around the edge of the watch that's thin but visible and captures far 10x more energy than the secondary panel that sits invisibly above the entire display surface, but doesn't capture as much despite having a huge surface area.)
In the case of Garmin's Fenix 6 solar units, the solar wasn't super useful in most contexts. It just didn't gather enough juice. However, the Fenix 7 improved that in some scenarios. Meanwhile, the Instinct 1 solar was actually pretty solid in solar power, and you could unlock 'forever power' with enough summer sun, and less GPS usage. In fact, you can even charge an Instinct watch from dead by leaving it in the sun (you can do the same on a Fenix 6, it just takes forever). And then of course, the newer Instinct 2 doubles down on those forever power claims even further.
Point of all that being all of Garmin's claims around solar power are based on a threshold of 3-hours of 50,000 (50K) lux conditions per day. In the summer, that's trivial, where you can easily clear 100K lux on a sunny day. In the winter though? That's tougher – but certainly not at all impossible. For example, on Friday with thin/high clouds, I was clearing 60K lux conditions:
I'm about to head out on a ride now, with zero clouds. I'm curious to see what I get out of it lux-wise. Of course, in these conditions you have to be more particular about the angle of the watch (or light meter). Versus you can seemingly get away with a broader view of the sky in the summer in brighter conditions.
Anyways, point being, it'll be interesting to see where Garmin takes this. We're now on a newer generation of solar panels from them for the Fenix 7/Instinct 2 lineup, and an increased edge on the Fenix 7 series to increase how much they can capture.
5) SHIFT with Zwift & Peloton
A bit over a year ago I wrote about the SHIFT accessory for a Peloton Bike. It turns your Peloton Bike into a smart trainer, automatically controlling the resistance using the knob, while transmitting out on Bluetooth Smart FTMS, so apps like Zwift can control it automatically. It didn't end up reaching its Kickstarter goal, though it has gone on to get funding elsewhere. I've been poking at a prototype for a few months now, and did a quick mention of how it works up on Instagram stories last night (with some video if you want to see it in action). In short, you place this atop the red resistance knob, and then it'll automatically rotate the knob to simulate incline.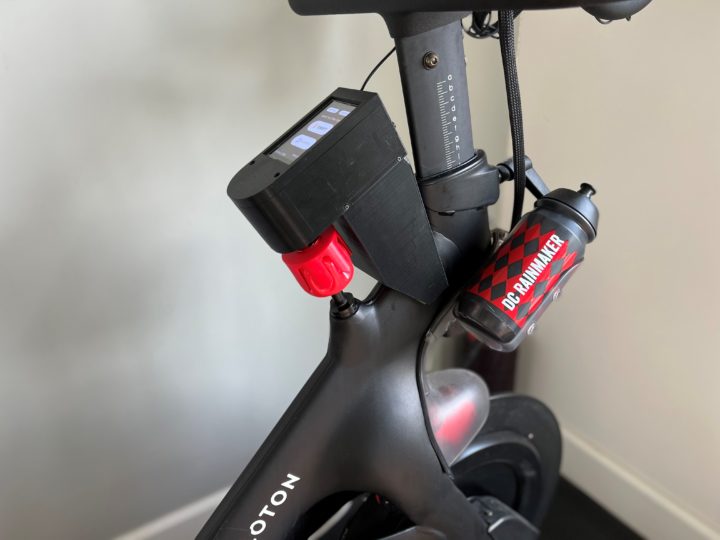 (Also, sorry some of these are fuzzy cell-phone pics in a dark room, I re-took a few the next day to make them prettier during daylight, but not my action ones, because obviously, those contain the action.)
It works quite well in that respect, with response time pretty darn quick. Of course, you then still need to "shift" to adjust virtual gears, so for that there's a touchscreen on the device.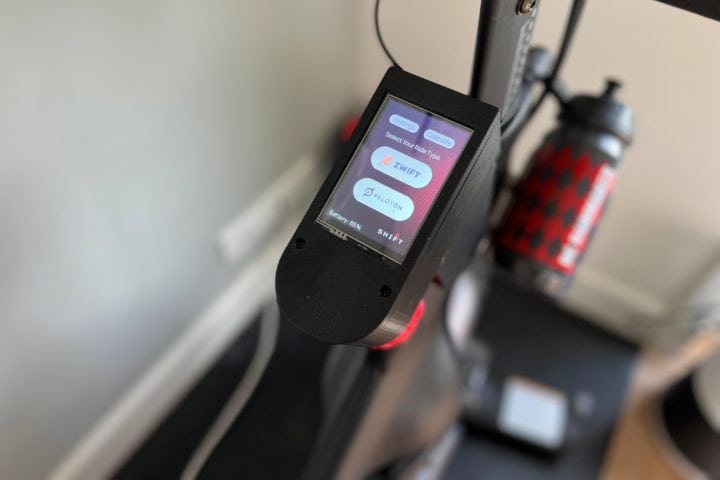 That also works reasonably well – not all that different than what some smart bikes too, except just not on your handlebars. Perhaps they can hook-up with Kommander and use those shifting buttons to make shifting quick and easy.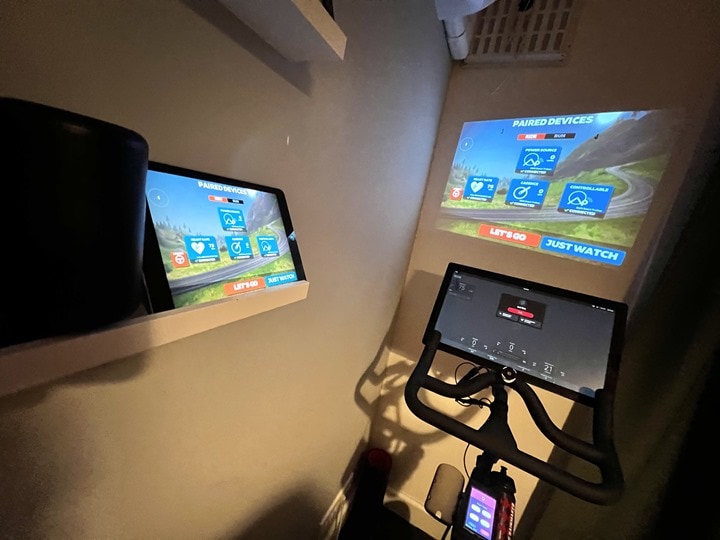 Also, because I was feeling frisky last night, I had the brilliant idea of repurposing a small projector to broadcast Zwift above the Peloton Bike on the wall in front of me. Obviously, countless people use Zwift and projectors. Normally I have large TV screens for Zwift, but the Peloton Bike is wedged into the corner of our bedroom, and there's no TV screen in there.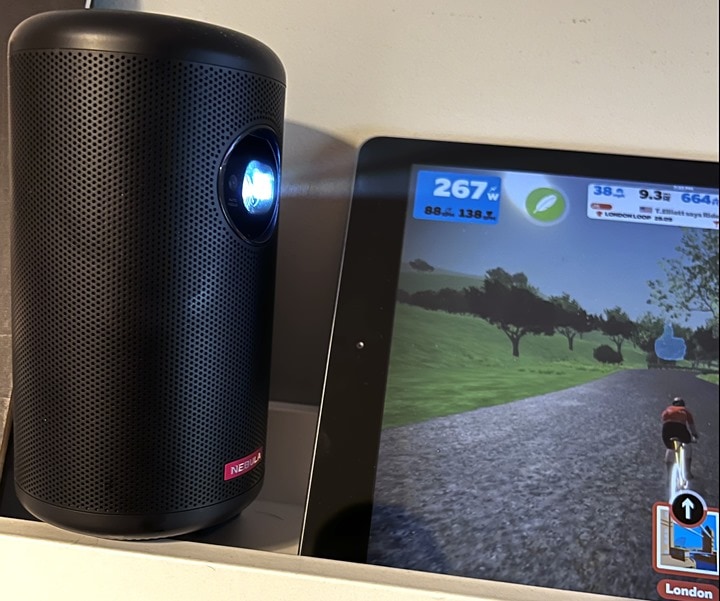 This worked well enough. It was simply paired up to the iPad there, so rather than me having that draped atop the Peloton Bike, I got a bigger screen out of it.
As far as a review of SHIFT goes, it sounds like there's still some moderately significant changes being made around form factor. So I'll wait till that's all done for a more final product. But in terms of where they are today technically, it works well for me.  Note that it also works in Peloton's Power Zone mode as well, which I've also used. In that scenario, you set up your zones on the unit, and then it'll hit the targets for each zone automatically. Thus, it's like true ERG-mode, something that Peloton is missing on both their Bike & Bike+ (since they don't allow Resistance Auto-Follow on the Bike+ within Power Zone Training, for reasons that don't really make sense).
—
In any case, it's time for my ride before this sun disappears. Out I go, and thanks for reading!