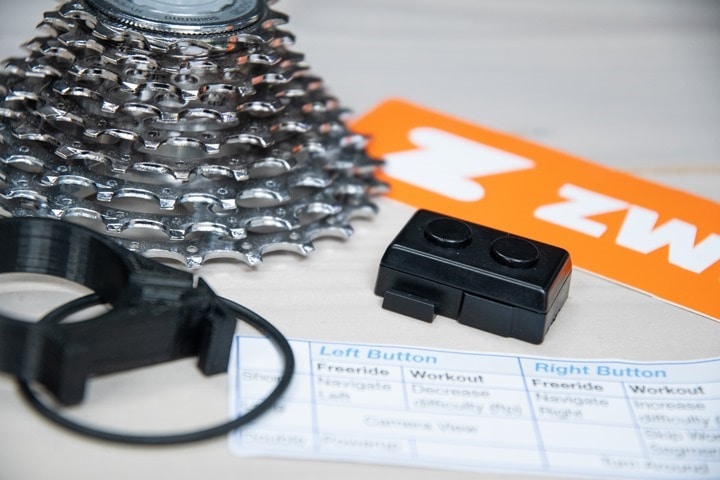 Looking for a way to control Zwift from your handlebars with dedicated clickable buttons for using PowerUps, navigation, and changing camera views? Or perhaps increasing intensity during a structured workout? The new Kommander buttons aim to solve exactly that. The buttons let you control a variety of Zwift functions in a fully waterproof pod that's designed for your handlebars. In addition to its Zwift integration, it can also act as dedicated buttons for your bike computer. For example, on a Garmin Edge bike computer it can emulate shifter buttons, allowing you to change data pages, or record laps (among other options).
However, perhaps even more notable is that it's designed for tinkerers to expand and tweak over time. Inversely though, at present, it's only compatible with Windows or Mac, due to limitations in how Zwift handles 3rd party keyboards on their mobile platforms (read: they don't).
About now you're probably wondering what company is making these, and that'd be Titan Labs. Who the heck is Titan Labs? That's a company founded by Keith Wakeham, and for those in sports tech circles, you'll likely immediately recognize the name. He's known for creating his own power meter, before going to work for 4iiii and being the lead engineer on their power meters. From there, he went to one of the major component/group set manufacturers to work on wireless aspects of their product range. He's also well known for these videos dissecting in crazy engineering detail how other products in the cycling industry work.
In any case, simply hit play below to dive into all the fun on how this works:
Note that I was sent a media loaner set out ahead of time to test out over the last two months, but I've since purchased them at regular retail price.
The Hardware:
The hardware is relatively simple. First, you've got the buttons, which include a small LED light on them, and are powered using a CR1632 coin cell battery, with a claimed battery life of 1000 hours. The pod transmits both ANT+ & Bluetooth, albeit in very different ways. You can see the pod below, along with the different mounting options.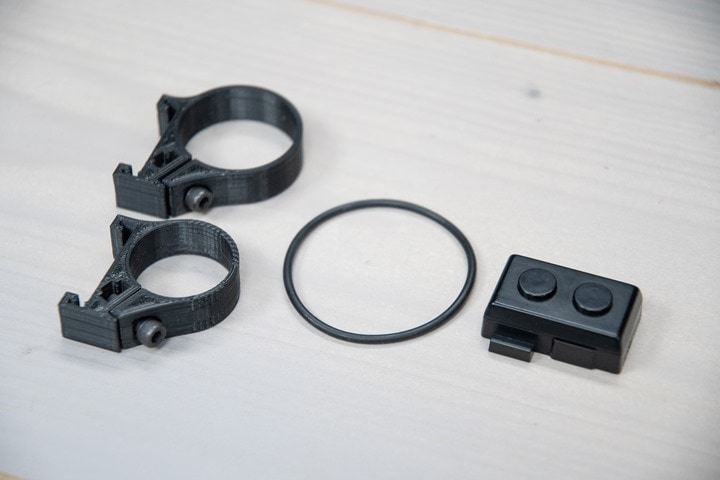 Above you'll find rubber band style mount, which is what I used, as well as a hardened permanent-style mount. In my case, for both of my bike setups at home and office, I used the rubber band style mounts. I also used it out on the road without any issues in that configuration.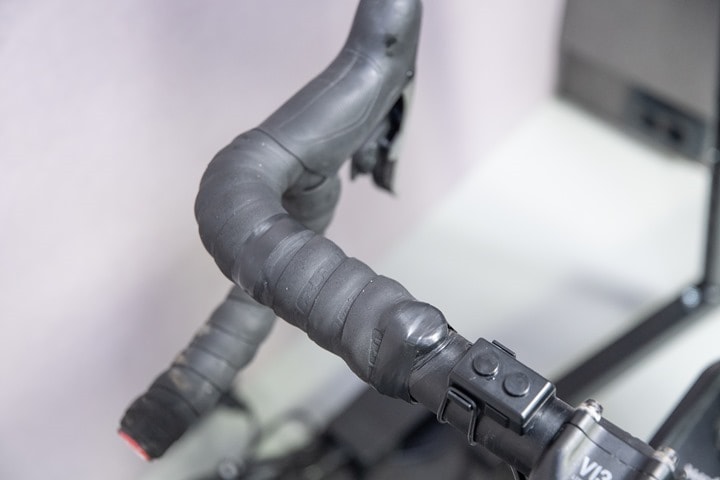 While the pods might look a bit less refined than an Apple product, Titan Labs says they're waterproofed quite substantially. Upon asking, they sent over piles of pictures of their waterproof testing rig and the benchmarks they achieved. That includes testing the buttons at an equivalent of 5 meters of water depth for up to 10 minutes. Frankly, if you've got yourself in that underwater pickle – I suspect Zwift is the least of your issues.
And while I could have used my fancy waterproof test chamber to validate it, that'd require a bunch of setup work since it's been a while since I've used it. So, I just did the next best thing: I threw it into a giant beer mug for a while, then I pressed a bunch of buttons while it was underwater, with a screwdriver.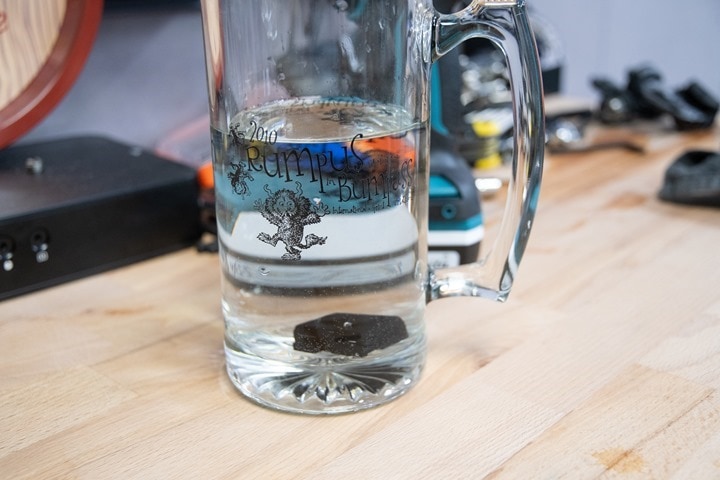 It's still alive. Note that officially it's just spec'd at IPX7 (1 meter deep for 30 minutes), and with a temp range of –10° to 50°c.
Now on the side of the hardware you'll see two little contacts. This is for future extension, such as connecting additional accessories. Keith says that their goal here though is to allow people to extend it themselves if they want, and use it as a baseline platform. Their website includes beta bits and details on how to go beyond the baseline bits if they want to.
So while I do have some of the extension hardware, it's not yet enabled at this point.
Pairing:
Now as mentioned earlier on, there's effectively two modes for the Kommander:
Mode 1: Zwift control, as a Bluetooth keyboard
Mode 2: ANT+ Remote Control, for bike computers
These two modes don't work concurrently. When you first power it on, it assumes you're inside and broadcasts itself as a standard Bluetooth keyboard (officially per the spec called a HID – Human Interface Device). That means you'll see it show up on your Bluetooth settings on a Mac or PC. Again, technically Apple TV and iOS does support this, but Zwift itself doesn't support the Bluetooth HID devices.
So for this first Zwift mode, you'll simply go into your Bluetooth devices on Mac or PC, and pair it up just like you'd pair up a new Bluetooth keyboard, mouse, headphones, or whatever else it is that you pair. You can see it below, listed as 'SKommander', and showing as connected: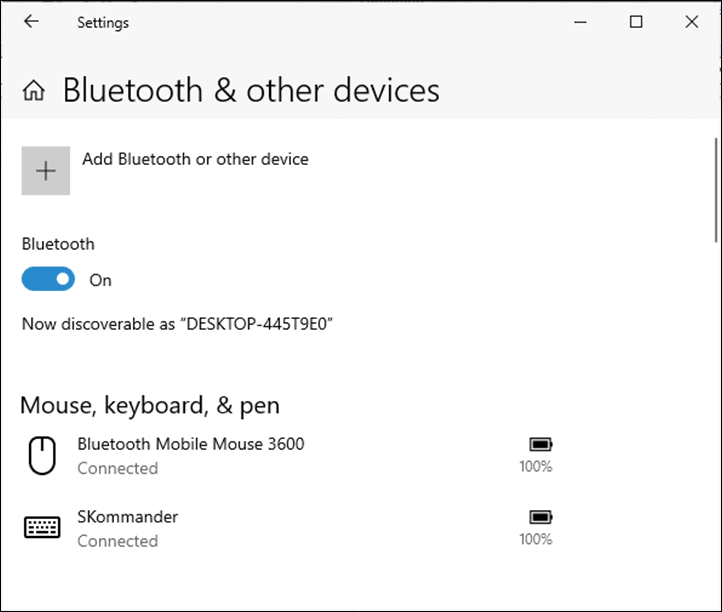 And with that, we're literally done. You can now open up Zwift and start using it. It's that simple.
Note that once it detects its Bluetooth pairing friend (your computer), it shuts off the ANT+ side until it loses the pairing. The two sides don't run concurrently. On the side of the unit is a small LED, that shows you which mode it's in. One blue LED flash means Bluetooth Smart mode, and three red flashes means ANT+ mode. I gave up on trying to capture a photo of it, it's super quick.
Ok, let's start using it.
Zwift Usage: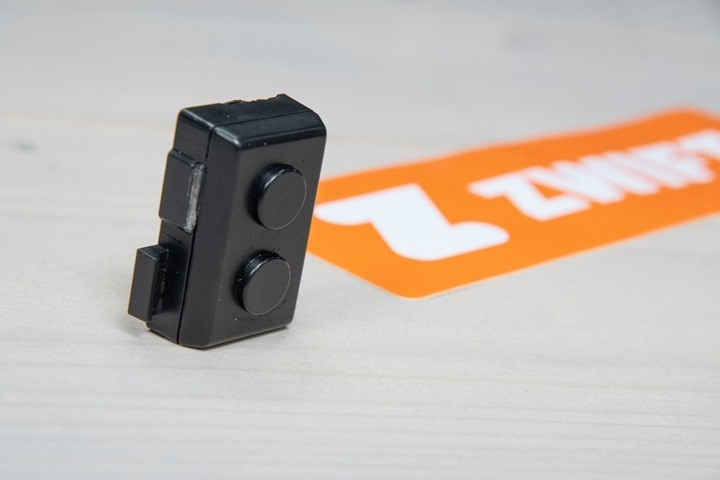 Once you're in Zwift, the buttons will vary based on what mode you're in. So in free-riding or racing/group riding mode, it's got one set of commands, while in structured workout/training mode it's got another set of commands. In reality, it actually doesn't know what mode you're in. Instead, it just so happens those keyboard commands overlap.
Here's how these commands play out in Zwift:

So basically, you've got the following overall commands:
Freeride: Navigate left, navigate right, change camera view, utilize a Powerup, turnaround
Event Mode: Change camera view, utilize a powerup
Workout mode: Increase & decrease intensity, skip workout segment, change camera view, turnaround
Now while these are the pre-programmed options, Titan Labs plans to release a smartphone app to allow you to customize these to other functions. Thus, you'll be able to change to any Zwift command that's supported via keyboard (here's a complete list of possibilities).
That's because behind the scenes, the Kommander is just issuing keyboard commands. It's literally just a miniature keyboard on your handlebars. So, quick geeks' aside, here's what's actually being issued:

To put this in real-world use, you can watch the video above, or, you can see the non-exciting screenshots below. For example, last weekend I did a structured workout. I changed all the camera views via Kommander. But more notably, you can see me tweaking the power intensity here in this screenshot. Sure, you could do this via the smartphone app, but in my case I tweaked it via Kommander: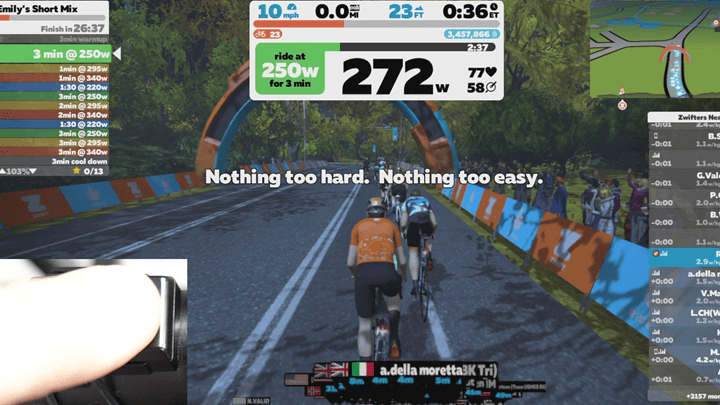 And the same is true for using powerups and navigation:
In terms of responsiveness, it's pretty darn quick. Under a second in most cases. It's far faster than any interaction with your phone or keyboard would be, merely because I never have to move my hands off the handlebars. And of course, you can place the buttons anywhere you want using the rubber band mount. For my purposes for the video I placed them closer so it's more visible to the camera. But you can put them anywhere:
For me personally, most of these default/stock commands align with what I'd use daily. Though, I'd love to be able to customize to give Ride-On's or even taking a screenshot. I actually rarely navigate in Zwift (since I'm choosing my route ahead of time), so taking a screenshot is more valuable than turning around. But that'll all come with the planned Kommander smartphone app for customizing it.
The company says they're about two weeks away from releasing a beta version of that for people to try, and about a month until they're in the app stores (iOS/Android) officially. But, you can see some early screenshots below from there:
As part of that, you'll be able to enable Zwift steering using the buttons, similar to how it works today with the Elite Sterzo Smart. That's not yet enabled for me, so it's not something I can test at this time.
Bike Computer Mode:
In addition to the Zwift control mode, they've also got the ability to emulate Di2 buttons. So, you can control various bike computers with that. For example, you can use it outdoors with a Garmin Edge, Wahoo ELEMNT series, or Hammerhead Karoo units. That allows you to set up three actions for each button, ranging from changing data pages (such as a hotkey to the map), to creating a lap, or stopping/starting. Ideally you'd put this on your handlebars or TT bars in a place that doesn't require you to move your hands.
To pair that up, you'll simply go into the pairing menu and search for sensors, then when it finds the Di2 sensor, add it: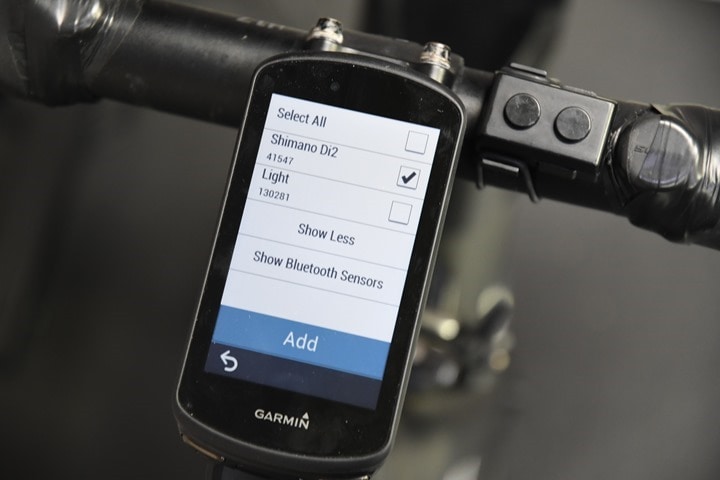 After that, it'll ask if you want to add Di2 data pages. You'll say no to that, since that'd add gearing-related info. Following that though, it'll ask if you want to setup Di2 buttons, to which we say definitely.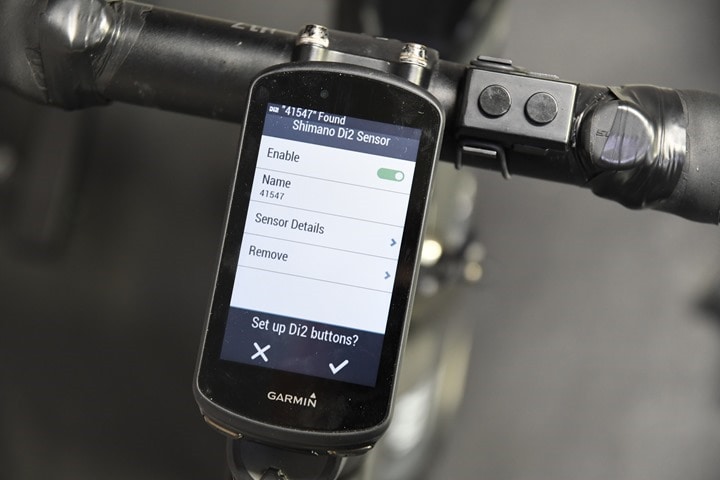 Next, you'll see a page showing four sets of buttons to configure. However, only the first two sets are enabled. The secondary two sets are for the extension ports down the road.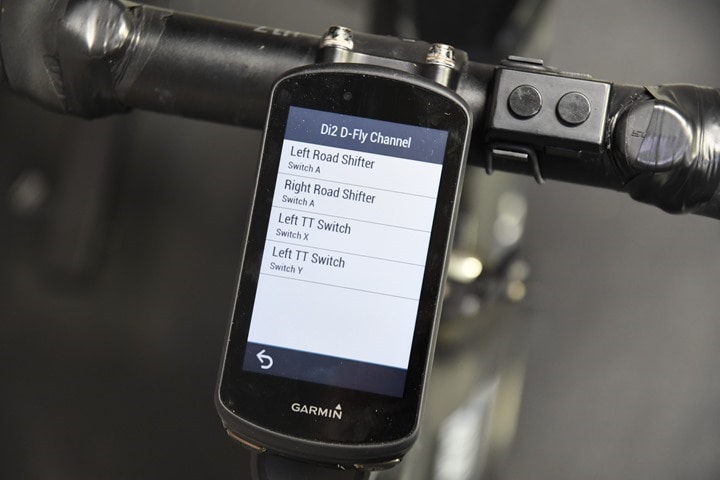 For each button we can choose a custom action from the menu. So you can see here that I've started with setting a single press to be marking a lap.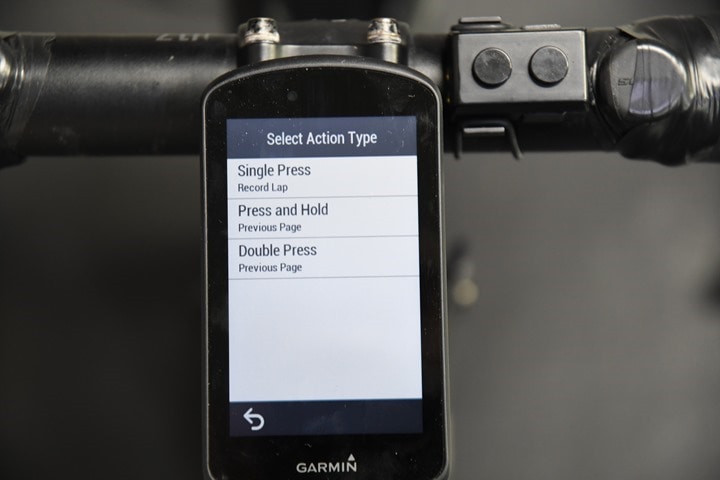 But there's tons of customizable options as seen below, including also toggling connected lights as well.
Once that's all done, you simply press the button once for one action, twice for a different action, and long hold for the third action. I demonstrate all of this in the video up above (you can use the YouTube chapters along the bottom of the video to skip to the right section).
Wrap-Up:
At first glance, I'd assume the Kommander is a bit of a niche product – at least at current pricing. But then again, maybe not. After all, most Zwifters will use these commands during every single Zwift session, and thus, that's probably more than could be said for other Zwift accessories (like steering), which are limited to certain events (if outside free mode). Right now it's priced at $87USD ($109 Canadian is the list), though, they're offering a 20% launch discount to get things rolling (using code EARLYADOPTER). So that brings the price down to $69USD. Shipping is pretty cheap, to me here in the Netherlands it's just $8 – and it ships immediately.
Now in some ways this product demonstrates quite clearly the opportunity Zwift has for instantiating a proper partner integrations department within the company. As of today, that doesn't exist. There isn't a single cohesive dedicated team for working with 3rd parties on how to integrate partner accessories. Certainly, Zwift wants to control that – but there's tremendous potential to having an open API or SDK that partners can leverage. One only need to look at Apple, Garmin, Google, or Strava to see that. All companies that dwarf Zwift in user base numbers, and all companies that have benefited from platform extension.
In fact, without standards and 3rd parties, Zwift wouldn't exist. They rely on 3rd party hardware partners and open standards, and products like this show a glimmer of what's possible using some of those standards (the Bluetooth HID). Still, it also demonstrates the limitations of not really embracing those partners that want to further consumers' usage of Zwift. And subscription revenue is ultimately the goal for them, right?
Beyond Zwift though, what's cool here is that this could quite easily be adopted to TrainerRoad or any other platform, once the Kommander app comes out. That's because by emulating a keyboard, Titan Labs will be able to issue commands to any app. And, if apps wanted better or tighter integration, they could easily work to accomplish that with Titan Labs.
In any case, I like cool gadgets, and this seems to fit the bill. About the only risk I could think of here is that they run out of stock. There's no subscription cost here to deal with, nor any tie to an online service by Titan Labs if they go under. It's just emulating a keyboard, and unless Zwift decides to do away with keyboard support (an impossibility), this product will pretty much keep on ticking.
With that – thanks for reading!