(First Note: This post is meant to compliment the non-sports technology Day 2 overview that The Girl posted a bit earlier here.)
(Secondary Note: Yesterday I took all the questions everyone asked in the comments section of the Garmin Vector post (25+) and got answers to them all.  Additionally I added two new 'how it works' videos I shot with the Vector team in there.  Post here.)
I see no better way to start off the day than doing a Threshold Test.  After all – what's more enjoyable than cycling as hard as you can until you want to die? Oh wait, that's right, doing it while running instead.
Luckily, the CycleOps threshold test I did wasn't too difficult, so things were all good afterwards.
The goal of this test though was to calibrate the new CycleOps PowerCal heart rate strap that's also a power meter system (eventually I'll come up with a more eloquent way that).
After using a set of known values recorded by a power meter from a quick test it aims to give a rough  power meter prediction value – and then re-broadcasts that out power meter value out via ANT+ (so that any other power meter can pick it up). In fact, later in the day I did just this with a different vendor – showing it off.
After the initial test the data is fed through their PowerAgent software and then the calibration value is sent to either the PowerCal HR strap directly – or via the Joule Power Meter.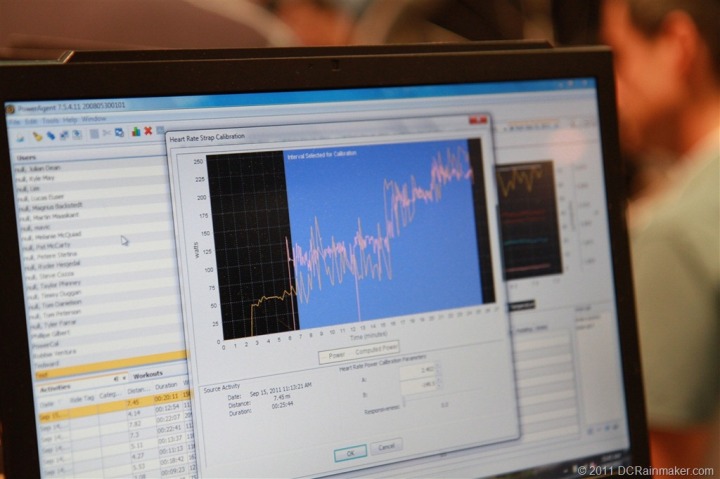 Since they gave me the PowerCal and updated software to take home, I'll be re-doing the test on my triathlon bike (since during the show the bike only had flat pedals) to get it more accurate and then giving my full write-up after a bit of time comparing data metrics between PowerCal and a normal direct force power meter on my bike.
On the way to my next appointment I stumbled onto this booth…and for obvious reasons – I had to take a picture:
Eventually I found my way downstairs to the 'other half' of Interbike.  Of course, finding my way downstairs was really just a matter of going into the wrong door for the restroom.  I feel pretty bad for the vendors down there…very low traffic.  Nonetheless – I made it.
I checked out Scosche myTrek – which is a pulse monitor that doesn't strap around your chest but instead your wrist.  It then transmits via Bluetooth to your mobile phone.  I didn't get a chance to talk to these folks so I'll swing back by Friday and see what they've got to say.
While transiting between the Scosche booth and trying to find the Cerevellum booth I got distracted by these little log bikes.  They're from a Colorado company (Log Bikes) that's taken timber that was infested by pine beetles and repurposed it to kids bikes.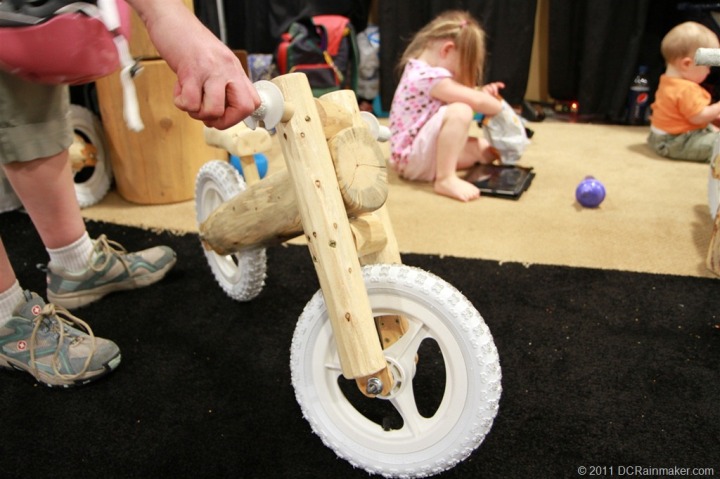 It was funny watching otherwise hardcore mountain bike guys chase around little kids on log bikes.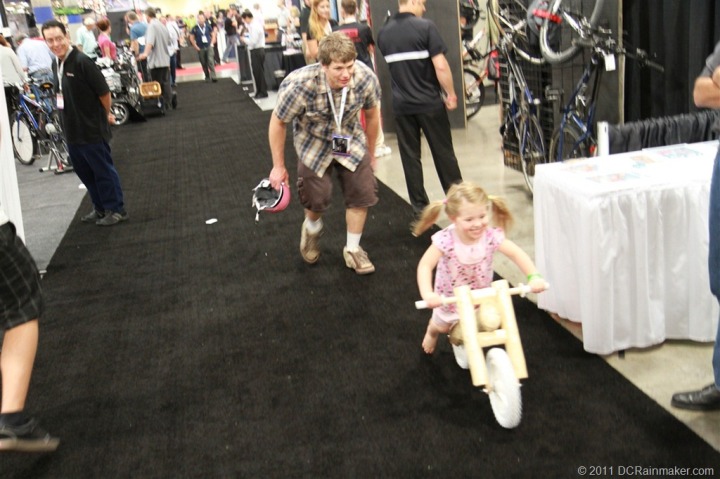 After the wooden bikes I found Cerevellum, which I detailed in this post. I also found two other camera systems, so check out that same post for all the details on the Owl 360 as well as the James Bond style video camera sunglasses.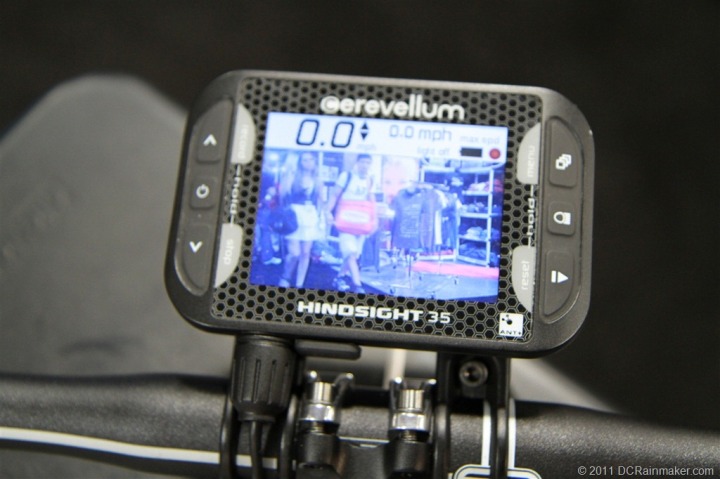 Shortly thereafter I ran across b.There – which aims to take your standard trainer and turn it into an mini-CompuTrainer.  It gives you visual queues to change resistance as you ride known courses with video from recorded events (primarily the Tour de France).  They sell the software, as well as the required ANT+ USB stick and heart rate strap.
After that I found a company that makes bike mounts for phones (Arkon).  They have many different adjustment options and I was hoping that it might work for the Sony Ericsson Xperia Active.  And while it sorta does, the reality is that it would still have an ugly rubber band over the top of the screen as well as having the ginormous mount behind it.  Thus the search continues…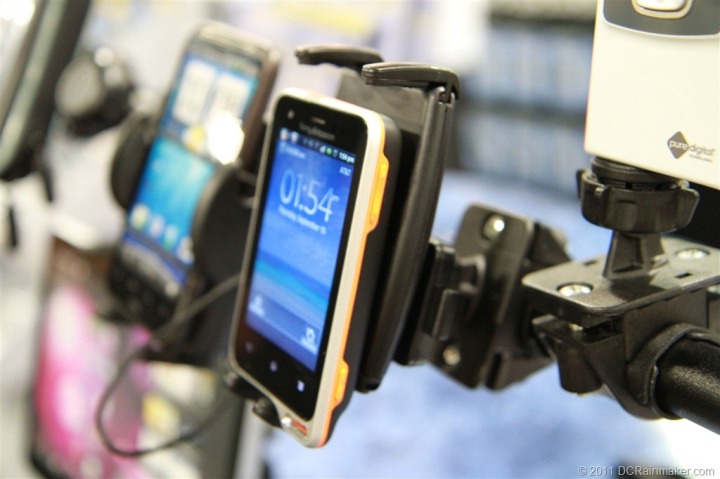 Finally I found the poor Wahoo Fitness guys with their horribly unlucky booth position.  But they made the best of it and purchased a bunch of beer to lure people down there. When life gives you lemons…find a way to get people drunk.
From an interesting news standpoint however, I had a good chat with Chip about plans for a heart rate strap that will allow you to pair to ANT+ devices and then transmit that information back across via Bluetooth to any cell phone.  This is ideal for folks that want to gather information beyond just a standard Bluetooth heart rate strap (such as ANT+ power meters, foot pods, or speed/cadence sensors).  It's also great for phone platforms that may not have ANT+ dongles (i.e. Windows Phone 7, Blackberry, etc…) – as long as it supports Bluetooth, you'd be good.  More detail and hands on reviewing on that in the coming months.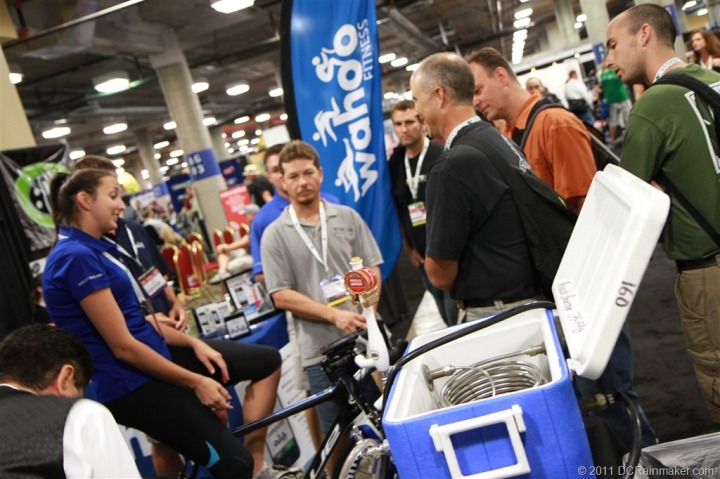 Speaking of booth locations…why on earth is it so darn difficult to find booths at Interbike? They have these whacky numbering schemes where somehow booth 24,000 is next to booth 3,000, which is next to booth 1,524.  Why can't there be a simple numbering system from 1 until done that just goes numerically across the show floor? Oh…nevermind…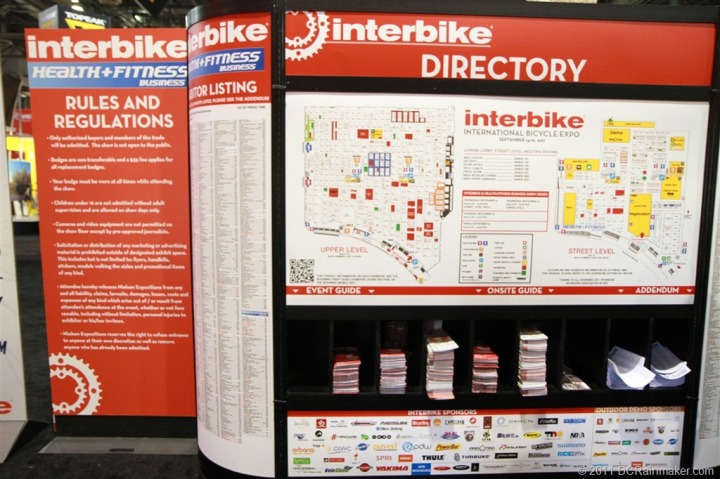 Next up I stumbled into this company that sells roof rack systems for cars.  But what I found interesting is that that logo looks exactly like the Polar logo.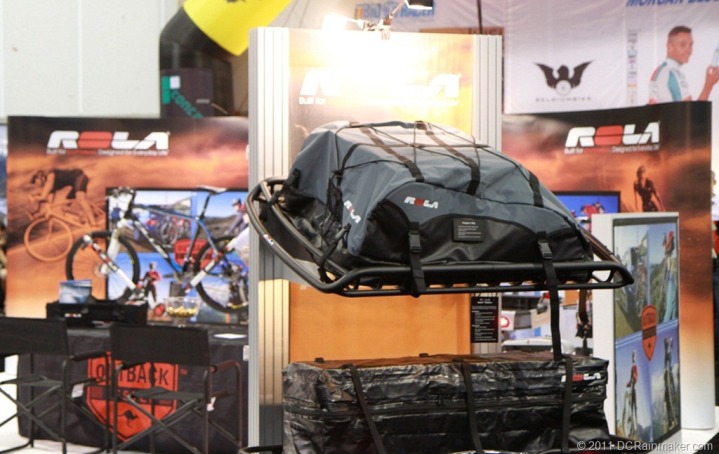 Here's the Polar logo for your consideration.

Yup, that's what I thought…basically same logo, only an 'R' at the end and an extra line to turn the "P" into an "R" at the beginning. Presto…logo magic!
Moving on…
In the event you didn't see the earlier RacerMate post, I also got to chat with the RacerMate folks about their new CompuTrainer RacerMate One Suite software package.  All the details are over here.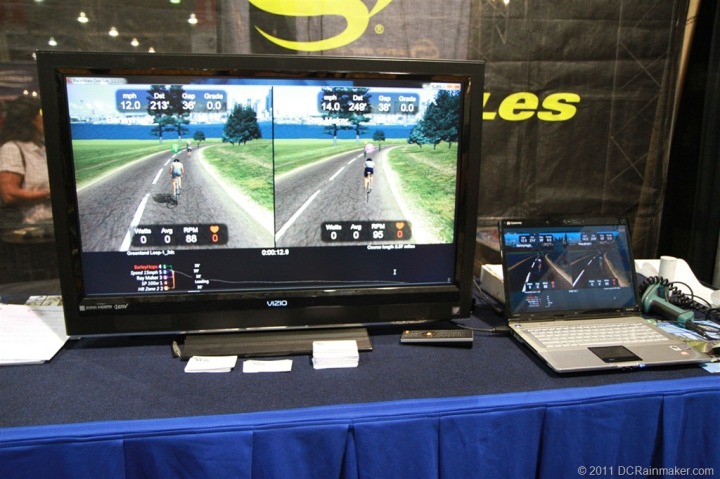 Then I had a chance to sit down with the TrainerRoad guys, who are working on a PC and Mac compatible program which will take your existing trainer and allow you to combine that data with ANT+ data to feed into a computer and get the data on a larger screen with advanced workout design capabilities.  After which it uploads to a community site (and allows you to download standard files to other services).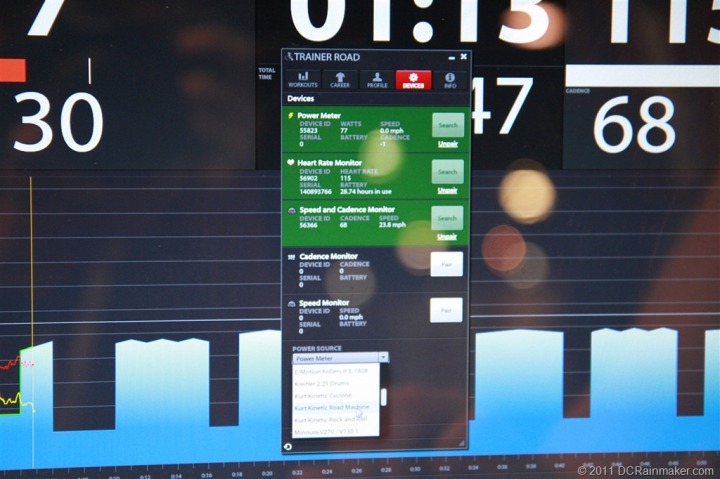 In addition, they're also adding power meter metrics for folks who don't actually have power meters.  By getting the power curve data for certain trainers they're able to predict the power output as you ride by using other ANT+ data (like your speed).
Look for more on this here in the future…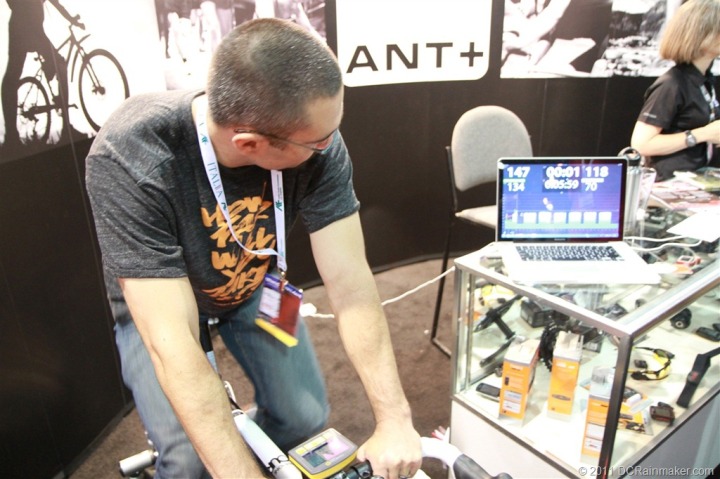 Finally, I finished up my day by spending a whole pile of time with the FOX guys and their intelligent suspension calibration system that works with the Edge 800 (and an Android app via Bluetooth).
I've got two full sets of videos on this showing the entire setup and configuration from start to finish on both the Edge 800 and the Android phone.  I'll be trying to edit and get that posted tomorrow, time permitting.  It's really cool and while I'm not a mountain bike person, the folks that I did talk to about this (bike shop owners, riders, etc…) were extremely excited about this as it allowed them to actually get the calibration right (since it walks you through it in a wizard format) and enable people to correct it on their own at home.
With that, my day was complete. After a few more hours of writing (leaving us sitting in a dark media booth and show floor) I was set to run off to the track and get my mile repeats in.  Fun times in Vegas!
One more packed full day tomorrow, plus lots of posts that I've got to write-up still. So many cool things to talk about – and so much more still coming down the pipe in the near future.
As always, if you've got any questions (or if you just found this useful), feel free to drop a comment below.  Thanks for reading!
—
For the latest Interbike coverage, remember I'll be tweeting nonstop, so you can catch all the latest action there.  And here on the blog you can use this tag to see all the Interbike 2011 posts. Thanks for reading!