Since this is a Friday and I know you're all zapped on Interbike coverage, I'm going to keep it quick and efficient.  I've still got lots of really cool stuff to get out the door, of particular note are the following posts:
1) Everything you ever wanted to know about the Polar/Look Keo Pedal Based Power Meter (essentially the same type of post as the Garmin Vector one I did)

2) An overview of the FOX Intelligent Suspension Configuration system using the Garmin Edge 800 (and a Bluetooth Android App)

3) An overview of the CycleOps PowerCal power-meter heart rate strap

4) The complete posting of the 90-minute Aero+Power seminar (video) that's gotten rave reviews from those that attended.

5) An overview of TrainerRoad trainer software

6) A few more fun posts…such as 'Interbike After Dark', 'How to attract people to your booth', and more…
But for now, let's recap the last day of the show from a sports technology standpoint.
First up was an early morning meeting with the brains behind Look/Polar's Keo power meter.  I sat down with the Look technical team and spent slightly over an hour going through it all.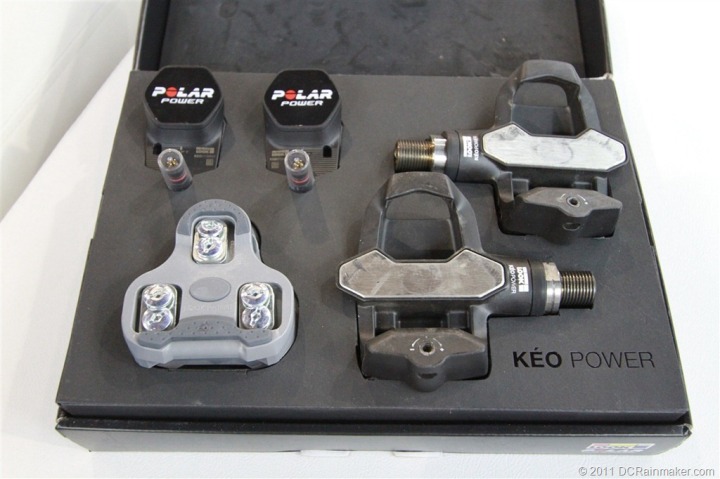 I took all the questions I had originally asked of the Garmin Vector team, plus all your questions/comments back to me on their product – and then re-asked them of the Polar guys.  Good stuff.
Plus, once I get that published you'll get to hear what this magical tool does…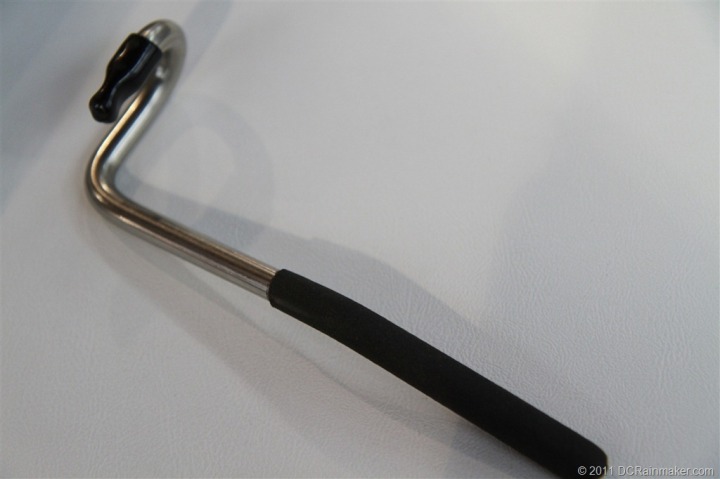 As I was leaving the booth I caught both Jim and Mieke from Quarq giving the Polar/Look power meter a whirl.  I also saw them on Thursday trying out Vector.  Everyone's trying everything out…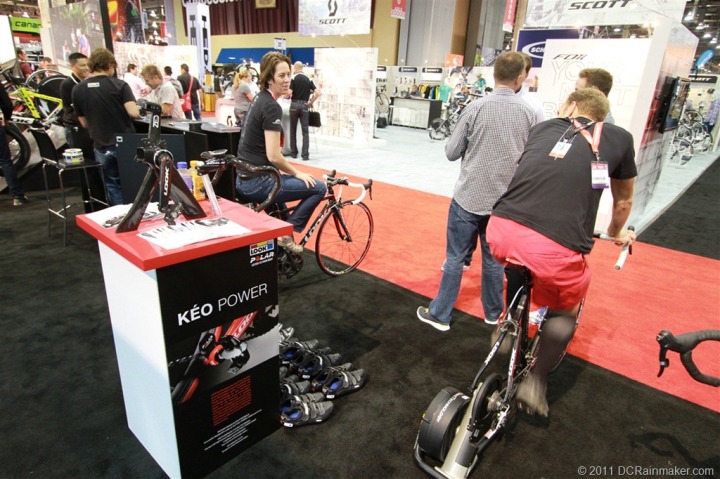 Speaking of Quarq – when you stroll to their home these days you'll find yourself in the full-on village that is the SRAM booth.  I'm reasonably certain there was also a full service kitchen with butlers, hot tub, and Italian tiled bathroom in there too. Talk about an upgrade!
While scoping out their pad, I got a chance to see their Cinqo mountain bike power meter: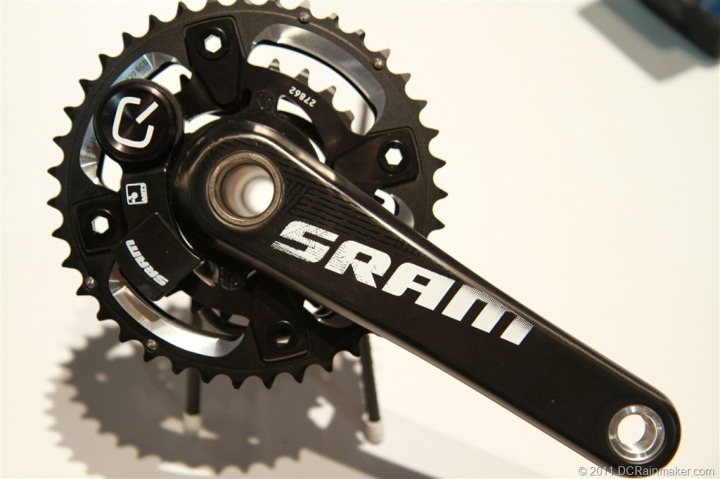 Pretty cool stuff for the mountain cyclists in the room.  I also had a chance to talk to them a bit about how the integration is working out (they were acquired by SRAM back this spring) and they said it has been great from a number of different angles – both product development insight, as well as support.  Jim had made the comment earlier in the week at an ANT+ discussion that the "acquisition of Quarq is really the first step of SRAM moving into more electronics in the cycling space".  So as they walked the show floor they were keen to find new and innovate ways to measure things across a broad range of ideas.
Speaking of innovate things involving power meters.  I swung by the Saris/CycleOps booth to check out their concept mount for the Joule, in partnership with 3T.  Right now there's no specific timeline (if at all), but it's something there are interested in seeing feedback on.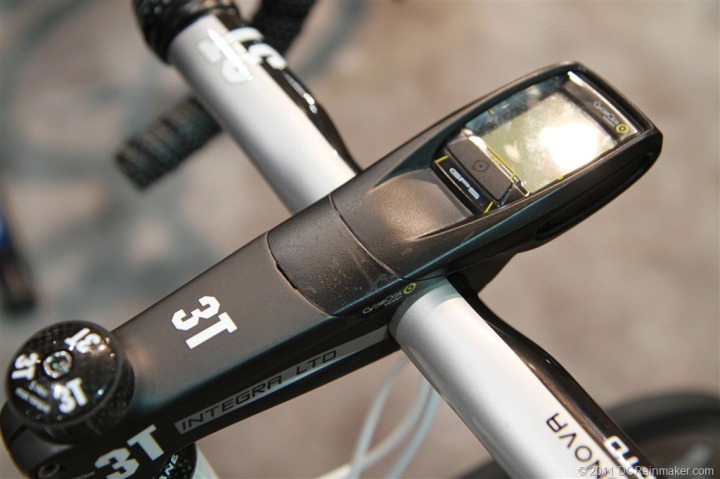 From there I stumbled into the Elite booth to check out their video-trainer solution.  Their system works in many ways like a CompuTrainer.  I'll be seeing if I can get a unit from them to try out as they are certainly an option for those in the market.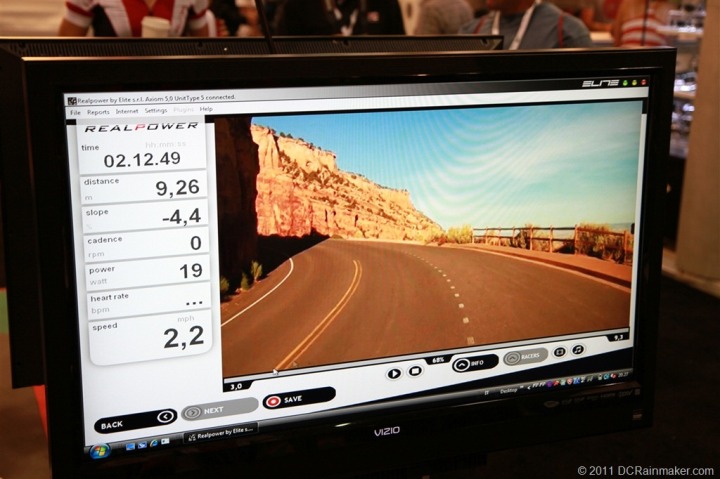 In a similar vein, I was able to have a really good sit-down discussion with the TACX folks about their units – and more importantly – finally getting one in house to test.  I know there's a ton of interest there from many of you.
We were able to work out a plan with the fine folks from QBP (a cycling distributor) will be able to send me two units (Bushido and Fortius) to try out for a while.  Should go out on Monday after everyone returns home. Really looking forward to it.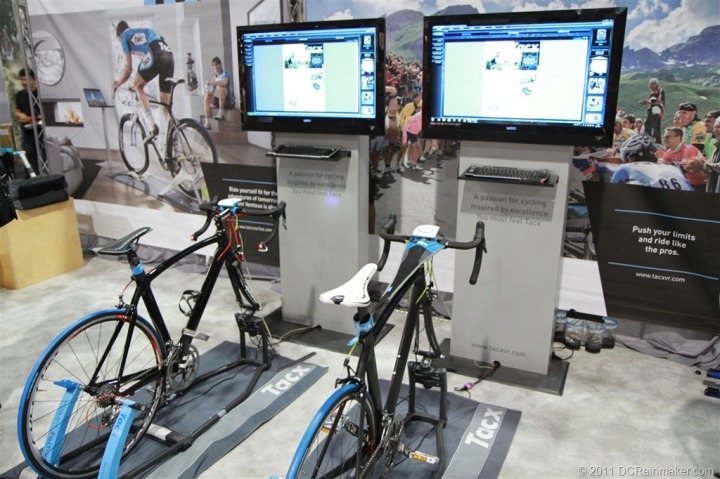 Last but not least – when the last day of Interbike brings you slowness in your booth…remember, you can always just got back to playing Xbox.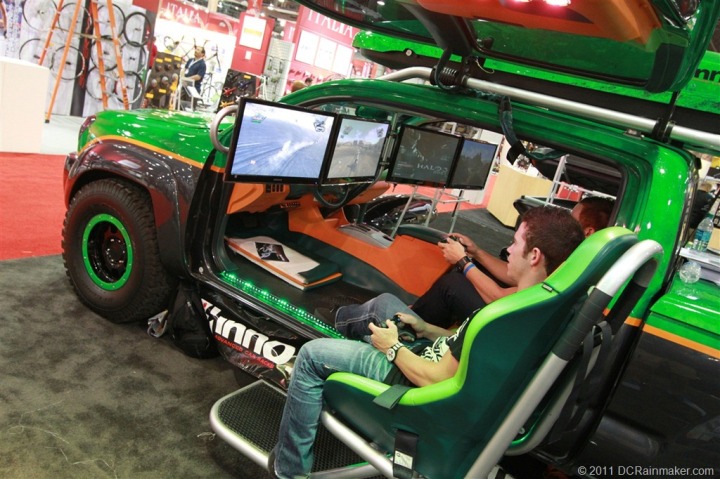 Thanks again for reading everything thus far – I appreciate it.  And look forward to the usual spillage of Interbike posts into Monday/Tuesday of next week – but I'll also get back to some normal stuff.  You know…like running in circles on tracks and whatnot.
As always, if you've got any questions (or if you just found this useful), feel free to drop a comment below.  Thanks for reading!
—
For the latest Interbike coverage, remember I'll be tweeting nonstop, so you can catch all the latest action there.  And here on the blog you can use this tag to see all the Interbike 2011 posts. Thanks for reading!