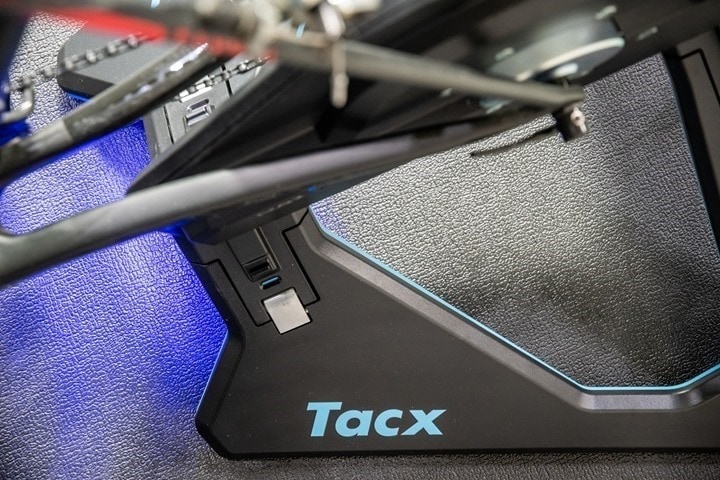 Today's post is going to combine two totally unrelated Tacx things into a single post, because nothing says Friday better than new consolidation. First up, I've got a quick explainer on the mysterious Tacx NEO 2 SE trainer (because no, there's no special paint scheme here – it's legit different internals). And then an update on why Garmin/Tacx is showing Q3 for delivery of new Tacx NEO Smart Bikes. Oh – and I'll throw a freebie in on when Zwift steering might come to the Tacx NEO Smart Bike, as it did in Zwift for the Wahoo KICKR Bike last night.
So let's begin.
Tacx NEO 2 SE Explainer:
Ok, first – a very brief Tacx NEO series refresher:
Tacx NEO Smart: The OG…the original – launched Aug 2015
Tacx NEO 2 Smart: The second edition (duh), launched Nov 2018
Tacx NEO 2T Smart: They added a T to the name, launched Sept 2019
Tacx NEO 2 SE: What I'm about to explain to you, launched late 2020
All three of these look virtually identical from the outside, save slightly different color and 'paint' schemes. Internally there are substantial differences between each edition, each tackling various complaints or features.
The main difference between the NEO 2 and the NEO 2T though is largely getting rid of 'virtual slip' when you throw-down a sprint in a low-speed setting (like up a climb). The first two editions would feel like you slipped on a rug, with the resistance emptying out beneath you. Though again, this wasn't a huge issue for most people, since it only applied in very specific scenarios that frankly weren't super common in most peoples day to day riding (I still ride the Tacx NEO 2 at home as my main trainer for night/weekends riding – and it simply doesn't impact me at all). Tacx accomplished this by basically substantially increasing the power of the electromagnet scheme inside the NEO 2T, so much so that upon initial launch it was so powerful that it was like riding an uncontrollable bull. A few months later firmware updates resolved that.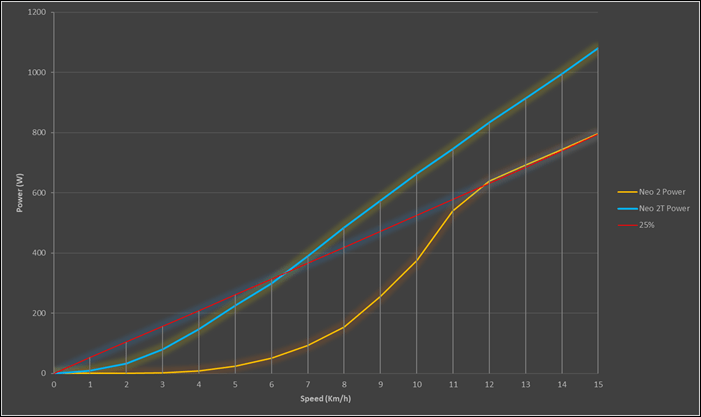 In aaannnnny case, that doesn't matter here.
What matters here is this new fangled NEO 2 SE. Folks started asking me about a month ago what the heck it was. And at first I figured it was just retailers with weird names on their site. However, there is actually a difference – despite the SKU number (the T28##) remaining the same.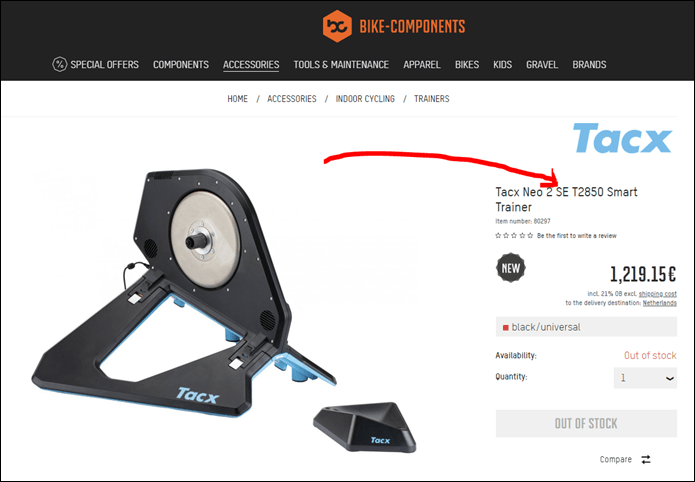 Turns out, the SE actually stands for 'Special Edition'. And why is it special? Glad you asked.
Simply put, the Tacx NEO 2 SE is a Tacx NEO 2 internally, except that it has the axle of a Tacx NEO 2T. In talking to Garmin/Tacx about it, they said they had a stockpile of NEO 2-specific (non-2T) components, but that consumers wanted the increased out of box axle compatibility of the NEO 2T (which added native thru-axle compatibility, such as for 142/148 x 12 mm).
But there's no other internal or external changes beyond that. It's not hiding a NEO 2T magnet system inside of it, and in fact from the outside looks identical to the Tacx NEO 2. There's no NEO 2T racing stripe here.
(Left to right: Tacx NEO 1, Tacx NEO 2/NEO 2SE, Tacx NEO 2T)
The next question then is where is this being sold? Well at present, mostly just in Europe. Garmin/Tacx says that there isn't a decision on whether this will end up being a long term product or not, or just more of an interim product. Of course, it's supported just the same, so there are no concerns there. But I had asked whether or not we'd see this become more widely available, to which they said "essentially we're not going to rule it in or out".
One notable thing here is that the NEO 2SE is slightly cheaper than the NEO 2T, usually about 100-200EUR in most cases. But it's also slightly more expensive than the now-impossible-to-find NEO 2 units (also usually 100-200EUR difference in price). Ultimately, the only Tacx trainers anyone is going to find to buy these days are ones coming directly off a truck from Tacx's manufacturing facilities.
Also, fun fact – the NEO 2SE is produced in their massive new manufacturing facility that recently opened up, whereas the NEO 2T was, in late 2020, produced primarily at their existing manufacturing facility. However, as of 2021 it's also now being produced in the new factory too, partially why you've seen availability increase lately.
For fun, here's a picture of the new facility from the highway that my wife snapped. The building goes further to the right, and has nifty windows that you can see into the factory area a bit from the highway.
Maybe someday I'll be able to give an updated behind the scenes of the new factory. Until then, you can check out my older behind the scenes post on the original (and still used) factory here. Umm…errr…on second thought I can't find me ever actually posting all those behind the scenes factory photos. Though, I did find them on my NAS server – all 513 photos worth in fact – some 22.2GB: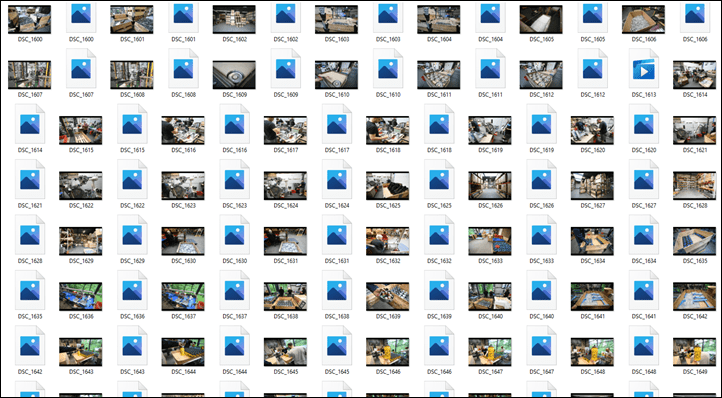 But GPLama apparently finished his video on that, so here's that instead.
Ultimately, I suspect that Tacx may look to test the pricing waters a bit with the NEO 2SE. While at the moment anything that vaguely works as an indoor trainer will sell immediately for just about any price – but eventually that'll end. And at present Tacx doesn't really have a great silent competitor to the Wahoo KICKR CORE at the $899 price point (the Tacx Flux 2 is the same rough price but with far more sound). I could see them offering a Tacx NEO Lite (or whatever you want to call it) at $899 by taking a page from Wahoo's playbook. After all, remember the KICKR CORE is essentially just a 2017 KICKR with new legs.
And unlike most Garmin situations where they have the upper hand, from a branding standpoint, to sell at a premium, they actually don't have that luxury here competing against Wahoo (again, talking branding). Thus, they'll have to compete on price and features – just like any other company.
In any case, ponderings for another day.
The Tacx Smart Bike: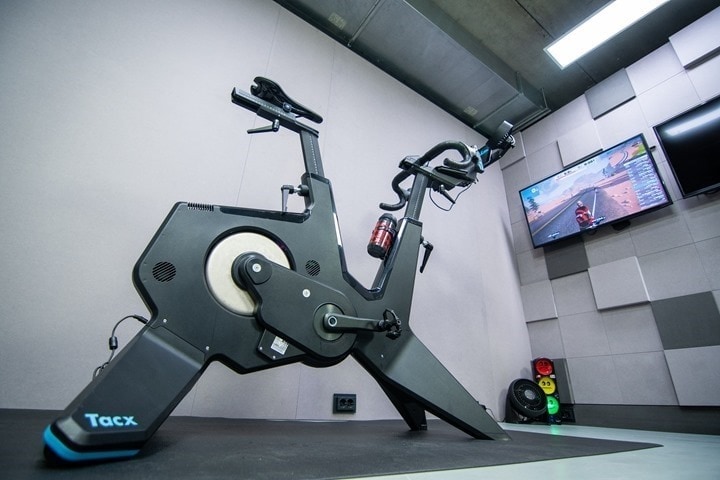 This section will be shorter, I promise.
Over the last week I'd gotten a number of people, including some real-life friends, asking if the Tacx NEO Smart Bike had been discontinued, since it was becoming increasingly difficult (if not impossible) to find. Compounding this was Garmin.com was now listing availability as Q3 2021! Which, is basically this summer (or beyond).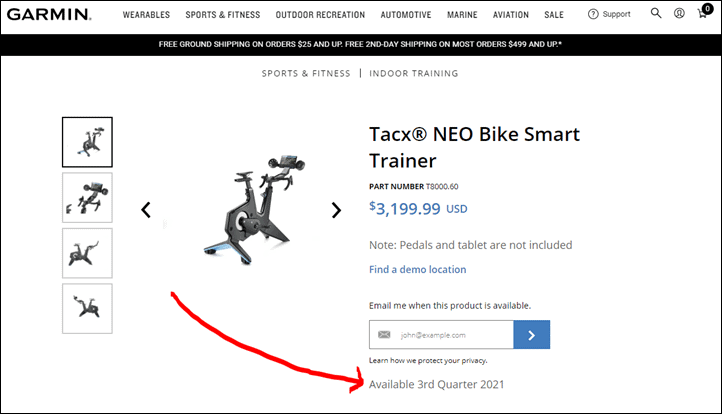 So, I swung back to Garmin again and asked whether the NEO Bike was still being produced, and here's their response:
"Just to confirm, we are very much still producing the Neo Bike. But – as I'm sure you can imagine – demand continues to be high, with supply and the new factory trying to keep up."
He went on to explain that they were being ultra-conservative with the Garmin.com date, because Garmin specifically will prioritize fulfillment from retailers/distributors over Garmin.com fulfillment. In fact, you'll see you can't even order it on Garmin.com currently.
To long-time Garmin watchers, you'll know this is actually nothing new. Garmin has long done this as a way to keep retailers/distributors happy, thus why you'll often see far-out dates on many new products on Garmin.com – despite it being in a store near you.
In fact, if I look around at some random European retailers, I do see a few cases of upcoming Tacx NEO Bike Smart shipments expected in the near term with very specific dates. And as Garmin noted, they are still producing these, now within the new manufacturing facility.
Ultimately, smart bike availability isn't much different than trainers these days: It's tough. And in fact, in many ways it's way more challenging since the manufacturing process is far more complicated and they simply can't make the same numbers of units. Right now I've heard wait times for the Wattbike ATOM 2020 are measured in multiple months, the Wahoo KICKR Bike is occasionally available (including right now for US folks), and the Stages Bike SB20 seems to fluctuate in and out of availability. And of course the Peloton Bike also has a long waiting list – months in many cases. But those availabilities are highly geographic in nature, what's available in the US almost never matches availability in Europe for smart bikes right now.
As for new smart bikes this year? Seems unlikely to me. I could see perhaps small in-line changes to existing bikes, such as new handlebar type arrangements or accessories. But realistically speaking, most of these companies are *still* trying to stabilize their factories and fulfillment of the current slate of models. There's little reason to launch a new model just for the fun of it.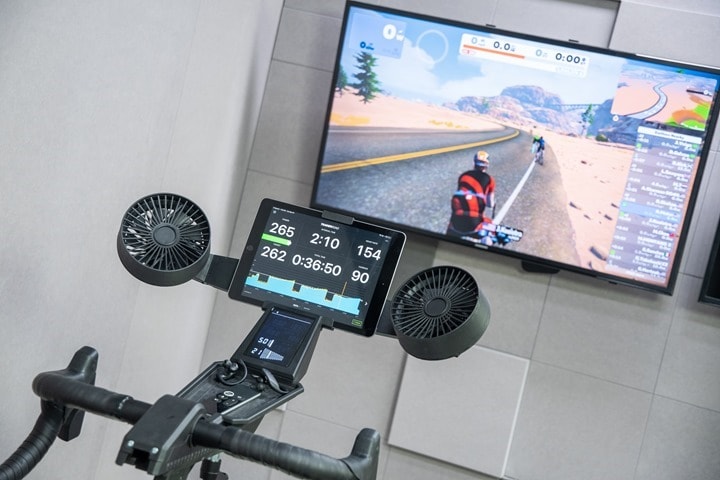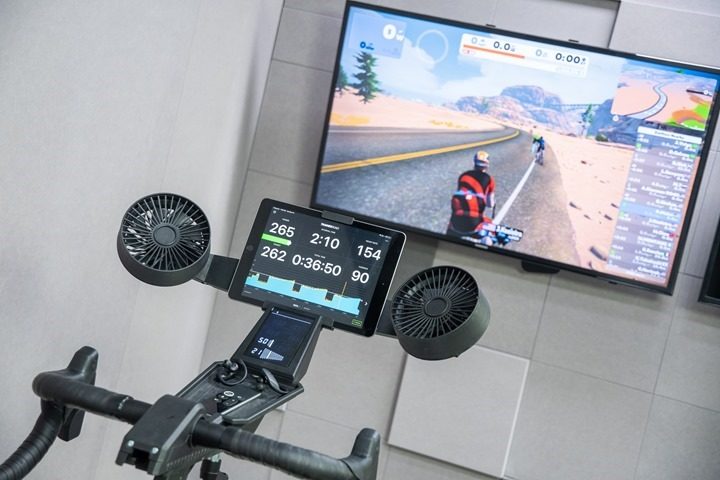 Oh – and one last thing: As for when Zwift steering will come to the Tacx NEO Bike? Garmin/Tacx says "we don't have anything to announce at this time." This could be for any number of reasons, though, I suspect Zwift licensing/agreement factors may be at play here. Throwing the way-back machine on for a second, for years Tacx (pre-Garmin) Tacx had talked about using the buttons to steer in Zwift. So this is unlikely to be a purely technical limiter.
As I mentioned in yesterday's Zwift/KICKR Bike post, there are contractual aspects that Zwift has been requiring trainer/indoor bike companies to agree to prior to accessing the steering spec. This includes, most notably, limitations on these vendors allowing their products to work with other platforms (such as RGT). In other words, Zwift wants steering to only be viable in Zwift. Given Tacx has a training platform of their own, it's plausible that could be a sticking point. Or, like most trainer companies, they're probably not terribly keen on having Zwift call the shots on platform compatibility of their own products.
With that – have a good weekend ahead, and thanks for reading!
Found This Post Useful? Support The Site!
At the end of the day, I'm an athlete just like you looking for the most detail possible on a new purchase. These posts generally take a lot of time to put together, so if you're shopping for the Tacx NEO 2 SE (Special Edition) or any other accessory items, please consider using the affiliate links below! As an Amazon Associate I earn from qualifying purchases. It doesn't cost you anything extra, but your purchases help support this website a lot. Even more, if you use Backcountry.com or Competitive Cyclist with coupon code DCRAINMAKER, first time users save 15% on applicable products!
And of course – you can always sign-up to be a DCR Supporter! That gets you an ad-free DCR, access to the DCR Quarantine Corner video series packed with behind the scenes tidbits...and it also makes you awesome. And being awesome is what it's all about!