Tonight's Zwift update has enabled steering for the Wahoo KICKR Bike (which are actually in-stock these days). This long-awaited step finally makes it possible to use all features of Zwift in one of the most expensive smart bikes in the game. Previously, steering was only available in-game via the Elite Sterzo Smart accessory ($125USD), or, via your smartphone on one short test course. Obviously, that made things a wee bit awkward that the most premium of bikes didn't have all the premium features.
But, that moment is now behind us – at least for one smart bike. More on the others in a moment.
Since I've already covered steering in general, I'm mostly going to skip that here. The quick and dirty of steering in Zwift is:
A) It's more appropriately called veering: You stay within your half of the road, but can choose the placement within that surface
B) You can't crash through people, in fact, you have to speed up/slow down to steer around them.
C) You can't crash at all (Zwift as an application will crash on your behalf as it sees fit, but not your bike's avatar)
D) Steering does save distance (and thus time) and can win you a race (also shown in my previous post)
E) Steering also saves distance even outside of races, such as on steep climbs
F) Steering is specifically enabled for certain races or group events, whereas it's always available in free ride mode
Got all that? Good. Now let's talk KICKR Bike.
The process is heavily streamlined for the KICKR Bike, and virtually impossible to screw up (which…is good).  To begin, you'll need two things:
A) The absolute latest version of Zwift – the one released tonight
B) The latest Wahoo KICKR Bike Firmware – the one released in September 2020 (1.16.0)
Next, crack open Zwift. On the pairing screen you'll pair up your KICKR Bike as normal, however, steering here will *ONLY* work right now when paired via Bluetooth Smart (not ANT+). Down on the lower left you'll see the steering pairing icon automatically illuminates: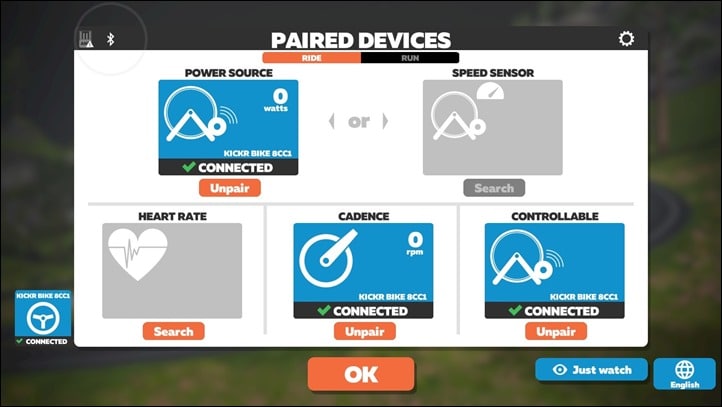 There's no additional pairing in that steering menu, because the menu isn't openable with the KICKR Bike. It just knows if you've got a KICKR Bike that you've now got steering buttons. You can however disable this if you want to by simply clicking on that blue steering wheel, which greys it out. Tap it again, and it enables it again.
Next, you'll crack open the course you want to ride. You've got two basic options here:
A) Free-ride anywhere in Zwift with full steering
B) Choose an event that has steering specifically enabled. You can use ZwiftHack's event planner to see which events have steering enabled.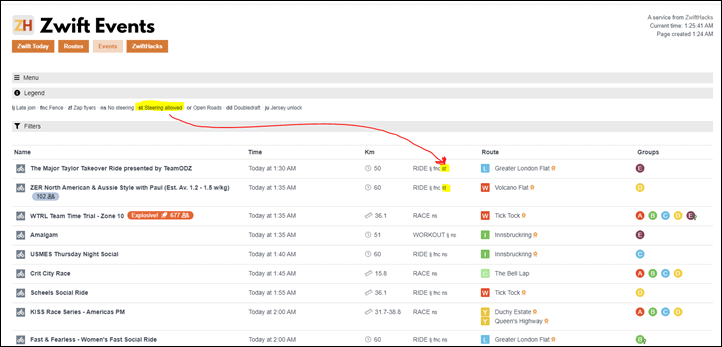 Good. Now, you'll also get yourself a nifty explainer the first time you load up steering on the KICKR Bike. There's some minor differences here compared to the Elite Sterzo Smart page, but ultimately it's all the same. You can't crash other people, you can't go off-roading, and you're now in control of the draft – so if you go out of the draft zone, then…that's on you.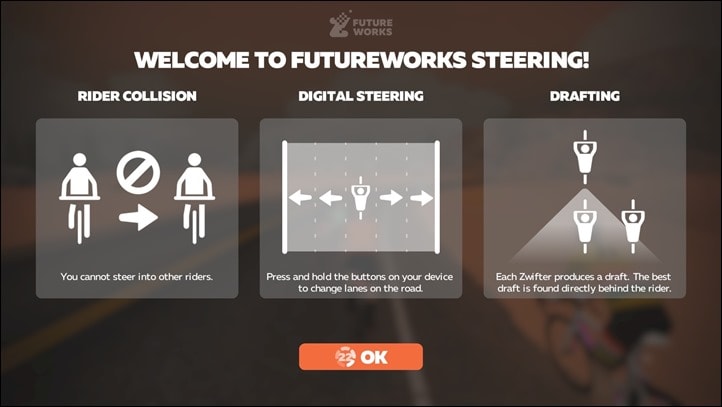 Now to steer there's two buttons, one on each side of the inside of your handlebars:
You simply press those buttons just like a gamepad to go left or right. Here's another shot: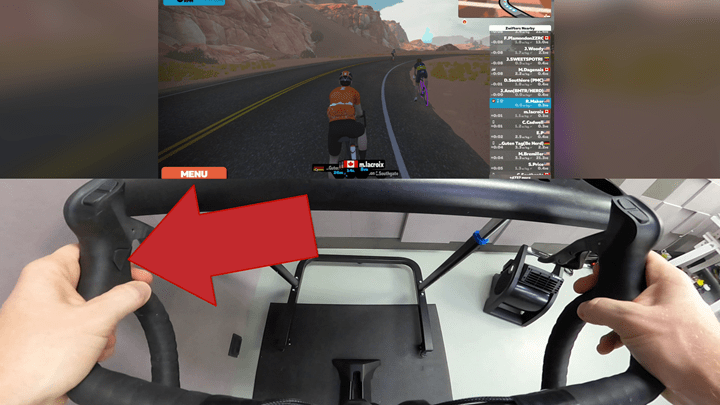 For those that have been following the long game on this, you'll probably remember I've long said I was curious (if not skeptical) on how well this would work in real-life. Specifically with the tactile feel of the buttons on different smart bikes, and whether it'd feel clunky, slow to respond, or such.
I'm happy to report that for the KICKR Bike specifically, the feeling is spot-on in terms of steering. It responded as I expected for the most part, and with the right amount, and virtually no latency. I'm still however skeptical on some other bikes, mainly due to the responsiveness of those buttons. But, I'll be happy to be proved wrong.
In terms of steering, it's more akin to veering. So a single tap basically shifts you one imaginary 'lane' over per the earlier explainer screenshot. Whereas if you hold it, you'll steer yourself against the invisible wall that is the left and right lane lines. Center-line in most cases, and right breakdown line in most other cases. You can't go beyond those points.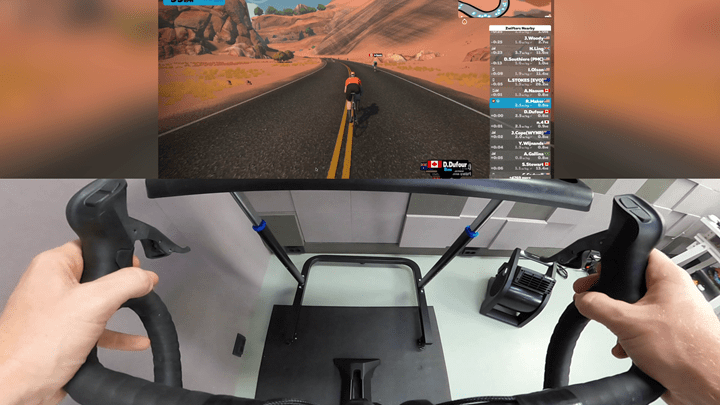 But, in my quick testing this evening – it all worked exactly as I expected. Also, one minor/positive aspect compared to the regular Elite Sterzo Smart solution is that there's no getting your plate correctly centered or such. Everything is always correctly set to the default.
Ultimately, the main reasons you'd steer in Zwift are:
A) To choose a better line for distance reasons (such as cornering)
B) To choose a better draft scenario, either dropping competitors off your draft, or chasing someone else's draft
However, the downside to steering is that the opposite of the above are true too. If you've got steering enabled and get lazy, then you're at a disadvantage because you're no longer letting Zwift handle those things for you (namely the draft part).
Note that at this time the KICKR Bike steering will not work on the MTB Repack Ridge course. Zwift says that's coming in a future update.
As for the other smart bike makers, we'll have to see when they get things lit up. As I mentioned in my Wattbike ATOM 2020 In-Depth Review back this fall, they were planning on rolling that out soonish, pending Zwift. In order for steering to work with Zwift, Zwift has been requiring companies to enter into agreements to enable the technology. So in this case, both Wahoo and Wattbike have signed those agreements (as did Elite for their exclusive Elite Sterzo Smart agreement). It's unclear if either Stages (Stages Bike SB20) or Tacx (Tacx NEO Bike) have planned dates for implementation (or…signed agreements). It's late now (2AM my time), so I'll circle back to those companies in the morning. However, ALL THESE COMPANIES have previously confirmed on numerous occasions that they had buttons set aside specifically for steering (since…years ago, Zwift asked specifically for that). So it's more a paperwork formality now than anything else.
Ultimately, over time as more and more units become steering capable it'll become a more integral part of the Zwift experience. I have no doubts that fast forward a few years to a planned Zwift Bike (which will undoubtedly have steering per their claim of being beyond today's bikes), that it'll be more common to have steering in high profile events than not. After all, it adds another layer of complexity to indoor cycle racing beyond just having big legs.
With that, thanks for reading!