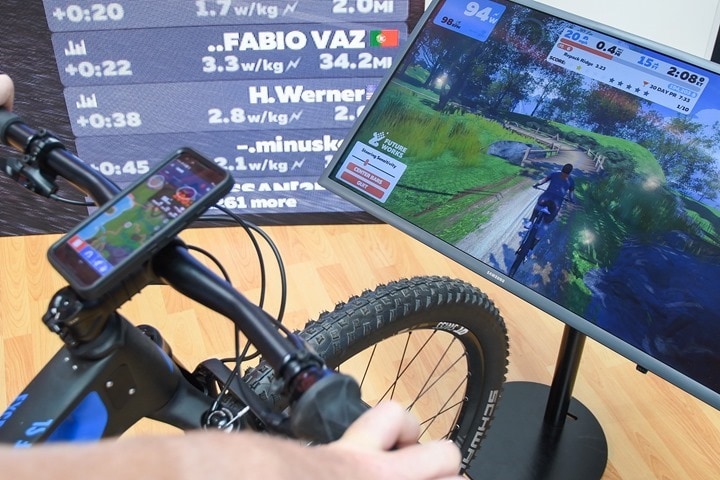 As the flurry of announcements at Eurobike get under way, Zwift themselves has two items on the docket. The first is availability of the new Yorkshire course later today, a shorter looped replica of the real world UCI World Championship circuit that athletes will tackle in real life later this month. But the second is potentially more interesting: In-game steering of one's bike, as well as an early look at mountain biking in Zwift.
Both the steering and mountain-bike bits are shown together as part of Zwift's 'Future Works' program, which the company is treating as a bit like public beta. If you're short on time and want a quick first look at things, check out the below video where I give it a whirl, and my impressions of how well it actually works:
Or, you can continue on with the whole words and photos thing.
How it works:
First up – the new functionality is not enabled yet in Zwift. While the company is demo'ing it here at Eurobike, you can't ride it yet yourself. Though, apparently soon. It sounds like more on the order of weeks than months. Once it is lit up, the way it works is that you'll need to be riding in Titans Grove. That's the new portion of course on Watopia that features dinosaurs and terrain that does a fantastic job at causing misery for most trainers I've tested recently.
Within that, you'll get what is essentially a turn prompt, not terribly unlike existing turn prompts, that will allow you to go off-road.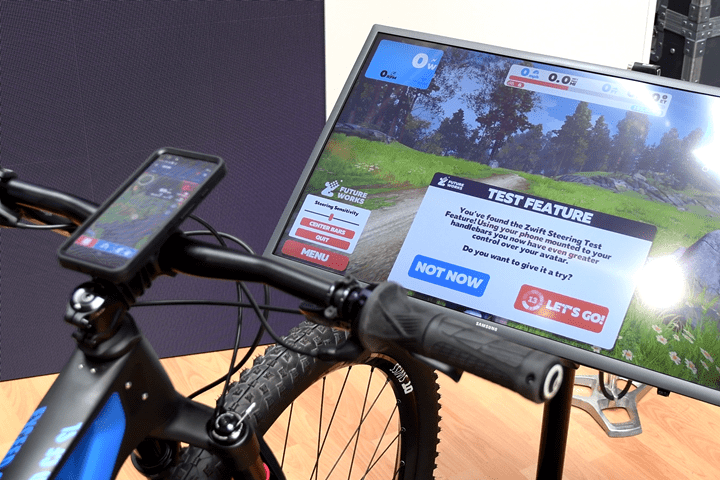 Once you've done so you'll be brought to the start of the course. It's here that you can 'calibrate' or 'zero' your handlebars.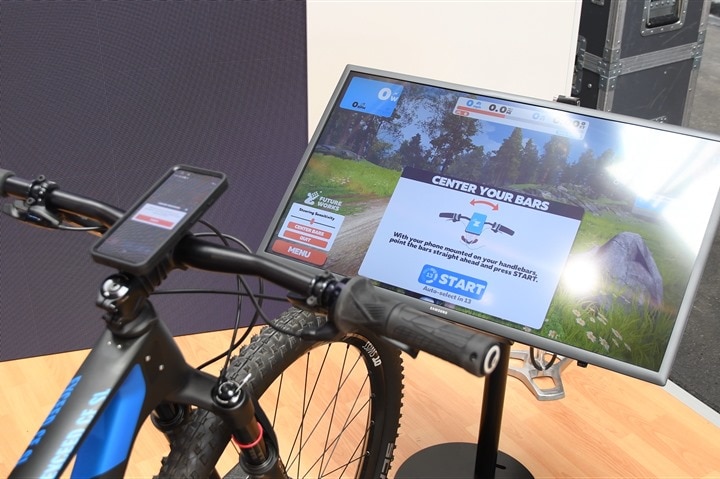 See in order to track your handlebar movement Zwift will require either the companion app, or supported 3rd party hardware. At Eurobike they're demoing the companion app, though almost the entire slate of indoor bikes announced at Eurobike has steering controls, as does the new Elite Steering plate, also announced at Eurobike. For everyone else though, you'll need your phone and that phone to be physically attached to your handlebars. Zwift will be selling some phone mount accessories, including this one for your Garmin mounts:
Here it is mounted:
Or, you can use other ones. I personally use a Quadlock case, so I'll probably just use that. To each their own.
The point is, it's gotta be affixed to your handlebars. Though, it doesn't need to be perfectly straight (as the demo phone illustrated), nor does it need to be centered on the stem. Anywhere will do. That's what the calibration is for.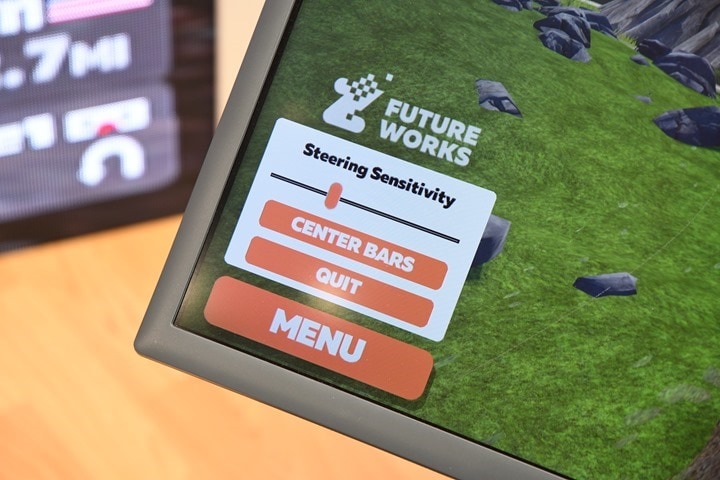 In addition there's a steering sensitivity slider, in case things are a bit too wild (or too tame), for your liking. You'll see that above. Lastly, until you can get one of those swanky Elite steering plates (and until Zwift can whip up support for it), you'll want to put something slippery below your front wheel. If you have a trainer mat, that experience will suck (and eventually, you'll wear a hole in it). Zwift simply used a piece of wood floor sample that was glued to their trainer mat. Pro Tip: You can usually get these samples for free at your local wood floor or hardware store.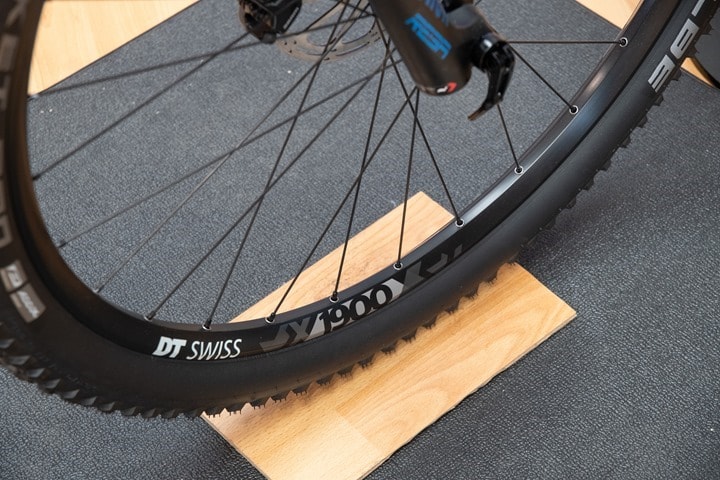 Ok, for realz, we're going to start riding now. Just pedal.
As you pedal, you'll initially look like you're drunk trying to figure it out. It took me a minute or two of crashing to get the hang of it. And when I say 'crashing', I mean bouncing off the walls. It's like kid bowling with those lane bumpers, you just bounce off and keep going.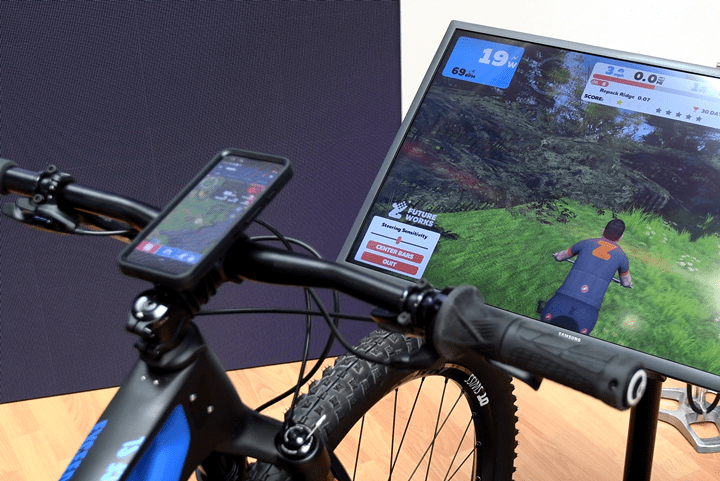 Remember that trainer resistance control on this roughly 12-15 minute long loop is still enabled, so you still have to pedal and work for it like any other portion of Zwift. Except here you'll get nifty gold stars like the kid-bowling champion that you are: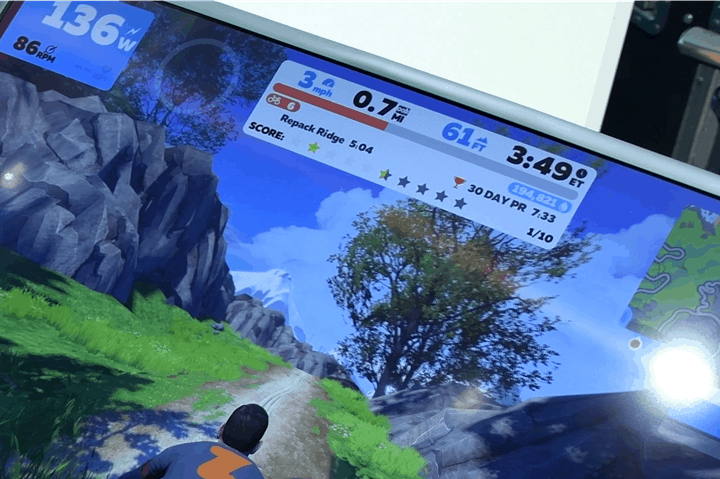 Again, this is all a concept feature – something to illustrate what they can do, and in Zwift's mind – potentially a gateway drug to getting mountain bikers interested in the platform.
As far as how well it worked…well…let's just say it's beta. In my testing it was a bit finicky to get used to, and we had to reset the calibration multiple times to get it right. This is part of the challenge faced when using non-dedicated hardware like cell phones. Zwift has long talked about and been concerned with drift on the sensors in these phones, and that appears to be the case in my early riding.
Still, the good news is there's plenty of interest from the hardware makers in making this right. Aside from Elite's solution, Tacx has had a steering accessory for ages that could probably be updated or tweaked to work here. It really comes down to Zwift's appetite to quickly prioritize software development to support the purpose-built accessories already available today.
Going Forward: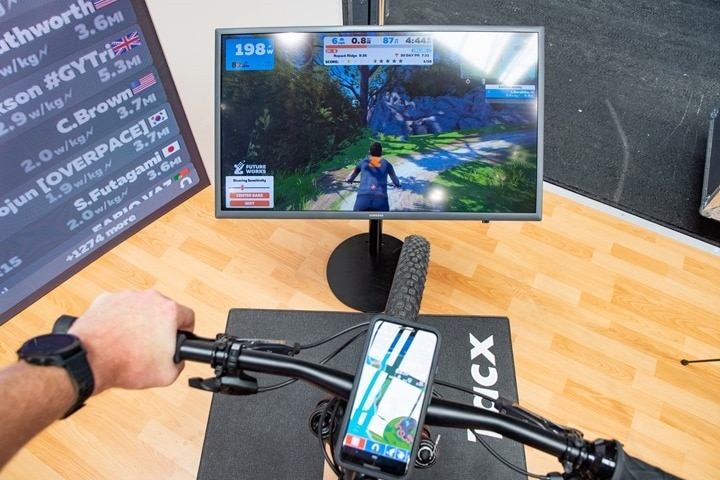 Of course, for some amount of you – you'll see this as pointless gamification of the platform. But that would frankly be missing the point. This test actually serves multiple purposes. First, it lets Zwift gather feedback on the underlying technology and acceptability of steering via phones. Does it work well broadly? Or are there blockers more visible once widely adopted?
Second, how can this technology be adopted to on-road use within the game? Less so for complete steering, but more for what's termed as 'veering', or the idea of being able to select your line in a race. As Zwift's aspirations in esports grow, and indoor cycle racing more specifically – being able to choose the line your bike travels (rather than plowing through the peloton every time you accelerate), is going to be critical as the next step of cycling esports.
And finally – perhaps most importantly – can Zwift find a way to take the skill aspect of this technology and broaden the appeal to an audience not currently on Zwift. Like it or not, if you don't have the right weight to watts ratio on Zwift, then your ability to compete meaningfully on the platform is approximately zero. There's no significant amount of 'skill' required today in Zwift that can overcome pure cycling power. Whether or not that should change is certainly up for debate, but in the real-world of outdoor cycling, technical skill is just as important to winning a race as is raw power output.
By deciding to demonstrate this technology first on a mountain bike course, Zwift is saying 'Hey Mountain Bike Folks, there's a place for you on this platform'. Which is another way of saying 'Hey, we want your subscription revenue too!'. And I don't think anyone will complain about mountain bikers on Zwift, well, except perhaps when they're riding in the breakdown lane and crash into a runner. But it's OK, you never see any runners anyway.
With that – thanks for reading!