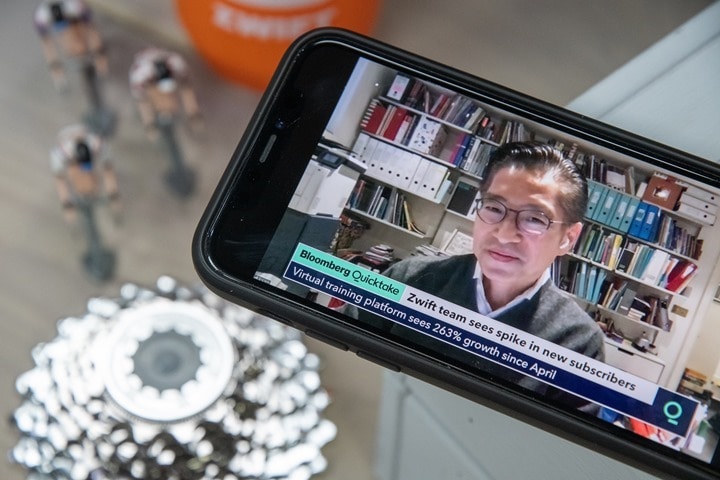 Over the past few days Zwift's CEO has given an interview to Bloomberg, as well as led his annual Thanksgiving Day group ride, which had over 3,000 people join. During both of those sessions CEO Eric Min discussed a number of topics within the future of the Zwift sphere, including their hardware ambitions, whether or not more world expansion was in store, as well as even if rowing might ever make it into the game. Along with a pile of other topics from IPO to UI updates to his thoughts on Peloton.
While you can't re-watch the Thanksgiving Day ride, you can watch the full Bloomberg video here:
The interview was well executed, probably because the host (Tim Stenovec) turns out to be a Zwifter himself, and could ask intelligent questions about the platform (and also, as I just discovered based on his Twitter profile, is a DC Rainmaker reader). Now, I'm going to dive into all the key quotes, but as usual provide some analysis around them.
Before we dive into that, for a random stat that was dropped in the interview, Zwift has seen "263% growth since April". The company however has yet to say how many paying subscribers it has (they often mention how many people have created an account). Also, it's a bit unclear if the term 'growth' in this context is total sub base growth (e.g. growing 2.6x since April), or growth rate (totally different). During the Thanksgiving Ride, Eric noted they had "more than doubled" this year, but that's a different frame than from just April. [Update: Zwift reached out and clarified, saying: "The 263% stat is YoY growth in new subscribers. The overall subscriber count is roughly 2x vs last year.", this matches what I figured based on various numbers I've heard/seen.]
The Zwift Bike:
In the drip…drip…drip story of Zwift's hardware ambitions, this is probably one of the most clear-cut exchanges we've seen to date on specifically what they're working on. You'll remember that last November Zwift confirmed they were working on hardware when they posted job positions that clearly outlined smart bike components (namely, actuators,  used for something like the movement in a KICKR CLIMB/BIKE). They would then lay off employees in March of this year to focus on their hardware ambitions, only to further outline them this past summer in surveys asking about hardware inclusion in plans. One of the recent investors also fielded a survey around building of hardware too, prior to investing in Zwift.
In any case, here's another nail in that story, here's that exchange from the conversation about hardware (time 2:02 in the video above).
Bloomberg's Tim Stenovec: "How do you get more recreation cyclists into the Zwift environment, and get that $15/month?"

Zwift's Eric Min: "I think this is part of the big investment that we're making. We know that once you get into Zwift it's pretty sticky, and it's really engaging. A big part of the theme of the investment is all about making Zwift easier to buy, easier to be onboarded, and easier to use. And you know, our investment into hardware is part of our bigger strategy."

Bloomberg: "About a year ago we did learn that you were hiring for hardware positions, what is the hardware product pipeline, what are you working on, and when can we expect it?"

Eric Min: "I can tell you we've been working on it for some time now, and hardware is as they say – hard. But really, what we're trying to do is simply widen the total addressable market by making it simply easier to get on Zwift. So our hardware strategy is really about, really focused on the bike."

Bloomberg: "So does that mean there's going to be a smart bike, a Zwift branded smart bike?"

Eric Min: "That's right, we've been telling our partners for many years now that this is really the future of growing this entire category. And we'll continue to work with our partners, and in the current environment our partners cannot make enough hardware." [He goes goes on to note that the shortages have impacted many different fitness companies beyond Zwift.]

Bloomberg: "So when can we see that Zwift branded smart bike?"

Eric Min: "Well I wish…yesterday. We're working as fast as we can, but these things do take time. We're certainly not going to come out with a product that is just a, you know, just another piece of product. I think we have an opportunity to really innovate. And really further enhance the experience that we promised ourselves to deliver on."
Based on my conversations with numerous people in and around the industry/Zwift, Zwift has two challenges right now. The main one is simply that they can't find/get manufacturing capacity. Making a smart bike is Really Damn Hard™. What Peloton makes is frankly Really Damn Easy™ by comparison. Quantity-wise, Peloton produces their bikes at a rate of about 50:1 compared to most of the other smart bike makers for applications like Zwift. Peloton is even higher in some cases. Peloton pumps out about 243,000 bikes per quarter right now (at ~$2,000+ each), and they're still sold out 1-2 months down the road.
So when Eric talks about hardware partners being the bottleneck, he's mostly correct. But what that statement sidesteps is that the same challenges that the likes of Wahoo/Tacx/Stages/Wattbike/Elite/etc face, so does Zwift. Their hardware partners would love to make more trainers or bikes faster. They don't want backorders anymore than anyone else right now. Trainers are hot, sell them while ya can. But Zwift's problem is even bigger since they don't have any manufacturing base to go from, and atop that, building a legit smart bike with moving parts as Zwift's postings and Eric's quote above implies they intend to is immensely complicated (I say 'simply' because the top-product in this segment would be the Wahoo KICKR Bike, which goes up and down, so to go beyond that, would require that at a minimum).
Remember, it took experienced hardware companies, like Stages, nearly a year, and for Tacx even longer from first announcement to first units hitting people's living rooms. Nobody has more experience in building connected bikes than Stages, which has been doing it forever for gyms. In Wahoo's case, they held back their public announcement, but it was still a multi-year journey behind the scenes. While Zwift has recently quietly hired over one of Specialized's top hardware engineers (as well as gotten a boatload of money via their $450m investment round), their two core bottlenecks are going to be iteration of a super-complex piece of hardware, and manufacturing.
My swag of a bet here is that Zwift announces a Zwift bike at Eurobike 2021 (or roughly that timeframe, so late August 2021), but doesn't actually deliver it till Winter 2021-2022. I could see them announcing it sooner just to be spicy, but my bet is that delivery timelines still ultimately slide as the technical and manufacturing realities/complexities set in.
In any event, I'm super curious to see what they come up with – and also, hope that they follow and maintain the same industry standards that enabled them as a company to be successful. As I've said before, while I think Zwift making vertically integrated hardware is long term bad for competition (and thus, probably ultimately bad for consumers too), I think it's also the right business move for Zwift – critical even. The vertical integration of Peloton is what makes it so successful, and today, the lack of that cohesion for Zwift as a platform is a major blocker to penetration into a  broader market of consumers that don't want to finagle with trying to cobble together a workable Zwift solution.
Rowing, Roads, and Clubs: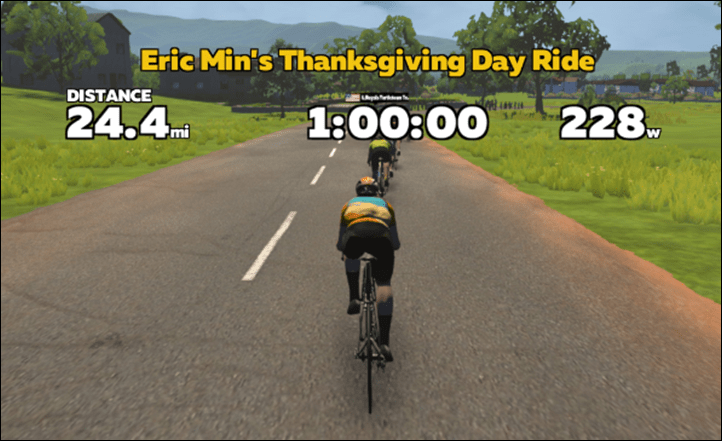 Ask enough Zwifters what they want, and a large chunk of them will say new roads or maps. And sure enough, when the interviewer is also a Zwifter, that question too was on the radar:
Bloomberg: "When are we going to see more maps?"

Eric Min: "We're working on it. I don't think it's really about the number of maps, although we'll continue to increase the number of maps. I think there's so much we can do with Watopia, which is our largest map. It's a huge landmass, and so we can continue to expand just within that map. We have a cadence of every couple months of releasing new roads or new maps, or expansions. So they will continue." Eric went onto discuss though that the core of Zwift is social density, "whether they realize it or not" (he's right), and that they ultimately need to find a balance between having it too busy or too empty.
I've long agreed with Zwift in this area. We want people on maps, otherwise you end up like many of Zwift's competitors with desolate maps (though, busier these days). I think Zwift's shift to allowing two guest maps each day plus Watopia is mostly the right balance. I could see a third so-called guest map being allowed at some point. But I agree that there's far more opportunity for expansion in the existing maps, especially Watopia and France – but even maps like Innsbruck could see logical expansion given the terrain there to be more of a climber's paradise.
But what's one area you won't see expansion into soon? Apparently rowing.
This is an area that Eric has often and regularly talked about being just around the corner, even as recently as this past summer saying it was mere weeks away. However, asked during the Thanksgiving Day ride where the status of the always-teased rowing was, this time the answer was far less enthusiastic.
Eric Min: "We are prioritizing the core cycling product at this minute. Rowing will come in the future but not at the expense of what the community values most – the core cycling experience."
Here's the full screenshot from that aquatic-killing moment: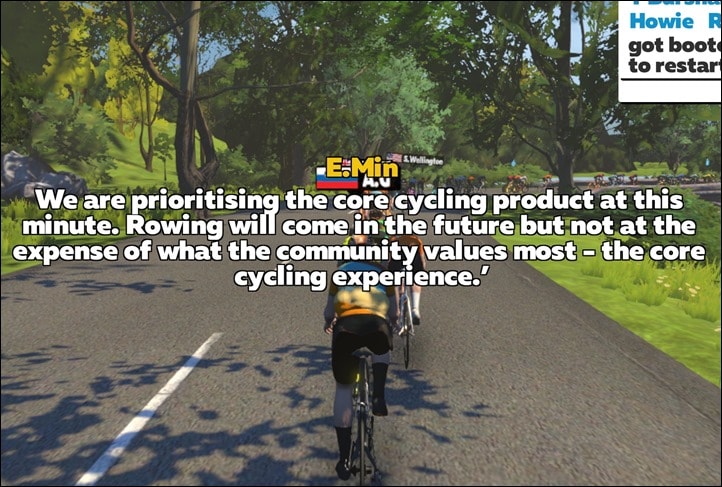 Also, you'll note that the 'core running experience' is not listed above, though, as Eric noted elsewhere during the ride – typing on a keyboard while leading a group ride is a much harder thing to do than people realize.
Still, for rowing aficionados, there's intense desire to see native Zwift support. But the simple reality is that market is far smaller than running, which still has never really exploded the way Zwift hoped it would. Treadmills (which are required for Zwift running) are far more common or in greater quantities than rowing machines in people's homes and gyms, and the hardware integration in rowing outside of something like the Concept2 rowers is slim pickins.
Perhaps though, the results of that crazy survey from back this past summer showed Zwift that – with more data than walking into a gym ever could, given how many times it tried to offer rowing as a subscription option.
Speaking of things from way back when – remember when Zwift launched clubs in April? Well, club. Just one club.
Turns out there are 80 of these clubs nowadays, albeit still in a beta process of some sort. Now the timing is launching this feature next year: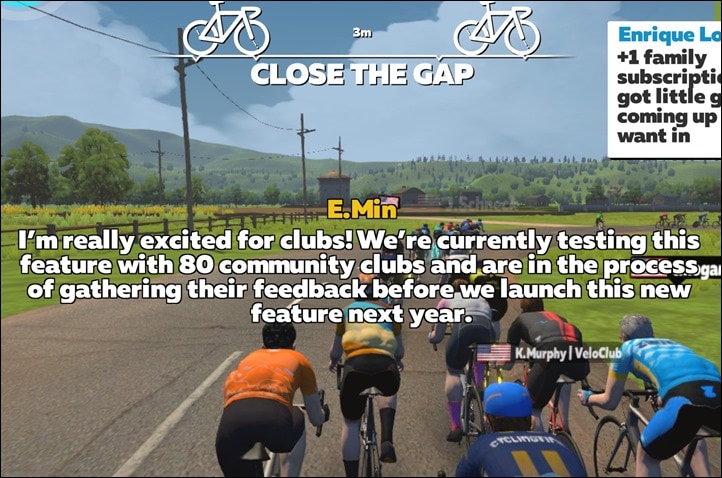 While next year is only 30 days away, it's unclear if this is a January or a December kinda next year. I'm a strong believer that a good clubs/teams infrastructure is one of the strongest and easiest ways Zwift can grow new subs. This is because (especially now) as clubs shift many group activities to indoor trainers, it basically pigeonholes the rest of the club/team onto Zwift, if that's where their weekly/etc group rides/structured workouts are. It's an easy button to getting people onto the platform via their existing social connections.
As for being able to do multiple rides without exiting Zwift? That's coming too. While I couldn't quite capture it on the main screen fast enough, I grabbed it from the chat window instead, here's the question and answer on that: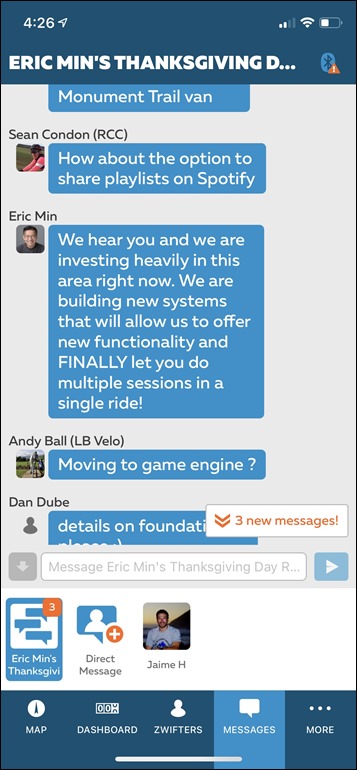 Numerous people (like, a crapton) asked about where the planned UI update was. No answer was given there, though, Zwift has stated in various places over the past few months that the UI update was essentially delayed further upon the realization that the foundation of Zwift needed more urgent care than the window dressings. Eric touched on the foundational aspect a few times in the ride as well.
IPO, and Peloton:
Ever since Eric began teasing the idea of an IPO some time ago, it keeps popping up – and given this is a business-focused news network, it certainly makes sense to ask the question.
Oh, and IPO means 'Initial Public Offering', and is essentially when a company goes public on a stock exchange, to become a publicly traded company akin to Google, Microsoft, Apple, or others. This has massive ramifications on a company, both good and bad – depending on one's viewpoint.
In any case, asked…and answered:
Bloomberg: "Do you have plans to IPO?"
Eric Min: "I think we have those ambitions, we have not set any clear timelines. We're at the very beginning of a journey, it's creating a brand new category, we're super excited and we're thinking really long term. And part of that raise is making sure we have the resources to see this longer strategy play out. We're pretty optimistic. There's no timeline [for the IPO], we're focused on growth. We're focused on just making it easier to get onboarded and use our product."
None of that really surprises me. There's obviously going to be interest from investors on eventually having an exit strategy. That's ultimately the point of most investments (though certainly one can do that without exiting/IPO'ing in some way).
However, I thought his answer to the same question during the Zwift ride was also interesting: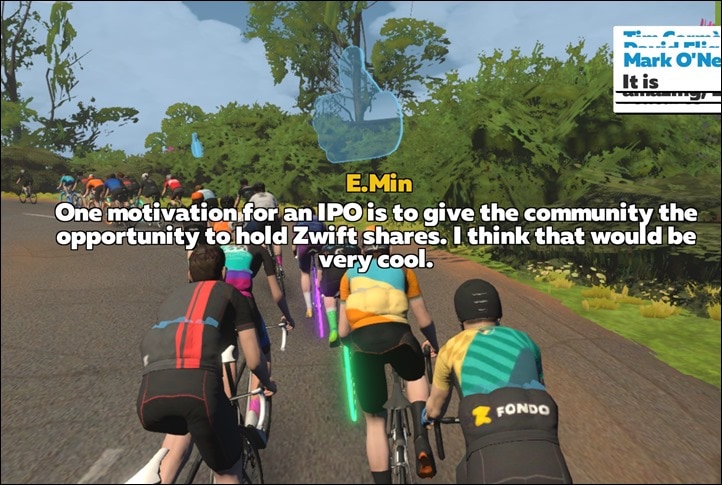 Though, it's unclear if the response above is in reference to doing something special for Zwifters to be able to purchase shares of Zwift ahead of opening (pre-market purchases), or just after the fact like any other company.
Back in the Bloomberg interview, the conversation turned to competition:
Bloomberg: "Do you see Peloton as a competitor?"
Eric Min: "I don't think so, I see Peloton doing incredible things for the entire category. I think we're very much swimming in different lanes. We're very complementary. We're very global. I can tell you that only 25% of our customers come from the US, just to show you how much growth is left. We're very international, Europe represents about half our customer base. And I think we could be very complementary. But we are very very different experience, but it is all about consumption of fitness from the home. And I think together we can just broaden the category."
This is a tricky question that has two correct diabolical answers. Yes, Peloton is absolutely a competitor for Zwift. And no, Peloton is not a competitor of Zwift. Both are correct in different ways.
In the first way, yes, there are countless instances where a family unit is looking to buy into a hardware indoor cycling platform recreationally, and that choice is picking one platform to invest in a trainer/bike. They absolutely compete there, and I've seen it many times in my immediate circle of friends. And that's a core chunk of the market Zwift wants to grab going forward.
But inversely, if you're looking at a competitive cyclist trying to decide whether to get into Zwift, Peloton likely isn't in that bracket.
It's sorta like photography gear. Phone cameras are single-handedly responsible for camera companies having a rough go of life the last decade or so. They're definitely competitors that overlap in many ways, but, depending on what the specific needs are, they aren't. My smartphone is responsible for me not having purchased a small pocket camera in 8-10 years. Yet inversely, I wouldn't use my smartphone for more professional needs that a DSLR/mirrorless or like camera can provide. Yes, both take great photos and videos – just like Peloton and Zwift will both make you fit, but both also cater to different needs/groups. And those end-goals don't always overlap.
Wrap Up:
With the UCI esports World Championships on Zwift a touch bit over a week away, you're undoubtedly going to hear more about Zwift in the news before the year is over. But I think 2021 will likely be the most interesting year to date for the company. Sure, 2020 will have seen their biggest growth to date, but 2021 is probably when we'll see their first major hardware, the impacts of that massive investment round start to take hold, as well as maybe some of their competitors (existing or otherwise) deciding to take a run at things.
Keep in mind that while Zwift had their massive investment round recently, the waters of the at home fitness tech world are attracting some pretty substantial sharks these days – interested in riding the wave of fitness popularity into the future. And there's zero indication that's a wave that's likely to falter anytime soon. With a number of companies left in the water both for investment, as well as to invest, it'll be interesting to see what comes out of it.
With that – thanks for reading!