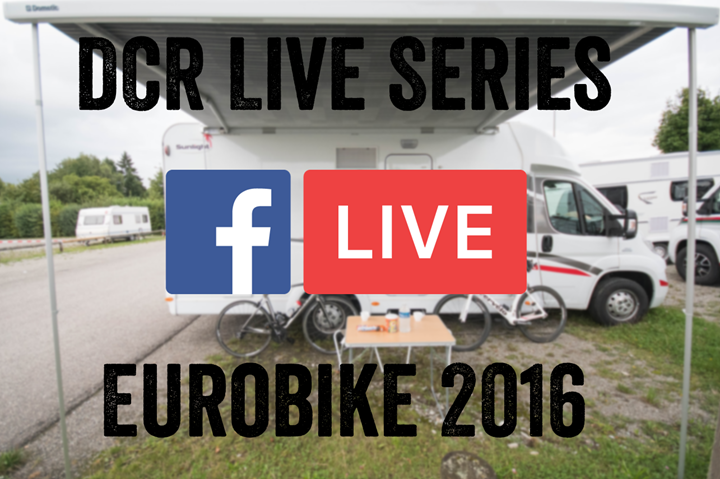 It's been just about a month since the inaugural DCR Live event I did, where I live streamed a Q&A session via Facebook Live.  Some 7,000 of you tuned in over the course of the event, and about 12,000 of you have watched in total.  You can check it out here.  Not to mention the 240+ live questions!!!
As the end of that event I tossed out on the table the idea of doing something similar at Eurobike, but with cool tech and gadget focused people in the sports technology industry.  The idea being part interview/part chat from live questions from you, with me acting as a bit of a moderator.  I wanted to pick people that were super-bright technologically, but could span everything from how they built their companies from the ground up, to why they select which chipsets they do, to what they think of all sorts of sports tech trends.  And we might even dive into the weeds on anything new launched at Eurobike (either their products or other companies).
My goal is that even if you aren't into these companies or even cycling at all, that you'll find these interviews/chats interesting.
So I'm super excited that both folks I asked to jump onboard were thrilled to do so.  Thus this week I've got two different DCR Facebook Live sessions, both at the same time, but on two different days.
Here's the two folks I've got on tap:
Wednesday 6PM CET/12PM US EST: Chip Hawkins, founder of Wahoo Fitness.
Thursday 6PM CET/12 PM US EST: Jim Meyer, founder of Quarq.
Both of these guys have gone from being garage entities to major companies in the sports tech scene.  While their company's products are well respected by consumers, they are both as individuals two of the most highly respected people by their peers in the sports tech industry.  They're both visionaries in the products they've developed, and both companies have been responsible for major shifts in their respective portions of the industry.
For the live stream we'll be streaming direct from the DCR Eurobike RV!  Like last time I'll be using Facebook Live, so if you want to get notified the second the live stream starts, just follow the DCR Facebook Page now.  Else, you can simply come back to the page at the time of the stream (but don't forget!).  If you follow the page, your Facebook App will automatically let you know when the stream starts.  Oh, and best of all – I've got some good solid lav mics for each person this time around. I'll be using the Mevo camera again for the video side.
Again, both events will be held at 6PM Central European Time (Eurobike time), which converts as following:
Central European Time (That's us!): 6PM (18:00)
London and related Time: 5PM (17:00)
US East Coast Time: 12PM
US West Coast Time: 9AM
Sydney Time: 4AM (sorry!)
Dubai Time: 8PM (22:00)
For those in Australia, don't worry – the Interbike times should be much better for you!
At the time of the broadcast, simply:
(Note: You do NOT need a Facebook account to watch a Facebook Live broadcast, it's a public/open URL.)
You can ask questions via the chat/comments window below the live stream, and I see them instantly live.  I'd encourage y'all to come up with questions for both Jim and Chip, especially ones that think outside the box a bit.
With that – looking forward to seeing you on the live stream!  Now I've just gotta find some appropriate German snacks to rival my French spread that I had on the table last time…