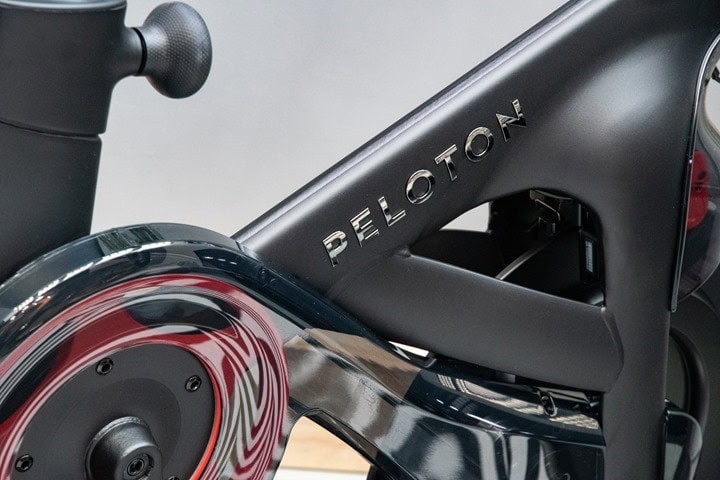 Heads up! My full in-depth and long-term review of the Peloton Bike+ is now available here. Go forth!
Last week Peloton announced their newest bike – the Peloton Bike+. This new unit includes a slightly larger (and now movable) screen, as well as an auto-follow resistance mode (what smart trainer/bike companies would call ERG mode). Additionally, they added native Apple Watch integration via GymKit, and a slew of slightly more minor things. Also, for those geeks in the crowd, they added what is effectively a power meter to the internals, to more accurately measure your wattage. Don't worry, we'll put that to the test here.
So, I ordered one and somewhat surprisingly they actually had almost immediate delivery slots available. Of course, said delivery slots were in another country. But hey, that's never stopped me before. I tweeted out last week asking if someone had an address for delivery in Germany, and a bunch of you responded back. I picked someone just a few minutes from the border, making it only a two hour trip from Amsterdam. While normally I'd pick it up via cargo bike, a 10-hour pedal (each direction) wasn't exactly in the cards for this morning. Though, I have transported my other Peloton bike via cargo bike just fine. Anyway, I zipped over this morning and got the unit via a rental van from some cheap car rental place nobody has ever heard of.
And after meeting up with the DCR Reader (in a socially distanced way), I threw it in my kidnapper van and drove back across international borders. Then from there it was up the Dutch staircase into the DCR Cave and we were soon ready to roll:
Here it is before I removed a pile of plastic wrap. It kinda smelled like a new car.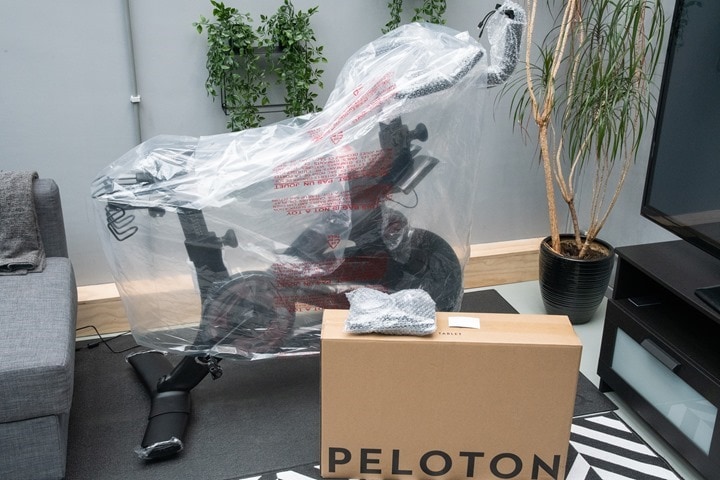 With that, let's dive into all the details on my first impressions after a single ride on it. Which, you can do by just hitting the play button below, or continue reading. Your call.
Also – some people will ask, down the road I'll write a full in-depth review on the Peloton Bike+, and probably also get around to hitting publish on my already-written in-depth review of the standard non-plus bike I've had for a long while now (seriously, it's basically done and written – I was hoping to put together a full video review to go with it.)
(Oh, and since undoubtedly some cyclist readers here will poo-poo a Peloton Bike for reasons that rarely make sense because they've never actually tried one, I'd simply point out that given Peloton is *BY FAR* the largest indoor cycling platform. It's not even close. Their earnings call last week put them at about 1.1 million paying members with Peloton bikes. That's roughly a little less than double the size of Zwift's paying membership right now. And again, those are all people that paid $2,250+ for a bike, then $40/month.  But no, I don't do every ride on a Peloton bike – I mix and match depending on how I feel. But there's structured workouts just as painful or strict as anything you'll find on TrainerRoad. Ultimately, it's different things for different folks. In any case, more on all that sometime later.)
What's New/Changed: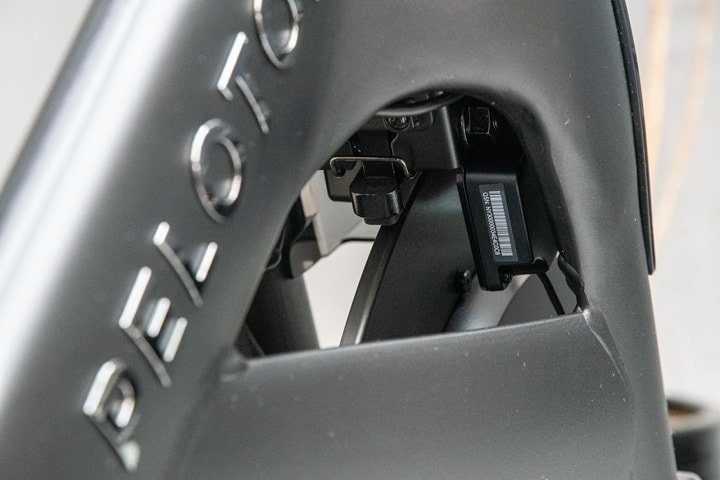 As I noted in the intro paragraph, there are two major features that have (rightly) garnered most of the attention of the Peloton Bike+, the new bigger/swiveling screen as well as the Auto-Follow digital resistance system. However, there are numerous smaller things that have changed. So this is an attempt to catalog all of those things in one spot. I'm sure I'll add a few others over time as I find some other nuances.
– Added Auto-Follow Resistance (aka ERG mode): Uses new digital resistance system that allows both manual and automated control of resistance
– Increased screen size from 21.5" to 23.8" (touchscreen on both)
– Increased from 2 rear speakers (2x10w each), to 2 front and 2 rear speakers (2x3w tweets & 2x10w woofers)
– Screen can now swivel/rotate to just about any orientation: This is for doing core/yoga/etc workouts on the floor/space nearby
– Upgraded front-facing camera from 5MP to 8MP
– Added privacy cover for camera
– Changed positioning knobs from longer to circular style for seatpost/handlebars, and changed to quick-lever for saddle position
– Changed handlebar design/shape a bit
– Very slightly changed seat design
– Added Apple Watch GymKit integration: This allows integration with Apple Watch including heart rate to Peloton bike
– Power/Display cables are now all internally routed, versus externally before
– Switched to USB-C charging for the bike (65w adapter)
– Switched to USB-C power/connector for the display
– Moved headphone jack to front of handlebars from side of display
– Moved volume buttons from back-edge of display to side of display
– Updated from Bluetooth 4.0 to Bluetooth 5.0
– Increased WiFi support to include 5Ghz WiFi networks (802.11 a/b/g/n/ac)
– Removed micro-USB port, swapped to USB-C port (and it can charge devices like our phone)
– Removed wired Ethernet port (you can use a USB-C to Ethernet adapter though)
– And of course, new shiny Peloton logo on sides added
From an underlying specifications standpoint, there are some changes here as well. Here's a handy table outlining the hardware bits.

And, just a few things that haven't changed:
– Same max rider weight of 297lbs
– Same min/max rider height of 4'11" and 6'4″
– Same support for ANT+ or Bluetooth Smart heart rate straps/sensors
– Same ability to move it around a room using the wheels
– Same flywheel, best I can tell (without taking it apart)
– Same positioning markers on the side of the bike
– No broadcasting of power or cadence over ANT+ or Bluetooth Smart standards
Next, here's a pile of photos I took, just a pretty gallery of sorts.
Of course, the biggie is the new swiveling display, which is designed so that you can do floor workouts from…err…the floor, without having to stream it to another TV. Obviously, in this case I could just stream/cast it to the giant TV next to it – but let's not let details get in the way here.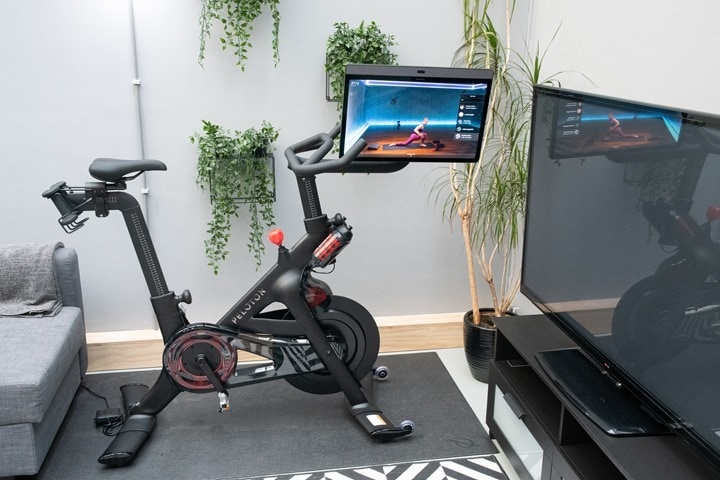 The display rotates to all 360° positions on that axis, but has to split the rotation half each way (so the cables don't get tangled up internally). I show it in the video in case that's not clear. The speakers on the front and back are more than plenty loud, and they don't sound too bad. Certainly not like a high-end SONOS, but perfectly fine here. You can also still pair Bluetooth headphones or use headphones. The screen resolution is the same 1080p as before.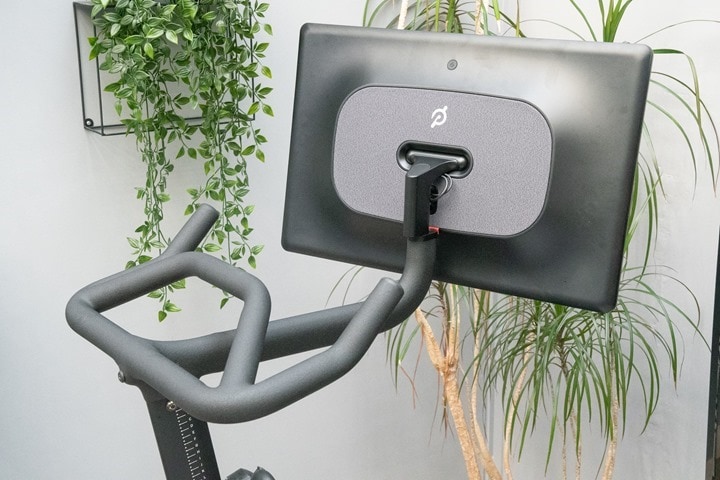 Perhaps one of my favorite changes is the usage of a simple 65w USB-C charging brick. Meaning, my laptop charger can also charge the Peloton bike. I know that practically speaking this probably isn't an issue – but I just love that they've gone with standard power here.
Note that while the original micro-USB port is gone in favor of a USB-C port, that's a great change too. It allows you to not only charge your phone (assuming you've got a USB-C to USB-C/Lightning cable), but, it still allows connectivity to sideload apps like Zwift or TrainerRoad. And given the superior graphics capabilities on the Peloton bike, it should be a much better experience. I was able to successfully sideload some apps, which is how I got all the screenshots for this post (and the screen recordings for the video). Note that technically there are two USB-C ports on the back of the display, but one is for the power of the display itself, and the other is for your usage. The headphone jack has been moved to the front handlebars, which is great (the port you see on the back of the display is basically the wire running from the display to the front 3.5mm handlebar port for your headphones).
Anyway, to summarize the newness – from a form standpoint, the new bike looks pretty darn sweet, and the hardware related changes (screen/speakers/position knobs) are all solid, albeit minor individually, upgrades. But, let's dig a bit deeper into each of them.
An Auto-Follow Workout: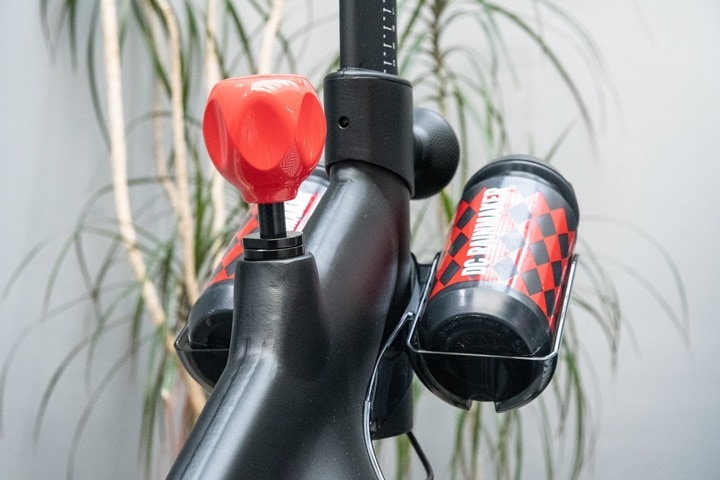 First is the new Auto-Follow feature, which is effectively a fancy term for ERG workouts. Except, in reality it's actually a bit smarter than that. While a typical ERG workout keeps you locked to a given wattage level (e.g. 250w), the Peloton concept is a bit more advanced in that yes, it'll keep you locked to whatever resistance level the workout demands – but it'll also let you stray higher or lower in the typical instructor range.
That's because for most portions of Peloton workouts, instructors call out ranges, usually based on resistance levels (but also zones in the case of Power Zone workouts). So they might say 'Keep your resistance from 40 to 50'. Thus, depending on your athletic capabilities or how much you drank last night, you'd pick some portion of that range. More on that in a second.
First though, let's talk about the knob: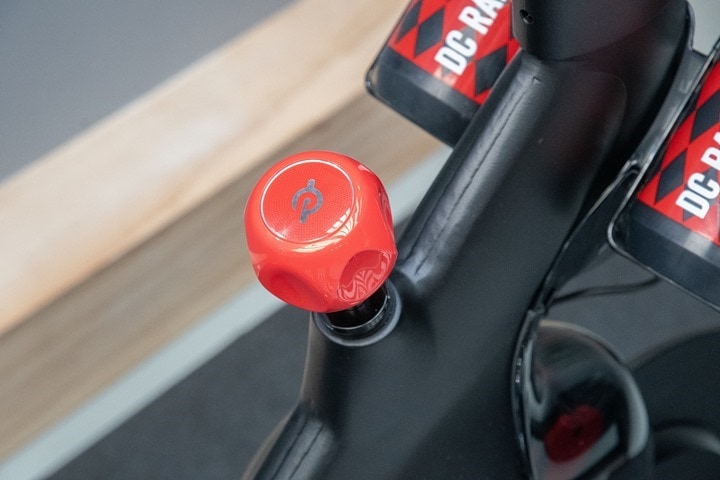 The new 'digital resistance knob' has far less resistance within it, required to twist it. Meaning, you can easily twist it with your pinky – whereas the previous Peloton bike would take a chunk of your hand to get it to change. Of course, that's likely because the new knob isn't technically exerting a force onto the wheel like the old knob. Instead, it's simply telling the bike digitally to change the resistance using a different internal system. In other words, it's acting more like a higher-end smart bike/trainer than a mechanically simple spin bike.
That's because unlike the previous Peloton bike which literally was just a simple spin bike that then used a mathematical equation to determine your power, this is actually measuring it and then applying resistance to change it. In Peloton's support articles they state that "The Peloton Bike+ is powered by a digitally-controlled resistance brake system that auto-calibrates and has a load cell sensor that measures output separately."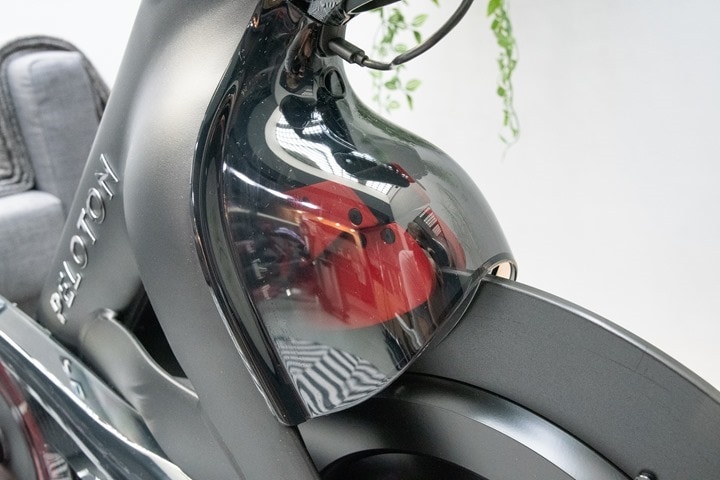 Further than that, upon first usage of the bike, it'll do a self-calibration of the stepper motor where it moves it through the range and back again and calibrates itself. Peloton says this is a one-time operation, though you can trigger it again if you want to in the settings (in fact, I did after swapping pedals, because depending on how they measure load, the slight 30-gram change might impact the accuracy, so just to be safe on accuracy testing I re-calibrated).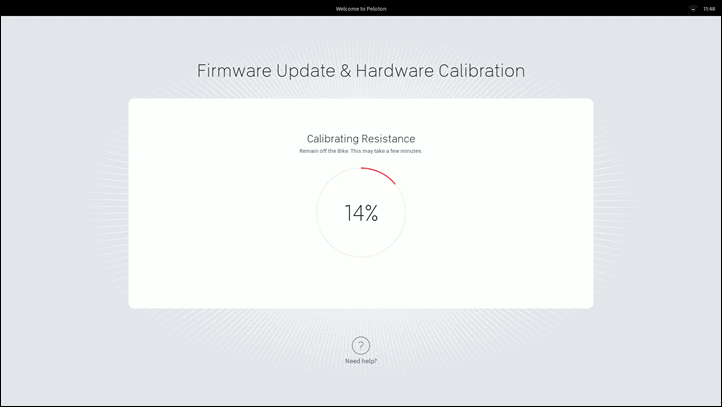 And in fact, if you crack open the apps on the Peloton Bike+ unit, you'll even find a nifty diagnostic app for the digital resistance system and how it shifts the stepper motor.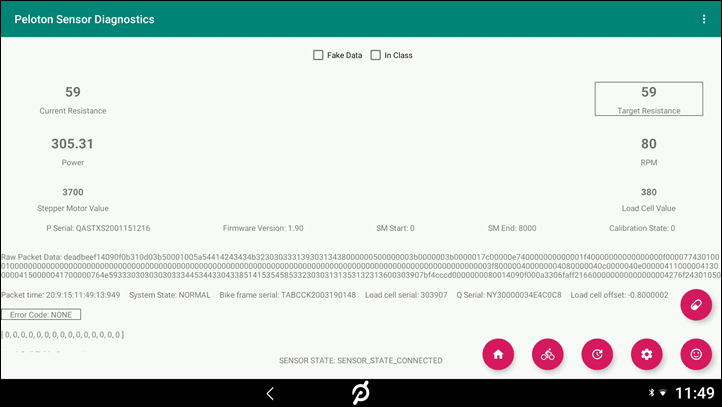 In any case, start your workout like normal. Once the instructor starts calling out ranges, you'll see the yellow box listed. To enable auto-follow you'll simply tap the little lock icon next to the resistance levels during the workout: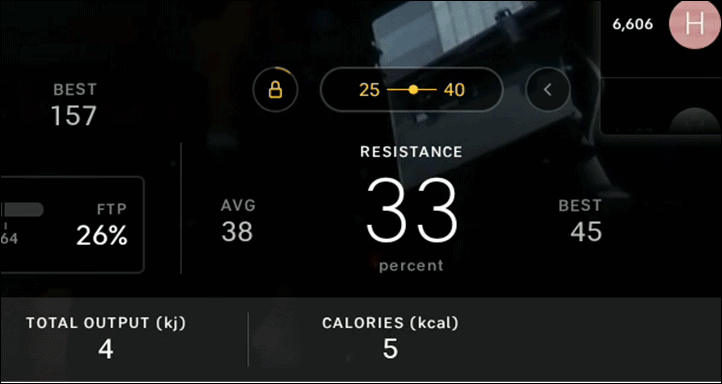 Except – here's the catch: This doesn't work on live classes, only with on-demand classes, because this information is added in after the fact. More on that in a second.
Once enabled, auto-follow essentially has a range that it keeps you within. Typically an instructor will specify a defined resistance range for that portion of the workout, such as between 25 and 40 (% resistance). By default, if you simply toggle auto-follow it'll keep you at the mid-point of that range (33%). Each time the range changes, it'll change automatically to the mid-point of the next range.
However, you can manually change the resistance knob to within the lower or upper end of the range, and then it'll keep you in that same relative position on the range going forward. So if you were at the upper end (49% on a 40-50% range), and then the next set jumped to a range of 55-65, then it'd slide you to 65% for that next set. And so on.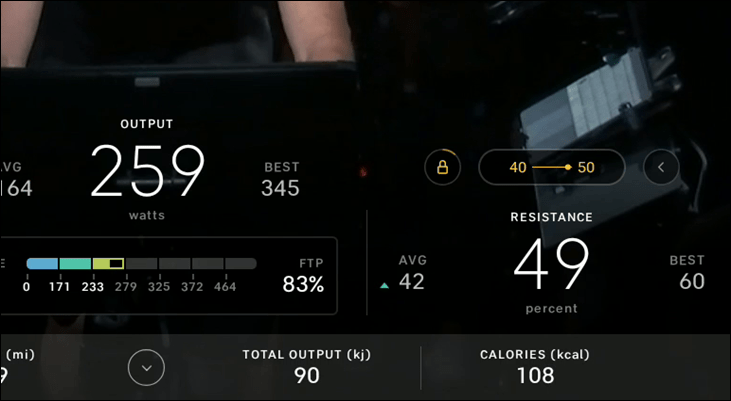 However, if that still isn't enough (or, is too much), then you can use the resistance knob to override (either higher or lower). It'll immediately break you out of auto-follow for that specific target set (but keeps auto-follow enabled), but then upon hitting the next set it'll snap you back into the range at the top (or bottom) of the range. Honestly, this is kinda stupid. The point of going over the range (or under) is because the range isn't working for you. I'd have thought Peloton would have simply done the math (either %-based or actual unit-wise) to keep you relative to the range. After all, they did the math on the in-range bits.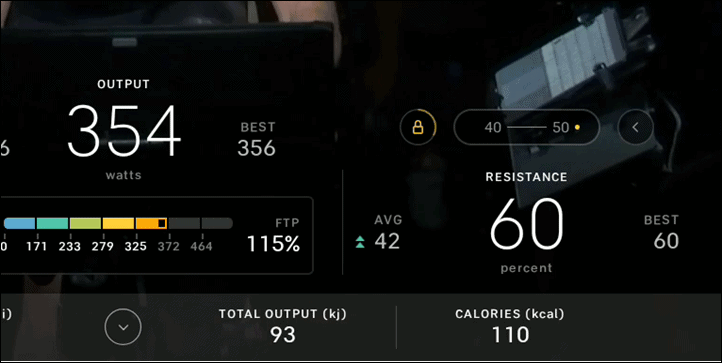 Still, I suspect this is something we could see change with feedback. For myself, I tend to go on the higher end or slightly over – and usually by a set amount (e.g. increasing the resistance by 10%/units – e.g. 50% to 60%). Not every workout, but just when I'm feeling frisky.
And where this gets messy is half-hearted attempts to add in resistance levels on some classes. For example, this class I did from Christian Vande Velde, has resistance levels in it – but they're basically useless. In the class he calls out 'Zone 6', while the resistance levels only put me in Z2 or Z3. So I have to override each set significantly (by +15-20 units). So eventually you just give up and turn auto-follow off.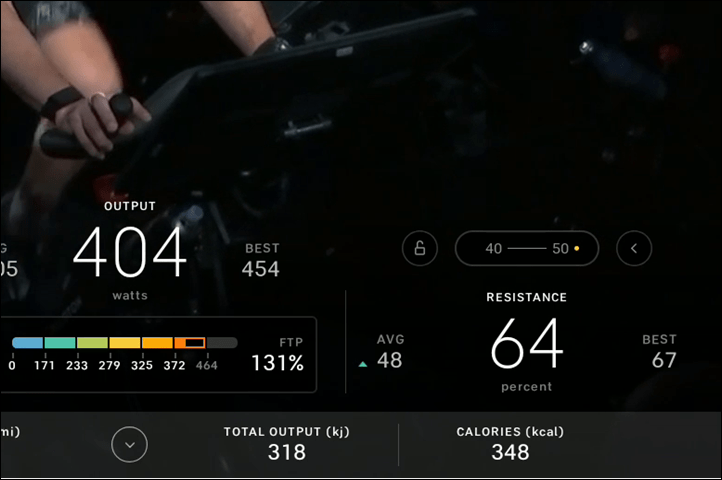 Pro Tip: It should be noted that the yellow lock icon is actually also serving as a timer for that interval. Previously, there was really no way to know exactly how much time was left in an interval unless the instructor noted it (and accurately so – which…varies). Now, because it requires everything really be specified within the platform so the Auto-Follow can work, it's giving you that tidbit of information. So below, you see the screen is at roughly 75% completion of the yellow icon: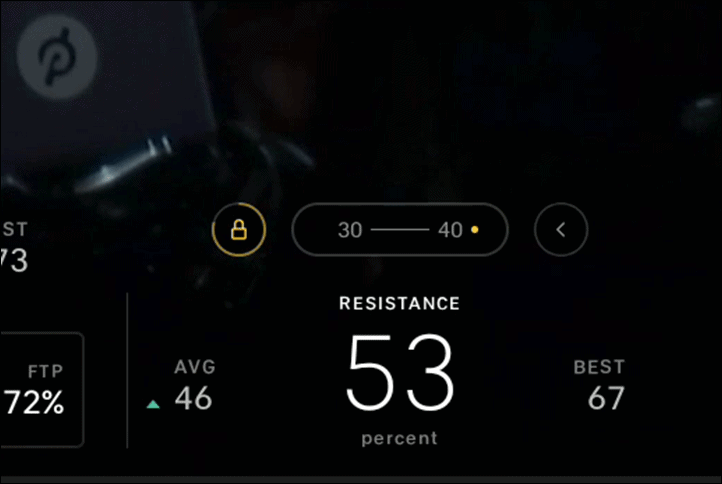 But that doesn't apply to cadence changes. So some instructors will maintain the resistance but drop the cadence. Thus, this isn't really a pure wattage-play, since if you drop cadence on a spin bike while maintaining resistance, it lowers overall wattage.
Finally – the big rub: This doesn't work with live classes. Or even recently created on-demand classes (lag appears to be three days). Or PowerZone workouts. And frankly, there's zero reason this issue should exist. Peloton live classes as they are put together now are already highly scripted, after all, the music is synced to the highs and lows of the workouts, and the instructors are reading back notes from screens to remind themselves about the workout they created. There's no good reason they can't simply put those queues into the platform beforehand. Zero reason whatsoever. Sure, there might be seconds where the auto-follow system might be off a second or two from an instructor call-out, but c'mon – this is half-baked right now.
But let's pretend that's acceptable that live classes don't have Auto-Follow. It's 100% not acceptable to have to wait 3 days for resistance cues to be put into the workouts for on-demand classes.
(Note: On Monday evening classes from Friday still didn't have any target metric details. On Tuesday, they appear to have done the weekend classes and into Monday's classes and even one from 4 hours ago. Perhaps these updater peoples only work weekdays? Either way, it should be at a minimum available the second the class is done.)
After all, the biggest usage peak for those on-demand workouts is in the first 24-72 hours. So seems mixed. In any case, you need to ensure the class shows these Target Metrics graphs in order for Auto-Follow to work: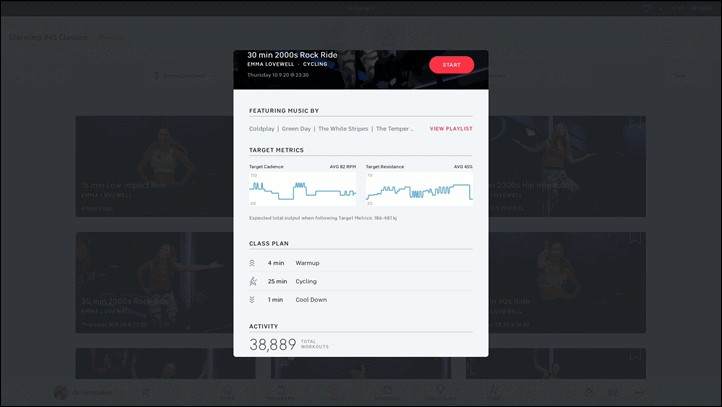 On the flip side, Peloton's live classes have never been a strong offering unless you were US East Coast-based. Even before the pandemic, and even with the newish London studio; the European and US West Coast users always got limited offerings at otherwise peak workout times (namely, 6-8AM and 7-10PM). That continues today. For example, if I look at the offerings for this evening and tomorrow morning, you'll see it's pretty slim:
Mind you, Peloton has demonstrated instructors can lead classes from home just fine. So the lack of live classes appears to be less about technology and probably more about internal/organizational politics than anything else. But ultimately, the point is – if you primarily do live workouts, auto-follow won't be there for ya.
Apple GymKit Integration: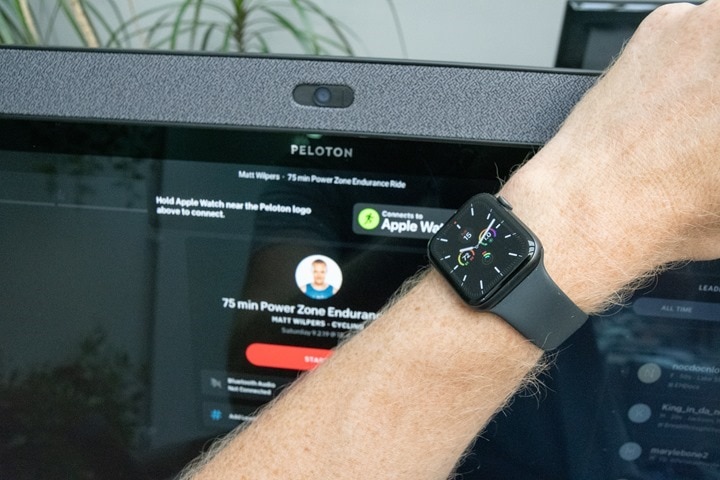 Next, there's the new Apple GymKit integration. This requires the Bike+, as the older bike doesn't have the NFC hardware in it to wirelessly connect to the Apple Watch. Mind you, as I'll note later – this doesn't mean Peloton couldn't introduce Apple Watch integration in numerous other ways. Today, Apple Watch integration oddly doesn't work with existing Peloton bikes, but only with the Peloton digital app. But more on that in a second.
First, on your Apple Watch you need to ensure that you've enabled it to detect gym equipment. On your phone you'll find this setting in the Watch app on your phone, then Workout:
Next, to pair your Apple Watch with the Peloton bike, you'll hold your watch up near the Peloton logo (which is near the camera, but there's no relation here) for a few seconds: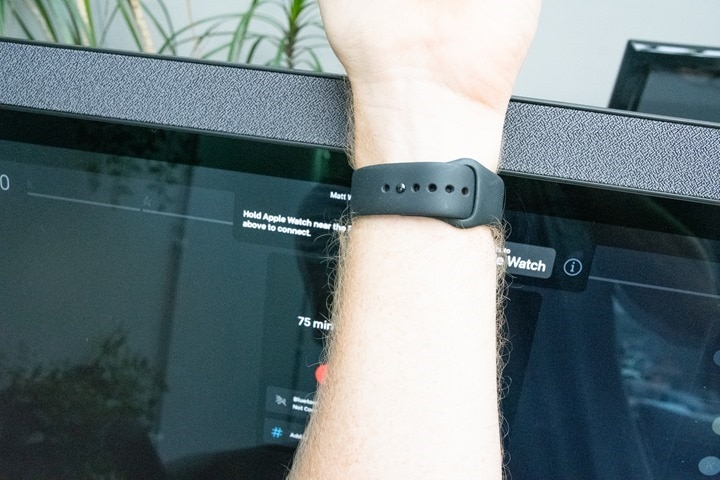 A moment later you'll get a prompt on the Apple Watch itself, which you'll need to confirm. This creates what is effectively a one-time pairing for that workout. Except, it didn't work for me. It just hangs there forever, and never prompts me on my watch.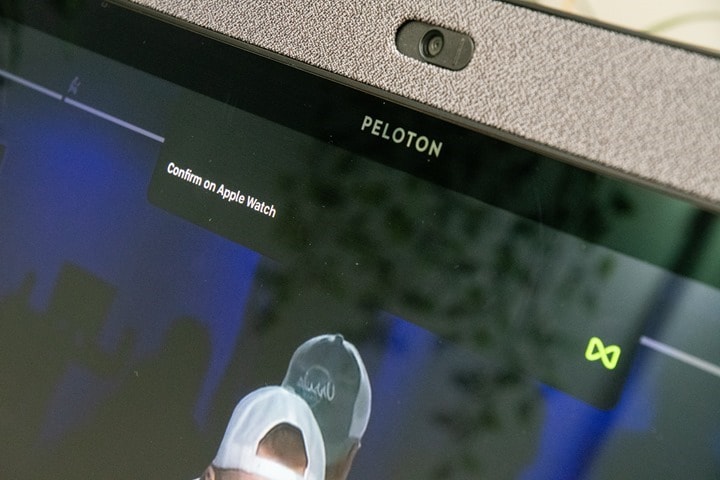 Supposedly once paired, the watch will transmit the heart rate measured optically to the Peloton bike, and stay in sync. And inversely, the Peloton bike will transmit the time and distance data to the watch, also staying in sync. This is effectively a workout on your Apple Watch, so that once you end the workout it saves to your Apple Health/Fitness app, and thus closing any rings you might wanna close.
Now, in playing with this a bit – it's a bit fumbly since it wouldn't work for me after many tries, and others seem to report it taking numerous tries also. GymKit was mostly designed for…wait for it….gyms. Less so devices in your home. Sure, Apple and Peloton would sell you on that idea – but by its nature, GymKit was specified to essentially be a one-time transaction that's thrown away after you leave that machine. As such, you have to manually pair it every single time you do a workout.
Adding a bit of insult to injury, GymKit is only available for cycling classes, and not any other classes you might take. While I can somewhat understand the thinking here (namely that if doing a core workout there's technically nothing to measure), the reality is that this seems slightly underwhelming if you do other workout types. I'd have thought that the two companies would have worked that out.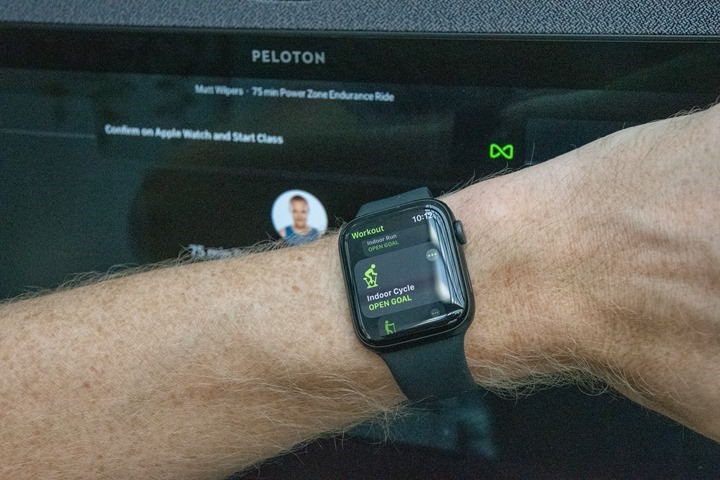 Finally, as I stated at the beginning, while Peloton has rolled out Apple Watch GymKit integration only with the Peloton Bike+, the reality is there's no reason there should be that limitation for all the features. For example, half of the appeal here is getting your Apple Watch heart rate to the Peloton bike, and that could be easily (quite trivially) accomplished within a Peloton app for Apple Watch. After all, Peloton does exactly this for users of their Digital App on iPhone, yet not for the people who actually bought the $2,000+ bike. It's a silly easy thing for Peloton to code for, and other indoor cycling companies like Zwift have rolled this out years ago.
So while the GymKit integration will be handy for some, I think the implementation seems more marketing driven than practically driven. Which is a shame, because the underlying aspects of it would have been really useful if it was seamless every time.
Power Accuracy: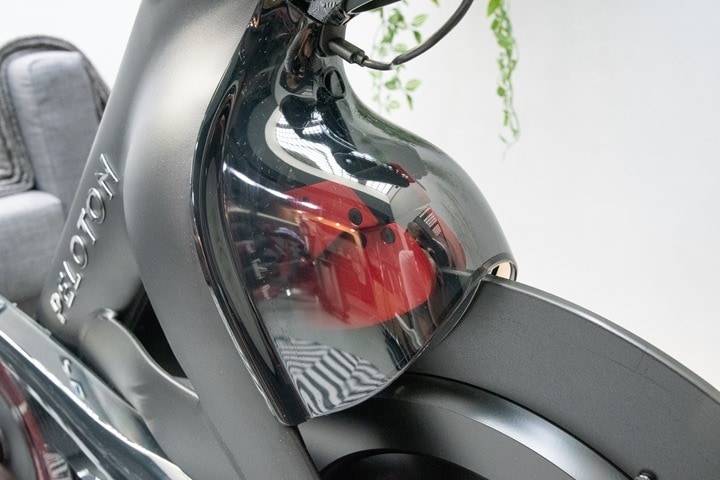 Of course, if you're a regular around these parts, you know well that I'm into all the data accuracy bits. It's part of what I do, and I do a lot of power meter testing. I've written vast sums of words on it, as well as how to do it too.
And I have boatloads of accuracy data on the existing Peloton bike (non-Plus). Piles and piles of data compared against numerous power meters I've attached to the original Peloton bike. And overall…nope. It was mostly high by a fair bit after it warmed up. Ironically, it was pretty good until about the 10-15 minute marker in most cases.

The exact amount would vary, but in general the higher you went with resistance, the worse it got:

Now by pure dumb luck, I finally got the Peloton calibration kit a bit over a week ago (I ordered it in early June). But I haven't quite had the chance to run through that process yet. So I'll do that before I publish my final base Peloton Bike model.
But what about the new Peloton Bike+? Is that fancy new digital resistance system with noted load cell accurate? Well, I threw a pair of power meter pedals on there to find out. Then I ensured they were properly bedded (meaning, I did some sprints, validated the crank length was set correctly, re-did the calibration with the new power meter pedals, etc…), before starting. Here's what that data looks like:

Holy cow, it's actually accurate. Note that in the first ride above there was still a little bit of settling going on in the pedals being installed. You can see it stabilize over the course of the first ride.
The workout included some solid diversity of both cadence and power levels. It didn't have any crazy out-right sprints (e.g. 800w+), but I've gotta save something. Plus, I was on my 3rd ride of the day somehow at this point. But again, very solid first performance. On that workout it was largely in auto-follow mode, though honestly I'm not seeing any impact of that enabled/disabled in terms of outright power accuracy. Also, I'm seeing no meaningful lag of the auto-follow system. It seems to make large resistance changes in about 2-3 seconds (the industry norm).
Next, another shorter workout I did in 100% auto-follow:

Again, this looks even closer now that the pedals have settled a bit. Also, in case you're curious about cadence accuracy, here's that:

Also looks solid. Note that Peloton does appear to apply a slight bit more smoothing than most power meters (and some trainers). I don't really have an issue with that here, to be honest. It's not impacting the accuracy, it's just smoothing the power. We've seen the same thing in other smart bikes, especially in early firmware.
In any case – I'll continue to collect more data over the coming weeks, and circle back in early October with a full in-depth review. But so far, this is about as good as I could ask for in a smart bike. And actually, the most accurate first production week firmware accuracy I've seen on any smart bike, including from companies like Wahoo/Tacx/Wattbike/Stages.
(Note: All of the charts in these accuracy portions were created using the DCR Analyzer tool.  It allows you to compare power meters/trainers, heart rate, cadence, speed/pace, GPS tracks and plenty more. You can use it as well for your own gadget comparisons, more details here.)
Wrap-Up: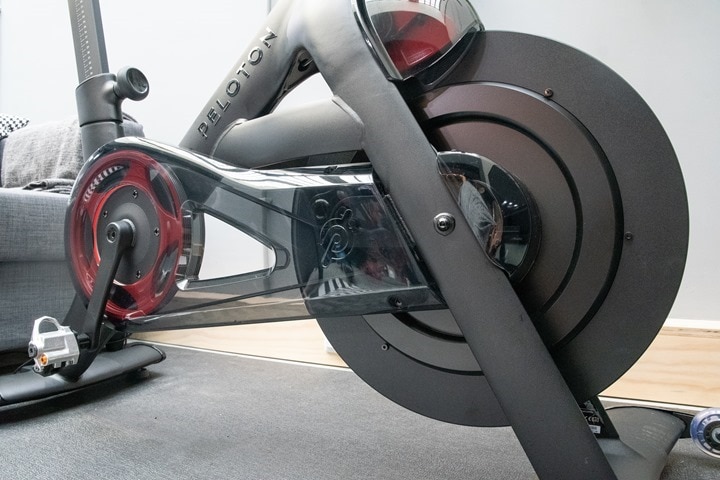 Overall the Peloton Bike+ is both a blend of well-executed features, and a bit of slightly half-baked features. I think the hardware part of it seems to be quite solid based on my first few rides. While I haven't had the pleasure yet of fully disassembling one, the main components seem more than robust enough for day to day usage in the home. And the new hardware aspects like USB-C power, the larger display, and other newness are super nice. Heck, it even looks swankier too.
But it seems clear to me that some of the features just aren't fully baked yet. Auto-follow is good in theory, and when it's available and you plan to stay within the resistance range, it's great. But it's just not available on the workouts you're most likely to do as a daily Peloton user. As a daily Peloton user, it's likely you're doing classes from the last 24-48 hours, and said classes don't have Auto-Follow enabled until 2-3 days usually. That's way too long. And the lack of stickiness for when you stray above/below the instructor's ranges seems antithesis to the countless times that instructors will note that you (paraphrasing) should 'ride your own workout, and if you need more – great, or if you need less, nobody is judging'. Except that doesn't work here.
The Apple GymKit bits should just work, and at present they don't for me. I like the idea of Apple GymKit, and even if it did work, it doesn't automatically pair each time, nor does it work for non-bike workouts. It should just automatically re-pair up anytime you start riding, just as your Bluetooth headphones or anything else does. I'm not sure if the blame here lies on Apple or Peloton, but certainly both companies have the power to figure it out together. And given how little adoption GymKit has in real life, then will easily and quickly become the biggest implementation of it.
Still, despite my gripes – I'd probably recommend this bike over the base Peloton Bike for most people, even despite the cost premium over the base bike. First, the accuracy is *FAR* better. Way better. Second, the screen's size and swivels are handy. Then there's the simple reality that eventually we'll see newer features beyond those launched here that are only offered on newer bikes. We already saw that once before with older displays. I don't expect that to be a tomorrow or even next year thing, but it's worth considering.
In any case – more details down the road, in probably early October, for a full in-depth review.
With that – thanks for reading!
Found This Post Useful? Support The Site!
Hopefully you found this review useful. At the end of the day, I'm an athlete just like you looking for the most detail possible on a new purchase – so my review is written from the standpoint of how I used the device. The reviews generally take a lot of hours to put together, so it's a fair bit of work (and labor of love). As you probably noticed by looking below, I also take time to answer all the questions posted in the comments – and there's quite a bit of detail in there as well.
If you're shopping for the Polar H9, Wahoo TICKR (2020 Edition), Garmin HRM-DUAL, Quadlock Phone Mount, Polar Verity Sense or Lasko High Velocity Pro-Performance Fan (U15617) or any other accessory items, please consider using the affiliate links below! As an Amazon Associate I earn from qualifying purchases. It doesn't cost you anything extra, but your purchases help support this website a lot. Even more, if you use Backcountry.com or Competitive Cyclist with coupon code DCRAINMAKER, first time users save 15% on applicable products! Or, with TPC (The Pro's Closet), you'll save $40 on purchases over $200 with coupon code DCRAIN40!
And of course – you can always sign-up to be a DCR Supporter! That gets you an ad-free DCR, access to the DCR Quarantine Corner video series packed with behind the scenes tidbits...and it also makes you awesome. And being awesome is what it's all about!
Thanks for reading! And as always, feel free to post comments or questions in the comments section below, I'll be happy to try and answer them as quickly as possible. And lastly, if you felt this review was useful – I always appreciate feedback in the comments below. Thanks!