Over the weekend Peloton announced a slew of new features across their platform. Some of these features are minor upgrades, some moderate refreshes, and a few pretty significant signs towards future directions that could aim to disrupt further the rest of the sports tech space.
While most of these features rolled out over the weekend, as part of Peloton's so-called annual 'Homecoming' event, there are others that won't show up till a bit later in the year. Still, for those features that are available today, I gave them a whirl on a few different workouts to see how they handled.
Note that Peloton divides up its userbase into two buckets: "Digital Members" and "All Access Members", which is basically whether you're using the app only, or whether you've got an actual Peloton Bike/Treadmill. The app-only folks are "Digital Members" ($12/month), while the "All Access Members" own a Peloton Bike or Treadmill, and pay $39/month. Interestingly, this update saw the app-only members lose one feature from their stable. More on that in a second.
If you're not so much a Peloton person, but more of an anything-else person, I'd suggest a quick read of the Strive and Scenic sections, it's worth consideration, as these are most likely to be the ones that could impact things elsewhere.
(Oh, and if you haven't check out my full in-depth review of the Peloton Bike+ here.)
Scenic Revamp: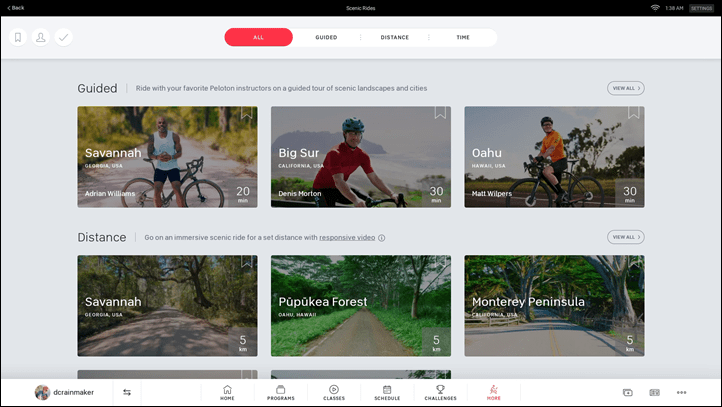 First up is a complete revamp of their Scenic Rides section. This is probably the part of Peloton most people don't know existed. After all, only 10% of all-access bike members even did a scenic ride in the last 3 months, according to Peloton (though, 25% of Tread users had in the same period). It's buried in the menus, as opposed to being a logical 'Scenic Rides' tab. That part hasn't changed, but what has is the content. Peloton admitted that "some of the content was getting a bit stale" and that "the music left something to be desired" (their words, not mine). Plus the video playback speed didn't change based on your speed.
So Peloton basically re-did everything and broke it out into three buckets:
Guided Classes: These are akin to a normal Peloton class with an instructor & targets, but this time you're riding with the instructor outdoors, like going for a ride with a coach
Distance-Based Routes: These are set distance routes, whereby the playback speed varies based on your power output. Other companies have been doing this forever, but it's new to Peloton
Time-Based Routes: These are similar to the previous scenic routes, but supposedly more cinematic
I gave one of the new guided scenic rides a whirl on Saturday. When you dive into that menu, there's only a couple of classes at this point, this initial allotment was filmed in Hawaii, Big Sur (California), and Savannah (Georgia). None of the classes in this initial drop were very long, but I've got to imagine they filmed numerous classes during each production shoot.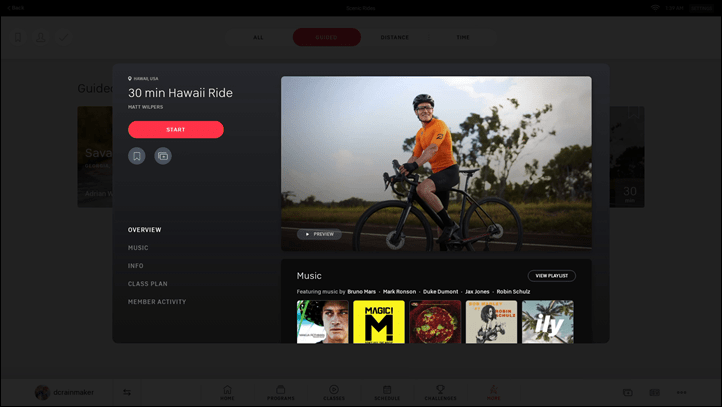 For mine, I selected the Matt Wilpers ride, as he's the one who typically aligns most with the triathlon/hardcore cyclist crowd, as both an endurance coach/athlete himself, and almost all of his workouts are power-zone based.
After a typical 60-second intro explainer on how the ride works, you're off and pedaling. This is where things get interesting. In general, in indoor-cycling apps with scenic rides, the camera is mounted on a bike/car/moto/whatever, and you pretend you're the cyclist on the road. Sometimes you get different brief views, but you don't typically have any interaction with a coach or such. That's where Peloton is seemingly different. As you're riding the route, they've constructed it so that the instructor pops into view on the road with you and is giving you the workout targets. Oh, and he's on a gravel bike because some sections of the route are gravel.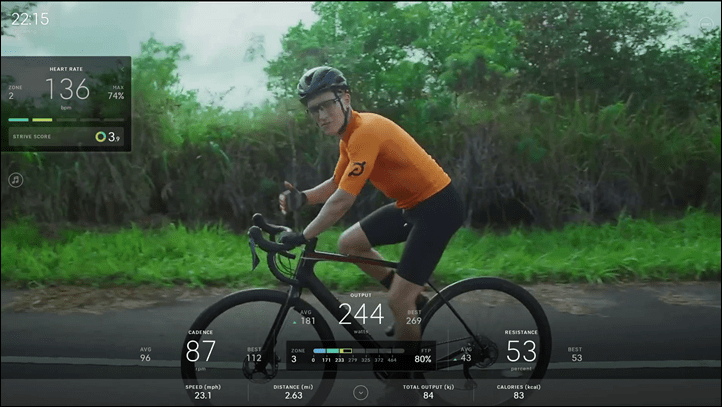 It's not one continuous non-stop route video like a FulGaz/Rouvy/Tacx film, but instead they cut between different cameras, including scenic drone shots, road shots without the instructor, road shots with the instructor talking to the camera, and road shots with the instructor still talking but not to the camera.
Somehow, it actually works. And honestly – it works really damn well.
Which is interesting to me, as I tend to find scenic rides a bit boring on other platforms. I know, it's not logical in my head that I like a good ERG workout with nothing else, but then find a scenic ride boring. But hey, that's my head – it is what it is.
But in this case, you've got the structured workout part being driven by a human, and then a fair bit of camera work to pull it all together. The editing sequencing isn't quite perfect (sometimes the road clearly changes mid-shot during talking sequences). I'd give it a B+, but as a first go, it's strong.
In some ways, it's similar to what The Sufferfest does in terms of effectively having a coached workout + scenic rides. The difference though is that there's an instructor visibly talking to you, the camera. It's not just voiceover. You see the instructor in the video riding too on the same route. Now I'm not saying Peloton is the first to have mixed this formula (or done so perfectly). As I'm sure in the vast piles of scenic ride type videos there are a few instructor-led ones where the instructor is out on the road. Though, I'm guessing very few, if any, of them are at the production quality or seamlessness level as this.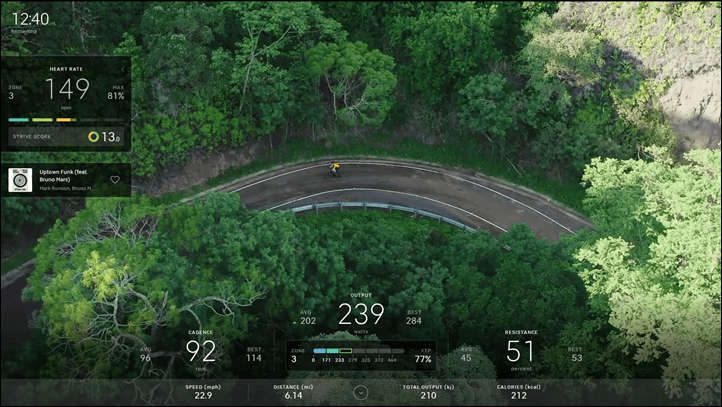 In any case, the things I didn't like about it were:
– Simply too short. The longest class here was 30 minutes. Give me an hour ride somewhere with Wilpers
– Simply too easy. The workout picked up a bit towards the last 10-12 minutes, but too much of it was a bit too easy. And sure, you can always go harder, but if the video is literally going downhill, it kinda breaks your mental game if you're supposed to be hammering at 300w down that hill
– A couple of weird edits. I don't mind using drone b-roll as they did to make it feel cohesive, that works. But if an instructor is mid-sentence, it shouldn't cut to him on a different road as a shot
– They took away the leaderboard…entirely
Still, despite those – the new guided rides are really good – and I hope they have a boatload more of these planned. They clearly took pains to shoot on routes with zero cars or other distracting elements (at least for the Hawaii ones).
For the other two types – distance and time-based, I briefly tried the distance-based one. This one uses your bike speed to tweak the playback speed of the video, just like countless other apps do. This was so-so.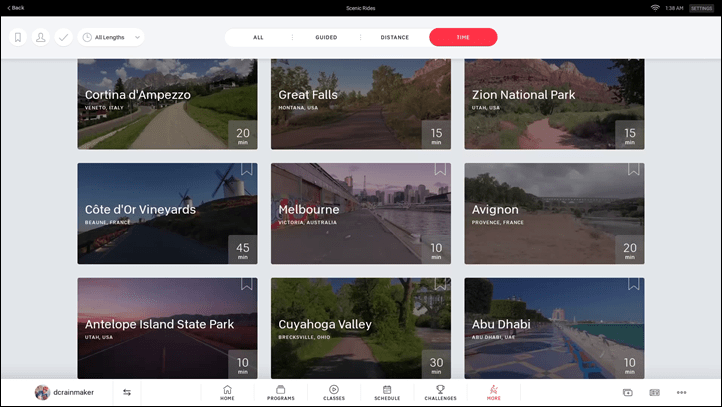 The platform doesn't account for hills in the route, so I'd happily speed up a clearly 8-10% grade hill (this screenshot just as I crested the top) at nearly 20MPH with a minor surge. Blah.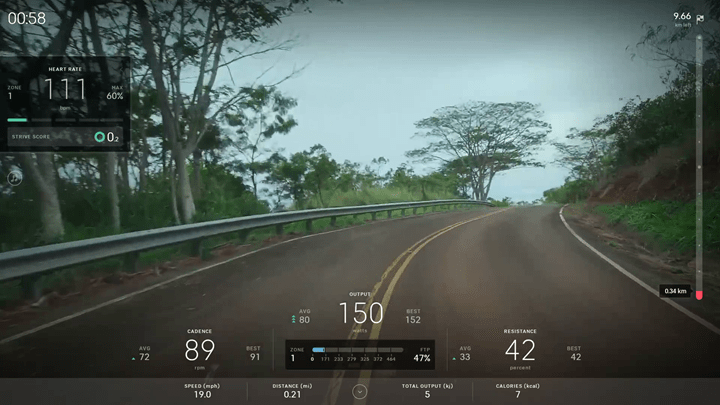 Finally, it's worth noting however, that Peloton has removed the ability for app-only members to do any scenic rides anymore. Their reasoning was that since the distance-based rides require power to drive the speed calculations (which the app-only doesn't support), that they should yank all scenic rides. Obviously, that doesn't really hold water for removing all three types of content, since the guided classes require no power/speed information, just as the time-based ones don't either.
Adding Strive Score: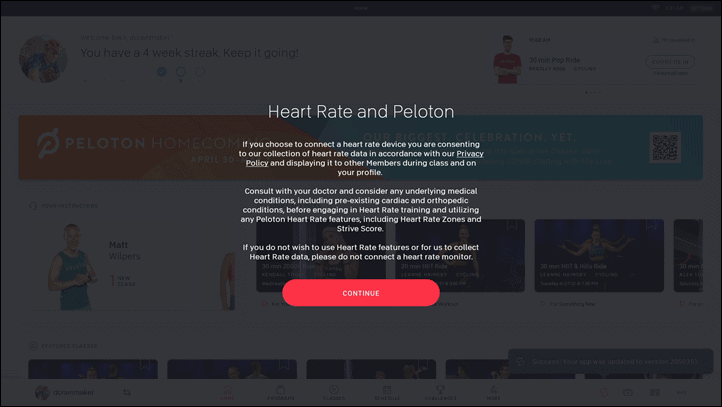 Peloton has added a new metric, the Strive Score, which aims to illustrate the overall impact of a given workout, from an exertion standpoint. In effect, this is basically a heart-rate driven training load score. The Strive Score shows up across all workout types, and has a multiplier in effect based on your heart rate zone, as seen below: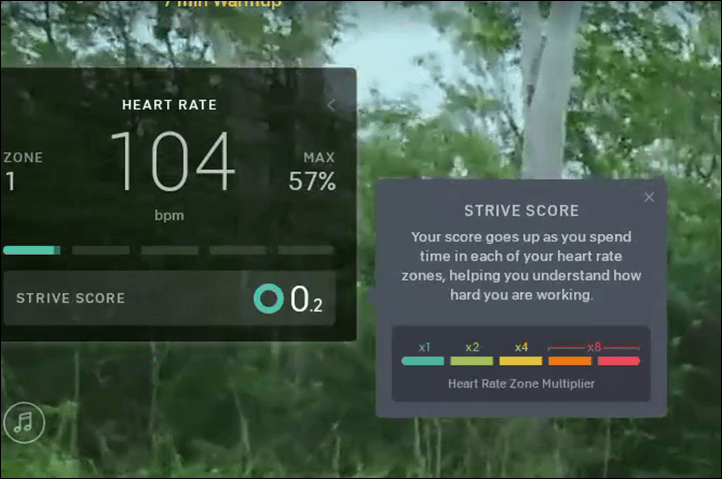 You get more 'points' faster (the multiplier) in higher zones than lower zones, though, Zone 4 & Zone 5 are the same. These heart rate zones are in turn based on your max HR defined in the settings. You can tweak that, as well as turn the Strive Score on or off if you'd like to. You can also temporarily hide it for a given workout by tapping on it.
This does of course require that you pair up a heart rate strap to your app/bike/treadmill. Peloton hardware supports ANT+ & Bluetooth Smart heart rate straps, while their apps support Bluetooth Smart heart rate straps.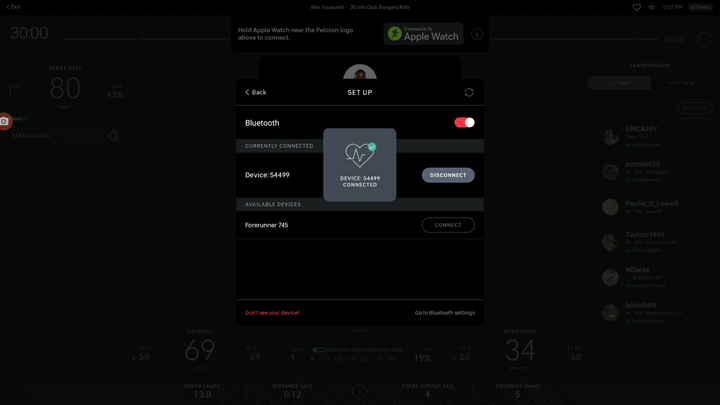 What's interesting to me is a comment made by CEO John Foley during his keynote, saying that Strive was "one of the first software features this group of renowned experts has consulted on", in reference to a panel of outside experts that would talk about the feature the next day in a panel (though, not in as much depth as I hoped).
One interesting tidbit you'll notice in the multiplier above though is that the zone 4/5 multiplier is the same. Peloton says they did that because they didn't want people trying to overachieve constantly in Zone 5. In fact, there were multiple subtle nods throughout the panel that trying to 'kill' every workout isn't a great fitness strategy, versus a more balanced spread of intensities across different workouts.
You'll see the Strive score not only on the left side of your screen near the heart rate details: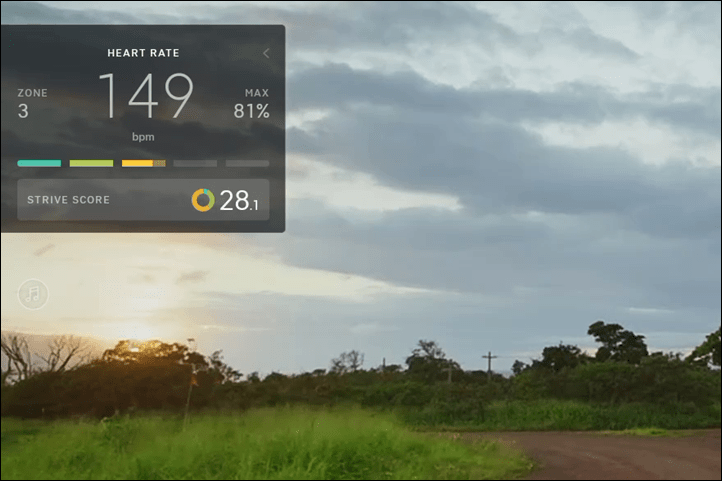 But also the Strive coloring shows up for others on the leaderboard (see the right edge, next to their leaderboard score):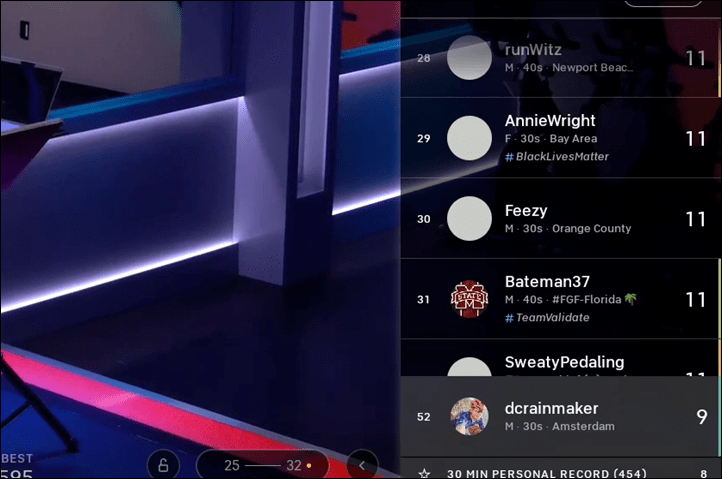 Also worth noting though that while Strive is offered for strength workouts, it's not really the best metric to use for strength workouts, as it basically encourages people to rush through sets in order to keep their heart rate up. That could lead to injury, but also defeat the purpose of recovery in lifting, which is primarily aimed at muscle strength and not aerobic capacity.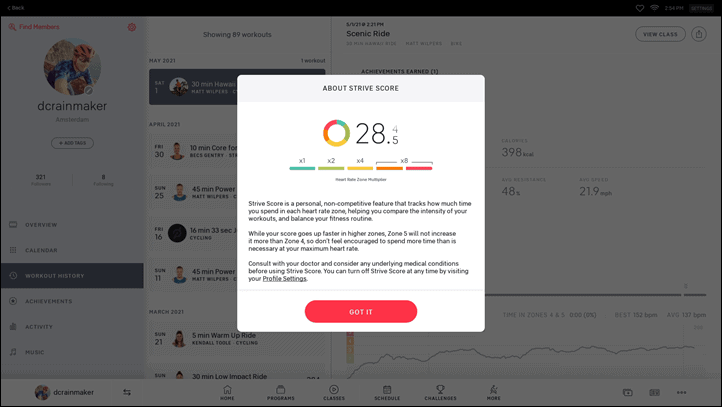 Ultimately though, the fact that Peloton is rolling out a specific metric here is notable. You'll remember back a bit ago when they made various acquisitions in the wearables space, all of which are clearly aimed at making some hardware piece that tracks your workouts or progress. Strive Score would clearly seem to be laying the groundwork in their platform for such a device, and would ultimately fit perfectly in a Whoop-style device in place of training load. Because after all, that's exactly what this is.
Peloton Programs 2.0: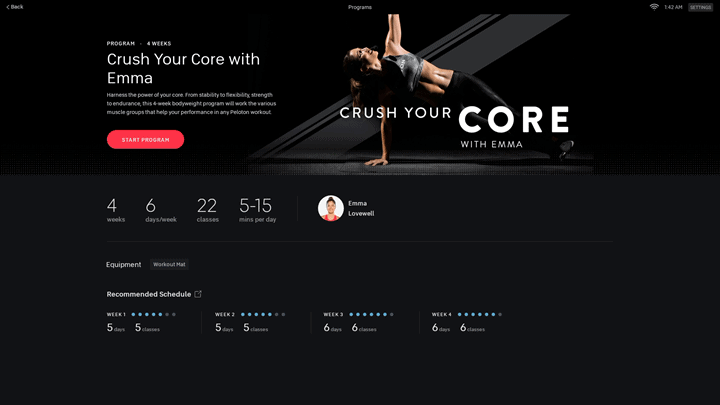 Peloton has revamped their 'Programs' platform, which are basically the structured workouts tied together as part of a cohesive step-by-step program.  Now, when you choose to take a given program, you've got a set number of classes you'll take each week, all of which are both tracked and offered up to you right from the home screen daily.
It's not quite as hard-set as TrainerRoad saying "you shall take this class on May 4th, and this class on May 5th", but rather a set ordering for the week that does let you double-up if you want. It's probably a good balance for the Peloton core market. You can skip a class if you want as well (or re-take classes), and there's a progress report section too.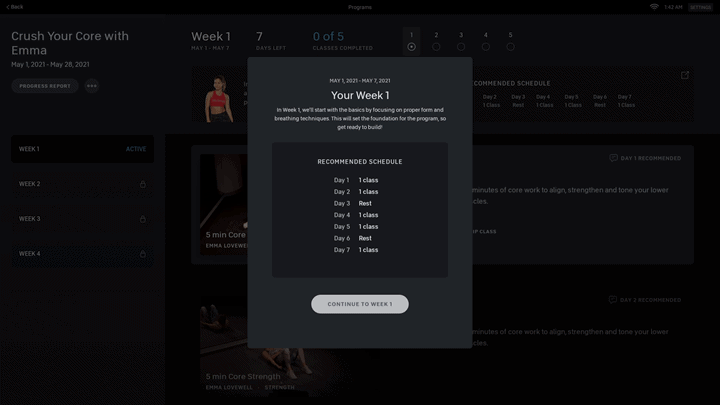 For example, I went ahead and signed up for a Peloton program for core workouts. It starts off silly easy and short, but over time builds up. Like any other class. There's also power zone training ones too, which span up to 6 weeks in length.
The main thing here is mostly the glue around the user interface. Previously this was basically just Peloton sticking a bunch of classes in a folder and saying "Tada: Welcome to our program!", now it's actually a calendar of things to do each week that are all easily front and center and crystal clear.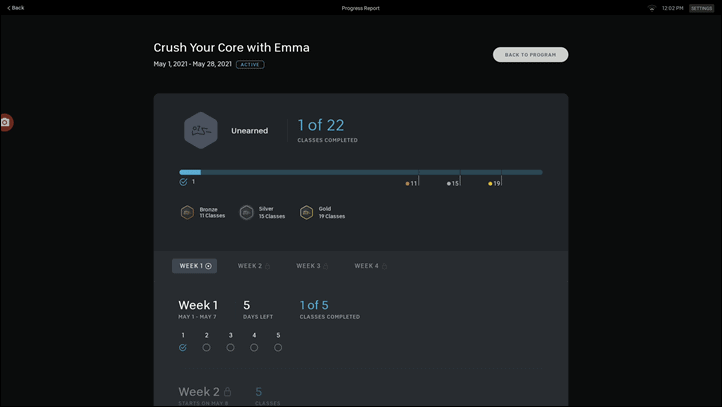 As you complete classes and programs you'll also get badges.
Target Metrics for Tread & Tread+:
Here's a quickie. Peloton is adding target metrics to their Tread & Tread+ classes. Target metrics are what are shown in yellow at the bottom, which basically make it glanceable as to what your current workout target should be at any given moment.
While this will be appreciated by those people, I'm still confused as to why this doesn't exist for power zone workouts. Why doesn't it show the current power zone you're supposed to be in, just like it shows current resistance ranges for every other workout?
New Special Guest Leaderboard: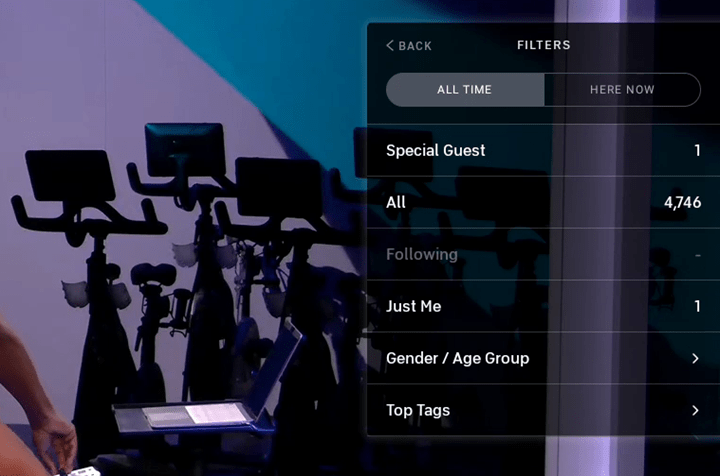 Peloton showed off a new Special Guest section on their leaderboard, for when they have special guests in-studio (or in a class) and want to feature them. You can see it shown this past weekend on Alex Toussaint's ride, with Usain Bolt as the special guest. Above you can choose to toggle on the filter for a special guest (just like you would for any other category), and then you can see just the special guest.
The real key takeaway here though is that this is the only time where I can beat Usain Bolt on any athletic endeavor, and even have a record of it: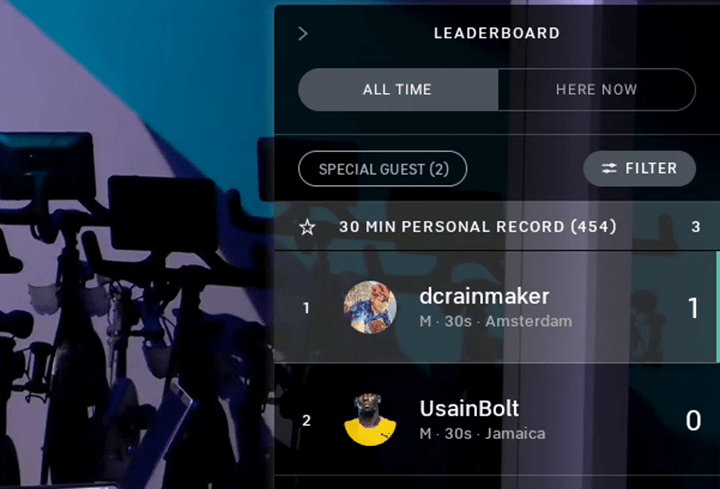 Undoubtedly we'll see this get used more often in other areas, once Peloton is able to get more special guests back into their studios.
Adding a Pause Button: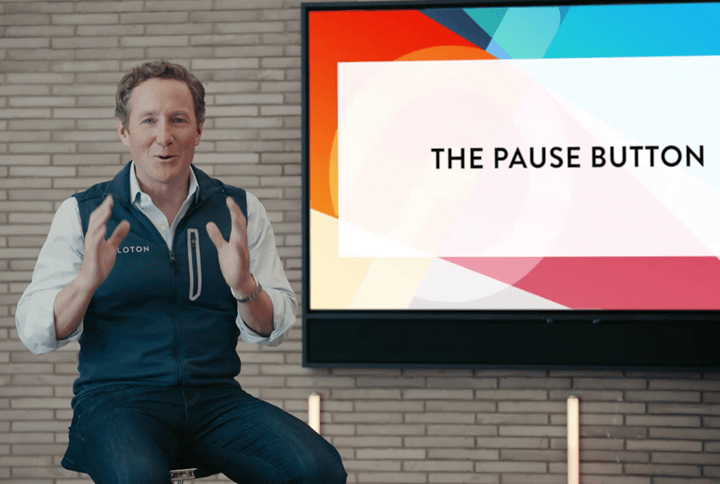 Finally, later this year you'll be able to properly pause your class. Previously you could only fully exit the class and then resume it later. Now you'll be able to pause it, though, Peloton hasn't detailed yet on how exactly this impacts the leaderboard – other than to say that they're working to ensure that "the integrity of the leaderboard remains".
They noted that they made the realization that sometimes "the doorbell rings" or the "kids wake up" and that they needed an easier solution there (to which I say, 'duh'). The current solution is just messy and annoying, and frankly, the fact that it's taken this long is somewhat mind-boggling.
But as to what impact that makes on the leaderboard exactly, that remains to be seen. Obviously, if someone comes back 15 minutes later then that's a significant recovery, versus if someone comes back 23 seconds later after opening a door for a package. I guess we'll find out later this year.
With that – thanks for reading!