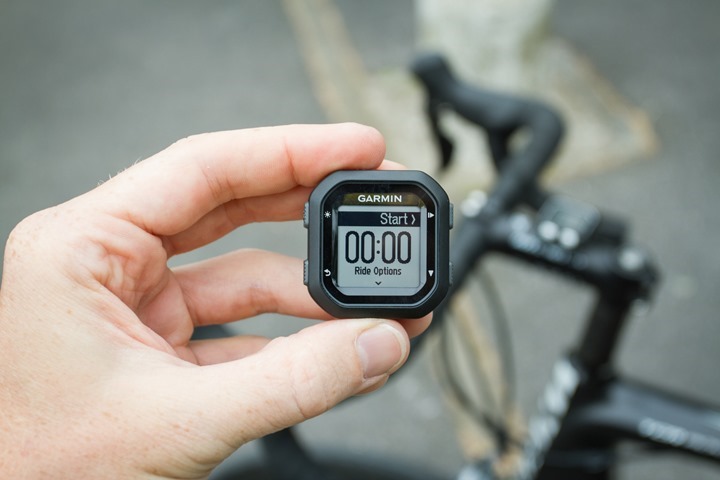 Today Garmin has rolled out two new bike GPS computers, the Edge 20 and Edge 25.  These products add to what has seemed to be a near monthly (or more) cadence of new products from the company within the fitness realm.  For example the recent Vector2 announcement, and then VIRB X/XE, as well as the Forerunner 225.  Let alone the recent shipping of Epix and just before that the Vivoactive, Fenix3 and Vivofit2.  It's busy times for sure.
The Edge 20 and Edge 25 are basically replacements for the Edge 200 unit introduced some years ago.  That was a budget GPS bike computer that offered basic GPS distance, speed, and route recording.  It however lacked ANT+ sensor connectivity or any way to connect/sync with your cell phone.  With these new products, Garmin focuses on those areas.
This product is in many ways designed to stem the tide of budget bike GPS computers chewing into what was previously Garmin's turf.  Companies like Cateye (with the Strada Smart), Lezyne, and Wahoo (RFLKT/RFLKT+) have been weighing in with new units that for many riders offer the baseline required functionality at the right price.  But before we get into too much analysis, let's talk specs.
The Feature Overview: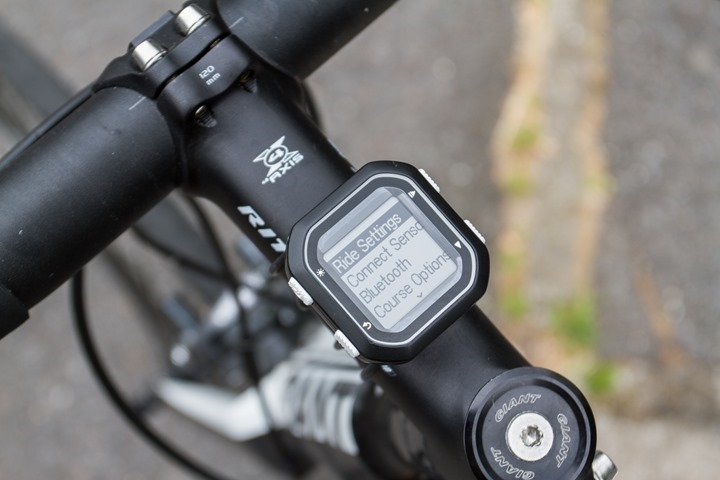 As noted, there are two units being announced today.  Both units are identical from a size standpoint, each being roughly bigger than a quarter (length/width).  Or basically, just big enough to contain the quarter-turn mount that sits under it.
Both bike computers have much the same basic functionality, which includes:
– GPS speed and distance
– GPS based recording of route for online access later
– Course navigation (with courses created on Garmin Connect)
– Two customizable data pages (up to three data fields per page)
– Goal based workouts (i.e. time/distance/calories)
– Personal Records (i.e. longest ride)
– 8hr Battery life
– IPX7 waterproofing
– Weight of 0.9oz (25g)
– GLONASS capable GPS
– Garmin quarter-turn mount (compatible with 3rd party mounts)
It's the internals that differ though between the two units.  With the Edge 25 you gain Bluetooth Smart and ANT+ connectivity.  This means you can sync with your phone for downloading rides and courses, while also connecting to ANT+ sensors.  Whereas the Edge 20 doesn't have either of those options, so if you want to download from it – you'll have to do so via USB to your computer.
Things the Edge 25 has that the Edge 20 doesn't (for the extra $40):
– ANT+ sensor connectivity (ANT+ Speed-only, Cadence-only, Speed/Cadence Combo, Heart Rate)
– Bluetooth Smart phone connectivity (for syncing completed activities/courses)
– Additional heart rate data page (HR BPM + HR Zone)
– Ability to create/set heart rate alerts
– Ability to track distance/speed indoors using ANT+ sensors
Again, same external size as the Edge 25, just slightly different hardware internally (they add the communication chip).  And both units have almost the same software, with only slight differences for the communication pieces.
These units are NOT meant to replace the Edge 500/510/810 or other higher end product lines.  Instead, they're designed to replace and compete with that lower-end bike computer segment.  That said, for many rides the Edge 25 might actually be that perfect replacement.  Especially for those that don't care about a ton of details during the ride itself, but rather just want the basics during the ride on an easy to read bike computer.
To give you a quick run-through of how the units act and feel, I've put together this first look video:
As you can see, the navigation is super-easy to use and the interface fairly intuitive.  In many ways, it's almost identical to that seen on the Forerunner 10 & Forerunner 15 product lines.
A Closer Look at the Edge 20/25: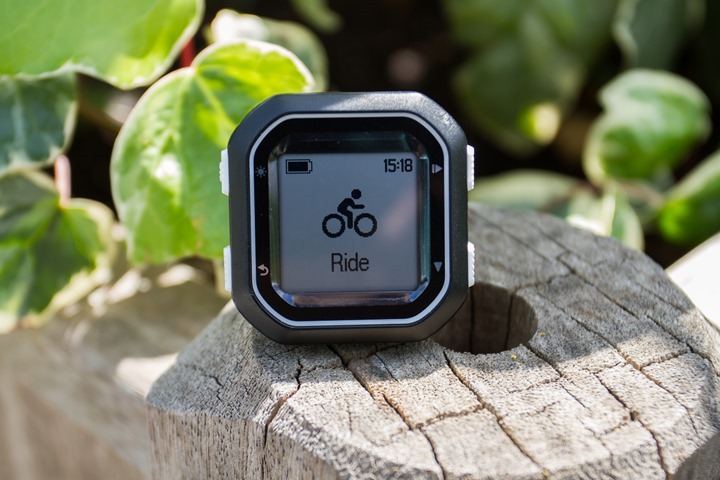 As we dive into the units, you'll see that physically the two are very small.  In fact, they aren't really much bigger than the quarter-turn mount they sit on.  On both sides of the unit are two buttons: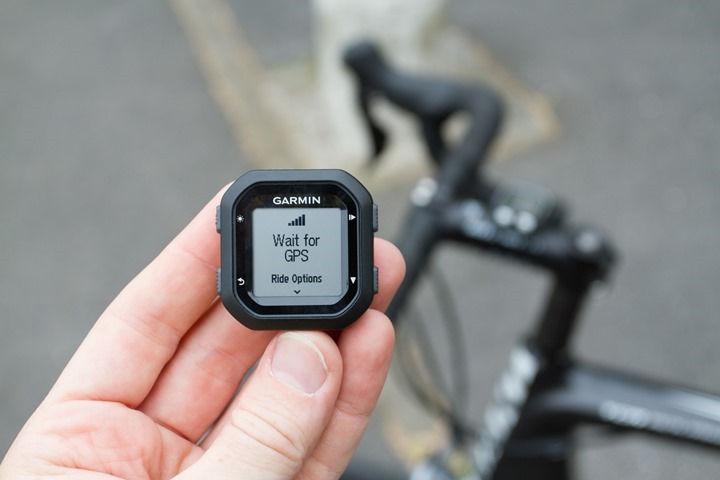 These buttons have the following functions:
Upper left: Backlight
Lower left: Selecting Back, Lap button
Upper right: Select (Enter)
Lower right: Down (changing page/selection)
There are no other buttons, and the unit is not touchscreen.  Despite being rather simplistic, the layout works reasonably well, though I didn't get to test it yet with heavier winter gloves to see if perhaps the buttons are too close together.
The Edge 20/25 both include the ability to get breadcrumb style navigation of courses.  These courses can be downloaded to the unit via either USB or in the case of the Edge 25, Bluetooth Smart from your phone: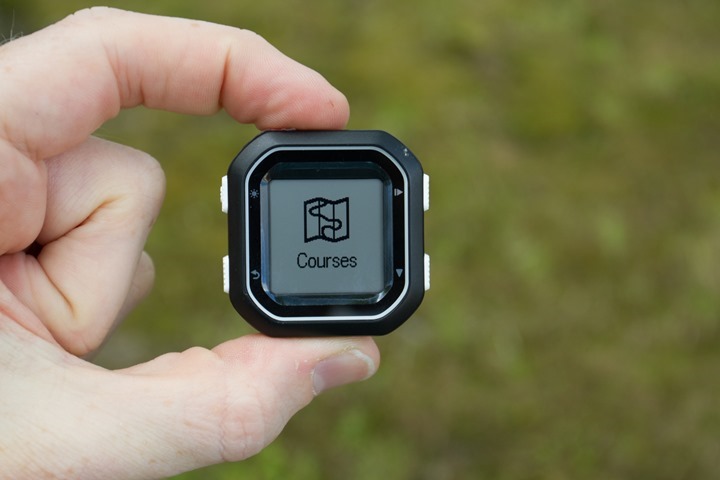 Additionally, the Edge 20/25 also supports prompting of Garmin Connect segments (not Strava segments).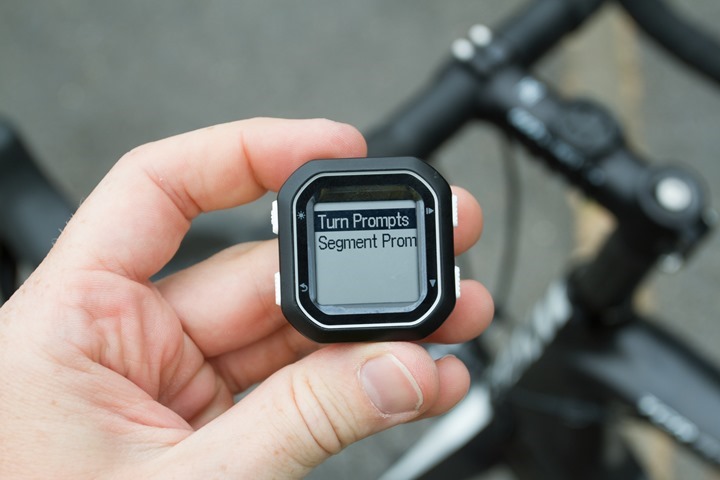 As noted earlier, only the Edge 25 (not the Edge 20) supports Bluetooth Smart connectivity to your phone.  That connectivity allows you to upload completed activities immediately to Garmin Connect.  From there they can automatically sync to 3rd party sites like Strava, TrainingPeaks, Sport Tracks, and others via Auto Sync.  For example, usually it only takes a few seconds to show-up on Strava.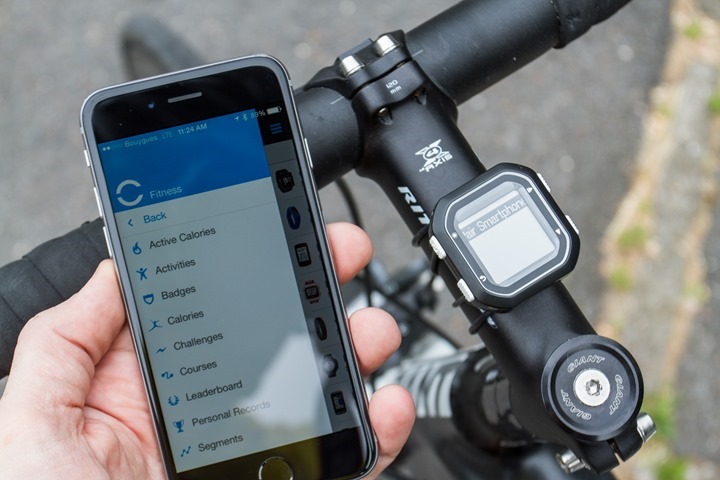 The phone connectivity on the Edge 25 also enables Live Tracking, just like most of Garmin's other recent fitness devices.  This means you can share your exact location – including ANT+ sensor data such as heart rate and cadence – with all your BFF's on the interwebs.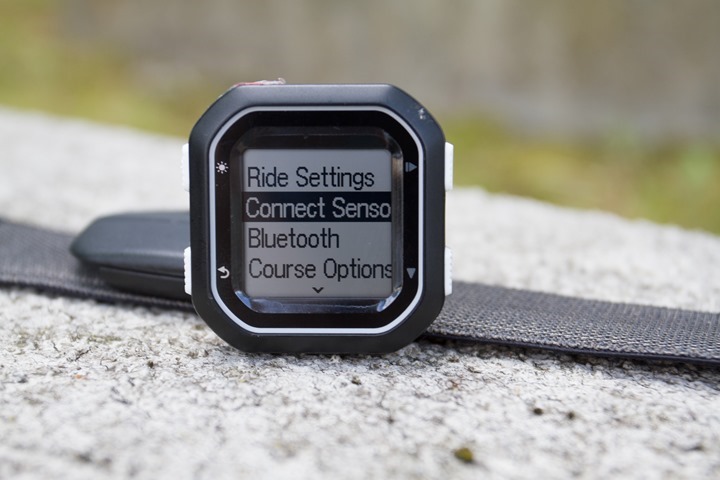 And lastly on the Edge 25, it supports text and call notifications – letting you know that your BFF-stalking friend is also texting you incessantly.  Of course, this requires your phone be on your body (back jersey pocket is your best bet).  This can be enabled/disabled as you see fit.
Note that on the Bluetooth front, it will NOT connect to Bluetooth sensors – only instead with your Bluetooth Smart capable phone for data sync.
When it comes to ride data field display, you've got the following:
Data Page 1: Customizable with three metrics
Data Page 2: Customizable with two metrics
Data Page 3: Heart Rate (BPM) & Heart Rate Zone (Edge 25 only)
Time Screen: Shows time/date
As for the metrics you can select, they are as follows:
Metrics available: Time, Distance, Speed, Average Speed, Calories, Cadence (Edge 25 only), Total Ascent
(Ascent uses GPS elevation fields, neither unit has a barometric altimeter)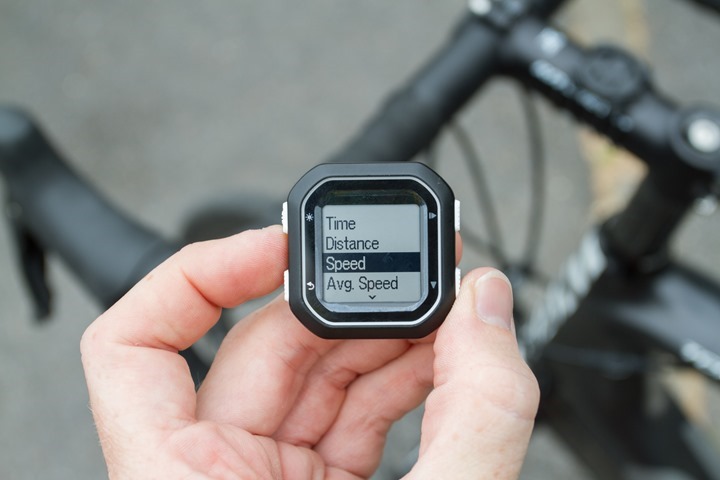 You can see an example of the three data fields below, and then below that the two-data field page: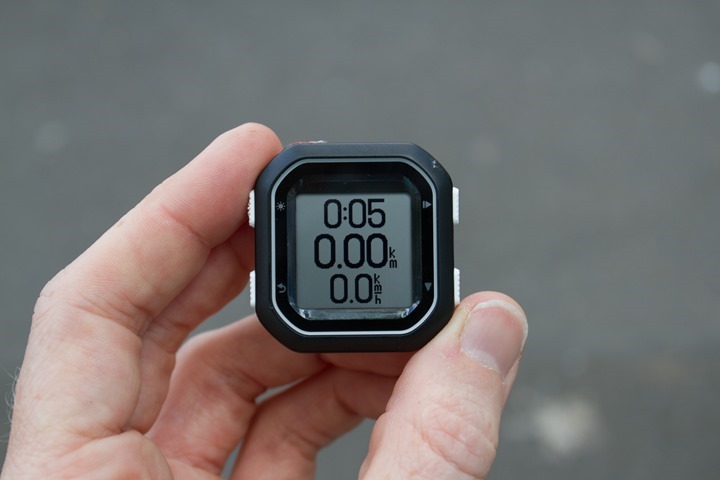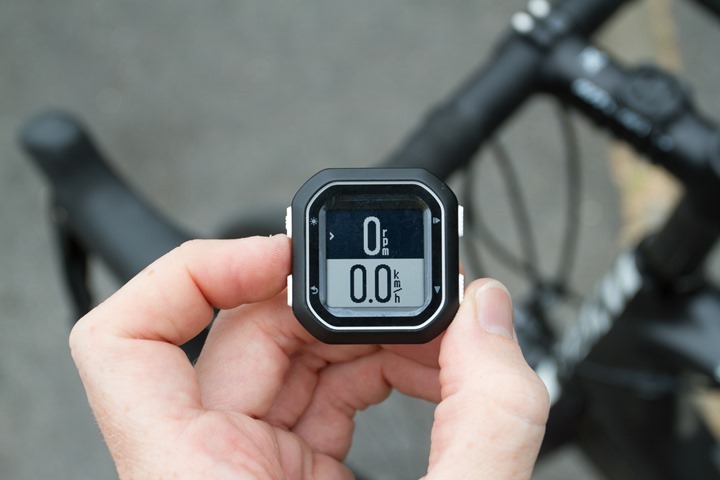 With the Edge 25 and a heart rate strap you can create a HR alert for a specific zone, or a specific high/low heart rate value: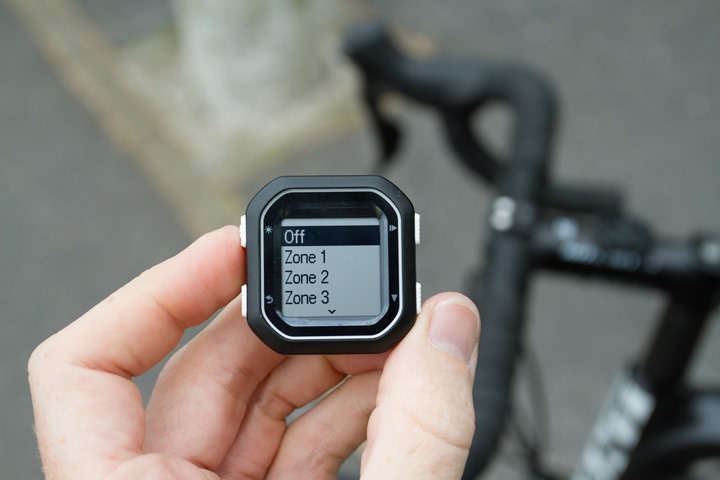 And on both the Edge 20/25 units you can create time/distance/calorie goals that will have you focus on completing those workouts against that goal:
Upon completing your ride, both units will show you information related to PR's, such as longest ride, or fastest 40K ride.  This is similar to most other Garmin units made in the last few years.
From a settings standpoint, you can change the language as well as change it from miles to kilometers (or vice versa).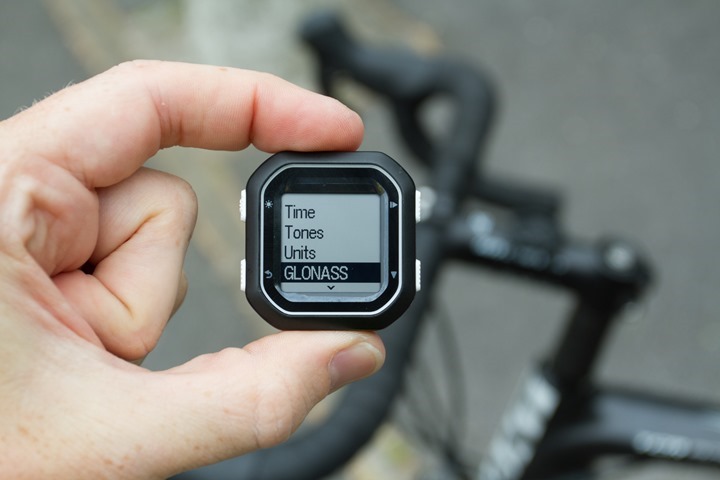 And you've also got the ability to configure Auto Pause (ideal for city riding), Auto Scroll (just automatically changes your data fields every few seconds), and then Automatic Laps.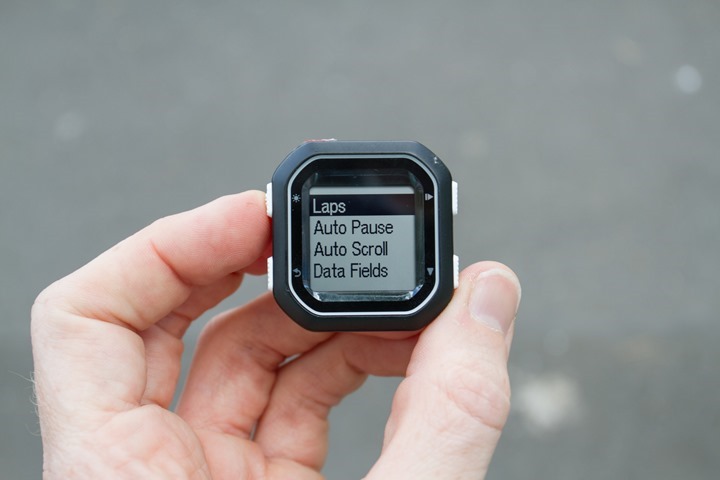 One caveat on Automatic Laps though is that you can only specify one of three options: Off, 1 Mile/Kilometer, 5 Miles/Kilometers.  Whereas most other Garmin products allow you to tweak that a bit more.  Though, in my experience when using Auto Lap, I can't remember the last time I didn't just use the 1 Mile/Kilometer option.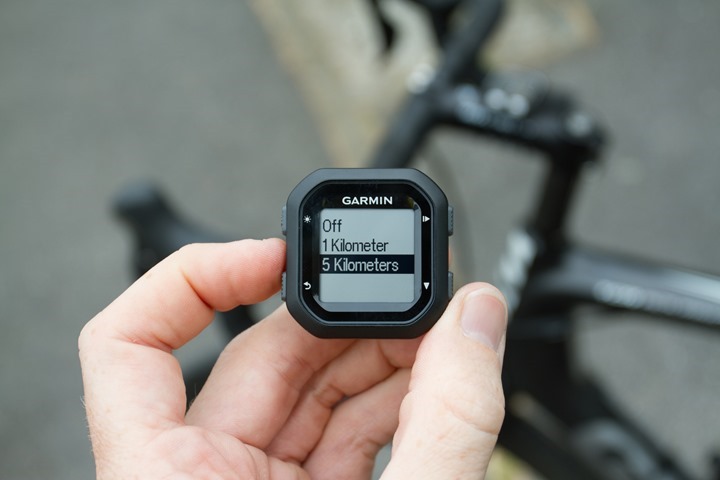 And of course, you can still do manual laps as well (my personal favorite).  All of this lap information will appear on Garmin Connect afterwards (as well as in the .FIT files that can be consumed by any 3rd party application).
Finally, before we move onto the next section, here's a semi-random gallery of photos I took of the Edge 20/25 units:
The easiest way to tell the difference between the Edge 20 and Edge 25, is that the Edge 25 has white buttons.
Also, for those curious about sizing – here's a look at the current Edge lineup.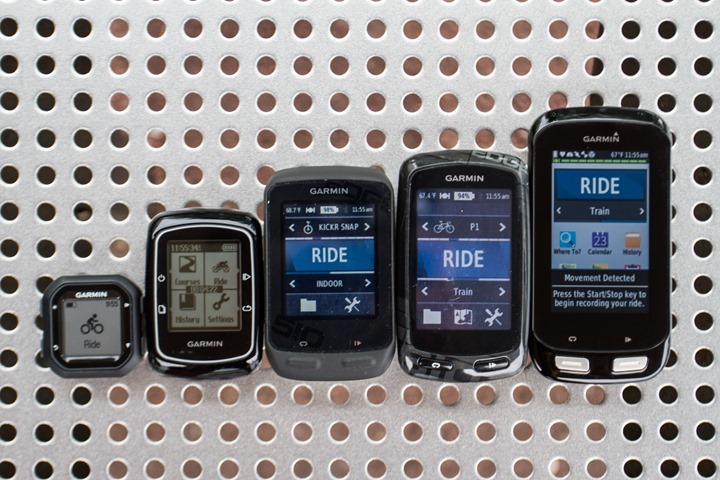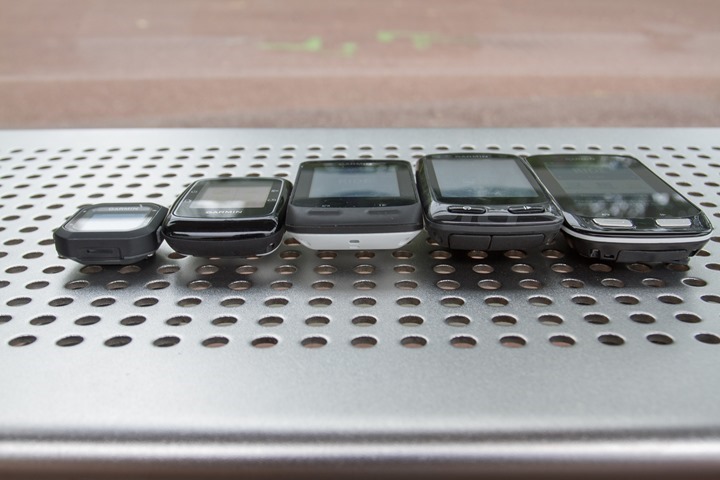 From left to right: Edge 20/25, Edge 200/500, Edge 510, Edge 800/810/Touring, Edge 1000.  Note that the ones I separated with a "/" mean that those units share the same exterior shell.
Product Comparisons Tool:
I've added both the Garmin Edge 20 & Edge 25 into the product comparison database here on the site.  This allows you to mix and match the units against various competitive units to see which features are offered.  For the purposes of the below, I've compared the Edge 20/25 against the Garmin Edge 200, as well as the newer Polar M450 bike units – since it's in the same ballpark price-wise.
Remember again that you can mix and match products as you see fit, using the product comparison tool.
Summary: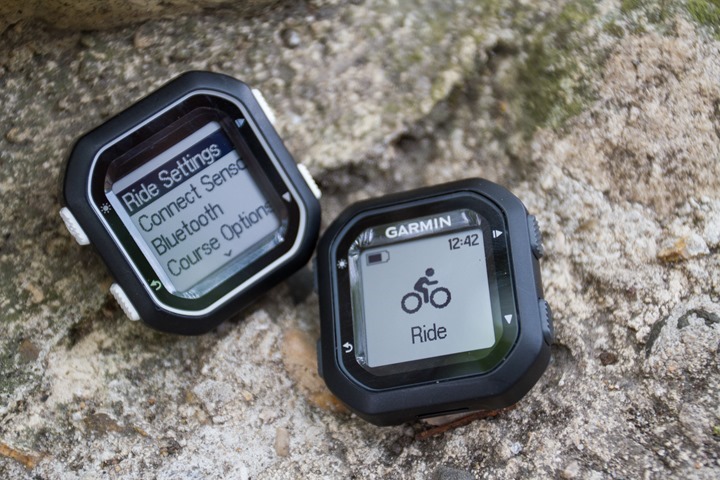 The Edge 20 and Edge 25 are interesting little products.  For Garmin's part, they are clearly trying to go after the 'size is king' market (but in a smaller is better kinda way) here.  And that'll likely appeal to many riders, especially those who are not historically into bike tech, but are willing to plunk down $129-$169USD.  For them, these products will hit the mark, especially with Garmin's fairly strong Garmin Connect platform offering for that rider segment.
However, with that said, I'd note that from a value standpoint, Polar has once against scooped Garmin here.  Their recently announced Polar M450 GPS bike computer (at $169 as well) is a heck of a lot more feature-deep than the Garmin Edge 25.  Sure, Garmin has Live Tracking and super-basic course navigation support, but Polar has way more options when it comes to downloading workouts, back to start function, deeper sensor support, intervals, let alone display size and significant display field customization.  But again, the Polar unit is FAR bigger than the Edge 20/25, so if size is your primary concern, it's going to be hard to get a more compact cycling GPS than the Garmin Edge 20/25.  Of course, by most accounts the M450 is still perfectly normal size-wise.
One of the ways Garmin has been able to 'fend' off lower-priced offerings from Cateye and others is Garmin's integration into the web platform side (Garmin Connect).  Additionally, in general the Garmin has a much cleaner solution from a user interface standpoint, whereas the Cateye Strada Smart can be a bit finicky.  I haven't spent much time with the new Lezyne GPS offerings, so that could be different there.
The Edge 20/25 is planned to be available almost immediately, so in the same timeframe as the 'July' date for the Polar M450.
With that – feel free to drop any questions below, and I'd be happy to try and get them answered.  Thanks for reading!
Updated Note: You can now pre-order the Edge 20 and Edge 25 from Clever Training.  Doing so helps support the site a bundle (and saves you a bundle) when you use the DCR/CT VIP program with them too!