Quite the busy weekend, here's what I was up to!
1) A Training Triathlon
Saturday morning it was time to go slightly out of town to knock out a training morning.  It was a swim/bike/run brick, ahead of the Paris Triathlon in about two weeks or so.  I've managed to get a small amount of openwater swims in lately, but not often paired with a bike or run.  Whereas I've had a number of bike/run bricks, usually trainer-based for the bike portion as they are more efficient given I live in the city.
In my case, I wandered about 25-30mins outside of Paris to start my swim: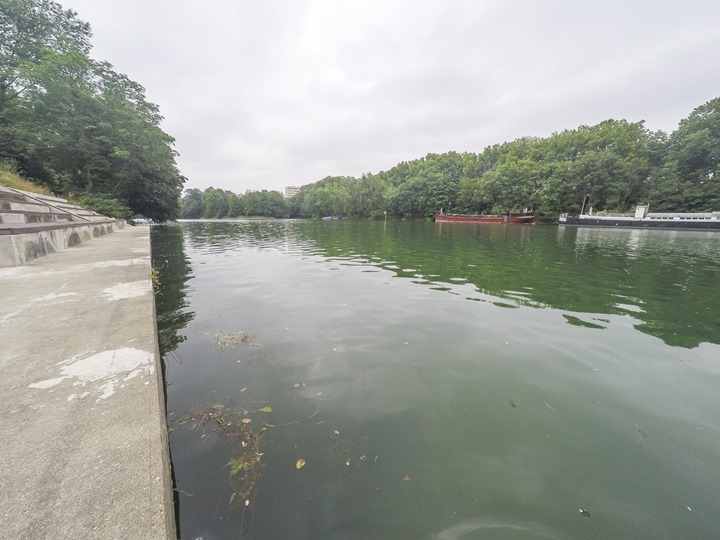 After doing a warm-up, I looped back to the start to start my brick.  It'd begin with a 20-minute swim: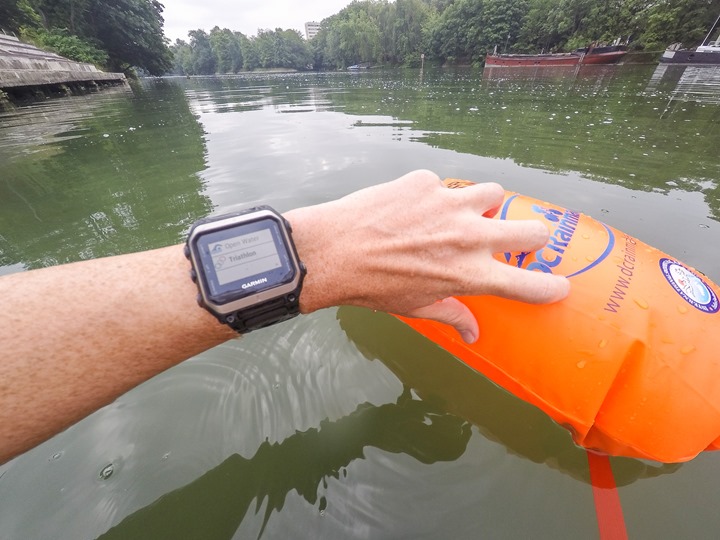 From there I'd transition to a roughly 45-minute bike ride, which had 3×10-minute harder intervals built within it.  The first few minutes pre-interval was somewhat easier, which worked out well as it allowed me to make the short trek on bike/running paths up to the Bois de Vincennes triangle.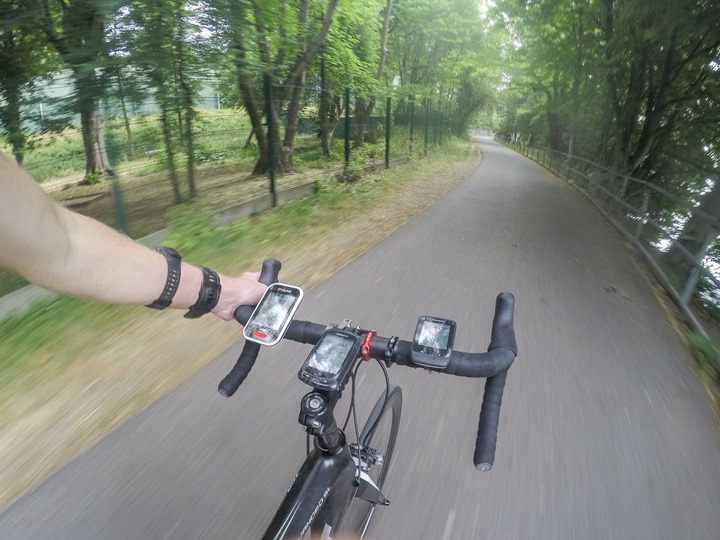 Once at the triangle, it was open season.  Or rather, open riding.  Hundreds of cyclists were out pedaling away around the car-free loop of roadway.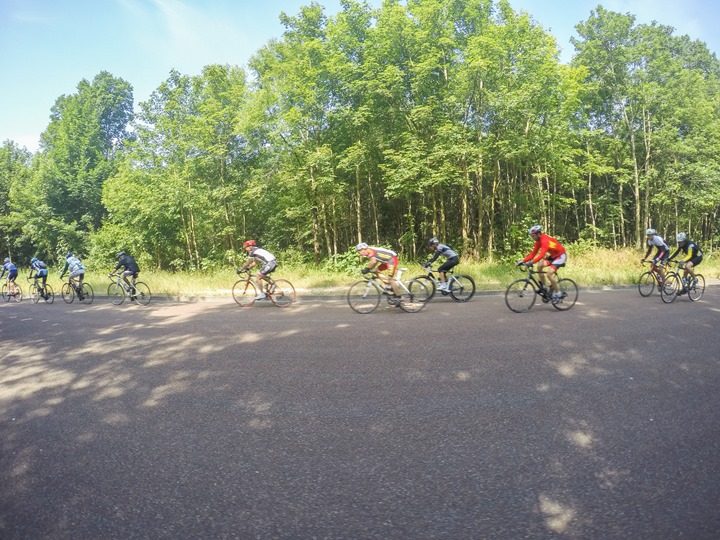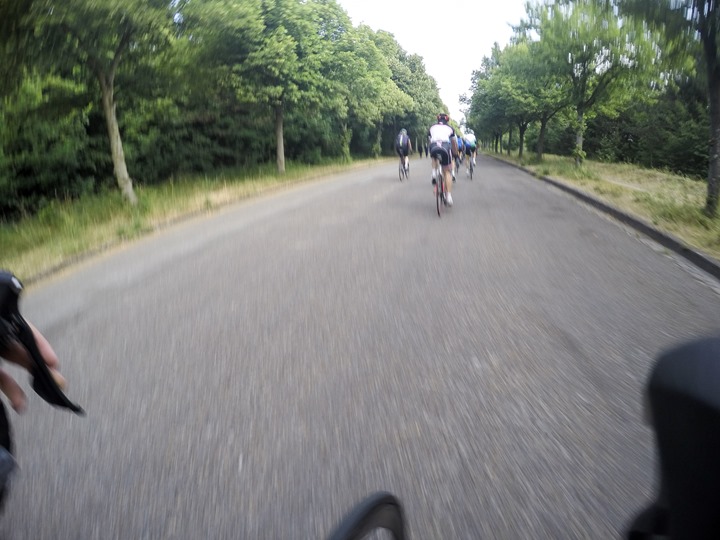 Next, after I was done riding I locked up my bike and started my run.  I was running a wee bit late (ok, a lot late), and thus had to shorten the intervals slightly unfortunately.
The nice part is I combined a small chunk of straight trail along with a bit of roadway to make a mini-triangle for my run repeats.  You can stay off to the side of the green line on the road, and it's free of fast moving bikes.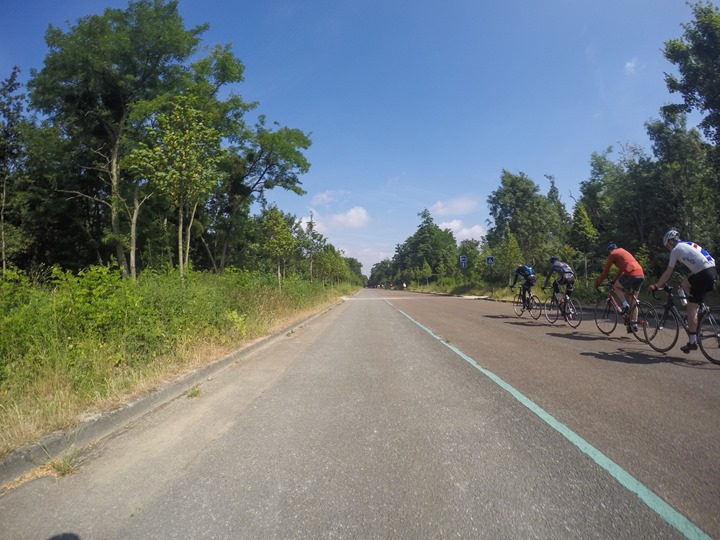 Finally, post-run I still had another 25ish minute ride to get back home.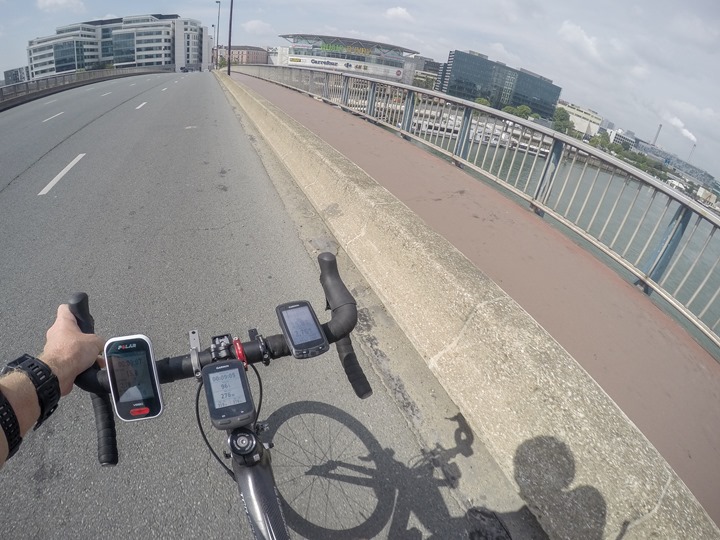 For those curious, here's the link to my Epix multisport activity file.  The swim is pretty rough track-wise (compared to the swim buoy GPS recorded file).  Though, by the same token the Ambit3 I wore on my other wrist also shows a rather rough track file during the swim.  I suspect the fact that I was in a slight valley, compounded that I swam very close to the edge which has dense trees overhanging the water – caused issues.  I'm not terribly worried, most people don't swim below trees, but it's all I had to work with (or, get flattened by river barges).  And I've seen better/normal performance on other swims with Epix.
2) Cooking at Le Cordon Bleu
Immediately upon returning from my brick I rinsed off and went straight back out the door to the famous Le Cordon Bleu.  The school runs not only their high-end long duration cooking school, but also a number of shorter classes.  These range from a few hours to a few days.  For today, my parents and I would be doing a pastry class making Éclair and Choux.  The class would run about 6 hours and be totally hands-on.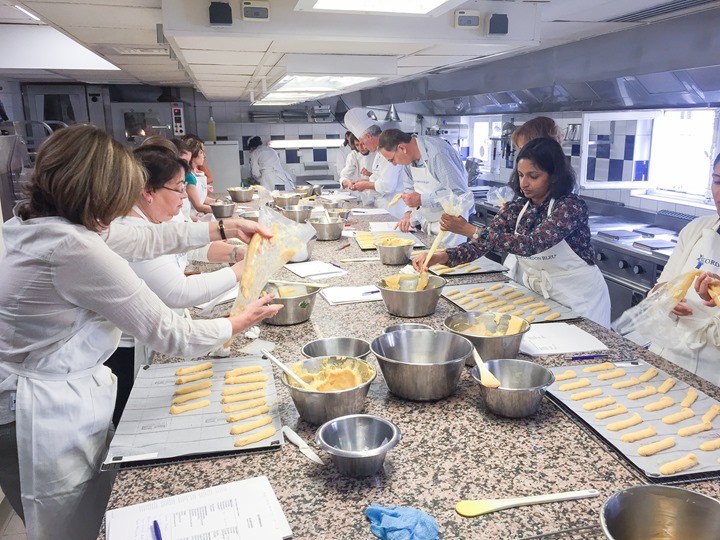 The whole thing was pretty awesome.  They don't give you the recipes, but just the ingredient listing.  Instead, you take notes on how to complete the recipes.  At first you're thinking 'Just give me the printed recipe for later please', but after listening to the chef you realize how intricate and detailed much of the instruction is.  It's like an Alton Brown book where they tell you the 'why' behind doing something.  And yes, my handwriting is horrid.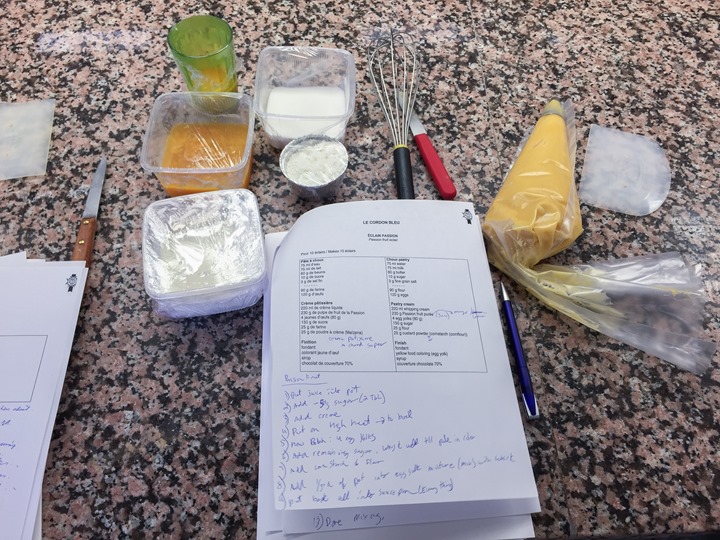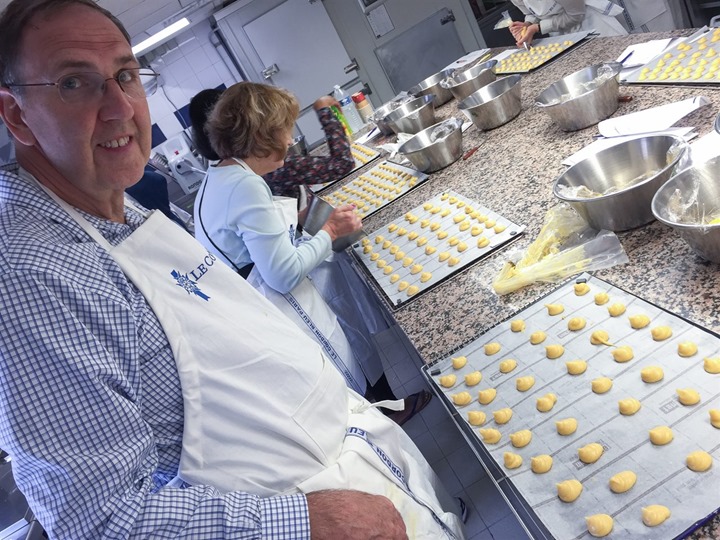 The instructor speaks in French, and then a translator converts it to English.  Being one that works with translators on a weekly basis in my regular job, this was by far the best translation experience I've ever seen.  It was incredibly fluid.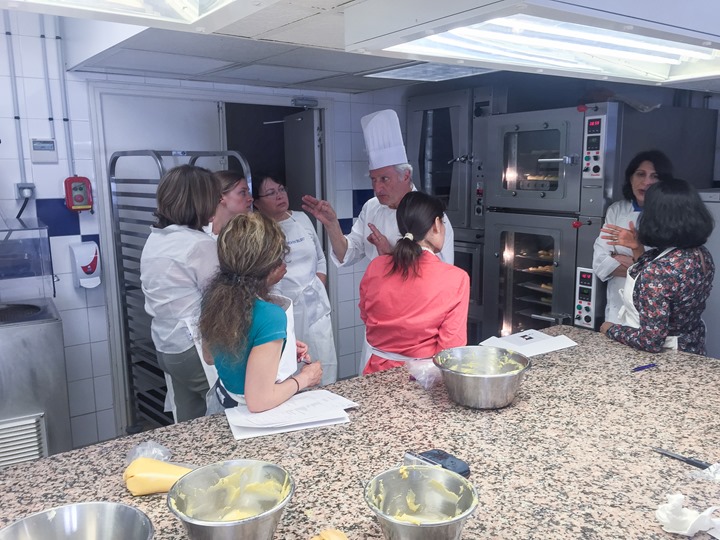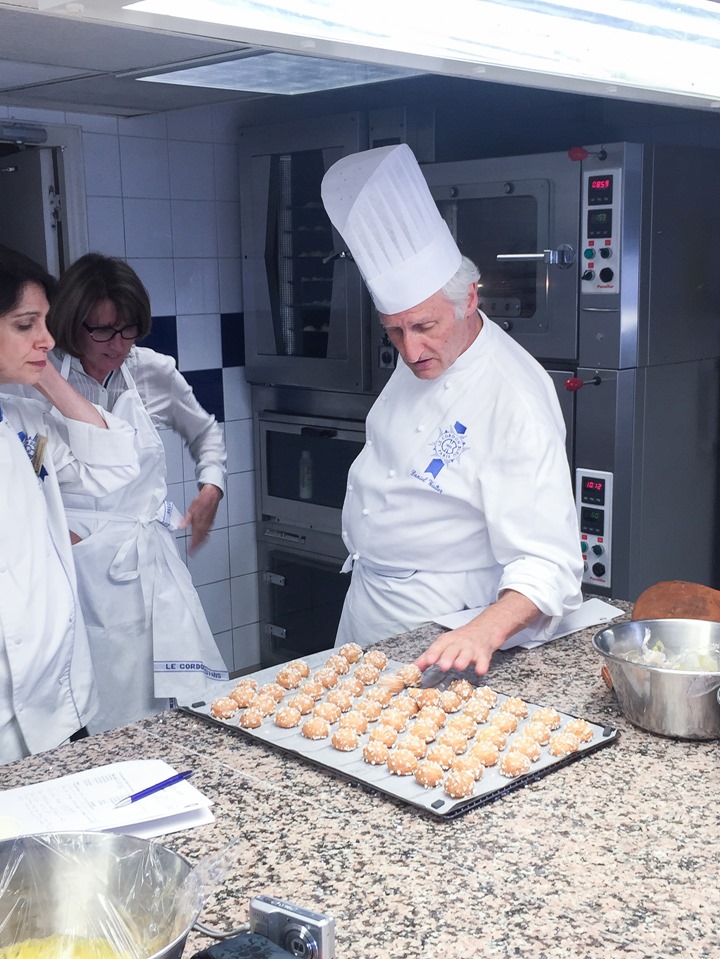 Really cool stuff.  Here's a small gallery of what I created:
If you're into food, I'd highly recommend taking a class there (plus, you get to keep the apron and towel).  They're roughly in the same price range as other cooking classes offered here in Paris.  Some of our friends have taken few day courses as well and thoroughly enjoyed them too.  The Girl and I will be taking a 6-8 week wine class over the rest of the summer as well, for example.  But we're looking forward to picking out a few other cooking based ones here and there.
3) The PowerTap P1 Unboxing Notes:
Ok, so this technically was last weekend.  But it's alright, because I've been using it the last week (including this weekend), so it still sorta counts as 'new to you' this weekend.  So yes, I unboxed the PowerTap P1.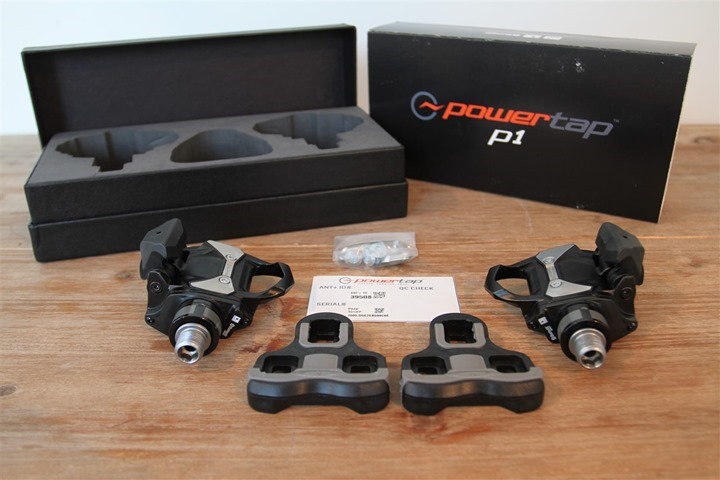 I've also got the PowerTap C1, but haven't quite mounted that to a bike yet.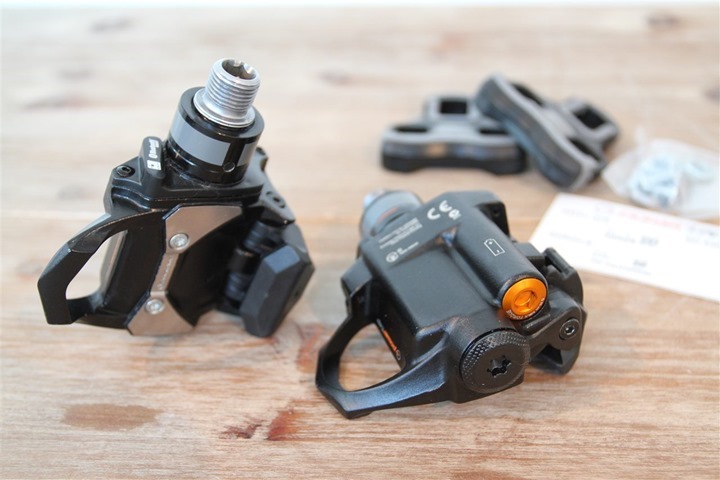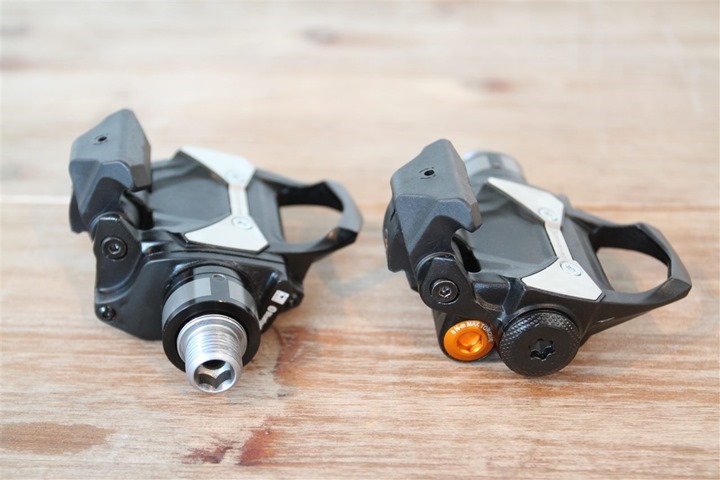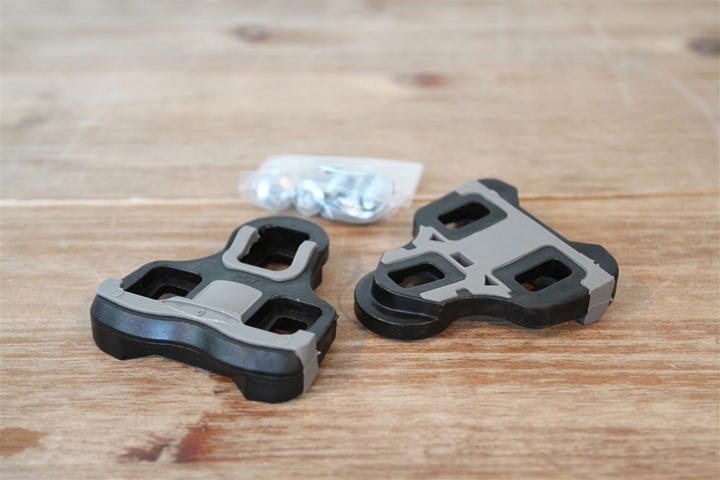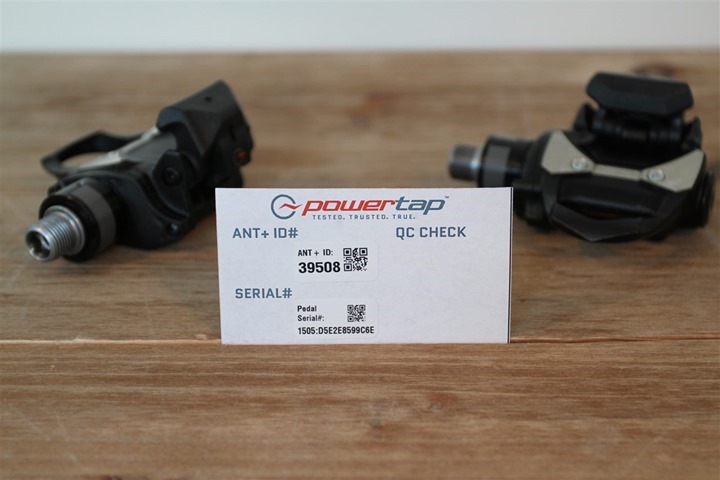 I've gotta say though – I'm loving the simplicity of the install of the P1. In many ways, it's what everyone wanted Garmin Vector to be in terms of ease of swapping bikes.  Seriously, it doesn't get any easier.  Just put it on with a standard hex wrench…and done. Well, technically you'll press calibration once on your head unit.  But that's it.
Love…love…love that.
As far as accuracy goes – it seems to be good thus far from eyeballing it on numerous head units at once.  I've been collecting a ton of data over the past week, but haven't really had the chance/time to sit down and run the comparison numbers.  Perhaps if there's interest I'll just post the files and some of you smart folks can see what you think until I have the chance to do the analysis myself.
My guess is that I'll have this review out by mid-July, about 30-40 days or so after I'd have received the unit.  Luckily I've had a fair bit of cycling lately to capture data on.
As for comparisons vs Vector (functionality-wise), the main thing is that Vector has more metrics (via Cycling Dynamics and other stats), whereas the PowerTap P1 is a bit more vanilla there.  Price-wise the P1 is a chunk cheaper however ($1,199 vs $1,499).  At the moment, I'd probably give the edge to the PowerTap given the ease of moving bikes – since I don't find the Cycling Dynamics data as useful in terms of training/racing (it's more of a geek thing).
4) The Paris Air Show
Every other year Paris hosts the Paris Air Show.  This is one of the biggest events in aviation, and is the epicenter of all aviation news for the year.  On the off-year, the show is instead held in the UK in Farnborough.  Since moving here it's been on our list of things to do, but realistically that's only been one other chance given the every other year aspect.  And that other time we were out of town unfortunately.
The show is about a week long, but only the last three days are open to the public (Fri/Sat/Sun).  The first portion of the week is instead just business-only.  However, those three public days are well advertised throughout Paris.  Just about every bus stop, Metro station, and back of the bus has had posters for it.  So it's a pretty big deal.
It's a quick train ride and then a short shuttle bus ride to the entrance.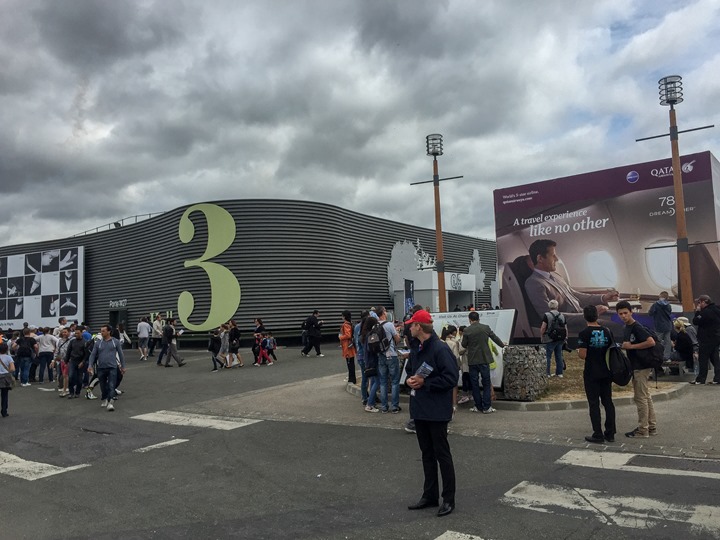 Once there we wandered through a number of 'static' exhibits (basically things not moving):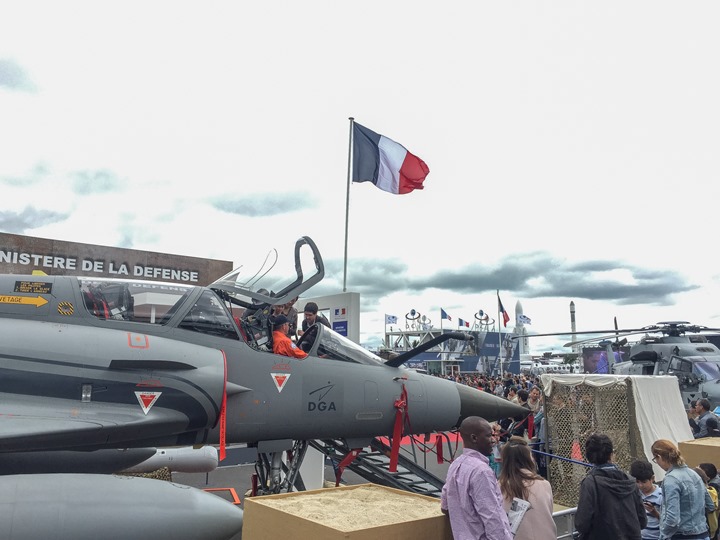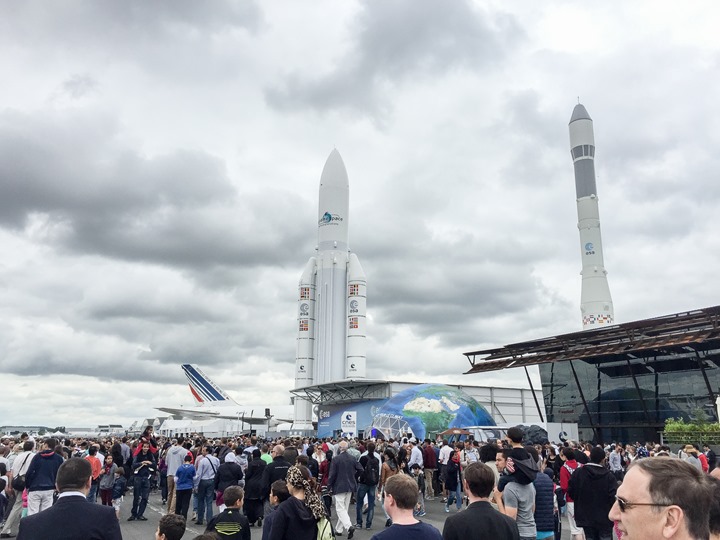 It's everything from commercial to military.  Planes to missile launchers.  Speaking of which, what precisely is the career path that leads you to being a helicopter turreted cannon sales person?  Not the helicopter, not the bullets…just the turret.  That's what this man does.  Just turrets…and only turrets.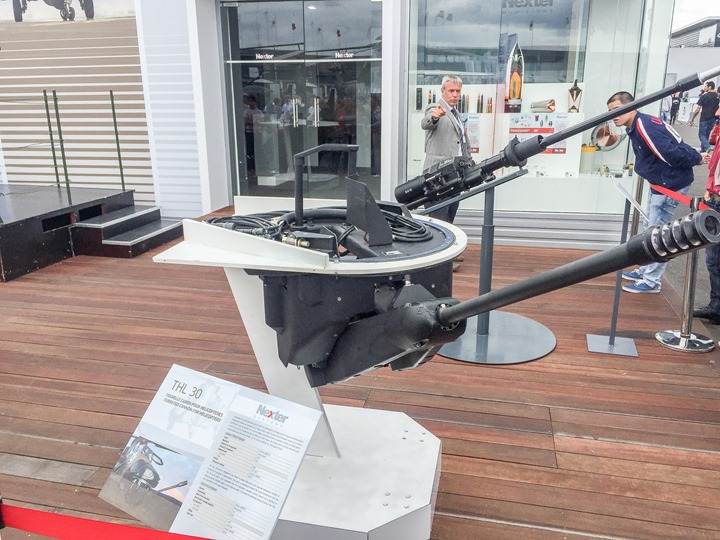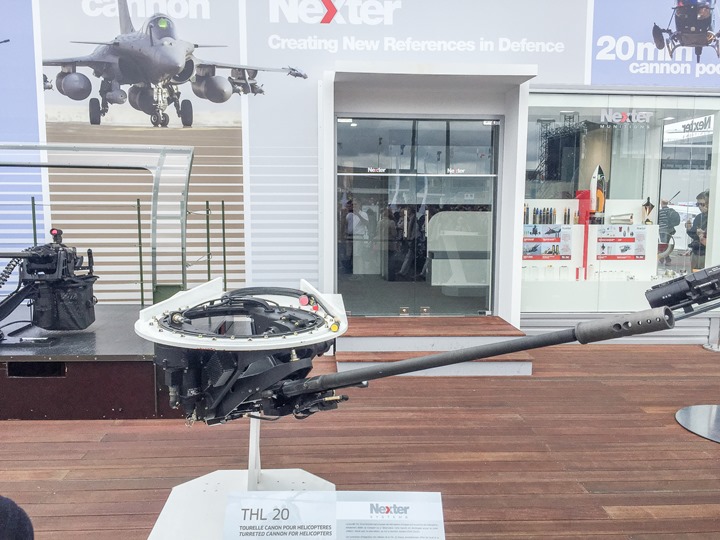 At the same time, the air show is happening above you for some 6 hours!  Every 10 minutes there's a new plane taking to the skies.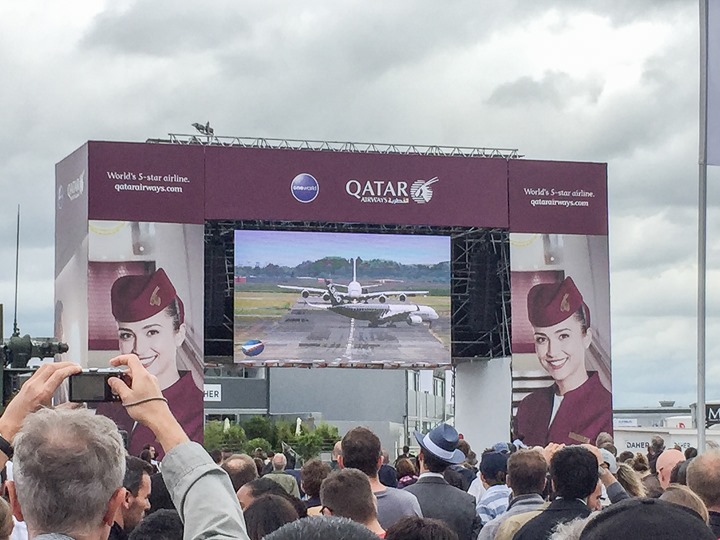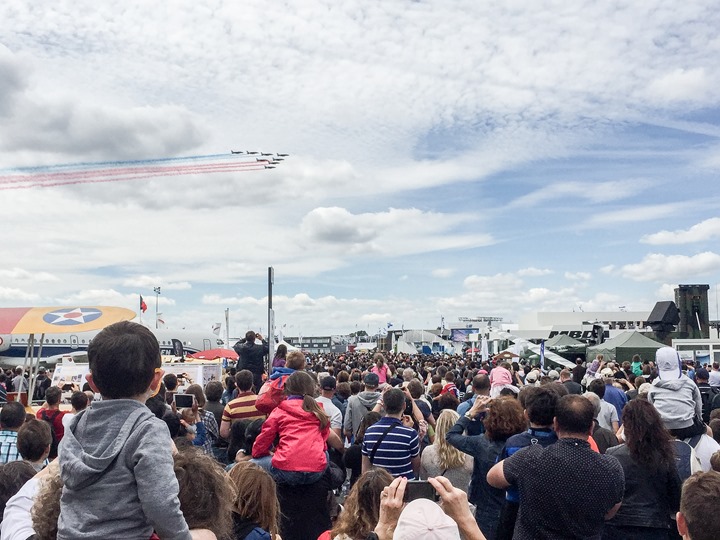 The crowd airshow favorites were very clearly the Airbus A350 and A380 (commercial), along with the Airbus A400 (military).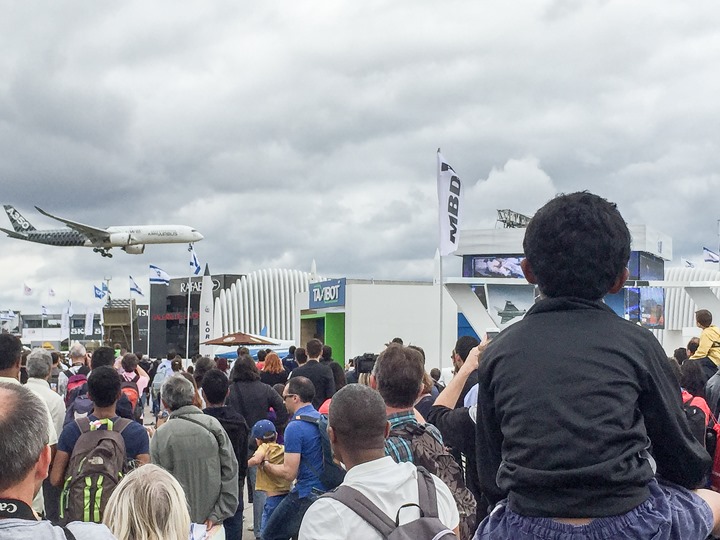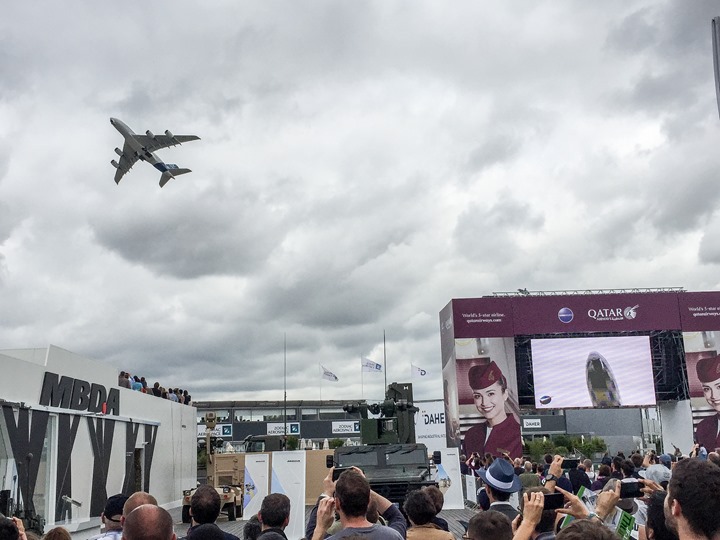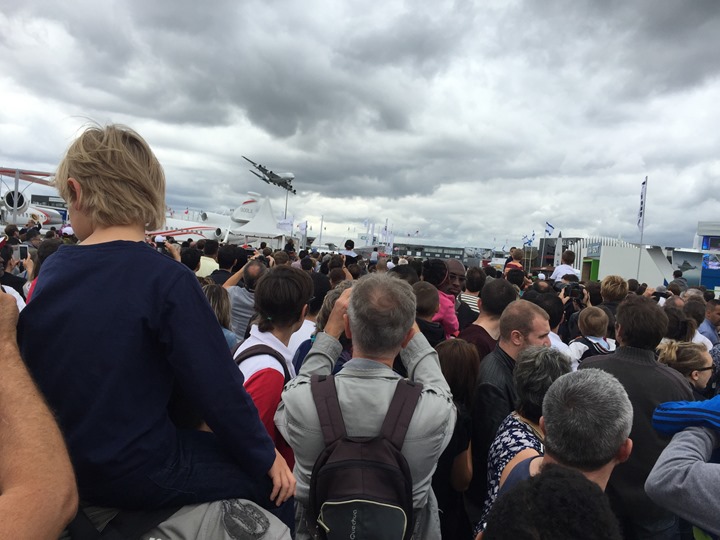 Now as cool as the show was, we came away kinda disappointed.  See, all of the large aircraft that had been there all week had decided to leave on Thursday night & Friday morning  – before the public days.  This included virtually all of the large aircraft that were parked to be walked around (the flying show planes above were not able to be walked around).  For example: The Airbus A319, Airbus A320, Airbus A350, Airbus A380, Boeing 777, Boeing 787 – all gone.  All had flown home before the public days.  These were quite honestly the planes I wanted to see up close (well, really underneath) the most.  As nice as the flying show was, I wouldn't bother to go back again – once was enough.
5) Fête de la Musique
Finally, we wrapped up Sunday (Father's Day) with a dinner at one of our favorite restaurants (Comme Chai Toi), followed by a wander around our neighborhood.  It was the annual Fête de la Musique, which is when hundreds of musical acts pop-up all across the city for free concerts.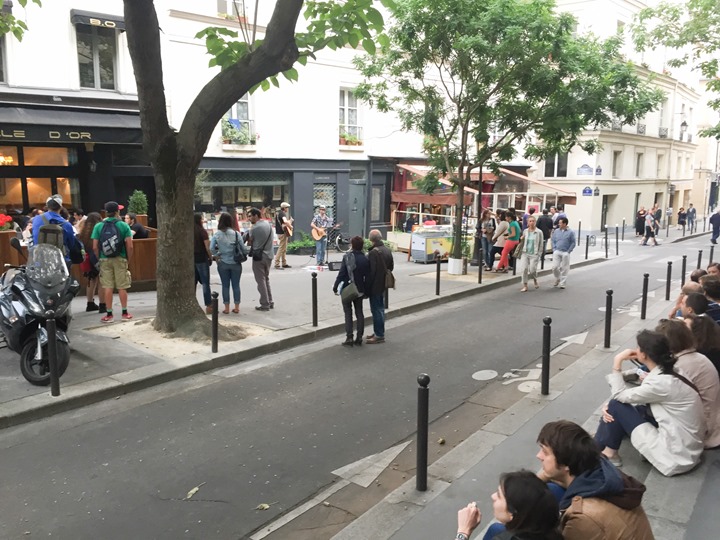 These take the shape of large acts on structured stages, as well as tiny one-person shows on an alley street corner.
Or even, as it were – marching down the street in front of the house: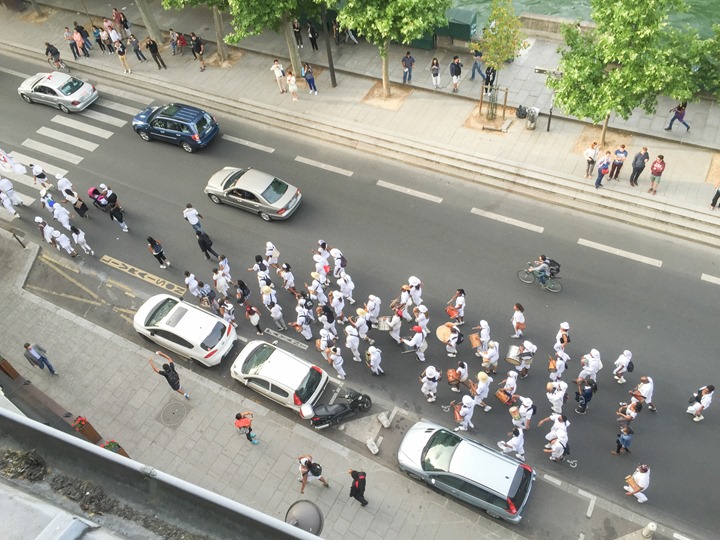 And in some cases, a sing-along type act where you picked out your song from a booklet: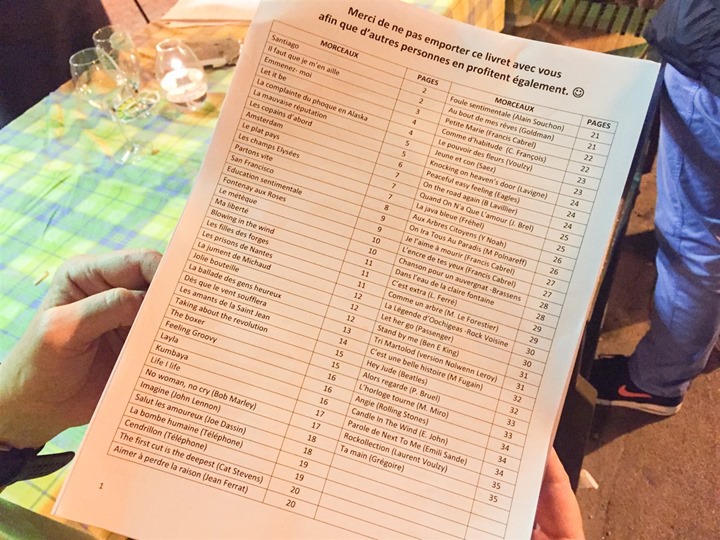 What's cool is that all of these were within three blocks of the house.  Seriously.  And actually, if you were to draw a three-block radius from the house, all of these were within just one quarter of that circle.  Pretty much every street corner.  So cool.
With that – hope everyone has a great week ahead!