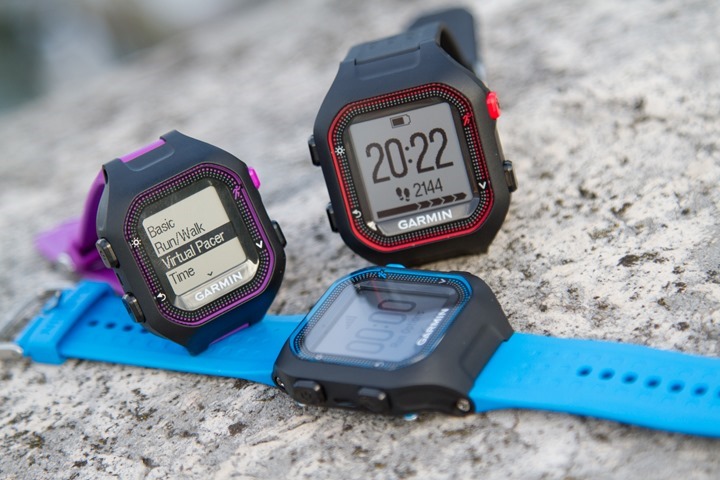 As we move ahead in the seemingly never ending summer of Garmin releases, this week brings us the new Forerunner 25.  For those familiar with the Garmin lineup you'll remember that the previous generation Forerunner 10 & 15 watches were aimed at the budget crowd with reduced features.  Yet they were and are some of the most popular watches Garmin has ever made in terms of sales volume (so much so that it's actually been mentioned specifically in past earnings calls).
The Forerunner 25 builds on the Forerunner 15 (which added activity tracking) by adding in Bluetooth Smart connectivity to your phone.  Garmin takes advantage of that by enabling smart watch notifications such as text messages and phone alerts.  Additionally, they also leverage that Bluetooth Smart connectivity for uploading workouts from the watch to the interwebs via the Garmin Connect Mobile app (Android/iOS).
Before we get all too crazy detailed, let's walk through what's changed.  Note that Garmin let me borrow a pile of FR25's for a short period, but that these are pre-production units and thus it's possible things could change (for better or worse).  As such, this isn't a full review, just an overview of how things work.
What's New: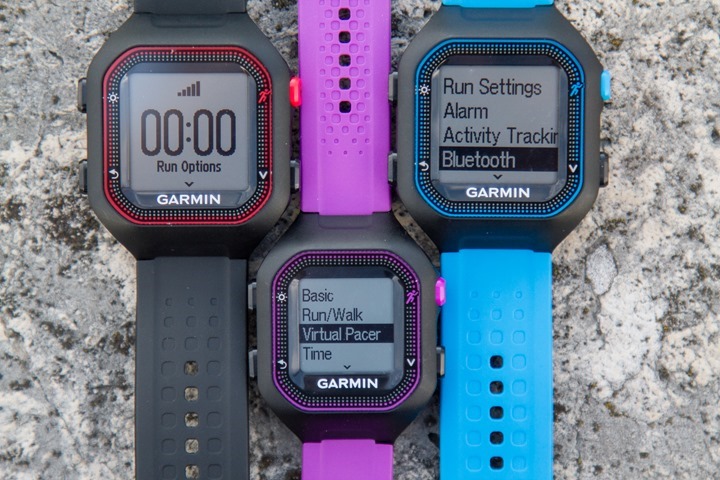 First up let's cover what's new on the Forerunner 25, at least compared to the FR15.  All of these features have been found on existing Garmin running watches – but at higher price points (such as in the Garmin FR220 and FR225 lineup). New to the FR25 is:
– Added in Bluetooth Smart phone integration
– Added Live Tracking functionality
– Added sync via Bluetooth Smart to Garmin Connect Mobile (iOS/Android)
– Larger screen than existing FR10/FR15 (32% larger)
– Slightly thinner design than FR10/FR15
– Incoming Call, Text, and Calendar Notifications (iOS/Android)
– (Large Version) Increased claimed battery life of 10 hours GPS-on, or 10 weeks activity tracking standby mode
– (Small Version) Increased claimed battery life of 8 hours GPS-on, or 8 weeks activity tracking standby mode
Now most of these changes can roughly be divided up into two categories: Physical size/format & Bluetooth Smart related.  Through the addition of Bluetooth Smart you'll get the same level of integration that you would on most of Garmin's midrange connected devices, such as uploading of workouts upon completion and then syncing of activity tracker related metrics like steps walked and sleep.
With that always present phone connectivity you'll also get instant uploads to 3rd party services such as MapMyFitness and Strava, as well as MyFitnessPal.  These all being services that Garmin announced partnerships with over the last year.
Of course, this is in addition to the core GPS watch functionality that has existed within the lineup now for a few years.  That functionality at a basic overview level provides:
– GPS for tracking pace/distance/speed while outdoors
– Two customizable data pages (each with two selectable data fields)
– One additional data page when a heart rate sensor is connected (shows BPM & HR zone)
– Ability to track indoor treadmill workouts using accelerometer (also used in tunnels without GPS)
– Daily activity tracking (steps, distance, calories)
– Displays PR's such a fastest 5K
– Automated sleep tracking (significantly improved in the last few months)
– Different run modes including: Run/Walk, Virtual Pacer, Time-goal, Distance-goal, Calories-goal
– Ability to connect to ANT+ Heart Rate Straps
– Smart Recording Functionality
Now what's interesting here is that you'll find the menu system near identical to that of the newly released Edge 20 & Edge 25 units.  As is the display form factor too.  It obviously makes sense for Garmin to re-work things slightly and re-use that hardware platform for multiple devices and purposes.  Which is something we almost always see Garmin do with all of their hardware creations.
Finally, here are things that we don't see in the unit.  This isn't a complaint per se, but more of my opportunity to preemptively answer your questions:
– No optical HR sensor within the unit (too low of price point at this time, see Garmin's FR225 instead)
– No additional sport modes (you can change from pace to speed, but it's still marked as running)
– Does not allow for complete notification center notifications/alerts (i.e. from Facebook, Twitter, or other apps)
– No more than two data fields per screen
– Does not connect to Bluetooth Smart heart rate straps (just ANT+)
For this particular price point, I don't think many of the above are show-stoppers for the majority of the target market.  But I'll dig into a few more thoughts on the above later in the post.  With that, let's start poking at the units.
Size, and Model Comparisons: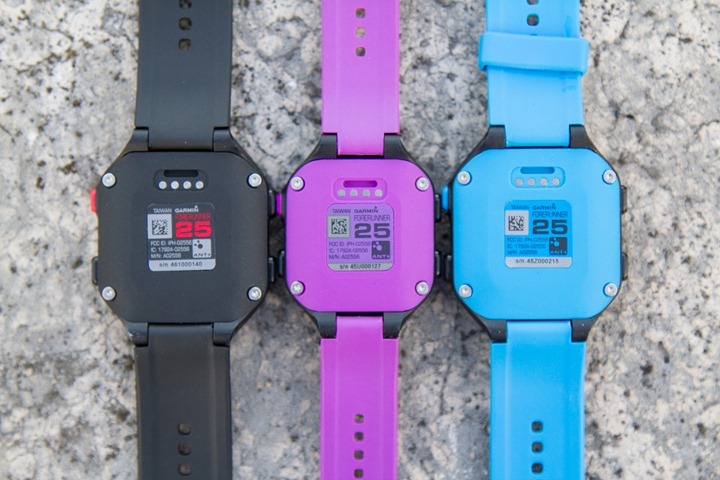 The FR25 comes in two basic sizes, each with two colors:
Small Size: Purple/Black & Pink/White
Large Size: Red/Black & Blue/Black
First up we'll look at the thickness of the watch, compared to the older FR15.  You can see it's a bit slimmer – for both the small display size and larger display size (the older watches are in the back):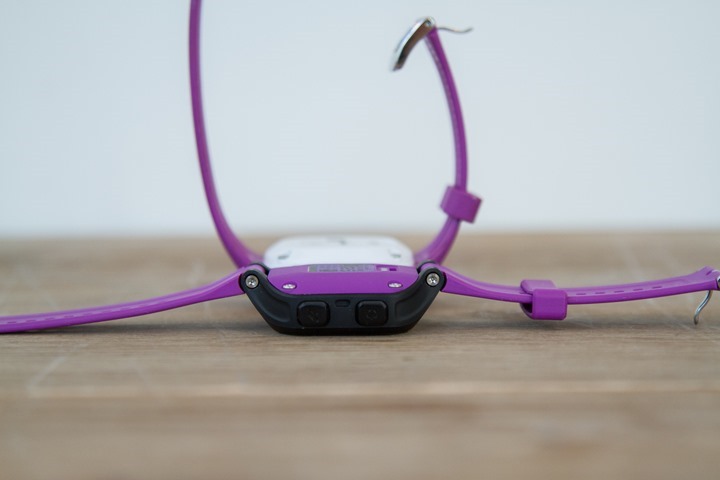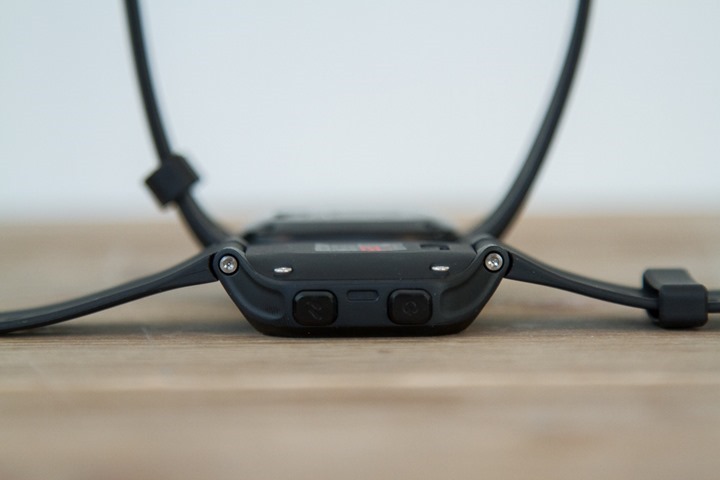 Now while the screen area may look the same, the difference is the portion of the screen where they can actually write text to has increased (thus the 32% increase claim):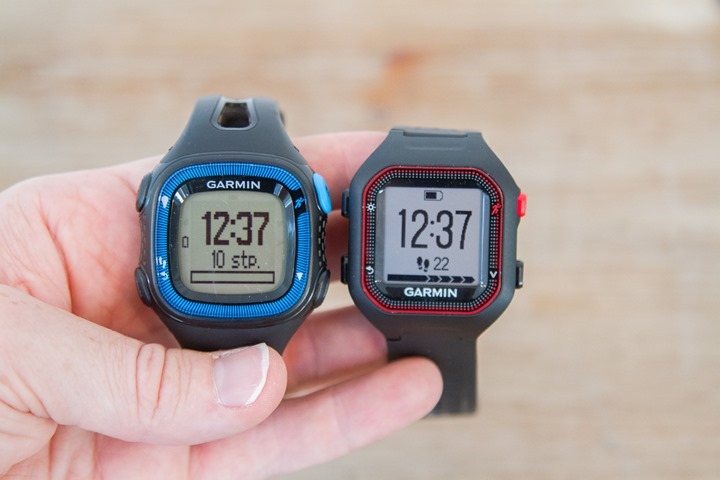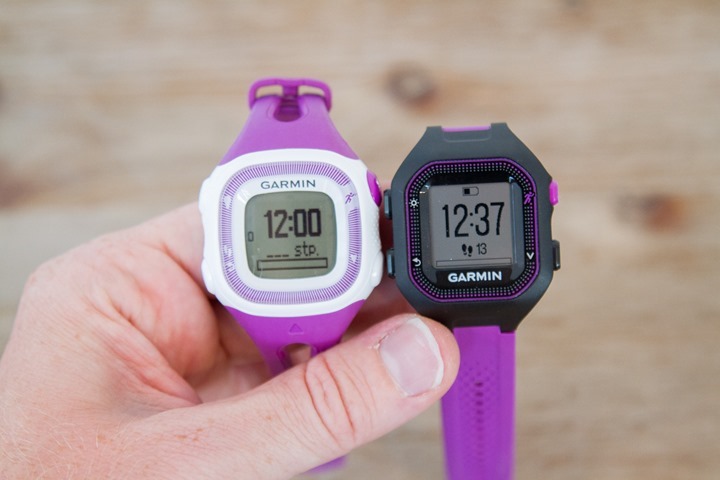 You can see the similarities in display form factor and menus when compared to the recently announced Garmin Edge 20 & Edge 25: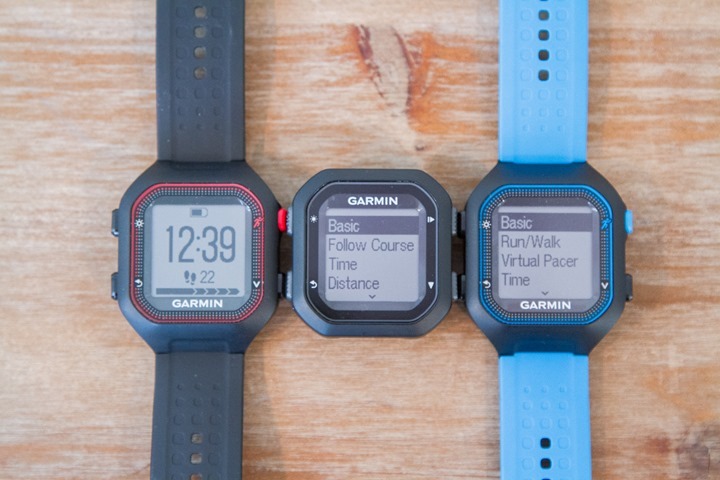 Here's a look at the watch face sizes compared to the FR225 and FR220 watches: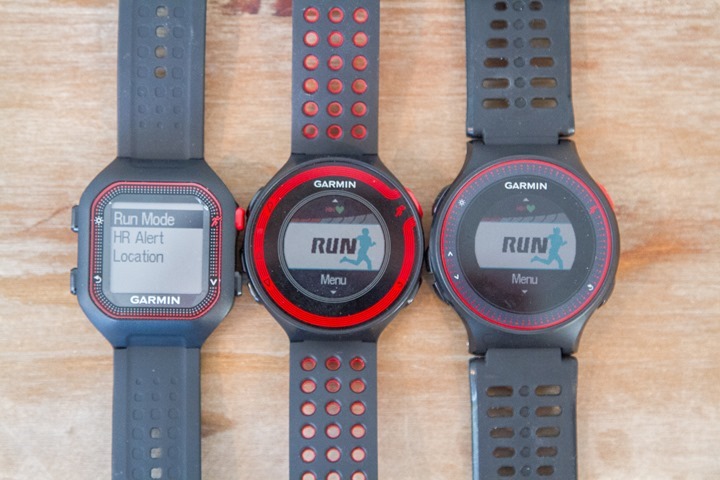 You'll see shots of the watch on my wrist throughout the post.  However, I've included two shots of it on The Girl's wrist (she's 5′ 2″ tall).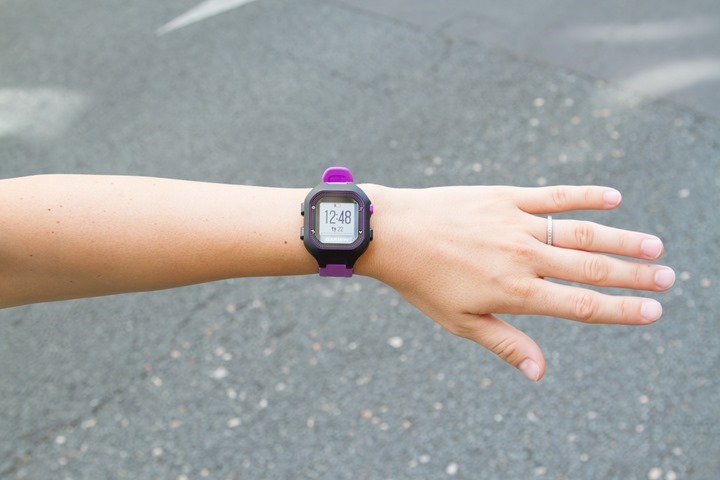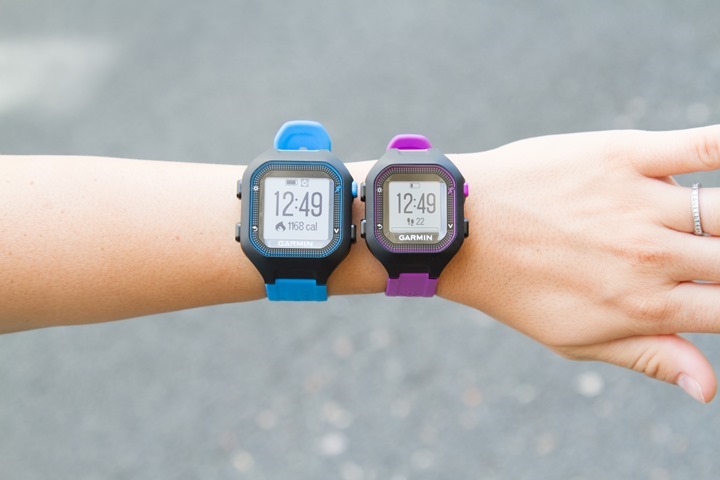 And finally, just for general comparison of size – the FR25 next to the TomTom Cardio and the Polar M400: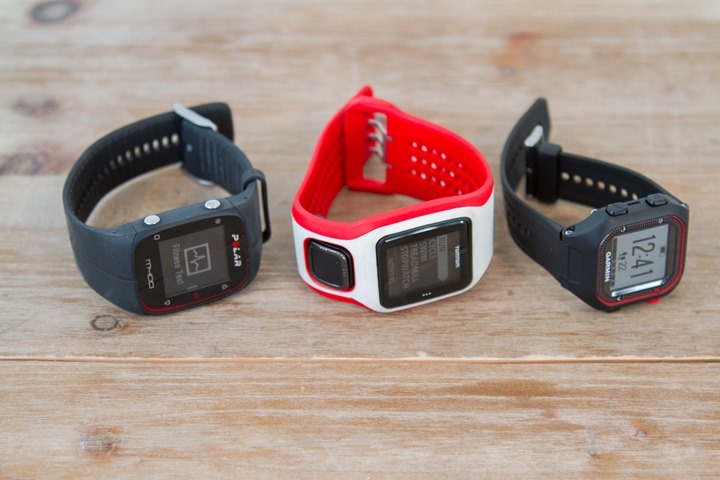 No doubt, it's definitely a super-small watch.
First Run with the FR25: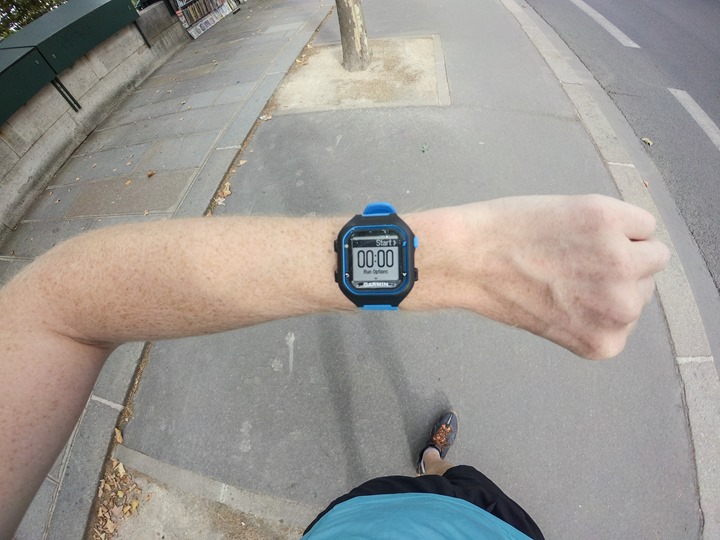 I haven't had much time with the FR25, but did have enough time to slide in a single run in between the Giveaway Extravaganza craziness yesterday.
Depending on whether you like videos or photos better, I've got two ways you can 'experience' my first run.  Below is a quick video I've put together showing the entire run.  Alternatively, after the video I walk through each piece step-by-step with photos.  Or better yet – you can attain full run-stalker level by viewing both sections!
For the run I used a variant of a route here in the center of Paris that I run regularly.  The route starts along the river (Seine) and then within the first mile I headed through a 200-300m long tunnel before doing a loop around a canal under tree cover.  Much of the remainder of the run is alongside buildings in the 4-10 story range.  For the last mile or so I'd pop out into the park under cover of trees then along the river.
I'd rate the route moderate in difficulty from a GPS accuracy standpoint.  No doubt places like Manhattan in NYC are harder, but the smaller city streets of Paris with buildings on both sides (like below) make it challenging nonetheless: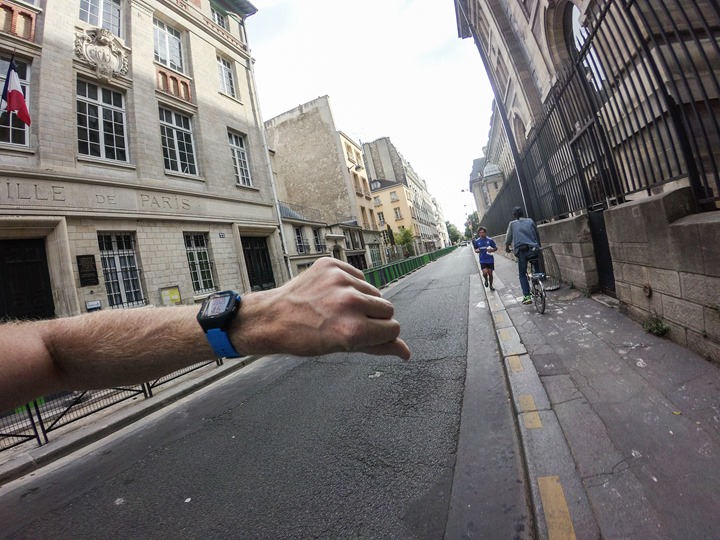 In any event, here we are at the starting line – ready to go.  The unit supports pre-caching of satellite data to speed up initial acquisition time.  A little heart rate icon is displayed, which is because I was wearing an ANT+ heart rate strap (the Garmin HRM3 chest strap).
Next, I left the default run mode as just a general run.  But you can configure it for a number of different goal-oriented runs, as seen below: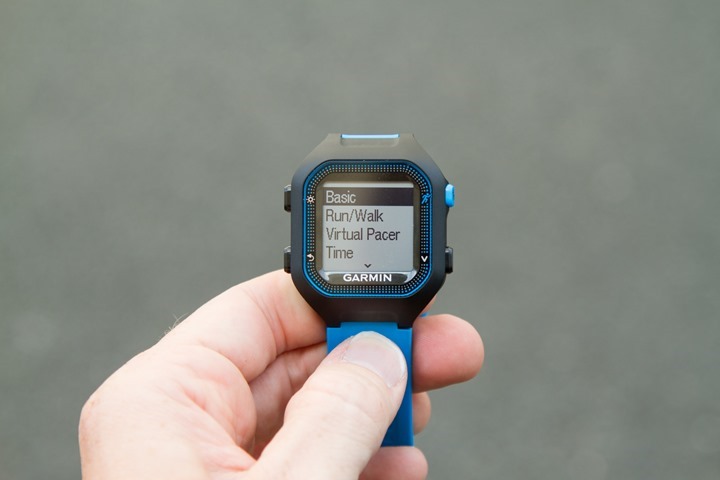 Once I pressed the start button I was off and cooking.  I had mostly left the default settings around data pages, but you'll have two customized data pages to work with.  Here's the first one which was configured for Elapsed Time & Distance: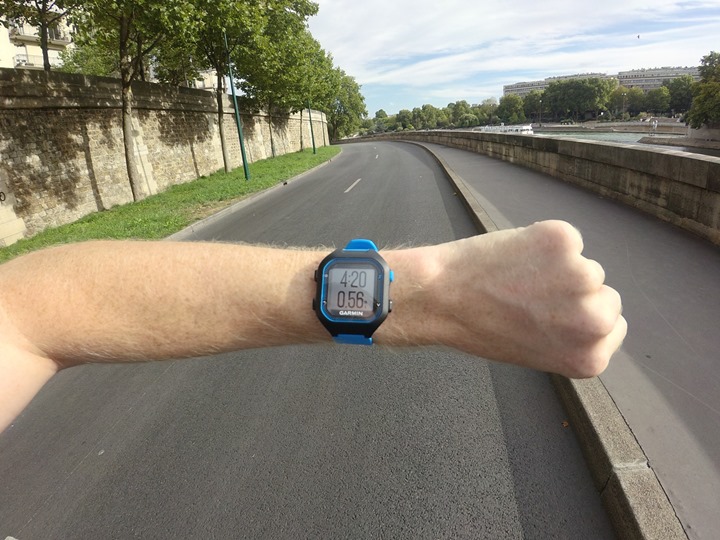 And here's the second one, which was configured for Current Pace & Calories: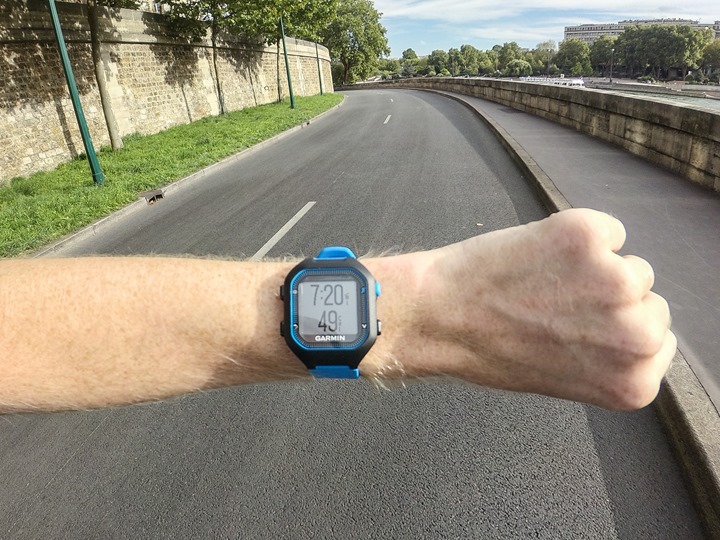 From a configuration standpoint, here's the data fields you can select (any two per page, total of two pages):
Data Fields To Choose: Time, Distance, Pace, Calories, Lap time, Lap Distance, Lap Pace, Avg. Pace
Next, because I had the heart rate sensor on, I also get a third page (non-configurable) which shows my heart rate in BPM and my heart rate zone.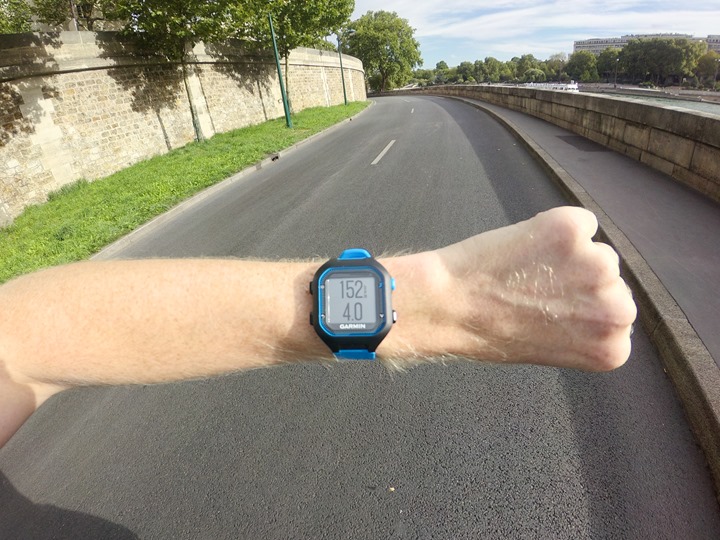 Then, I had enabled automatic lap (Auto Lap) on the unit.  I set it for 1-mile auto laps, which means that every mile it'll chirp at me and show me my lap time.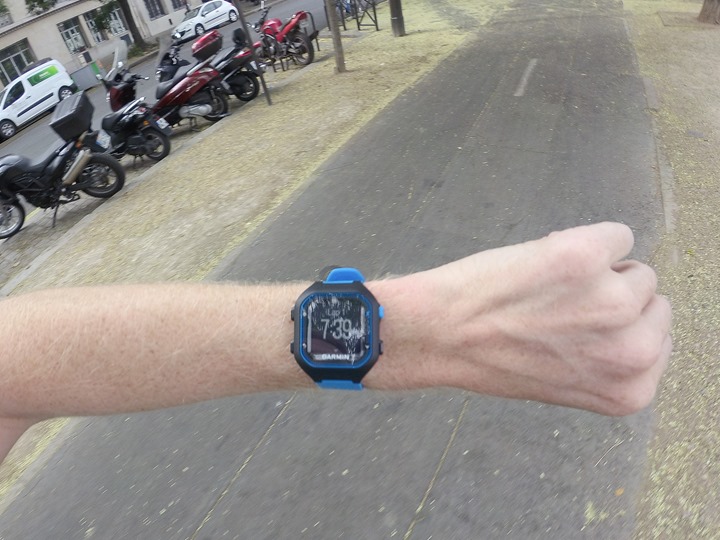 You can configure this for kilometers or miles, but you are limited to just 1-mile or 1-KM.
During the run itself I did a few short sprints to see how the instant pace reacted to shifts in pace.  Like other Garmin watches released in the last two years, it showed pace in 5-second increments.  This is done to smooth things out a bit.  In my tests (which you can see in the video) the pace took a few seconds as expected to shift to the higher sprint speed.  Similarly, when I stopped outright, it only took a couple seconds to show a zero-pace value (that's good).
Finally, upon wrapping up the run I hit the start/pause button.  You can use this to pause the run at any time, or to eventually end the run: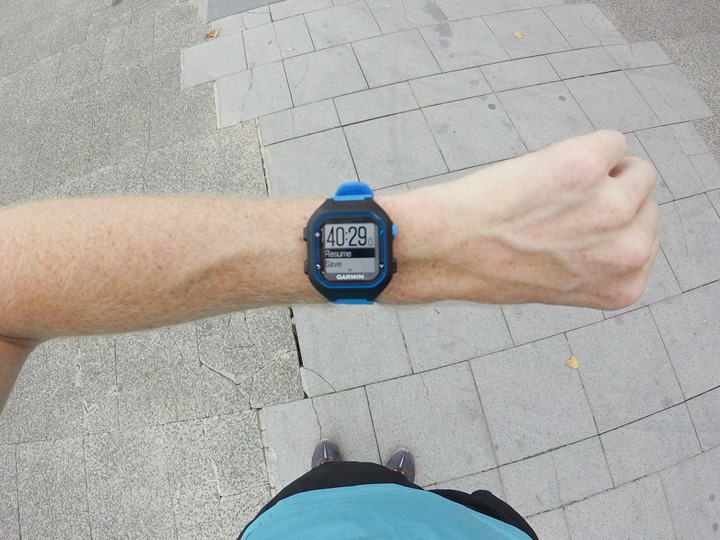 After pressing to save the run (rather than resume it), it'll notify me of any personal records (PR's) I may have hit during the run.  Finally, it gives me a summary screen of my activity, including the lap times and distances.
Next, while not specific to running, note that the activity tracker is active on the unit itself.  That'll show you your progress towards your goal each day in steps.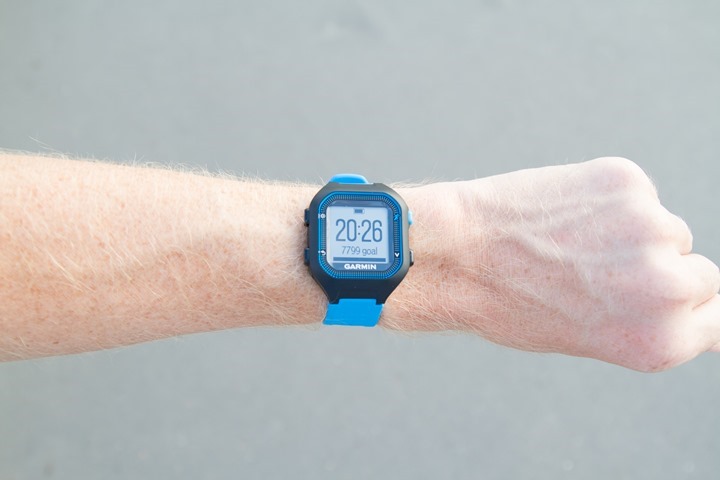 Additionally, it'll show you an inactivity bar that you'll try to keep from filling up.  Think of this as the lazy bar, and you don't want the lazy bar big.
Otherwise, all of this data is wirelessly transmitted to Garmin Connect Mobile (app) via Bluetooth Smart on your phone.  From there it's accessible on the Garmin Connect website (as well as to 3rd parties such as MyFitnessPal).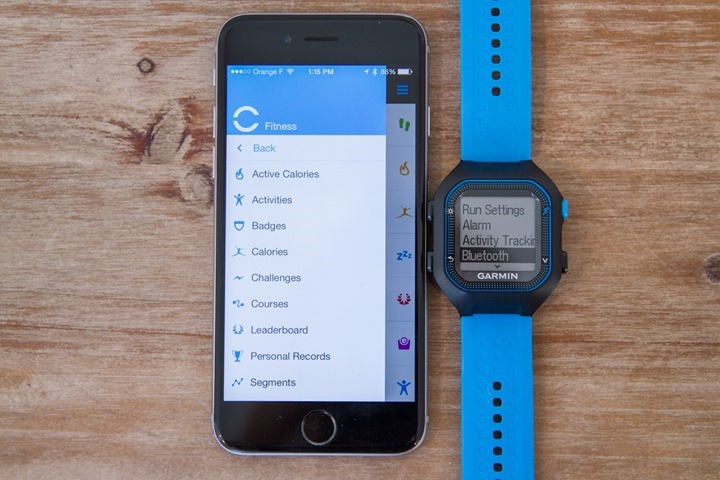 Last but not least, while I covered GPS accuracy within the video, here's a look at how the three devices I was wearing at the time compared (FR25, FR225, and FR920XT):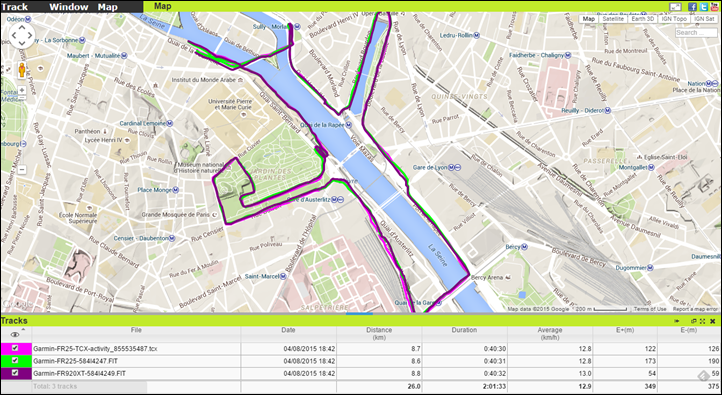 You can zoom in on the map yourself using this link, or, by clicking the image above.  The distances displayed on the watch for the FR920XT and FR25 were identical (5.39mi), while the FR225 was slightly lower at 5.34 miles.  Keep in mind that none of the watches had been recently run with from a calibration standpoint, so during the tunnel section (no GPS) it likely impacted accuracy slightly.  Normally after a few runs that'll learn your running stride and become more accurate.  Also note that the MyGPSFiles site recalculates the distances, whereas in testing I use the distances that the manufacturers provide as the baseline comparison.
Looking at the GPS track itself, overall it's quite good.  I see only one instance where it visibly cut a corner by a handful of meters – just at the beginning of the run as as I started over the first bridge.  I suspect that's more of a smart recording issue, since both the FR25 & FR225 did it, but not the 1-second recording FR920XT.
But beyond that, everything looks well snapped to where I actually ran:

Now because it's using Smart Recording (versus 1-second recording), you'll see less smoothness in the lines.  But in this single run I didn't see any show-stoppers and overall things looked pretty darn good.
For those curious, you can also look at the Garmin Connect files for each of the watches: Garmin FR25, Garmin FR225, Garmin FR920XT.  Interestingly there's a case in the park where the HR strap stumbles (rises) and the optical HR sensor works perfectly.
Just as an interesting aside – I actually stuck one of the small ones up on the roof last night from a full charge to see how battery life was.  As some might remember shortened battery life was an occasional complaint on the FR10 & FR15.  In my test last night the little purple one lasted 8hrs 17mins, so above the 8-hr spec for the smaller model.  The file is available here.
Product Comparison Chart:
I've added the FR25 into the product comparison database.  This allows you to compare it against any other products that I've spent time with, including the past FR15.  For the purposes of the below chart, I've compared the existing FR15, the higher end (and optical-enabled) FR225, and then the newly announced FR25.
You can of course mix and match the comparison charts however you'd like using the product comparison tool here.
Remember, you can mix and match the comparison charts with products of your choosing using the product comparison tool here.
Wrap-Up: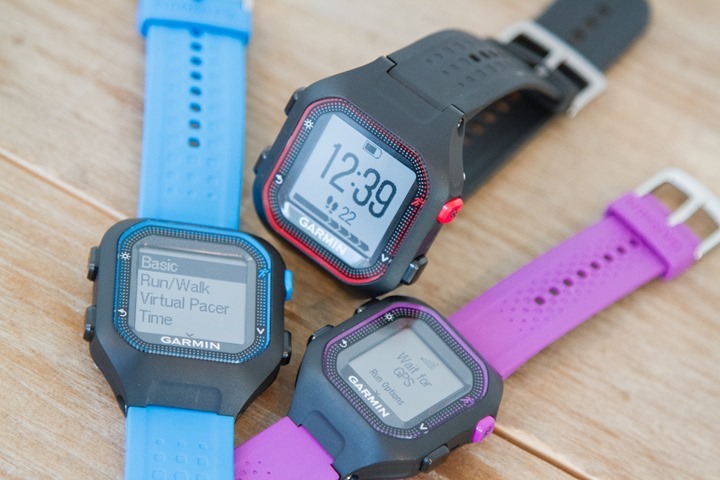 Overall the FR25 should fit nicely into Garmin's existing lineup.  In many ways, it's the functionality that the now older sibling FR15 should have had to begin with (most notably the phone connectivity).  The larger display yet slimmer size will no doubt be appreciated by both those with smaller wrists, and more vintage eyes.

I'm sure that some would have preferred an optical HR sensor within the unit, but I don't think it's realistic this summer to see prices that low for a mainstream optical sensor watch with GPS support and activity tracking.  I suspect over the next year we'll see those prices drop further and by next spring, that'll become the norm.  Right now the lowest prices achieved in sales by TomTom with their
Cardio lineup
(optical sensor + GPS), is where it pops down into the $199 range every once in a while – so still $30 more.  Though, the TomTom units lack activity tracking and smart notifications – so that is a difference there (on the flip side they have more display customizations).
When it comes to functionality, the FR25 has less features than the Polar M400 – which allows multiple sport modes, tons of display pages and lots of customizations (all at the same $169 price).  Like the FR25, the M400 has activity tracking and a deeper level of phone notifications than the FR25 does.  So if you're looking for 'more', then the M400 at the same price is the better bet.  On the flip side, the M400 doesn't have the connectivity that Garmin Connect does to 3rd party platforms, nor does the M400 have Live Tracking of your activities as an option.  Again, different strokes for different folks.
Ultimately though for $169, the watch is pretty well priced with a fair number of features.  If you're looking for a GPS watch that doubles as an activity tracker while also being simple and small – it'll likely be hard to go wrong with the Forerunner 25.
Update March 10th, 2016: The price of the FR25 has been reduced to $139.  I don't see this as an indicator of a direct replacement, but more just alignment of pricing in general.
–
You can now order the Garmin FR25 via Clever Training.  They've got all of the variants available (including the pink one not shown here).  Doing so helps support the site here (and the crazy giveaway yesterday).  Also, you'll save a bundle via the DCR/Clever Training VIP program.  Enjoy!