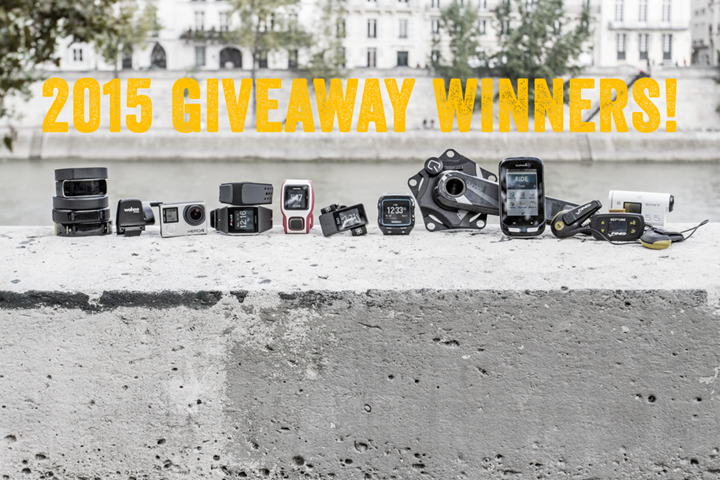 Phew! That was a blur!  You thought you were tired?  Just imagine what my web servers feel like after yesterday.  They'll basically be doing the post-marathon day walk.
With the 2015 edition of the Annual DCR Giveaway Extravaganza now yesterday's news, it's time to get on to the most important part – the winners!
Thanks to everyone who entered in yesterday – it's much appreciated!  Once again you broke the record for the most hits here at the site in a single day – some 400K!  Based on past historical trending, I'm convinced the only possible thing that could top that would be a combined Garmin/Strava sex tape.
This evening (post-nap) I went through and removed any accidental (or otherwise) duplicates of comments.  I also ensured that any comments that got tangled up in the SPAM filters were carefully put back in place. You were allowed one comment per giveaway, though you could enter as many giveaways as you'd like.  Thus everyone is all accounted for (once per giveaway)!
From there it was off to Random.org for the winners.  Here's the full tally of winners and their comments.  All times US Eastern (it's how I keep things straight).
Total Entrants: 1,760
Winner Number: 620

Total Entrants: 2,169
Winner Number: 1879

Total Entrants: 2,262
Winner Number: 33 (Neil B.)

Total Entrants: 3,024
Winner Number: 1598

Total Entrants: 4,376
Winner Number: 503

Total Entrants: 4,771
Winner Number: 4075

Total Entrants: 4,217
Winner Number:1565

Total Entrants: 5,514
Winner Number: 2098

Total Entrants: 5,123
Winner Number: 3130

Total Entrants: 3,330
Winner Number: 1897 (Sven S.)

Total Entrants: 3,548
Winner Number: 3491

Total Entrants: 4,623
Winner Number: 3171

THANKS FOR THE SUPPORT!

Of course, the giveaway wouldn't be possible without the support of Clever Training.  They're my partner here on the site and sell just about every sports tech gadget around.  And not only that, but as a DCR reader you'll save 10% off anything you purchase with them – either via the VIP club for all items or DCR reader coupon code for most items (DCR10BTF), plus free US shipping for orders over $75!
Below is a listing of all the products that were given away yesterday, as well as all the links to reviews and to support the site.  I appreciate it!
Product

Amazon

Wiggle

Garmin Edge 520
$229
Amazon
Garmin Forerunner 920XT
$249
Amazon
Garmin Vivoactive
$169 (on sale)
Amazon
GoPro 3-Way Grip/Arm/Tripod
$69
Amazon
GoPro Hero4 Silver
$399
Amazon
Polar M400
$179
Amazon
Polar M450
$169
Amazon
PowerTap P1 Pedals
$679
Amazon
Quarq RIKEN AL
$799
Amazon
Suunto Ambit3 Peak
$499
Amazon
Tacx Satori Smart
$399
Amazon
Tacx Vortex Smart
$529
Amazon
Wahoo Fitness KICKR V1/2013
$1,199
Amazon
Wiggle
Withings Activité
$450
Amazon
Withings WS-50/Smart Body Analyzer WiFi Weight Scale
$149
Amazon
Thanks for reading!
P.S. – All winners will get follow-up e-mails on Thursday for your shipping details (and model preferences where applicable).  If you're a winner and don't receive an e-mail on Thursday, please use the contact form to get in touch. Sometimes things get stuck in spam folders.  Thanks!