(Update! My Fitbit Charge 2 in-depth review is now available here! So swing over to that page for all the details!)
Fitbit's starting off the week ahead going into IFA (a big tech show in Berlin later this week) by launching a slew of activity trackers and related activity tracker accessories.  Plus, there's some software updates to be had for existing Fitbit users.  Let's dive right into it.
Fitbit Charge 2: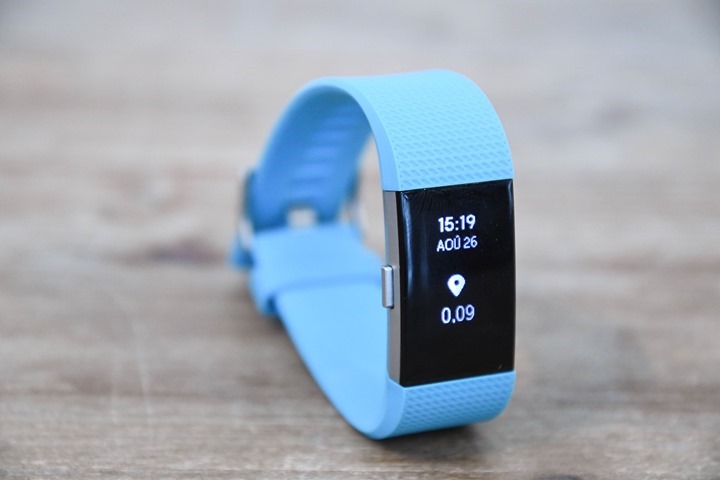 First up is the new Fitbit Charge 2.  This unit sits in the middle of Fitbit's product line-up, in terms of price and functionality.  Whereas you have the Fitbit Flex 2 down below it from a price/functions standpoint, and then the Fitbit Blaze above it.  Meanwhile, the Fitbit Alta kinda slots in just below this, but with a slightly different feature set.
The original Fitbit Charge HR had optical HR on the back of it, primarily for 24×7 HR recording, but also the ability to have a basic workout mode.  That optical HR sensor is now considered standard on the Fitbit Charge 2, and they've expanded the usage of it.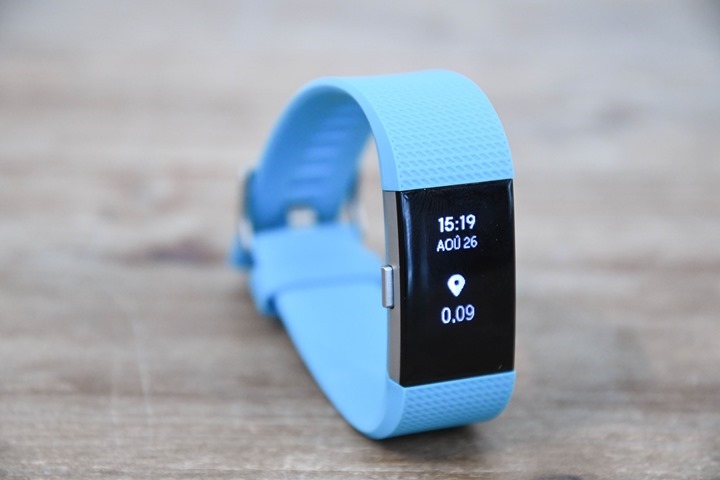 First is that they're giving you a cardio fitness level score by tracking and trending your daily resting HR and exercise data.  This score is essentially your VO2Max score.  Fitbit wouldn't be the first to do VO2Max on optical, but it will be interesting to see what extent these metrics line-up to existing offerings in the market (i.e. Polar, Garmin, a million apps, etc…).  I thought the below color categorization of fitness scores was kinda interesting, because for men 30-39, typically you'd take a higher score than 49 to be considered 'excellent'. Update: Fitbit found an error in their earlier screenshots, and send over updated app screenshots with the correct VO2Max categorizations in them, I've swapped out for the correct one below.
Here's both Ryan Hall and Sarah Hall's scores (famous world class runners):
In order to soothe you after you find out your fitness score is dismal, the company is introducing a new guided breathing sessions functionality into the Charge 2.  The unit will guide you through two and five minute sessions that displays real-time HR fluctuations and breathing (essentially heart rate variability) via an animated wave icon, and then gives you vibration cues alongside animations to calm you down.
These sessions are based on your current rate of breathing, rather than being canned.  So it's a bit more customized to that exact moment.
Speaking of animations, the unit features animations in many areas, such as the new sport modes.  Previously the Charge HR only had a single sport mode (aka 'sport mode'), now it has numerous modes.  For example there's a bike mode, a running mode, a gym/weights mode, yoga, etc…
Each mode features a mini animated person/icon of that mode, plus a text descriptor.  In my case, those descriptors were in French.  But, Vélo sounds cooler than 'Bike' anyway.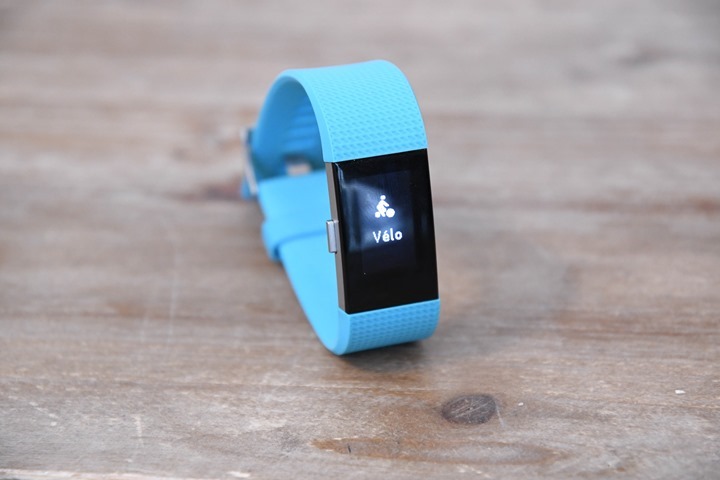 The unit also features an interval workout mode, which is the first time we've seen that at the lower end (the Blaze includes a variant of that).  Also of note is that the Charge 2 includes SmartTrack, which is Fitbit's automatic exercise recognition feature that tracks certain sports automatically – such as running, walking, and elliptical usage.
Next, the unit now includes 'Connected GPS', which means it doesn't include any GPS at all.  Instead, that's the confusingly accurate marketing term that Fitbit uses to mean that it leverages your phone's GPS for GPS data.  Meaning, you have to take your phone.  Of course, at this price point and size, you wouldn't necessarily expect GPS included.  So in a sense it's nice that the option is there if you take your phone with you during your run/ride/etc…
Also of note is that the Connected GPS will auto-calibrate your stride length on the device, so future runs sans-GPS are more accurate.  This can also be done manually too.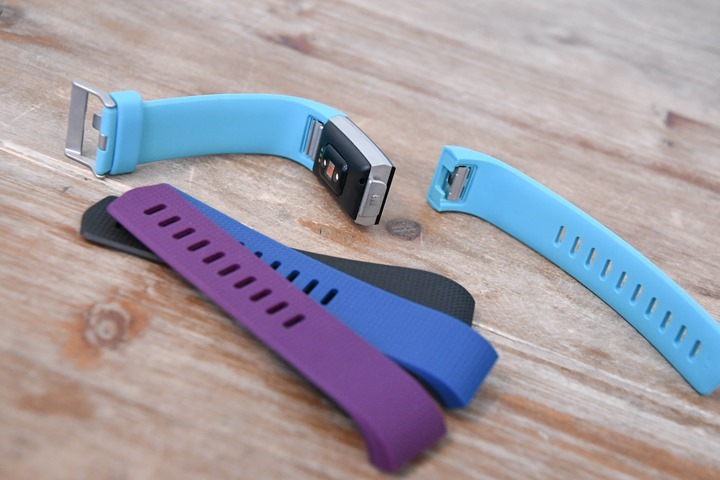 The Charge 2 will be available for order today on Fitbit.com, and tomorrow everywhere else.  Shipping will be in 'September'.  It'll run you $149USD with your choice of black, blue, plum, or teal bands.  Yes, plum.  No peach.  They are also offering additional textures at $179 (including rose gold and 'gun metal'), which includes the tracker.
Fitbit Flex 2: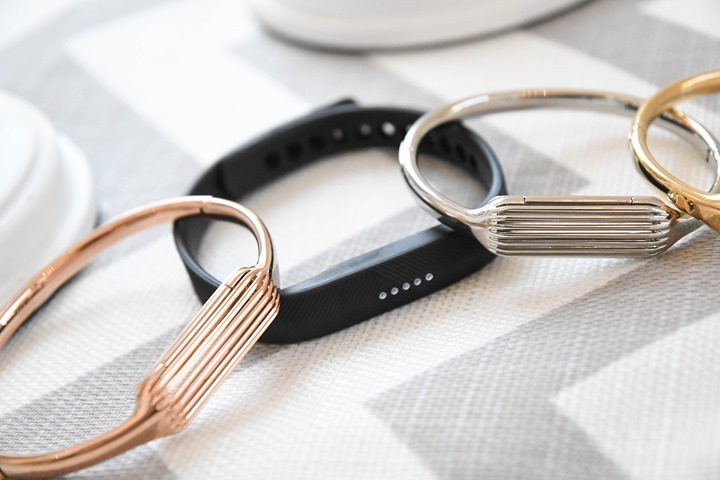 Next we've got the Flex 2.  This unit is more of the minimalist Fitbit, being that it doesn't have a fancy display – or any display at all.  Instead it uses five small LED's to give you feedback such as move reminders and progress towards your daily step goal.  Plus, it'll illuminate when text messages or phone calls come in.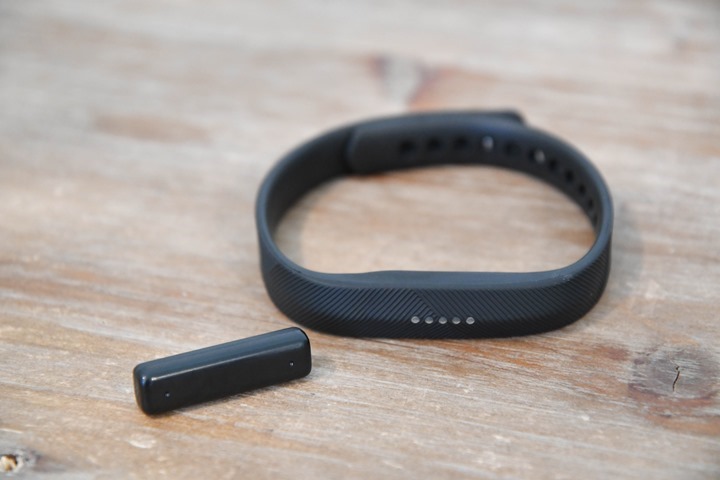 The unit has seen a 30% reduction in wrist real-estate square inches compared to the previous version.  But more important than that, the thing is the first Fitbit product to actually be waterproof.  @#$# finally.  The unit is waterproof to 50m of depth, so you can go swimming all day long.  And in fact, the unit will track your pool swim including laps, duration, and calories burned.
For the most part, the Flex 2 is about having a hardware offering that feeds into the greater Fitbit ecosystem.  So the unit is minimalist in terms of hardware, but behind the scenes you're still getting the same Fitbit platform as other units.
As with many new products from Fitbit, the unit has more fashion-oriented accessories.  In particular, these three bands: 22-karate plated rose gold stainless steel, 22k plated gold, and regular stainless steel.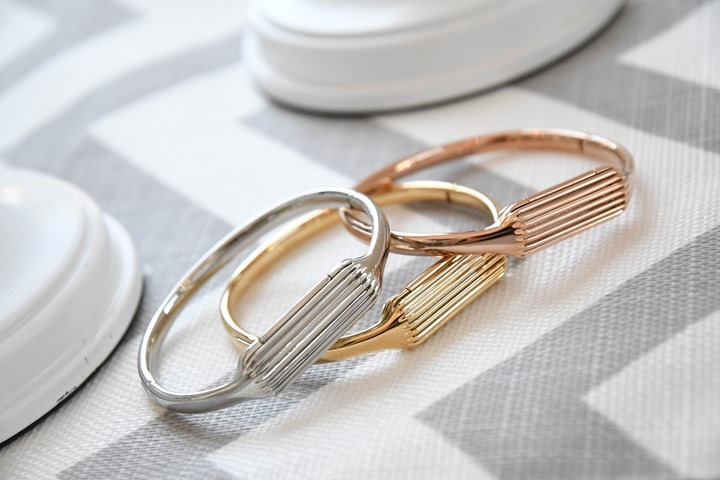 These bits of jewelry open up like a clam shell and allow you to pop the Flex 2 pod inside of it: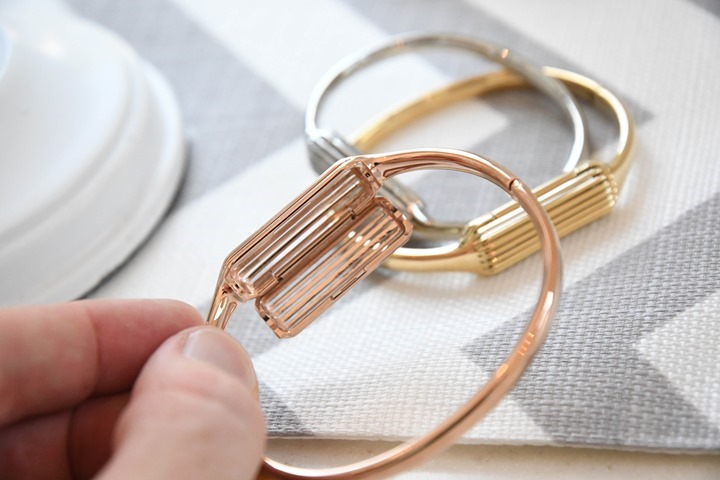 There's also a necklace option too.  And on top of that they'll be doing three additional fashion lineups for the Flex 2, including ones from Vera Wang and Tory Burch, as well as something called 'Public School', which they say is designed to be aimed at frequent Tinder users.  Actually, they didn't say that.  Officially they said "urban street-style looks for approachable luxury accessories in styles that range from high-end bracelets to accessible sports bands that are both contemporary and sophisticated".  But ya know…same-same.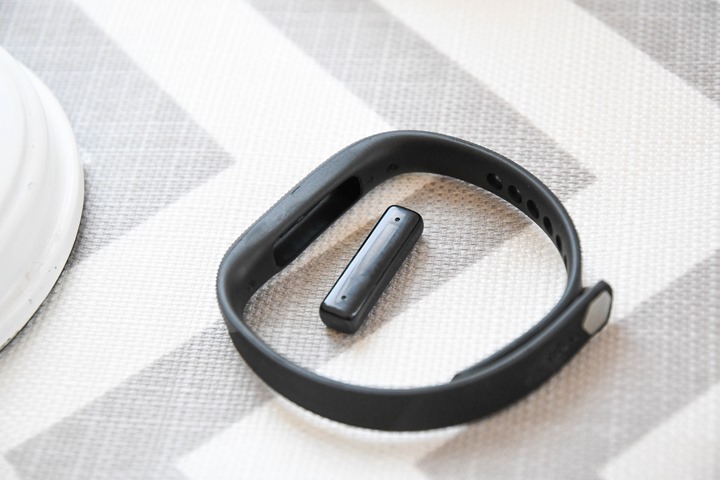 When it comes to purchasing the Flex 2, it'll set you back $99 for the base unit in either black, magenta, navy, or lavender.  Alternatively, you can pickup bands from $14 for the classic bands, $89-$99 for the bangles (Guys note: Disappointingly different than bagels), and $79-$99 for the pendants.  Availability is pre-sales on Fitbit's site today, and everywhere else on earth tomorrow at midnight.  But shipping for this won't happen till October.
Some Gold Alta Bling: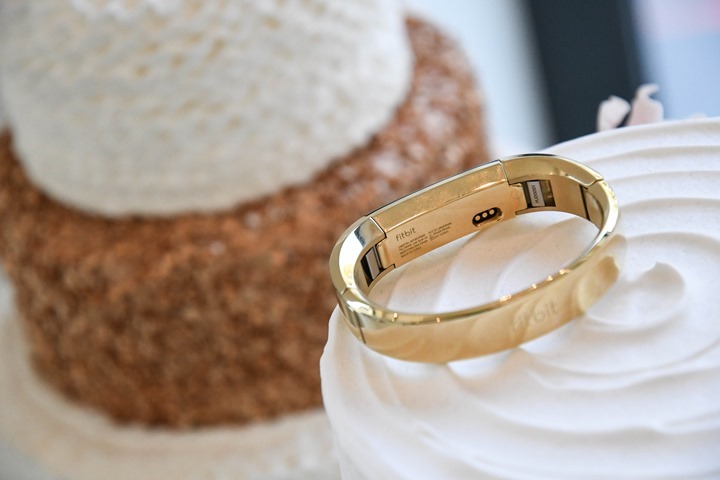 Next, the Fitbit Alta (which was released earlier in the year) is receiving some hardware accessories, specifically, golden hard accessories.  They're rolling out a few different variants of gold bangle accessories, stainless steel bangle accessories, and then a straight-up gold Alta.  All of which are 22-karat gold-plated.
The complete golden-child Alta: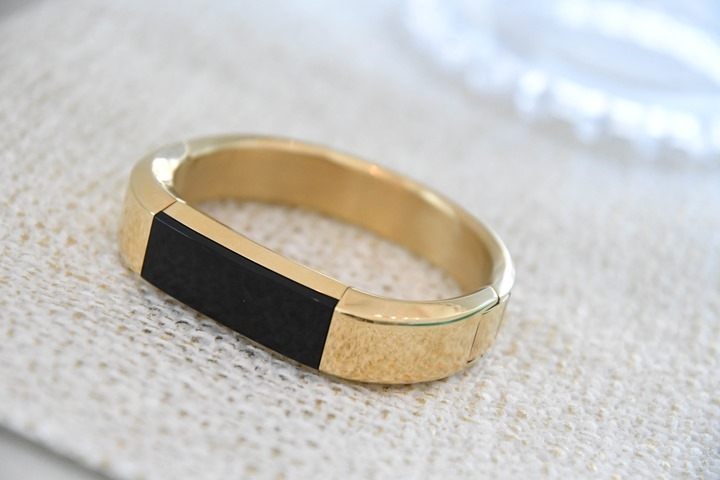 Or the gold Alta with the regular black sport band: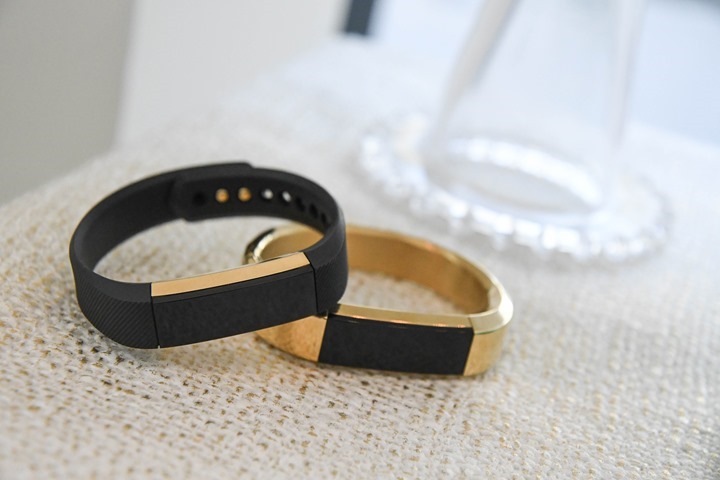 And there's also a stainless steel band too.
Finally, some activity trackers that I can do product shots on the exact same table as I do wedding cake shots for The Girl and the Cake Studio.
Fitbit Blaze Upgrades: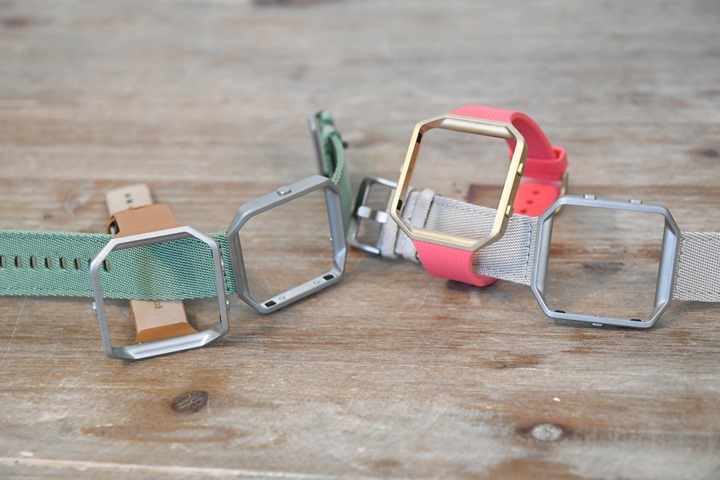 Finally, last but not least, the Fitbit Blaze is getting three updates – two of which add features that the rest of the market has had for a few years: Smartphone notifications and move reminders.
Yup, previously the Fitbit Blaze (like all Fitbit products) only would display phone, text, and calendar notifications.  Despite its gloriously pretty screen you couldn't see notifications from Snapchat, Twitter, or Facebook.  Rather, only the core three: Text, phone, calendars.  With this new (and free) software update, you'll now get any smartphone notifications that your phone can throw at it.  Boom!
Next, you'll now get move (inactivity) reminders on the Blaze.  This will remind you each hour to move, if you've failed to get your move on.  In total you'll need to throw down about 250 steps per hour.
Finally on the software front, you'll get some new clock faces (aka watch faces).  Five new faces to be precise, giving you nine watch faces in total.
Lastly, for hardware, they went ahead and gave you a new golden Blaze edition, which you can pickup for $229, or $99 for the accessory band.  Plus some new straps including khaki and olive, as well as a thinner (in width) leather band).
—
With that – thanks for reading all!  Feel free to drop any questions below.  My understanding is that the new units for review are working their way towards me as we speak.
Update: You can now pre-order the Fitbit Flex 2 and Fitbit Charge 2 on Clever Training.  In doing so you not only support the site here, but also save yourself 10% using DCR Coupon Code DCR10BTF.  Plus, free US shipping!