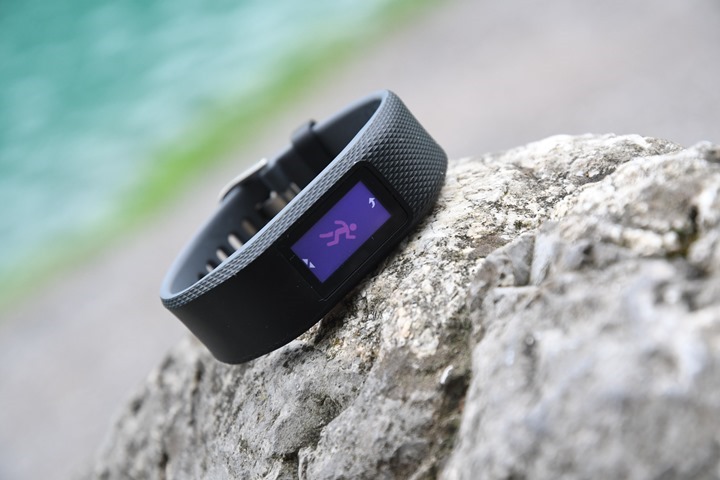 A few weeks ago as part of Garmin's trifecta announcement of new Vivo-labeled products, they announced the Vivosport (along with the Vivomove HR and Vivoactive 3).  In many ways the Vivosport got overlooked as it lacked the fashionista flashiness of the Vivomove HR, while also lacking all the bells and whistles of the Vivoactive 3 (like contactless payments).
But the Vivosport actually has a bunch of new features in it that combine the Vivosmart 3 they released earlier this spring, with the Vivosmart HR+ from a year ago.  Said differently: You now get GPS in the band (which wasn't in the Vivosmart 3), but all the new stress tracking, VO2Max, and similar features of the Vivosmart 3 units.
In any event, I've been using a media loaner unit since before announcement, and now that the company is shipping I figured it's time for an in-depth review.  As usual, I'll give this unit back to them and go out and get my own via normal retail channels.
With that – let's dive into it!
What's new: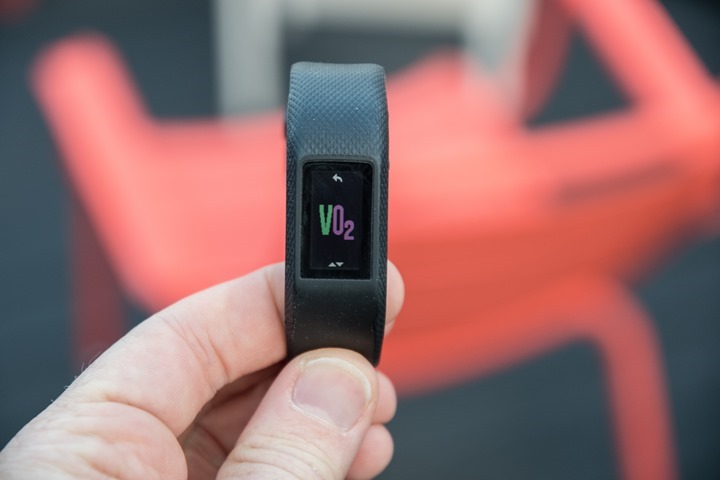 Let's start by looking at what's new in the device, which does require us to have a baseline to compare it to.  For example, if we compare it against the Vivosmart HR+ (the one with GPS), then we've got a boatload new, all of which was introduced on the Vivosmart 3 this spring:
24×7 Stress Tracking Mode: This will score  (1-100) and bucketize (low/med/high) your stress levels constantly.
VO2Max/Fitness Level Scoring: Gives you both a VO2Max value and a general score
New Relax/Breathing timer: Walks you through breathing exercises to help you relax
Strength training mode: This can now count reps during certain activities
More constant 24×7 HR mode: This is akin to Fenix5/FR935/Vivosmart3/Vivoactive3 with far more frequent HR updates, at 1-second intervals for the Vivosport
Watch face choices: You can now select some (limited) watch faces
New Stop Watch/Countdown Timer: Pretty self-explanatory
Auto-start for Run/Walk Activity: Allows you to automatically trigger these workout types
Added Rep Counting: This tracks reps in the weight room, including the ability to specify weights.
Far thinner design: Reduced by 4mm compared to Vivosmart HR/HR+
But what about compared to the Vivosmart 3 that was introduced?  Here's the list compared to that device:
Always-on display: The Vivosmart 3 had an on-demand display
Hell of a lot better display: Simply put, this thing is crystal clear, versus the semi-soft VS3 display
Battery life: It's 7 days in smartwatch mode, 8 hours in GPS mode
Additional Sport Profiles: Outdoor versions of walk, run, cardio, and bike
Added Run/Walk Interval Mode: Popular in some run training plans
Added Auto-Pause: Used in sport modes
Added LiveTrack: Given it has GPS, this is a logical addition
Added Auto-Activity Start: This will trigger for walk and run, and gets a legit activity versus just a Move IQ calendar one
Also, note that Garmin believes the Vivosport is actually the smallest activity tracking band with GPS included and at least 7 days of battery life.  I can't say I disagree there.  Perhaps there's some random OEM-type device in China that bests that figure, but as far as any major player devices, that's certainly true.
Got all that?  Good.  Now you're ready to see how things size up.
Size & Weight Comparison:
Note that during the James Bond-esque hand-off on the side of the road between two cyclists, I received just the unit and a charging cable – no box.  That was true of the second unit I had/have as well, since nobody wanted to carry a bunch of boxes in their luggage.  No worries though, all you need to know about the box at the moment is that it has the band and the charging cable in it.  It uses the same exact charger as most of Garmin's 2017 units (Fenix 5, FR935, Vivoactive 3, etc…).
I'll add an unboxing section once I get a proper box.  But this is a final production unit.
As for sizes and weights, it's pretty similar to past Garmin Vivo-units.  Here's the weight of it: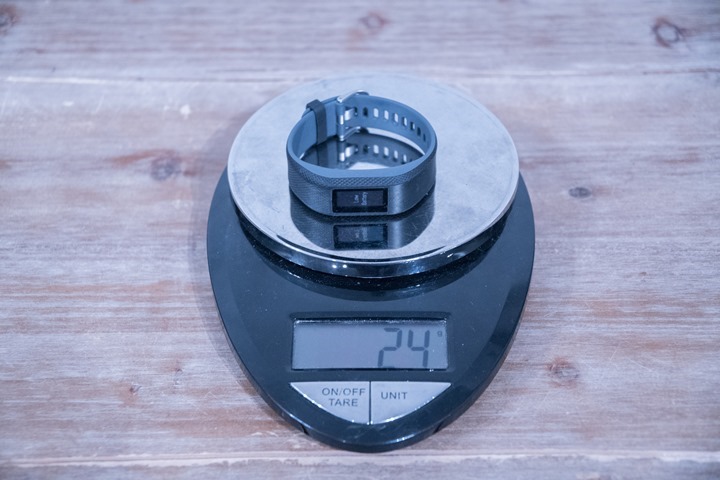 And then here it is compared to the GPS-less Vivosmart 3, and the GPS-capable Vivosmart HR (same shell to Vivosmart HR+, but slightly smaller):
Since Fitbit doesn't really make a band of their own with GPS, it's a bit weird comparing that in the weight sense.
To see how the Vivosport is slightly thinner and less bulky than the Vivosmart HR, here's some comparison goodness:
Got all that?  Good, let's get right into the actual usage then.
The Basics: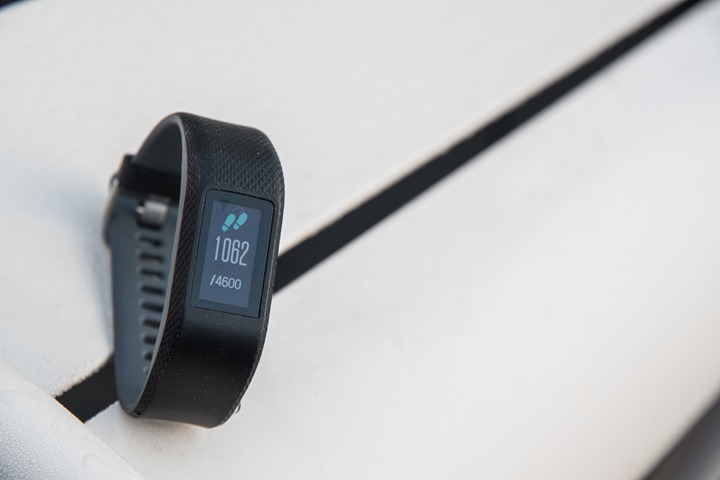 The Vivosport is pretty straightforward to use.  Everything is done by either tapping or swiping the always-on touch display on the unit.  There are no dedicated buttons beyond this screen, which responds to taps, more taps, long-olds, and swipes.
Above you'll see the time, date, and inactivity bar (if you've been lazy), which I have not been, thus, you don't see it.  You'll also see the battery status – which is close to death in my case.  I've been easily getting 4-5 days of battery life out of it, including GPS workouts of about 30-60 minutes per day.  Further, the screen will show if any alarms are scheduled.
The main screen is your default watch face, which can be lightly customized with a few default watch faces, as well as the orientation.  Note that you cannot install any Garmin Connect IQ watch faces here.  You can also customize the default home widget, which could be something other than the watch face.
Next, you've got all your widgets, which contain things like steps, floors, intensity minutes, music control, and so on.  For most of these you can also tap into them to get additional details.  For example, here's the heart rate (HR) widget, which shows your current HR and 7 days resting HR below it.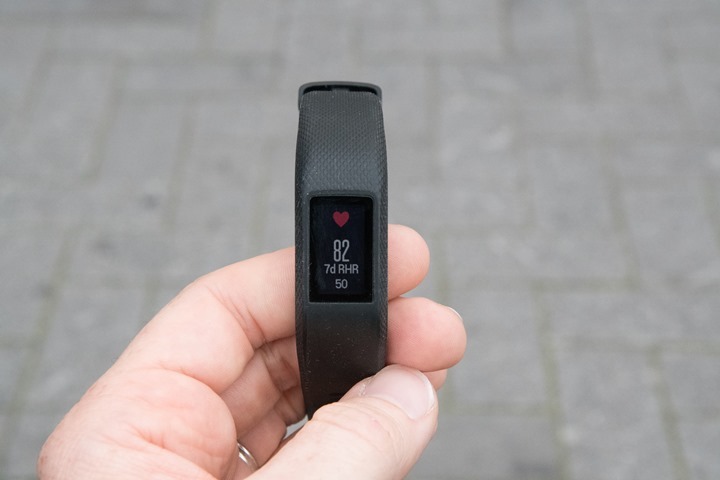 But you can tap it to get the last hour's HR graph, and the high/low figures:
For a quick look at all the widgets, I give you a widget gallery.  It's…well…a big 'ol collection of many widget photos.
Yes, for real, I did walk 30,000 steps today (more since I took that photo).  My legs are done with walking for the foreseeable future.  Or at least the next 1hr and 28 minutes until I have to walk my ass off this train and back home.
The unit also receives smartphone notifications as well.  These will appear first as a little icon for the particular app (I.e. Instagram, Facebook, texts, etc…), and then you can tap it to read the full details:
When it comes to the data from the Vivosport, all of it is funneled via Bluetooth Smart to your smartphone (iOS/Android/Windows), and into the Garmin Connect app.  It's here you can see your daily totals.  For example, the new Garmin Connect Mobile home screens are far better than the past.  Here's what my day looked like today, swiping through from top to bottom:
You'll see how it has things like my GPS activity up top, followed by the different activity categories.  Then down towards the bottom I've got a tidy little comparison to yesterday, as well as a summary of the last 7 days.
You can dive into any given stat to get more detail.  For example, here's the 24×7 HR stats in more detail.  On the left you'll see little grey icons, which indicate automatically triggered activities.  Versus the green icon for run is a manually created GPS run.
Speaking of which, the Vivosport now contains the same more advanced Garmin ELEVATE optical HR sensor that the Vivosmart 3 had (but that didn't have GPS).  This means the optical HR sensor is measuring your heart rate at 1 second intervals and recording as such.  This gives you far better accuracy than Garmin's past iterations which sometimes would go off on vacation for hours at a time at night (though usually it was less).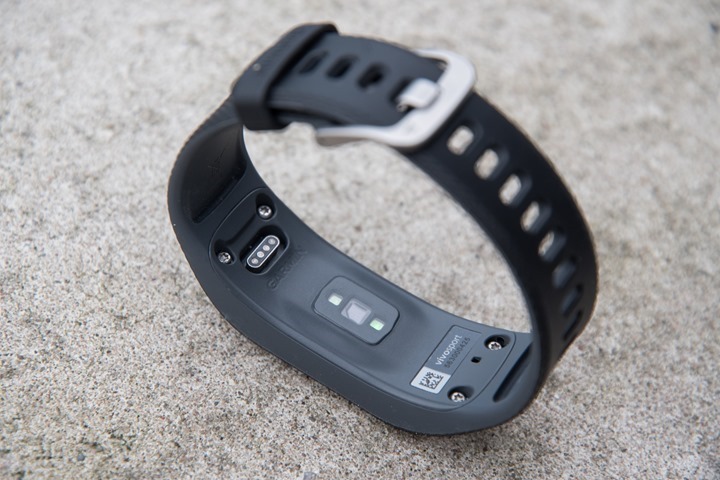 In addition, with this higher frequency recording they're doing new metrics like stress measurement throughout the day when not in a workout.  This is leveraging heart rate variability and algorithms from Firstbeat, and is identical to what was shown on the Vivosmart 3.  I find it pretty darn accurate in measuring my perceived stress.  You can see this on the device itself, or on the app afterwards: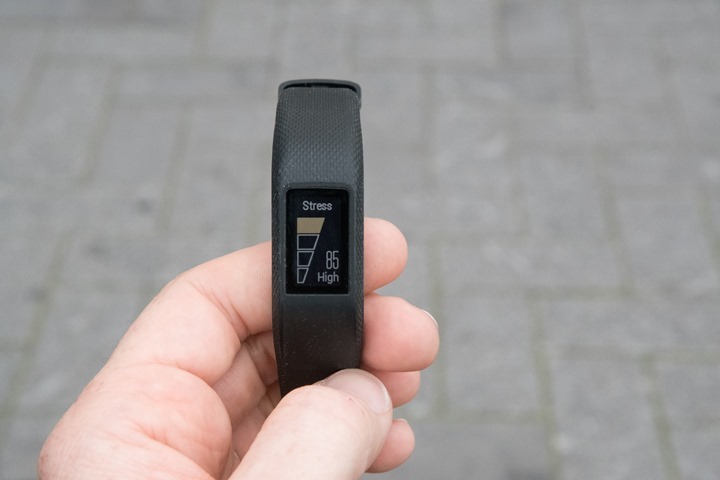 I like the app view, as it shows it both throughout the day but also in a little chart format.  This is also true of the intensity minute data, which is more accurate than before since it's calculated constantly:
Similar to what Fitbit introduced a year or so ago, Garmin added in new Relaxation/Breathing type functionality, which is found within the Vivosmart 3.
Of course, like most activity trackers these days it tracks sleep as well.  In general this works well, though I did have one night a few days ago that incorrectly thought me using my phone in bed was sleeping (for about 45 minutes on either side).
Within Garmin Connect you can connect with friends (only on Garmin of course, nobody has cross-platform integration), and see how you compete against them.  And for lack of anywhere else to put the other screen below, you can do all sorts of charting of metrics like calories and such.
Finally, a note about the display.  By default the display isn't locked, which I found incredibly frustrating.  Silly little things like my coat sleeves would trigger it and before I knew I was in the workout mode or deep into the settings.  Same goes for a shower (the unit is waterproofed to 50m).  As an added 'benefit', the default would have the backlight illuminating on almost any wrist movement or tap of the bedsheets.  The Girl nearly ripped it off my wrist and threw it out the window to the street six stories below.
However, both those issues were solved by turning off backlight wrist raise (except in a workout, where I've set it to default backlight on when raised), as well as default auto-locking the screen.  To unlock I just tap twice.  All is happy now in both our lives.
Also, you can adjust vibration alert intensity as well.  I found the default 'medium' setting more than fine.
With that – let's talk sports.  After all, it's named 'Vivosport'.
Sport Usage: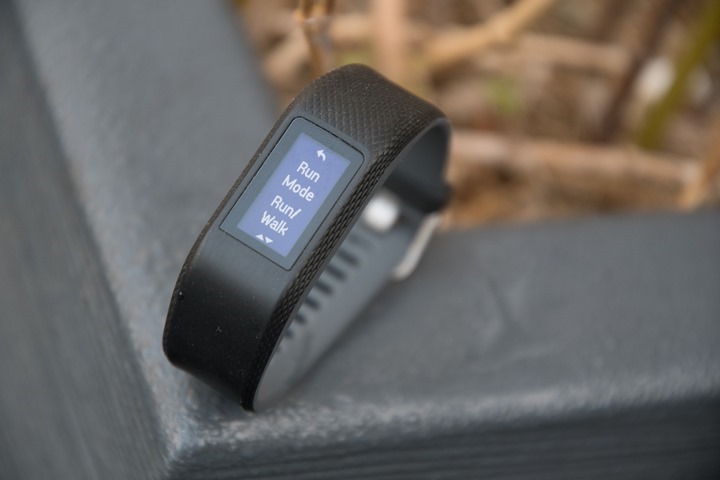 If you can untwist the confusing lineage of the Vivo series, which is a complex Tinder-packed hooking up of the Vivosmart 3 and Vivosmart HR+ series, the core takeaway you'll find is that the Vivosport has both GPS and higher-end optical HR.  That's roughly what this all boils down to over the Vivosmart HR+ from a year or so ago (which also had optical & GPS).  Also, this new unit has sporty features like VO2Max algorithms, run/walk modes, and personal records.  All the stuff I listed in the 'new stuff' section up above.
In order to start a workout you'll hold down the screen for about two seconds, which brings up this colorful little person: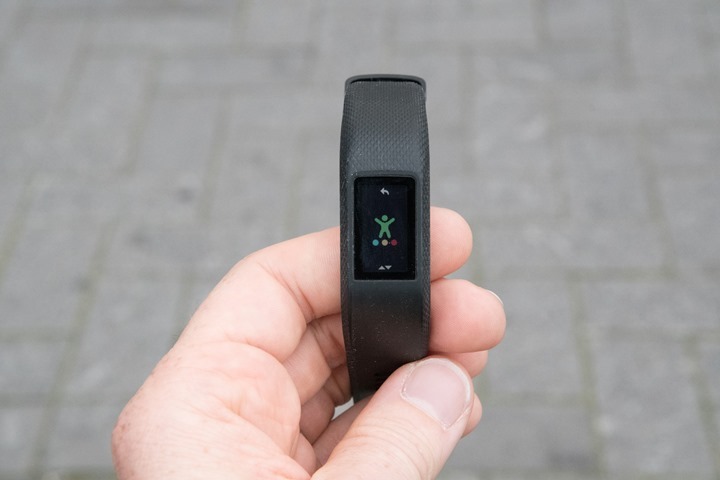 You can then tap them and swipe through the different sports, such as running, walking, cycling, or cardio.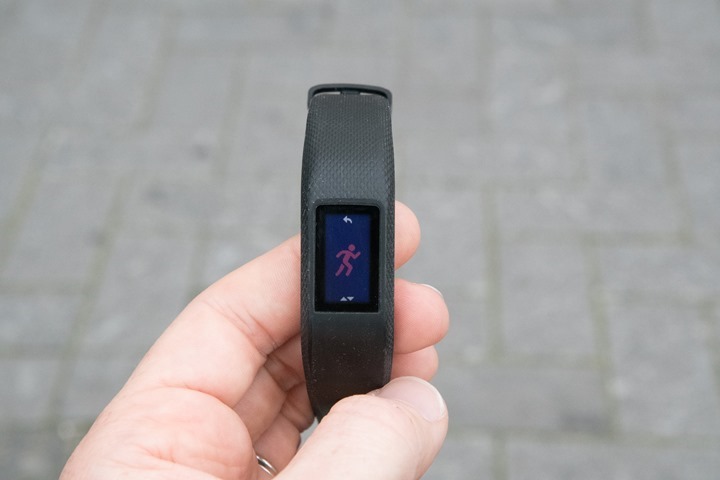 There are some odd quirks here.  For example, you can choose running, and then indoor or outdoor.  But for cycling you only get outdoors but not indoors.  Garmin would probably argue that's what the 'Cardio' option is for, since technically it wouldn't do anything different by adding an indoor cycle/spin option.  But by having a separate option it'd bucketize the activities different on Garmin Connect later (without manually overriding).  It's a reason why Fitbit allows selection of a boatload of sports, even if behind the scenes there's virtually no difference.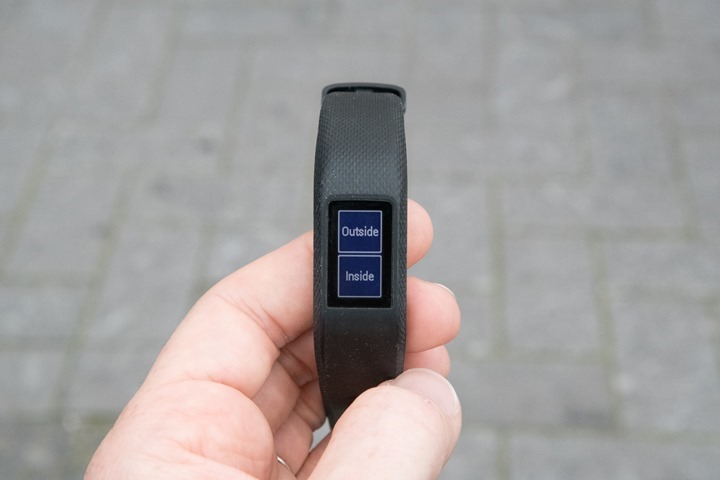 If we select run we'll get the option for that indoor/outdoor piece.  Selecting outdoors will enable search for GPS, while indoors it'll use the accelerometer for pace/distance.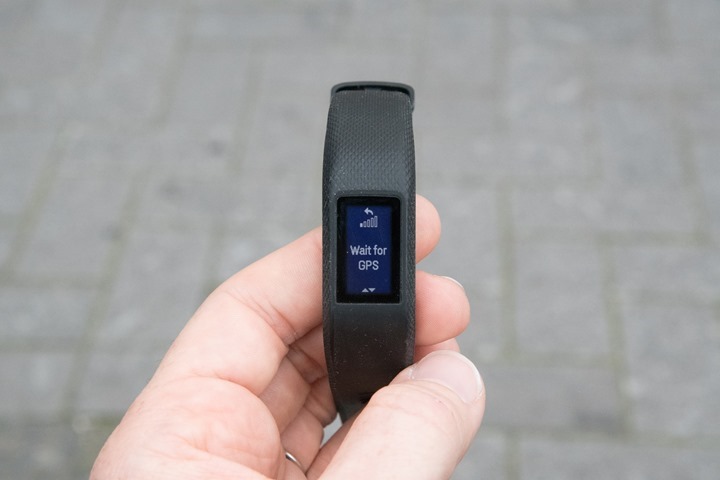 Typically I found that for GPS it took less than 15-20 seconds if it's synced with your phone recently and has the GPS satellites pre-cache data on it.  Else then it'll take a heck of a long time (2-3 minutes).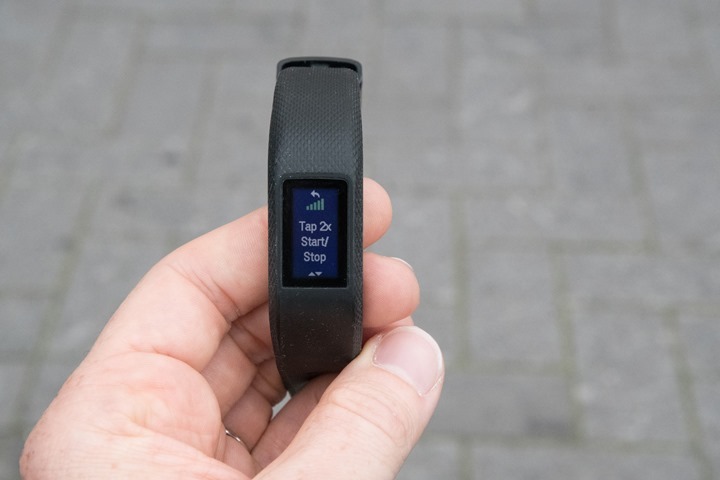 Once done you can go ahead and double-tap to start the activity.  At this point it'll be tracking your workout including distance and heart rate.  You can swipe through workout pages, each of which contain two metrics.
You can customize these metrics using the Garmin Connect Mobile app, such as selecting different data fields.
All of this is pretty straightforward.  One benefit that I alluded to early on in the review is that the display is always-on.  Unlike almost all Fitbit devices these days (and even some Garmin devices), the Vivosport display never shuts off, so there's no awkward waiting if/when the wrist-raise doesn't properly trigger the display-on.  It's nice having it just always be there and work.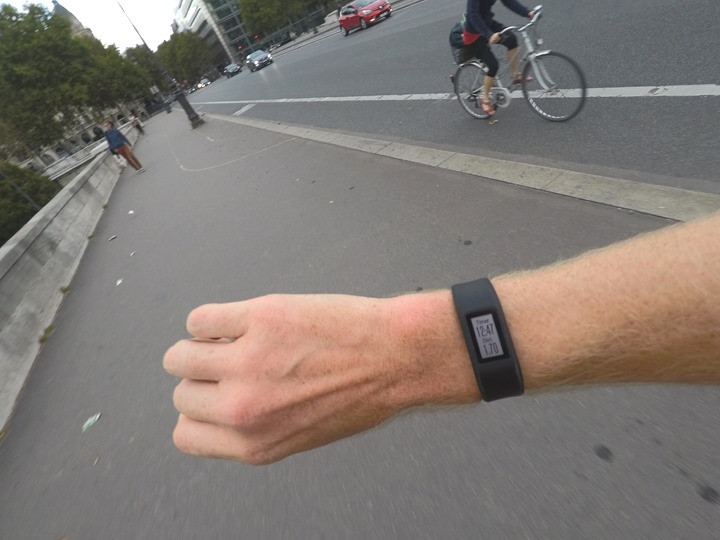 Note that during the workout you can enable things like auto lap to automatically create laps at preset durations (such as once per mile or kilometer), as well as auto pause and even run/walk mode.  Further, you can create distance, calorie, heart rate, or time alerts.
Once your workout is done you can go ahead pause the workout by double-tapping the screen.  Then you can select to save the workout.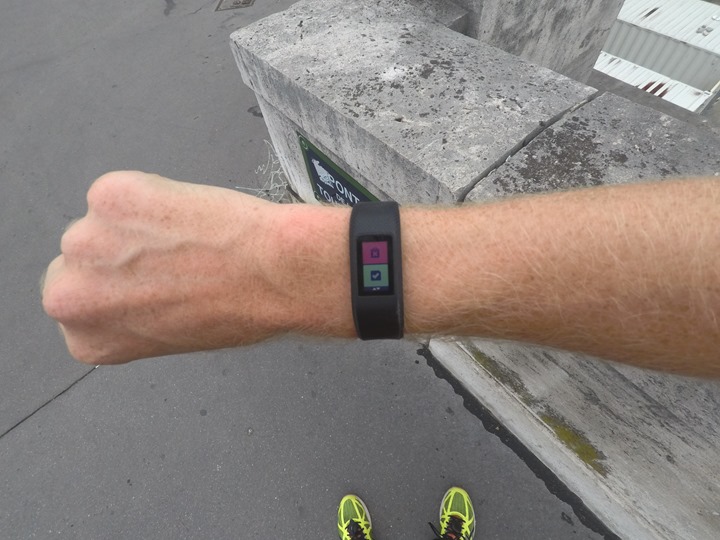 Afterwards you'll get any PR information if you've hit any of those during your workout.  These can include longest runs or fastest paces.  Note that as has been the case forever, Garmin still inexplicably can't sync your PR's from Garmin Connect to these devices, so they always start over.  I fail to understand why.
You can further view your workout on Garmin Connect Mobile, including a boatload of stats:
Or you can view it on Garmin Connect online (here's links to some of my Vivosport runs and rides, for those curious about the exact data and how it appears on a real life workout.  Additionally, if you connect your account to sites like Strava, Training Peaks, or MapMyFitness – the workouts will end up there within a few seconds of Garmin Connect receiving it.
Also of note is that now you'll get VO2Max information based on your workouts.  This can be accessed through the menus to pull up your VO2Max stats at any time.  In general you'll find that this feature takes a couple of weeks to stabilize to your metrics.  So don't fret if initially the numbers are pretty low – it's normal for not just Garmin devices, but most devices in the industry.
Finally, the Vivosport includes the ability to re-broadcast your heart rate over ANT+.  It doesn't do this while in sport mode, but only in a secondary mode that's accessed in the settings menu: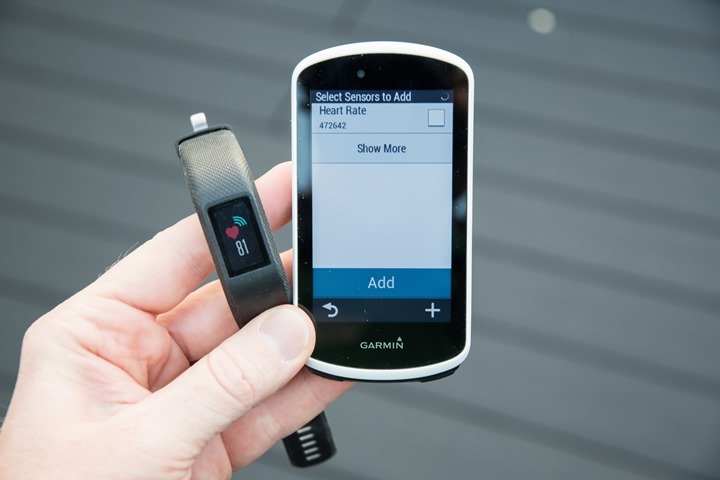 When in this mode, you could use something like a Garmin Edge cycling computer to pair to your HR sensor on the Vivosport, in place of wearing a chest strap.  Of course, the accuracy of that data is limited to the Vivosport's accuracy, which I talk about in the next section.
Note that the Vivosport CANNOT connect to any ANT+ or Bluetooth Smart sensors.  So no ANT+ heart rate sensors or speed/cadence sensors for cycling.  I find it peculiar that the Vivofit (that's half the price) can connect to HR sensors but the Vivosport can't.  Sure, it has its own HR sensor in it, but so do numerous other Garmin products that allow you to connect to ANT+ HR sensors.
Heart Rate Accuracy: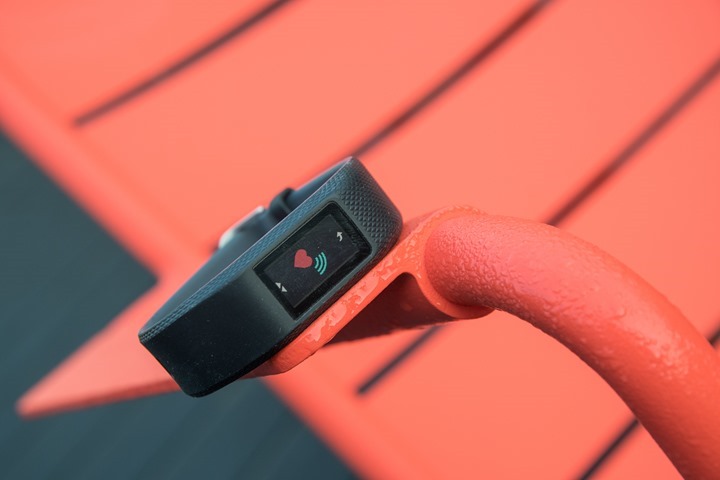 Next up we've got heart rate accuracy.  This roughly falls into two buckets: 24×7 HR, and workout HR.  By and large, I see no tangible issues with 24×7 HR.  It works well across both normal daily routines as well as things like sleep.  You do see slightly higher resting HR calculations than I believe is accurate for me.  For example, it generally gives me Resting HR (RHR) values in the 49-51 range, yet I'll routinely get HR's in the 39-44BPM range.  But that's sorta always been a quirk of many watches.  Speaking of which, I talk about RHR values and 24×7 monitoring here and why it's interesting.
(As an aside, I also found it interesting that for 3-4 days I wore the new Vivomove HR.  While doing so, my resting HR numbers dropped about 8-10bpm per day, and then as soon as I went back to the Vivosport, it rose. This was on Sept 2/3/4th per above.)
Before we move on to the test results, note that optical HR sensor accuracy is rather varied from individual to individual.  Aspects such as skin color, hair density, and position can impact accuracy.  Position and how the band is worn are *the most important* pieces.  A unit with an optical HR sensor should be snug.  It doesn't need to leave marks, but you shouldn't be able to slide a finger under the band (at least during workouts).  You can wear it a tiny bit looser the rest of the day.
Ok, so in my testing, I simply use the watch throughout my normal workouts.  Those workouts include a wide variety of intensities and conditions, making them great for accuracy testing.  I've got steady runs, interval workouts on both bike and running, as well as tempo runs and rides.
For each test, I'm wearing additional devices, usually 3-4 in total, which capture data from other sensors.  Typically I'd wear a chest strap (usually the HRM-TRI or Wahoo TICKR X), as well as another optical HR sensor watch on the other wrist (many models during this testing period).  Note that the numbers you see in the upper right corner are *not* the averages, but rather just the exact point my mouse is sitting over.  Note all this data is analyzed using the DCR Analyzer, details here.
With that out of the way, let's dive into a run first in the Swiss Alps.  This was a bit of a cooler day (early fall), and also a bit of a rolling course, producing variable heart rate.  You see that there's definitely some disagreement in those first 5 minutes or so.  We do see both optical HR sensors (Vivosport and FR935) do better than the chest strap in the first minute (not uncommon), and then we see some differences between minutes 4-6.

However, after that point all three sensors actually agree very nicely for almost everything.  About the only real stand-out in my opinion is the recovery HR's that you see around the 38-minute marker and 45-minute marker.  Both of these were during brief sections I paused to take a photo, and you can see the HR strap recovers much faster than the optical HR sensors.

Slight delays on recovery HR's isn't unusual for optical sensors, but usually it's on the order of 2-5 seconds.  Here we see quite a bit longer gap – upwards of 30 seconds before it gets even halfway.  Since both Garmin optical sensors (on separate wrists) failed to track this properly in the same way, I'd assume a common algorithm error here, though I'm not sure if stopping to take a photo is considered an algorithm edge case.  Either way, it's the first I've seen of this.
Next, we've got another run.  Or maybe it wasn't a run.  Perhaps those first 5 minutes I was actually inside a meat grinder.  I've never seen such complete and total craziness in HR's between multiple units.  Ever.

I have zero explanation for that.  I was just quietly running along the river and everyone except the Polar OH1 decided to crap themselves.  The chest strap, the other optical HR sensor, and the Vivosport.
And then boom – at the 5-minute marker everyone magically got happy.  It appears that at the 5-minute marker I went up a very slight grade for 10-15 seconds, and that was just enough to allow the units to unsort their likely cadence-lock type issues and find my HR. All of them.
From there on out, everyone is identical:

Next, we'll take a crack at two bike rides.  The first, indoors on a trainer.  In this case I used the 'Cardio' option, since there is no indoor bike option:

You'll see that aside from the first 60 seconds, it actually tracks near perfectly the entire time.  And honestly, I'm not sure what else to say beyond that.  Generally speaking you see optical HR sensors on wrist perform quite well indoors (as there's no bumps to account for), but less well outdoors.
Thus finally, an outdoor ride.  Don't worry, this won't take long – it's horrible.

In case you're trying to figure out which one is the Vivosport, it's the one you see most obviously not like the others (the blue one).
There's not much of a point to analyze the above, other than to say that if there was any variability in my intensity, the Vivosport while riding did the opposite of what I did.  The only exception to that was in the middle there where I was fairly steady-state doing some loops, that it got fairly close…except when I did a sprint, and then it lost the plot again.
While this is somewhat common for wrist-based optical HR during cycling (with variable intensity), you'll notice the FR935 actually tracked fairly darn well throughout this entire thing, save for one sprint.  So it's not quite as black and white as some might think.  For example, if you look at the first half of this ride, where I climb for multiple hours – the Vivosport tracks my HR perfectly, since it's steady-state intensity.
Still, beyond outdoor cycling – the Vivosport optical HR sensor has largely worked well for me in other scenarios.
(Note: All of the charts in these accuracy sections were created using the DCR Analyzer tool.  It allows you to compare power meters/trainers, heart rate, cadence, speed/pace, GPS tracks and plenty more. You can use it as well for your own gadget comparisons, more details here.)
GPS Accuracy: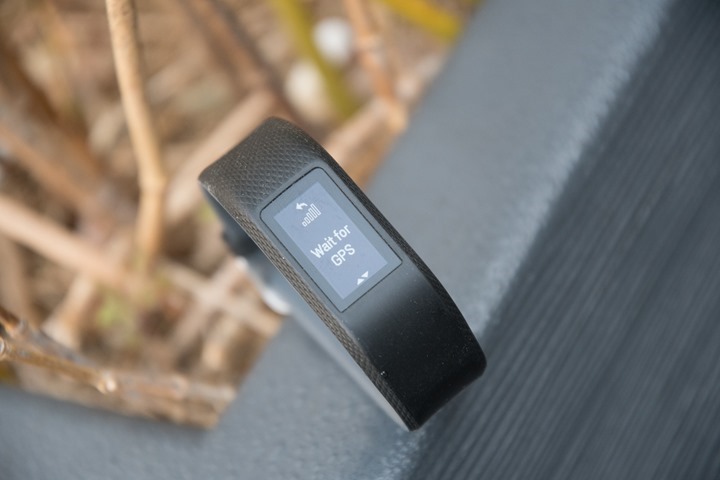 There's likely no topic that stirs as much discussion and passion as GPS accuracy.  A watch could fall apart and give you dire electrical shocks while doing so, but if it shows you on the wrong side of the road?  Oh hell no, bring on the fury of the internet!
GPS accuracy can be looked at in a number of different ways, but I prefer to look at it using a number of devices in real-world scenarios across a vast number of activities.  I use 2-6 other devices at once, trying to get a clear picture of how a given set of devices handles conditions on a certain day.  Conditions include everything from tree/building cover to weather.
Over the years I've continued to tweak my GPS testing methodology.  For example, I try to not place two units next to each other on my wrists, as that can impact signal. If I do so, I'll put a thin fabric spacer of about 1"/3cm between them (I didn't do that on any of my Vivosport workouts).  But often I'll simply carry other units by the straps, or attach them to my shoulder straps of a CamelBak.  Plus, wearing multiple watches on the same wrist is well known to impact optical HR accuracy too.
Next, as noted, I use just my daily training routes.  Using a single route over and over again isn't really indicative of real-world conditions, it's just indicative of one trail.  The workouts you see here are just my normal daily workouts.
I've had quite a bit of variety of terrain within the time period of Vivosport testing.  Be it from major mountains and trails of the Alps, to quiet farmland in France, to city runs and rides in Paris or Amsterdam.
With that, let's crack a look at the first activity, a run in the middle of nowhere France out in farm fields as a rain storm rolled through.  You can see it's a pretty straightforward course in theory: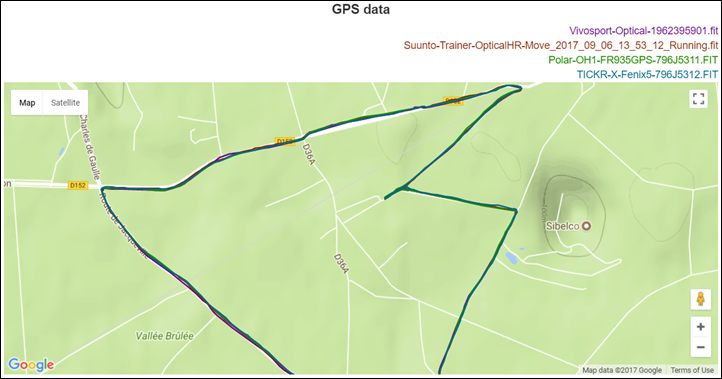 But while it might look straight forward, I like these sort of straight-line courses as a test for how clean the GPS track is.  Meaning – are there wobbles if we zoom in?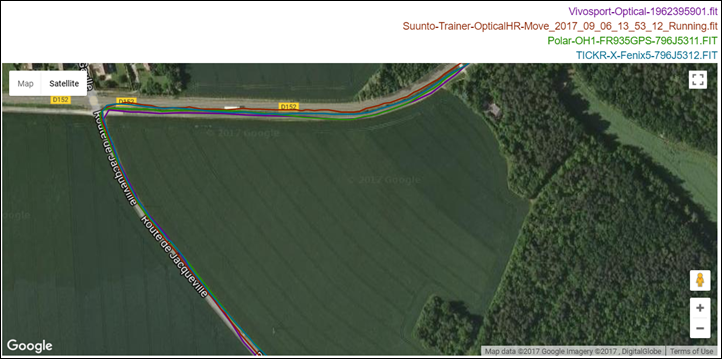 Nope, looks good there too.  And while not a perfect measure, what about the distance spread between the units?  All within a 41m spread (on ~4,450 meters) – so about 1% spread, which is totally normal for GPS accuracy.

Now as a contrast to the above run, I will point out this run in Paris where GPS on the Vivosport totally lost the plot at the 10-minute marker for a minute or so (it's the green line).  It makes no sense to me. Though I will point out that the firmware on the unit is now newer – so perhaps whatever caused that has been fixed.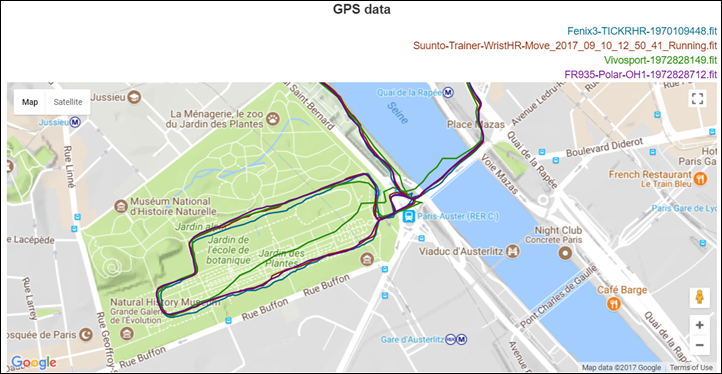 Next, we've got another run – this time in the Alps.  We looked at the HR plots of this earlier, now we'll see how the tracks perform.  I had planned to take a Suunto Wrist HR unit with me on this run, but I forgot to charge it and was running out of light.  In any case, let's start backwards this time – with total distances for each unit:

You can see that the entire spread of all three units was a mere 43 meters (on ~10,400 meters) – or less than one-half of one percent.  But remember total distance doesn't tell the entire story.  We need to look at the track points plotted and ensure they line up with reality.  What's cool here is this track was alongside steep cliffs and in the mountains, making GPS reception harder.  Not to mention tree cover.  Here's the overview, but at this level everything will look fine.  We need to zoom in some.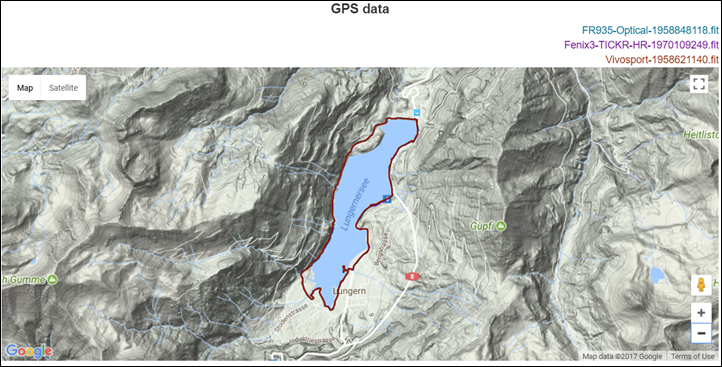 Let's take a look at a tiny little loop I did onto the lake on a small park there.  I did this 100% on purpose to demonstrate the impact of smart recording, which the Vivosport did (whereas the others record at 1-second intervals).  Smart recording slightly varies the recording interval, generally between 3-7 seconds.  Note below how the red track of the Vivosport cuts the corners and is more blocky: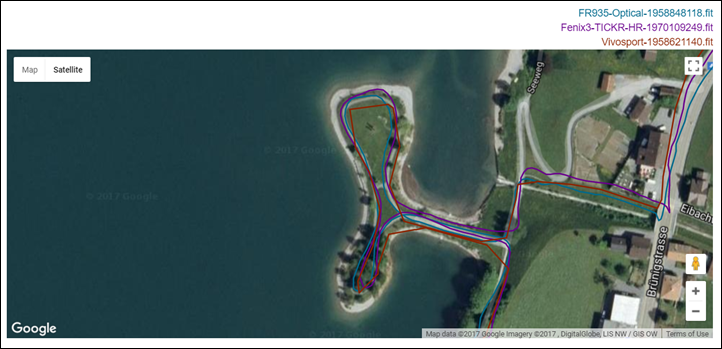 They key though is that while smart recording plots less points, it doesn't actually short the distance (in theory), as that's accounted for elsewhere in the file…at least until you use 3rd party services like Strava anyway.
If we zoom our way around the lake (you can do the same by clicking the file link above), you'll see all tracks are generally within 1-2 meters of each other.  Some slight variation here and there – but all within the spec of consumer grade GPS.  Again though you do notice the more clunky nature of the Vivosport track since it's recording fewer data points.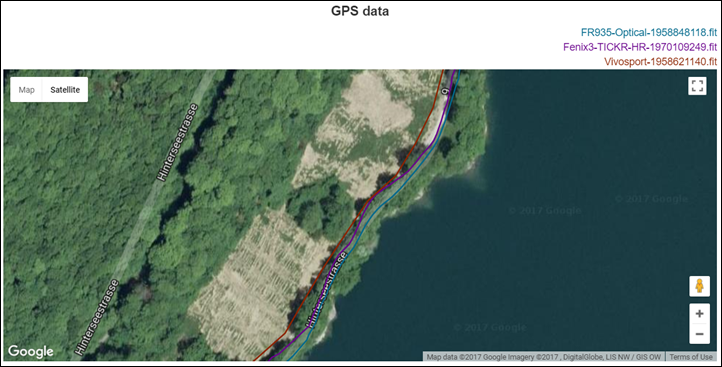 But ultimately, throughout the rest of the run it's basically the same.  All of them are close.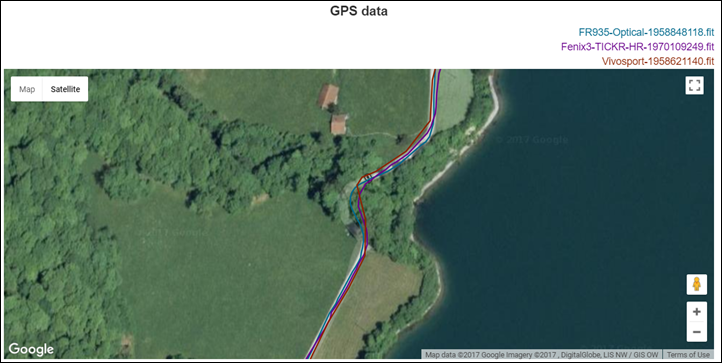 Next, we'll take a look at a bike ride, which is higher speed and across a dense city.  For the heck of it, we'll start with the distance totals first:
All of the units are within about 75 meters, save one Edge 520 that's oddly 700m short. I've got no idea where it lost its 700m, as the maps show identical (and there's no speed sensor on it).  I like that the Vivosport is within 36 meters of the PowerTap hub distance, which would be considered the most accurate distance here since it's a wheel speed sensor.
In any case, here's the overall map: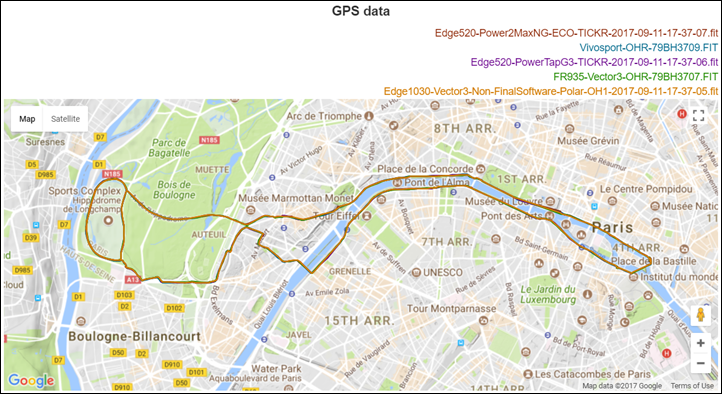 Just randomly picking out some turns/corners/tougher sections, all the units track virtually identically: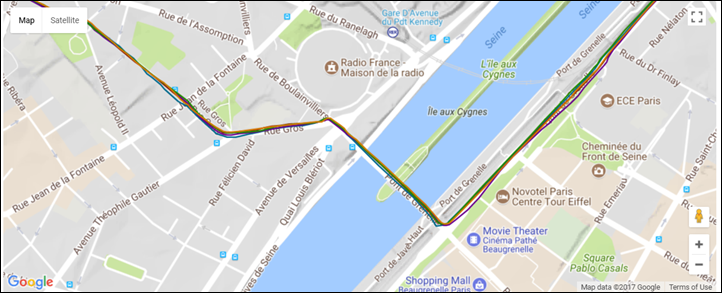 About the only time during the entire ride that you see some disagreement is through a slimmer street in between tall buildings on both sides.  In that case, you see some units visit some buildings next door, though, the Vivosport actually maintained one of the best locks of anyone.  Go figure.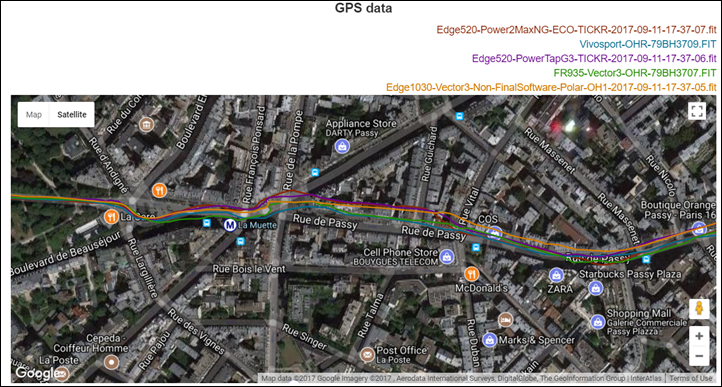 Finally, I like to look at tunnel entrance/exits to see how units handle.  Here you can see that all the units properly entered and exited the tunnel.  I'm specifically looking to ensure that when exiting the tunnel with low GPS accuracy (as it re-acquires GPS), that it doesn't improperly place a GPS point far away (I.e. 150m away somewhere).  All did well here.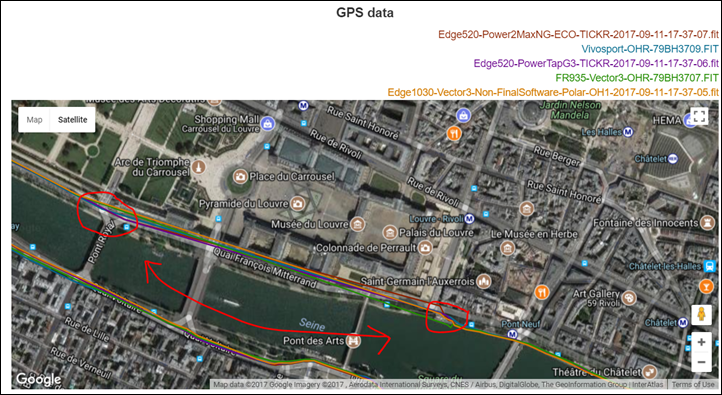 Overall, I see good stuff with the GPS on the Vivosport – with the exception of a single run for about a minute.  It plots the points quite well across a wide variety of conditions (save that one).  Of course, since it doesn't do 1-second recording I'd be hesitant to recommend it for trail running/riding (though trail hiking/walking is fine), as you'll lose many of the switch backs due to lack of data points being recorded.
(Again, all these comparisons are done using the DCR Analyzer.  You can click on any of the links at the start of each set to dig into the sets in more detail, or to download the original data and do your own comparisons.)
Product Comparison:
I've added the Vivosport into the product comparison tool, allowing you to compare it to other products I've reviewed.  For the purposes of this post I selected a handful of other units to compare it against in the tables below, but again, you can make your own charts here.
Below I decided on matching it up against the Polar A370 (has both GPS & Optical HR), as well as the Vivoactive HR (watch-like), and then the Vivosmart HR+.  It's not a perfect match-up, but I think it's what people are most likely comparing.  I skipped comparing it in the below charts to the Vivoactive 3, since that's considerably more.  But you can do that yourself with the tool if you want.
Function/Feature

Garmin Vivosport
Garmin Vivosmart HR+
Garmin Vivoactive HR
Copyright DC Rainmaker - Updated December 3rd, 2020 @ 5:28 am New Window
Price
$169
$219
$249
Product Announcement Date
Aug 31st, 2017
May 16th, 2016
Feb 19th, 2016
Actual Availability/Shipping Date
September 2017
June 2016
Q2 2016
GPS Recording Functionality
Yes
Yes
Yes
Data Transfer
Bluetooth Smart, USB
Bluetooth Smart, USB
USB, BLUETOOTH SMART
Waterproofing
50m
50m
50 meters
Battery Life (GPS)
8 HOURS GPS ON
8 hours GPS on
13 hours GPS on
Recording Interval
Smart Recording
Smart Recording
Smart Recording
Alerts
Vibration/Visual
Vibration/Visual
Vibrate/Visual
Backlight Greatness
Great
OK
Good
Ability to download custom apps to unit/device
No
No
Yes
Acts as daily activity monitor (steps, etc...)
Yes
Yes
Yes

Music

Garmin Vivosport
Garmin Vivosmart HR+
Garmin Vivoactive HR
Can control phone music
Yes
Yes
Yes
Has music storage and playback
No
No
No

Connectivity

Garmin Vivosport
Garmin Vivosmart HR+
Garmin Vivoactive HR
Bluetooth Smart to Phone Uploading
Yes
Yes
Yes
Phone Notifications to unit (i.e. texts/calls/etc...)
Yes
Yes
Yes
Live Tracking (streaming location to website)
Yes
Yes
Group tracking
No
No
Emergency/SOS Message Notification (from watch to contacts)
No
No
No
Built-in cellular chip (no phone required)
No
No
No

Cycling

Garmin Vivosport
Garmin Vivosmart HR+
Garmin Vivoactive HR
Designed for cycling
Yes
No
Yes
Power Meter Capable
No
No
With some Connect IQ apps (but cannot record data)
Power Meter Configuration/Calibration Options
N/A
NO
N/A
Power Meter TSS/NP/IF
N/A
No
N/A
Speed/Cadence Sensor Capable
No
No
Yes
Strava segments live on device
No
No
No
Crash detection
No
No

Running

Garmin Vivosport
Garmin Vivosmart HR+
Garmin Vivoactive HR
Designed for running
Yes
Yes
Yes
Footpod Capable (For treadmills)
No
No (uses internal accelerometer)
YES (Also has INTERNAL ACCELEROMETER)
Running Dynamics (vertical oscillation, ground contact time, etc...)
No
No
No
VO2Max Estimation
Yes
No
No
Race Predictor
No
No
No
Recovery Advisor
No
nO
No
Run/Walk Mode
Yes (limited)
Yes
Yes

Swimming

Garmin Vivosport
Garmin Vivosmart HR+
Garmin Vivoactive HR
Designed for swimming
No (but waterproofed just fine)
No
Yes
Openwater swimming mode
No
No
No
Lap/Indoor Distance Tracking
No
N/A
Yes
Record HR underwater
No
N/A
No
Openwater Metrics (Stroke/etc.)
N/A
N/A
No
Indoor Metrics (Stroke/etc.)
v
N/A
Yes
Indoor Drill Mode
N/A
N/A
No
Indoor auto-pause feature
N/A
N/A
No
Change pool size
N/A
N/A
Yes
Indoor Min/Max Pool Lengths
N/A
N/A
17M/18Y TO 150Y/M
Ability to customize data fields
N/A
N/A
Yes
Captures per length data - indoors
N/A
N/A
Yes
Indoor Alerts
N/A
N/A
Yes

Triathlon

Garmin Vivosport
Garmin Vivosmart HR+
Garmin Vivoactive HR
Designed for triathlon
No
No
No
Multisport mode
N/A
No
No

Workouts

Garmin Vivosport
Garmin Vivosmart HR+
Garmin Vivoactive HR
Create/Follow custom workouts
No
No
No
On-unit interval Feature
No
No
No
Training Calendar Functionality
No
No
No

Functions

Garmin Vivosport
Garmin Vivosmart HR+
Garmin Vivoactive HR
Auto Start/Stop
Yes
Yes
Yes
Virtual Partner Feature
No (but has Virtual Pacer)
Has Virtual Pacer
No
Virtual Racer Feature
No
No
No
Records PR's - Personal Records (diff than history)
Yes
No
Yes
Tidal Tables (Tide Information)
No
No
No
Weather Display (live data)
Yes
Yes
Yes

Navigate

Garmin Vivosport
Garmin Vivosmart HR+
Garmin Vivoactive HR
Follow GPS Track (Courses/Waypoints)
No
No
No
Markers/Waypoint Direction
No
No
Yes (to pre-saved spots)
Routable/Visual Maps (like car GPS)
No
No
No
Back to start
No
No
Yes
Impromptu Round Trip Route Creation
No
No
No
Download courses/routes from phone to unit
No
No
No

Sensors

Garmin Vivosport
Garmin Vivosmart HR+
Garmin Vivoactive HR
Altimeter Type
Barometric
Barometric
Barometric
Compass Type
N/A
N/A
Magnetic
Optical Heart Rate Sensor internally
Yes
Yes
Yes
Heart Rate Strap Compatible
No
No (can broadcast ANT+ HR though)
Yes
ANT+ Heart Rate Strap Capable
No (can broadcast ANT+ HR though)
No
Yes (Can also broadcast ANT+ HR)
ANT+ Speed/Cadence Capable
No
No
Yes
ANT+ Footpod Capable
No
No
Yes
ANT+ Power Meter Capable
No
No
No
ANT+ Lighting Control
No
No
Yes
ANT+ Bike Radar Integration
No
No
Yes
ANT+ Trainer Control (FE-C)
No
No
No
ANT+ Remote Control
No
No
YES FOR GARMIN VIRB
ANT+ eBike Compatibility
No
No
No
ANT+ Gear Shifting (i.e. SRAM ETAP)
No
No
No
Shimano Di2 Shifting
No
No
No
Bluetooth Smart HR Strap Capable
No
No
No
Bluetooth Smart Speed/Cadence Capable
No
No
nO
Bluetooth Smart Footpod Capable
No
No
No
Bluetooth Smart Power Meter Capable
No
No
No
Temp Recording (internal sensor)
No
-
Sorta (Available only in Skiing/SUP)
Temp Recording (external sensor)
No
No
Yes

Software

Garmin Vivosport
Garmin Vivosmart HR+
Garmin Vivoactive HR
PC Application
GarmiN Express
Garmin Express
Garmin Express - Windows/Mac
Web Application
Garmin Connect
Garmin Connect
Garmin Connect
Phone App
iOS/Android/Windows
iOS/Android/Windows Phone
iOS/Android/Windows Phone
Ability to Export Settings
No
No
No

Purchase

Garmin Vivosport
Garmin Vivosmart HR+
Garmin Vivoactive HR
Amazon
Link
Link
Link
Backcountry.com
Link
Link
Link
Chain Reaction Cycles
Link
Link
Link
Competitive Cyclist
Link
Link
Link
REI
Link
Link
Link
Wiggle
Link
Link
Link

DCRainmaker

Garmin Vivosport
Garmin Vivosmart HR+
Garmin Vivoactive HR
Review Link
Link
Link
Link
Again, remember you can make your own comparison charts using the product comparison tool here.
Summary: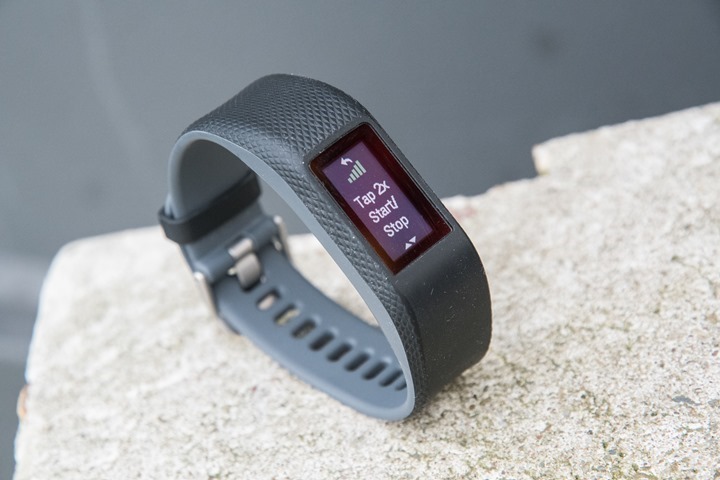 Overall, Garmin has done nice things with the Vivosport, combining the best elements of the Vivosmart 3 and the GPS-capable Vivosmart HR+.  It did away with the clunkier band of the Vivosmart HR+ (yet keeping the GPS), while bringing in all the new HR-focused metrics of the Vivosmart 3, such as the stress tracking, better optical HR sensor.  All while updating the display far better than both units and with respectable battery life.
There are of course some software quirks, such as the sport mode selection offerings, or the lack of stability of optical HR while cycling outdoors.  Sure, the exterior band design isn't exactly anything to write home about or win fashion awards for.  Nor does it have interchangeable/swappable accessory bands.  But it's also not something that draws attention as fugly either, if that's a bar to achieve.
Whether or not it was Garmin's ultimate goal to make not just the slimmest GPS band on the market, I don't know. But despite doing so they still made a GPS activity tracker band for fitness-focused folks without any apparent tradeoffs that works well and tracks a boatload of metrics largely accurately with good battery life.  And at the moment, there are very few products (basically none) that fit that description.  So to have one that does it well is certainly welcomed.
Found This Post Useful? Support The Site!
Hopefully you found this review useful. At the end of the day, I'm an athlete just like you looking for the most detail possible on a new purchase – so my review is written from the standpoint of how I used the device. The reviews generally take a lot of hours to put together, so it's a fair bit of work (and labor of love). As you probably noticed by looking below, I also take time to answer all the questions posted in the comments – and there's quite a bit of detail in there as well.
If you're shopping for the Garmin Vivosport or any other accessory items, please consider using the affiliate links below! As an Amazon Associate I earn from qualifying purchases. It doesn't cost you anything extra, but your purchases help support this website a lot. Even more, if you use Backcountry.com or Competitive Cyclist with coupon code DCRAINMAKER, first time users save 15% on applicable products!
And of course – you can always sign-up to be a DCR Supporter! That gets you an ad-free DCR, access to the DCR Quarantine Corner video series packed with behind the scenes tidbits...and it also makes you awesome. And being awesome is what it's all about!
Thanks for reading! And as always, feel free to post comments or questions in the comments section below, I'll be happy to try and answer them as quickly as possible. And lastly, if you felt this review was useful – I always appreciate feedback in the comments below. Thanks!