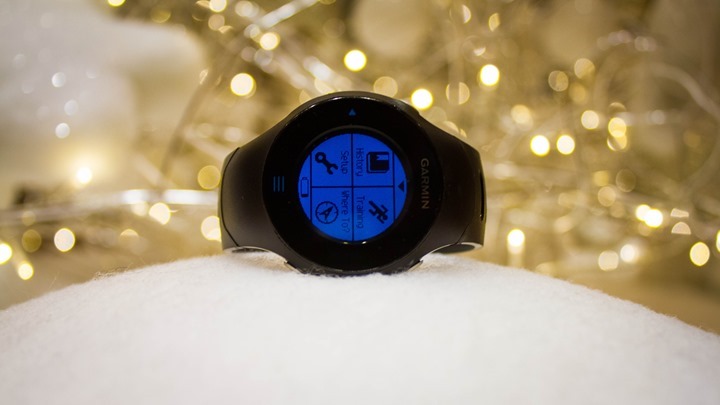 Congrats!  So you've just unboxed a new GPS watch/device?  Good deal, here's how you can get started in understanding how best to take advantage of your newfound toy.  Of course, unlike that dessert you'll eat later on tonight (or, perhaps, all day), don't try to tackle this in one chunk.  Instead, take little pieces here and there and work your way through it.  And remember, in most cases, you can just get out and use the device without much knowledge.  The below helps you though really take advantage of it and make it work for you.
Like past years, this is a blend of new and classic posts to get you off and running.
Enjoy, and have a Merry Christmas!
1) Burning off all those Christmas Calories…and getting accurate calorie burn numbers
So, you just finished up the statistical 3,000-5,000 calorie Christmas Day grazing – but don't worry…I'm probably right there with ya! Assuming you're planning on trying to work some of that off, you'll probably be wondering how to get your Garmin to tell you how many calories you've burned.
The good news is that the setup for calories is easy…even if the hard work outdoors or in the gym isn't.  The below article is frequently used by Garmin support folks to explain to customers how calorie burn works.
If you have certain Garmin devices, you can also look at getting a New Leaf test done to get more accurate calorie data.  However be warned I've heard many complaints lately from folks and the New Leaf Testing centers:
A look at testing with New Leaf Fitness for Garmin device calorie calculations
2) Don't want to read the manual? Read the in-depth review instead.
It probably won't surprise many of you, but the most frequent thing I hear is that many folks actually use my reviews as their manual.  Given I aim to cover every button/feature/option – it only makes sense to start there.  Plus, it's way more fun to read than the generic manual.
In-Depth Product Reviews (easily arranged by company, then device)
2) Getting the lay of the data field land
You've got TONS of data at your disposal now – perhaps too much, but which data fields should you show, and which ones just cause confusion?
I put together this detailed post on every data field offered, and which ones I use, as well as why. Others have chimed in with their favorites as well:
Choosing your device data fields: Although written initially for Garmin devices, it applies to virtually every GPS device out there.
3) Training Indoors with your new device
It's understandable the weather might not be the best outside during the winter months, so here's how you can utilize your device inside to the best of its capabilities.  You can do an amazing amount of stuff inside with it, if you just spend a brief moment to configure it:
P.S. – If you managed to make it outdoors into the snow, but only to ski…well…use this guide instead.

4) Choosing which training log software to use:
By default your GPS watch likely comes with access to some sort of training log.  Garmin devices get free access to Garmin Connect, Timex devices get a mid-range version of TrainingPeaks, Polar devices get PolarPersonalTrainer.com, Magellan devices get Magellan Active, Suunto has Movescount, and finally CycleOps devices get the PowerAgent suite.  While all these platforms are good as a starting point, you may want to check out what I often use for analysis (especially if analysis is your thing).  Thus, I recommend a few different options instead:
A) Sport Tracks – This is free for up to two plug-ins, or $35 for the paid version. It's downloadable to PC's only, but has an incredible range of functionality. I wrote up a review on ST3.0 backwhen it came out.

B) Training Peaks – I use this as my day to day training log, as it offers a good balance between usability and functionality. I can drill down pretty deep in data – but also get data from other devices such as my Withings WiFi scale and Zeo(note: ST integrates there as well).

C) Golden Cheetah– This free application is primarily targeted at cyclists, and ideal for the Edge devices. It'll analyze your power data and more, to degrees you never considered possible.

D) Got a Mac? I'm still chugging away on the Mac options, but that post I did last month has every possible Mac option known to mankind in it.
There's of course a ton more options out there, but these are my favs, mostly because they're tried and true. As a minor side note, I do recommend that no matter which 3rd party platform you use, you should always set your device to upload a copy of the training data to the default platform.  That way, in case something ever happens, you have a copy there – even if you never use it.
5) Understanding how those things in outer space actually see where you are
For the geeks around these parts, I've got a few posts that talk to both accuracy of GPS fitness devices, as well as how elevation data works with GPS devices.
Understanding Sport Device GPS Elevation Issues
Sport Device GPS Accuracy In Depth – Part I/II (2010 Edition)
Sport Device GPS Accuracy In Depth – Part I/II (2011 Edition)
6) Creating workouts and race plans, and then downloading them to your Garmin
You know what's probably one of the cooler features of the Garmin devices that doesn't often get as much press? The ability to have it continuously yell at you until you follow your workout plan. Yup, it'll do that. Even in a race.
First up, is how to best pace with a GPS device:
Then here's how to setup workouts that your Garmin will execute and you just follow along:
How to download workouts to Garmin devices (all training devices)
In the same vein – if you've got a Suunto Ambit, check out some of my thoughts on their new App platform, as you'll find some great pacing/race apps in there:
7) Understanding the heart rate strap and how to get the most accurate readings
While I just posted on this very topic last week, you may not have given it much thought if you didn't previously have a GPS watch.  Heart rate straps can be finicky little things, especially in winter when the air is dryer and cooler.  Thus, check out these guides I've put together for getting you on the right path to issue-free heart rate readings:
Annual Public Service Announcement: How to fix heart rate strap dropouts and spikes
Troubleshooting your heart rate monitor straps when you see HR spikes
A solution to heart rate dropouts/spikes with Garmin HR Soft Straps
How to fix cold/dry weather erratic heart rate readings
How to fix heart rate chaffing issues
8) Accessories: Quick Release Kit, Speed Cadence Sensor, Footpod
Aside from the heart rate strap, these are the most popular accessories – and the speed/cadence sensor and footpod being applicable across the board for all ANT+ devices as well.  In these posts I go into a bizarre level of detail on all the questions you can think of.
The ANT+ Bike Speed/Cadence Sensor: Everything you ever wanted to know
The ANT+ Running Footpod: Everything you ever wanted to know
The Garmin ANT+ Footpod Calibration Tool (to help you calibrate that footpod!)
The quick release kit – Solving one of life's great mysteries (for FR310XT/FR910XT)
The best bike mount option for Garmin units
9) The tips that didn't fit!
These were the ones that didn't have a full category unto themselves, but are definitely worth checking out!
Tip of the Day: How not to lose your ANT+ stick
A better ANT+ Stick (no really, get this USB ANT+ stick instead, especially if you have a laptop).
How to use autolap for automated lap creation on repeated loops
Feeling lucky? Waterproof immersion tests on cycling computers – how waterproof is that bike computer?
Tip of the day: Avoid Doing The GPS Dance (how to get GPS signal without standing in the cold!)
Pushing the envelope- Ultra-long time tests on GPS units (how to get 50+ hours for watches designed for 20 hours)
10) Decide that something on your newfound device annoys the crap out of you?  Here's how to tell them.
Last year many of the companies added methods to give them your feedback directly.  I really do want to reiterate again how important these methods are.  I talk to all these companies at least weekly, and they truly do make decisions on these specific e-mail inboxes/forms.  Sometimes the support forums/etc don't make it to the product development teams, whereas these addresses actually go to the right places.
Again, they often count simple numbers here in decision making processes – and you'd be surprised as to how low a number it takes to move the dial from no to yes.
Looking for even more in depth How To's and Tips?
Fear not, I've got years of rambling about how to use these devices – and I've tossed them all in a semi-structured page here, divided up categorically by what ya want to do:
Merry Christmas, and enjoy your new toys!