Given it's Friday and if you're like me by this time of the week you're probably just looking for a quick read.  So I'm offering you a quick tip that I use to ensure I spend less time waiting around, and more time working out (or being lazy, as it may be).
This time of year I now have weekly bricks that revolve around an initial trainer portion, and then segue into the run.  I do the trainer inside – and the run outside.  The challenge is that if I were to wait to turn on my Garmin GPS watch after I was finished with my bike, I'd be waiting around outside as it searches for satellites.  While sometimes this happens in less than 30 seconds, there are some day's that it decided to take a spring break.  Thus all that time waiting around starts to defeat the purpose of a quick transition between bike and run, where I'm attempting to mimic race conditions.
Therefor, I introduce you to…the window: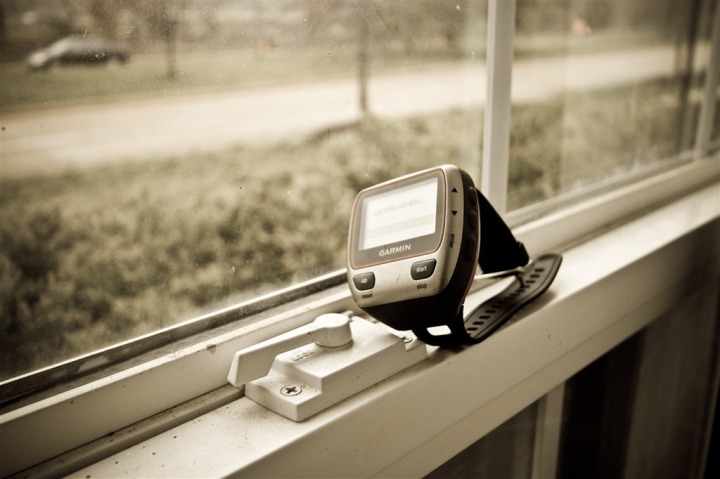 My window placing habits actually grew out of my very low desire to stand outside pre-run in the middle of winter when it's single-digit temperatures outside.  This way, I simply place the Garmin device in the window and turn it on. By time I get around to running, it'll magically be ready.  It's almost as exciting as watching caterpillars grow into butterflies.
Even if you're not doing a brick, I find that if I stick it in the window before I get my shoes on, locate my nutrition/water bottles, put HR strap on, etc… it's more than ready once I am.  At which point I simply head outdoors and run, no waiting required.
So there ya go – a quick tip to save you from doing the GPS Dance outside your front door.
Have a great weekend all!
—
Oh, actually, one more quick thing!  Whether or not you work in/around DC, you've undoubtedly heard of the impending government shutdown.  Regardless of how it ends up, Adam wrote up a pretty good post on what it means to athletes and your training schedule – both near and far.  Check it out!
Ok…now, have a great weekend all!