Note: Please see the final Nike+ Sportwatch GPS In Depth Review posted here (it's a whole lot more detailed and in depth). – April 27th, 2011
I've currently got a slew of interesting gadgets in the hopper I'm testing out, but I figured I'd talk about the one running gadget that's getting a lot of attention over the past few days.  I had a chance to place my order over the weekend, and was happy to see it arrived by Tuesday in time for my interval run.
The Nike+ Sportwatch was announced back in January at the 2011 Consumer Electronics Show (CES) in Las Vegas.  The watch is made by Nike in a partnership with TomTom (the makers of car GPS units).  While you've probably seen Nike+ before in combination with Apple, this is their first go at in the GPS space (aside from an iPhone/iPod app).
The box is the pinnacle of simple packaging, without lots of plastic baggies like most other watches have these days.  Inside the box is the watch itself, a Nike+ footpod, and a USB extension cable.  Oh, and a manual containing a whopping 13 languages.  Regrettably, the manual was pretty much useless.  I mean, not that I read it or anything.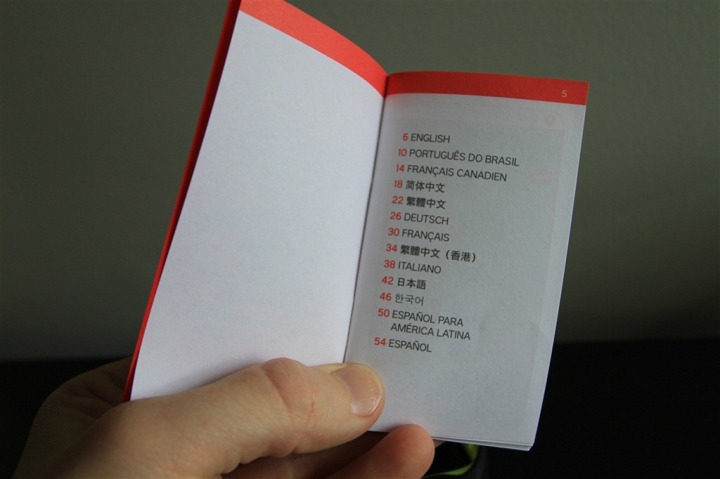 You'll note above that I didn't say a standard USB cable.  That's because the watch band itself is actually the USB plug.  You plug the band straight into the computer.  Crazy, huh?  The extension cable is merely there in case plugging the wrist strap into your computer isn't easy/accessible.  Oh, and yup – it's waterproof to 50 meters.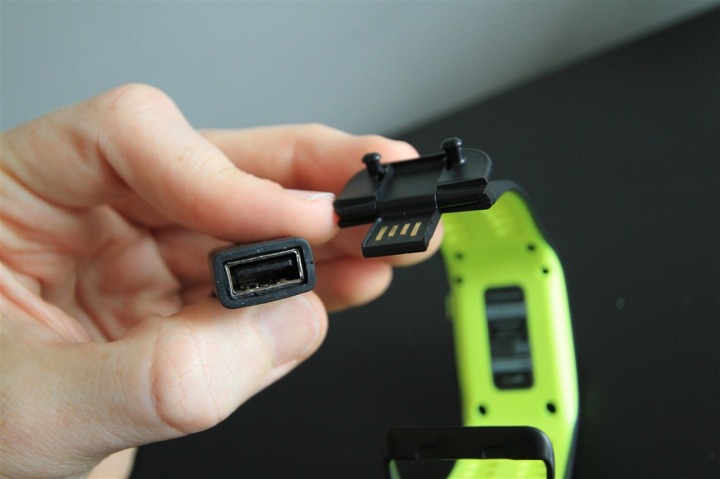 The watch is fairly simplistic when it comes to functions and features. The menu's boil down to just those areas in the photo shown below, which allows you to run, pair a footpod/heart rate strap, change auto-lap and interval settings, and look at history or records.  The clock menu simply takes you back to the default clock screen.  Speaking of which, the watch…as a watch, gets 90 days of battery in time displaying standby mode, or 9 hours of active GPS activity.  Your choice.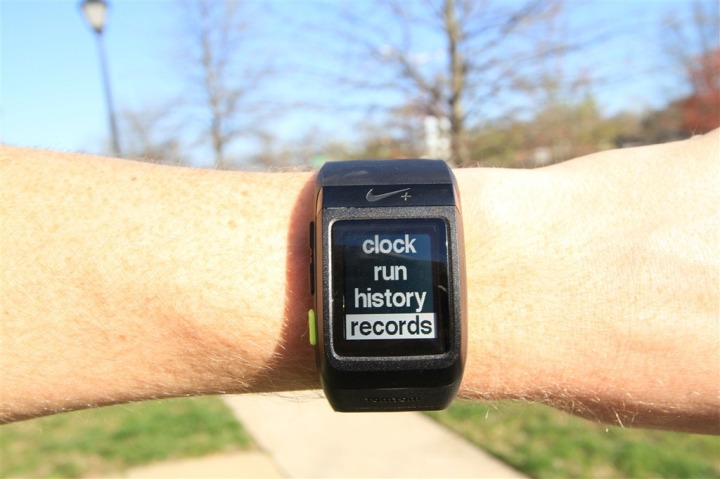 Records takes an interesting twist on the traditional stats area in most watches and will show you your top times/paces for common running distances. This information is actually pulled from the Nike+ site, so your most recently completed run won't show up there until you upload to the site.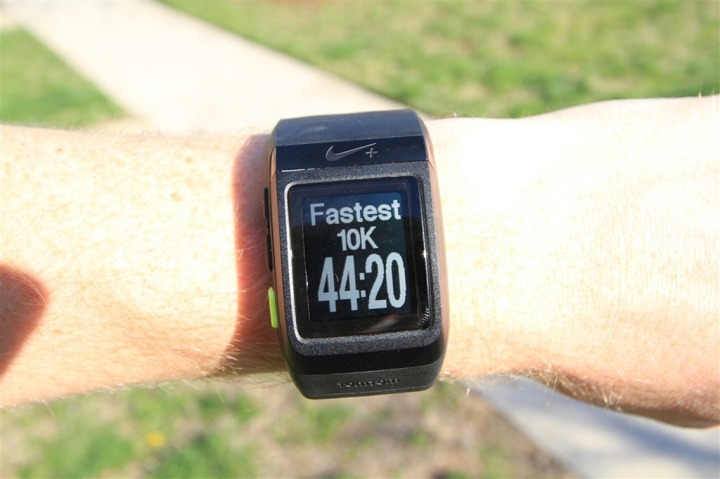 Additionally, you can change most of the watch settings through the Nike Connect application that you install on your PC or Mac.  And in fact, there are some settings (like weight) that you can only change in the software.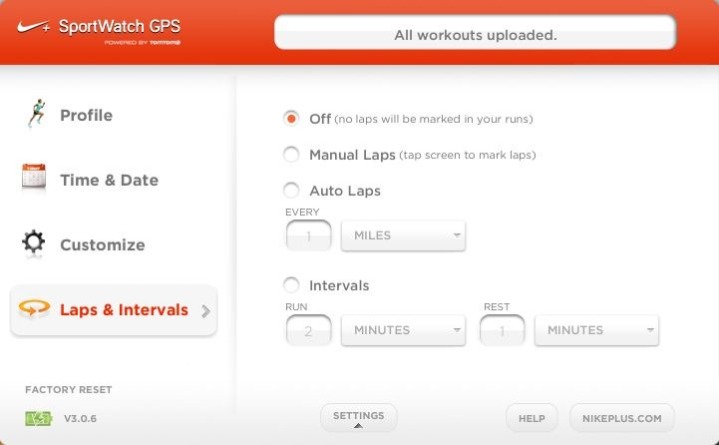 Once you've established GPS satellite connectivity (which like most GPS watches takes a while the first time but is quicker on subsequent times), it's time to run.  It's as simple as pressing start to begin your run.  I do wish it had a progress display bar – so you see just how long you're going to have to stand around waiting for it to find satellites.
Once running you have about five options for data fields, all shown below in the customization screen: Pace, Distance, Time Elapsed, Calories and Clock.  The bottom number will display a favorite stat of your choosing, while the top area displays one of the variable data fields using the scroll buttons.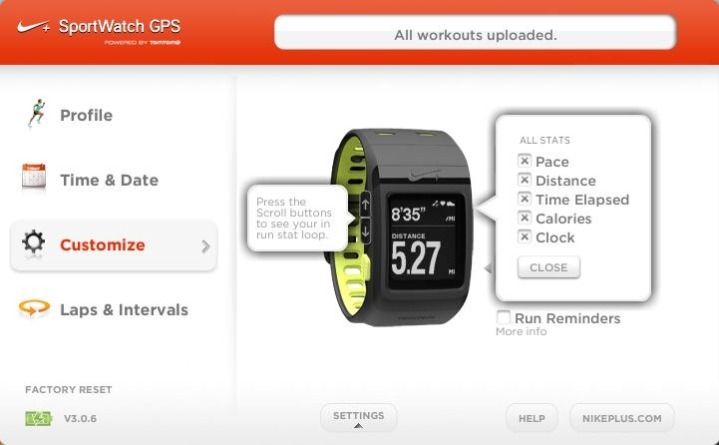 The run reminders feature you see above is unique to the Nike watch and will 'encourage' you to run if you haven't recorded a run in the previous 5 days.  Personally I think it'd be fun to customize this with phrases like "Slacker, get your ass in gear and run!" – or – "Pony up buttercup, that PR at the next race ain't gonna run itself!", though, regrettably you can't customize these.
While running the watch will simply show the data fields presented above.  The menu system precludes you from changing any settings during a run – though there honestly aren't many other settings to change.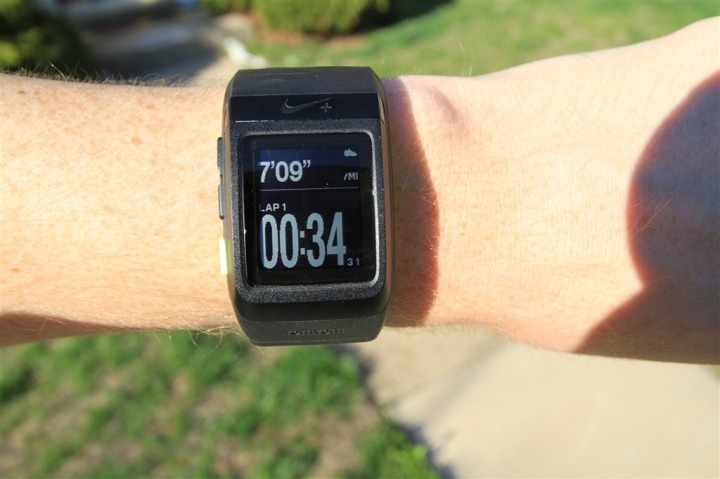 You can create a lap/interval my simply slapping the watch.  Yes, I wrote that correctly.  You slap it to create a lap.  Very cool – and much better than trying to hit buttons.  Note that you don't need to slap it super-hard, a light whack will work fine.  After all, this isn't some dominatrix thing here…it's just a watch. You can also touch the screen to turn on the backlight.
Once you've completed your run you'll upload it to the Nike+ site.  They've got both their current site that's been around a while, as well as a new site for the GPS watch users.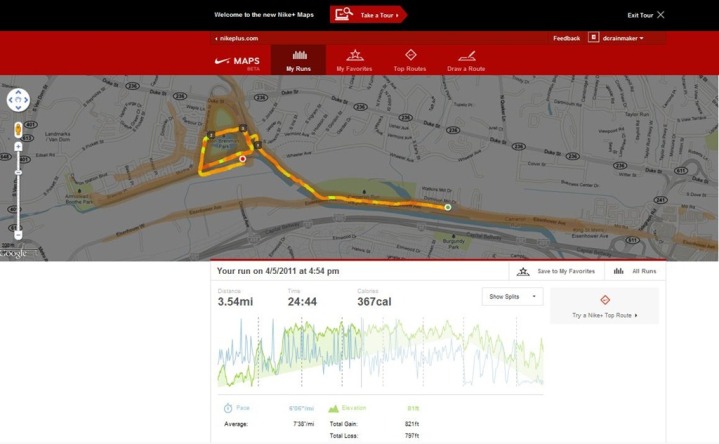 At this point I think this is a pretty appealing watch for a basic runner.  It captures the basics and is the simplest GPS based watch I've seen in the marketplace yet.  Price-wise it's on par with the Garmin FR110 at $199, though this includes a footpod for treadmill use.  Also, by using a completely full-screen LCD display, Nike's able to overcome some of the limitations of other watches that can't be as flexible in data display.  Hopefully that means they'll also look at adding features found in other watches at this price point.  For example, you can't change to MPH format for those wanting to use it on a bike.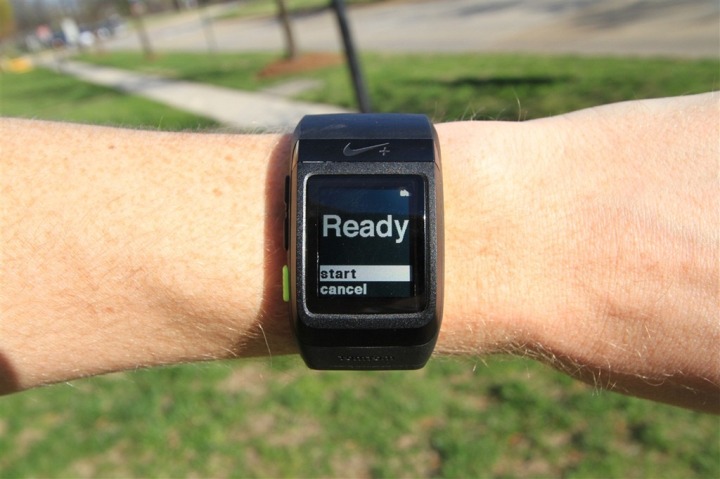 I am however seeing some oddities though with GPS distances.  My testing thus far is showing a number of inaccuracies that I need to simply get more data on.  In the case of my Tuesday night run, the Nike+ watch was nearly half a mile short compared to the normally trusty Garmin FR310XT.  Given I had known mile markers on portions of the route, I was able to see that it was showing consistently short each mile.  Further testing has continued to show oddities with GPS distance – so I'm hoping to get a bit more time testing before a full review.  There was a firmware update that was released already (and I updated) – addressing some issues – but I'm not convinced it's solved the GPS distance issues.  Expect that I'll be taking this and others new watches out for some accuracy tests again, once I have a lot of them.
Look for a full review in the next week or two once I figure out the GPS satellite piece.  Given there's a slew of new entrants in the GPS watch market coming onboard over the next few weeks (Garmin, Timex, Polar), I suspect it'd be wise to wait for all the contenders before making any purchasing decision between them.  As the new ones comes out I'll look to create/update a chart comparing them all feature-by-feature.
In the meantime, if you have any specific questions – I'd be happy to answer them below in the comments.  Thanks for reading!
Update (April 9th, 2011):
Turns out, the Nike+ Sport Watch GPS is just as susceptible to screen cracks as the FR310XT.  While I haven't had any of my FR310XT's screens crack (despite dropping them more times than I can count), I know folks that have had the issue. As it seems, my luck ran out yesterday.  As I grabbed a backpack I had put it in (the watch doesn't exactly mesh well with a business suit), it fell out onto the floor, cracking the screen.  While still functional, it just doesn't look quite as pretty or classy anymore.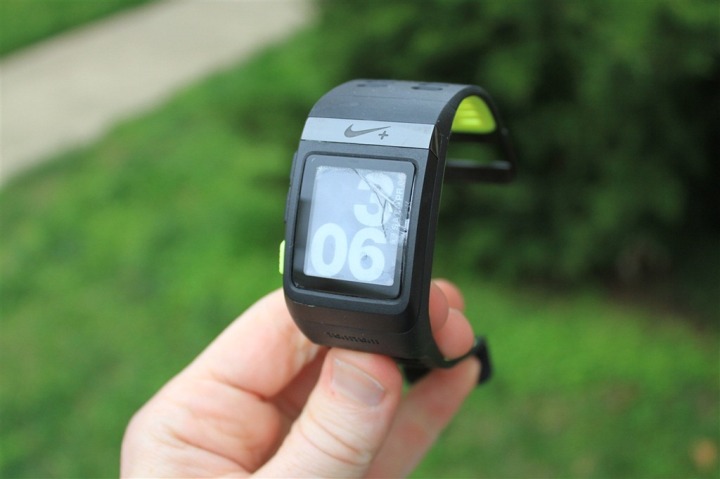 I rang up phone support, which issued a return authorization to get it swapped out (thanks!).  Regrettably, they don't have any more in stock for quite some time, so it's a one-way deal at the moment.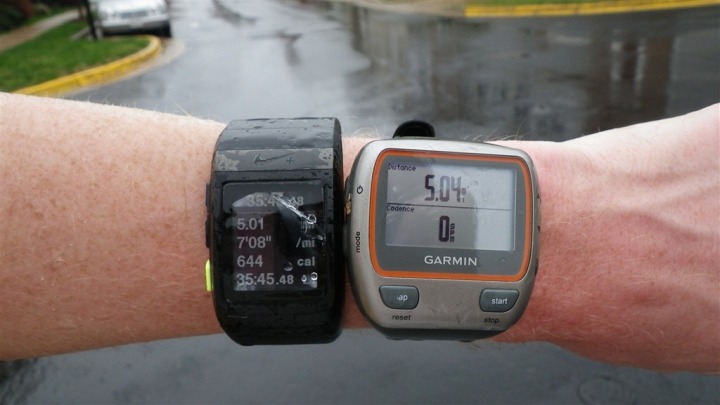 On the bright side, as you can see – the distance/GPS accuracy was much improved after a firmware update – and seems on par with the Garmin FR310XT I was wearing at the same time (5.04 miles vs 5.01 miles).  And I do give props to Nike (regular support, no special treatment) for the ability to return it (which I will do as they gave me RMA labels to print out…as soon as I can get a non-cracked replacement ordered).
I'm still planning an in depth review – though that might now be just slightly delayed until I can get a non-cracked unit to be able to get all the needed photos.  Stay tuned!