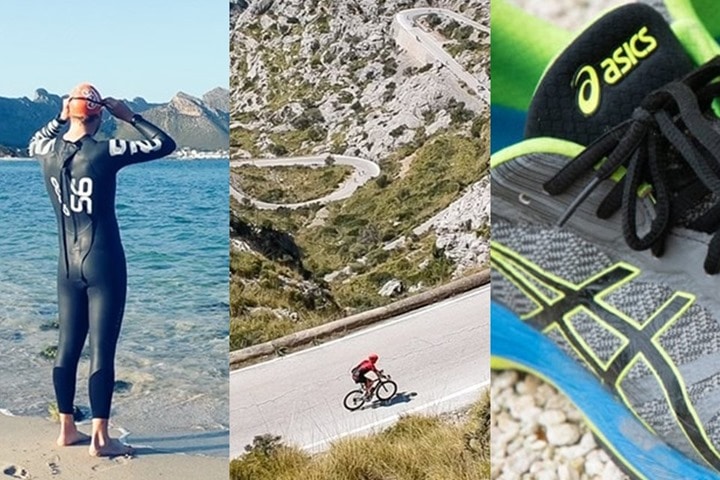 It's nice and quiet during the summer lull between product release cycles (which usually start again around the first week of September), so it's as good a time as any to do my annual 'gear I use list'. The last time I did so was last fall.  And for the most part, things honestly haven't changed too much. Though most of the tech actually has, whereas most of the non-tech things haven't really changed.  I still use the same winter cycling/running gear, and the same swimsuits. Though I did get a new wetsuit.
While there's a lot of gear here (because I'm covering three sports), I think you'll find I'm actually pretty simple when it comes to most of my gear (tech goodies aside).
I've divided it up into the three main sports (swim/bike/run), plus a random section at the end.  Obviously, I don't use all this gear at the same time.  For example, cold-weather swim booties are reserved for those hideous cold weather triathlons that I've succeeded in avoiding in the past half-decade. I have zero plans to do any crazy-cold weather triathlons anytime soon (though some year the Norseman Triathlon might tempt me), so the booties basically just hang out in a container in the Cave.
As anyone will tell you – there's a lot of gear to be had for triathlon, and there's unfortunately simply no getting around that.  I'm typically not one to buy the most expensive piece of fashionable stuff – and brands don't tend to mean a lot to me.  I just buy what works for me.  None of these brands sponsor me or anything here.  It's just what I've bought myself and use day to day.
Note: This is NOT my usual gadget recommendations post, that's different. This is simply the gear I happen to use myself. If you're looking for my specific recommendations on gear, you'll find my general recommendations here (though, they don't account for new watches this year), my trainer recommendations here (still pretty accurate for another month or so till Eurobike), and then my power meter buyers guide here (definitely still accurate).
Swimming: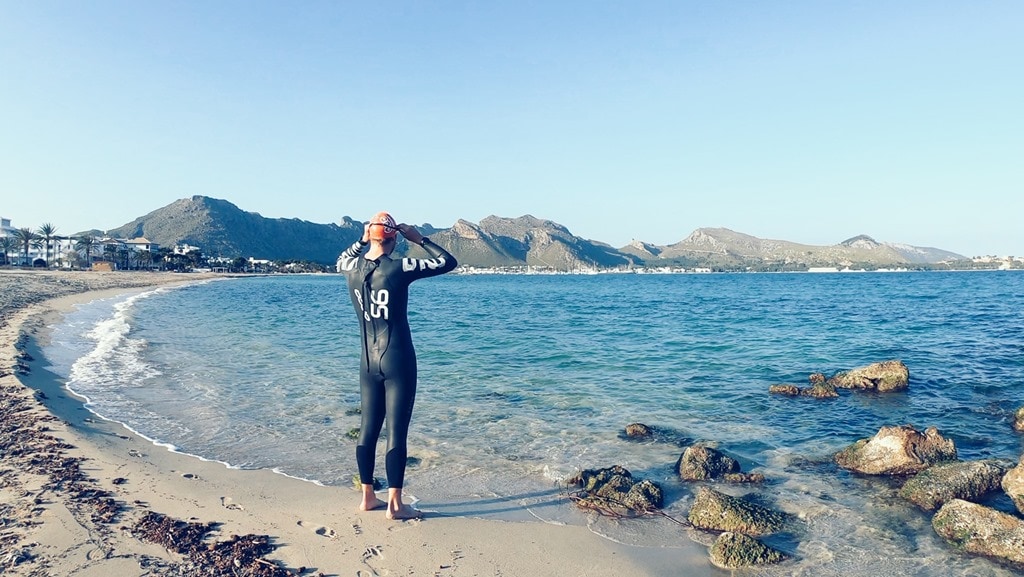 Perhaps the easiest category, simply due to the least amount of stuff on one's body.  At least most of the time.  I start off with the three basics, and then the drill stuff – and then the open water swimming pieces.
Swimsuit: Nike Victory Jammer: I know, I do dabble in the shorter square leg ones as well, but this is mostly my go-to suit – which is basically the same as it's been for years. I also have random non-jammer suit I got at some pool in some foreign country when I forgot mine on a trip.
Goggles: Speedo Vanquisher:  For the most part, it's whatever I haven't lost recently.  At present, this is what I usually end up grabbing. Goggles are like socks in the dryer around here.
Swim Cap: Random Race Caps – Essentially whatever I pull from the massive Ziploc bag of past race caps.
Swim Watch: Garmin Forerunner 945: I continue to have accuracy issues in openwater with the FR945 as I've outlined previously, though Garmin says they hope to have those fixed sometime this summer. I don't have any pool accuracy issues. Since the FR945 is sorta my all-around watch when I'm not testing something else, it gets swim privileges as well. Note that I typically don't wear an HRM-TRI or HRM-SWIM with my swims (and thus don't have HR data from swims), though Garmin did just release a beta firmware update enabling that.
Openwater – Wetsuit: Orca S6 Fullsleeve Wetsuit: This was more of a purchase of necessity than anything else. My previous 2XU wetsuit finally died after an apparent shark attack (judging by the holes), and while down in Cape Town this past winter I needed something. There was an Orca store near the waterfront, so…problem solved. I'm not thrilled with it though, given it already ripped along a seam line on my third wearing. Sigh.
Openwater – Visibility Buoy: Safer Swimmer – When swimming in openwater by myself, I use this to be seen by boats and the like, for example, during these swims.  I take this all around the world with me on virtually all my openwater swims.
Openwater – Booties: Blueseventy Swim Socks – For 60°F and below water, I use these booties to keep my toes warm. Notably, I try incredibly hard to never swim in such water voluntarily.
Openwater – Swim Cap: Bluesventy Skull cap – Again, for super-cold water (looking at you, Boise 70.3), I use this swim cap – but I cut off the annoying chin strap (most people do).
Openwater – Anti-chaff: BodyGlide – To prevent any wrong rubbing of the wetsuit near my neck.  Works well, every triathlete should have it in their swim bag.
Invariably, a strictly pool swimmer will say that's a lot of gear – but if you divide it up (normal vs openwater), it's really not that much stuff…especially compared to cycling.
Cycling: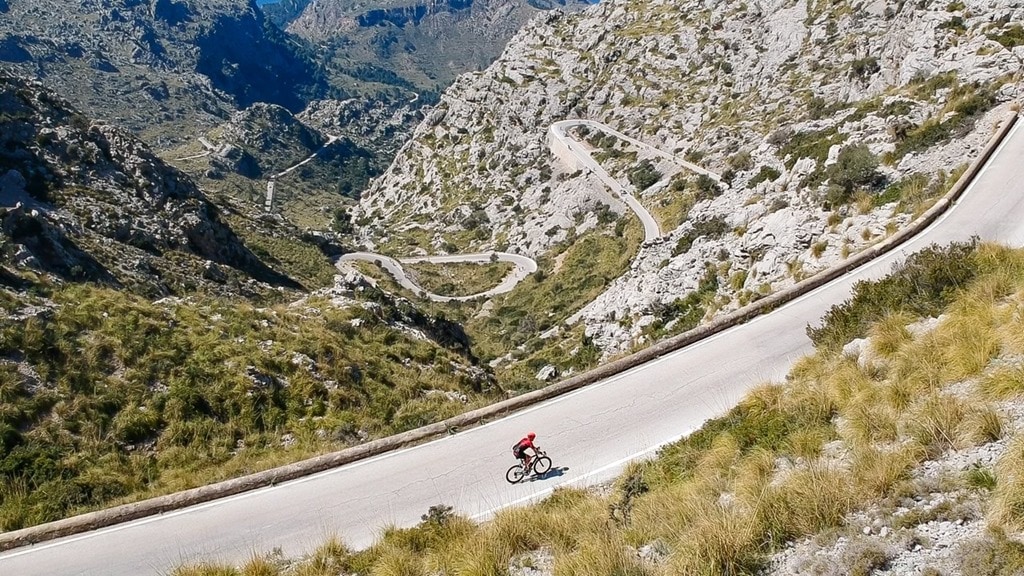 Note, for this year I've just gone with my core bikes. I've got a few other road bikes around, but I rarely use them these days.  You can look at my much older 'Gear I Use' posts for details on those two bikes.
Road Bike: Canyon Ultimate CF SL – I built this two winters ago and absolutely love it. It's as much my main bike these days as my core test platform for new cycling gadgets. It was built with testing devices in mind (hence why I skipped aero handlebars, due to complexities with mounts). It's working great for me as my workhorse, and I could easily see buying another Canyon down the road (mainly because they're so darn cheap here in Europe).
Triathlon Bike: Cervelo P3C – This just happened to be the bike that fit me best.  I use all the stock components, minus adding Shimano Di2 (purely for product testing/compatibility – I wouldn't otherwise bother). It's probably due for replacement.
The Commuter Bike: Trek Belleville: Here's the whole backstory on that bicycle.  Though, in reality I also ride the new cargo bike just as much as this bike..if not probably more.
The Cargo Bike: Urban Arrow: This is how I get all my goods back and forth to the office, as well as get the kiddos (and The Girl) around town. Also, random visitors get stuck in it too. We couldn't live in Amsterdam without a cargo bike (since we have no car here). We put about 3,500-4,000km per year on it.
Power Meter: Everything? Seriously, I'm not sure what I call 'my' power meter anymore. On my main road bike, the three units you'll usually find on are the Quarq DZero, Garmin Vector 3, and PowerTap G3. Also as of late, the Stages LR. Yet on secondary test bikes/indoor bikes I often use the Favero Assioma pedals. I'm happy to call any one of them 'my preferred power meter'.  I suppose if I were to give one my de facto usage edge, it's the Vector 3 or Favero Assioma pedals, since those are what I generally travel with. The PowerTap P2's also get a fair bit of usage on various bikes. Again, I'm all over the map here.
Race Wheels: PowerTap G3 Carbon 46mm Wheelset: I've been riding variants of these for a while.  I also still own a pair of HED 3's Tubular, though they're still down in a friend's cave in Paris.
Bike Pedals: Garmin Vector 3 Pedals or Favero Assioma pedals – Though, if testing something else I'll use whatever Look-Keo compatible pedals are around.
Water bottle cages: Elite Custom Race Cages – Honestly, I've tried a number of them, and my only goal in life is that they don't pop bottles, nor snap easily.  I'm good with these. I've also got a pair of Tacx cages too.
Water Bottle: DC Rainmaker Water Bottle: Duh. Also, because I bought like 1,500 of them. So…yeah.
CO2 Kit: This little kit from Performance fits right into my rack system so perfectly you'd thought they were made for each other. All these years later.
Regular Helmet: Specialized Evade II with ANGi – I've largely switched over to this as part of a longer-term review. This helmet includes tracking/crash detection for friends/family (and Specialized recently changed their policy to no longer require a subscription fee for helmet purchases). Note that while I do occasionally use my COROS Linx Helmet (which has music bits I almost never use).
Aero Helmet: Giro Advantage 2 Helmet – I haven't bought a new aero helmet in a long time, as most of the European races I've done have been draft-legal and Olympic distance, so they're less of a concern here. I'm sure this helmet is no longer considered super aero.
Bike jerseys: DC Rainmaker kit by Pedal Mafia: Duh!!! I've got both the red and blue variants of course, and use them quite a bit. When not using either of these two I'm using another kit from Pedal Mafia (Cobbled Classic is the name). And failing that, just random bike jerseys I've got around that I've bought here and there. Side note: The kit is back in stock if you wanted one!
Bike shorts/bib: DC Rainmaker kit by Pedal Mafia: Duh Part II! Same as the previous item, also in stock.
Road Cycling Shoes: Louis Garneau Men's Tri X-Speed Triathlon Cycling Shoes I've actually used these a few years now, though roughly end up going through a pair every 12-18 months.
Mountain Biking Shoes: Fizik X5 Terra: Also somewhat of a purchase of necessity, was down in Cape Town and needed another pair of shoes for mountain biking. X5's for the win.
Cold Weather Bike Coat: Gore Men's Contest SO Jacket – I layer this over a long sleeve bike jersey. Seriously, I still own this – like 9 years later or something. On one hand I probably do need a new coat. On the other hand, it works just fine.
Cold Weather Bike Tights: Gore Bike Wear Vista Tights – These work well, and are windproof and reasonably water-resistant – which is sorta the basic requirement for me.
Bike Case: Aerus Biospeed Bike Case – Here's a bit more in-detail on the case, and how I use it while traveling.  Unfortunately, the Biospeed model isn't made anymore, but, a new case that appears to be exactly the same is now out (links in that post). I still use this case at least a few times or more a year. My guess is my case has about 150,000-250,000 miles on it by now. No issues. Apparently the Pika Pack Works case is the same, and still available.
Bike Trainer: Tacx Neo 2 Smart Trainer – I primarily used the Tacx Neo 1 prior to this, but now just use the NEO 2. Though I have semi-split up trainers and keep a NEO 1 at home and a NEO 2 at the office.  But for me the Neo has a heavy 'just works' factor from an accuracy standpoint (there's no calibration). Also, I kinda like the rumble that it creates replicating cobblestones and such. My second choice setup would be a KICKR/CORE + CLIMB combo.
Bike Computer/GPS: Garmin Edge 530 (mostly): Obviously, I'm almost always riding with 3-4 head units for power meter data gathering, but lately I've mostly been using the Edge 530, with occasionally the Edge 830 floating around. Eventually I'll get around to fixing my broken Edge 1030 (USB port), in which case that'll be back in the rotation. Typically speaking my 'most preferred' unit of the 3-4 I ride with is whichever unit I prefer is that I usually put it out on my out-front mount (there are occasional exceptions to this, but that's usually my tell), versus the others on my handlebars.
Speed Sensor: Garmin Speed Sensor V2: I don't use a combo speed/cadence sensor anymore, and frankly I rarely use this speed sensor. But you will find it on my bikes for various test purposes. This version has dual ANT+/Bluetooth Smart, but more importantly we use it on the cargo bike since it records each trip even without a head unit and syncs it up.
Cadence Sensor: For the most part, I don't use a cadence sensor except for occasional test validation. All my power meters transmit cadence, as do many of my non-Wahoo trainers.
Heart Rate Strap: Polar OH1 Plus & Garmin HRM-DUAL: This combo has been working super well for me this year (2019). Both have dual ANT+/Bluetooth Smart, and the Garmin can also do two concurrent Bluetooth Smart connections too (great for Zwift + a Bluetooth only Suunto or Polar watch connecting as well). Meanwhile, the OH1 is awesome because it super easily records my HR in cases where I don't have a watch paired to it. That's mostly for testing, but you'll find me using these two a ton.
Bike Computer Mount: Barfly 4 Prime Out-Front Mount: I like this one, it's metal and has tons of options for swapping to different bike computer types if I need to (such as to Wahoo or what-not). The GoPro mount aspect is functional and the whole thing is solid. But again, it's just what's been on my bike the longest lately, I'm also totally good with the K-Edge variants, and in fact, usually ride a K-Edge under-saddle mount for my GoPro.
Trainer Apps: Zwift & TrainerRoad: I pay for subscriptions to both of these, and they are what I primarily use. I also occasionally use other 3rd party apps like FulGaz.
I should mention that I rarely wear arm warmers, and they are just a pair that I picked up at some random demo day somewhere.  In my little mind, if it's cold enough for arm warmers, it's cold enough for a long sleeve jersey.  And vice versa.
Running: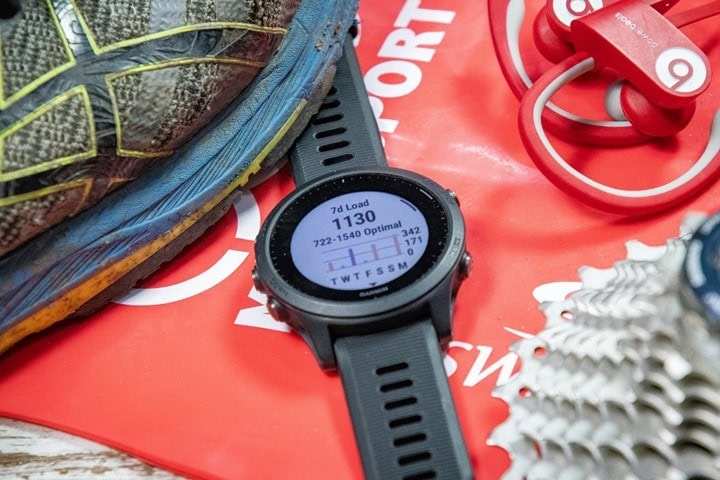 Running Shoes: Asics Gel-DS Trainer 22: I switched this up again this year from the 19 to the 22, just a minor change over the previous versions I've used.
Running T-Shirt: Whatever technical t-shirt I grab out of the massive drawer of dozens of them.  If you don't have any running t-shirts, you're not doing enough races. 😉
Running Shorts: Nike Dri-FIT running shorts: I mostly wear these first, but I've got plenty of pairs of shorts that I use.
Running Socks: Balega Hidden Comfort – No questions, these socks…forever.  So soft, just love them.  I've never had blisters with them.  Ever.
Running Watch: Garmin Forerunner 945: I was mostly using a Fenix 5 Plus or Garmin FR935 prior, but I really preferred the size of the FR935 over the Fenix 5 Plus. With the FR945 now having all the features of the Fenix 5 Plus and then some, it's my go-to now.
Running Headphones: Really old original PowerBeats & Apple AirPods: I don't tend to run with music a ton, but when I do, it's using one of these two. Note I did recently buy the Apple PowerBeats Pro wireless ones, but haven't had a chance to put them through the paces. That'd ideally blend both of them together.
Long Run Hydration: CamelBak Marathoner – I still use this in the summer or on hikes. I also use it sometimes on runs to hold more GPS watches. 🙂
Place to stick stuff on runs: Spibelt – Most runs, I don't bother with anything.  But for some random runs while traveling, this works as a great place to stick house/car keys, credit cards, or even gels.  I've tried a few brands, this one just works the best for me.
Cold Weather Running Top: I don't have a specific top I use, rather, I tend to layer bits and pieces together. Here's a post on all my cold weather running thoughts.
Cold Weather Running Tights: Sugoi Midzero tights – These are my favorite.  I've only got one pair, and use them religiously in cold weather (below about 42°F).
Cold Weather Running Gloves: $1.00 race expo gloves – That's it.  It's easy.  I almost never throw them away, I feel guilty.  So I use a few rotating pairs, all from expos – some even free!  I've got a pair of no-brand mittens that I toss on if the weather is super-cold, but like running tops in cold weather, you'd be surprised what your body is fine with once it's up to speed.  All you folks in Minnesota though shouldn't adhere to this section.  Just go to the Arctic section of REI instead.
Ice Running: Yaktrax – There's no better way to run on compact snow and ice, albeit not much of that in Amsterdam most of the time. But they worked great for my runs in the Arctic Circle this past winter. Note that for deeper snow though, they aren't as useful/necessary.
The Random Category: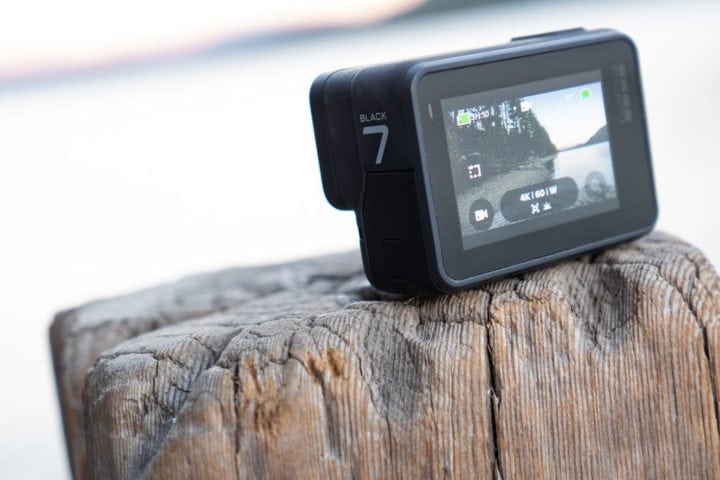 Here's a few random things that didn't fit above into a specific category.
Daily Action Cam: GoPro Hero 7 Black: It was the Hero 6 Black before the Hero 7 came out, but I've now got two Hero 7's in the fleet that I use almost daily – the quality is worth the jump.
GoPro Accessories I use: Complete list here: It's basically all the accessories I use daily.
Preferred Drone: DJI Mavic Air: While the higher DJI Mavic 2 is great and all, I prefer the ability to use just my phone to control the Mavic Air when I'm traveling or just stuffed in the back of my jersey pocket for a quick pic. I also sometimes use the DJI Spark, but usually opt for the Mavic Air for the bump in quality.
All Other Photography Gear: Be sure to check out my full photography page, which lists all the cameras I use when I'm not swim/bike/running.
Race belt: FuelBelt GelReady Race Belt –  For races, to put your number on for the bike and run.  It also holds gels, though, not as well as I'd like.  Better just as a race belt for the number than a storage platform.
Triathlon suit: 2XU: I got it down in Australia last winter before a race there, but since I'm (yet again) traveling at the moment I don't quite have access to it.
Transition Bag: I've simply moved to a generic REI backpack, especially with many triathlons having 'clean' transition areas these days anyway (i.e. point to point races).  As long as it has places to clip stuff on the sides, you can carry a lot with a little creativity.
Wrap-up:
Phew!
For long-term readers, you'll notice that I don't tend to change the apparel side very much. Most of that stays pretty much the same for years. Things like shoes only change a tiny bit between available variants of the same model. Same goes for other non-tech categories.  I tend to be a person that sticks with what works rather than re-invent the wheel.
Whereas on the tech side I tend to stay with the most recent. Obviously, this site sorta drives that a bit.
Obviously there's a lot of gear there, but that's primarily because you're training for three different sports.  Actually, it's sorta like 4-5 sports, with openwater swimming and pool swimming both having different requirements (i.e. wetsuits), plus you have specific gear you'd use in triathlon that you don't use in road cycling (like triathlon suits).
It should be noted that none of the stuff seen above is stuff that I'm trying out for reviews.  Every single item above I've bought and use in my normal day to day training.  Obviously, you see me use gear outside of that in testing – but this is what's left after you peel the testing and reviewing away.
Support the site!
As always, if you would like to support the blog, you can do all of your shopping, even for the most random of items on Amazon. By making your purchases through the provided links you are helping us keep it all going.  Your support is always appreciated around these parts, good luck in your training endeavors!
Thanks for reading!
P.S. –  The Girl's list is here from last fall as well, for those looking for her favorite items. Enjoy!