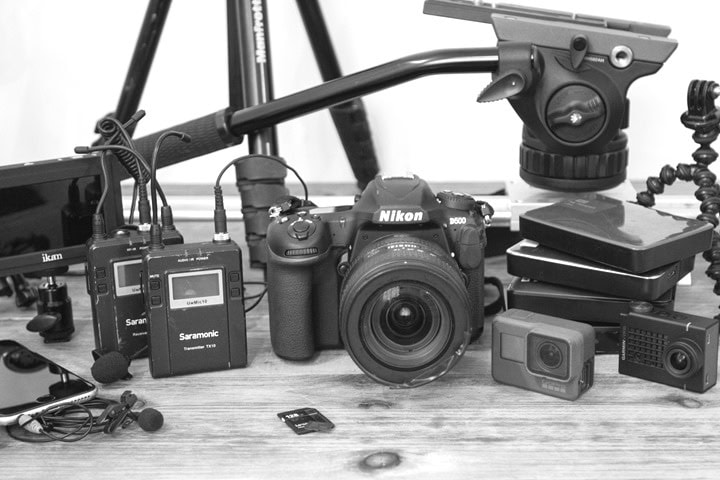 Preemptive note! Don't forget my massive 2016 Black Friday/Cyber Monday deals page here.  I've been updating it every few hours all day today with new deals, and expect to continue to update it constantly throughout the next few days.
One of the most common questions I see in blog posts that's not specifically which GPS watch to get, is what cameras I use for various posts.  While on the flight back last night I figured I'd take a moment to dive through it.  Consider it a Thanksgiving break from sports tech!
On average, I take about 100GB of photos and video each week in the course of putting together this site (I shot 150GB in just the last 48 hours alone).  That's thousands of photos and videos, across a wide range of cameras.  Like anything else in life, I have certain cameras that I use for specific purposes.  This post attempts to cover all the gear I use day to day.  Obviously, I test out numerous action cams in the course of creating reviews, but those cams don't necessarily make the list as a trusted companion for non-testing days.
I'll start off with my higher end photography/video gear, and then talk action cams and drones.  Note, that while 99.99% of review photos are with my DSLR cameras, the weekly '5 Random Things' posts are about 50-75% taken on my phone, an iPhone 6.  As a general rule on the site you can hover over a picture and figure out which camera they're taken with by the name.  Ones that start with GO are from a GoPro, ones that start with VIRB are from a Garmin VIRB, ones with DSC are my Nikon D500 DX, and ones with IMG are from my Canon 7D.  iPhone ones are labeled as such, or have a date (as they are sync'd from Dropbox usually).
Finally – this is all about the 'why' behind what I use.  It's not a review of these products in a technical sense.  I obviously have reviews of some of these things, but this is just an explainer of what I use and the reasons I select a specific product.  I use all this gear for both work (the blog) as well as personal use.  I make almost no distinction between the two when it comes to my photography gear.  Oh – and everything here I've bought myself.
DSLR Camera Gear:
First up is all the stuff that makes the pretty review photos.  Watch shots might not be the most exciting photos, but they are pretty.  I think that having well shot photos for reviews makes a huge difference in how consumers see a product.  Even for the suckiest of products out there, I aim to make the photography aspect shine through.
This past spring I made a huge leap – from Canon to Nikon.  Despite having almost a dozen Canon lenses, and numerous Canon DSLR bodies (and 15 years of experience with Canon), I jumped because Canon simply isn't keeping up with technological advancements when it comes to connectivity.  From an image quality standpoint, I'm thrilled with either.  But I wanted the ability to go to a tradeshow, race (i.e. the Tour de France), or other event and quickly transfer photos from DSLR to phone.  At the time, Canon didn't have that.
So I settled on the Nikon D500 DX DSLR.  This is in their Prosumer range, though not their top dog.  I just don't need the speed or other aspects for an even higher end camera.  Plus, lenses tend to be a far bigger differentiator anyway.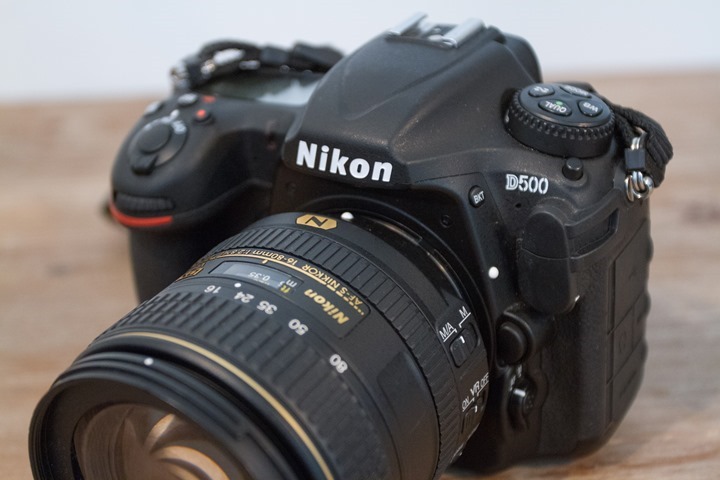 Overall the camera works quite well for me.  The Nikon app to transfer photos is horrible, though that shouldn't surprise me.  Still, it gets the job done, I just wish it was more dependable like the GoPro mobile.  From a camera standpoint I've mostly re-learned everything in the Nikon way, though I think I'm still faster in some setting areas on Canon.
I've purposefully kept the quantity of lenses I've bought relatively small.  This is because my core shooting range is at a distance of 1-10ft.  That's it.  Sure, I shoot races and stuff at other distances, but for the most part my subjects (watches) don't move.  Plus, having so many Canon lenses I realized I rarely used them all.  Things like the super-wide fisheye shot I'd use once every 1-2 years.  Plus, I could use a GoPro for most of those shots to achieve that anyway.  Long range telephoto I use again, at races, but that's it.  For the most part I shoot between 18-100mm.
So my main lens is a 16-80mm f/2.8.  This is without question my workhorse that's on my camera virtually all day long.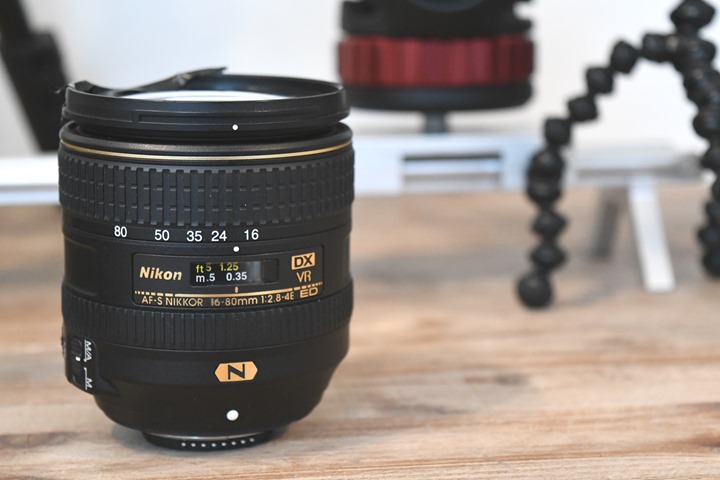 It's what 99.9% of shots in reviews are taken with.  And thus far, I'm really happy with it.
I've also got another cheaper zoom that I bought originally – the 18-55mm f/3.5-5.6.  It works just fine, though with the higher end one above, I just don't use it too much.  The Girl doesn't like it, since she thinks it looks silly-small on the D500.  Like, inadequate small.  True enough, it fits inside a cupcake tin.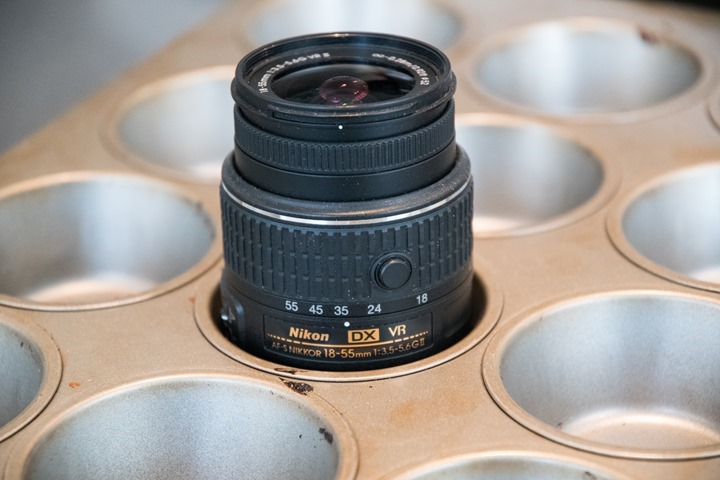 Next, I have long-term borrowed two lenses from my friend Hitchen (of Liz and Hitchen – seen on various adventures).  They're long-time Nikon users.  The first is a telephoto lens, the Nikon 80-200mm f/2.8, which I used for much of my Tour de France and related race shots this summer.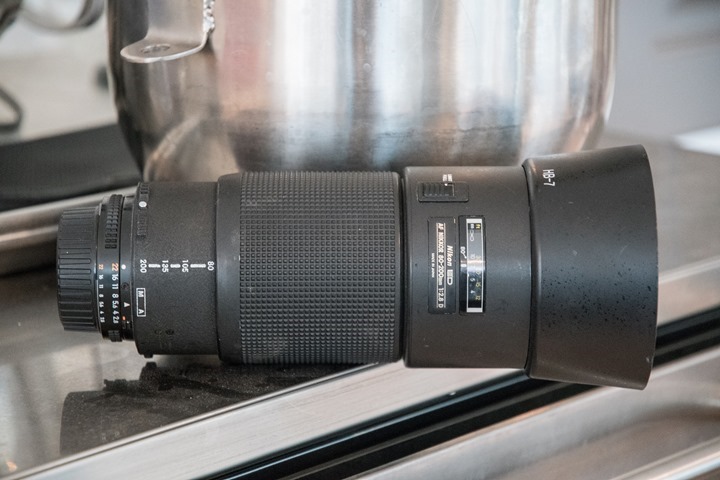 And the other is a wide angle, the Sigma 10-20mm f/4-5.5.  This I use almost exclusively when shooting in the DCR Cave, because otherwise with the crop factor on the D500 DX during video operations, the 16-80mm lens doesn't allow me to get a wide enough shot (really, the DCR Cave isn't much bigger in usable floor space than a small car), so I use the wide angle for those.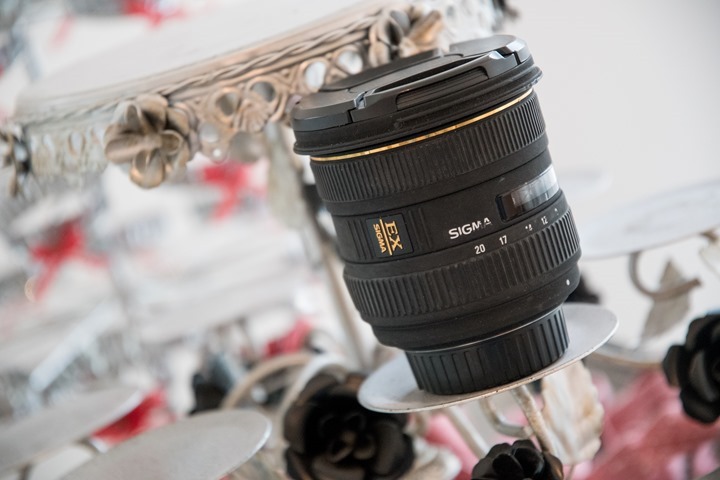 I suspect that I'll soon purchase the Sigma wide angle lens, though I don't think I'll purchase the telephoto lens.  I haven't quite decided what I'll use though instead.  I wish a service like Lensrentals.com was available in continental Europe.  I often used it in the US for renting lenses for specific events (like going on a safari).  But alas, I'm not aware of anything in Europe.
Product

Amazon

Nikon AF FX NIKKOR 80-200mm f/2.8D ED Zoom Len
$1,221
Amazon
Nikon AF-S DX NIKKOR 16-80mm f/2.8-4E ED Vibration Reduction Lens
$1,066
Amazon
Nikon AF-S DX NIKKOR 18-55mm f/3.5-5.6G
$245
Amazon
Nikon D500 DX DSLR Camera
$1,799
Amazon
Sigma 10-20mm f/4-5.6 EX DC HSM Lens
$479
Amazon
DSLR Accessories:
Next, we've got various photography accessories I use day to day.  First up are tripods.  My main tripod while travelling is the Manfrotto compact action tripod, which easily fits both into my roller-board suitcase, but also hooked onto the outside of a backpack while walking around: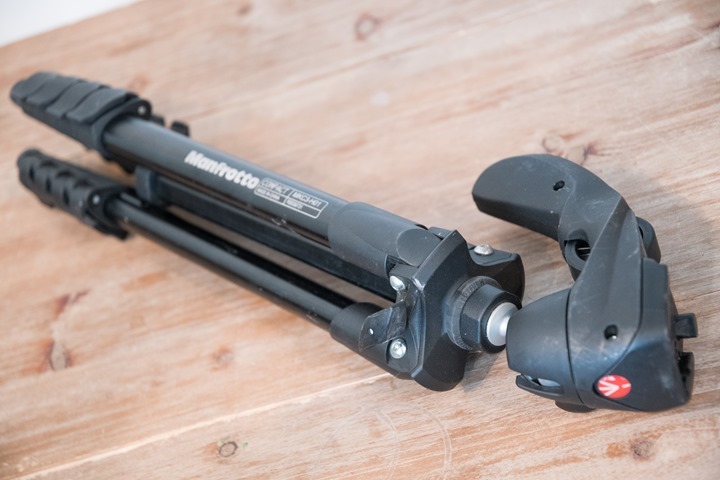 Then for use in the DCR Cave, I use this much more heavy duty one, the Manfrotto MT055XPRO3.  The head is a Manfrotto MVH502AH, and it's freakin' awesome for video work.
It sits on a slider which I use sparingly, sometimes for various product review videos. Unfortunately, it has zero markings on it, so I have no idea what it is.
For framing on videos, I use this small display from iKan (VL35) to be able to validate I'm still in the shot.  Since I shoot everything myself, I waste an astounding amount of time on framing video shoots.  If I had someone else doing the video, I wouldn't bother with this.  Oh, and I use a small adapter so that both my mic and display can share the shoe adapter.  Plus an HDMI cable between them.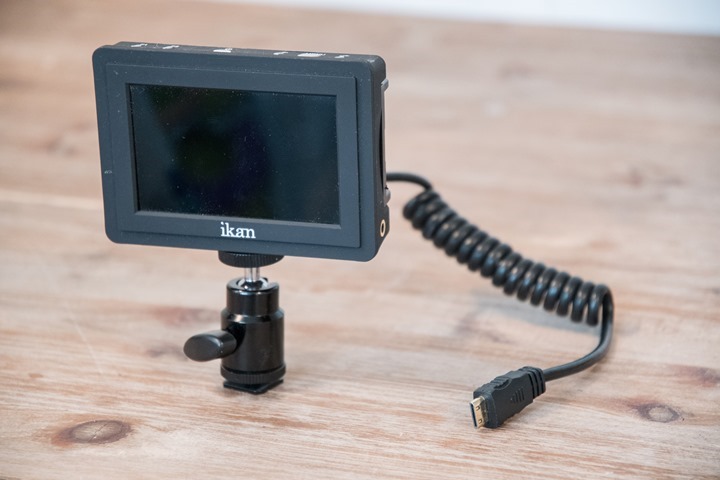 I virtually always use natural lighting in my shots, with many shots done outside (such as this post Randy put together on my photo shoots).  For example, I'll almost never unbox products at night, because I hate the look of it.  The only exceptions being trainers (they don't fit on my unboxing table near the window) and if a product comes in late at night and I need to take it on a trip the next morning.  That said, within the DCR Cave I use lighting to help mostly with videos, though sometimes photos on trainers.  As the name implies, the cave is totally underground and without any windows.  It's great in that I have specific kelvin values for that space and I can nail the lighting every single time.  But, it's still not natural light.
In any case, I use these LED panels from StudioPro.  I have two, though I'll likely pickup another one to round-out some dark spots in the corners.  I use these wall ceiling mounts to mount them to the wall, which gives me flexibility in where I point the light.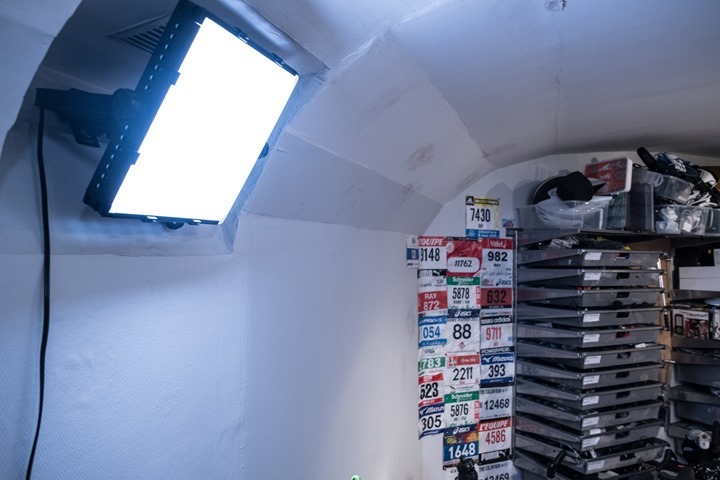 Next on the audio side (the bane of my video existence), I use wireless mics from Saraomonic, the UWMIC10 set.  I continue to struggle with the settings on these – and mics in general.  Sometimes I'll get great audio, and other times it'll peak too much.  I'm about 99% sure the error is on my side.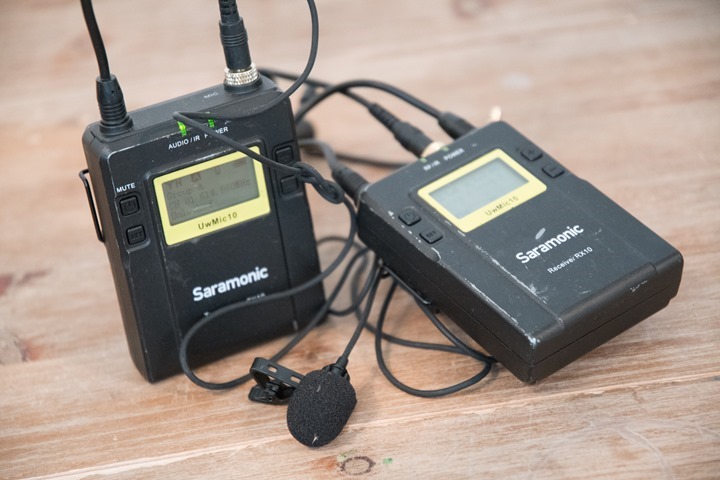 I also often use this little iPhone wired mic from Rode. When I do this I have to merge the audio tracks in post, which becomes a solid pain in the ass when it's a multi-clip and multi-camera video filmed over a longer period of time.  Still, I've gotten mostly efficient with it – and the audio does frankly come out beautiful every time.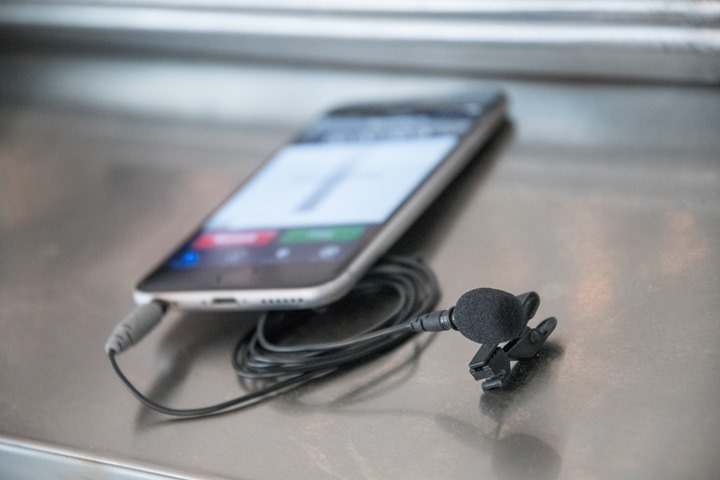 Finally, for photo editing I use Adobe Lightroom on a Windows 10 PC (Lenovo T440s).  Meanwhile, for video editing I use Final Cut Pro X on a Macbook Air (from 2012).  Yes, that old beast can still rock through 4K footage in surprisingly good time.  Of course, like any video editor I'm always looking for something faster.  But with the new MacBook's lacking both regular USB ports and an SD card adapter, I'm not a buyer.  If they had those, I'd already have purchased a new one.
Product

Amazon

ePhoto Photography Photo Studio Video Wall Ceiling Mount
$14
Amazon
iKan VL35 3.5" 4K HDMI On-Camera LCD Monitor
$249
Amazon
Manfrotto Compact Tripod (MKCOMPACTACN)
$69
Amazon
Manfrotto MT055XPRO3 Aluminium 3-Section Tripod
$189
Amazon
Manfrotto MVH502AH Pro Video Tripod Head
$199
Amazon
Movo Photo HVA20 Heavy-Duty Video Accessory Dual Shoe Bracket
$14
Amazon
Rode smartLav+ Lavalier Microphone for iPhone and Smartphones
$79
Amazon
SanDisk 256GB Extreme Pro microSD Card with Adapter (SDSQXCY-128G-GN6MA)
$39
Amazon
Saramonic UWMIC10 96-Channel Digital UHF Wireless Lavalier Microphone System
$399
Amazon
StudioPRO 600 S-600B Bi Color LED Light Panels
$196
Amazon
Action Cams: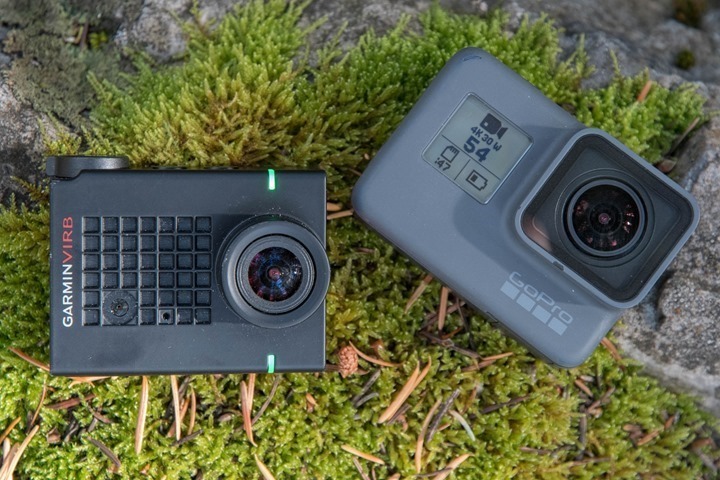 I use action cams constantly in reviews, mostly for on-bike and on-run shots, but also while swimming and even in review videos for second and third camera angle shots.  With the new linear/similar modes on the GoPro Hero5 Black and VIRB Ultra 30, I can mix this content in somewhat seamlessly.  Though, neither offers that mode in 4K, which is what I tend to upload most of my videos in.  Oh, and sometimes when I'm lazy I'll just use the audio off the GoPro Hero5 Black (I find the audio/mics slightly better there than on the VIRB Ultra 30).
Anyway, for regular action cam use I totally oscillate between the GoPro Hero5 Black and Garmin VIRB Ultra 30 depending on what I'm doing.  I bought two of each.  For just bumbling around the city, or to the beach – I'll take the GoPro Hero5 Black with me. Out on a ride and just want it for photos, again, the Hero5 Black.  But…if I'm doing video work while cycling (or running or whatever), then I'll usually shift to the Garmin VIRB Ultra 30 instead.
The reason is that I like the ability to do data overlays and have the GPS track merged in with the Garmin VIRB Ultra 30.  While GoPro just introduced that capability, it's still woefully horrible.  Maybe by this time next year it'll be better.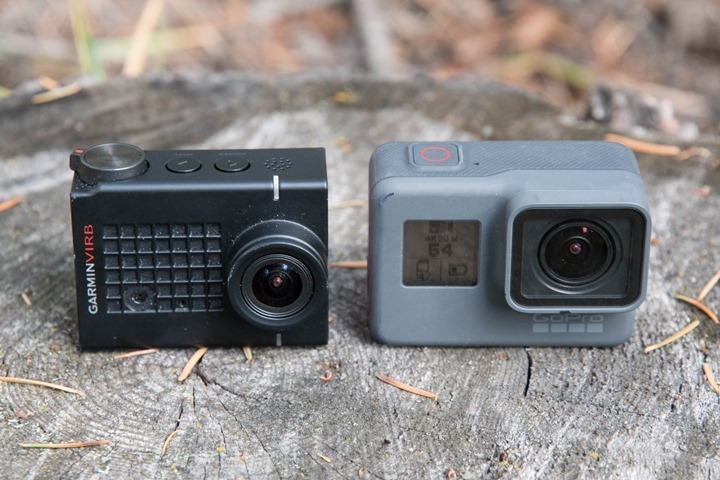 From a technical standpoint, I very much appreciate both camera's ability to do 2.7K with video stabilization (Garmin recently added this via software update).  This allows me to use this within review videos and remove the little bit of shake when I'm hand-holding the camera (such as riding or walking).  While it doesn't seamlessly fit into other 4K content I shoot, it does for the 99% of people that never watch the 4K variant.  Yes, I know that Sony has hardware image stabilization on their cameras, but seriously – their app is so horrible that it makes the whole thing super frustrating to use.  I've bought virtually all the Sony Action Cams to test, and they're all non-starters because of both the app and the user interface.
There are minor areas I wish each camera did differently to fill gaps of the other.  For example, I wish Garmin would record the separate mic audio channels to independent .WAV files like GoPro's new Hero5 Black does.  And I wish Garmin recorded RAW photo files like GoPro does.  I also wish I could let the Garmin VIRB sync via WiFi to Dropbox.  That one item alone would probably make me a complete VIRB convert since it fits my workflow best (more on that later).  And on the GoPro side I wish the whole WiFi/GoPro Plus thing didn't suck.  I'd pay either GoPro/Garmin the same $5 they charge for GoPro Plus to allow me to sync full res to Dropbox.  Don't re-invent the wheel, just hop on someone else's wheel.  Oh – and I wish both cameras allowed me to change the prefix to avoid duplicate file names (i.e. GOC1- for GoPro camera 1, etc…).
Finally, on mounts, as discussed in my gear recommendations post – I use almost exclusively K-Edge mounts for my action cams.  Oh, and I use the GoPro 3-Way Pole a ton (with both Garmin and GoPro).  Like, boatloads of the time on the bike especially.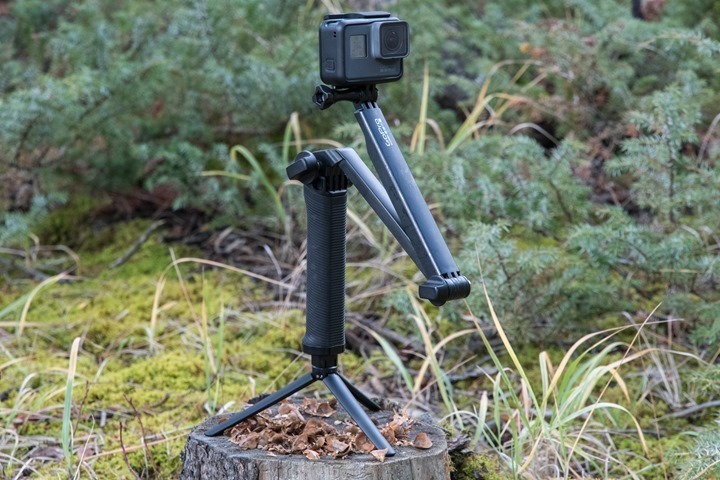 I use a blend of combo mounts (Garmin Edge quarter-turn + GoPro mount under it), and straight GoPro out-front mounts.  Plus saddle mounts.  I tend to use the combo mounts when I'm just riding doing my own thing.  Whereas the GoPro-only mounts I'll use for action cam testing or cases where I'm running more than one camera at a time.
Drones: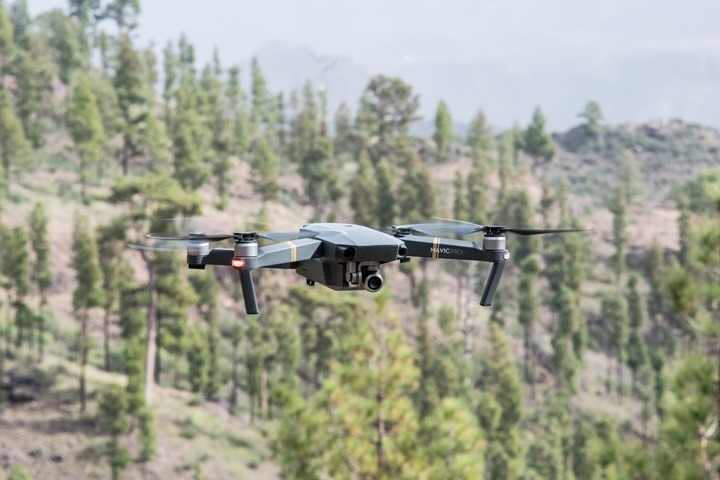 Phew, almost to the end!  I've gone through a lot of drones over the years, and have a stash of about a dozen of them.  I've got virtually every one of the consumer/prosumer focused units from DJI, as well as drones from 3DR, GoPro (albeit now-recalled), Airdog, Hexo, Parrot, and a bunch of Kickstarter no-names that don't matter.
Up until a few weeks ago I primarily would use the still only 6-month old Phantom 4 (and before it, the Phantom 3 Pro).  However, now I've switched to the new DJI Mavic, and there's no going back.  Seriously, you can rip it out of my cold dead hands.  It's mother-f'in brilliant.  Quite possibly the most impressive piece of design in a tech product I've seen in years.
It's not just the size (smaller than a shoe), but the fact that so many pieces are just so well designed.  For example, in the combo package (what I bought), it includes a four-battery charger.  That charger is the size of a deck of cards.  Oh, and it works with the car and house charger and I'm able to charge DJI Mavic batteries in about 35-40 minutes in the car.  Flight time is 25 minutes.  With the three batteries in the combo pack, I can almost fly constantly.  I did 20 flights over the course of 9 hours yesterday alone, in preparation for my review.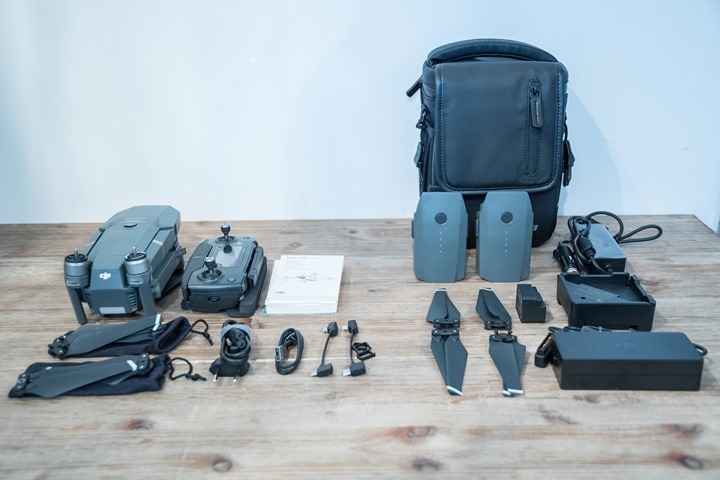 It's the fact that the controller also folds up and can be attached to your phone.  Or, you can use just the controller.  Or just the phone (though, this is cumbersome).  Or the fact that the props are tiny and fold up, and can be easily transported.
Or, it's just that it's as resilient at @#$#.  I plowed through multiple trees yesterday during some tests and it kept flying, recovering each time (well, until the fourth time).  Even then, the unit wasn't damaged at all (minus a cheap prop) and is a happy camper flying again. No issues with light rain either.  All while capturing beautiful 4K footage every time.
Yes, I love what Airdog is doing with their drones for sports action scenarios, and the DJI Mavic sucks in that regard (DJI's follow-me & Active Track are horrible for all but wandering around an empty field).  But for everything else, the Mavic is just so much better.  It fits into the back of my cycling jersey pocket and is easily deployed and in the air in under 90 seconds.  Brilliant.  And it fits in my laptop bag for vacations.
Note again that I bought the DJI Mavic 'Fly More' combo package, which includes the Mavic Pro, the controller, three batteries, four sets of extra props, a car charger, a house charger, and a 4-port multi-battery charger adapter.  Oh, and a hideous man-purse carrying case.  It's the singular time I'd ever recommend buying a bundle for something.  While you can never have too many batteries, I'm finding three is about perfect given how small they are to carry and charge.
Product

Amazon

B&H Photo

DJI Mavic Pro Fly More Combo
$1,299
Amazon
B&H
How I deal with storage:
Finally, for those still geek-curious about my photography archives, I figured I'd spend a few moments to chat about that.  I capture all my stuff onto SD and micro-SD cards.  I primarily use 128GB microSD cards from SanDisk for action cams.  I do it that way so I don't have to manage multiple cards.  For my Nikon DSLR, I use a blend of 128GB SD cards and 64GB SD cards, though primarily the 128GB Lexar Pro cards.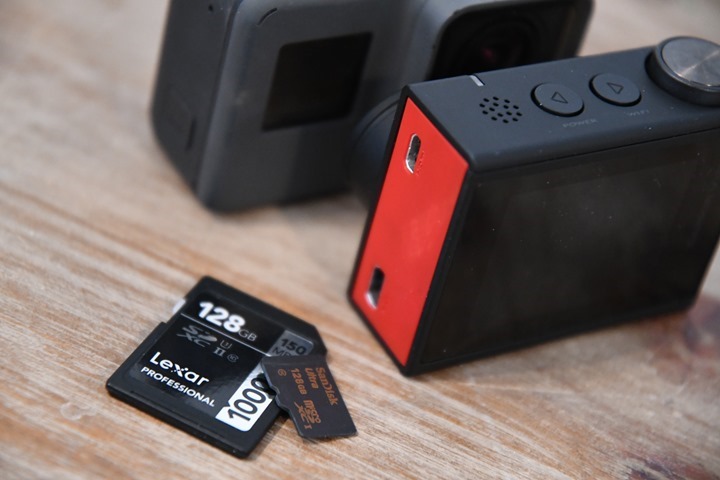 Once done shooting, I transfer everything to a set of external hard drives, mostly from Western Digital, each 4TB.  These are what I travel with and serve as my primary storage point during travel and day to day usage.  They're color coded and I fill a new one every 4-8 months (faster now than a year ago as I shoot more 4K footage).  I also have a secondary 2TB internal drive in my laptop, which I'll use for short-term storage.  So for example if I'm on a plane and want to edit stuff, I'll transfer content there to use.  Same goes for tradeshows.  However, a master copy is always on the small portable hard drives (which require no external power).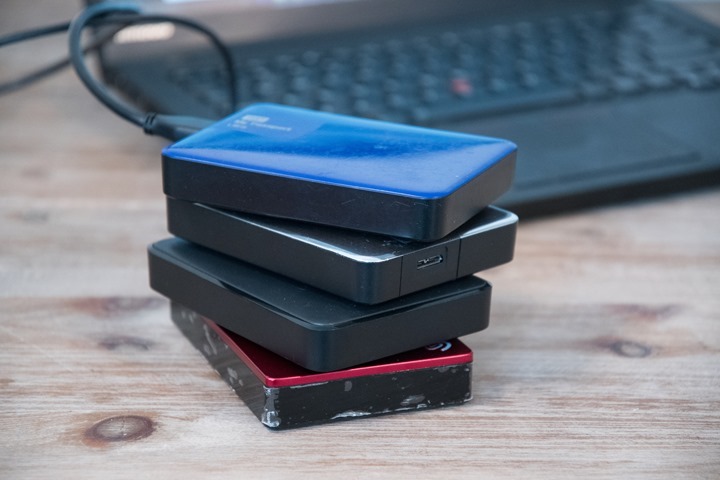 Once back at the DCR Cave/Studio, I transfer everything to a small NAS storage device from Western Digital, the MyCloud EX2.  When I do this I categorize everything into various folders, which allows me to easily find older photos sorted by device type (i.e. GPS watches, trainers, trade shows, travel, etc…), and then brand, then model.  In theory anyways.  Sometimes the re-categorization doesn't always happen and things get put into temporary bins.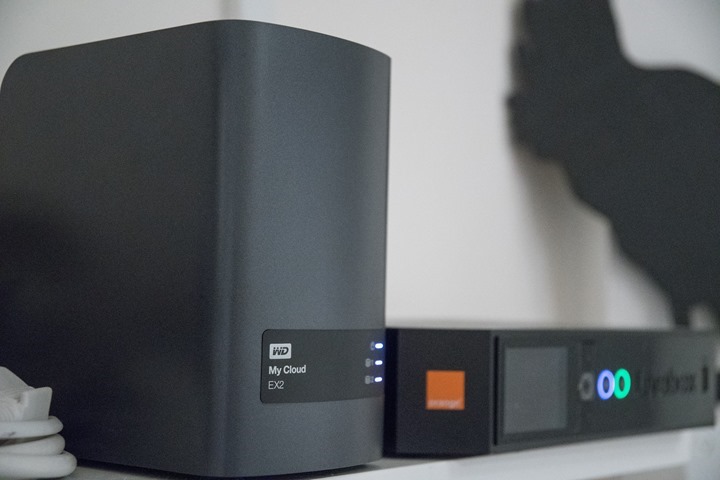 Also, all my iPhone photos get sync'd to Dropbox, where I grab them from my laptop.  Further, the new GoPro cameras will sync low-res video copies via WiFi to GoPro Plus, and photos there as well.  Though, most of the time that fails and tells me to factory reset the unit (again) or flat out doesn't work, so I can't really depend on that in my workflow.
Finally, all of that gets sync to Amazon cloud services for longer term backup.  I used to sync to Amazon S3, and then do archive to Amazon Glacier.  But now I just sync straight to Amazon's Drive, which is unlimited and $59/year.  That's a heck of a lot cheaper than I used to pay for S3 storage.  I very rarely pull things from the archive, so it's more of a disaster recovery scheme than a day to day storage locale.
Product

Amazon

Lexar Professional 1000x 128GB SDXC UHS-II/U3 Card
$59
Amazon
SanDisk 256GB Extreme Pro microSD Card with Adapter (SDSQXCY-128G-GN6MA)
$39
Amazon
WD 4TB Black My Passport Ultra Portable External Hard Drive
$119
Amazon
WD 8TB My Cloud EX2 Network Attached Storage
$478
Amazon
Frequently Asked Questions:
While I'm sure there will be plenty of other questions, here's a list of random things I figure folks might ask.  Feel free to drop others down below!
What'd you do with your Canon 7D gear?
I use it sparingly for various things – like taking photos of Nikon gear.  Plus, The Girl has Canon still, so she uses some of my gear.
What lenses did you use on the Canon?
Here's the list below.  The Canon EF 50mm F/1.8 is without question the best value for you there.  The EF-S 10-22mm was one of my favorites for both day to day shooting as well as trade shows.  While the 17-40mm is what I'd use for product shots.
Product

Amazon

Canon 70-300mm f/4-5.6 DSLR Lens
$649
Amazon
Canon EF 17-40mm f/4L DSLR Lens
$799
Amazon
Canon EF 24-105mm f/4 L IS USM Lens
$999
Amazon
Canon EF 50mm f/1.8 II lens
$125
Amazon
Canon EF-S 10-22mm f/3.5-4.5 DSLR Lens
$599
Amazon
Sigma 15mm f/2.8 EX Fisheye DSLR Lens
$609
Amazon
Sigma 70-200mm f/2.8 APO EX DG DSLR Lens
$1,199
Amazon
What happened to the edge of that Nikon lens?
Electrical tape, obviously.
Oh, you mean before that?  It flew off a treadmill.
What about 360° cameras?
Not yet.  They all have some degree of suck to them, either hardware or software (I've bought every unit on the market).  Even the Nikon Key Mission 360 4K I've been trying lately is just too sucky in too many departments to use day to day.  That said, if I had to pick one to use, it'd be the 360Fly 4K variant.  I did a review of the non-4K variant earlier this year.  It's the cleanest package of hardware and software.  In general, software is the piece that hoses up most 360 cams.  For example, the software from Nikon and Kodak is beyond hideous. If GoPro or Garmin ever get into this game, they'll dominate the sector (assuming they don't somehow regress on software), it'll be like taking candy from children.
Didn't you use to have a Nikon 1 AW waterproof DSLR camera?
Yup.  But it hasn't worked for a year.  One of these days I'll ride the 1KM over to Bastille to the Nikon repair shop to fix it. I really like that camera otherwise (though it's a bit slow).
What about the small red camera you used to use?
Indeed, I used to use a Panasonic Lumix DMC-TS25 for all of my action/riding/etc shots, specifically since it was waterproof.  However, with the Hero5 Black now being waterproof, there's really no reason I need the little red camera anymore.  Plus, I killed it earlier this year somehow.
How do you do underwater/swim shots?
Mostly with the action cams these days. It's just a million times easier than lugging a huge underwater DSLR rig to a pool, which is often frowned upon anyway.  I usually will setup the camera underwater on timelapse photo mode, taking photos every half a second.  And then I'll just swim.  Afterwards, I find the shots I need.  Sometimes if it's timing sensitive, I'll leave it on video mode and then just screenshot what I need later.
For some openwater stuff, I'll place the camera on the bottom of the ocean using a small flexible tripod (this one).  This provides stability, and usually the camera doesn't go anywhere. Shots looking up to the sun from underwater often turn out quite cool.  Without fins I can get down to about 10m (30ft) on a single breath, so that covers most scenarios.  Beyond that, I just don't drop the camera!  That little mini-tripod attached to a GoPro will easily fit along my leg under jammer-style swim shorts.
Are there any cameras you're eyeing?
Yes, the Sony A6300.  I know the A6500 just came out, but the A6300 is still pretty new.  Plus the A6500 is $400 more for non-relevant features to me.  I loved the A6300 when I tried it out shooting all of Sea Otter on it (on the stock lenses).  Brilliant low-light quality for both video and photos.  The mobile app is just as suck as Nikon's, but again, I can get things copied over.  I see this as an awesome travel/vacation camera when I don't want to take my bulkier DSLR but still want good shots occasionally.
Have you thought about getting a DJI Inspire?
The new DJI Inspire 2 is brilliant (as is the new Phantom 4 Pro), both of which have optical object avoidance sensors now on all sides, versus just front/down like on the Mavic.
However, I just wouldn't find much use for it day to day.  It's not permitted to fly drones in Paris, so I can't just walk outside and use it.  If I lived somewhere I could walk out and fly instantly, then I might consider it – but even then it's unlikely I'd justify the added expense.
The Inspire is (for me) too bulky for just regular travel (obviously, people travel with it just fine, but it's one more thing for me that I don't really need).  And while I used to take my Phantom 4 everywhere, now having the size of the Mavic, there's no way I'd go back.  But if DJI releases a Mavic2 next spring with the features of the Phantom 4 Pro (specifically 360° optical sensors and the 4K/60fps), then I'm an instant buyer.  Size is just more important these days to me.
What about gimbals?
With the new image stabilization options on both Garmin and GoPro I'm using gimbals less than I did just a few short months ago.  Still, I use them here and there when shooting bike computer shots while riding.  For that I use the Feiyu Tech G4, though that doesn't fit either new GoPro/Garmin well (I can kinda make it work).  I don't much use the wearable gimbal anymore.  Also, I find the new GoPro Karma Grip gimbal just too bulky and cumbersome to use, specifically, when wearing it on the backpack straps as they advertise, the buttons are blocked by your chest (as is the screen).  Thus, a pain in the ass.
I don't use any gimbals or Steady Cams for my DSLR's, because I shoot myself, so a tripod is more functional.
Do you have an underwater case for your DSLR?
I used to for my Canon 7D DSLR.  I had an Ikelite hard-shell case that costs just about as much as the camera.  And the two together produced absolutely stunning photos, like these in the Maldives.  But I won't buy one for the Nikon.  It's just too pricey and too bulky to carry with me for barely any use.  If I move to a tropical island, then for sure, I'd buy one again.  But living in land-locked Paris it just doesn't make sense for once or twice a year.  Plus, GoPro image quality is so good these days that you can cover most wide-shot scenarios easily that way.
However, if I bought the Sony 6300, and I could find a cheap hard-shell underwater case for that (soft-shell bag ones mostly suck), then I'd be tempted.
—
Bazinga – done!  So there ya go – everything you ever wanted to know about how I take photos and videos, what I take them with, and what software and platforms I use to edit them.
Thanks for reading!