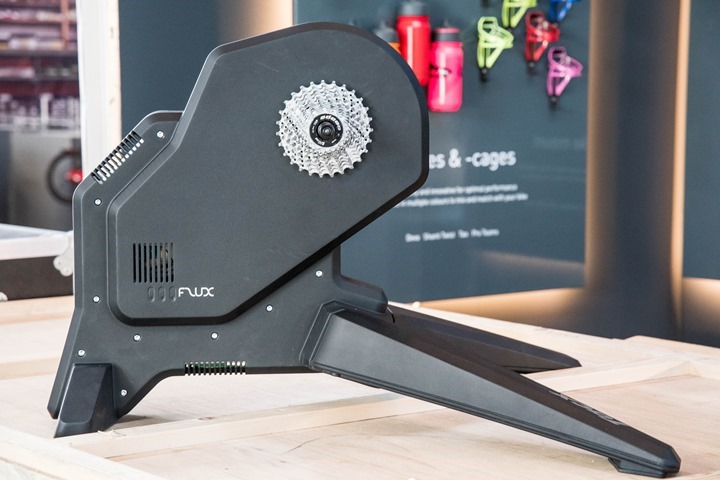 This week at Eurobike, Tacx has announced their latest smart trainer, the Tacx Flux.  This new trainer sits at the upper edge of the mid-range electronic trainer pricing range at $899USD/€799, but pulls in features historically only seen at higher levels, notably being direct drive and ANT+ FE-C for electronic trainer control.
The Flux would be the only new cycling trainer they'd release this season (aside from the Magnum treadmill, but I'll cover that separately).  However, they did roll out a substantial firmware update to their high end NEO lineup earlier in the summer, plus that model received a very minor external shell modification to make it compatible with more bikes.
Still, the Flux is a demonstration of Tacx for the third year in a row pushing the boundaries of prices and feature alignment in the trainer space.  Let's dive into the new mini-beast.
Flux Overview:
Way back in early June I got to spend some time riding on a Flux while visiting the Tacx headquarters.  At the time, the trainer was very much still a prototype externally, even if internally it was pretty much locked.  As you can see below, things take interesting paths from prototype to production (or, near production as it is today).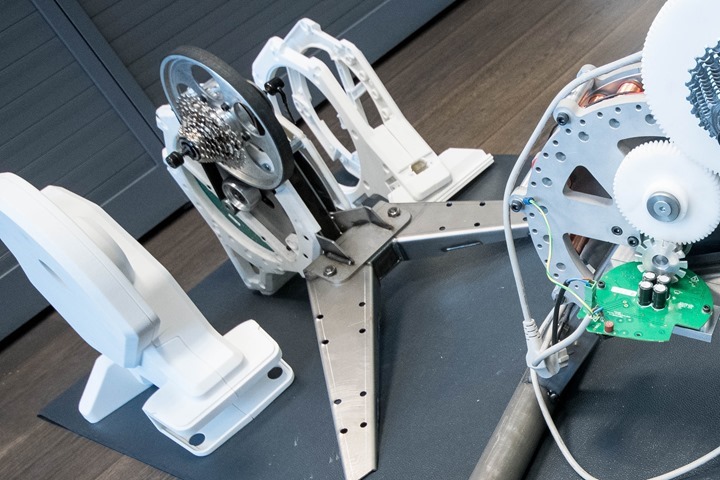 The company currently has a handful of not-quite-production units to show, though they look the part of a production unit.  This state is important to note because it helps to set the stage for timelines later on in terms of release/shipping dates.  Here is one of those almost-production units: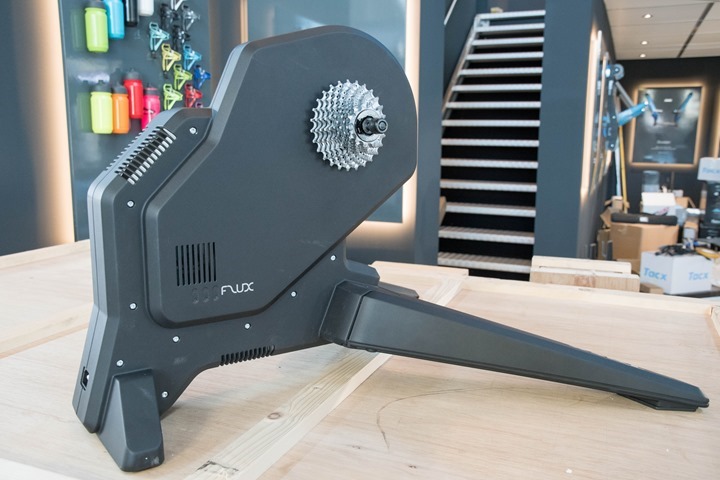 To begin, as is likely obvious from the above, the Flux is a direct drive trainer.  That means that you'll remove your rear wheel and affix your bike directly to the trainer.  As with the Tacx NEO, and Elite and CycleOps direct drive units, you'll have to provide your own cassette (a $50-$70 cost), plus installing said cassette.  Whereas Wahoo is providing that cassette on their KICKR included in the trainer cost, but if your needs don't match their 11-speed cassette you're basically replacing it anyway.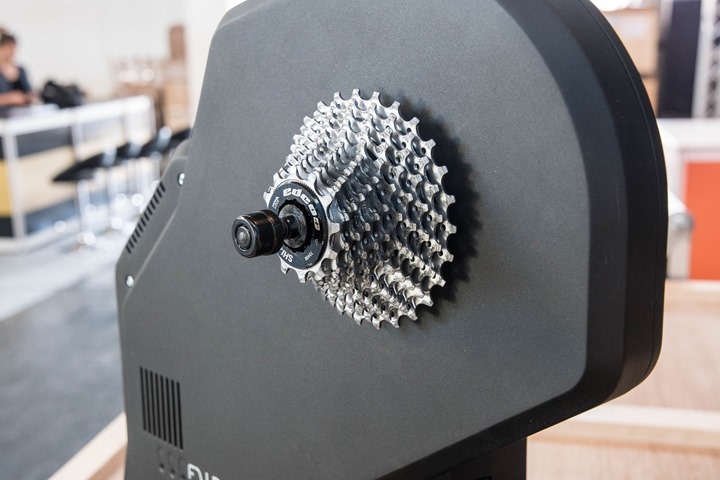 The Flux is a fully electronic trainer, in that your resistance can be controlled electronically from various apps on desktop or mobile devices.  These apps can be anything from Zwift to TrainerRoad to Kinomap and many more.
Like virtually all high end trainers these days, the unit supports ANT+ FE-C for trainer control.  Plus on the Bluetooth Smart side, apps that work with the Tacx Smart trainers already, will work with Flux.  Further, it'll broadcast out your ANT+ Speed, Cadence, and Power.  Alongside the same metrics on Bluetooth Smart.  This means you can pair your head unit/watch directly to the trainer to record stats.  And you can use the FE-C control from various head units as well.
In the below photo you can see the 6.7kg flywheel, which is that silver piece that rotates as you ride to provide inertia.  In my trial this summer of the unit, the road/inertia feeling felt pretty good.  Not quite as good as the NEO, but still more than sufficient for my needs.  Long-time readers will know that I'm not a huge person on 'how much does it feel exactly like the road' when it comes to trainer inertia.  For me there's still the mental roadblock of looking at a wall and being inside, no matter how realistic the trainer inertia may feel.
Now interestingly the company states that the flywheel has an effective inertia of a 22.8KG flywheel, due to the belt design.  This is similar in concept to what Elite is doing as well with a secondary flywheel inertia 'rating'.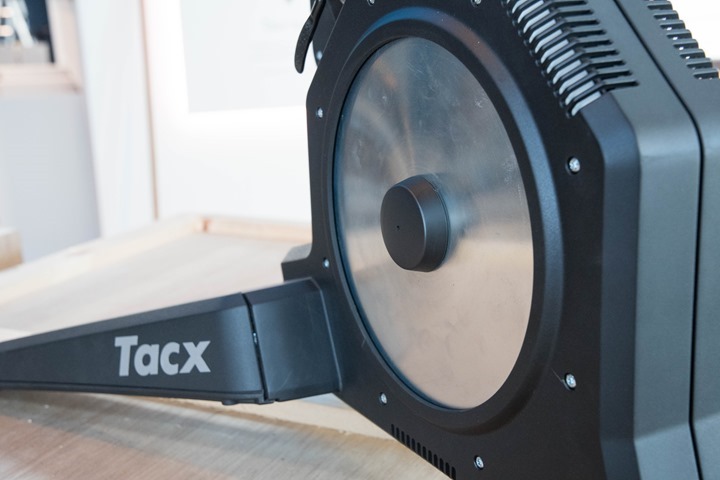 Now the Flux does require being plugged in to power to provide resistance, which is done with a belt system inside (as seen in the prototype unit photo above).  So this is a bit different than the higher end NEO, but then again.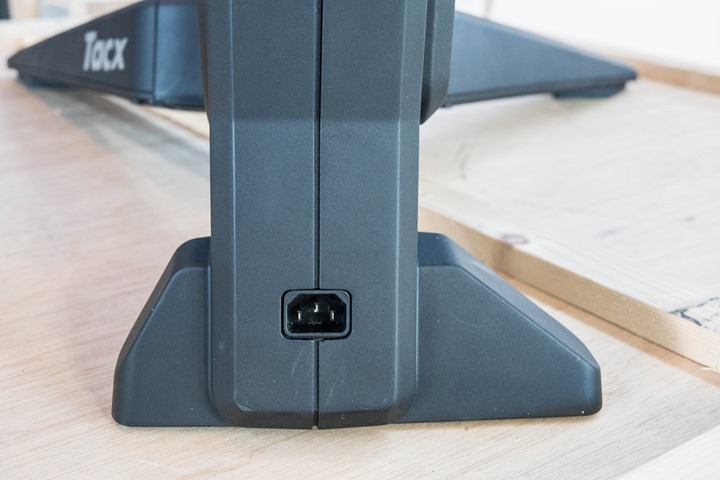 Note that the Flux does not fold-up like the NEO or most other trainers.  So it's not quite something you can slide under a bed or such.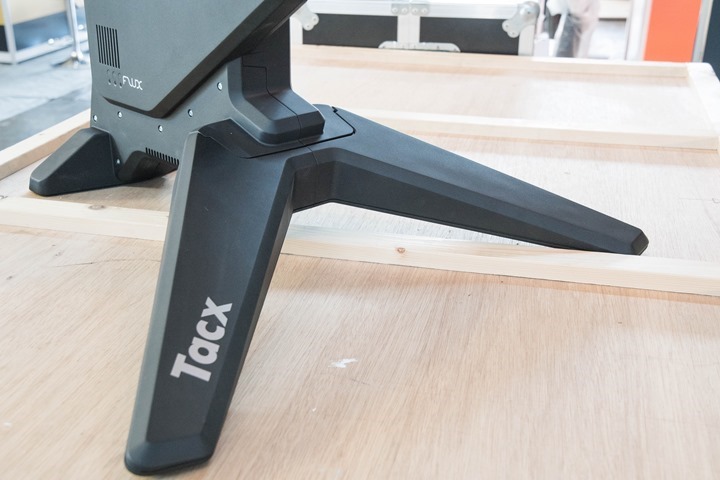 You can detach the legs though via a standard hex tool.  Two bolts on the bottom hold it in place.  The unit actually ships with the leg piece detached, so it fits better in the box.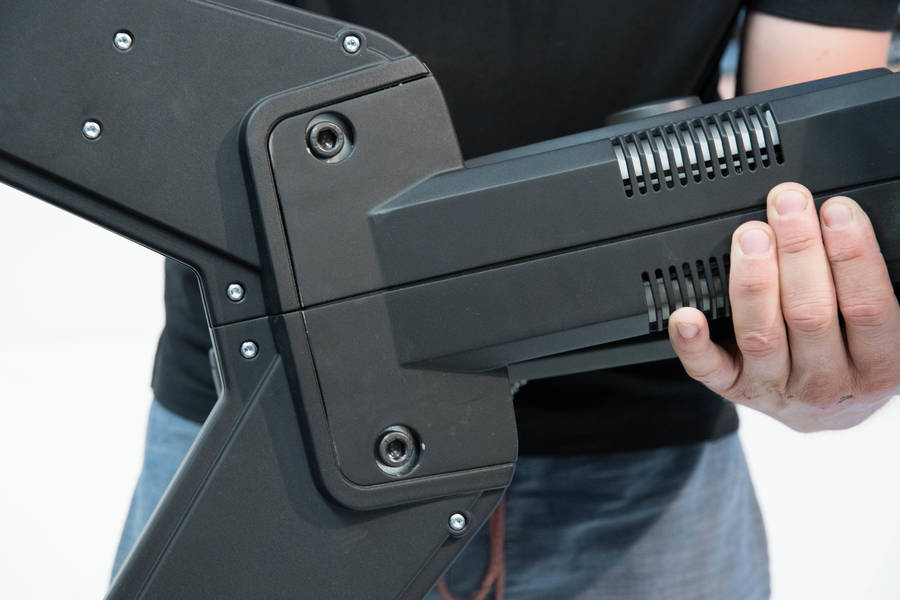 Of course many wonder if this is a mini-NEO, and in some ways it is.  But there's also a handful of other ways the unit is different than Tacx NEO:
Accuracy: It's claimed at +/- 5%, versus the 1-2% of the Neo (more on that in a second)
Calibration: Like most trainers, you will want to do a calibration/roll-down each ride to get better accuracy (which isn't done on the NEO)
Max Resistance: It tops out at 1,500w and 10% slope simulation. Those wattages are quite frankly more than sufficient for 98.6% of cyclists.  And the 10% is pretty solid unless you're doing lots of alps mountain simulation.  Tacx says the unit can actually peak north of 2,000w for a few seconds before the flywheel catches back up.
Flywheel: It has a virtual flywheel at 22.8kg, compared to the 125kg of the NEO.  But understand the NEO is really in a league by itself.  Most flywheels are in the 5-20kg range.
Sound Levels: It's audible compared to the virtually silent NEO.  Not super-loud, but in the 60-70db level range, which is on par with something like the CycleOps Hammer and would be considered 'good to normal'.  The belts lack 'teeth', which reduces the noise level compared to something like the KICKR.  I'll publish some video details/tests once I can get a trainer in a quiet place to do so.
Now on that 5% accuracy claim, that's their 'worst-case' scenario during the warm-up period.  They're hoping to get it better than that, and they noted that if you did a calibration/roll-down at about 10-15 minutes in (as is recommended for many trainers anyway), then your accuracy should be significantly closer.  To put it in perspective, the 5% claim is the same as the wheel-on trainers that are a bit cheaper, including the CycleOps Magnus and the KICKR SNAP.  Of course, if the accuracy in my review testing ends up being closer to the 2-3% mark, then this trainer will be a very serious contender in direct drive price ranges otherwise above it (i.e. against the CycleOps Hammer, Wahoo KICKR, and Elite Drivo).
And finally, for lack of anywhere else to note it – the unit does have temperature compensation built-in.  Additionally, the Flux's belt is automatically tensioned with a spring, which they say will help to maintain calibration (and thus accuracy).
A Video Overview: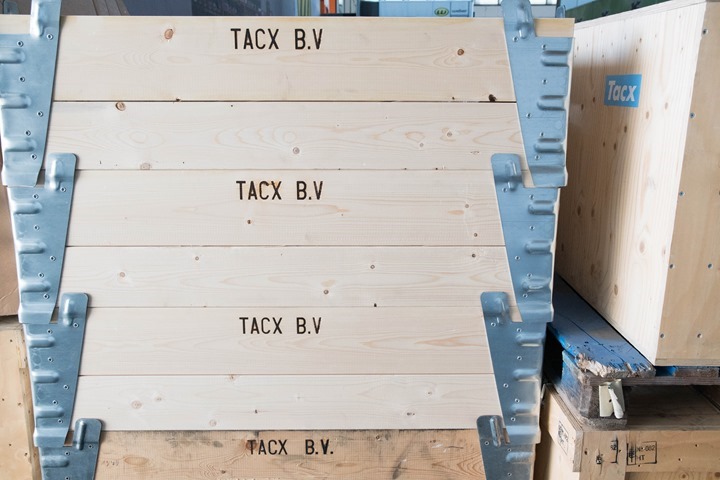 Check back a bit later today for a video overview of the unit in operation. At present they are finishing up unboxing their booth, and the bikes to put on said trainer haven't quite made it out of the shipping crates yet.  Once they do, I'll attempt to steal both a bike and the trainer to give you a short demo of it, as I didn't record my earlier riding back in June on it unfortunately.
Going Forward: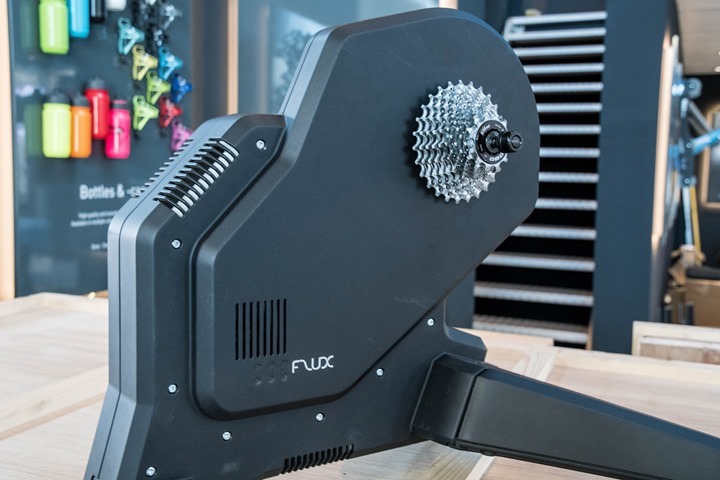 What's impressive about the Flux is really the potential for it to be a very solid direct drive trainer in the sub-$1000 market.  Specifically, $899USD/€799.  While we've seen numerous electronically controlled entrants in the $1,000-$1,200 price range (such as the CycleOps Hammer, Elite Drivo, and Wahoo KICKR), this is a substantial price drop-off of those units.
Of course, the primary trade-off will be that official accuracy claim, which is less than the 2-3% seen/claimed by those other units.  For some people, that won't matter.  But, and this is a pretty big but – if the accuracy of the Flux ends up being in the 2-3% after warm-up, that'll basically make it on-par with those other units that cost quite a bit more.  And in turn, that'd end up really shifting the trainer landscape from a pricing standpoint in a similar way to what Tacx did two summers ago with the release of their Smart Trainer lineup (Satori/Bushido/Vortex).
The other 'catch', if you will, is the release timeframe.  Right now they won't be arriving into people's hands until October for Europeans, and November for other continents (simply due to ocean shipping container timelines).  And of course that's assuming everything hits the production schedules.  Again, if you can hold-off until October/November for a trainer (and most people probably can), then this is most definitely a model to seriously consider.
Finally, yup, I'll be doing an in-depth review once I have a final unit to work from.  My guess is that'll be sometime in mid-late September, and thus my review would be a few weeks later in early October.  With that – thanks for reading and don't forget to check back a bit later today for some Flux video goodness (or, just subscribe to my YouTube channel and you'll get automagically notified when it posts).
Thanks for reading!
Note: You can pre-order the Tacx Flux on Clever Training for arrival once it comes off the first boat from the Netherlands.  By  using Clever Training you support the site here, plus save 10% using DCR Coupon Code DCR10BTF.