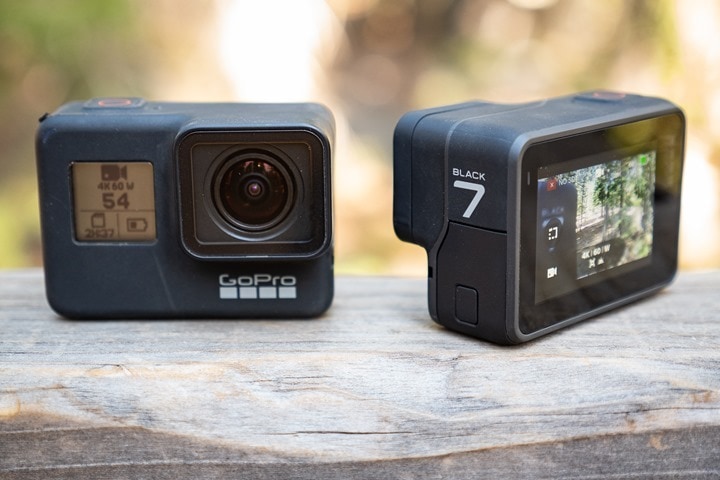 It's that time of year again. Like clockwork it's the annual drop from GoPro of new action cameras. This year they've launched three new cameras – the Hero 7 Black, Silver, and White.  These three new cameras will replace all existing cameras in their lineup with the exception of the GoPro Fusion 360° camera.
This review is all about the new Hero 7 Black, which is their top-end camera (the 'Black' naming/branding has historically always been their top model each year). Like most years, GoPro tends to be more evolutionary in updates than massive shifts.  This year is no different. Which doesn't mean these changes aren't worthwhile. The Hero 7 Black gets a significant update to stabilization (which they call HyperSmooth), while also getting a new hyperlapse mode called TimeWarp. Atop that, the microphones no longer suck, and the photo mode handles colors and fast speeds better. But there is quite a bit more under the hood that is driving these changes.
I've taken about 90GB of photos and videos over the last week with the Hero 7 Black. All across a variety of conditions, leading me to feel that I have a pretty good handle on how well it works (and where it stumbles).  Like always, once I'm done with these media loaner units, they will be returned to GoPro. Thereafter I will go out and get my own cameras through normal retail channels. I use GoPro units day in and day out for the vast majority of running/cycling content you see here, so I'll dive into whether or not the Hero 7 is worth the upgrade.
With that, let's get to the details.
What's new: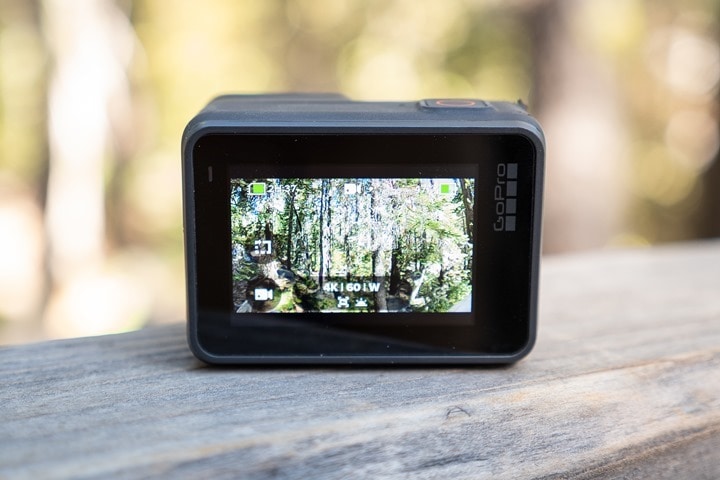 We are going to dive right into all the newness of the Hero 7 Black itself. Some of these features are also on the Hero 7 White and Silver, but I simply haven't had enough meaningful hands-on time with those units to put together a similar list.  Also, as usual, I try and dive a bit deeper into what's new and unique from a behind the scenes standpoint.  Thus, the best way to do that is to check out this video below as I think it may be one of the best video productions I've done in terms of all the details and footage/etc… Well, I hope so anyway.
But, if text is your thing (like mine), here's my bulletized list with perhaps a touch bit more detail:
– Added HyperSmooth enhanced stabilization (sorta halfway between previous stabilization and a gimbal)
– Added ability to smooth 4K/60fps footage with HyperSmooth (previous limit was 4K/30)
– Added 1GB of RAM to use for processing (which is where most of these features come from)
– Uses exact same GoPro GP1 image/graphics processor and associated camera optics as Hero 6 Black
– Added TimeWarp for hyperlapse style video time lapse
– Completely revamped user interface on back of camera
– Added new portrait mode for videos/photos (similar to taking video/photos with your phone in portrait mode)
– Added ability for both front and rear menus to rotate to portrait orientation
– Added short clips option (specifies an automatic 15s or 30s recording duration and provides a visual countdown)
– Added photo self timer option (such as 3s or 10s duration until a photo is taken)
– Added SuperPhoto (somewhat replaces HDR photos in past, but handles movement better)
– Fixed microphone distortion related issues (tries to reduce audio tunneling type sounds)
– Added Apple MFI integration (for iOS users, makes pairing/connectivity far cleaner/faster)
– Added Livestreaming (720p livestream via WiFi access point or cellular to Facebook or RTMP output)
– Added GoPro Karma Grip/Gimbal and GoPro Karma Drone support
– Added Speed/Map/G-Force/Track overlays directly to mobile app (no need for desktop anymore)
– Added new resolutions (1440p/120fps, 960p/240fps, 960p/120fps, 720p/240fps)
– Added two new voice commands (GoPro Capture and GoPro Stop Capture, which just starts whatever mode you're in)
– Added on-camera scene detection for white balance automation. Can now detect underwater/snow/urban/beach/forest situations (plus face/smiles)
– Added ability to enable/disable slow-mo on preview playback on camera itself
– Changed edge of lens cover to tapered, which should minimize scratched look of lens edging
– Re-instated ability to change GoPro name in app/WiFi pairing. Finally!
– Set the default video mode to 1440/60p (in 4:3, yes, for real)
Phew!
Of course, everyone will focus on HyperSmooth and TimeWarp, with perhaps a side of live streaming, but in reality most of the cool geekiness is under the covers.  In terms of negative changes on the Hero 7 Black, I haven't actually seen any. Instead, GoPro appears to have saved those impacts for the Hero 7 Silver and White, which got a full smacking of ugly. First, they took away two key elements! One being the front-facing LCD screen on both units, and then, removal of the swappable batteries (it's all built-in now. Ouch.):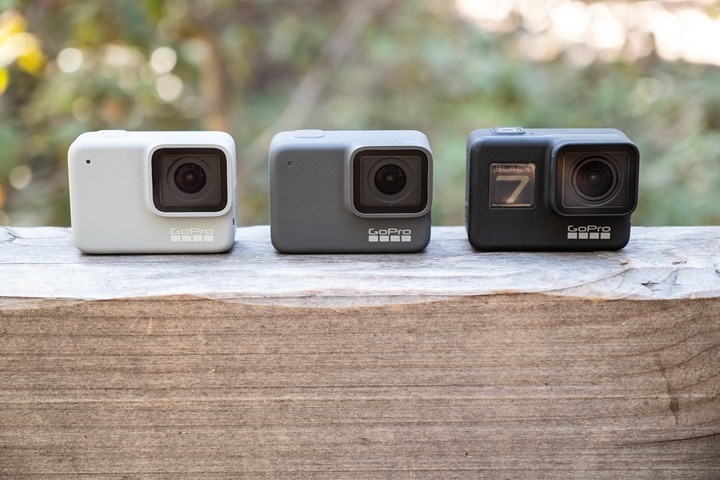 Second, neither camera is leveraging the GoPro GP1 chipset, which means it's more or less just another rehash of the GoPro Hero 5 Black. Sure, they've got the new user interface, but beyond that, upgrades are slim pickins. For example, they lose the ability to connect to a GoPro Karma gimbal/drone – and odd way to drive less revenue in accessories.  But, I suppose we can save all that for those reviews down the road.  After all, this review is about the Hero 7 Black, and things are definitely more positive on that camera.
What's in the box:
Like most tech companies, GoPro rarely changes their box design – and that's true here as well with the GoPro Hero 7 Black.  You could easily substitute a Hero 6 Black box and probably not even notice the difference. Still, readers of this site probably would notice – thus, I'm here to deliver the goods: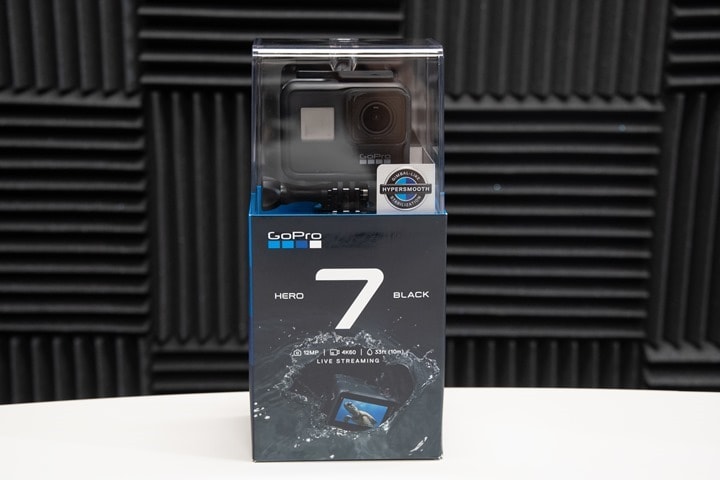 The back and sides of the box show off all the tech spec nuances, though not in quite as much detail as the previous section.
The unit can easily be seen through the little plastic greenhouse atop the box.  In fact, the GoPro is actually bolted to a makeshift tripod of sorts. Well, a plate, but it makes for a handy GoPro stand that's free.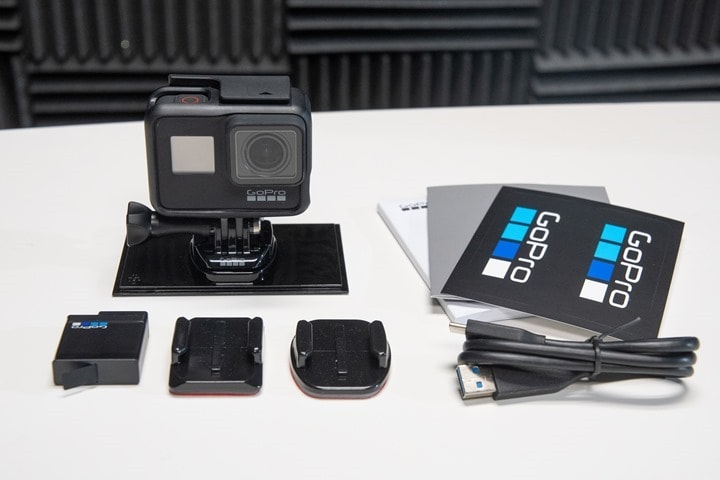 If you crack it all open and place the parts on the table, here's what you have: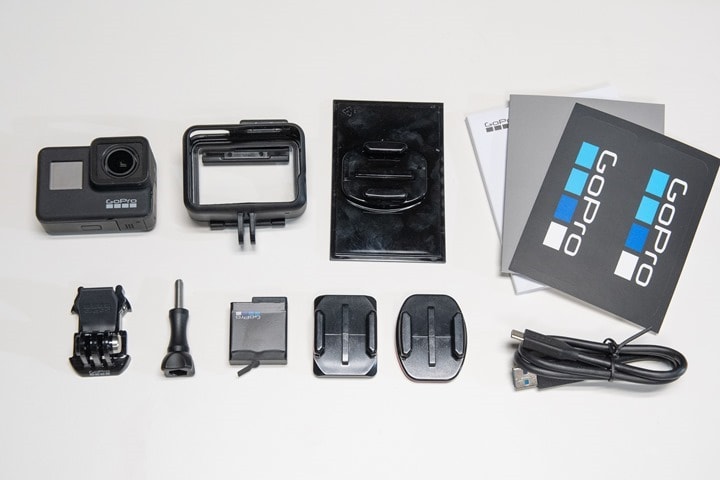 Going through each of the parts, we first have the camera and the battery. It uses the exact same batteries as the GoPro Hero 5 and GoPro Hero 6 series. So if you've got those batteries handy, you don't need to buy more.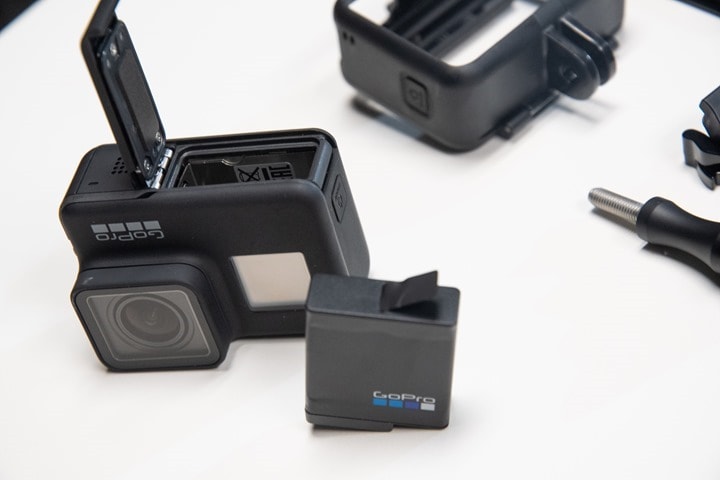 Then there's the mounts. There's both a flat adhesive and a curved adhesive mount, both of which connect up to the small base GoPro mount that in turn connects to the GoPro frame/cage that holds your camera.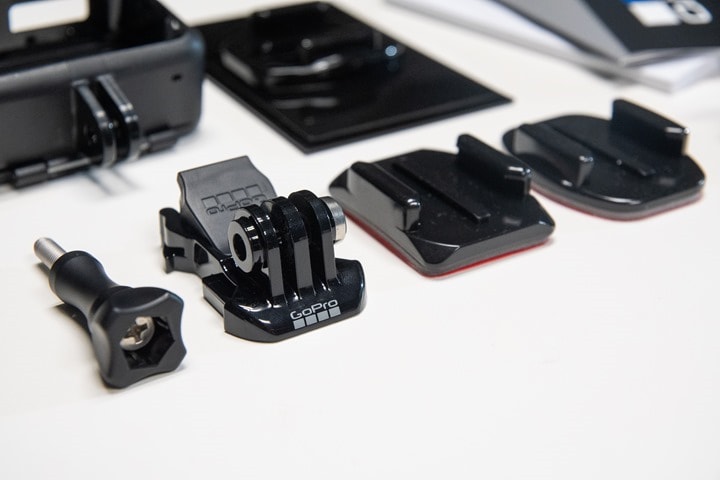 After that, you've got the USB-C charging cable, again, the same as the Hero 5/6 cameras.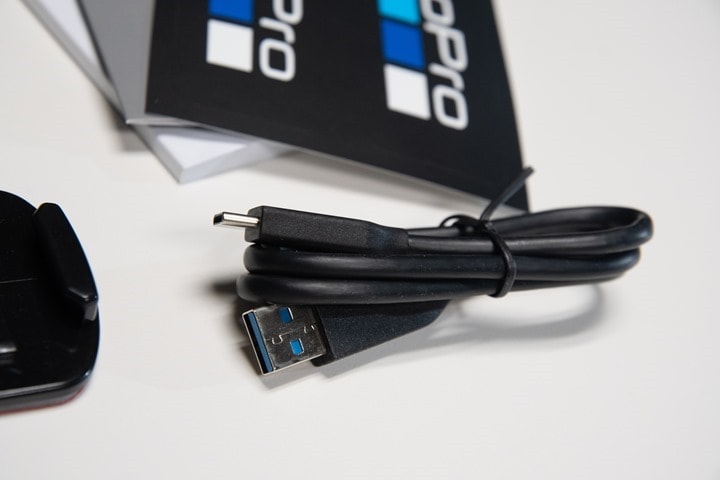 And finally, there's some stickers: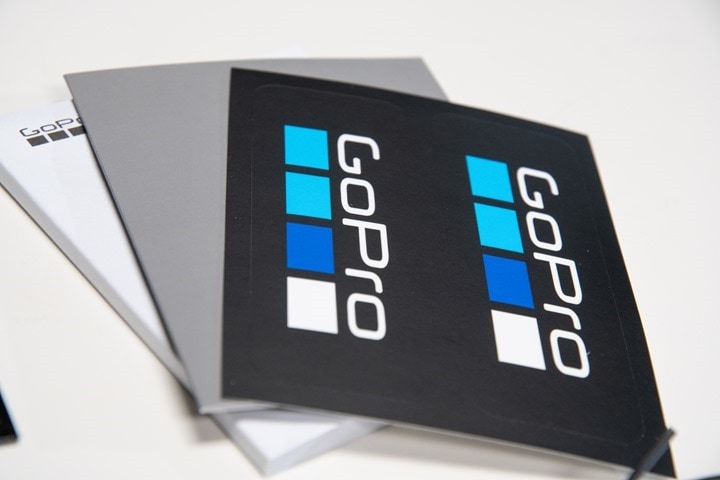 Oh, and also both a quick-start guide and a safety guide. You won't need the quick-start guide after this review, but I suppose the safety guide will tell you more about the dangers of making poor life choices and the impact it may have on your camera (or your person).
The Basics: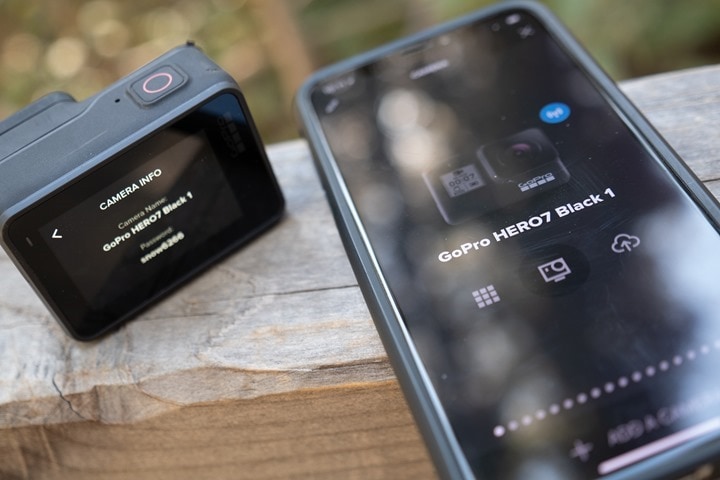 I'm going to quickly go through all the GoPro basics in this section. For the most part, things haven't changed a ton here in terms of how the Hero 7 works compared to past units.  That said, the entire user interface has been redesigned – so that is notable. But first, the battery and SD cards. Gotta start there.
The unit accepts/supports micro-SD cards up to 256GB (select cards), which is a change from the Hero6 Black which only officially supported up to 128GB cards.  The batteries remain the same as past GoPro Hero 5 and Hero 6 units.  Not only that, but my testing of 3rd party batteries confirmed those worked just fine as well. Given they usually cost half that of GoPro's batteries, that's nice to see nothing has been blocked there.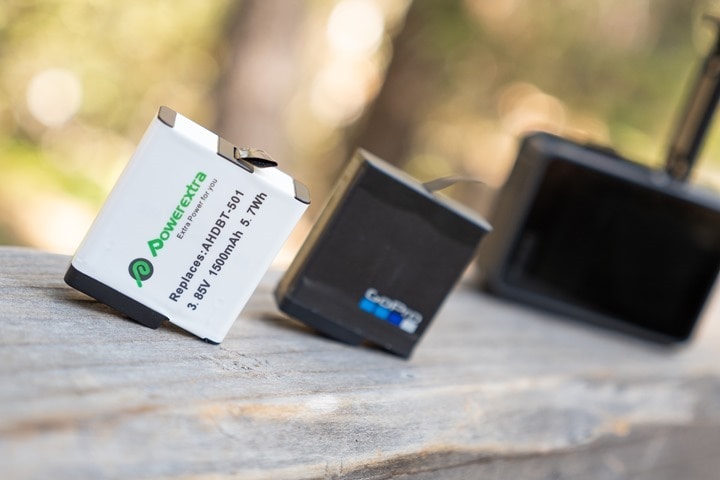 Battery life seems about the same as before. In my case I'm mostly shooting 4K footage, and it's roughly an hour per battery.
When it comes to the user interface, GoPro aimed to simplify the modes and try and make things more obvious. Everything boils down to three core modes: Timelapse, Video, and Photo. You can swipe through these modes using the touchscreen on the back. Or, the mode-button on the side.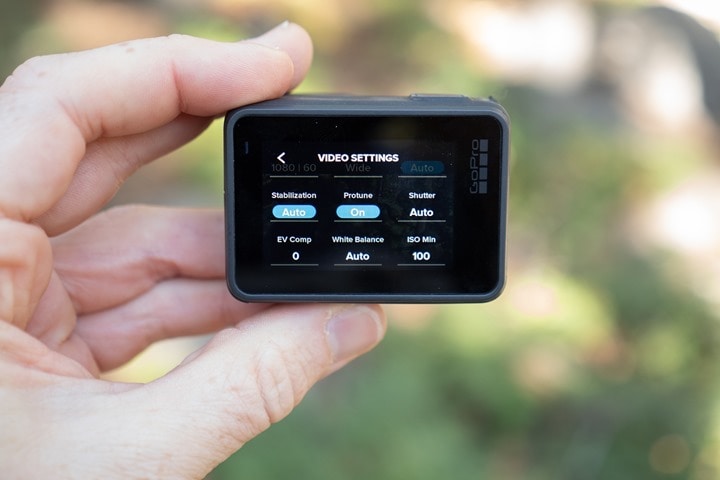 Alternatively, you can use the GoPro voice commands to change modes as well.  In fact, there's even two new voice commands with the Hero 7 – 'GoPro Capture' and 'GoPro Stop Capture'. These commands will start/stop capturing in whatever mode you're in. So if you're in video mode, they'll start that. Or if in timelapse mode, that instead.  Here's some of the commands: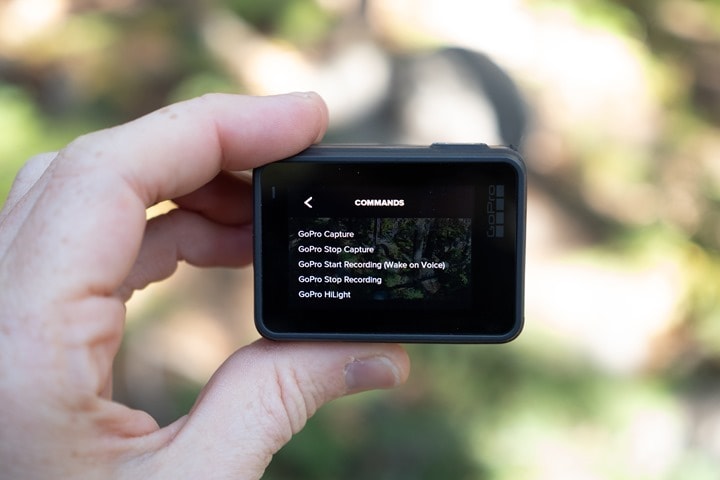 The main point of the redesign of the menu was to make it easier for users to figure out the impacts of settings changes. For example whether or not going from 1080p/60 to 1080p/240 means they'll lose HyperSmooth (they will).  That's all prominently displayed on the resolutions page that's one tap away.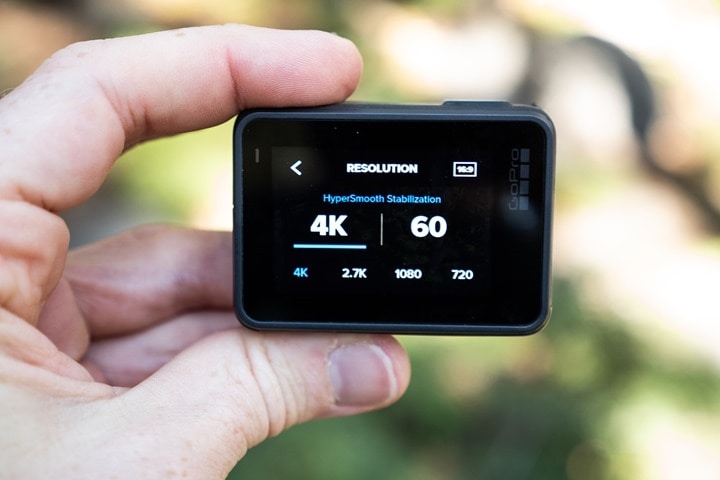 Meanwhile, advanced settings like GoPro's ProTune options are still there, just now on the main resolution/settings page – so it's less steps than before.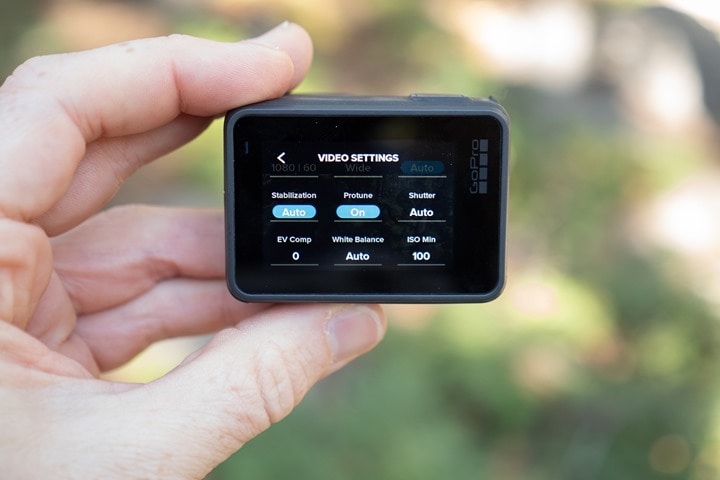 You can swipe-down from the top to access the overall preferences page, and they've bubbled up some of the more common settings in there onto a one-tap menu. So things like turning on/off the audio beeps no longer takes you 43 levels deep in the menu.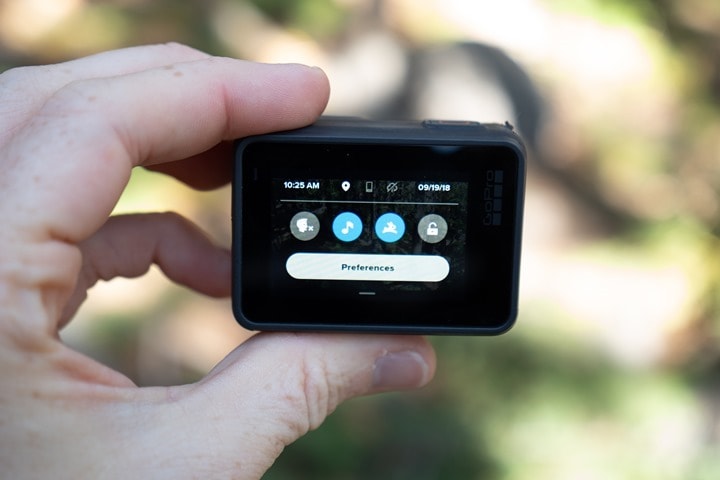 Additionally, when it comes to reviewing your footage on the camera itself, you've now got the option to actually toggle into Slow-Mo mode from higher frame rate footage (like 120fps), rather than playing it back at full speed.
Next up is the new Apple MFI integration (Made for iOS). That means that if you have an iOS device you'll get a slightly better experience than before. It's most noticeable when you first pair the GoPro, as the entire thing only takes a second or two, versus the somewhat cumbersome process before.
But even besides that – everything just seems smoother when I want to access content on it. There's less lag and the 'just works' factor is slightly higher than before.
Like before you can access settings for the camera from the app, as well as preview footage. Nothing much has changed there:
And within that 'nothing much has changed' realm is the unfortunate reality that with more and more GoPro files being HEVC/H.265, you can't preview any of the recorded files unless you download the entire thing to your phone first.  You can preview while actively recording, but once you stop there's no option to preview/stream the file until you download it. I don't entirely understand why GoPro has gone this way. After all, that was sorta the entire point of the smaller thumbnail resolution files they've long since had.
Still, besides that annoyance – the entire GoPro App/GoPro Device relationship is clearly improved over before.  But I'll dive into that more later in the post.
Next, one of the 'major' new features on the Hero 7 is the ability to shoot in portrait mode. When you rotate the camera on its edge, it'll automatically go into that mode. Both the front and rear displays will orient themselves properly, and the footage you capture will be 'vertical' style footage (akin to that shot on a cellphone in vertical mode):
Lastly, nothing has changed when it comes to the GoPro mounts.  And in the case of the Hero 7, it retains precisely the same exterior shell as the Hero 5/6, as well as all the same frame/case aspects too. That's good news for those of us with a large collection of GoPro parts and bits from the last two generations.  And of course – the underlying GoPro mount has remained the same since the beginning as well.
HyperSmooth: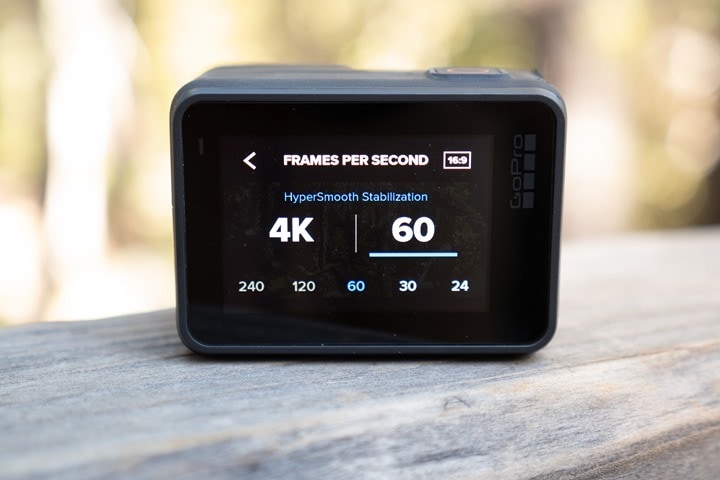 (I'm splitting a few of the new features out into separate sections. This is something a bit different than my older reviews. Partially because I like to mix it up to keep me entertained, and partially because I think you basically just want the details on the new stuff. I've covered all the basics in the previous section, which are pretty much the norm for all GoPro action cameras over the last half a decade or so.)
HyperSmooth is GoPro's new branding for their new stabilization option within the Hero 7 Black (the Hero 7 White/Silver don't have it, just regular stabilization). This new option supersedes the existing electronic stabilization of the Hero 5/6 series. In GoPro's own words, it is designed to offer 'gimbal-like' stabilization.  Now, while I appreciate that generosity, I can save you the trouble and tell you that's a very optimistic way of looking at it. Frankly, no, it doesn't offer gimbal-like stabilization.
But, it does offer better stabilization, and in some cases – substantially better.
The way it works is that GoPro is leveraging an additional 1GB of RAM on the camera itself to do predictive scene analysis. They're trying to figure out what you're about to do based on all the sensor data they have on board. For example looking at speed via GPS, accelerometer data, and also the makeup of the scene itself by analyzing what's in it (some of that is already leveraged for GoPro's Quik application to do things like face and smile detection). Essentially, in my discussions with them they noted it was about being more proactive with stabilization rather than reactive in the way they handle it today.
And no matter how it may actually be occurring behind the scenes, it does seem to be doing the trick.  When you go to enable stabilization it's actually just an on/off toggle: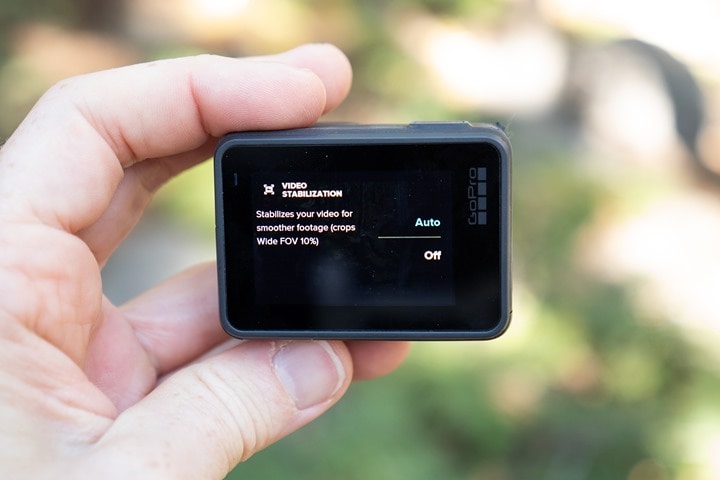 But in reality, there's three options that the system is iterating through, in order of best to worst:
1) HyperSmooth: This being for supported resolutions, such as 4K/60fps and a slew of others. It's the smoothest (and newest).
2) Electronic Image Stabilization: This is for some modes that don't support HyperSmooth, like 1080p/120fps, but do support this stabilization mode.
3) No stabilization: This is for modes such as the 240fps options that they simply can't handle the processing on. So there's no stabilization here.
As a user, you don't actually have an option between #1 and #2 above. It's either on or off.  However, if you choose a frame-rate that has no stabilization, it will tell you as such.
Otherwise, it'll show at the bottom a little icon that indicates stabilization is enabled (seen next to the rising sun icon, that's for low-light):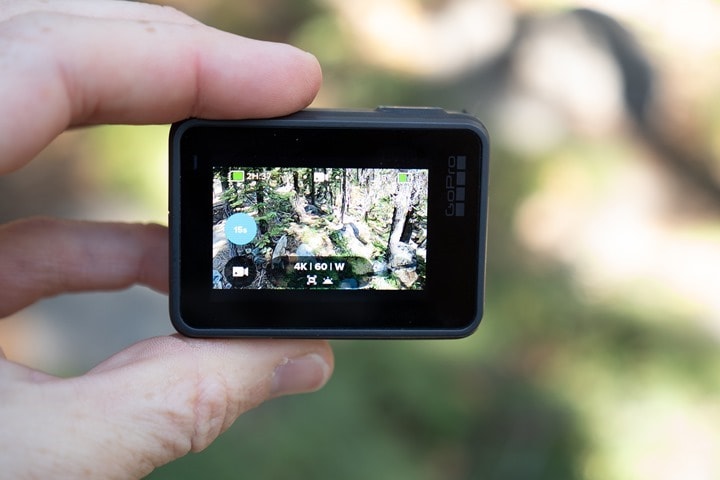 You can also select to turn-off stabilization as well, in the event it's causing problems for your use case – or if you've got something like a gimbal.  Speaking of gimbals, for lack of anywhere else to stick it, the GoPro Karma Grip gimbal and Karma drone both got updates for the Hero 7 cameras so that they're fully compatible. While that may sound trivial, it's good to see – even on the drone.  I still routinely use my GoPro Karma Grip gimbal, and will continue to use it as well for certain use cases (in my case, taking videos of cycling GPS computers and watches while riding/running).
So how good is it? Well, I've stuck a pile of samples into my main video up above that you can check out.  They're roughly in the first 2-3 minutes of the video, so super easy to find.  Overall I'd say it's definitely noticeable for use cases like running, where you can very clearly see the sharp 'drops' when the existing EIS stabilization on the Hero 6 fails but the Hero 7 HyperSmooth nails it smoothly.  On mountain biking it's a bit more of a blend. In most terrain it's quite a bit better, but in some cases it's just so-so better. I've found no cases where it got worse.
Also, it's definitely worth pointing out that as part of all this the GoPro Hero 7 now supports stabilization of 4K/60fps videos, and at HyperSmooth settings. Whereas previously the GoPro Hero 6 didn't support 4K/60 stabilization, which really showed in tougher settings like mountain biking or any sort of fast moving action where you wanted the faster 4K frame rates but couldn't get the stabilization beyond 30FPS.
TimeWarp (Hyperlapse):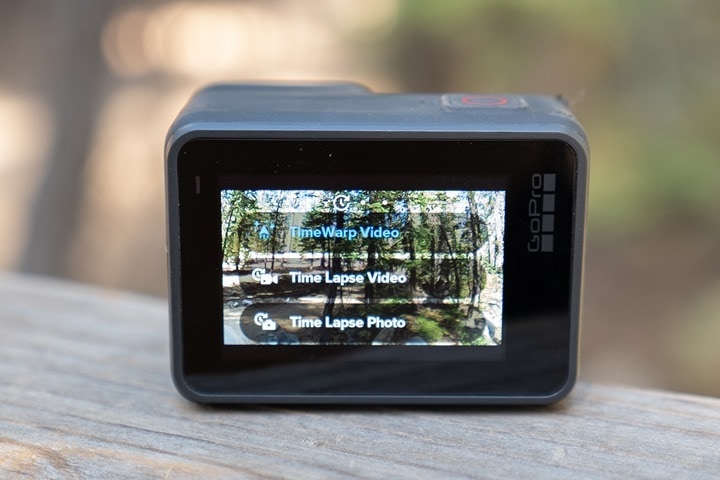 Next up is the new TimeWarp feature, which the rest of the world calls Hyperlapse.  This gives super-stabilized time-lapse videos, ideal for longer duration moving subjects/settings.  Meaning, if you just want to take a video of the sunset, this really isn't the option for you.  Instead, it's ideal for doing something like a long drive or walking through a marketplace.
For most all Hyperlapse type implementations (no matter the company), the goal is to figure out a way to stabilize the footage so that each frame of the video has the same orientation. In effect it's replicating that of a gimbal. But not only the same orientation, but also typically a smooth and seamless movement as the camera pans through different subjects.  And finally, the best implementations look at things like rate of speed and movement to even out points where the camera might linger for a while or focus on something.
In order to do this you have to switch away from just taking still photos and merging them together, which is what GoPro has historically done.  When doing still photos you can't easily do that type of scene analysis for super-clean results.  Whereas by taking video and having the internal sensor data around orientation/acceleration, they can account for that in real-time.  In fact, if you compare side by side a video time-lapse on a GoPro Hero 6 to that of the TimeWarp feature on the Hero 7, you'll see that the Hero 7 is recording video while the Hero 6 is simply taking photos at the interval you specified.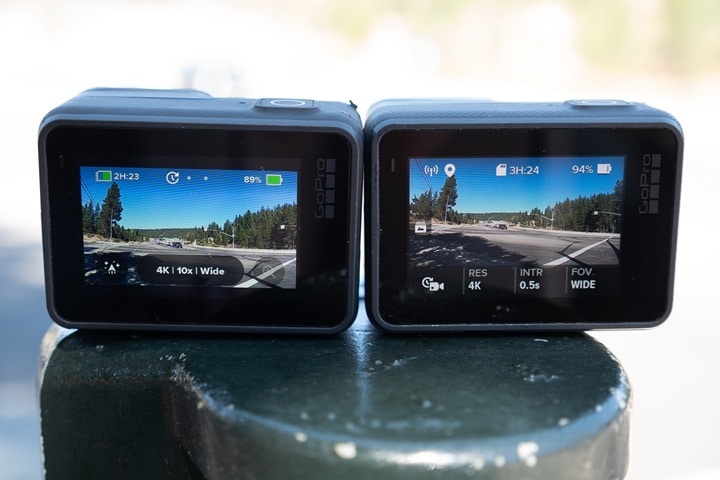 With TimeWarp on the Hero 7 Black (it's not on the Silver/White) you go into the time-lapse page and select TimeWarp (the top/default option).  From there you can select the resolution (4K or 1080p for 16:9, and 2.7K or1440 for 4:3), though it'll always be in wide-only viewing angle.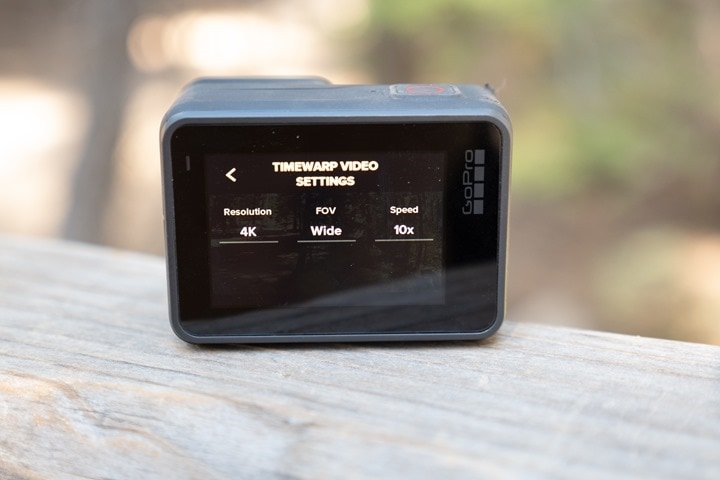 After which you select how fast you want the scene to be sped up. These are intervals of 2x, 5x, 10x, 15x, or 30x. Next to each option it'll tell you roughly how many seconds of footage you get for a 5-minute recording: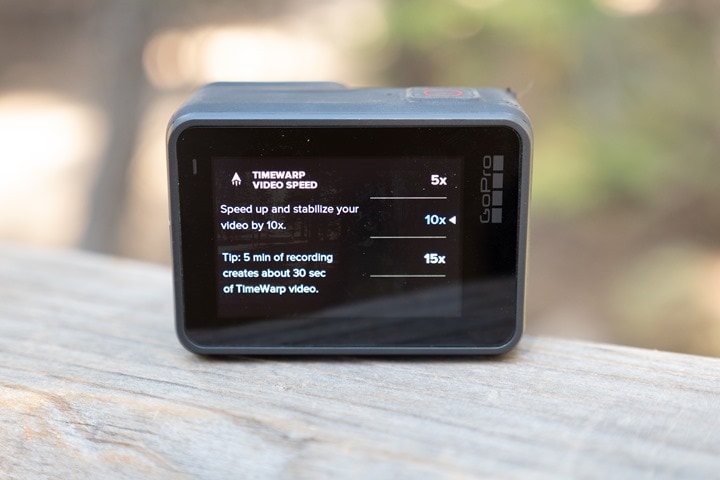 Note that this will vary a bit if the camera thinks you're stopping to highlight something. That allows you to focus in on a sign or other object in the scene by pausing for a few seconds, which creates a bit of a stop-animation style moment in your Hyperlapse.
As part of all of this, you'll end up with super-stable Hyperlapse footage. Be it hiking, driving, or even mounting biking – it's really darn impressive. I've put together a huge sampler reel of footage that you can check-out here. Note that if you open the link in YouTube and look at the description of the video, you can click any of the timestamps to jump to whichever of the 13 or so different comparison sections you want:
While the driving one is probably the most scenically cool, there are other potential cool uses. For example, the hiking bit where I did a partial rotation highlighting the sun coming through the trees, as well as when I rotated myself at the mid-point of the bridge was probably the most 'potential-revealing' option. In the case of the hiking one I simply held the camera in front of me.  Whereas in the case of the driving one I mounted it to the front of my rental car. For the mountain-biking it was mounted on the front of the bike.
Ultimately the look and feel of the TimeWarp is far better than a simple time-lapse video or even sped-up video footage. By leveraging the HyperSmooth functionality within TimeWarp, they're effectively doubling down on smoothness, and it certainly shows.  Note, all TimeWarp videos are expected at 30FPS (either 4K or 1080p for 16:9, or 2.7K/1440 for 4:3).
SuperPhoto: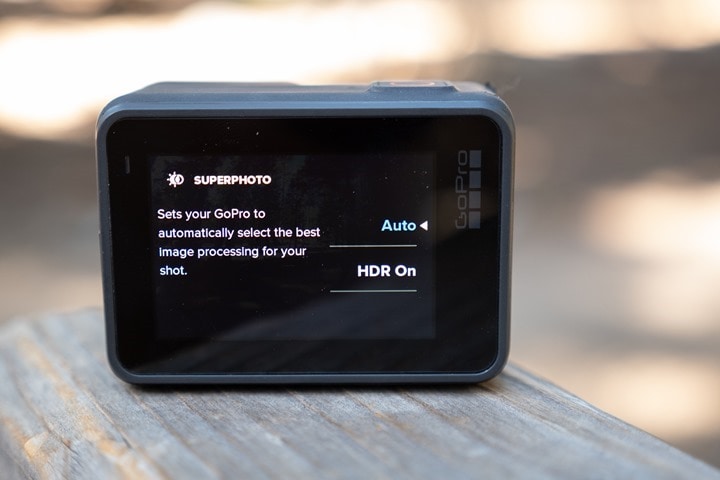 It's funny, in some ways – photos are actually the feature I use most on my GoPro's. It's because when I'm out running, riding, or swimming (or whatever else in life), I'm far more likely to share photos on Instagram or other social platforms than I am videos. So if there's one feature that I know the pitfalls of the most, it's GoPro's photo capabilities.
Of course, in general they work well.  But one feature that hasn't worked super well on the Hero 6 Black is the high dynamic range modes, which aimed to stitch together multiple copies of a photo to produce a more vibrant photo.  The challenge with that was that it'd often produce ghosting artifacts on anything with a fair bit of movement – such as running or cycling (or even kids running around). Inevitably you'd forget you had enabled this, and then find out later on that Casper was in your photos.
So GoPro aimed to solve that with the ever-so-humbly named feature 'SuperPhoto'.  This function essentially takes over the decision tree of whether or not to utilize a given photo technology while you're taking the photo. So it looks at accelerometer/movement data to determine whether or not you're doing something that it can handle. If it can't, it won't try and apply that particular feature to the photo, and instead will use a different feature.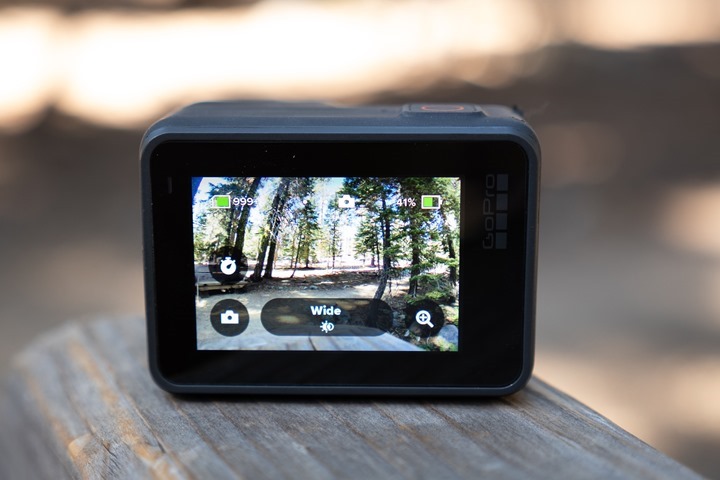 Within SuperPhoto there's effectively a few different levels of functionality.  All of which rides atop scene recognition. The camera is now intelligently detecting what's in the scene and then how to deal with it.  If it can do HDR, it'll go ahead and do that. That's a best case scenario.
But if it can't, it'll instead do local tone mapping.  Previously it would do global tone mapping of colors across the entire frame, where that could sometimes result in wonkiness.  Now it's going to focus on specific aspects of the photo to correct instead.
In practice, this basically means I'm getting better and more clear photos.  And it's easy to see. Here's a quick gallery of a few photos I've taken over the last week.  These are straight out of camera – with no corrections in any applications:
GoPro says that compared to the Hero 6 you'll also see increased noise reduction as well as improvements in low-light.  I'd say I've seen marginal low-light improvements, but I suppose every bit helps.
In addition to the improvements in the images itself, they've finally added a photo timer. This allows you to set either a 3-second or 10-second timer delay until a photo (or series of photos) is taken.  This is a biggie for me since I'm constantly using the photo interval mode to get selfies and such.  As a result, I no longer have to sift through a crapton of photos to find the right one.
Once you trigger the timer it'll display a count-down on both the front and rear of the camera: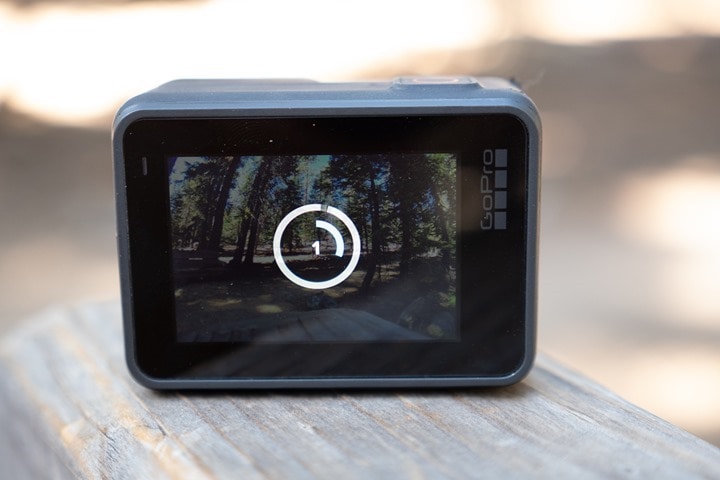 Beyond this, the remainder of the photo aspects are all the same.  So all your usual options for burst and such remain as before with the Hero 6 Black.
GoPro Apps: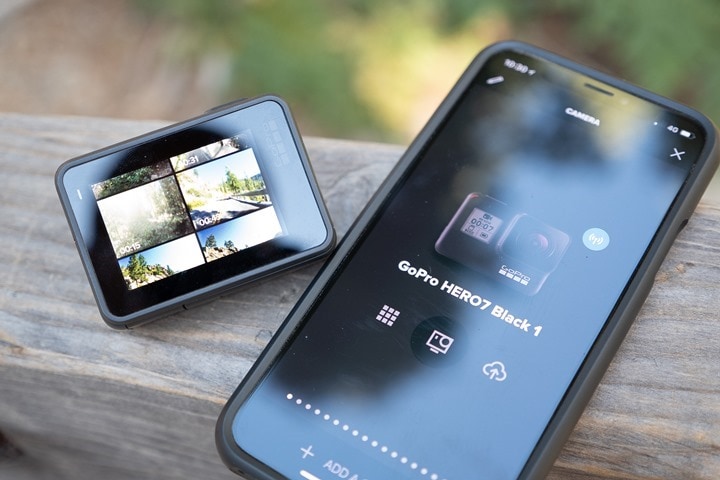 GoPro has two main apps when it comes to their cameras. There's the main 'GoPro' app, which is the one you'd use to configure your camera's settings, preview shots, and download footage.  Then they also have 'Quik', which is a quick video editor of sorts that can produce automated snippets and clips. GoPro has steadily improved Quik over the years, and that's true to some degree here as well.
But let's start with the GoPro app itself, and the big change: The ability to do overlays of metrics like speed or g-forces from the mobile app itself.
Back two years ago GoPro added a GPS to the Hero 5 series, as well as accelerometers.  They then added some super basic capabilities to their desktop software (as part of an acquisition of DashWare). In general GoPro's desktop app was never anywhere near the level of Garmin's VIRB Edit suite when it came to date.  And it still isn't today.
However, what GoPro did finally do today is make it so it's silly-simple to add some basic overlays of data to your videos totally from your mobile phone (as opposed to requiring the desktop.  Once you've downloaded the clip to your phone you can select six different overlays:
– GoPro Logo
– Speed graph
– GPS path track/line
– Map (from Apple Maps)
– Speedometer (with compass)
– G-Forces (with direction)
Here's the list of them in landscape orientation: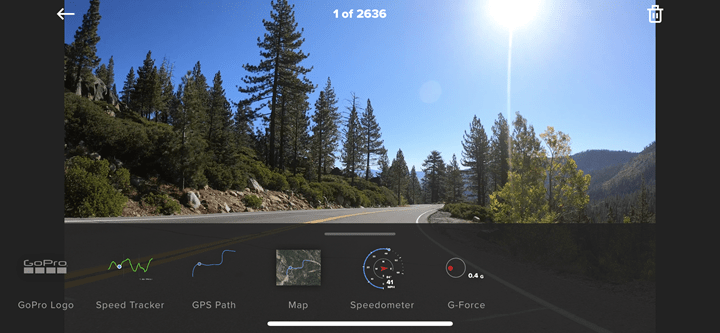 You can add any individual element or all of them. Your choice. I do find it easier to add in the vertical orientation because otherwise you can't get them dragged to the bottom of the screen as it tries to delete them.
Once done you simply click next and you can save or export your video to whatever you want.  Even better is that it'll even do it at the original resolution.
So in my case I edited this video from 4K/60fps footage and exported it as such. Winning!
Also, while we're talking about the base GoPro app, you can now name your GoPro cameras again. You used to be able to do this prior to the Hero 5/6 cameras, but that wasn't an option for them. That option has now returned for the Hero 7 cameras.  You can see side by side how it still looks for the Hero 6 cameras with the pre-populated name:
Now as I mentioned there are improvements to Quik as well, but those in actuality mostly come by way of improvements to how the camera is detecting scenes.  The Hero 6 cameras could previously detect faces and in particular the moment you smiled.  This is how the Quik app could put together videos that seem to capture the most exciting/fun/etc moment.  Additionally, they leveraged data from the accelerometers and GPS for moments like jumping or speed increases.  All of which could be seen as exciting moments.
But the Hero 7 Black increases the scene detection aspects to now detect specific scene composition.  They can detect underwater/snowy/urban/beach/forested scenes.  The goal here isn't to find your best bikini shots, but rather to allow Quik to do white balance correction more appropriately.  It's sorta giving Quik a bit of a head-start on things.
Now in my case I mostly had forested scenes, and the white balance was on-point to begin with.  So I can't really say whether or not it's doing a ton different. But since it appears my next Canadian destination got snow in the last few days, and I've got some warm beach weather after that – I'll be able to dive into that in more detail later on.
Finally, I want to briefly mention live streaming.  As of today, that's not yet lit-up on the platform. It sounds like that'll be at least a few days away if not a week.  So I haven't been able to test that piece, but will definitely do so once they turn it on.
I did however get to see some previews of how it works and look at some footage.  The way it works is that once enabled you can go ahead and stream to either Facebook Live or RTMP.  RTMP would allow you to connect it to other platforms like YouTube, though, that's a bit more cumbersome than it needs to be.
You'll notice the 'Live' option in the lower right side next to the other modes on your camera:
Nonetheless, the streaming will only be at 720p (though it will keep at 1080p copy of the footage on the SD card).  While streaming you do get HyperSmooth applied, which is definitely a plus.  So that'll help with stabilization.
The Hero 7 Black can either utilize your phone's cellular connection, or it can directly connect to any WiFi access point that doesn't have a login screen (so hotel wifi or the like won't usually work).  However, things like portable hotspots would work well.  In fact, once you've created the pairing from the GoPro to the hotspot, there's no need to have the phone involved at all.  That's definitely a plus.
I'm looking forward to testing this bit down the road once ready, but I also feel like 720p streaming it somewhat underwhelming in today's world. Certainly there should always be the option to 'downgrade' to 720p, but there should definitely be a 1080p option for users that have the connectivity to do so.  After all, 1080p streaming is the norm for platforms like YouTube, and they can even stream at higher resolutions as well. Still, it's a good first step.
Audio/Microphones:
One of the most touted features of the Hero 7 is the new microphone design. This design is heavily driven by a change in the waterproof membrane that covers the microphone ports. Previously the Hero 5/6 were susceptible to a weird wind-tunnel distortion style sound, especially in the frame/case.  This would result in audio that sometimes had a hollow-sounding echo to it as well.
In my testing, the Hero 7 is definitely improved in this area.  Over the last week I was unable to get any footage that produced that same wonky sound.  Which isn't to say the Hero 7 audio is perfect, as that's not the case either. But there's no question it's the best of the Hero 5/6/7 range.
Some folks might compare the audio to the Hero 4 and previous range. But that's not really a fair comparison, since the Hero 4 and previous wasn't waterproof by default. And it's that important point that differentiates the Hero 5/6/7 from other cameras that may have better microphones.  Take for example the oft-compared Sony action cameras. True, they have generally better audio.  But what's not usually mentioned is they aren't waterproof.  So to that end, the $50 microphone I usually use is also better than both – but it's not waterproof either.
Here's a complete video where I compare audio against the previous Hero 5, as well as a slew of different scenarios from mountain biking to water to high-winds and running.
Note that like before you can optically enable separate microphone .WAV file recording so that you can have one .WAV file exported alongside the video that includes each of the three individual microphones (this can be helpful in higher end productions, but I wouldn't recommend the setting for normal consumer use).
Finally, it should be noted that if you want to use an external microphone with the Hero 7 you can do so. But it requires the same bulky and heavily cumbersome adapter as before.  Personally, this is a non-starter as it's just about as large as the camera itself – and that's before you attach a microphone.  Ideally GoPro would open up their cameras to 3rd party USB-C microphones, so that other entities can bypass the oversized dongle.  Or even better: Just allow Bluetooth microphones, like the Garmin VIRB 30 does. That'd solve everything (and is fully within the capabilities of the Hero 5/6/7 Black range).
Camera Model Comparison: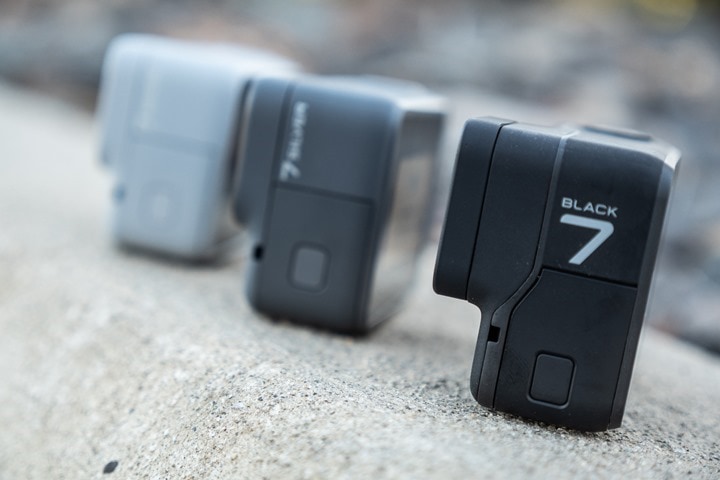 Note that for the moment this chart is focused on comparing the Hero 7 Black to the Hero 6 Black and the Garmin VIRB Ultra 30.  I'll add in the GoPro Hero 7 White and GoPro Hero 7 Silver soon, once I've got legit hands-on time with them. To date, my only hands-on time with those two units was getting a few brief exterior shots that you see above. So stay tuned on that front!
In any event, I've got boatloads of cameras in the DCR product comparison tool (for those that I've reviewed).  So you can mix and match your own product comparison tool charts there if you'd like as well:
Function/Feature

GoPro Hero 7 Black
Garmin VIRB Ultra 30
GoPro Hero6 Black
Copyright DC Rainmaker - Updated November 24th, 2020 @ 7:00 am New Window
Price
$329
$399
$399
Availability
Sept 27th, 2018
Aug 31st, 2016
Global
WiFi Builtin
Yes (2.4Ghz/5Ghz)
Yes
Yes (2.4Ghz/5Ghz)
Bluetooth to Phone
Yes
Yes
Yes
Recording Light
Yes
Yes
Yes
GPS builtin
Yes
Yes
Yes
Altimeter builtin
Yes
Yes
Yes
Water Resistant
10m/33ft
131ft/40m within case
10m/33ft
Accellerometer
Yes
Yes
Yes
Video Preview Screen
Yes
Yes
Yes
Voice Control
Yes
Yes
Yes

Battery

GoPro Hero 7 Black
Garmin VIRB Ultra 30
GoPro Hero6 Black
Recharges via
USB-C
Mini-USB
USB-C
Removable battery
Yes
Yes
Yes
Recording Time
1hr 4K / 2hr20m 1080p30
2 Hours - 1080p30
1hr 4K / 2hr20m 1080p30
Secondary attached battery
Only via USB
No
Only via USB

Storage

GoPro Hero 7 Black
Garmin VIRB Ultra 30
GoPro Hero6 Black
Storage Card Type
Micro-SD
MicroSD
Micro-SD
Maximum Card Size
256GB (select cards)
128GB
128GB

Video

GoPro Hero 7 Black
Garmin VIRB Ultra 30
GoPro Hero6 Black
4K
24/25/30/60 fps
30/25/24 FPS
24/25/30/60 fps
2.7K
24/25/30/48/50/60/100/120 fps
60/50/48/30/25/24 FPS
24/25/30/48/50/60/100/120 fps
1440p
24/25/30/48/50/60/80/120 fps
80/75/72/60/50/48/30/25/24 FPS
24/25/30/48/50/60/80 fps
1080p
24/25/30/48/50/60/80/90/120/200/240 fps
120/100/96/90/75/72/60/50/48/30/25/24 FPS
24/25/30/48/50/60/80/90/120/200/240 fps
Records 360* Video
No
No
No
Automatic Image Rotation
Yes (also, portrait mode for video/photo)
Yes
Yes
Image Stabilization
Yes - up to 4K60
Yes
Yes - up to 4K30
Looping Recordings
Yes
Yes
Yes
Timelapse Mode (constructs timelapse video)
Yes
Yes
Yes
Travelapse/Hyperlapse Mode
Yes
Yes
No
Pro Settings Mode
Yes
Yes
Yes

Audio

GoPro Hero 7 Black
Garmin VIRB Ultra 30
GoPro Hero6 Black
Internal Microphone
Yes
Yes
Yes
Supports Bluetooth Microphones
No
Yes
No
Pro mode with seperate tracks
Yes
No
Yes
Custom Modes
No
Yes

Photo

GoPro Hero 7 Black
Garmin VIRB Ultra 30
GoPro Hero6 Black
Megapixels
12MP
12MP
12MP
Timelapse Mode (photos on interval)
0.5,1,2,5,10,30,60s
Yes
0.5,1,2,5,10,30,60s
Burst Mode
Up to 30 photos/second
Yes
Up to 30 photos/second
Continuous Shooting Mode
Yes
UP TO 60 PHOTOS/SECOND
Yes
Concurrent w/video mode
No
Yes
Yes
Records 360* Photo
No
No
No
Pro Settings Mode
Yes
Yes
Yes
RAW photo creation support
Yes + HDR Modes too
Yes (added in firmware update)
Yes + HDR Mode too

Sports

GoPro Hero 7 Black
Garmin VIRB Ultra 30
GoPro Hero6 Black
Skiing Mode
No
No
No
Control from sport computer
No
Yes
No
ANT+ Sensor Connectivity
No
Yes
No
Bluetooth Sensor Connectivity
no
Yes
no
ANT+ Profile Types
No
HEART RATE, SPEED, CADENCE, TEMPERATURE, POWER (+ Bluetooth OBD data)
No
Overlays sport data on recording
Yes
Yes
Yes

Phone

GoPro Hero 7 Black
Garmin VIRB Ultra 30
GoPro Hero6 Black
App platforms available
iOS/Android
iOS/Android
iOS/Android
Use as remote control
Yes
Yes
Yes
Video preview
Yes
Yes
Yes
Transfer video-photos from camera
YEs
Yes
YEs
Multi-camera live control/preview
No
No
No
Live Streaming to Internet
Yes (Facebook and RTMP, which allows YouTube)
Yes

Software

GoPro Hero 7 Black
Garmin VIRB Ultra 30
GoPro Hero6 Black
App for computer
Windows/Mac
VIRB Edit (Mac/PC)
Windows/Mac

Accessory

GoPro Hero 7 Black
Garmin VIRB Ultra 30
GoPro Hero6 Black
Remote control button/key
Yes
Yes
Yes
Diving case
YEs
Included
YEs
Mount Type
GoPro compatible mounts
GoPro Mount Compatible

Device Connections

GoPro Hero 7 Black
Garmin VIRB Ultra 30
GoPro Hero6 Black
USB Connector Type
USB-C
Mini-USB
USB-C
Micro-HDMI
Yes
Yes
Yes
Composite Video
With adapter
Adapter Available
With adapter
Audio 3.5mm Stereo Mic
With adapter
Adapter Available
With adapter

Purchase

GoPro Hero 7 Black
Garmin VIRB Ultra 30
GoPro Hero6 Black
Amazon
Link
Link
Link

DCRainmaker

GoPro Hero 7 Black
Garmin VIRB Ultra 30
GoPro Hero6 Black
Review Link
Link
Link
Link
And don't forget that you can mix and match and make your own product comparison charts in the product comparison tool here.
Summary: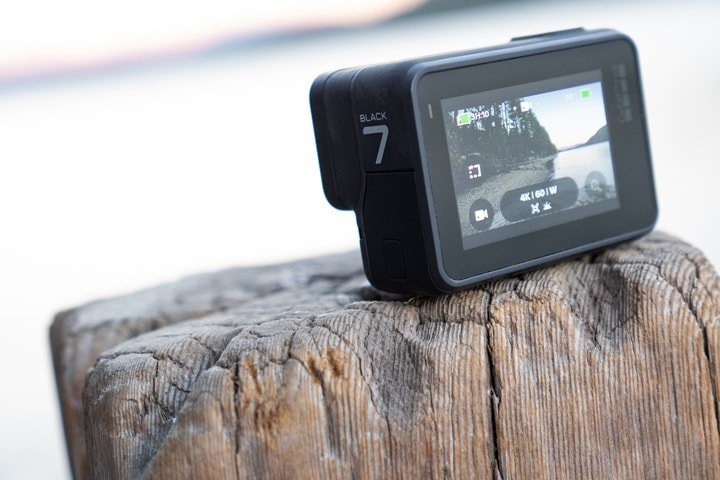 There's no doubt that GoPro has improved upon the Hero 6 lineup. While the top-level specs may not sound like a lot has changed, as you can see, there's actually more than meets the eye.  The TimeWarp feature is super cool and really does make a big difference over more conventional time-lapses.  And the enhanced stabilization from HyperSmooth is definitely noticeable – especially when you get to the frame rates previously not supported like 4K/60.
The bigger question is whether or not it's worth it for folks coming from a Hero 5 or Hero 6 Black. And that's a tougher question.  I think there's pretty substantial benefits for Hero 5 Black users, but I'd be less inclined to say it's worthwhile for Hero 6 Black owners. I think it'd come down to what specific features you tend to use the most.
For example, if you're mainly shooting 1080p footage, there's not much benefit for something like 4K/60 stabilization (even though HyperSmooth will help your 1080p footage too).  Same goes if you don't use or care about the microphones much, the changes there won't help.  I think you'll see a noticeable change between the Hero 6 and Hero 7 when it comes to photos – but again, if you're not shooting lots of fast action photos you probably won't care. Or, Instagram will fix your coloration anyway.
Still, I'll likely shift over to the Hero 7 Black as my 'daily driver'. I've found the better integration with iOS to be rather nice. A very high 'just works' factor.  And as one who uses the mics on the GoPro quite a bit for ad-hoc videos – the fact that I can actually trust it now is big for me.  Oh, and I like 4K – so being able to stabilize at higher frame rates is useful to me too.  But to each their own.
With that – if you've got any questions feel free to drop them below.  And thanks for reading!

Found This Post Useful? Support The Site!
Hopefully you found this review useful. At the end of the day, I'm an athlete just like you looking for the most detail possible on a new purchase – so my review is written from the standpoint of how I used the device. The reviews generally take a lot of hours to put together, so it's a fair bit of work (and labor of love). As you probably noticed by looking below, I also take time to answer all the questions posted in the comments – and there's quite a bit of detail in there as well.
If you're shopping for the GoPro Hero 7 Black or any other accessory items, please consider using the affiliate links below! As an Amazon Associate I earn from qualifying purchases. It doesn't cost you anything extra, but your purchases help support this website a lot. Even more, if you shop with TPC (The Pro's Closet), you'll save $40 on purchases over $200 with coupon code DCRAIN40! The Pro's Closet has been a long-time partner of the site here - including sponsoring videos like my cargo bike race, as well as just being an awesome Colorado-based company full of good humans. Check them out with the links below and the DCRAIN40 coupon!
These are my favorite action cam accessories that I use day in and day out across all the action cams. They just work dependably, and are my go-tos!
And of course – you can always sign-up to be a DCR Supporter! That gets you an ad-free DCR, access to the DCR Quarantine Corner video series packed with behind the scenes tidbits...and it also makes you awesome. And being awesome is what it's all about!
Thanks for reading! And as always, feel free to post comments or questions in the comments section below, I'll be happy to try and answer them as quickly as possible. And lastly, if you felt this review was useful – I always appreciate feedback in the comments below. Thanks!