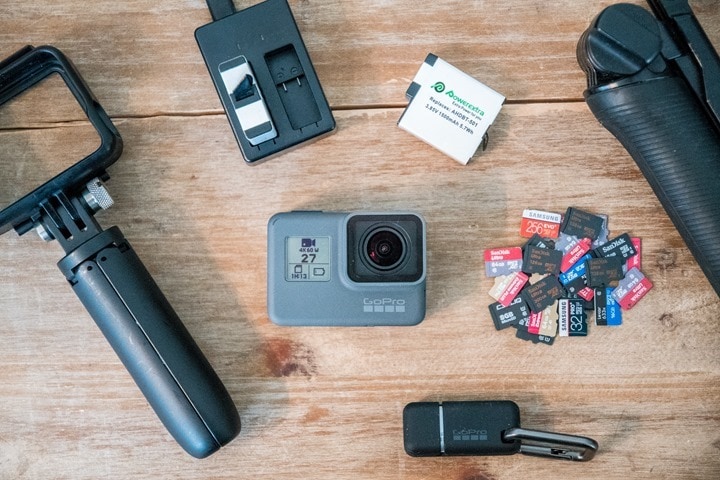 Virtually every day I use action cams to get shots for all assortment of things: In-Depth reviews, general posts, Strava pics, and even Instagram (ok, I suck at being daily there, The Girl is far better). Over on YouTube I've seen a lot of questions on what specific accessories I use often, or even what Micro-SD cards I use.  So I put a bit of a video together primarily for YouTube, but then decided to back it into a post here as well.  The theme is mostly GoPro focused, though the accessories are from a variety of vendors.
And in almost all of the cases they'll work across the board with any action camera – not just a GoPro.  And not only that, but below I've linked a few other variants for people that may have Garmin VIRB or other cameras.
First though, the video:
With that out of the way, here's my top six action cam goodies.
#1: GoPro 3-Way Pole – $54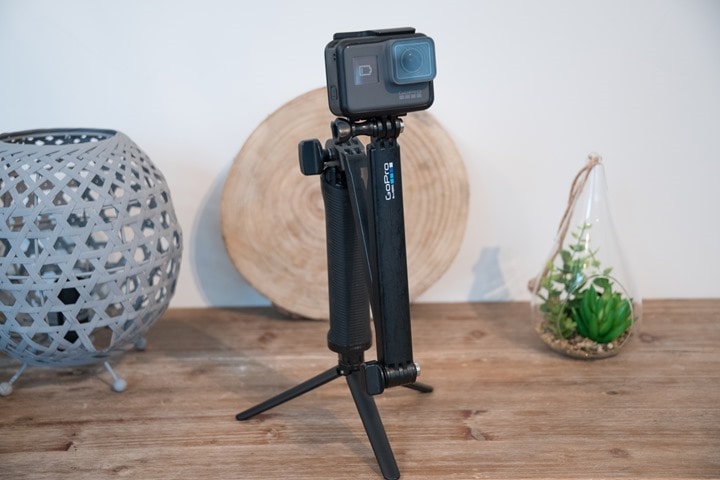 Yes, the price of the 'three-way' pole is actually $69.  Who says GoPro doesn't have a sense of humor?  Now, lest you think I'm a huge fan of overpriced GoPro branded accessories, this is one of the handful of GoPro branded that I've bought multiple times.  And, in trying a cheap knock-off of this one, I can at least say the GoPro version is far more stable.
In any case, what it does: It's part selfie-stick, part-tripod, part thingy you can jab into the snow or sand to get a picture, even underwater.  You'll find it in my back jersey pocket on almost every bike ride – and it's been there for years.  For example, this photo from 3 years ago? 3-way: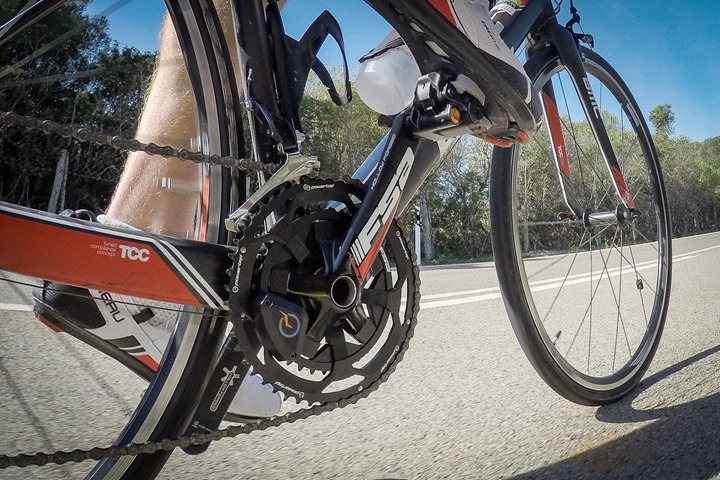 Or these underwater pics from a few years ago, whereby the 3-way was stuck down in the ground or sitting on an underwater rock using the tripod:
The unit folds out into basically three core positions – tripod, long/short selfie stick, or stick in the ground.  Plus, you actually get a fourth position which is the secondary tripod that is the base portion removed (middle photo below):
Now, the unit isn't perfect. The reason I've had to buy multiples of them is primarily due to the last feature 'stick in the ground'. This is designed for snow or sand where you can stick the base of the unit into the sand and have it hold itself up. Works great on a beach or snow. But in order to provide a 'safety' so it doesn't break if you run into it, the unit can quick-release or snap off. This is great if you run into it, but if you grab it in a hurry it might leave the base of the unit in the ground.
In fact, that underwater pic above? I lose the pokey part of the 3-way on that photo – not realizing it till minutes later when the piece was long since buried under the ocean floor.  I think I'm on at least my third one now.  Still, I love it otherwise, and with being on the 3rd one I'm mostly learned my lesson on it.
In any case, it does appear to be on sale on Amazon for $54 right now, some $15 off (I don't know why). Which basically means you can get a few gallons of ice cream at the grocery store with that cash instead.
#2: Dual Battery Pack with Charger for $21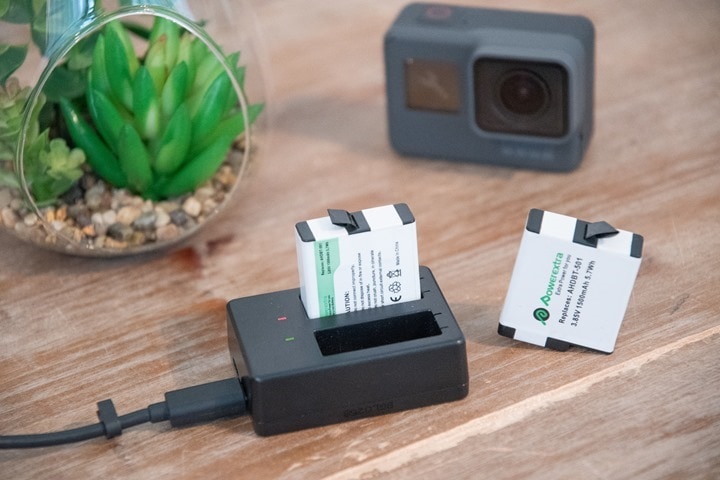 I think I have a battery and charging device fetish. I can spend hours on Amazon looking at things like 30-port USB charging stations. Perhaps it's because I've got so many devices to charge, or so much stuff to capture. I'm not certain.
But what I do know is that for years I've used this random no-name company's GoPro knockoff batteries and USB chargers.  What's great about it is that you get two batteries…plus a dual battery charger all for $21.  Normally GoPro themselves charge $20 a battery, and the dual charger is like a million bucks.  Do note that it charges existing GoPro batteries (Hero 5/6 ones), just fine: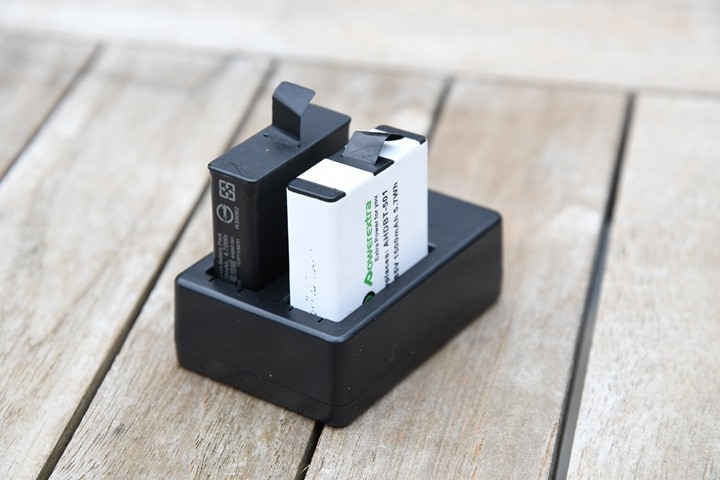 And even cooler is that it has dual USB-C and micro-USB ports for charging, so you can swing either way and reduce the number of cables you bring.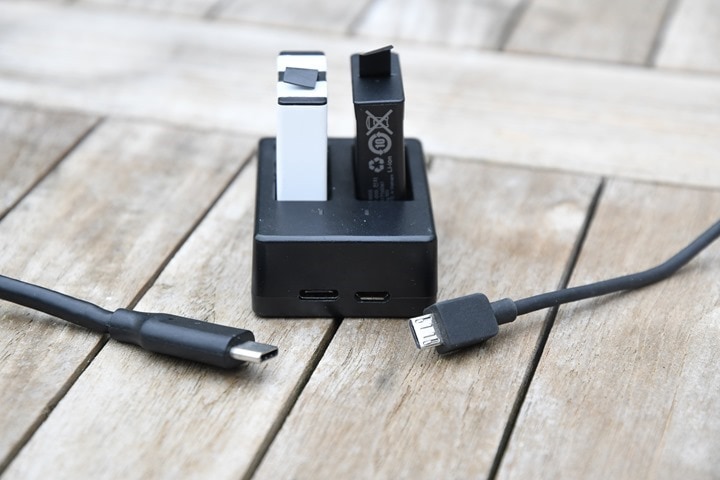 Or, you can be like me and just get this nifty multi-cable splitter thingy (2 pack for $11), which chargers almost everything I have except Garmin stuff (it has plugs for 1xUSB-C, 2xMicro-USB, 1xApple Lightning, 1xMini-USB). And it even charges concurrently. I find it great for travel and letting a bunch of stuff (slowly) charge overnight.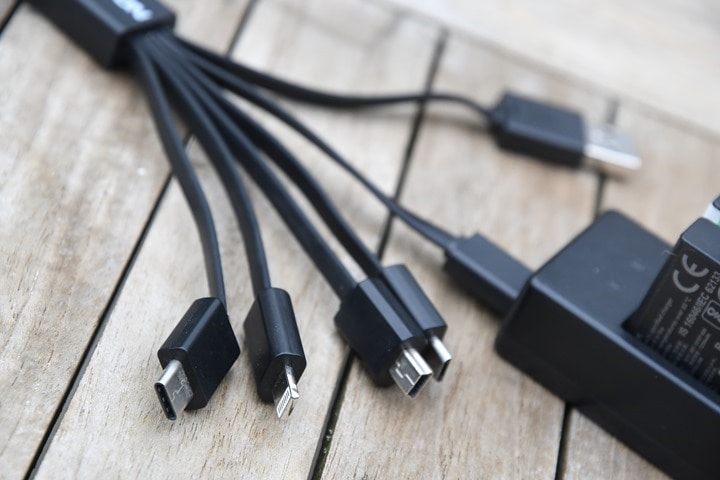 In any case, the batteries work great on both GoPro Hero 5 and Hero 6 stuff, and they make up the bulk of my battery arsenal.  There was a time when the Hero 5 first came out that GoPro was blocking 3rd party batteries, but that time has long since passed (thankfully).
#3: GoPro Shorty – $39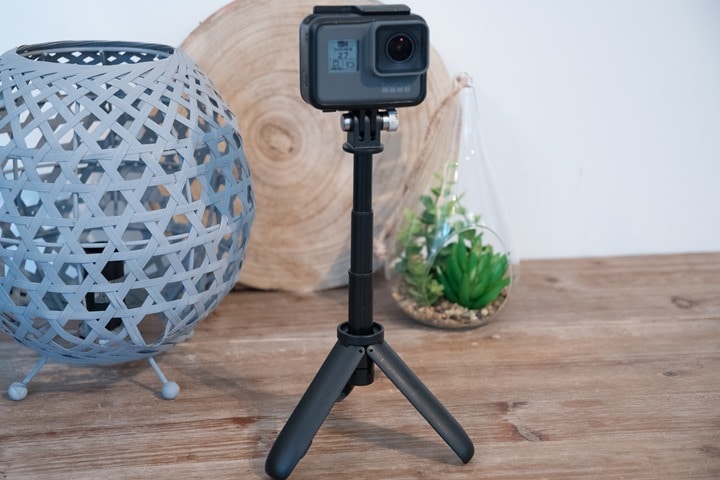 You know what happens when you take the threesome out of the three-way? You end up with someone getting shorted, or Shorty in this case. Basically, that's what this is – it removes the bendy part of GoPro's three-way pole above. It just came out this past fall, and oddly enough I've found it my new favorite running and swimming GoPro accessory.
Historically I've always just run with a GoPro handheld as-is.  No mount most of the time.  But the shorty is just small enough that it doesn't add much appreciable weight while also giving me a good place to hold onto it.  And more important, it makes it a heck of a lot easier to wedge in unique places to get shots.  Plus, it allows me to get just a tiny bit more reach for the random selfie.
The unit has a small tripod base, as well as an extendomatic part. The extendo part gets you above the surface that just leaving a GoPro sitting on a table might otherwise capture in the frame.
I haven't really figured out any obvious downsides to it, in using it in the last 6 months or so.  I suppose aside from the price, it's still kinda expensive and overpriced at what it is – but it works well, and I'm constantly taking it on runs.  I suppose if I were to nitpick I'd almost say the overbuilt metal thumb screw is a bit of a pain in the ass to undo compared to a cheap and typical GoPro plastic thumbscrew.  But given you can simply use your existing GoPro thumb screws instead, then it's really a non-issue.
#4: DeKaSi Seeker Backpack – $66: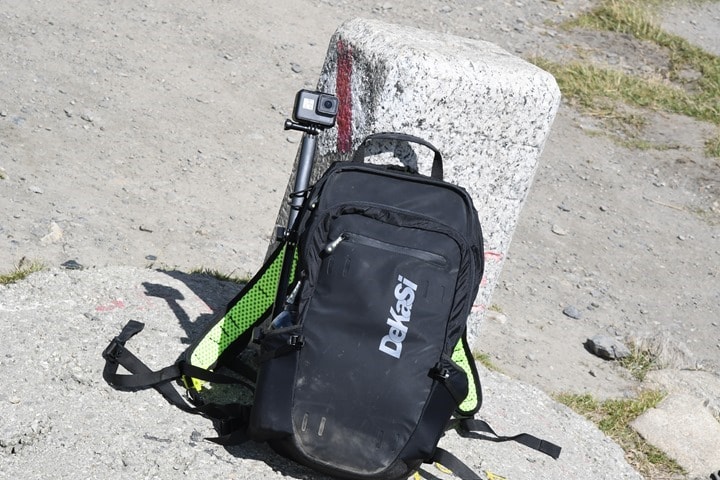 Two summers ago I bought GoPro's official branded backpack, the GoPro Seeker.  At the time it was heralded as a way to creatively hold a crapton of cameras, including built-on mounts for them, as well as pockets to hold the 3-way up properly.  And by and large it was good, but it was also highly overpriced at $170.  It had space for a hydration bladder…but didn't bother to include one.
However sometime in the past year a copy-cat came out, the DeKaSi Seeker – for $66.  They even pay on Amazon for sponsored placement if you search for 'GoPro Seeker'. They copied virtually everything about it (including the name), but actually made it better in a number of ways.  For starters, the zipper on mine didn't die the very first week like it did on my GoPro bag.  But more importantly, it actually comes with accessories (unlike GoPro) – such as a three-way pole of its own (albeit, not the best one). It even has a random GoPro neck strap lanyard thingy in the bag. It's like someone basically just threw a grab-bag of GoPro compatible parts in there.
In any event, you'll find me using the backpack all the time. It was originally designed to hold the now-defunct GoPro Karma drone, but I've put numerous other drones in there without issue.  Heck, this past summer in the Alps I stashed in there both an Airdog ADII drone, a DJI Mavic Pro drone, a full DSLR camera, a pile of action cams, a microphone, and even a full tripod attached to the side….and then I went mountain biking with it.
The only downside is that the front GoPro mount on the left shoulder strap kinda sucks compared to the GoPro branded model.  With the GoPro Seeker you can also hook the GoPro Karma Grip Gimbal onto there, but the DeKaSi version doesn't have that same spot with enough strength.  So if you have a Karma Grip and were planning to use these two together, I'd skip it.  For everyone else though, it's an awesome and relatively slim backpack.
#5: GoPro Quik Adapter – from $9: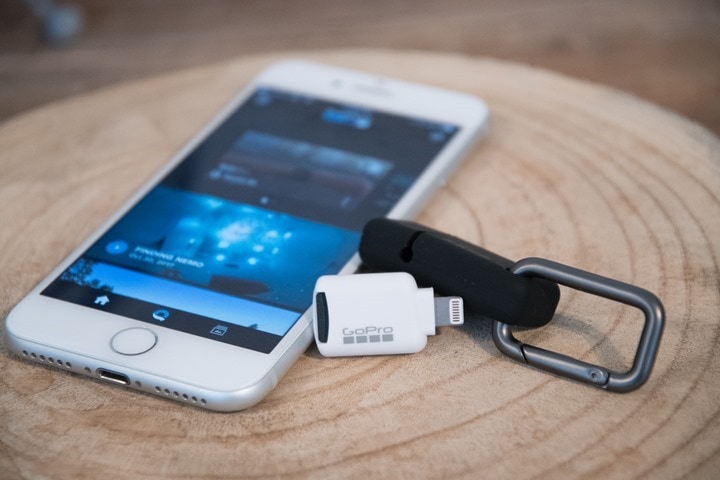 In addition to charging devices, I'm also a sucker for anything that moves data faster. Especially if it fits on my keychain.  When the GoPro Quik adapter was first announced, it was kinda brilliant (and honestly, still is).  Priced from $9 to $29 depending on which port type, it plugs into the bottom of your phone/tablet and lets you transfer over videos super quick, instead of using WiFi.
I find this pretty useful in a few core cases:
A) A pile of big files, or really high resolution files
B) Where cellular service sucks and I'm already on WiFi and don't want to disconnect from WiFi for a long time to download videos
If you're only downloading a 20-40 seconds video – WiFi is no biggie.  But if you're downloading 20-40 minutes worth of 4K footage, that's beastly long and one little blip in the WiFi and the whole thing has to start over again.
The way this works is that you take your micro-SD card and plop it in the little reader.  Then from there you insert that into your phone.  GoPro makes three port variants: Lightening for iOS devices ($29), USB-C for newer phones ($10), and Micro-USB for older phones ($12). For no particular purpose, I bought all three. Though, I primarily use the iPhone version, which sits on my key chain most of the time.  Also note, those three prices seem to change almost daily on Amazon, plus or minus a few bucks.
The only nitpicking downside here is that you can't just use this adapter as a general way to import any photos/videos to your camera roll (at least on iOS). It only works with GoPro's app, but that's mostly due to the way Apple has port/licensing restrictions.  Also, there are some folks on Android having issues with 4K/60 content and the newer content using the newer HEVC file formats on the Hero 6 Black, because the naming convention changed and GoPro hasn't yet fixed it. Last communication from GoPro says that they're working on it.
#6: The MicroSD Cards – from $40: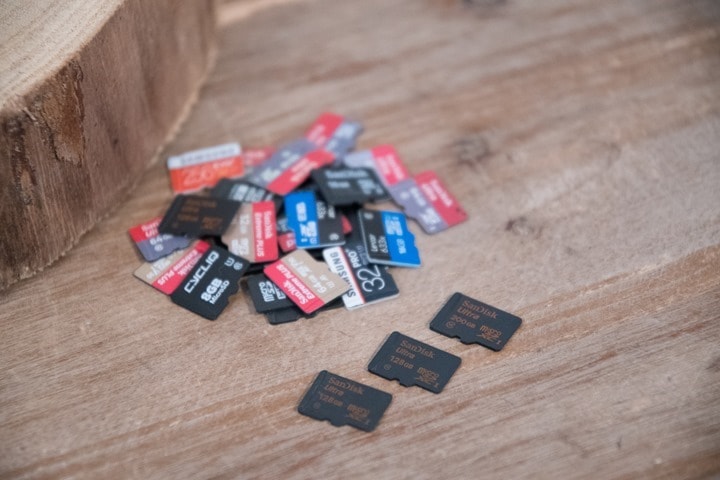 I sit in a sea of SD cards.
Or rather, there's a sea of them next to where I'm sitting. Even on my three month long journey to Australia I had probably 25-30 MicroSD cards sitting to the right of me at my desk.  As a general rule, I rarely re-use Micro-SD cards beyond a given device.  Specifically, I tend to put a 128GB or larger Micro-SD card into a given action cam, and then it 'stays' there, with me deleting files only when I get to the end of it.
There's no logic for this, it's just the way I've always done things.  Micro-SD cards are cheap, even for really good ones.  And for the last few years I've had really good results with the SanDisk Ultra UHS-1 128GB cards. It's my go-to card that I buy piles of each time I'm in the US (cause they're slightly cheaper there).
Now more recently when shooting on 5.2K/5.7K 360° cameras (Fusion and VIRB 360), I've been employing the 200GB variants of that, and even a single 256GB one too.  Why?  I hate running out of space.  And with the 360° cameras burning through about 9GB per minute, it's easy to do so before ya know it.
Now some people subscribe to the theory of smaller SD cards for redundancy or in case you lose it or something.  But here's the thing: I've only once had a feeling that I had a bad Micro-SD card, but even that was an isolated drone incident on a prototype drone.  So it could have been something caused there.
For me, I'm far more likely to lose SD cards because I've got too many.  So I'd rather have everything on one card I can find easily. I then stick a few extra Micro-SD cards inside SD to MicroSD card converters inside my wallet in the little coin holder. Sorta like a college student might with condoms.  I find you never know when you might get yourself in a pickle and need an extra SD or MicroSD card, and this is two birds with one stone.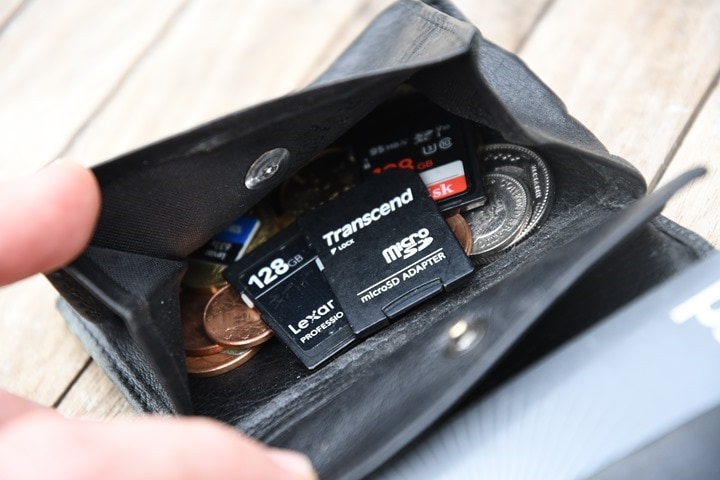 In any case – there's plenty of places around the web that do speed testing and all sorts of things on SD/MicroSD cards, but the dirty truth is no GoPro or Garmin action cam today comes even close to hitting the threshold write speeds for even 4K/60 or 5.7K RAW video.  So I wouldn't fret too much about that.
—
In short, here's the full listing of linkage:
#1: GoPro 3-way Stick: $54
#2: Dual Battery Set with Charger: $21
#3: GoPro Shorty stick: $39
#4: Seeker Backpack: $66
#5: GoPro Quik Adapter: $10-$29
#6: 128GB & 200GB MicroSD Cards: $41+
—
With that – there ya go – all of the action cam goodness I use daily!  If you want to know more about my more general photography stuff (DSLR camera, sliders, etc…), then hit up my full photo post here, where I get into tons more detail on those pieces.
Thanks for reading!