Phew! This weekend flew by. I just got in the door two minutes ago from the airport, after a whirlwind day that didn't actually involve any flights.  Here, let me explain.
1) We drove to Paris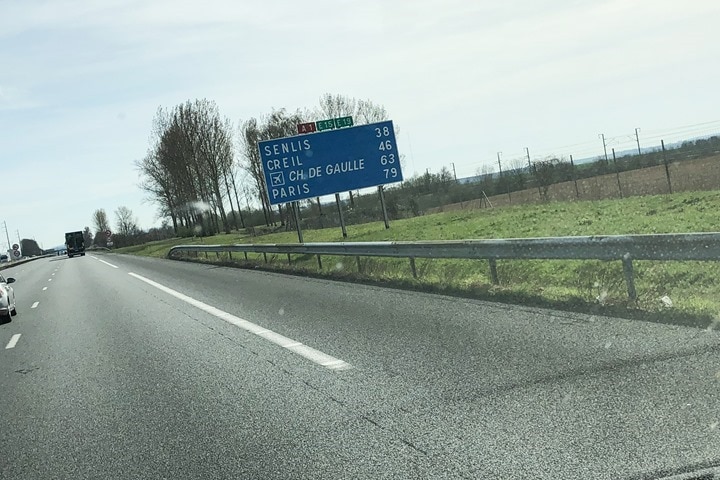 We kicked off things Friday morning with a short drive.  And by short, I mean about 500KM.  I headed out to Amsterdam airport to pick up a large rental van, before looping back to the house to grab The Girl and the kids.  Thankfully getting to/from the airport is silly quick and easy for us, a pleasant change from Paris.
The drive from Amsterdam to Paris isn't all that bad, it's straightforward for the most part.  Big wide open roads that are relatively flat and mostly easy to navigate.
We had gone the driving route versus the faster train approach since bringing back a treadmill on the train would likely be frowned upon.  It would also make picking up a BBQ more difficult as well.  And apparently a sandbox too.
But more on that later.  The drive itself was uneventful, and as has been the case since the first moving road trips I've done – I've very much come to appreciate the Starbucks sprinkled through the Dutch and Belgium rest stops.
2) Happy Birthday
The main purpose of our trip was actually to hang out with some close friends and celebrate their daughter's 2nd birthday party.  Thus, that's what Saturday was all about!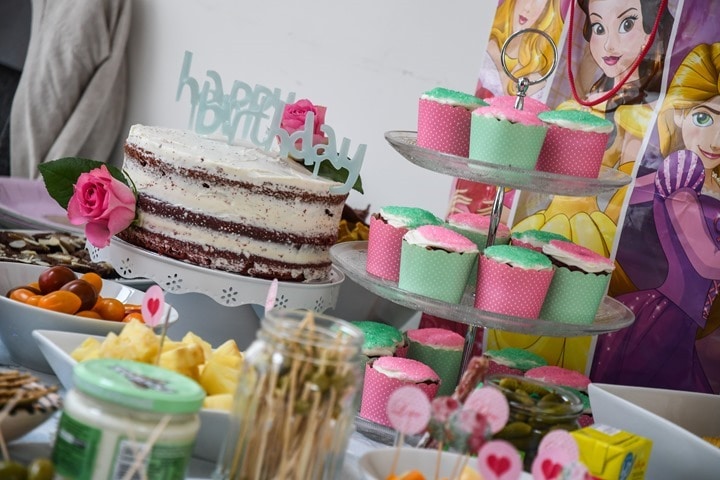 There was good food to be had, friends to chat with, and seemingly countless little humans walking/crawling/slithering along to keep track of.
But, it was fun – and that's what matters!
3) Out for a ride and then some
Sunday morning was marathon day in Paris.  I've run the race before, but today was not that day.  And thankfully I wasn't running either, because the weather was brutal for it.  Sure, if you lived in Miami and trained there, this would be pleasant.  But for folks that were training in snow a few short weeks ago, the weather was hot and sunny, with no shade or cloud relief.  People were looking rough around the 10-11KM marker that I spectated at.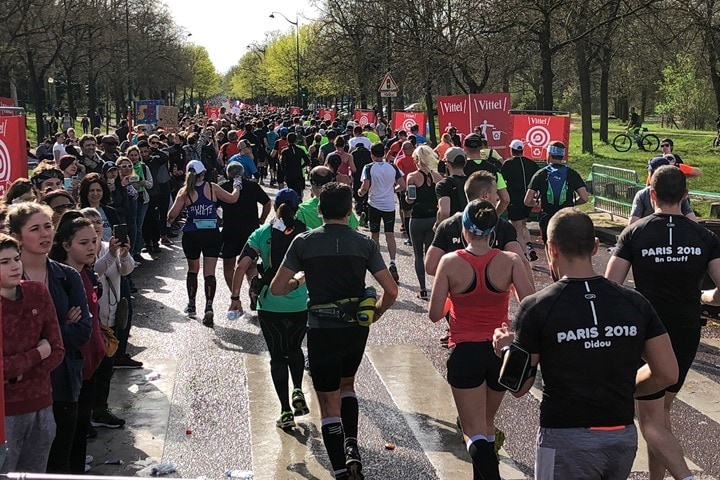 Of course – huge congrats to all those out there running.  It's somewhat interesting how often this specific race tends to have a hot race day.  It does seem to happen more often than not.
After we finished watching endless streams of people run by, Dave and I headed out for an easy stroll to no point in particular.  This wasn't really a long ride, or a medium ride, or a purposeful ride.  It was just a ride.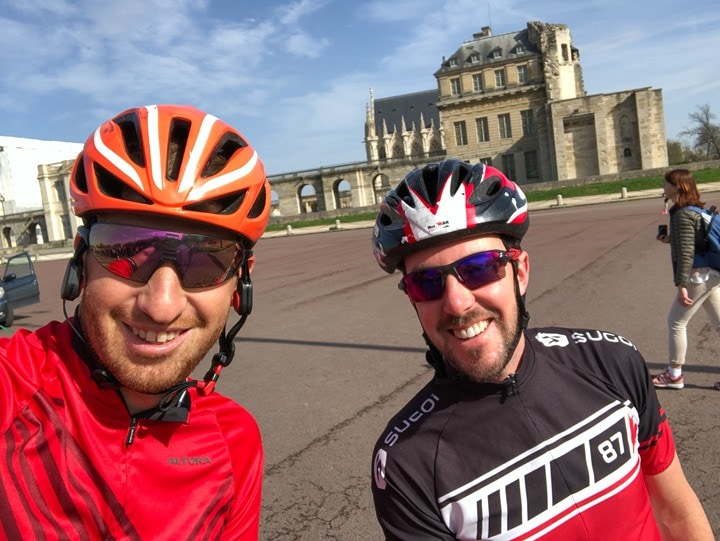 Sure, I was testing half a dozen new gadgets on my bike, which made this sort of leisurely ride just perfect.  Not to mention that it was beautifully sunny out (for riding…not so much running).  Also, since it's a little bit warmer down south in Paris compared to Amsterdam, the trees are just a tiny bit greener than the mostly brown trees in Amsterdam.  Soon though…soon!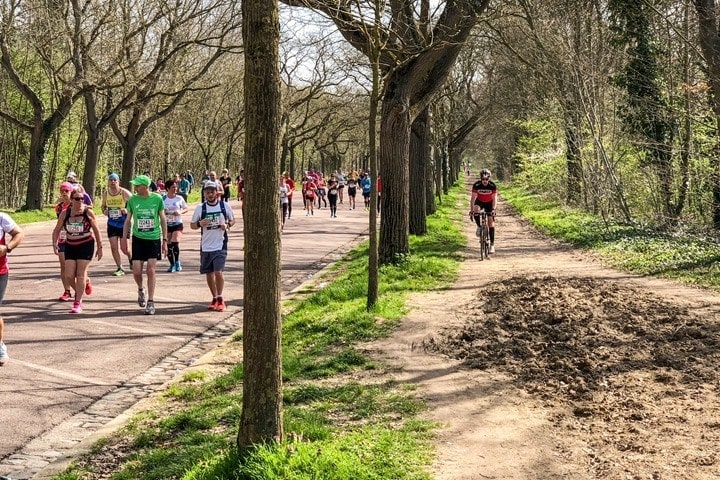 As for the gadgets, here's a glimpse of one such gadget: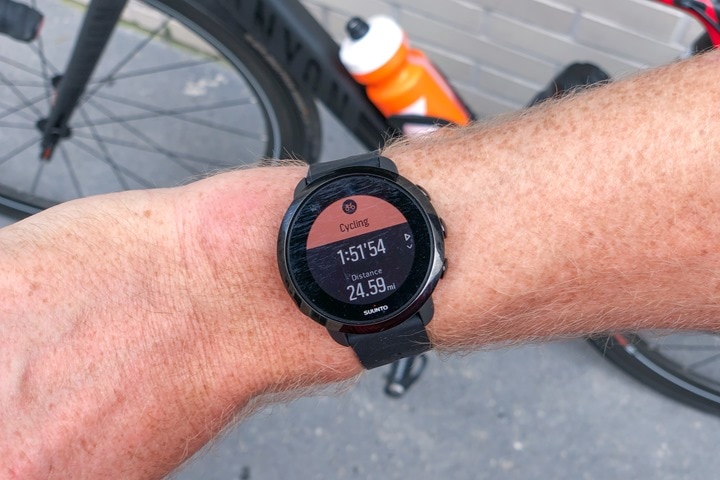 It's the Suunto 3 Fitness, and it's using 'connected GPS', which basically means your phone's GPS signal.  Worked well enough, though I haven't had a chance to analyze the HR data yet.
And then also the Fitbit Versa at the end of the ride. It's interesting to note the very slight differences in how each company handles GPS tracks and the phone data it's based on, since both of these watches are using connected GPS from the same phone.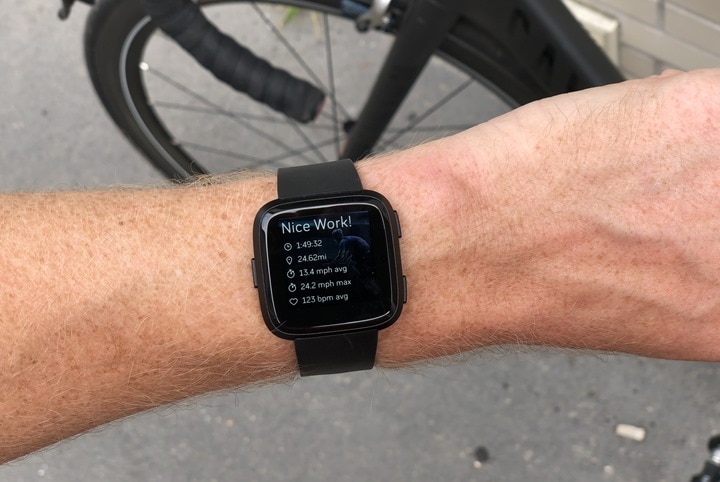 And then…well…more stuff, but I'll save that for later.
4) Hello Eiffel Tower
Sunday afternoon was spent on the other side of town with a different set of friends.  First, we picked up breakfast burritos at their restaurant, before heading to the Champ de Mars to hang out in the sun.
Prior to having kids, we spent at least one night a week in the summer on the vast lawns in front of the Eiffel Tower, picnicking and such.  And even for a while with our first one too – when she was less mobile.  But eventually we started staying closer to home (we lived near Notre Dame), simply due to logistics.
The point of this bit of backstory is that despite having been to the Champs de Mars more times than I can count (and having run around it countless times as well), I never once noticed the massive double portioned kids playgrounds towards the back.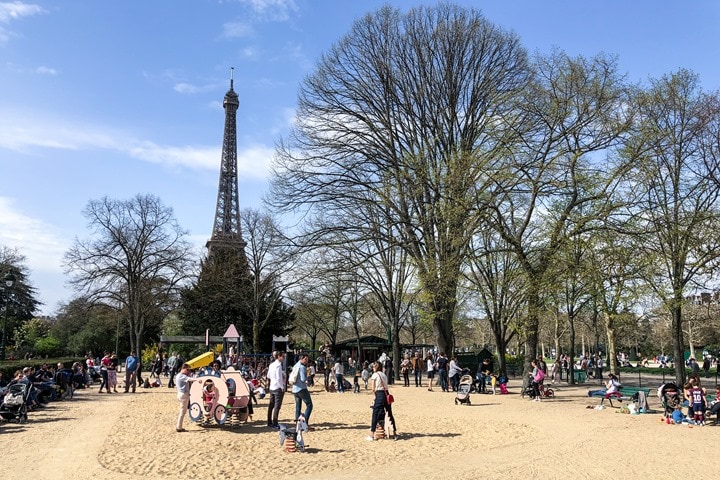 Go figure.
I knew there were some smaller kids things mid-way down the lawn (like pony rides and such), but never these massive playgrounds.
It's funny how many things you notice once you have kids that you never noticed previously.  I suppose that's true of many aspects of life.  I will say that The Peanut manages to spot all of these playgrounds further away than a surveillance drone.  She's astounding at her ability to identify slides and swings.
5) That @#$#@ Treadmill
There's no object within the DCR Cave that's elicited as much swearing as the treadmill.  Be it getting it in, or assembling it, no part of that was entertaining or easy.  Never mind the entire procurement process.  A number of folks have since asked when I might do treadmill reviews – and my answer has always been basically 'over my dead body', at least within the Paris DCR Cave.  Same went for any sort of heavy stationary bike.
As a reminder, here's the video (and post), of when The Girl and I got that treadmill down into the Cave:
Of course, I knew the day would once come that I'd have to figure out how to get that stupid treadmill out of there. I say stupid because it's not like it's even all that awesome of a treadmill. Instead, it's just a so-so overpriced treadmill in comparison to what American consumers can get for a fraction of the cost.  Most of the treadmills here in Europe suck (even though they are made by the American companies).  Basically, said American companies seem to 'dump' all the crappy old ones here on Europe.  But that's all besides the point.
I had long stated I'd just leave the darn thing in there.  But after doing some napkin math, it was silly to spend another $2,500 or so on a treadmill.  Thus, off to work I went disassembling the thing.  Thankfully, I actually kept the manual.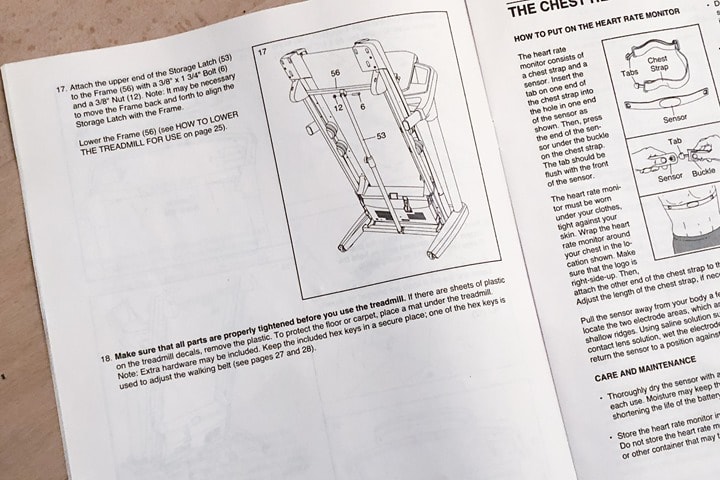 Now, what I quickly realized was that since I wasn't shipping it, but rather clumsily stashing it in a giant van, that I wouldn't really have to disassemble it to the same level that it originally arrived in.  Instead, I could basically take it apart in two main pieces, plus the connecting support beams.  That meant that disassembly only took 20 minutes or so (despite having very much the wrong tools for the job).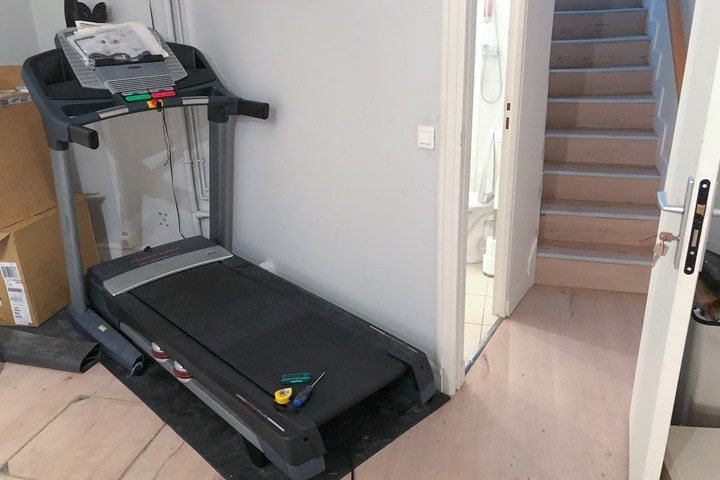 Before I knew it, I was ready for removal assistance.  Remember, I couldn't just take it up the main steps.  Instead, we had to drag this beastly thing out through the cave tunnels.  That's where my friend Julio came to the rescue.  Here, this quick video I smashed together explains it well.
And thus, success.  Treadmill stashed into the back of the van and ready for the 500KM or so trek back to Amsterdam.
All of which ended this evening, a venture that somehow took 9 hours of driving and stops, and resulted in the vehicle also picking up a BBQ, a cheap plastic sandbox, and 275 pounds of sand.  Plus a bunch of other random leftover crap from the Studio.  Now we're done. For realz this time. No more moving stuff anymore.
Well, until I find the new DCR Cave…then I've gotta move it out of storage into there.  But that's a problem for a different day.  A day that's not this week, or next week.  Thus, I don't have to think about it now.
So with that – have a great week ahead, and thanks for reading!
(P.S. – This week might be a bit lighter…merely because the massive boatload of stuff being announced next week tied to Sea Otter is mind-boggling. I'd wager it's going to be the biggest announcement week we've seen in years for sports tech stuff, even including things like Eurobike and Interbike.  And that's even accounting for one or two things that might get pushed a week or two by their respective companies, but in general…hold on tight for content overload!!!  Oh, and for those waiting on my Fitbit Versa watch review, I'm working with them on some beta firmware to sort out the workout tracking issues I'm seeing. It was two steps forward, one step back on the most recent beta.)